These vegetarian black bean burgers that are loaded with flavor, packed with protein & naturally gluten-free. They're easy to make and hold up really well!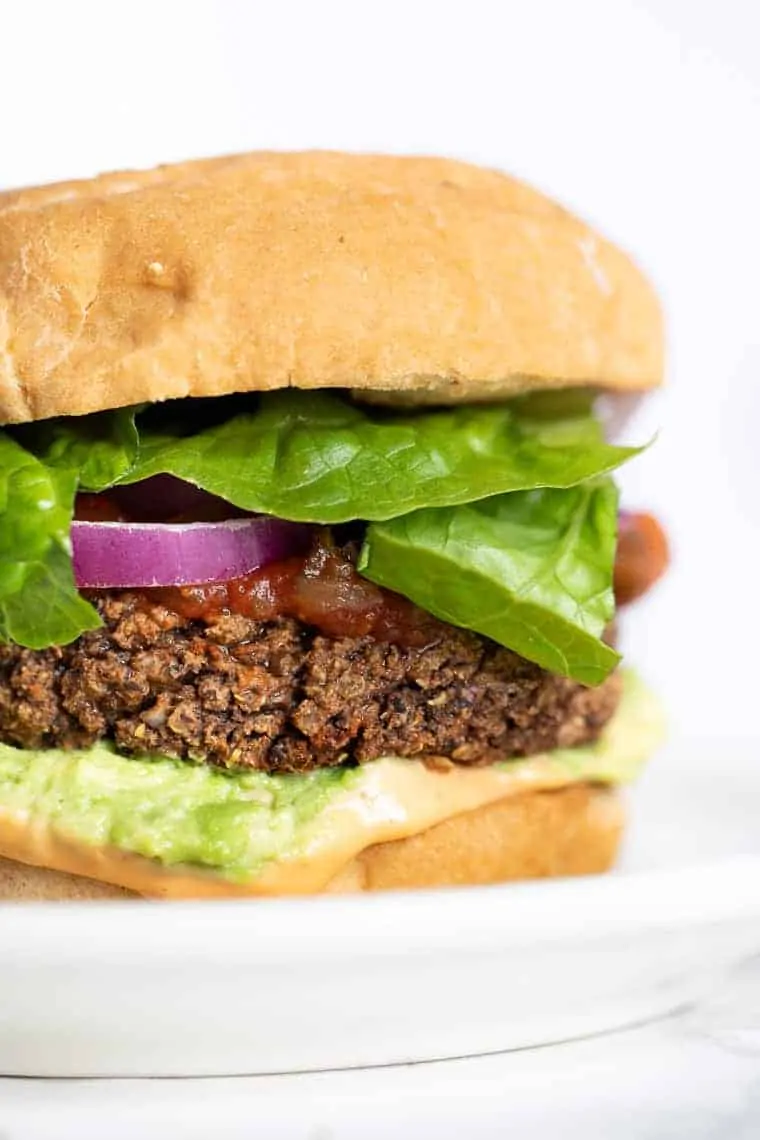 I was never really a fan of veggie burgers until I started making them myself. At first, all I associated with veggie burgers were those flat, cardboard discs that come in the freezer section. You know the ones that don't have much nutrition, aren't always gluten-free and frankly taste like…well, crap. And while I used to eat them from time to time, thinking that they had to be "healthy" since they were vegetarian, I never enjoyed them.
But after making my first veggie burger at home nearly 10+ years ago now, I realized a few things:
a) they're crazy easy to make
b) you can use healthier, more nutritious ingredients
c) they're totally freezer friendly!
So today I'm going to share my favorite vegetarian black bean burger that has a wonderful meaty texture, uses just a few simple ingredients, and is jam-packed with plant protein!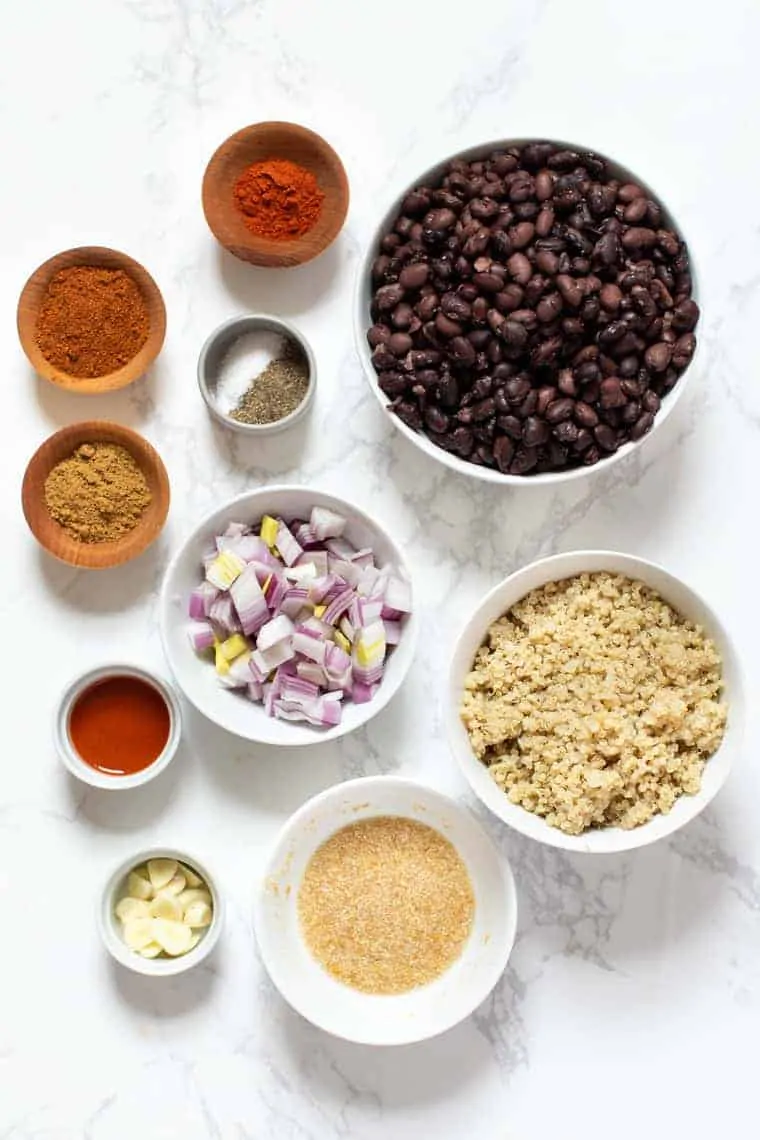 Ingredients in our Black Bean Quinoa Burgers
The ingredient list for most veggie burgers is pretty simple. You essentially need your beans, your flavorings, a binding agent and something dry to help hold everything together.
Here's what we're using for our burgers:
Black beans: 2 cans of black beans are used in this recipe – make sure they're drained & rinsed!
Shallot: a sweeter, softer, and more mellow version of red onion – I love them in this recipe!
Garlic: for some added flavor and zing.
Spices: we're using a blend of some of my favorites – chili powder, cumin, smoked paprika, salt, pepper, and hot sauce.
Cooked quinoa: helps to not only keep our burgers together but gives them such a great meat-like texture!
Flax egg: a way to bind our burgers together while also keeping them vegan-friendly!
Gluten-free flour: I used quinoa flour, but any gluten-free flour will work.
And they're made in just your food processor!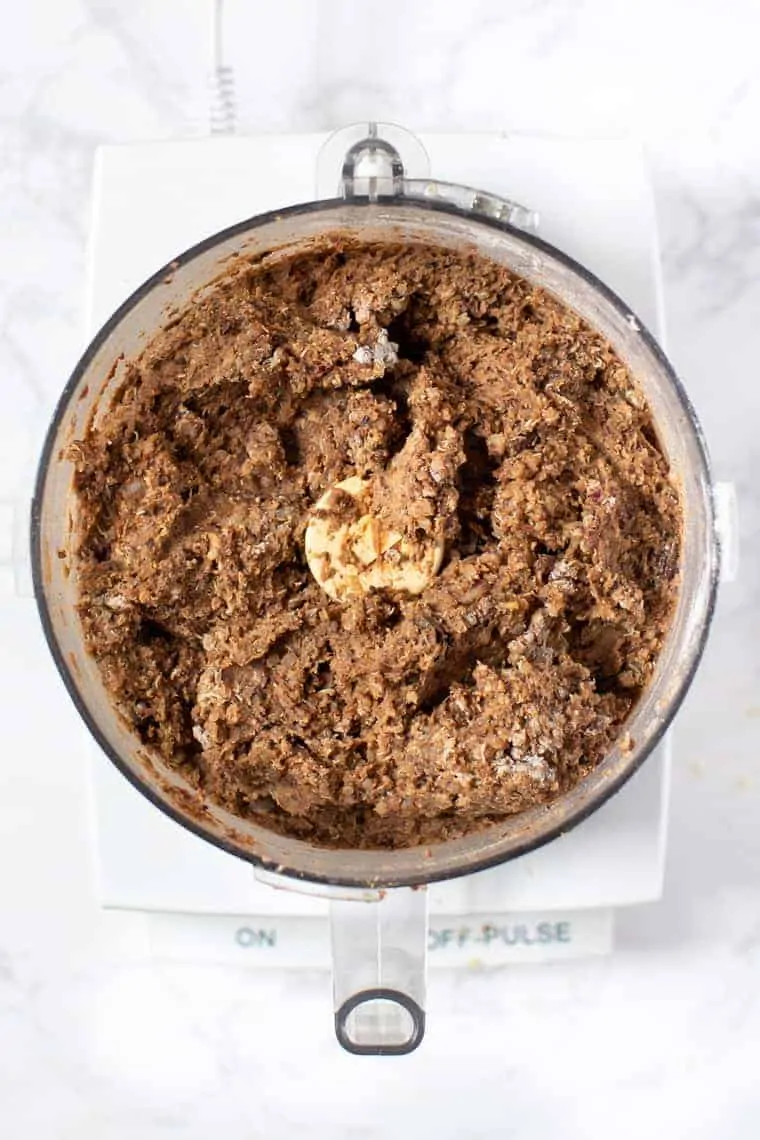 How to Make Black Bean Burgers from Scratch
Over the years of making veggie burgers from scratch, I've learned that the easiest thing to do is use your food processor. I like to blizt part of my ingredients up and then pulse in the remaining ingredients go keep things texturally interesting.
For this recipe, we'll start by whizzing up most of our black beans – we're reserving 1/2 cup to pulse in later – along with our shallot, garlic, and spices.
Once that comes together, you'll pulse everything else in. Since this is a fairly big batch of "dough", I had to scrape the sides down and also stir a little manually, but it was totally fine.
The final step is to make your dough is to pulse in your flour which is the final thing we'll use to hold everything together.
Then you're just left with…
shaping
baking
flipping
cooling
topping
… and enjoying!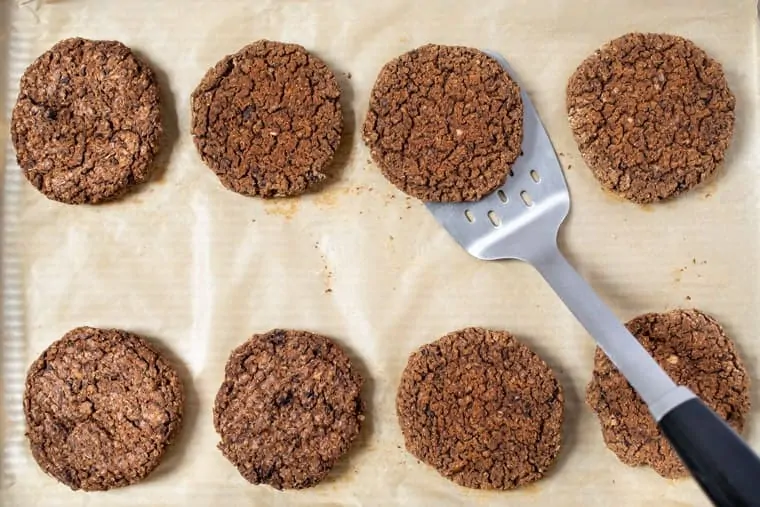 How to Store Your Black Bean Quinoa Burgers
Since this recipe makes 8 patties, you're probably going to have some leftovers. So let's talk about the best way to keep these burgers fresh!
You basically have two options:
1. the fridge
2. the freezer
I personally like keeping them in the freezer since they'll last long (about 3 -6 months), and they can be reheated really easily. If you want to keep the in the fridge though that works too! They should last you a good 4 – 5 days – just make sure to keep them in a sealed container so they don't dry out.
How to Reheat Frozen Veggie Burgers
If you've decided to freeze you black bean burgers, I wanted to just quickly let you know of two ways to reheat them:
Microwave + toast: I'll zap my burgers for 30 – 45 seconds, then pop them in my toaster oven and toast them until they're crispy.
Bake: pop them back in the oven (or toaster oven) at around 300ºF and leave them in there for about 15 – 20 minutes until they're heated through.
Either way works, it's really just up to you!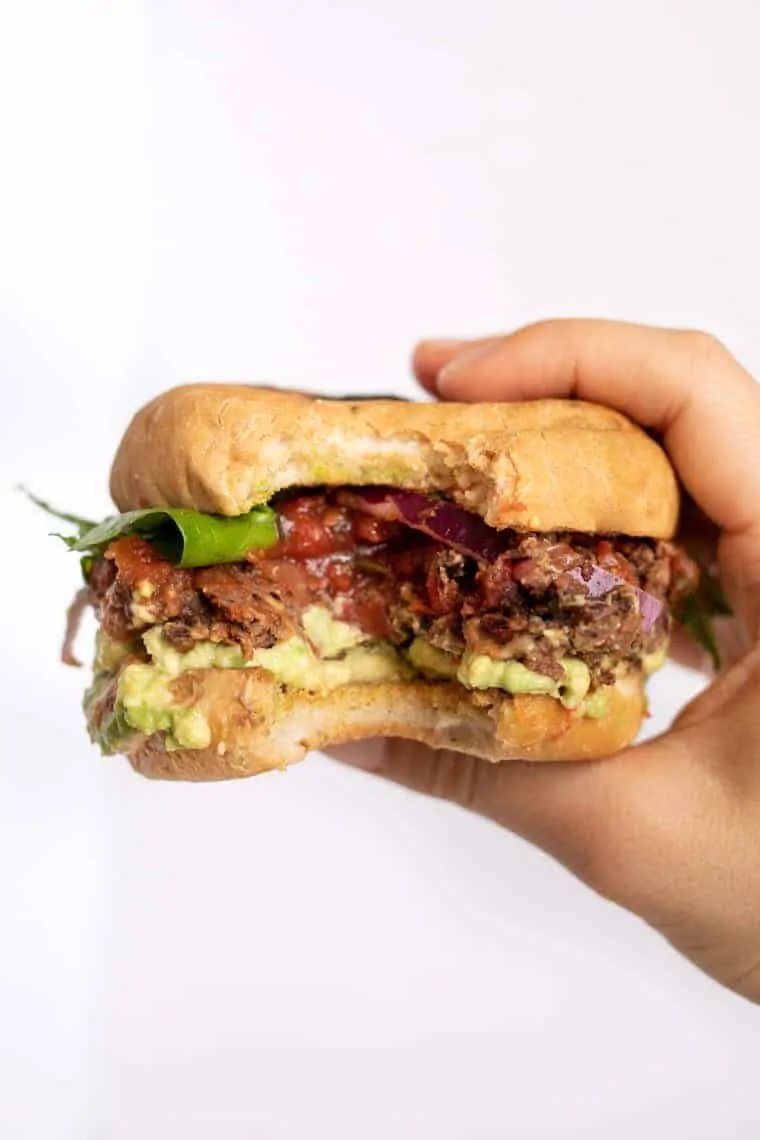 What To Serve with Black Bean Burgers
Since these black bean burgers have kind of a "Mexican" spice vibe, I kept things pretty simple. I think the key to a good burger topping job includes: lettuce, onion, sauce. And this time around we added three different sauces!
I like to have something saucy with my burgers so for these ones I went with a layer of sriracha mayo, some mashed avocado (both on the bottom bun), and then topped the burger with jarred salsa. So easy and SO dang good!
Other toppings that would taste awesome with this burger could be:
sauteed mushrooms
roasted sweet potato wedges
pickled jalapenos
pickled onions
sauteed garlic kale
You get the idea! Have fun with your toppings and don't be afraid to PILE THEM HIGH!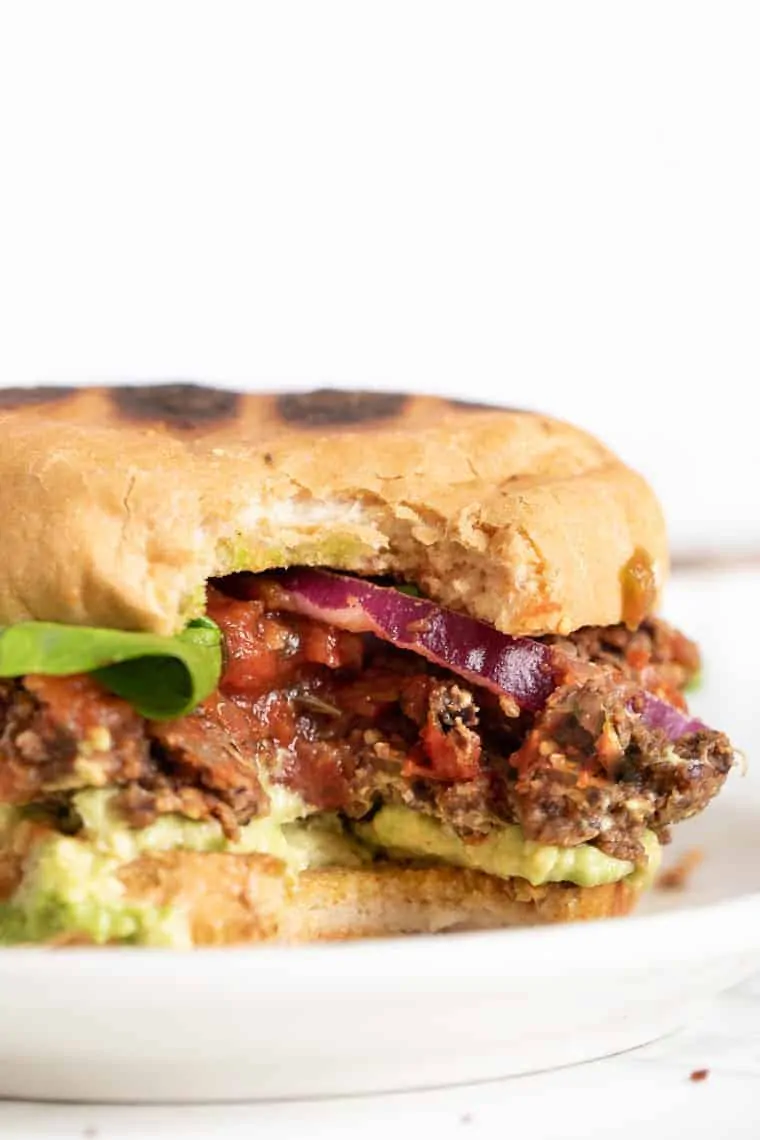 What These Black Bean Burgers Taste Like
Now that I've teased your tastebuds, I'm sure you're dying to know what they taste like, right?!
Well, my friends, they are heavenly! Not only do they have the perfect veggie burger texture – i.e. crispy on the outside and soft on the inside – but you all get each layer of flavor.
These black bean quinoa burgers are:
smoky
tangy
spicy
kind of meaty
slightly sweet
and overall just perfectly balanced! I can't wait to see your recreations of this recipe. Make sure to come back to this post and let us know what you think! And when you do make them, leave us a star rating – it helps our team constantly improve our recipes, while also getting our recipes out to more people.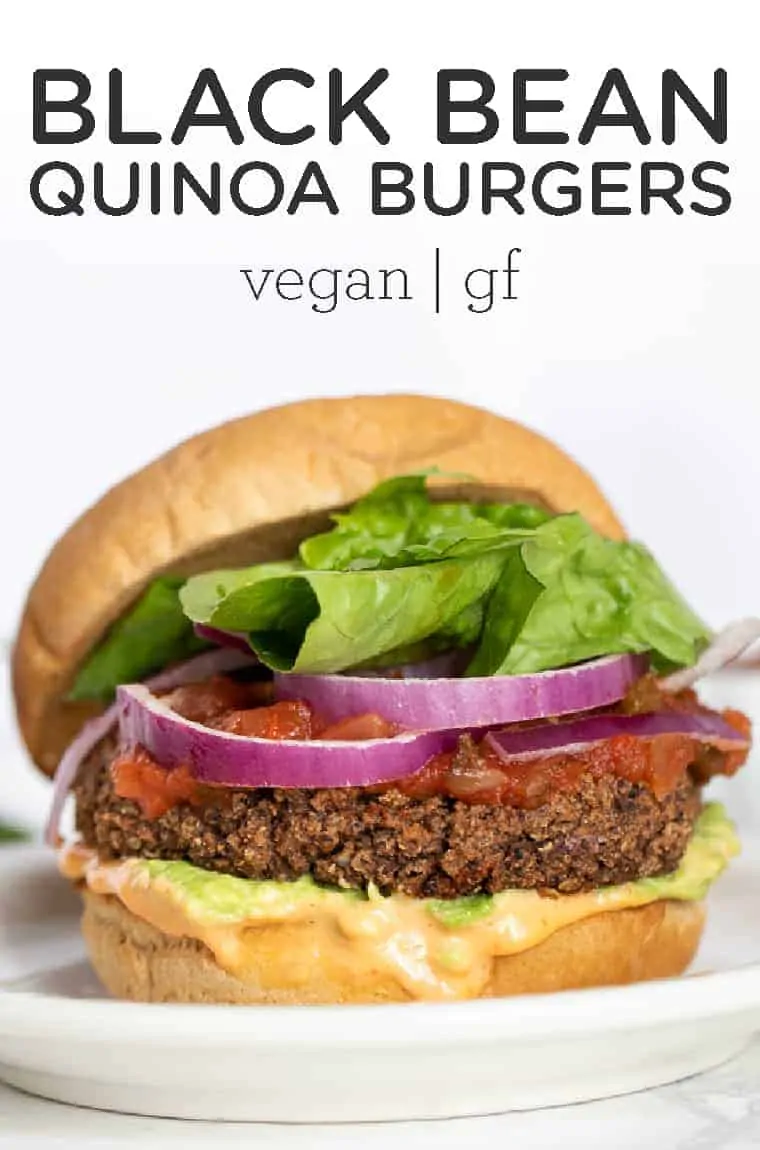 More Tasty Veggie Burger Recipes to try:
Vegetarian Black Bean Quinoa Burgers
A fun twist of classic veggie burgers, these black bean quinoa burgers are hearty, healthy and a great way to get tons of plant-based protein into your meal!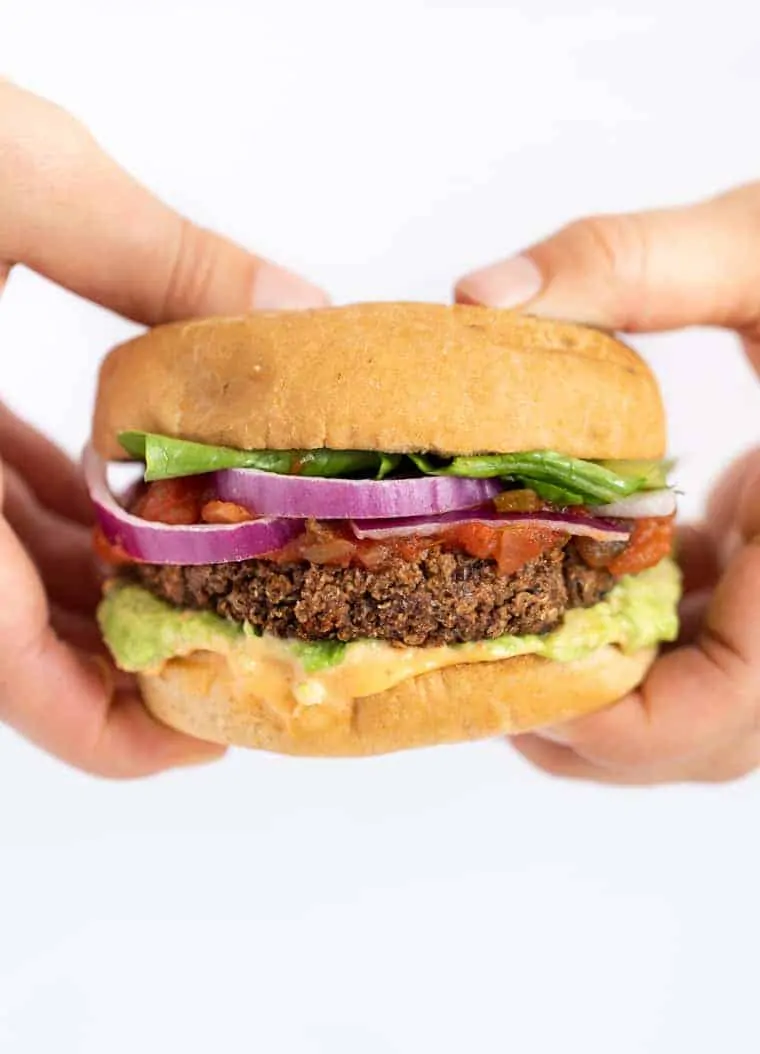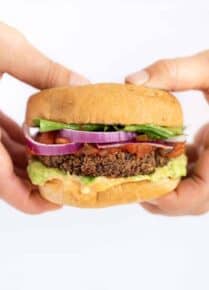 Instructions
Reserve ½ cup black beans and set aside.

Add the remaining beans, shallot, garlic, spices and hot sauce into the bowl of a food process fit with a steel blade. Process until the mixture is the texture of a very chunky puree. Transfer this mixture to a mixing bowl.

Add the remaining beans, cooked quinoa and flax egg and stir together to form your 'dough'. If the dough feels too sticky and isn't holding together as you shape the patties, add some gluten-free flour 1 tablespoon at a time, until they start to are easier to shape (but will still be sticky!).

Shape the mixture into 8 patties and chill in the fridge for at least 1 hour, more if you have time.

Preheat oven to 375ºF. Line a baking sheet with parchment paper. Transfer burgers to parchment and bake for 30 - 40 minutes, flipping halfway through until both sides are browned.

Let rest for 5 minutes then serve.
Nutrition
Serving:
1
burger
|
Calories:
137
kcal
|
Carbohydrates:
24
g
|
Protein:
8
g
|
Sodium:
417
mg
|
Potassium:
397
mg
|
Fiber:
8
g
|
Vitamin A:
60
IU
|
Vitamin C:
3.2
mg
|
Calcium:
44
mg
|
Iron:
2.7
mg
Filed Under: