Looking for a relaxing weekend getaway? Come see what a weekend getaway in Cabo San Lucas looks like! From a 5-star resort to an incredible whale watch, there's something for everyone!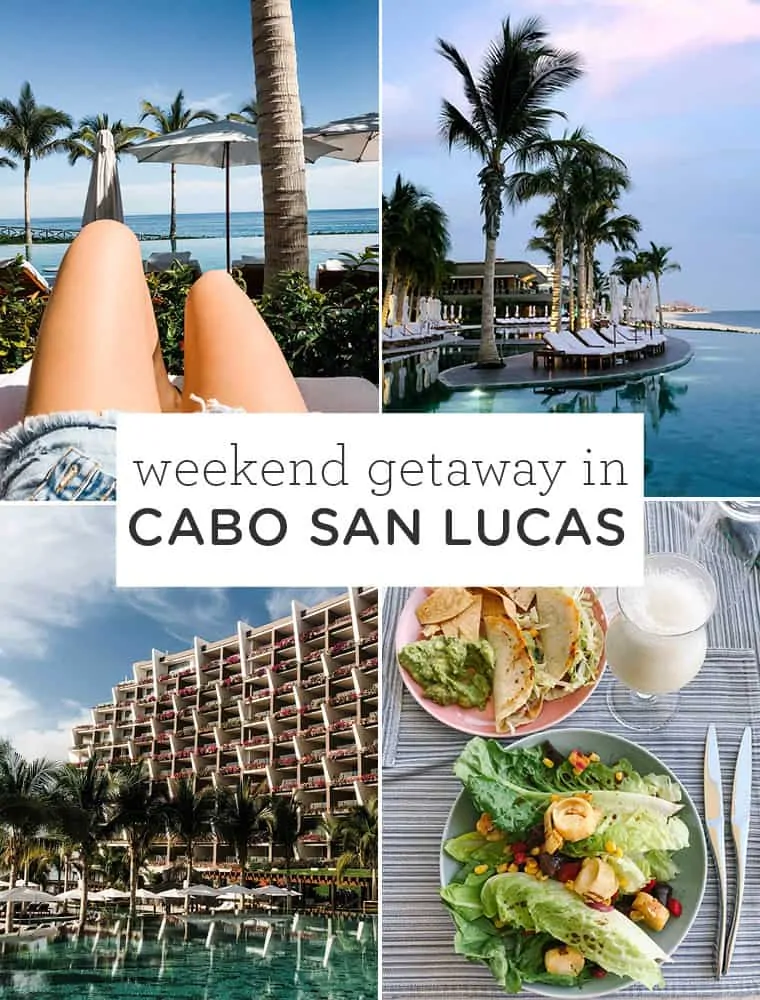 We've got another post in our Weekend Getaway series and this time we're heading to Cabo San Lucas, Mexico!
If you follow along on Instagram that you know about two weeks ago we went to Mexico for a week. This was my second time visiting Mexico and I just keep falling in love. We started with three days in Mexico City – which was absolutely fabulous – and then we ended our time in Cabo San Lucas on the Baja Peninsula.
As I've done with my other weekend getaways, I want to share where we stayed, what we did and what we ate. So that's what we're going to do today! A recap of our weekend getaway in Cabo as it's the perfect place to spend a few days in the sunshine!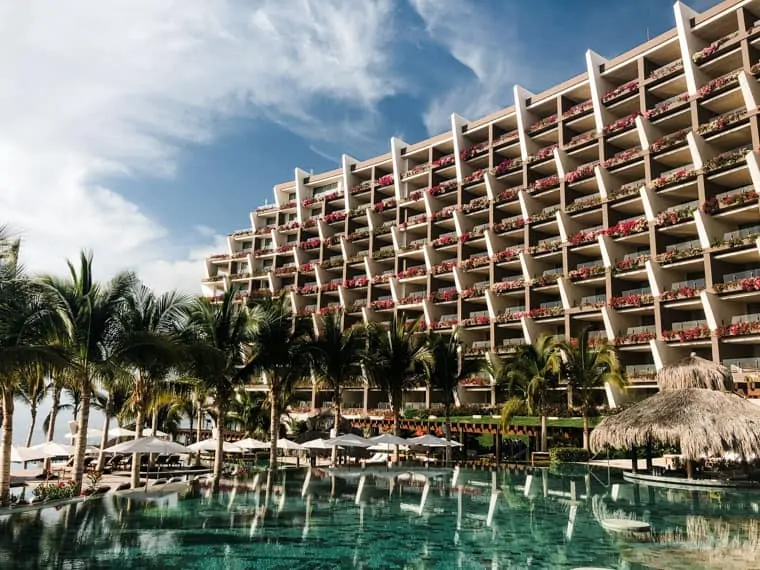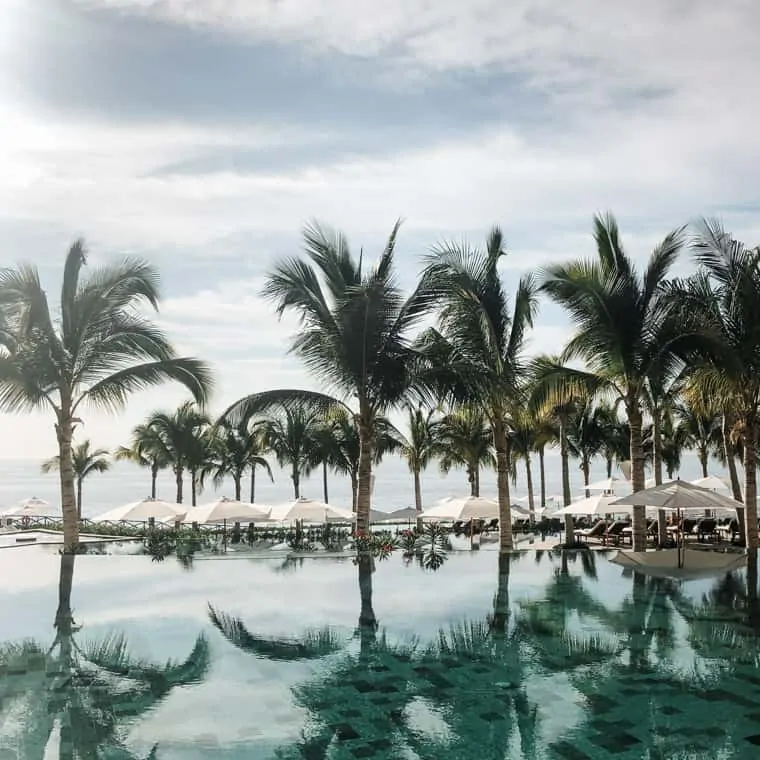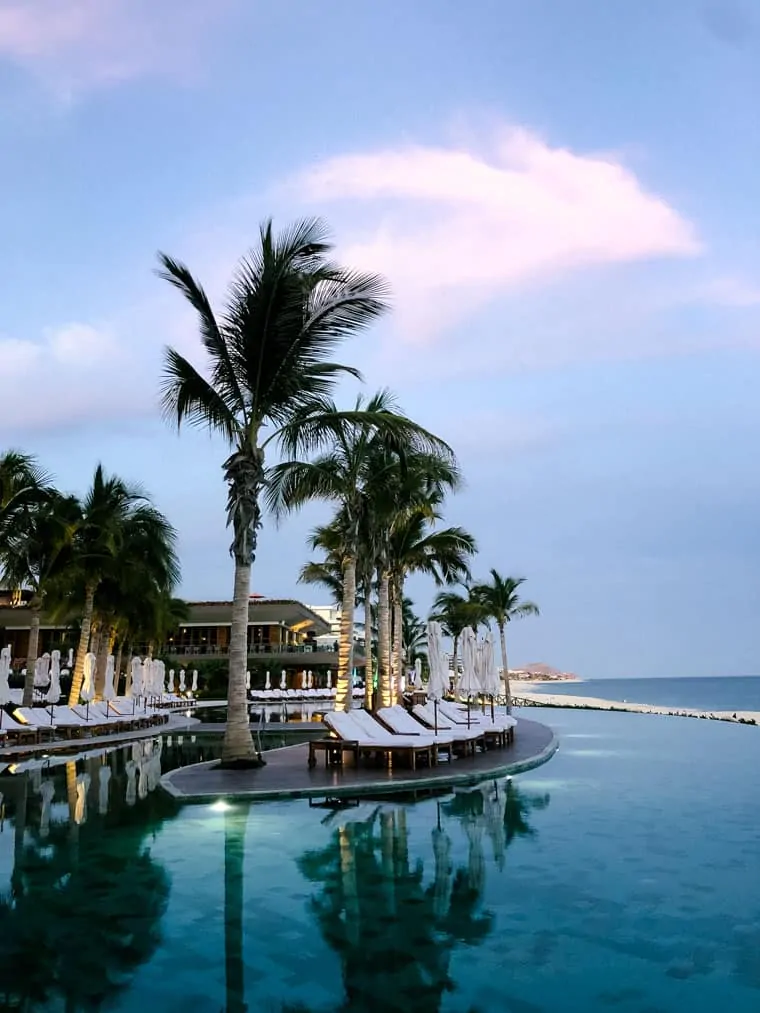 Healthy Resort in Cabo
We stayed at the Grand Velas in Cabo and wow. Just WOW! This resort was absolutely incredible! We were picked up at the airport and whisked away in a fancy SUV that drove us directly to the resort. We were welcomed with a fun bubbly cocktail, then were shown to our room.
What's unique about Grand Velas is that each room is actually a suite. They're all over 1,100 square feet, are decorated impeccably, have amazing views and come with incredible amenities. We stayed in a Grand Class suite which came with sea views, a plunge pool, and was literally twice the size of our apartment in New York.
And you guys…the bathroom! We're talking a giant jacuzzi tub, a huge standing shower with a rain shower head, double sinks, a makeup vanity, and even a walk-in closet. I mean…does it get any better?!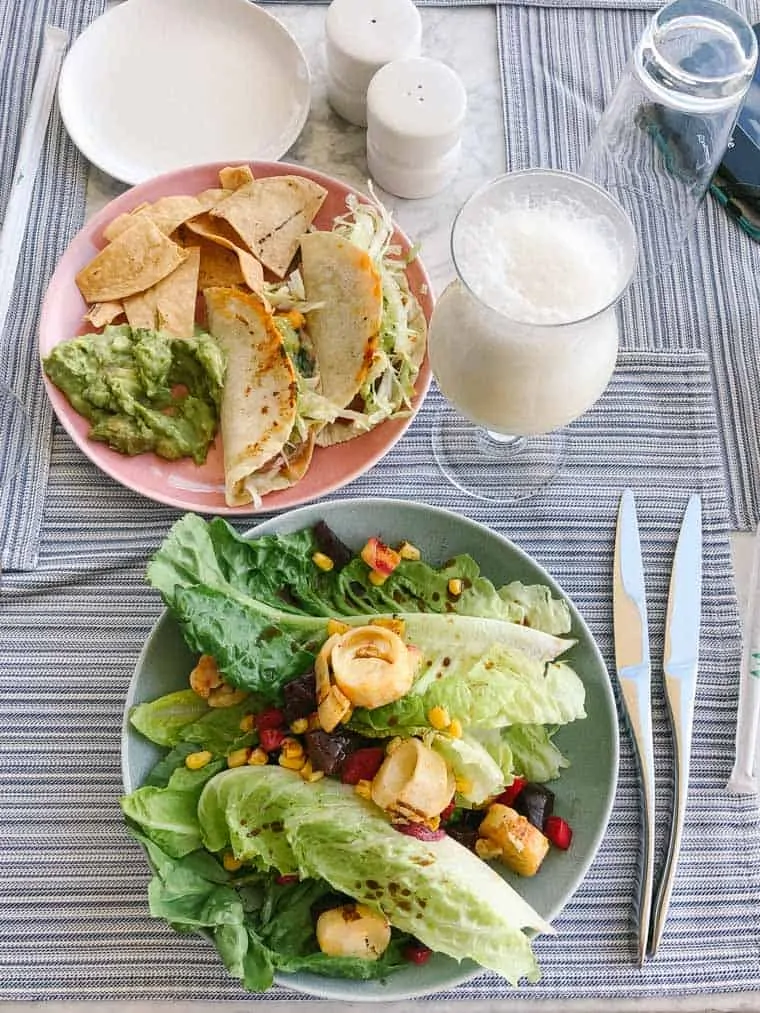 Cabo Resort with Healthy Food
Now I know what you're probably most interested in: the food! We've stayed at a few other all-inclusive resorts and to be honest you really never know what to expect when it comes to the food. Well…the food at Grand Velas was incredible!
Breakfast and lunch were buffet style which we kind of enjoyed. We were able to change it up most days but still choose healthy food. Each morning I had lots of fresh tropical fruit, a hard-boiled egg and then usually something crunchy like granola (or nuts/seeds) and almond milk. It was light, but still SO yummy.
Lunch for me was always a huge salad which I would create with romaine lettuce, and top with the other fresh veggies, beans and nuts/seeds. And then chips and guac. Always!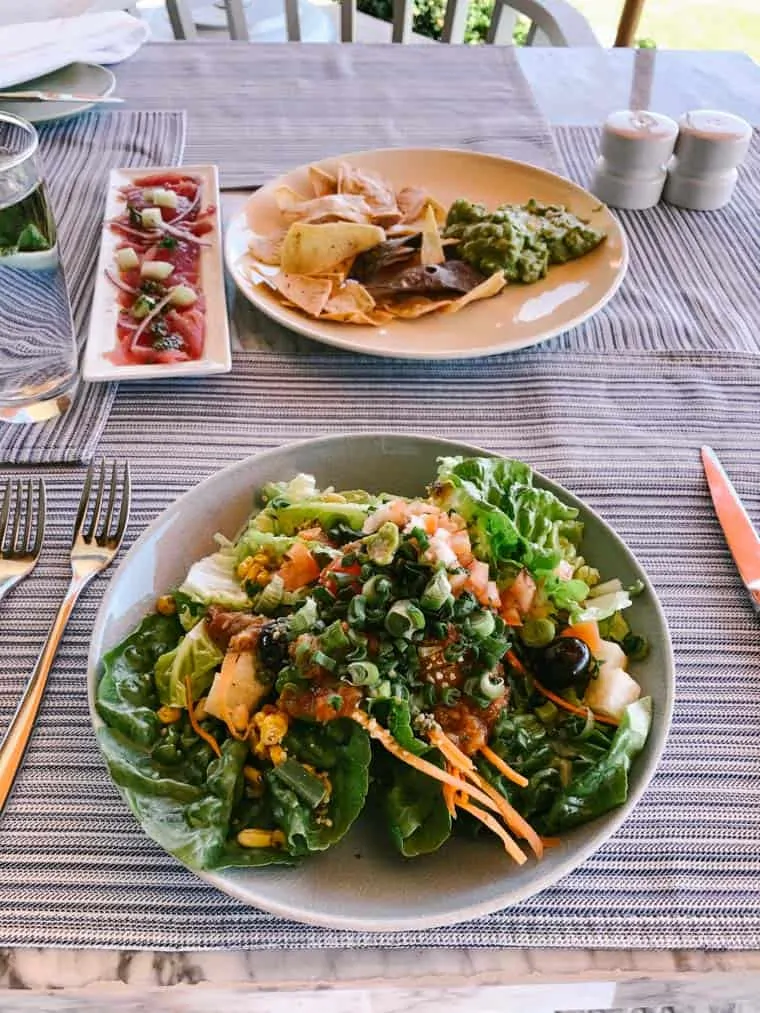 For dinner, the Grand Velas has 5 incredible, gourmet restaurants, one of which has a menu designed by a two-star Michelin chef! We were able to try four of the five and loved every meal. Each restaurant had a unique meal and the staff was super accommodating. They understood my allergies, helped me navigate the menu and even created some unique things just to make sure I had something to eat.
The one thing I would say is that it's not super vegan-friendly. Gluten-free was no problem, but there weren't a ton of great plant-based options for dinner. I'm fine eating fish while I'm traveling (especially since a lot of it was locally sourced!), and really enjoyed it all!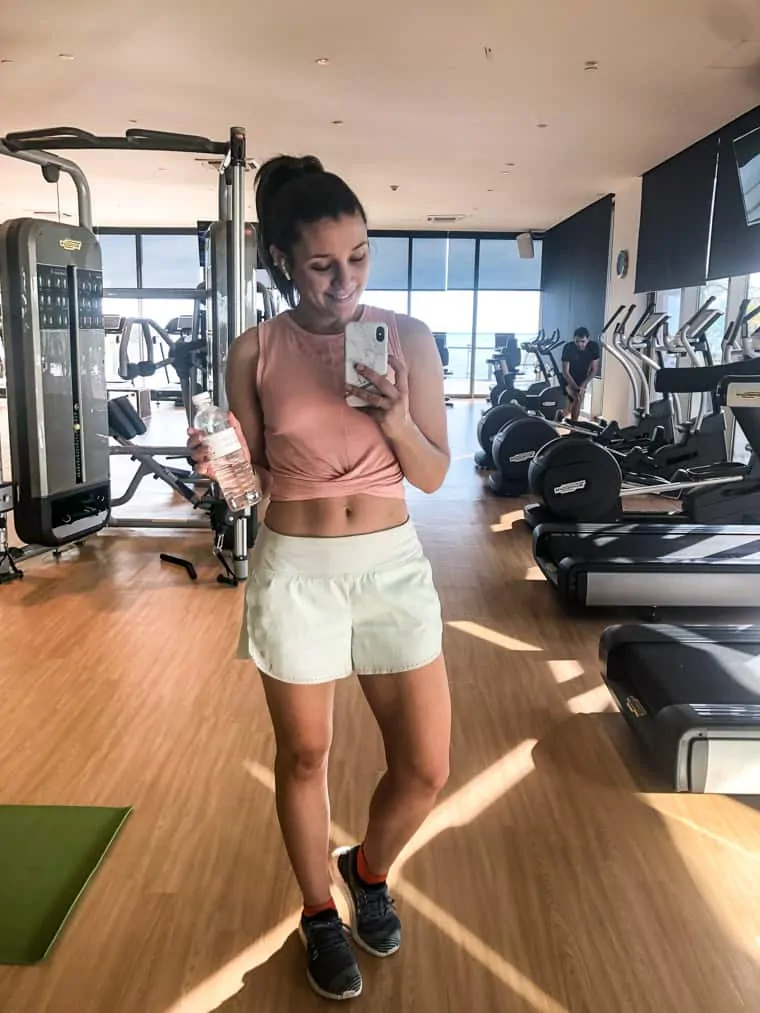 Wellness in Cabo
One thing that's really important to me while I'm at a resort is staying active and taking care of myself. Since I'm definitely one of those people that's happy to sit by the pool or on the beach all day, but I also don't want to feel like a blob while I'm away.
Grand Velas had so many opportunities not only for fitness but also for wellness and self-care. They have an incredible gym! It has all the cardio equipment you could need, but it also has weights, squat racks, kettlebells, Bosu balls, yoga mats, foam rollers and so much more. I walked in and was in heaven! We worked out each morning which made our days so much better!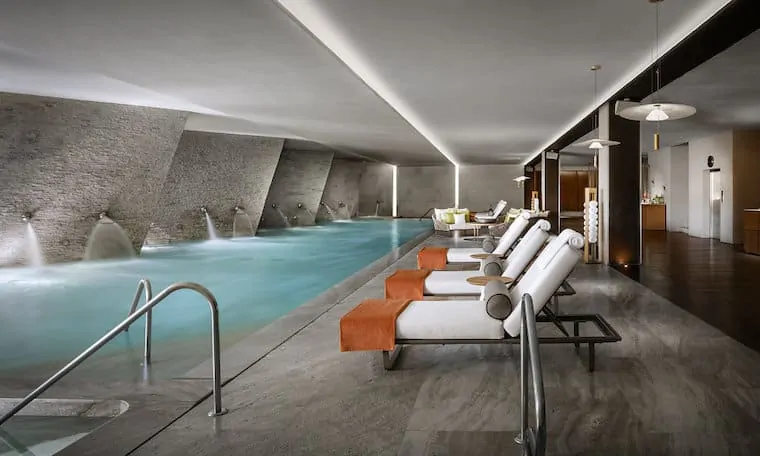 Across from the gym was the spa. And what a spa it is! You start their water treatment which includes a huge pool with different jets and water pressure stations, then into the hot tub, followed by an ice bath, and finishing in the sauna and steam room. That part alone was heavenly, but we were lucky enough to also get a massage.
And ummm…holy moly this was the best massage I'd ever had. I did a warm candle massage which was out of this world amazing. It was like a combo of hot stone and an oil massage and she just made me feel so comfortable and loved. Such an amazing experience and definitely one of the selling points of this resort!
What to do in Cabo
Aside from all activities that the resort has to offer – like horseback riding, morning yoga, the kids and teen clubs, etc. – there's also lots to do in the surrounding area. If you're in Cabo between the months of December – March, you must go whale watching!
Humpback whales breed in the Sea of Cortez and you can literally see them swimming from the resort. But if you really want to experience them you have to go a whale watch. We went with Whale Watch Cabo and had an intensely, amazing experience. We saw baby whales, we were within 100 yards of two that were swimming and then we found one that was breaching. And guys, it literally swam under our boat and breached about 15 feet off the bough. It was one of the most memorable things I've ever seen!
Other than whales, there's also the town of Cabo San Lucas which has lots of shops, restaurants, and a nightlight. We personally like to chill at the resort while we're away, but if you are looking for more of that party scene, head into town for a night!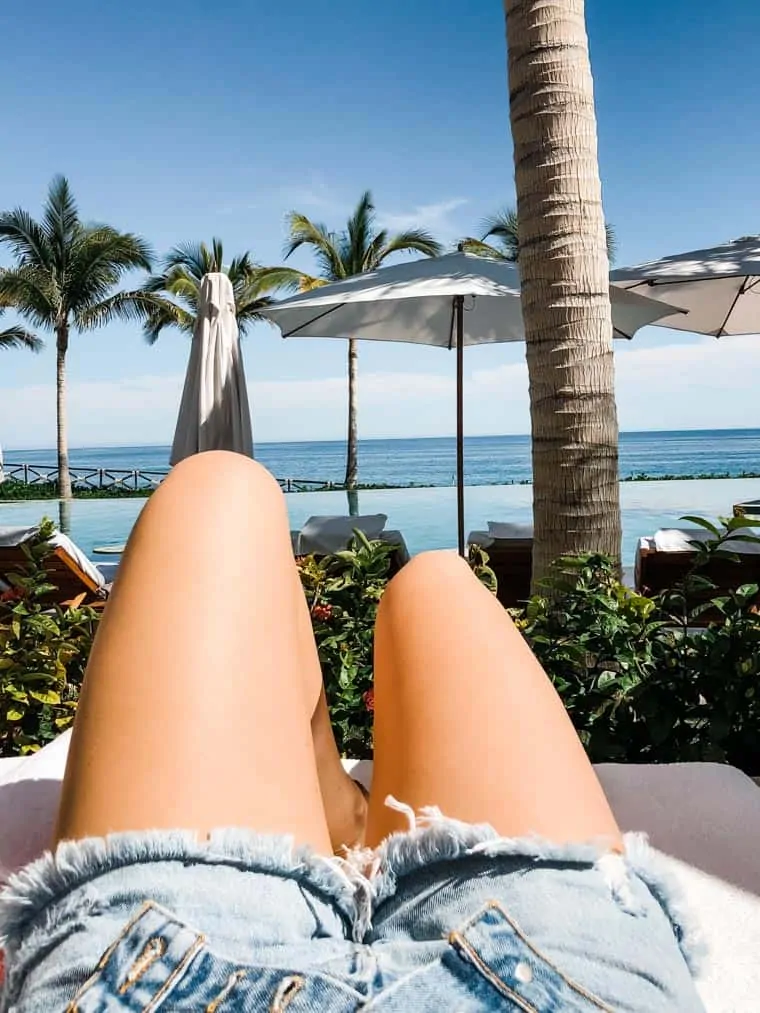 And that's pretty much it, my friends! We had a great time and can't recommend the Grand Velas in Cabo enough. You will love the food, the spa, the service and everything in between. It's one of the best resorts we've ever stayed at and would absolutely go back!
More Healthy Weekend Vacation Ideas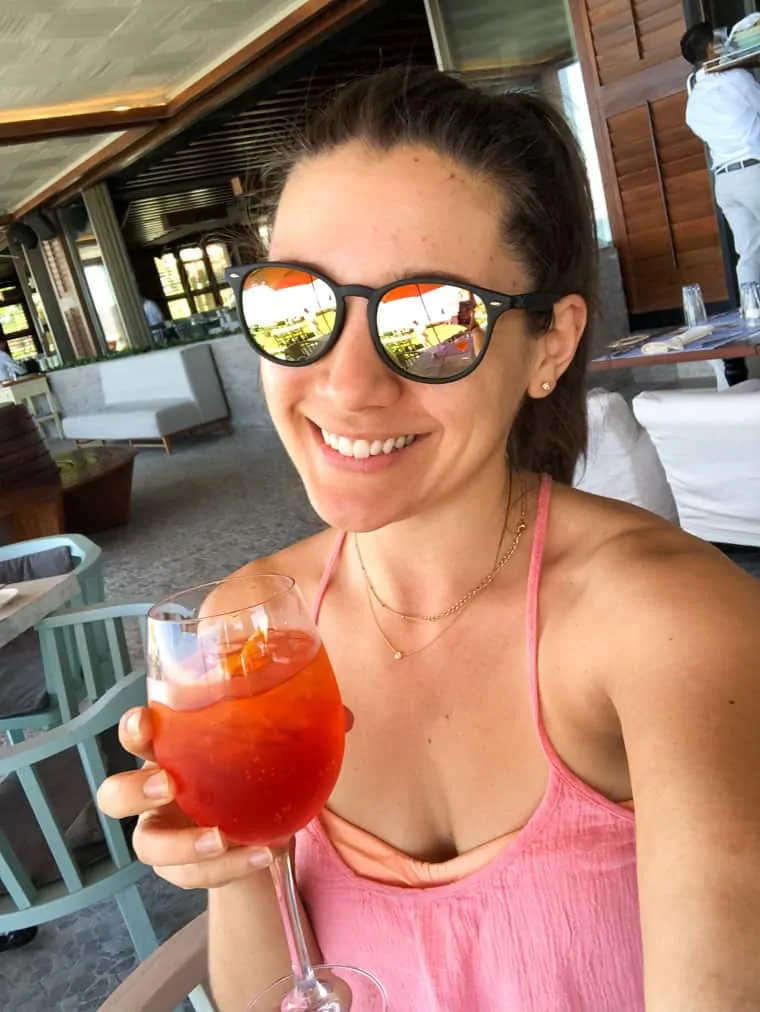 Thanks to Grand Velas in Cabo for helping us with part of our stay! And thank YOU for support the brands and companies that help make this website possible! xo