These quick and easy almond butter blondies are made with simple ingredients and are studded with dark chocolate chips. They're gluten-free and vegan too!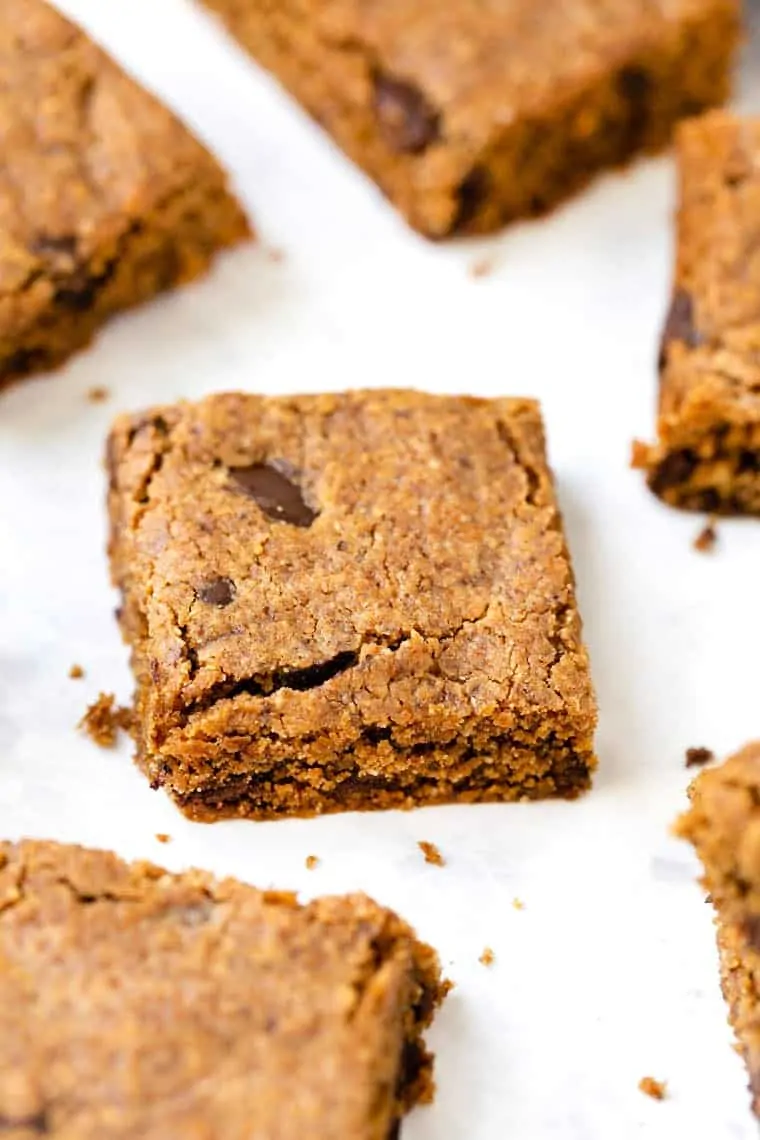 I've always been a brownie fan.
When I was little my dad used to make brownies from scratch and I would sit on the counter, watching him melt the chocolate and stir in the flour, knowing full well I'd be able to lick the beaters when he was done.
And while brownies pretty much always hit the spot, especially when my dad makes them, I recently found myself craving something different. Something with a teeny less chocolate, but still moist, decadent and gooey.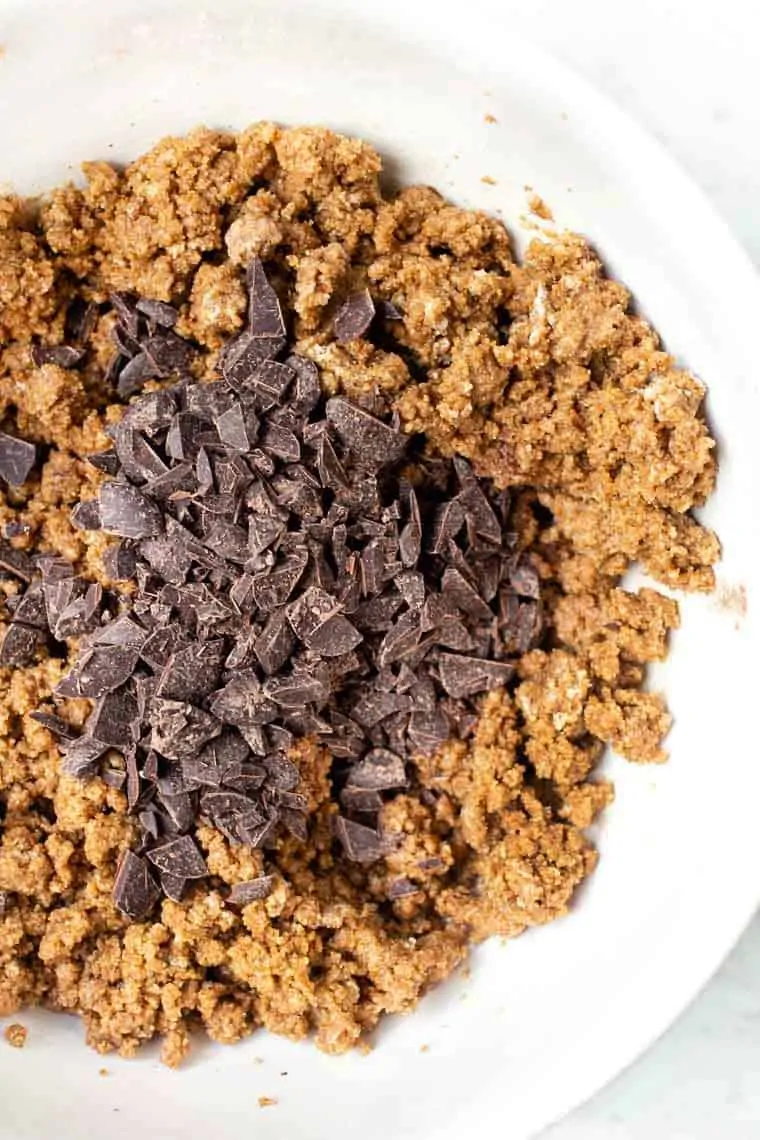 Difference Between Blondies and Brownies
If you aren't familiar with blondies, I like to describe them as the vanilla version of brownies. They bake like brownies, are cut into squares like brownies, they're just not chocolatey. Essentially a blondie can be made very similar to a brownie, just without cocoa powder.
Traditional blondies are quite decadent. They're packed with butter and sugar, tend to be extremely gooey and are definitely on the mega sweet side. And while I'm all for indulging, I'm also all about making things a bit healthier when possible. So for today's almond butter blondies, we've been able to create a unique twist on the traditional blondie, using better-for-you ingredients.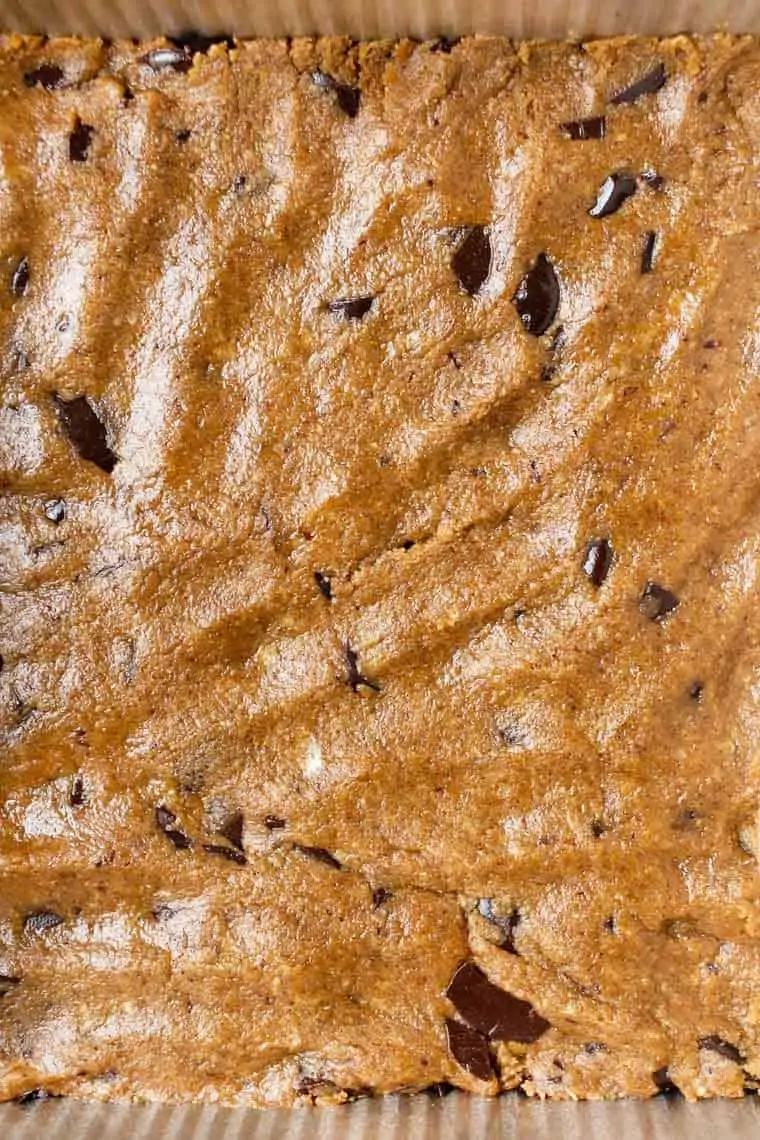 Ingredients for Almond Butter Blondies
As always we're doing things a little bit different around here. We're taking a classic recipe and making it healthier. We're lightening things up, we're swapping things in and out. And while we're making changes, we aren't sacrificing on flavor or texture.
Thes almond butter blondies still taste like the traditional blondie, they're still nice and chewy, they're just a bit better for you!
So…what swaps are we making? Here's what we're using in this recipe:
Coconut Oil & Almond Butter: rather than butter, we're using coconut oil and almond butter to give us the gooey factor.
Coconut Sugar: rather than brown sugar, we're using low glycemic coconut sugar which still has the same flavor and can always be swapped 1:1.
Quinoa Flour: rather than white or all-purpose flour, we're using protein-packed quinoa flour. If you want a little extra flavor, try toasting your quinoa flour first! It makes it taste amazing!
Flax Eggs: to keep things vegan, we're swapping the eggs for flax eggs which actually provide an even better texture in my opinion. Not sure what a flax egg is? Check out our tutorial for how to make a flax egg!
Vegan Chocolate Chips: and to give these almond butter blondies a little something extra, we're throwing in some dark chocolate chip for added sweetness and decadence!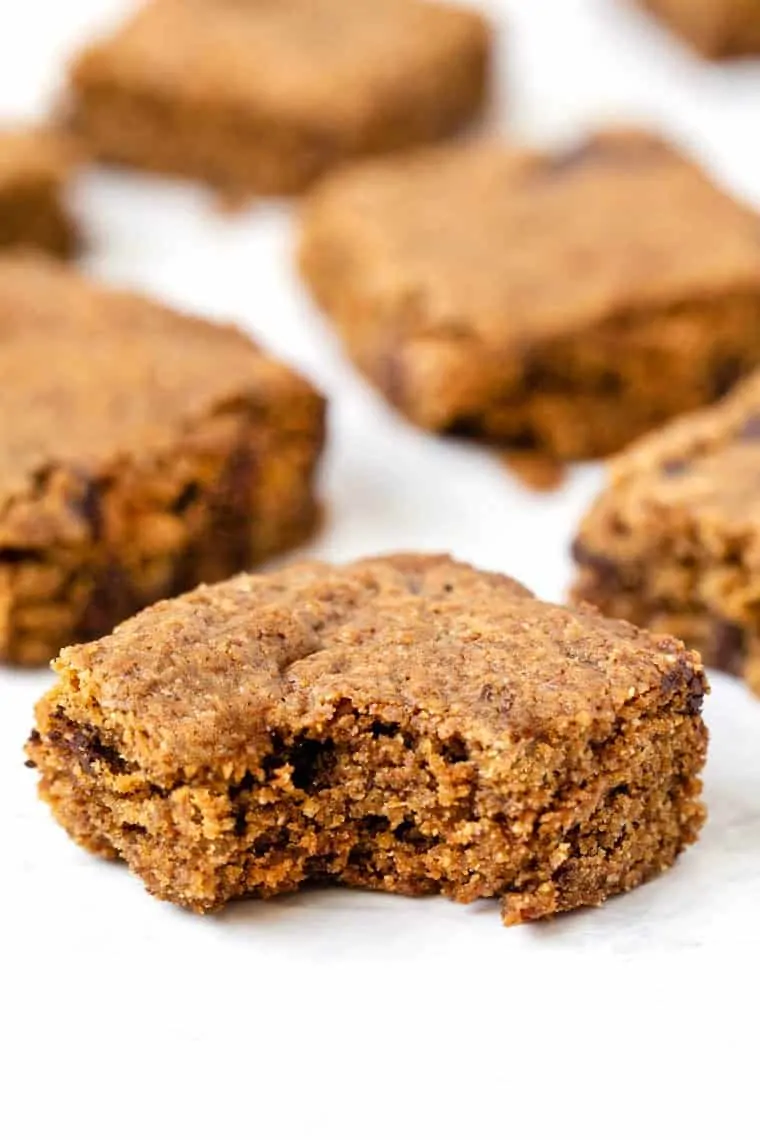 Substitution Ideas for These Healthy Blondies
I always get questions for substitutions in the comments of posts, so I wanted to write them out here in case you're looking to make some swaps. This recipe is pretty flexible, so I think you'll be able to swap most of the ingredients out as needed!
Swaps for Almond Butter Blondies:
Almond butter: use any nut or seed butter you want (cashew, peanut, tahini, etc.)
Coconut oil: vegan butter would be best since we're creaming things together
Coconut sugar: swap with brown or raw sugar
Quinoa flour: I think you could swap this with oat flour or maybe sorghum flour!
Chocolate chips: feel free to either leave those out or swap them with whatever else you want to stir in. I think nuts or coconut would do well!
The Easiest Vegan Blondie Recipe EVER
These blondies are a great dessert when you're looking for something quick and easy. They come together in less than 10 minutes, have less than 10 ingredients and have that soft, decadent texture that makes brownies (and blondies) so scrumptious. I know you're going to love them, so give them a try!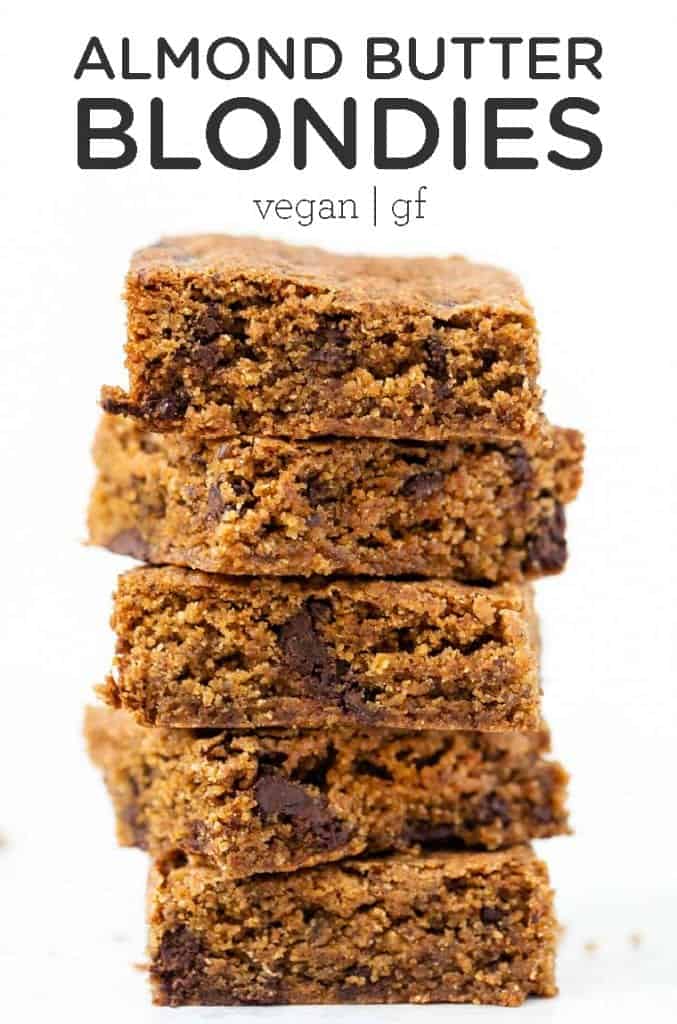 More Almond Butter Dessert Recipes:
Vegan Almond Butter Quinoa Blondies
This recipe, for almond butter quinoa blondies, is a unique twist on the traditional blondie, using far less fat and sugar. Rather than butter, we're using coconut oil and almond butter.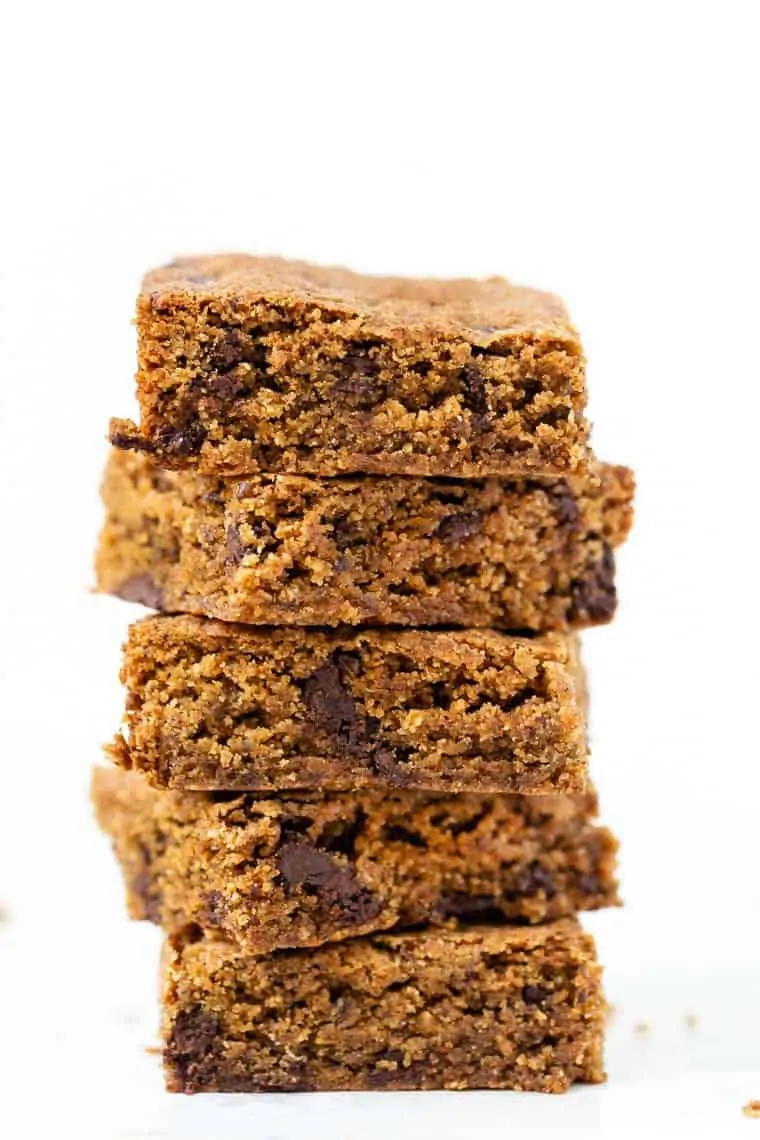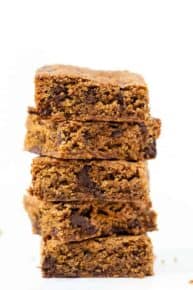 Instructions
Preheat oven to 350 degrees F. Line an 8 x 8 baking pan with parchment and set aside.

Beat together coconut oil and almond butter until creamy. Add sugar, vanilla, and flax eggs and beat until combined.

Whisk together dry ingredients and add to wet, mixing until incorporated. Fold in chocolate chips.

Transfer batter to the prepared baking pan and bake on the center rack for 25 - 30 minutes.

Let cool in pan completely before cutting into squares.
Nutrition
Serving:
1
g
|
Calories:
210
kcal
|
Carbohydrates:
19
g
|
Protein:
4
g
|
Fat:
14
g
|
Saturated Fat:
5
g
|
Sodium:
37
mg
|
Potassium:
148
mg
|
Fiber:
2
g
|
Sugar:
10
g
|
Calcium:
83
mg
|
Iron:
1.6
mg
Filed Under: