Easy Vegan Almond Butter Brownies
These easy almond butter brownies are a unique twist on the traditional brownie, using way healthier ingredients. No butter, vegan and gluten-free too!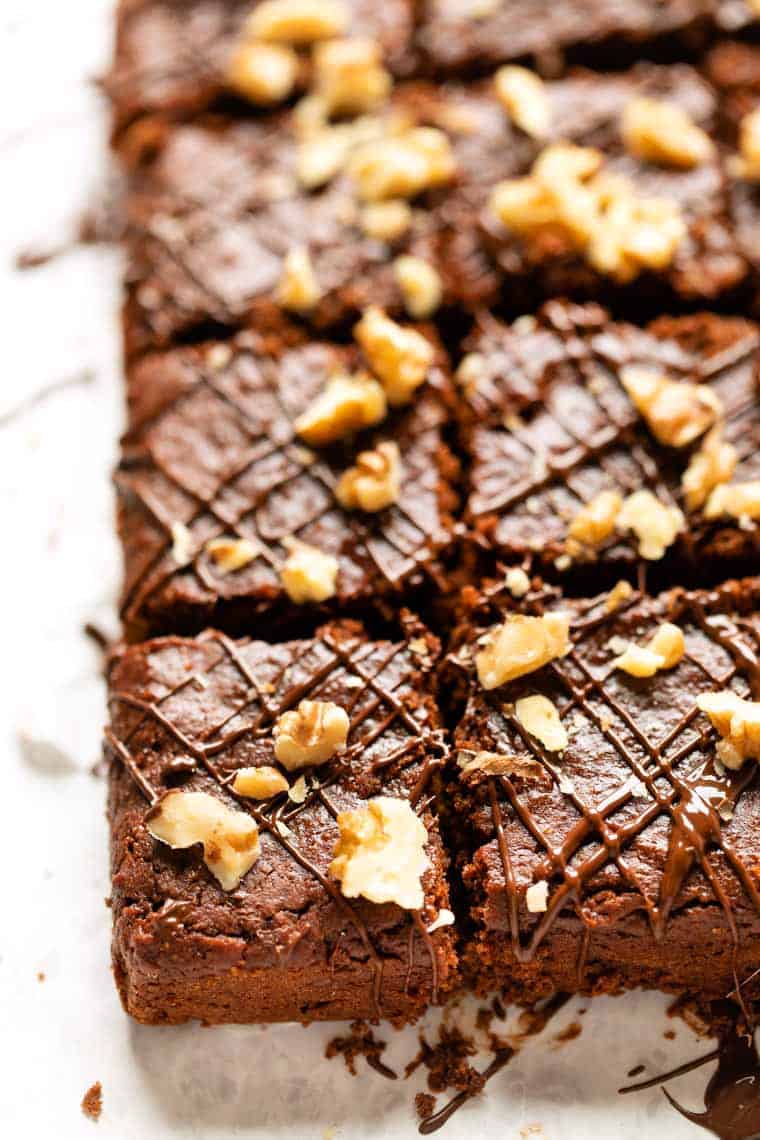 We're getting a little fancy with our dessert today! See that drizzle of chocolate and chopped walnuts? Might look like a million bucks, but have no fear, these easy almond butter brownies are just that…EASY!
When it comes to baking, I sometimes have to do a few tests to check all my boxes. If you aren't familiar, my boxes include: gluten-free, dairy-free, usually egg-free, definitely refined sugar-free and always with a healthy twist.
That's a long list to get through and still give you guys the same traditional textures and flavors that you love. But we nailed it today. And you're going to gobble these up. We're talking healthy, gooey, fudgy and easy almond butter brownies!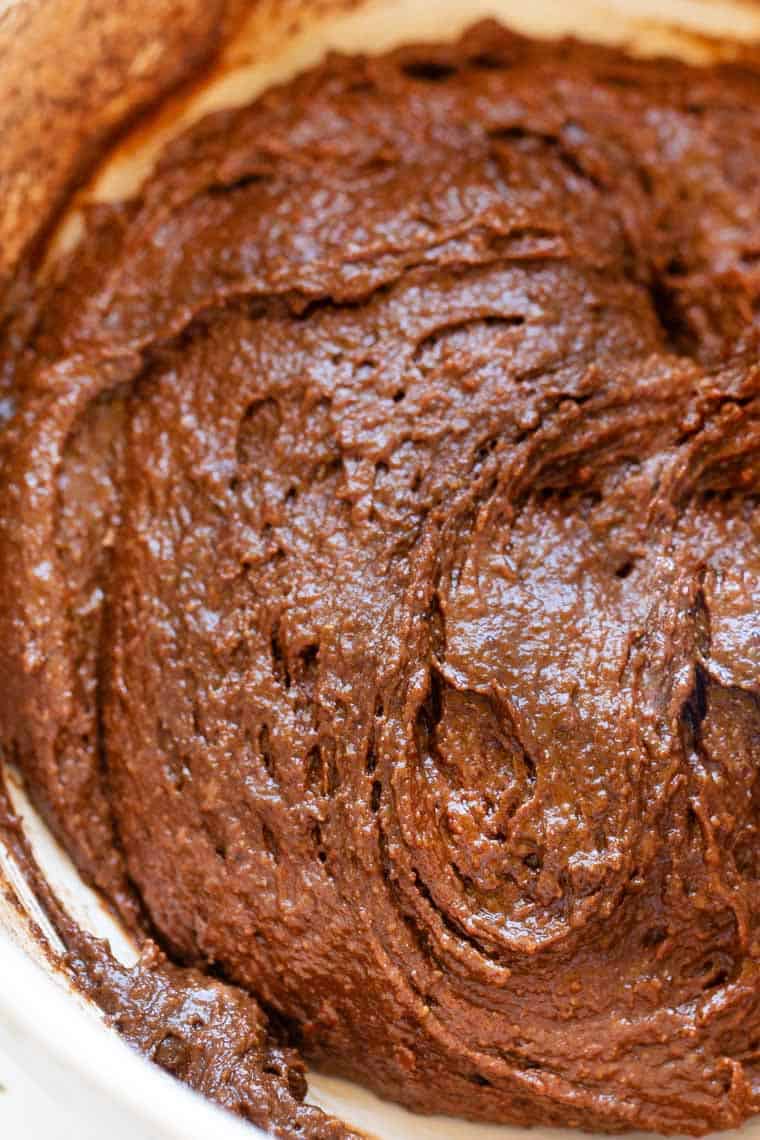 The Secret to Making Fudgy Brownies
I'm all about the fudge factor when it comes to chocolate brownies. The gooier the better in my eyes. But that can take a little work when you're also making them healthy.
Traditional fudge brownies get their fudge from the combination of butter (or vegetable oil) and eggs.
We're not using either of those in this recipe, but we still managed to pull it out. Rather than filling your treats up with those not-so-good ingredients, we're using almond butter, coconut oil, flax eggs and then a little quinoa flour to bring it all together. They're light, they're tender and they are fudgy AF!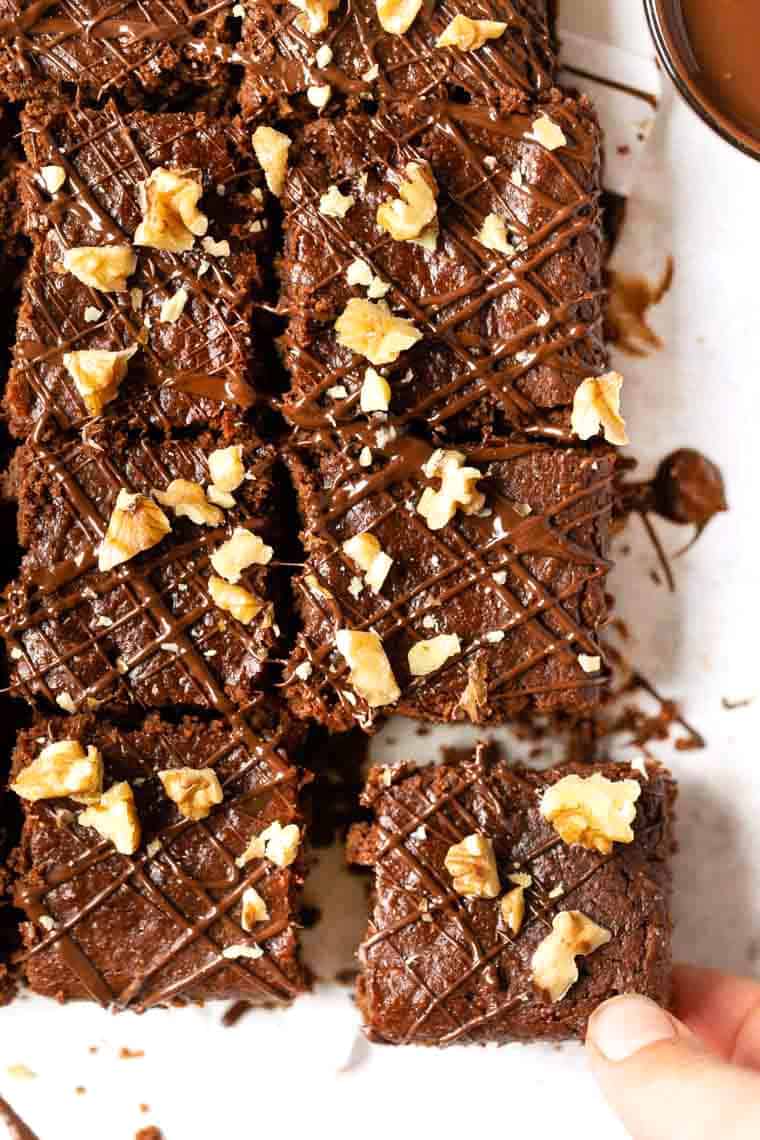 Vegan & Gluten-Free Brownies for the Win
Luckily, if you're looking to make super fudgy brownies, using a vegan egg substitute is actually going to help with that texture.
To make these brownies vegan and gluten-free, we're using just a few simple swaps:
flax eggs for the chicken eggs
almond butter + coconut oil for the butter
quinoa flour for the all-purpose flour
Otherwise, it's a pretty straightforward recipe! And it's so simple to make. Just stir everything into your bowl, transfer it to the pan, bake it up, cool, drizzle and slice. SO GOOD.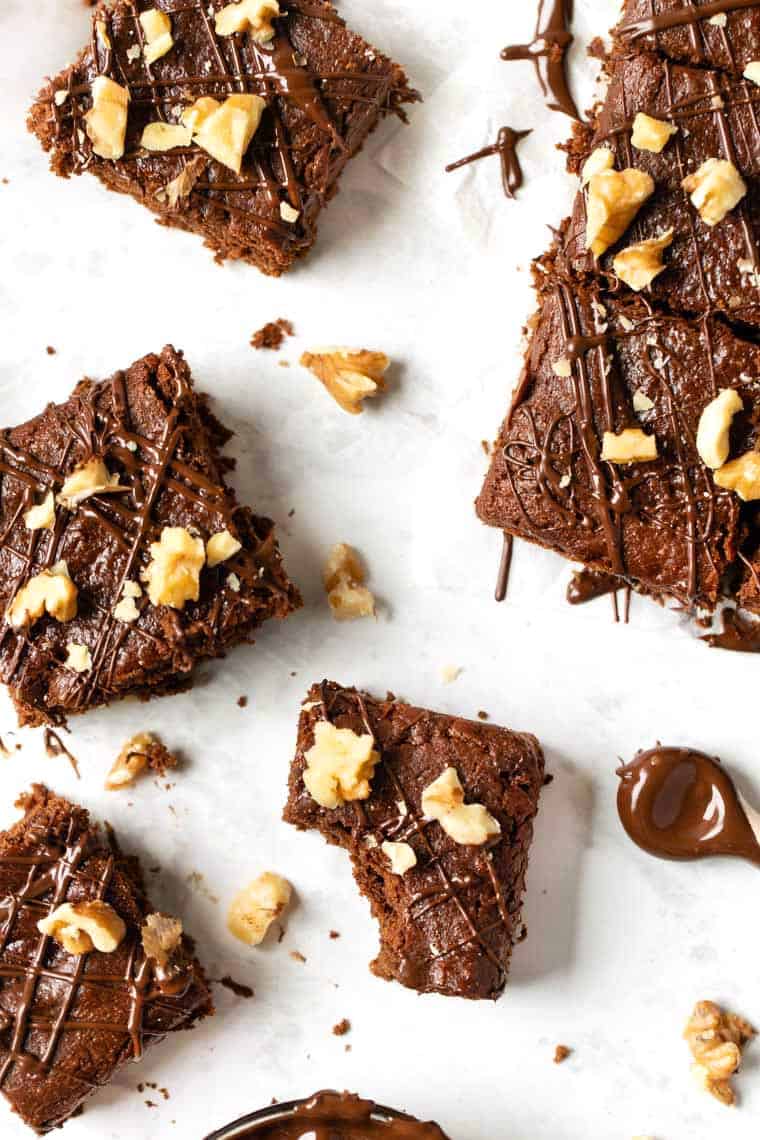 You'll Love These Almond Butter Brownies
Okay so now that you know how to make the ultimate gluten-free vegan brownie, let's chat about these ones specifically.
Why will you love these easy almond butter brownies? Here's why:
10 ingredients
one bowl
ready in 30 minutes (with baking time)
just 1/4 cup of oil
packed with plant-protein & fiber
And of course, these beauties are gluten-free, dairy-free, egg-free, and refined sugar-free! Best of all, we're finishing things off with a drizzle of dark chocolate and sprinkled with walnuts.
I seriously can't wait to see your recreations! Make sure to share a photo with me on Instagram by tagging @simplyquinoa ❤️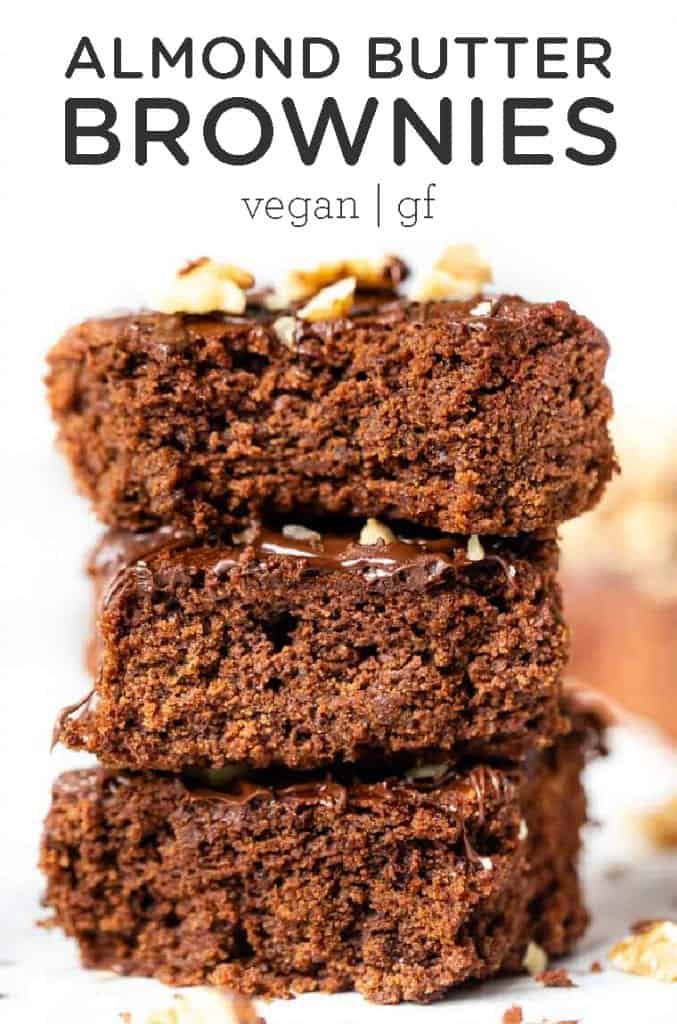 More Healthy Brownie Recipes
Vegan Almond Butter Brownies
These vegan almond butter brownies are a unique twist on the traditional brownie, using way healthier ingredients. Rather than butter, we're using coconut oil and almond butter.
Servings 16 squares
Calories 212kcal
Instructions
Preheat oven to 350 degrees F. Line an 8 x 8 baking pan with parchment and set aside.

Beat together coconut oil and almond butter until creamy. Add sugar, vanilla, flax eggs, and almond milk, and beat until combined.

Whisk together dry ingredients and add to wet, mixing until incorporated. Fold in chocolate chips.

Transfer batter to the prepared baking pan and bake on the center rack for 22 - 25 minutes.

Let cool in pan completely before cutting into squares.
Nutrition
Calories: 212kcal | Carbohydrates: 20g | Protein: 4g | Fat: 14g | Saturated Fat: 5g | Sodium: 19mg | Potassium: 175mg | Fiber: 3g | Sugar: 10g | Calcium: 85mg | Iron: 1.8mg
share what you make
Tag #simplyquinoa on Instagram with your creations! We love sharing what you make with the community. We can't wait to see!

follow on instagram