This carrot cake baked oatmeal recipe is gluten-free, vegan and packed with flavor! It's almost like you're having a slice of carrot cake for breakfast!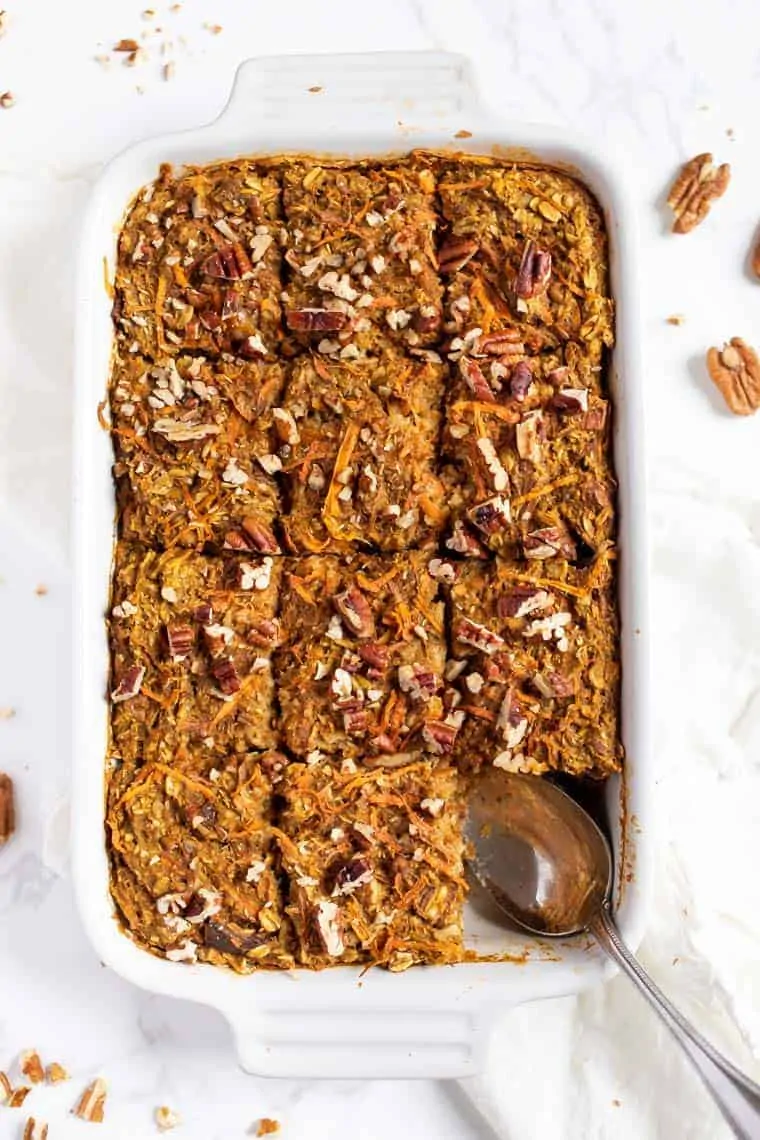 Okay, I'm hooked. Like legit. Baked oatmeal is perhaps my new favorite way to eat oatmeal!
If you're like, "what the heck is baked oatmeal?!", more on that later in the post. But for now, let me share why baked oatmeal is so awesome:
it makes a giant serving in one go
you can store it for at least a week
all the flavors
easy to make, easier to reheat
And like a million other reasons! I shared my vegan protein baked oatmeal a few months ago and you guys loved it, so we're back with another option in a new flavor. Today we're making carrot cake baked oatmeal and it's…everything.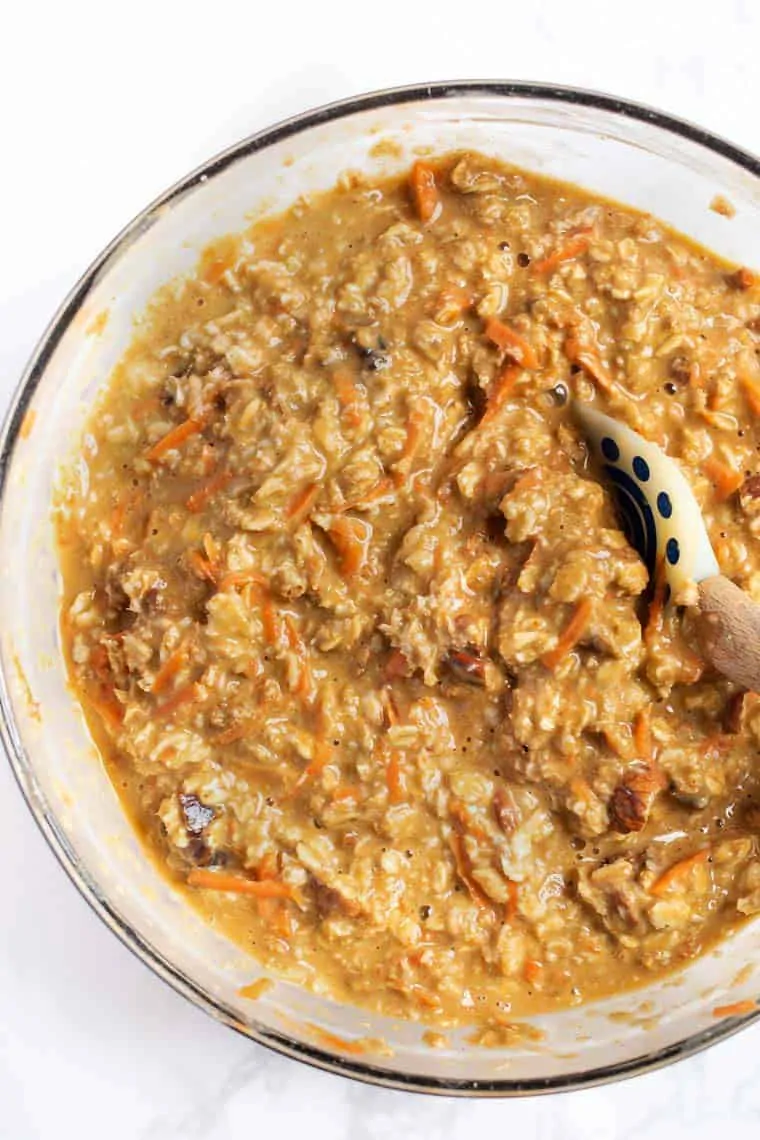 Carrot Cake Baked Oatmeal Ingredients
Baked oatmeal basically uses the same ingredients as regular oatmeal, it's just baked instead of cooked on the stove. For our carrot cake baked oatmeal, here's what we're using:
Rolled oats: make sure that you old fashioned rolled oats or extra thick rolled oats. Quick oats or anything thinner won't be able to absorb the liquid and it will end up being mushy!
Pumpkin puree: I used this for an extra kick of fiber, as well as color. Feel free to either skip the pumpkin all together or swap it with mashed banana or applesauce.
Flax egg: this is a vegan alternative to egg and it helps bind the oatmeal together.
Maple syrup: my sweetener of choice! Feel free to use honey instead.
Protein powder: I use a vegan vanilla protein powder for this recipe, but I think you could leave it out and just decrease the liquid slightly.
Almond milk: the liquid we're using, but feel free to use any milk substitute you'd like!
And that's pretty much the base. For our carrot cake mix ins, we're adding:
Grated carrots
Chopped pecans (or walnuts)
Shredded coconut
Chopped dates
Cinnamon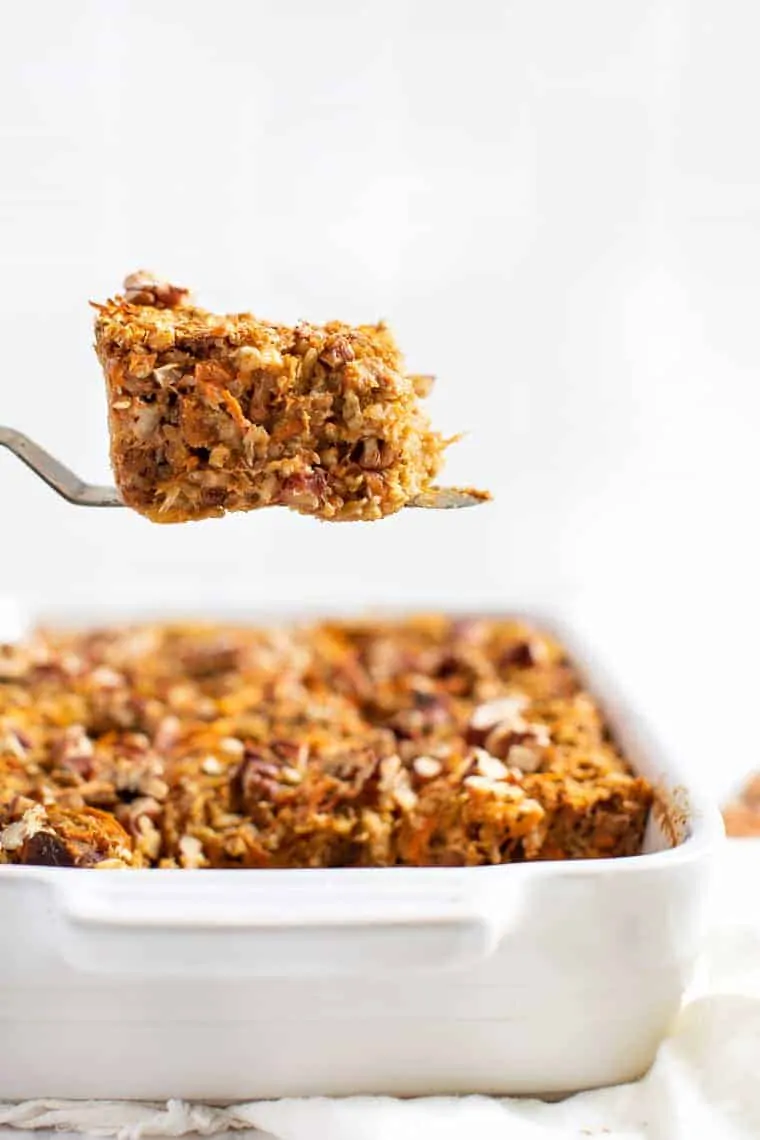 How to Make Carrot Cake Baked Oatmeal
One of my favorite things around baked oatmeal is how easy it is to make.
STEP ONE
Soak the oats in some boiling water. This is optional but helps them get chewy and soft.
STEP TWO
Mix everything else together with your oats. You're looking for a consistency that is kind of gloopy. It shouldn't be runny!
STEP THREE
Bake it up! It takes a while – like an hour – but it's 100% worth it!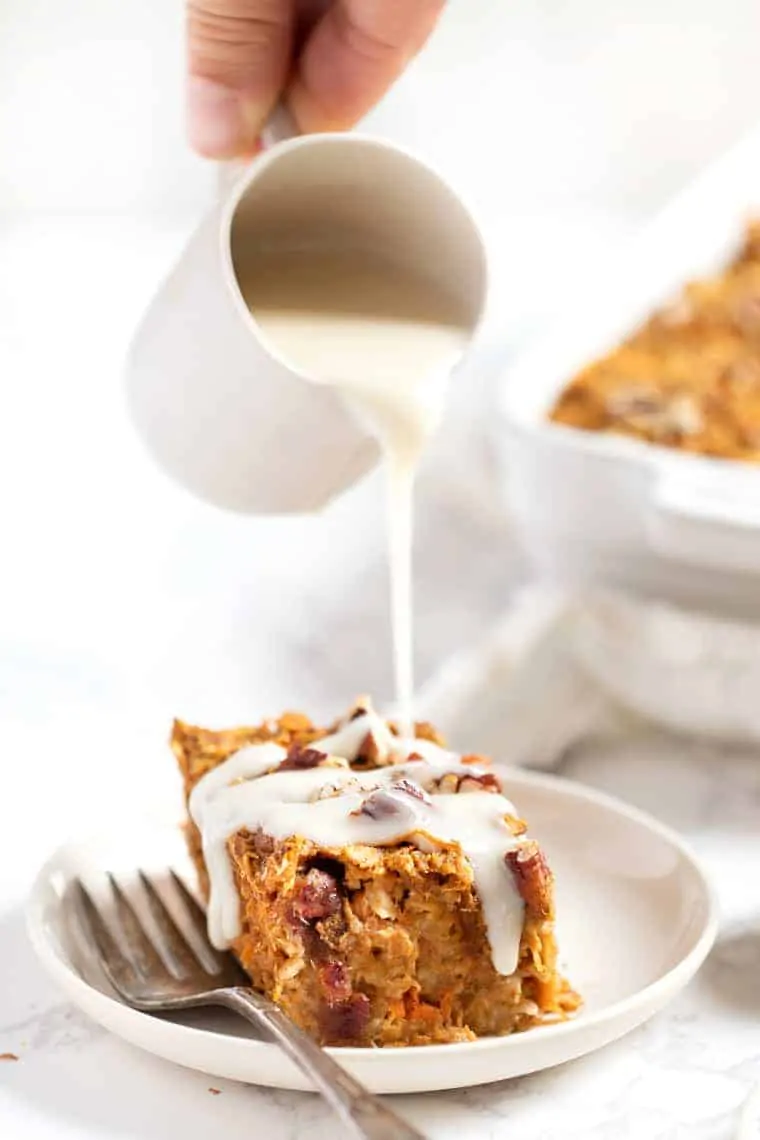 What is Baked Oatmeal?
So if you've gone this far into the post and still are confused about what baked oatmeal is, it's basically just oatmeal that's baked in a casserole dish instead of cooked on the stove. You use pretty much the same ingredients as you would for stovetop oatmeal, but it can be cut into squares and made ahead. Which in my opinion, totally rocks!
Best Types of Oats for Baked Oatmeal
The type of oats you use for baked oatmeal matter! Quick oats won't work as they're too soft and aren't able to absorb enough liquid. The types of oats you can use for baked oatmeal are:
Old fashioned rolled oats
Extra thick rolled oats
Scottish oatmeal
Steel-cut oats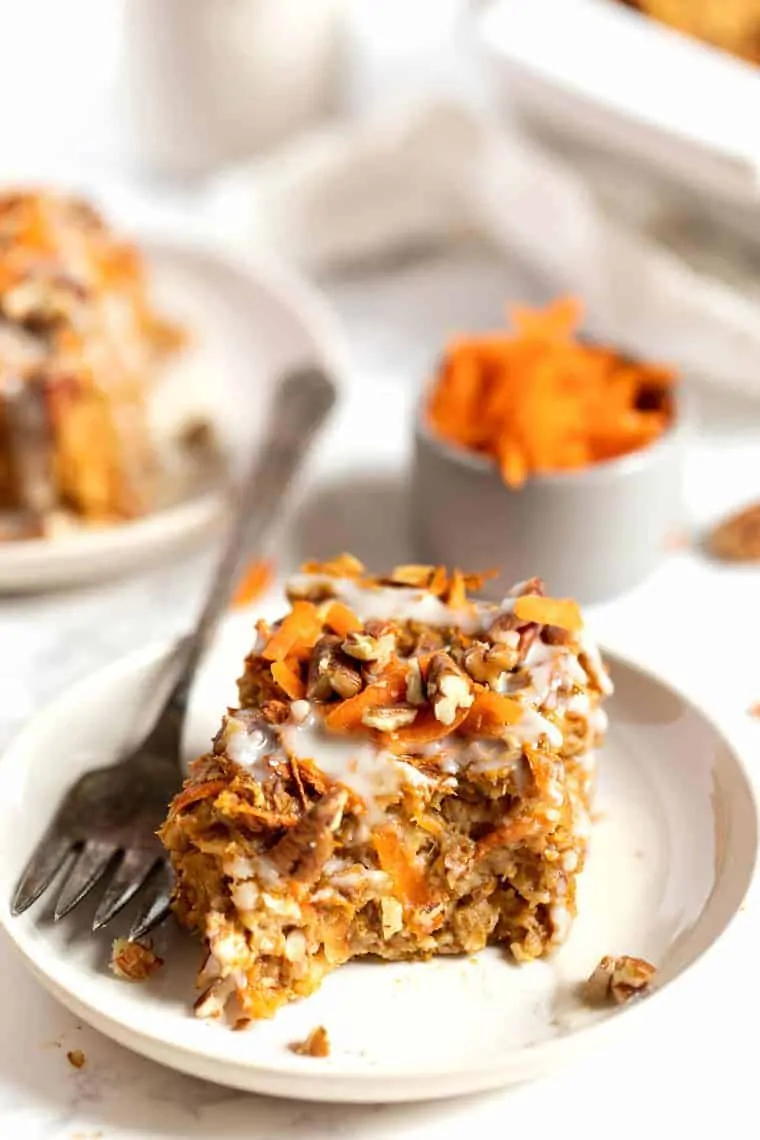 How to Store Baked Oatmeal
I love, love, LOVE that this recipe can be made ahead. We've been eating it in my house for 4+ days and it's still delicious. For storing baked oatmeal, I'd recommend keeping it in the fridge. It will last at least 4 – 5 days and just needs to get reheated in the microwave.
I think you could also freeze this, but haven't personally tested. If you do end up freezing it, let me know how it turns out!
How We Topped Our Oatmeal
And lastly, let's talk toppings because I know you're going to ask!
Topping one is my "icing". Because carrot cake needs icing. And therefore carrot cake baked oatmeal also needs icing. But since we're keeping things healthy, my "icing" is actually just melted coconut butter. It's the best!
Other toppings we added were:
Coconut yogurt
Peanut butter/almond butter
Cacao nibs
Hemp seeds
And of course what you see in the photos here: grated carrots and chopped pecans! I hope you enjoy this recipe and can't wait to hear how it goes for you. Don't forget to leave a star rating if you make it ⭐️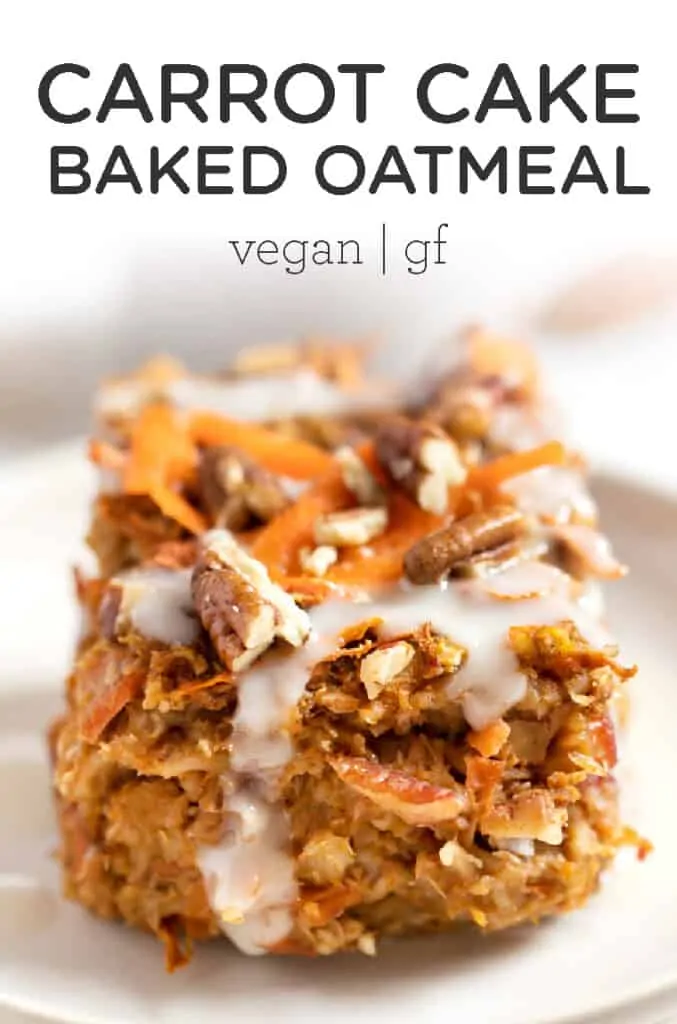 More Carrot Cake Flavored Recipes to try:
Carrot Cake Baked Oatmeal
This carrot cake baked oatmeal recipe is gluten-free, vegan and packed with flavor! It's like you're having a slice of carrot cake for breakfast!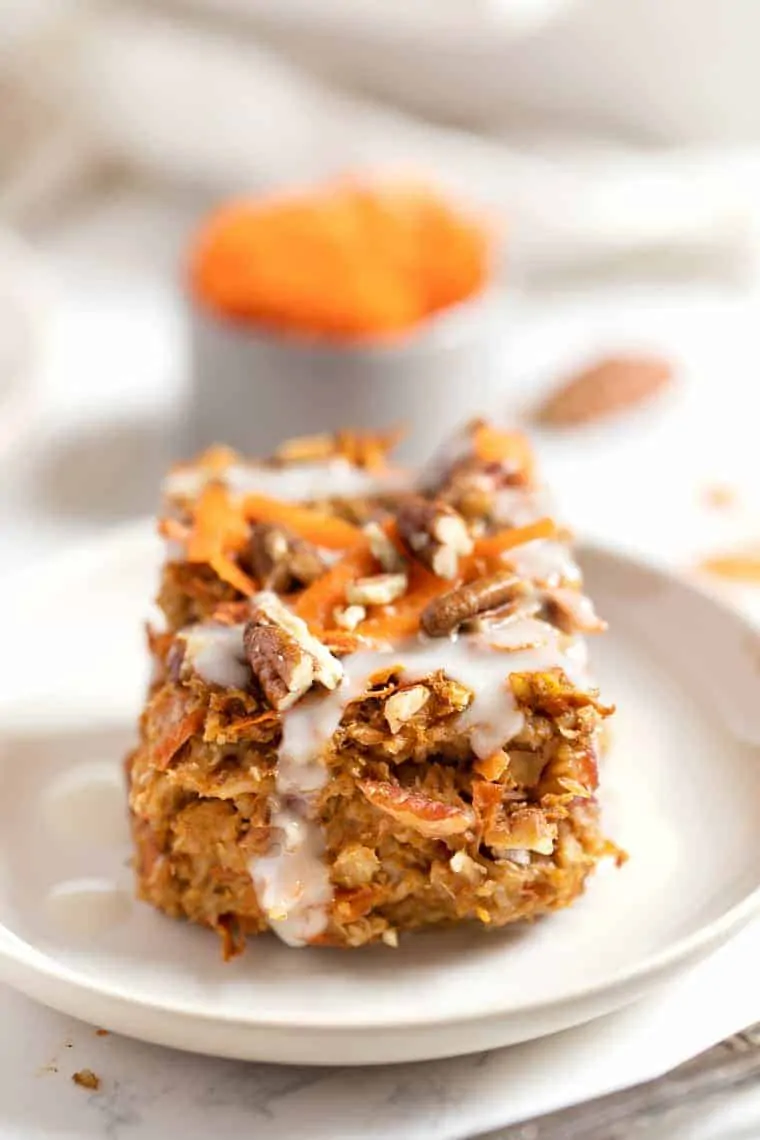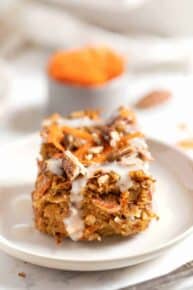 Instructions
Add the oats and boiling water into a mixing bowl. Allow to sit for 10 - 15 minutes.

Meanwhile, stir together the pumpkin, flax egg, syrup and protein powder. Pour this mixture over the softened oats and stir to combine.

Add the remaining ingredients into the bowl and stir again to combine.

Pour the oat mixture into a 9x13 baking pan. Top with additional carrots and pecans if desired.

Bake at 375ºF for 50 - 60 minutes. Allow to cool slightly, then cut into squares (or scoop out) and enjoy.
Nutrition
Serving:
1
square
|
Calories:
250
kcal
|
Carbohydrates:
31
g
|
Protein:
9
g
|
Fat:
11
g
|
Saturated Fat:
2
g
|
Sodium:
96
mg
|
Potassium:
258
mg
|
Fiber:
5
g
|
Sugar:
12
g
|
Vitamin A:
5095
IU
|
Vitamin C:
2
mg
|
Calcium:
99
mg
|
Iron:
3
mg
Filed Under: