Blueberry Banana Protein Baked Oatmeal
This healthy protein baked oatmeal recipe is gluten-free, vegan and packed with plant-based protein. It's also naturally sweetened and full of fresh fruit!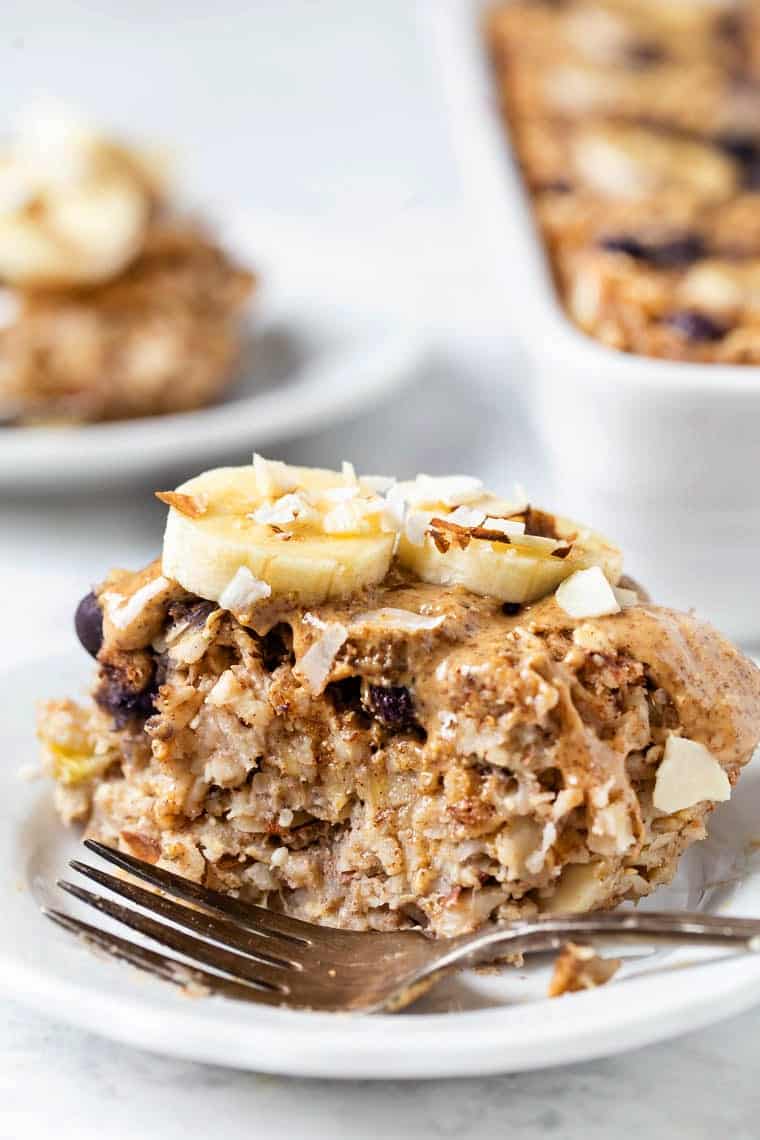 What if you could have oatmeal for breakfast but not actually sit in front of the stove stirring it until it's done? I'm here for it. Especially during the summer.
I've got the oatmeal lover's solution: BAKED OATMEAL!
If you've never tried, it's honestly the best. You stir everything together, transfer it to a baking dish and walk away. In about 35 minutes, you'll have a big batch of soft, fluffy oatmeal that will last you all week long. It's kind of like a casserole, but better.
And you can flavor it a million different ways! We're making a batch of protein baked oatmeal and adding in my two favorite fruits: banana and blueberries. It's sweet, it's flavorful and it's the perfect way to start your day!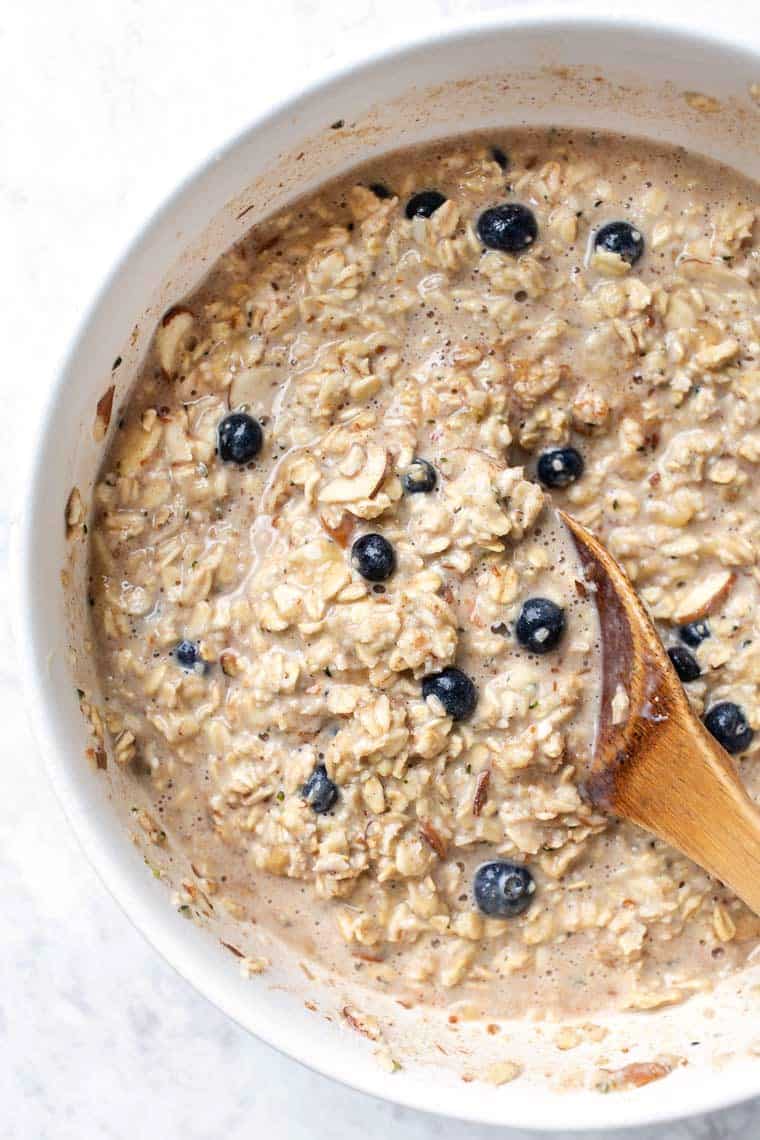 Ingredients for Protein Baked Oatmeal
Making baked oatmeal is pretty much the same as regular oatmeal, we're just baking it in a pan instead of cooking it on the stove. Nevertheless, you'll need oats! So that's our base.
Then from there, you can really add whatever you'd like. To make my protein baked oatmeal, we're using:
vanilla protein powder
hemp hearts
mashed banana
blueberries
almonds
vanilla
And we'll also use some flax eggs and almond milk to bring it all together.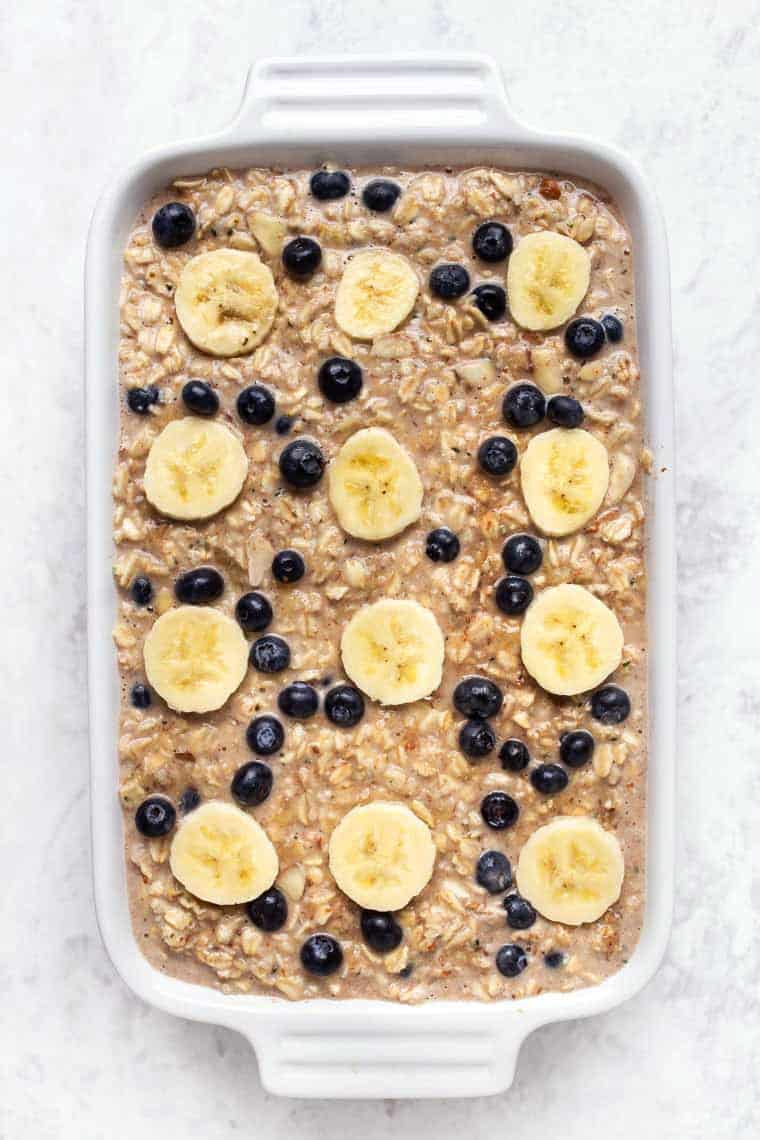 What Type of Oats for Baked Oatmeal
The best type of oats to use for baked oatmeal is either traditional rolled oats or thick cut rolled oats. You could also use quick cooking oats, but I don't think you'll get the same chewy texture. It might be a little mushier.
Steel cut oats are also doable, but they'll require a longer baking time and perhaps also a longer soaking time.
If you're not an oat fan at all, you can also use quinoa! I recently shared a Triple Berry Quinoa Breakfast Bake recipe that you can absolutely use the same proportions in this recipe.
Basically…you have lots of different options here!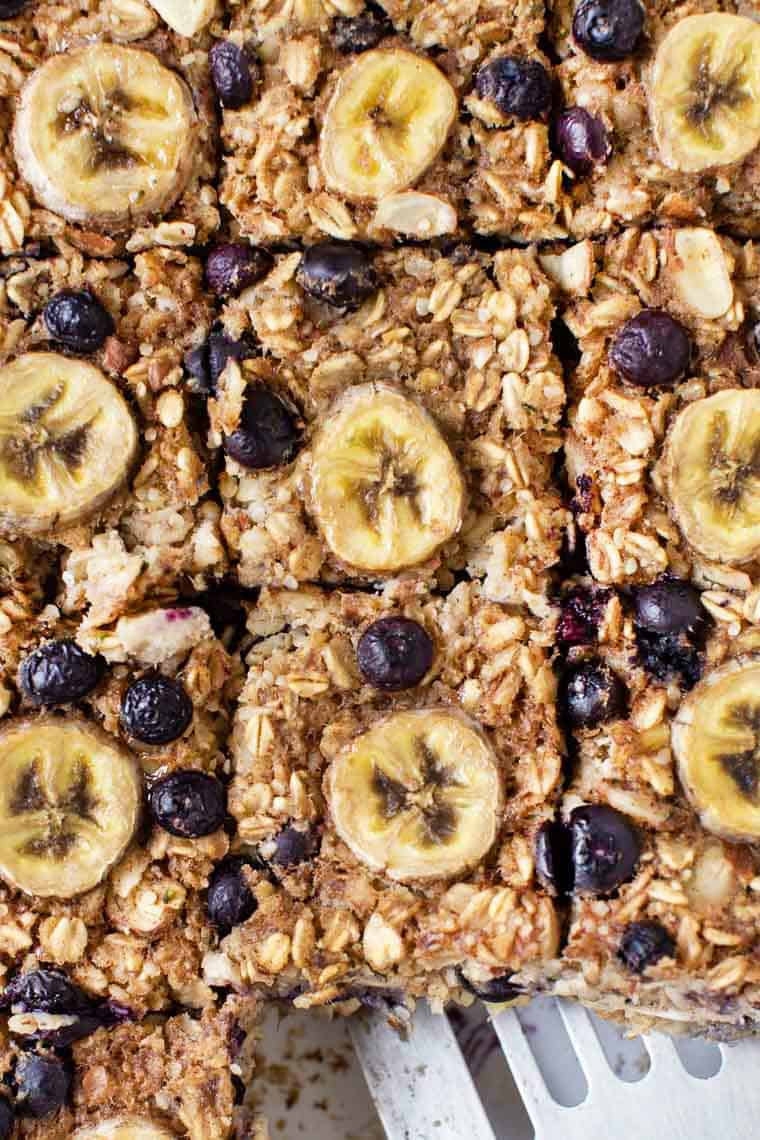 How to make Baked Oatmeal
The first step to making baked oatmeal is to soak your oats. I put them in a large bowl with boiling water and let them sit for about 10 – 15 minutes before adding the rest of the ingredients.
Soaking your oats ahead of time help to soften them a bit, reduces the baking time and also allows the oats to absorb more flavor.
Once you have your soaked oats, you can just stir everything else into that bowl. Then simply transfer that mixture to a baking dish, top it with any extra fruit and bake away. Takes no more than 15 minutes of hands-on time and makes a massive batch of oatmeal to have all week long!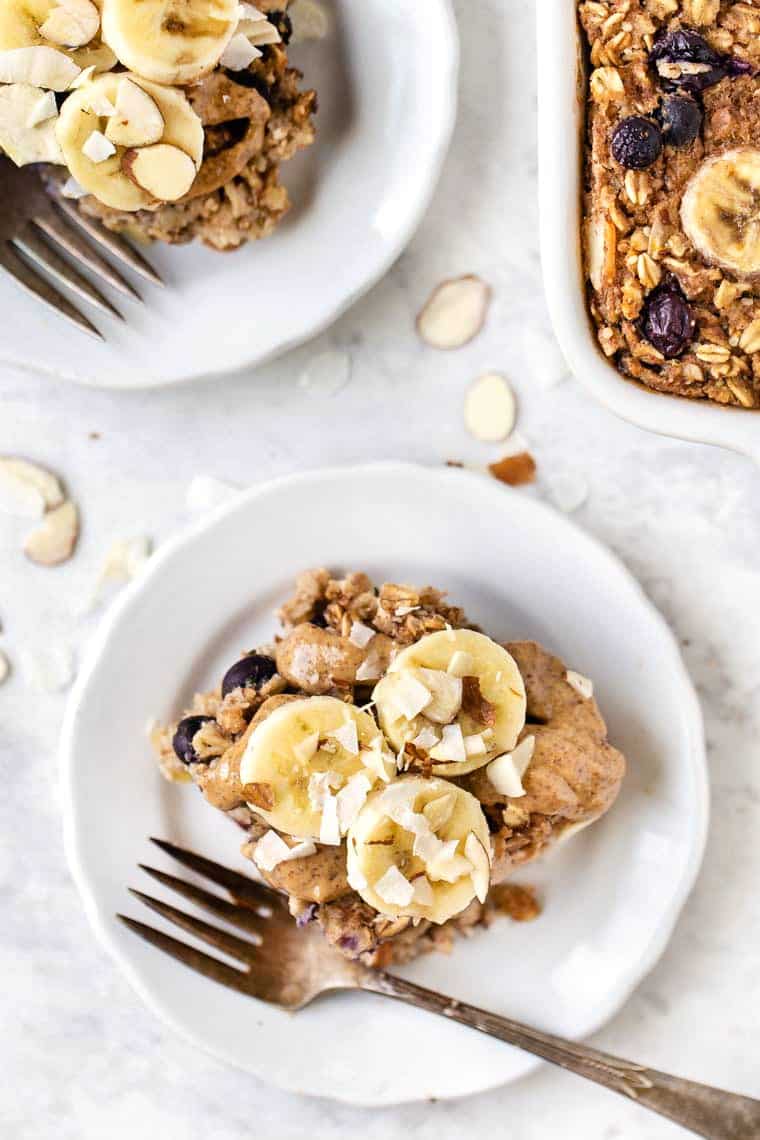 How Long Does Baked Oatmeal Last?
What's great about vegan baked oatmeal is that it lasts for at least 6 days in the fridge. I personally find that vegan recipes last longer since they're not using dairy, eggs or meat.
So since this protein baked oatmeal is dairy- and egg-free, you can enjoy it for at least 5 – 6 days.
The other option is freezing! You can totally freeze your baked oatmeal into individual portions and just reheat it in the microwave or oven when you're ready to serve it. It's honestly one of the best meal prep recipes ever!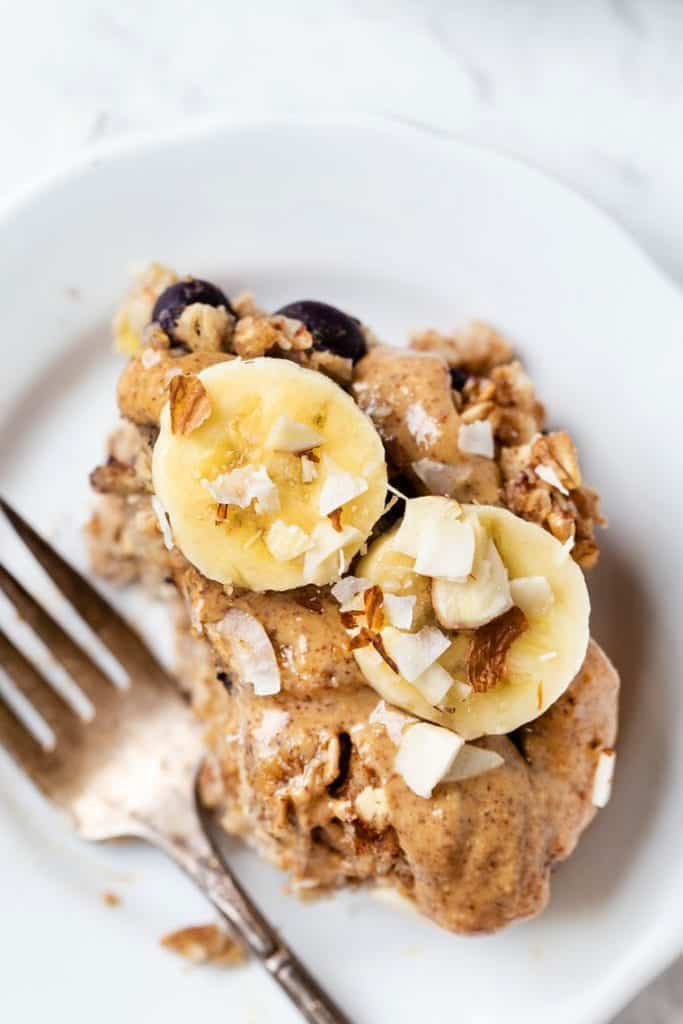 An Easy Vegan Meal Prep Breakfast Idea
I know you guys love meal prep-friendly recipes, and as I said, this one is amazing.
One batch of this protein baked oatmeal will serve at least 8 – 10 servings and can be reheated all week long. It's great if you have picky kiddos at home, you have a crazy busy week ahead or you just love oatmeal and don't feel like making it every single morning.
I recommend storing your baked oatmeal in a glass container. I love this set of glass meal prep containers – they stack well, are totally airtight and are great for things like this.
To reheat your oatmeal, simply pop it in the microwave or oven and bring it to temp. You can also eat it cold! I love topping it with some fresh fruit, a drizzle of almond butter and something crunchy on top (like almonds). This is one of my favorite breakfasts and I know you're going to love it too!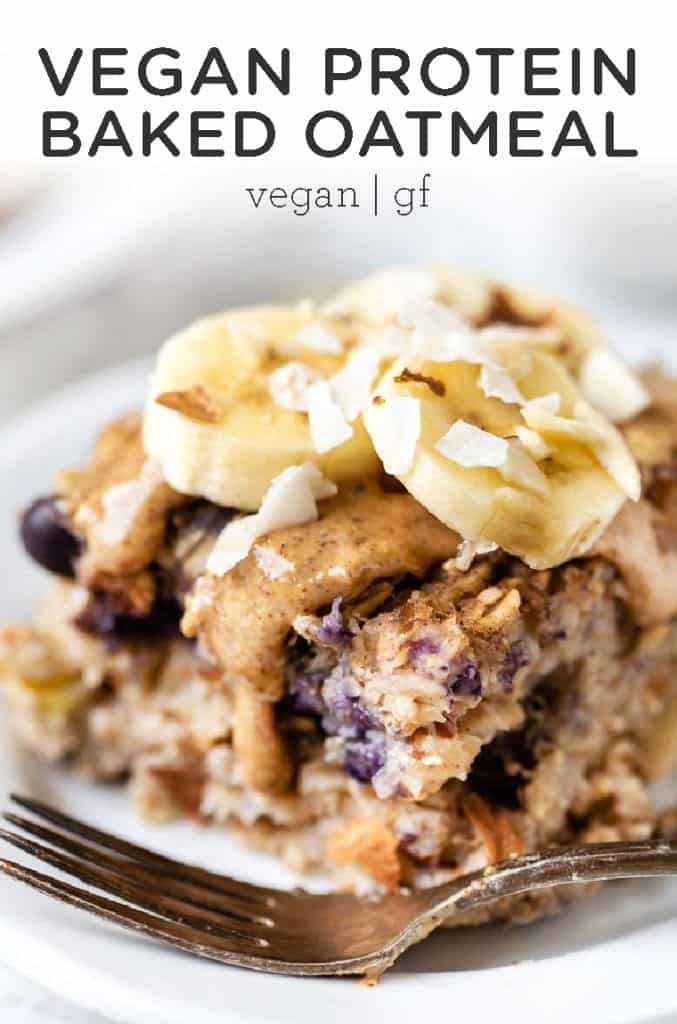 More Vegan Oatmeal Recipes:
Blueberry Banana Protein Baked Oatmeal
This healthy protein baked oatmeal recipe is gluten-free, vegan and packed with plant-based protein. It's also naturally sweetened and full of fresh fruit!
Servings 8 servings
Calories 213kcal
Instructions
Add the oats and boiling water into a mixing bowl. Allow to sit for 10 - 15 minutes.

Meanwhile, mash the banana in a separate bowl until as smooth as possible. Stir in the flax egg, syrup and protein powder. Pour this mixture over the softened oats and stir to combine.

Add the remaining ingredients into the bowl and stir again to combine.

Pour the oat mixture into a 9x13 baking pan. Top with sliced bananas and more blueberries if desired.

Bake at 350ºF for 30 - 35 minutes. Allow to cool slightly, then cut into squares (or scoop out) and enjoy.
Nutrition
Serving: 1square | Calories: 213kcal | Carbohydrates: 31g | Protein: 7g | Fat: 8g | Saturated Fat: 1g | Sodium: 64mg | Potassium: 250mg | Fiber: 5g | Sugar: 11g | Vitamin A: 50IU | Vitamin C: 3.5mg | Calcium: 108mg | Iron: 2.1mg
share what you make
Tag #simplyquinoa on Instagram with your creations! We love sharing what you make with the community. We can't wait to see!

follow on instagram