These chocolate coconut flour muffins are soft and moist with a dark chocolate flavor, sweet banana finish and studded with chocolate chips. These muffins are also paleo and easy to make!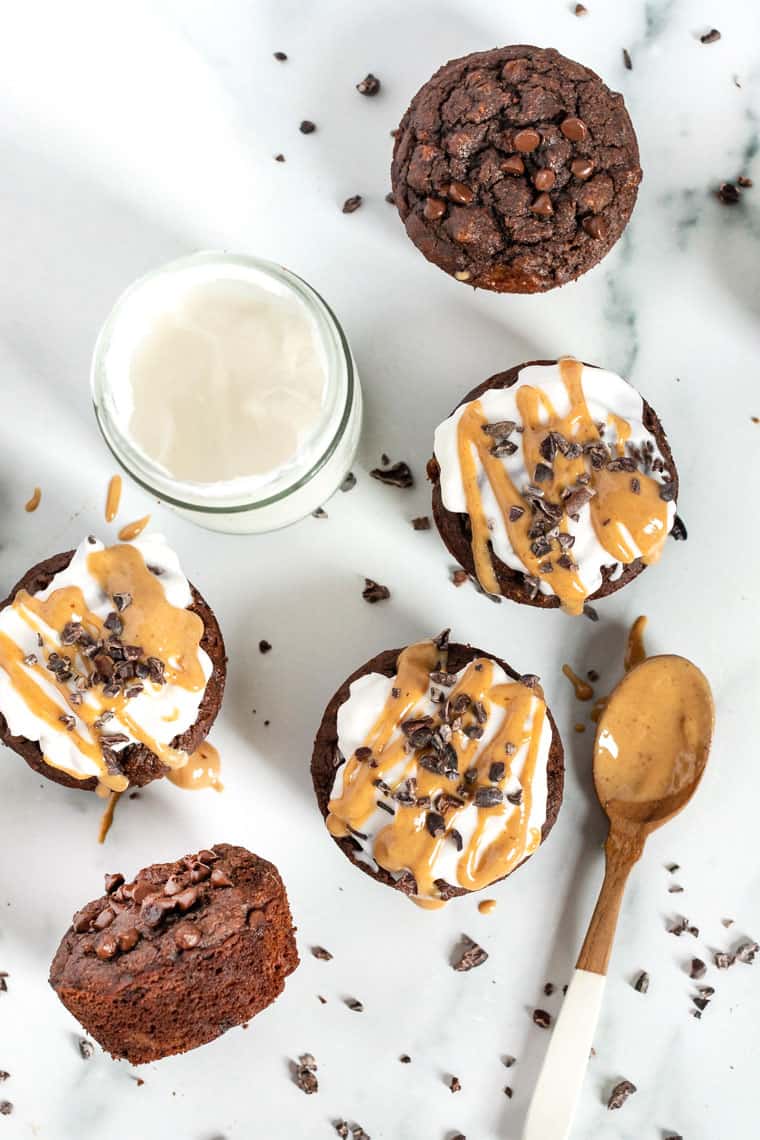 I've been on a big muffin kick lately! I keep them stockpiled in my freezer for a quick and easy breakfast, snack, or dessert. They're easy to make, satisfy lots of different cravings (from breakfast to dessert!) and yes, they freeze well!
You know I love anything chocolate. And I've got a new chocolate muffin recipe for you that you're going to love!
They're my chocolate coconut flour muffins and they're absolutely delicious!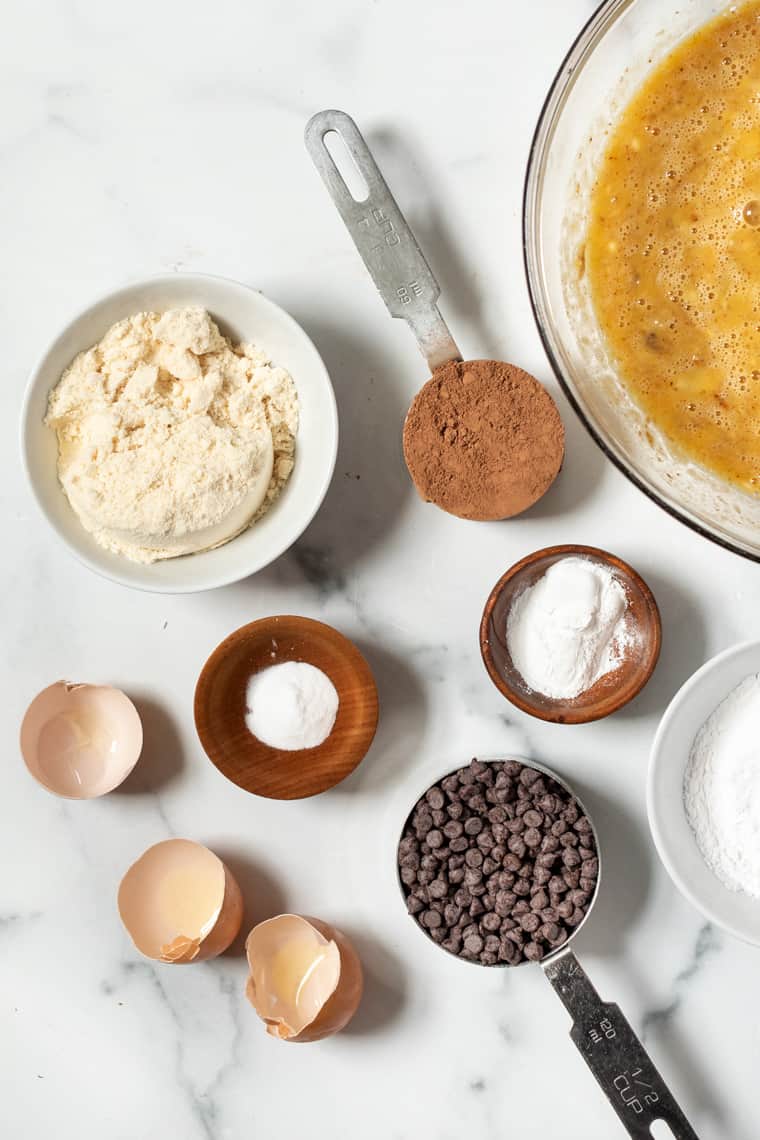 What You Need for This Recipe
If you've seen my other coconut flour muffins, then some of these ingredients will look familiar. Here's what we're going to be using:
First, let's chat about our wet ingredients…
Eggs: since this is a coconut flour-based recipe, we're using eggs. 4 of them in fact. And they're one of the reasons that these muffins are so light and tender.
Banana: banana is key in two ways in this recipe. It's adding some natural sweetness, but it also helps again with the moistness of these muffins.
Maple syrup: my forever and always favorite sweetener! Feel free to swap this with honey if you'd like.
Coconut yogurt: adding yogurt to your muffins will help with the texture, but since yogurt has some acidity to it, it also helps with rise.
Almond butter: I wanted to make these oil-free, so I swapped the oil for almond butter. Works perfectly!
Next, we'll talk dry ingredients…
Coconut flour: this flour is super absorbent and can't be swapped with anything else (1:1) at least.
Arrowroot powder: this can be swapped with cornstarch, tapioca starch, or potato starch as well!
Cacao powder: adds all that dark chocolate flavor!
Baking powder: one of the leavening agents that helps with the rise.
Baking soda: our other leavening agent that uses the coconut yogurt to activate.
Salt: because every single recipe needs at least a pinch of salt
And then to finish everything off, we'll fold in some dark chocolate chips for good measure! I love these mini chocolate chips – they're so cute on top!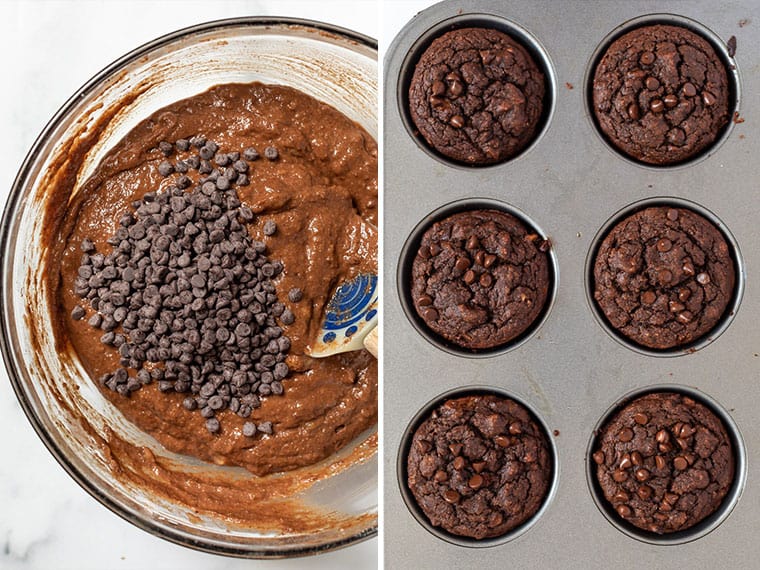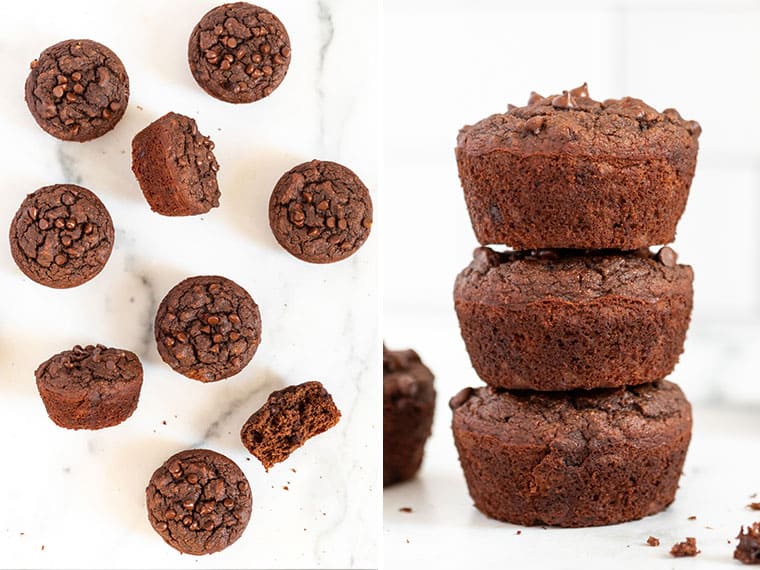 How to Make Chocolate Coconut Flour Muffins
What you're going to love about this recipe? It's made in just ONE BOWL!
Since you probably don't need a step by step of how to make muffins, here's a quick overview:
Beat the wet ingredients together
Add the dry ingredients
Fold in the chocolate chips
Bake them up!
That's pretty much it. Quick, easy and healthy!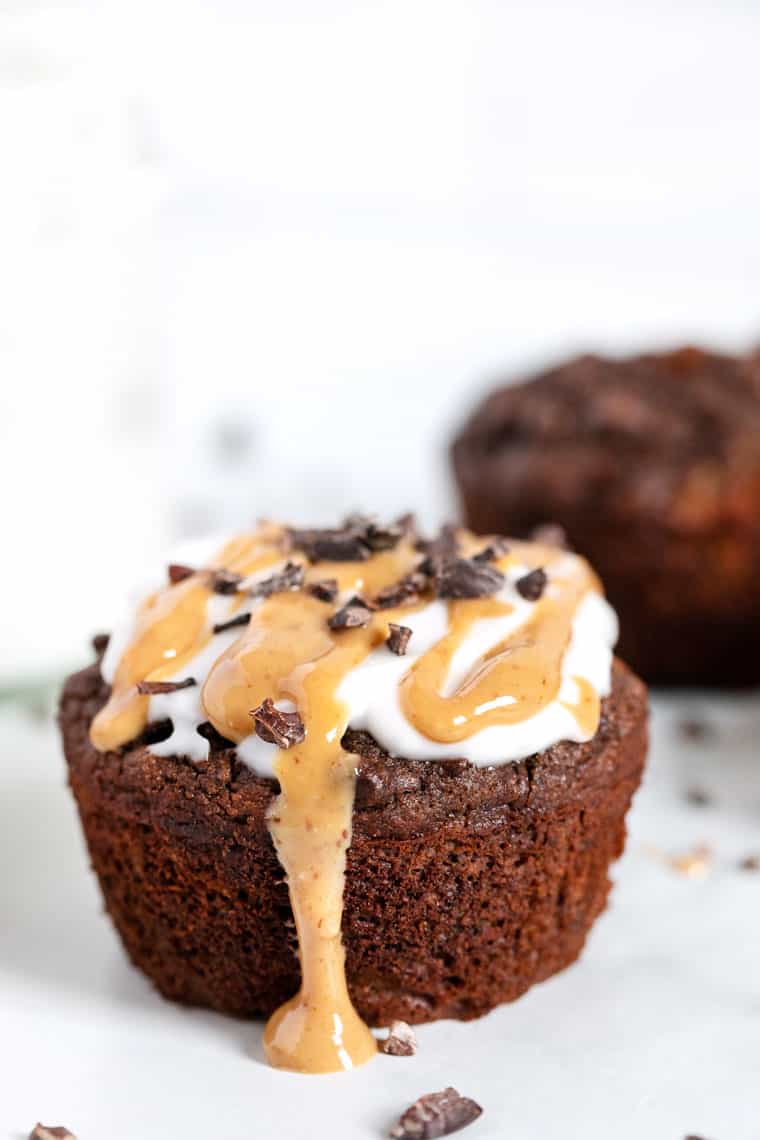 Fluffy & Moist Paleo Chocolate Muffins
Since we're not using any grains, dairy, or refined sugar in these muffins, they actually do qualify as paleo. Which…if you're following that diet, great. But if you aren't, you probably don't care!
Just for you to know, these muffins are free from pretty much everything you could want except coconut and eggs. So while they're not vegan, they are free of almost all the other top allergens.
Want a vegan version of these muffins? Try our Vegan Double Chocolate Muffins!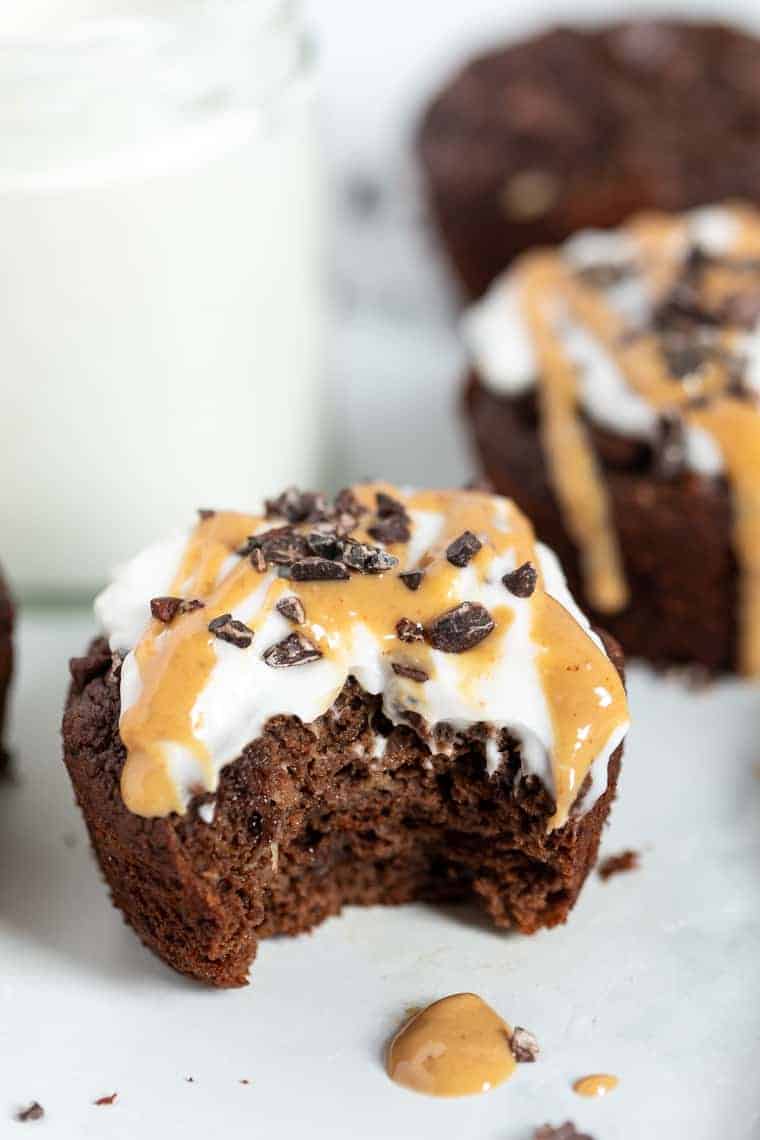 Tips for Making Healthy Muffins
Now, if you're trying to make a batch of muffins healthier at home, I want to share a few suggestions. It's actually quite easy and I think it will help you a lot as you're looking at recipes.
Swap mashed banana to swap some of the sugar and/or oil
Use nut butter/tahini for oil
Cut back on sugar by using yogurt
Swap refined sugars for unrefined (coconut sugar is 1:1, liquid sweeteners are usually 1:1/2)
And of course, if you have any questions along the way, I'm always here to help! Drop a comment down below and let me know. Can't wait to see your muffin recreations!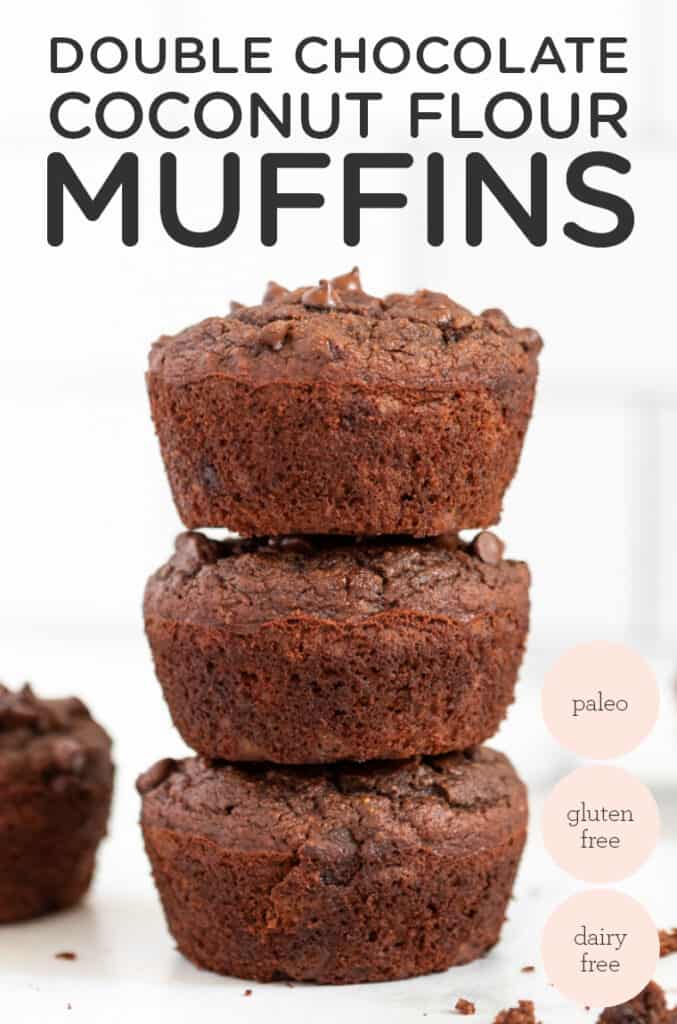 More Healthy Muffins to try:
Chocolate Coconut Flour Muffins
These chocolate coconut flour muffins are soft and moist with a dark chocolate flavor, sweet banana finish and studded with chocolate chips. These muffins are also paleo and easy to make!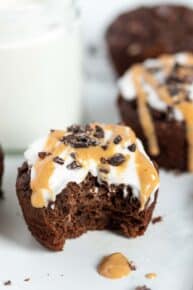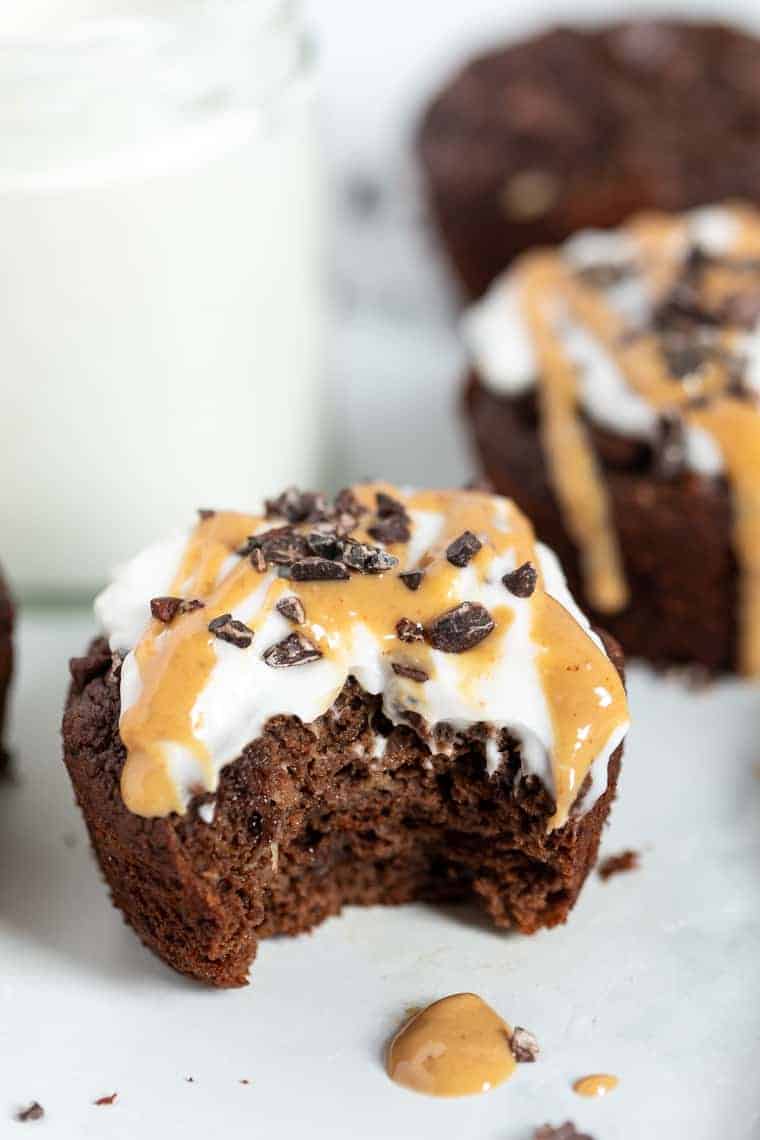 Instructions
Preheat the oven to 350ºF and spray the tins with non-stick cooking spray, or grease with oil.

In a mixing bowl, beat together the banana, eggs, syrup, yogurt, and almond butter. Beat until smooth.

Add the dry ingredients and stir until a smooth batter forms. Allow batter to rest for 5 minutes. Fold in the chocolate chips.

Fill each muffin cup almost full and top with additional pecans (if desired). Bake in the center of the oven for 23 - 25 minutes, until a cake tester inserted into the center comes out clean.

Cool in the pan for 5 minutes, then transfer to a wire rack and cool completely before enjoying.

Serve slightly reheated in the toaster oven with your favorite nut butter or buttery spread!
Nutrition
Serving:
1
muffin
|
Calories:
143
kcal
|
Carbohydrates:
20
g
|
Protein:
4
g
|
Fat:
6
g
|
Saturated Fat:
3
g
|
Cholesterol:
56
mg
|
Sodium:
183
mg
|
Potassium:
203
mg
|
Fiber:
3
g
|
Sugar:
11
g
|
Vitamin A:
109
IU
|
Vitamin C:
1
mg
|
Calcium:
72
mg
|
Iron:
1
mg
Filed Under: