These coconut flour banana muffins are soft and moist with a sweet banana finish and a hint of cinnamon. These muffins are also paleo and easy to make!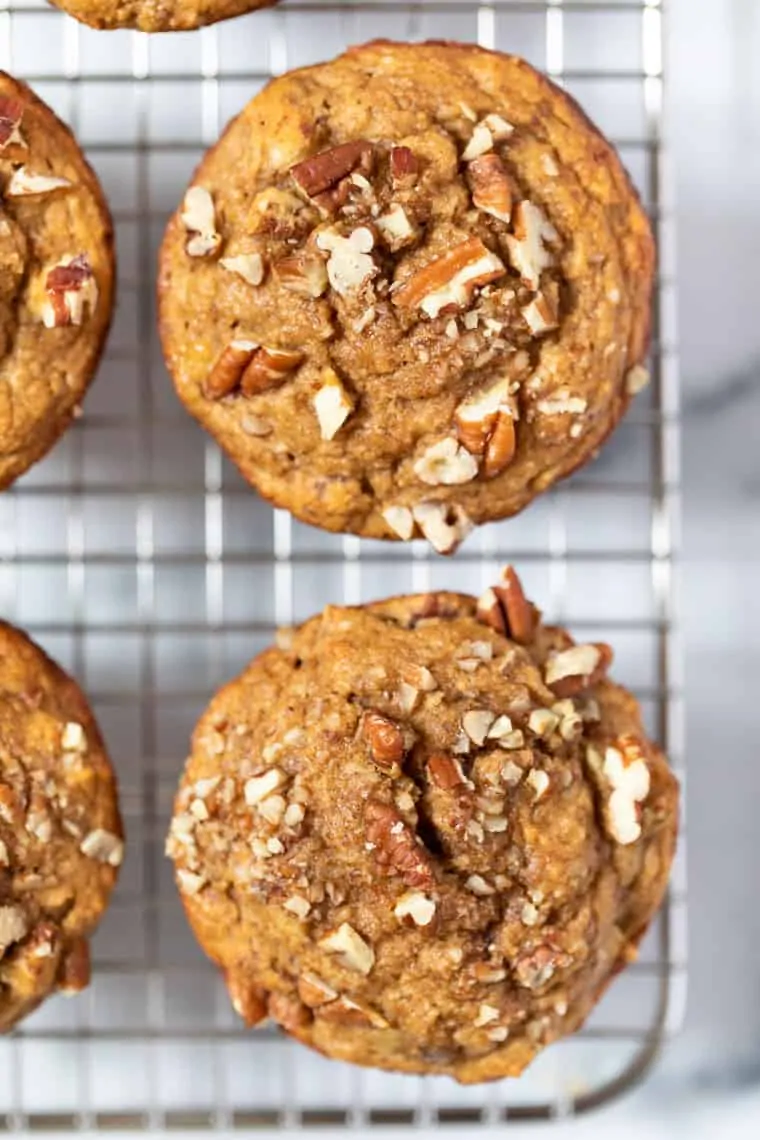 For some reason, this whole quarantine has got me obsessed with bananas. Don't get me wrong, I didn't have anything against bananas before, but they weren't something on my weekly grocery rotation.
Now? I can't get enough!
I'm using them in my smoothies, I'm enjoying them on top of rice cakes with almond butter, and I'm baking with them. Like A LOT! And after many tests, I'm so excited to share my new favorite way to use ripe bananas: Coconut Flour Banana Muffins!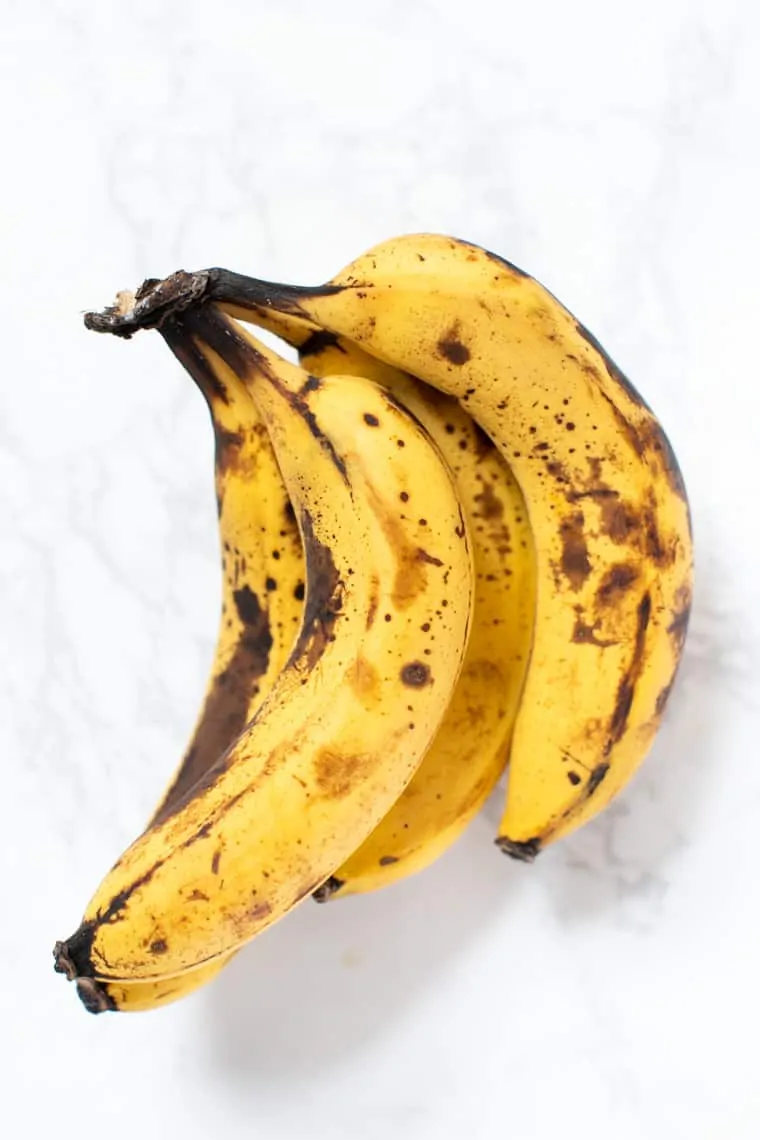 Ways to Use Ripe Bananas
I think it would be fun to kick this post off by sharing some of my favorite ways to use ripe bananas. If you are also on a banana baking kick, here are some of my favorite recipes:
Plus, there are a million other ways too! Pretty soon we'll have a whole page that shares our favorite recipes to use bananas!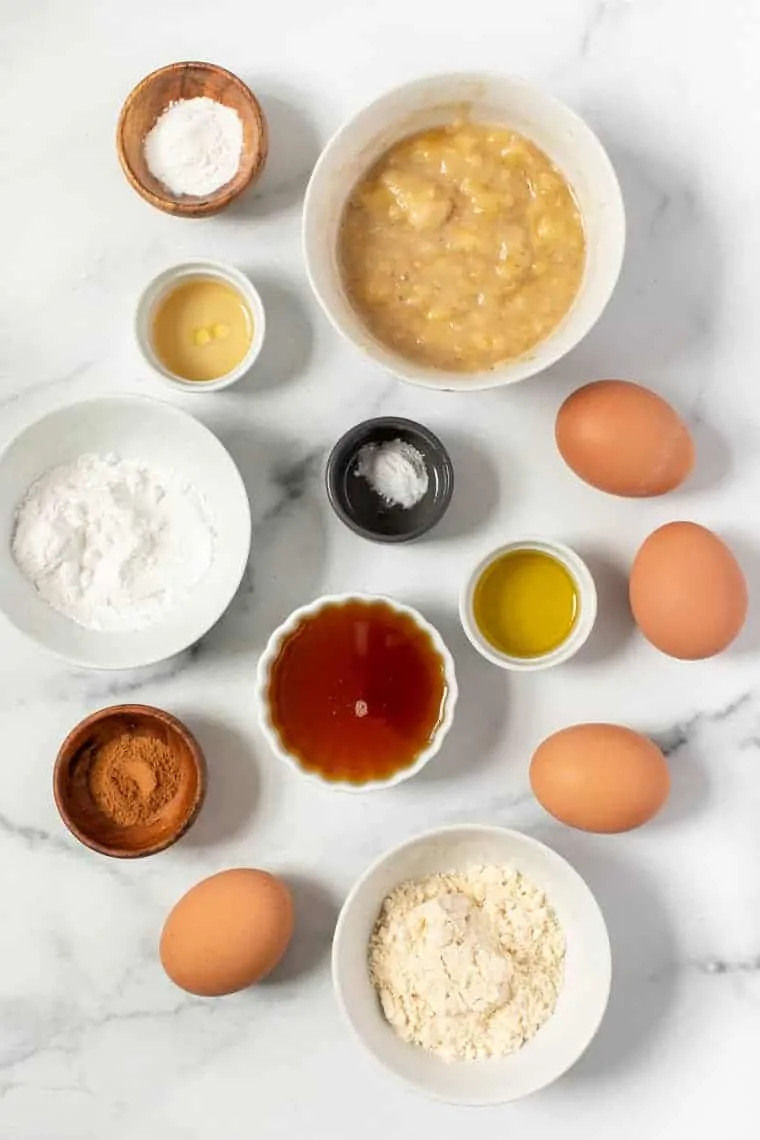 Tricks for Baking with Coconut Flour
Now, let's talk about these coconut flour banana muffins. First and foremost, coconut flour is a tricky flour. It's SUPER absorbent, but without any binding properties, so it sucks up a ton of liquid but is also crumbly.
Which is why it's so important to use eggs when you're baking with coconut flour. You'll notice we're using a lot of eggs here and that's precisely why. We need the eggs to provide structure, to help bind the rest of the ingredients together, while also adding moisture. They're truly the key to working with coconut flour!
Ingredients in Coconut Flour Muffins
Let's take a quick recap of the ingredients we're using today. Obviously, our base is coconut flour, but I also wanted to make sure that these muffins were also paleo and used as little sugar as possible. We've got just 1/4 cup of maple syrup in the whole recipe!
Here's what you'll find inside these coconut flour banana muffins:
Mashed banana – the riper the better
Maple syrup – feel free to swap honey if you want
Eggs – yep, you read that right we're using four eggs in this recipe!
Olive oil – optional, but adds a bit more moisture
Apple cider vinegar – to help activate the baking soda and provide rise to our muffins
Coconut flour – we've got just 1/2 cup for this entire recipe, but trust me it expands!
Arrowroot starch – to give the muffins some lightness
And then we're stirring in some cinnamon, baking powder, baking soda, and salt. The final addition is pecans, which add a really nice crunch but are totally optional.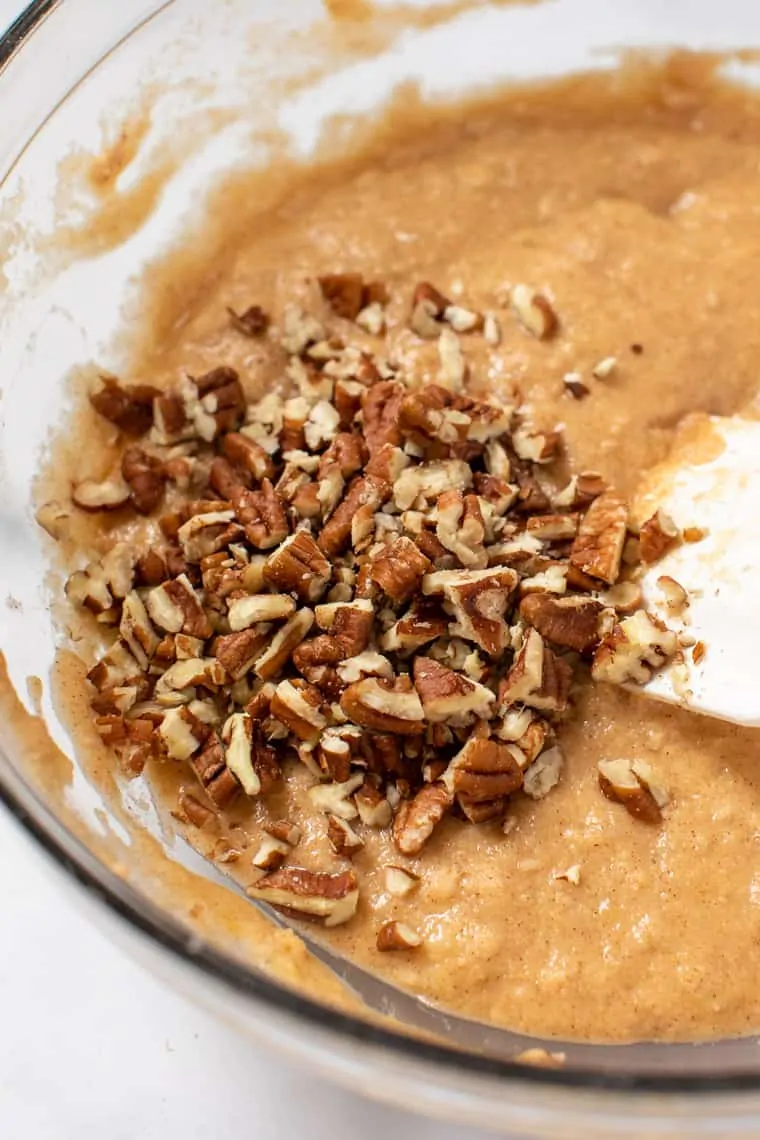 How to Make Coconut Flour Banana Muffins
These muffins are pretty straightforward to make! They use just one bowl and take about 30 minutes from start to finish.
STEP ONE
I like to start by beating together the wet ingredients. Make sure that your eggs are as fully mixed as possible – we don't want any of the whites floating around in clumps.
STEP TWO
From there you can mix in your dry ingredients. If you use an electric mixer you'll have a better time getting it all incorporated, but a spatula or wooden spoon will also work. The final step is to fold in some pecans – optional but worth it!
STEP THREE
Bake them up! This recipe makes about 10 large muffins, but if you're cool with them being just a teeny bit smaller, you can totally make a dozen.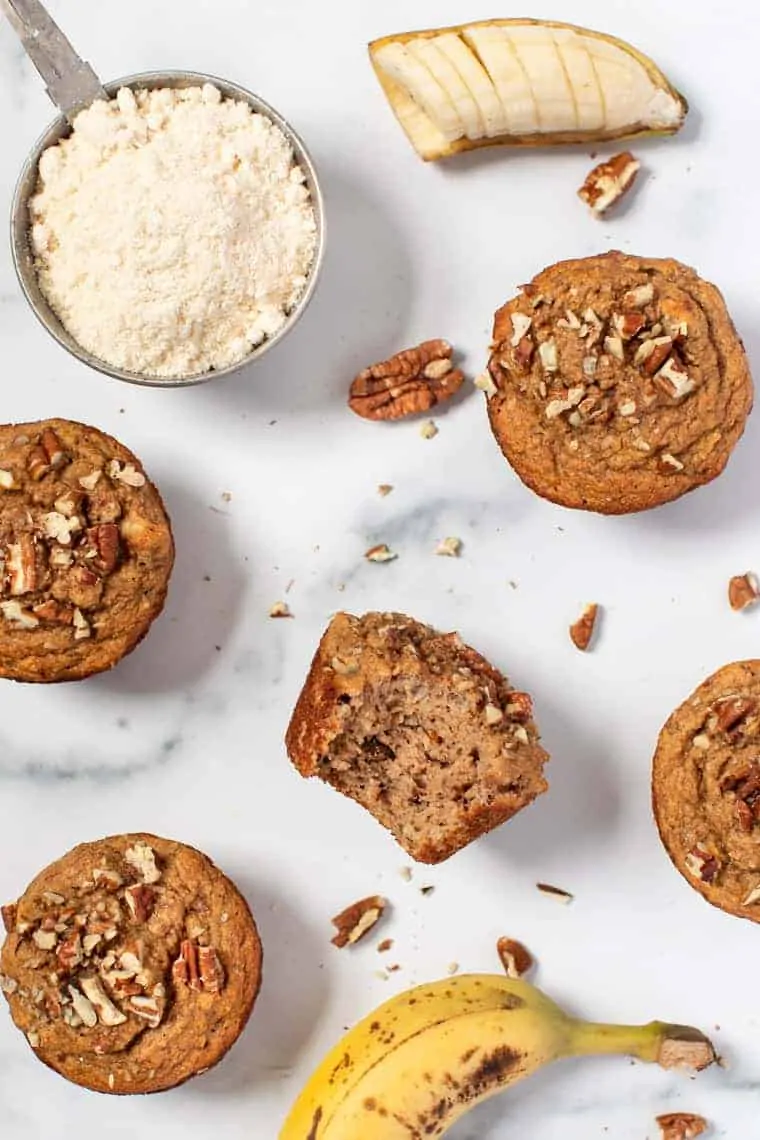 Tips for Storing Muffins
Once you've got your muffins baked up, you might not feel like you can eat them all right away. Let me share just a few tips on how to store these muffins.
You can keep them on the counter in a sealed container for a few days. They should stay pretty moist and tender, but if they feel a tiny bit dry, just pop them in the microwave for about 10 seconds.
Anything longer than a few days, freeze them! Muffins are totally freezer-friendly and these ones actually freeze beautifully. I just keep them in a ziplock bag in my freezer and pop them into the microwave for 20 seconds when I want to eat one.
I wouldn't really recommend keeping these in the fridge because I think they'll dry out. At that point, you might as well just freeze them!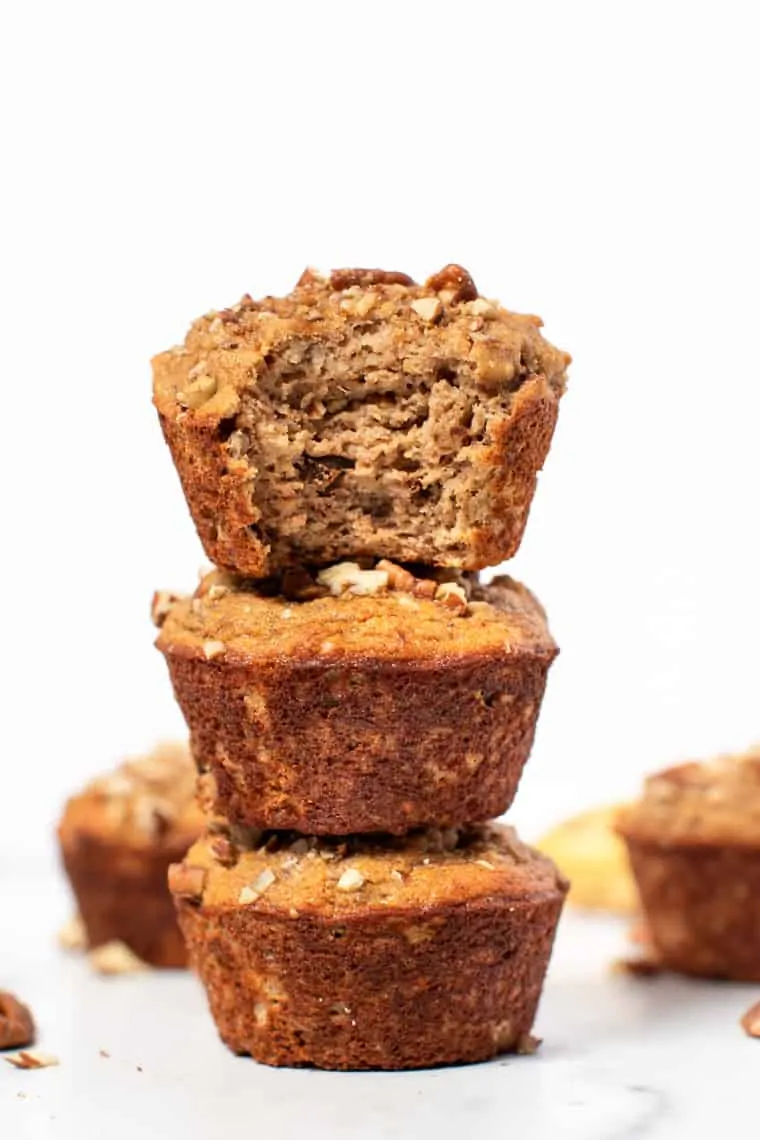 Substitution Questions for Coconut Flour Muffins
Before I let you go, let me just tackle a few of the questions that might come up around these muffins.
Can you substitute the eggs? The answer, unfortunately, is no. Coconut flour relies heavily on the structure of eggs and if you leave them out, these muffins won't rise and won't bake up properly.
Can you substitute banana? Sure! If you're not a banana fan/are allergic to banana, any other fruit puree would work. I have a coconut flour pumpkin bread which I actually based this recipe off, that could totally be turned into muffins.
Can you substitute another flour? The answer again for this one is a no. Coconut flour is incredibly unique and has completely different properties than other flours. Without some major substitutions and quantity changes, these muffins won't work with another flour.
Do you have any more questions for me? If so, drop them down in the comments! Otherwise, that pretty much does it for our banana coconut flour muffins! I hope you love them ❤️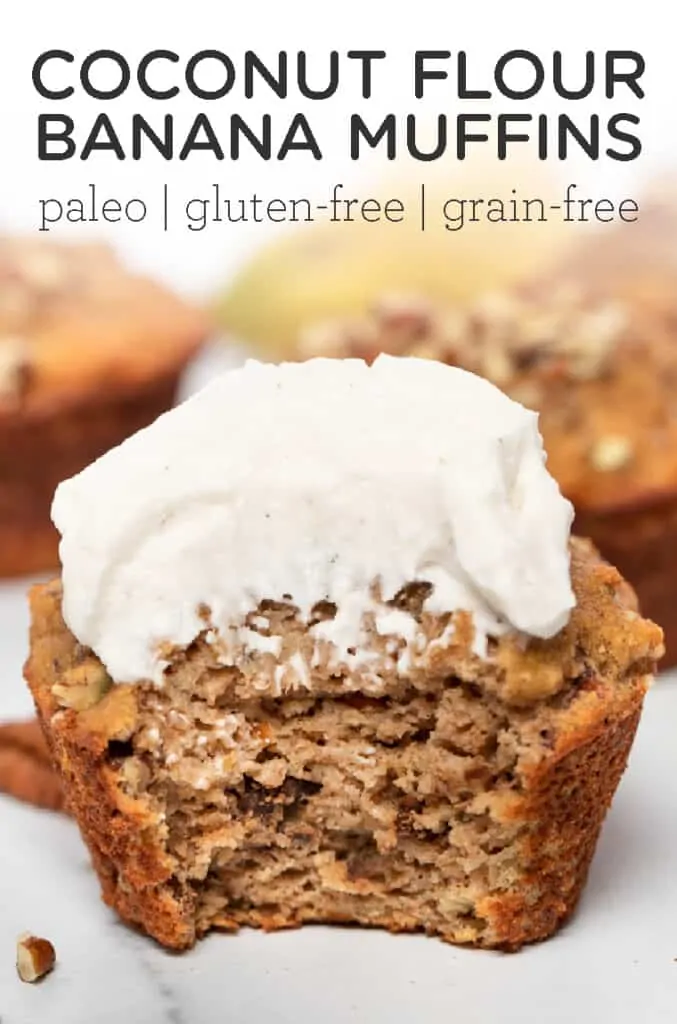 More Gluten-Free Muffins to try:
Coconut Flour Banana Muffins
These coconut flour banana muffins are soft and moist with a sweet banana finish and a hint of cinnamon. These muffins are also paleo and easy to make!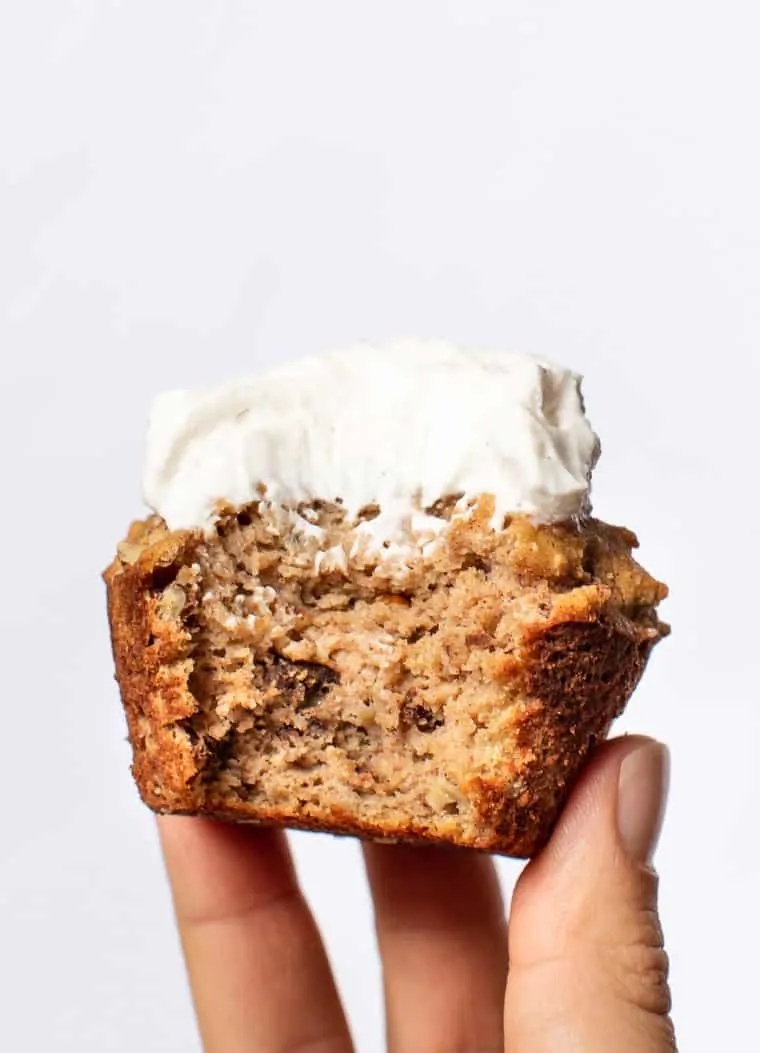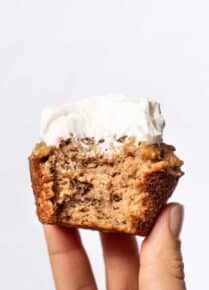 Instructions
Preheat the oven to 350ºF and spray the tins with non-stick cooking spray, or grease with oil.

In a mixing bowl, beat together the banana, eggs, syrup, oil and vinegar. Beat until smooth.

Add the dry ingredients and stir until a smooth batter forms. Allow batter to rest for 5 minutes. Fold in the pecans.

Fill each muffin cup almost full and top with additional pecans (if desired). Bake in the center of the oven for 23 - 25 minutes, until a cake tester inserted into the center comes out clean.

Cool in the pan for 5 minutes, then transfer to a wire rack and cool completely before enjoying.

Serve slightly reheated in the toaster oven with your favorite nut butter or buttery spread!
Nutrition
Serving:
1
muffin
|
Calories:
161
kcal
|
Carbohydrates:
16
g
|
Protein:
4
g
|
Fat:
9
g
|
Saturated Fat:
2
g
|
Cholesterol:
65
mg
|
Sodium:
210
mg
|
Potassium:
199
mg
|
Fiber:
3
g
|
Sugar:
7
g
|
Vitamin A:
105
IU
|
Vitamin C:
1
mg
|
Calcium:
60
mg
|
Iron:
1
mg
Filed Under: