Cranberry Orange Coffee Cake: Gluten-Free + Dairy-Free
This delicious cranberry orange coffee cake is the perfect festive recipe! It's gluten-free, dairy-free, and sweetened only with honey. It uses almond flour as the main ingredient which has a lovely soft texture while still being light and healthy. This is soon to be your favorite healthy coffee cake recipe! 
When it comes to holiday baking, my mind almost always jumps to cookies. Whether it's my favorite vegan snickerdoodles or maybe something more elaborate like gluten-free pizzelles, but sometimes I want something a little bigger. A little bolder. Which is exactly what we've got today!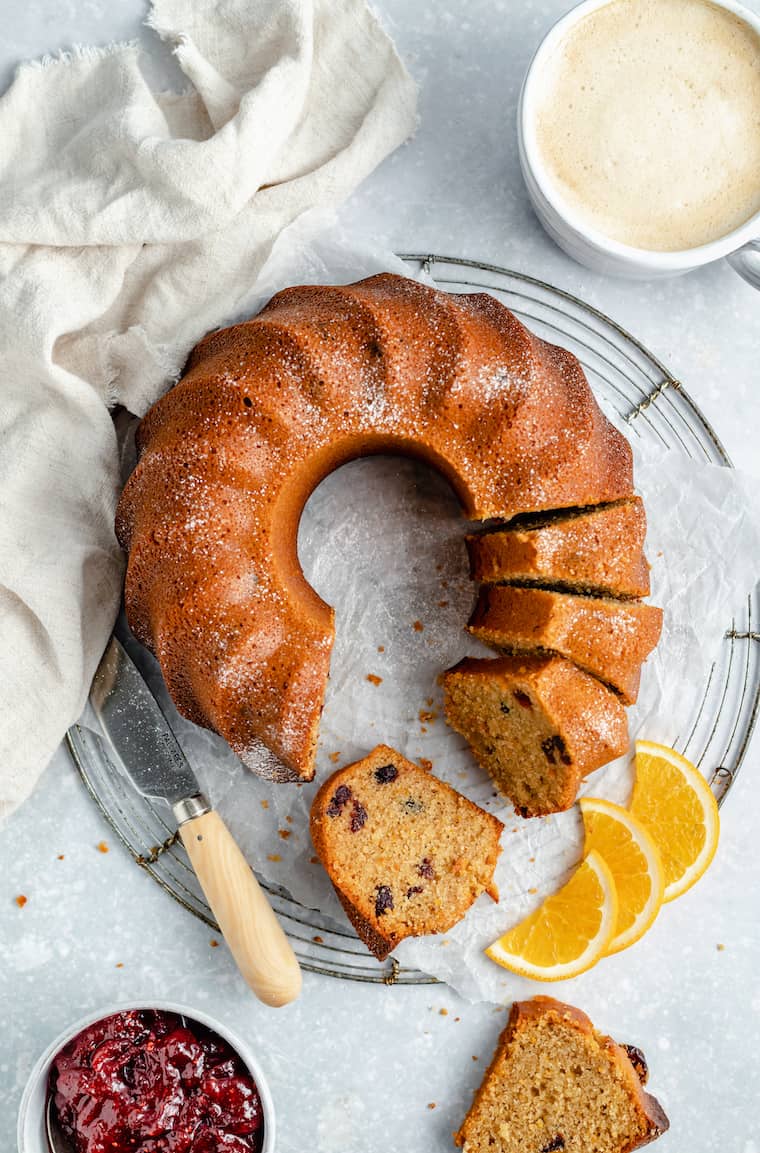 And it's because the Christmas festivities have officially begun! Which means our kitchen is in full swing. We've got our menus planned, and one of the things I'm personally most excited about is our Christmas morning breakfast.
After we make our coffee and tea – and open our presents, of course – we meander into the kitchen and make breakfast. Since we've all been cooking for days, a big elaborate breakfast is the farthest thing from our minds. But it's important that we still make it special. And as the only member of my family with food allergies, I usually end up whipping something up.
But this year I decided I wanted to do it differently. I wanted to try and prepare our Christmas morning breakfast ahead of time. Baking was a logical choice, and I wanted something more than muffins, so I settled on a gluten free coffee cake.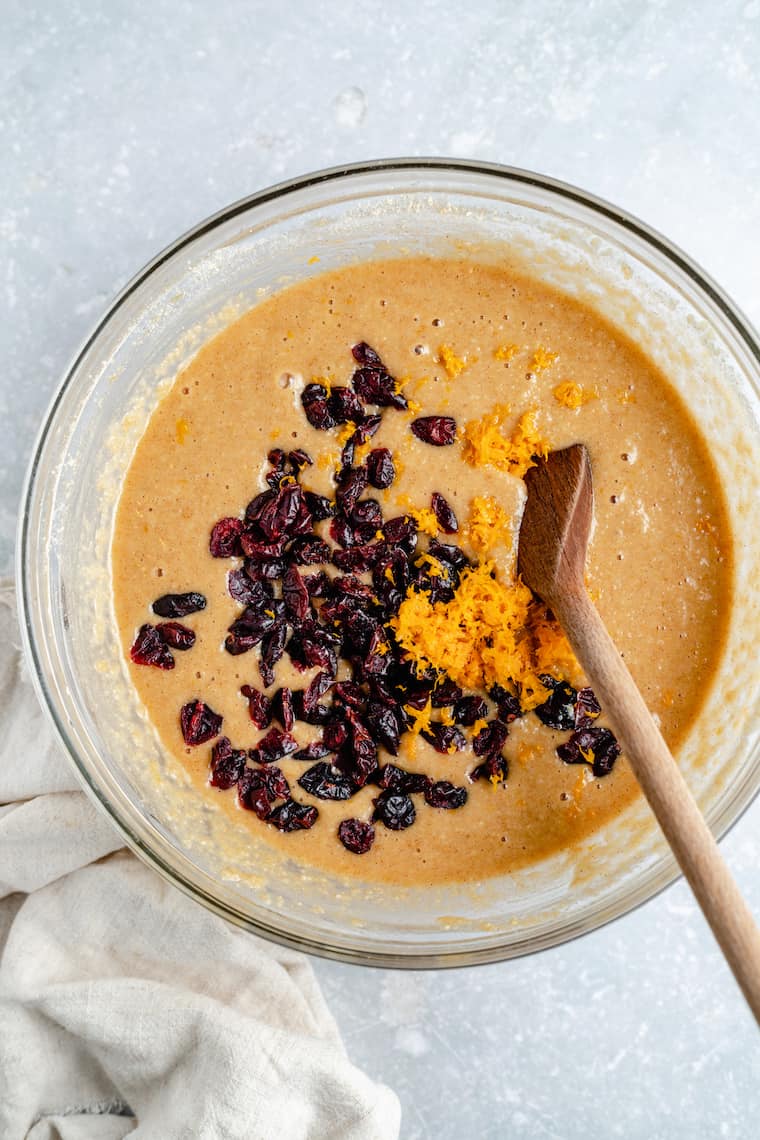 How to Make Gluten Free Coffee Cake
This recipe uses just one bowl, so it's super simple to make. It also kind of follows my gluten free carrot cake recipe, but we've modified it slightly to be more festive and with different flavors. Regardless, this recipe is light, moist, tender, and best of all healthy!
Here's a look at some of our hero ingredients;
Almond flour: the bulk of the flour is almond flour which I use all the time in my gluten free baking. I like using almond flour in cake recipes especially because it adds a really nice crumb.
Quinoa flour: to give the cake a bit more structure and to tighten up the crumb just a bit, I like to mix in a grain-based flour. Quinoa is an obvious choice as it's my favorite gluten-free flour!
Coconut oil: although the almond flour does have fat, I find that adding extra fat (in this case oil) adds that classic coffee cake texture. I like to use unrefined coconut oil because I enjoy the coconut flavor, but if that's not for you, any other oil should be fine.
Honey: the only sweetener we're using in this recipe! It adds a really nice flavor and pairs perfectly with the eggs.
Eggs: we're using 3 eggs in this recipe to help hold it all together and give it rise and texture. They're imperative for the success of this cake!
Orange juice + zest: Just a touch of juice and a whole lot of zest is how we get that bright orange flavor. The zest is where the flavor really shines, so make sure to zest the entire orange if you're an orange lover!
Dried cranberries: and lastly, our cranberries. I try to opt for unsweetened or fruit juice sweetened cranberries so they add some tartness to the cake. If you're more on the decadent side, you can use sweetened ones.
And then we just have our salt, cinnamon, and baking powder to pull it all together!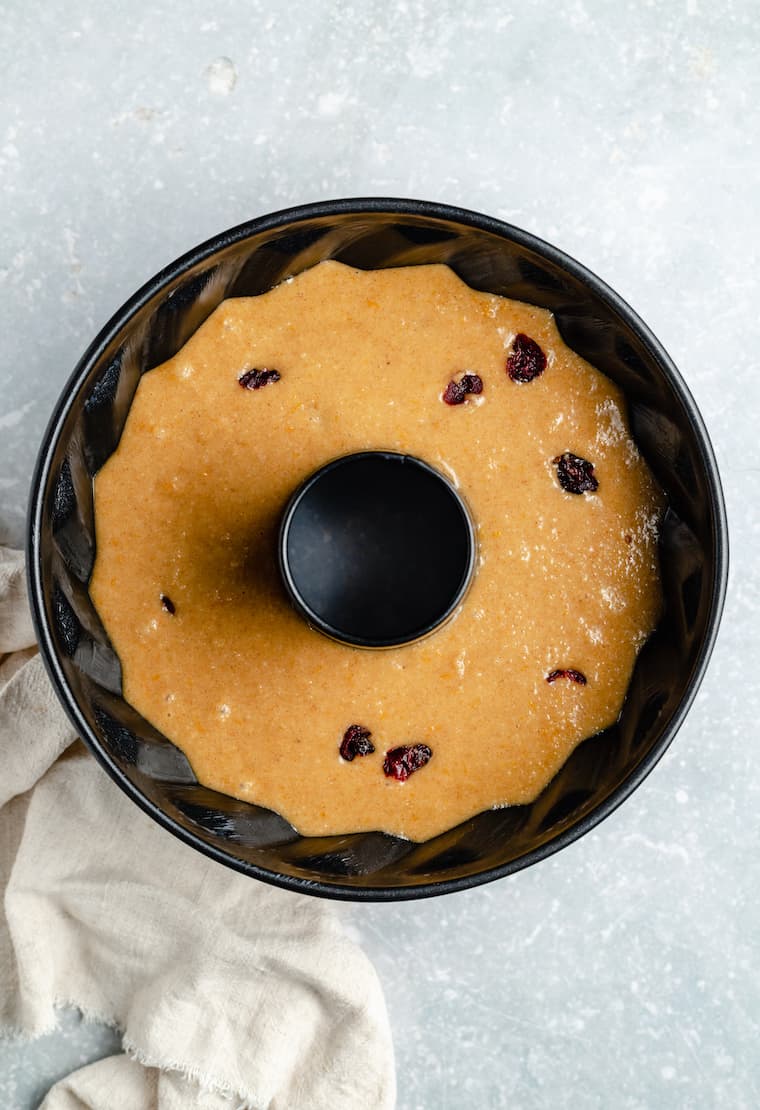 Can You Use Almond Flour in Coffee Cake?
Of course, you can use almond flour in coffee cake! But almond flour isn't an ingredient you can just swap for regular flour. If you're looking to make a coffee cake with almond flour, you need to make sure that you find a recipe – like this one! – that is actually developed specifically for almond flour. It behaves very differently than all purpose flour – or even quinoa flour for that matter – and can't be swapped 1:1 or anything other than another nut or seed flour. But if you're following along with our cranberry orange coffee cake, then you're home free!
Ingredient Notes & Swaps
Okay, let's quickly talk swaps/notes because I get these questions all the time:
The eggs can't be swapped: as I said above, this cake relies on the eggs for its texture and rise. If you don't use eggs, I don't think the cake will bake through.
Swapping the flours: this might be tricky depending on what you use. If you're using another nut/seed flour, feel free to swap the almond flour out. I think for the quinoa you could try oat or sorghum.
Any oil will work: not a fan of coconut? Another oil – like olive, avocado, etc. – will work!
Any liquid sweetener will work: not a fan of honey? You can use any other liquid sweetener in its place!
Use another citrus: feel free to swap the orange for another citrus like lemon or grapefruit!
Ues another dried fruit: and just like the citrus, you can swap the cranberries out for another dried fruit!
Coconut flour will NOT work: I get this question with almost any almond flour recipe that I share, but coconut flour will not work for this recipe. It reacts totally different than any other flour, so I recommend you follow a recipe for coconut flour coffee cake!
And of course, if you have more questions for me, drop them down below!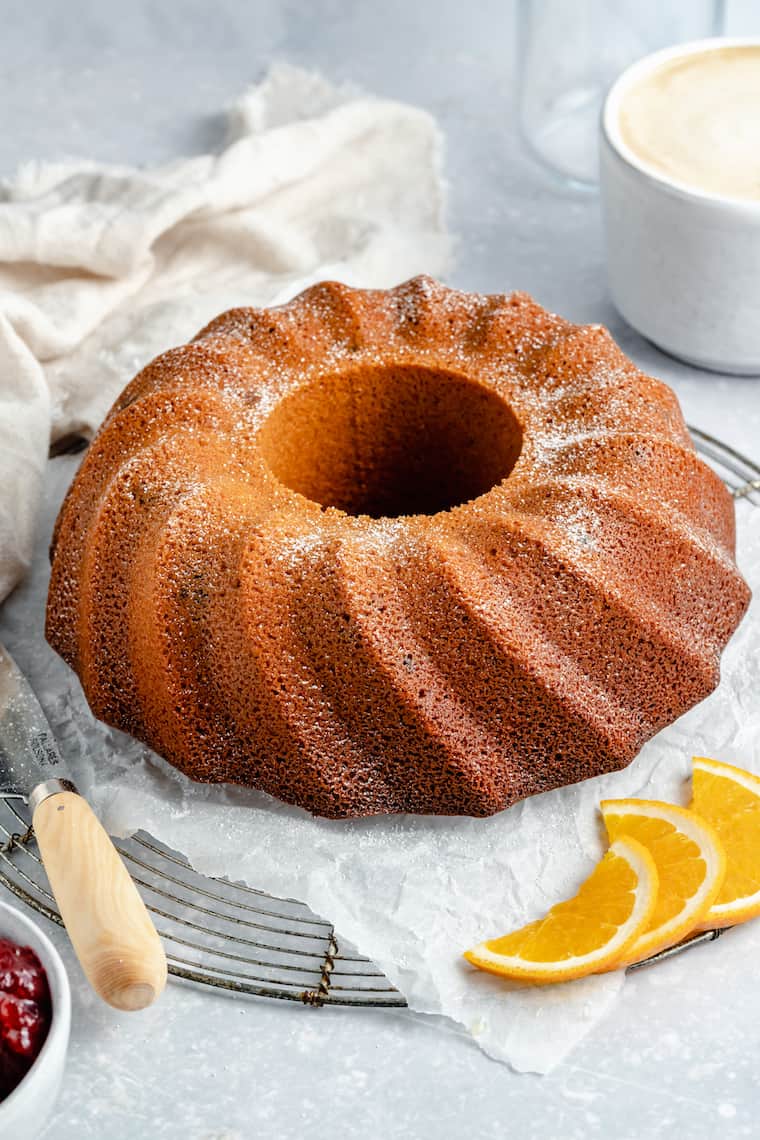 Storing Cranberry Orange Coffee Cake
Gluten free baked goods tend to dry out rather quickly, so it's definitely important that you store them correctly so that you. can prolong their life as long as possible.
Can I Freeze Coffee Cake?
You can absolutely freeze coffee cake! I would suggest allowing the coffee cake to cool completely, then slice it up. From there, wrap the sliced coffee cake in aluminum foil and place it in a freezer-safe container or bag. To reheat the coffee cake, either pop it in the microwave or allow it to thaw at room temperature.
Storing Coffee Cake at Room Temperature
If you don't feel like freezing, or think that you will eat your coffee cake within the next day or two, you can keep it at room temperature in an airtight container. I wouldn't let it go longer than two days though or the texture will start to change.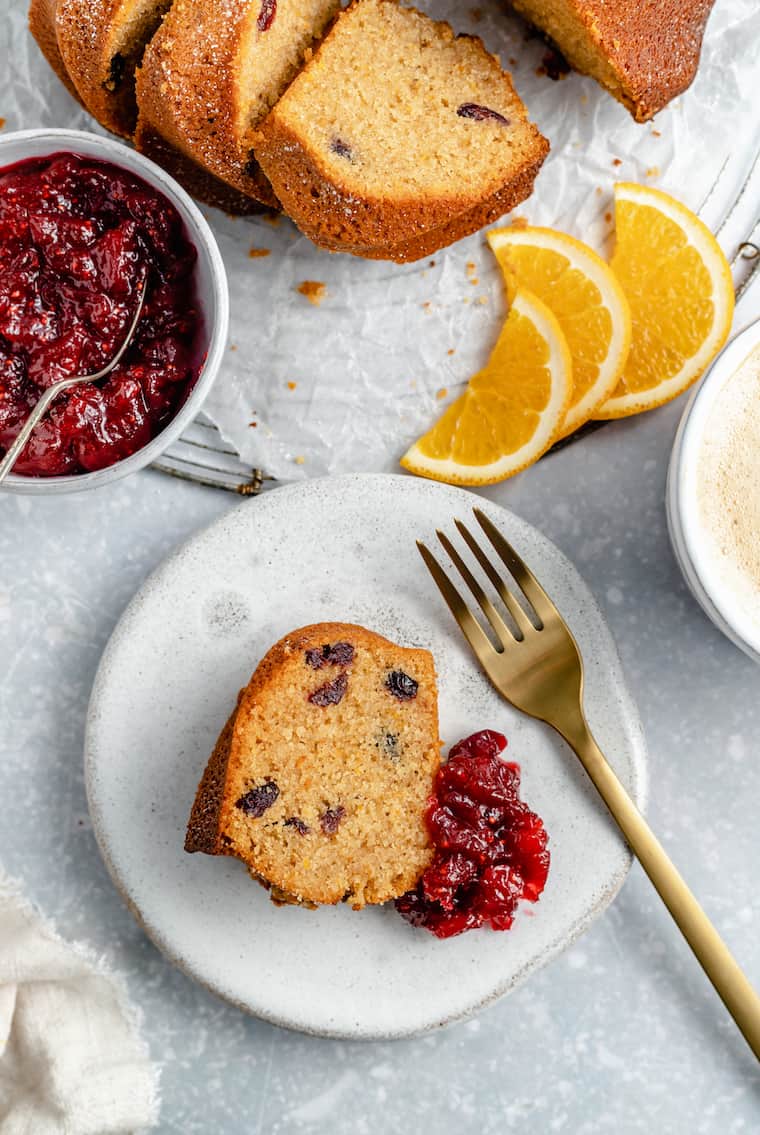 And that's pretty much it, my friends! You're ready to get your festive baking on. I can't wait to hear what you think of this coffee cake, so be sure to come back and leave us a review and comment. Happy holiday baking!
More Healthy Gluten-Free Coffee Cake Recipes
Cranberry Orange Gluten-Free Coffee Cake
It's a flavorful gluten-free coffee cake, that's moist, tender and perfectly sweet. It's healthy, delicious and can be made to suit any taste buds.

Servings 14 Servings
Calories 279kcal
Instructions
Preheat oven to 325 degrees F. Grease a bundt pan with coconut oil and set aside.

Whisk together dry ingredients in a small mixing bowl. Set aside.

In a larger mixing bowl, beat coconut oil, honey and orange juice together until combined. Add eggs and vanilla and whisk until smooth.

Add dry mixture into wet in three additions, mixing well after each.

Fold in orange zest and cranberries.

Pour batter into prepared pan, tapping on the counter to release any air bubbles.

Bake on center rack for 35 - 45 minutes until a toothpick inserted into the center comes out clean.

While cake is baking, make the cranberry sauce by combining all ingredients into a small sauce pan. Bring to a boil then reduce to a simmer and let simmer until cranberries have broken down and mixture has begun to thicken. Set aside until cake is done baking.

When cake is done, remove from the oven and let cool in pan for 15 - 20 minutes. Carefully flip over and release. Let cool completely before slicing.

When ready to serve, top with a dollop of cranberry sauce and enjoy.

Merry Christmas!
Nutrition
Calories: 279kcal | Carbohydrates: 34g | Protein: 5g | Fat: 17g | Saturated Fat: 7g | Cholesterol: 35mg | Sodium: 38mg | Potassium: 103mg | Fiber: 3g | Sugar: 24g | Vitamin A: 75IU | Vitamin C: 5.6mg | Calcium: 72mg | Iron: 1.4mg
share what you make
Tag #simplyquinoa on Instagram with your creations! We love sharing what you make with the community. We can't wait to see!

follow on instagram