This cranberry orange coffee cake is a festive treat and a must for your Christmas baking. It's gluten-free, dairy-free, and a perfect dish to celebrate the holidays with.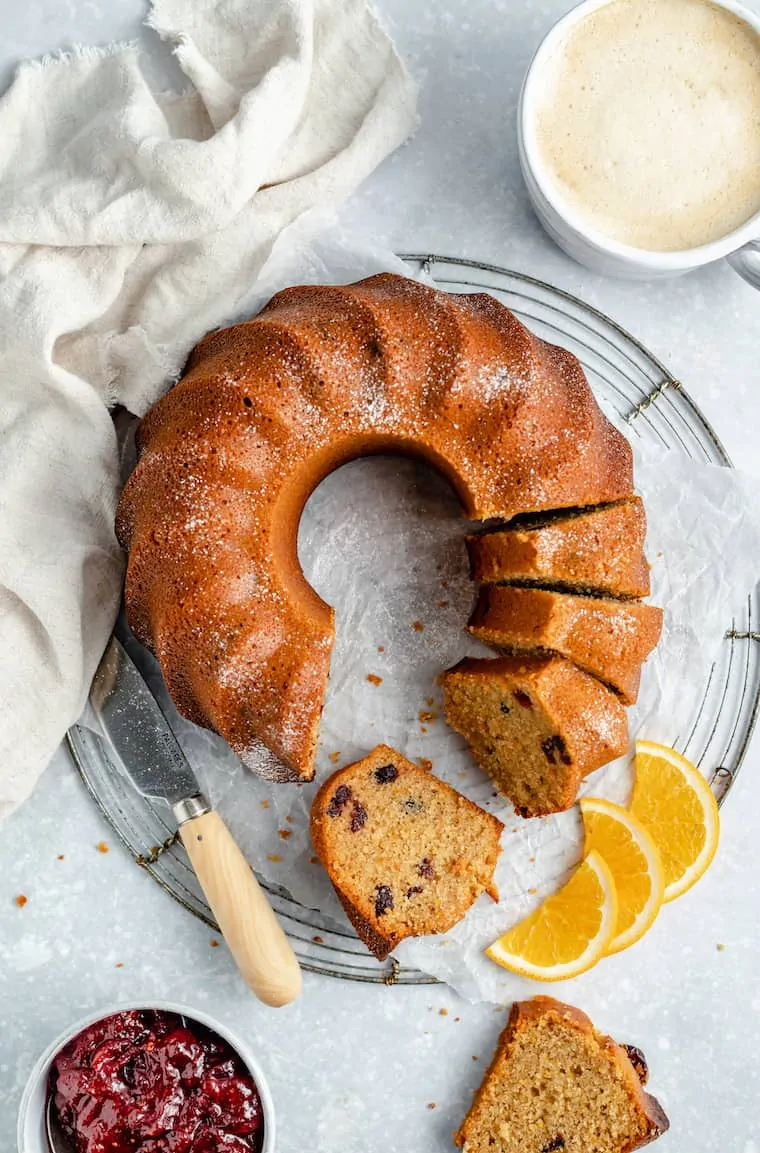 One of my favorite things about the holidays is baking. There's something so special about baking during the holiday season. From the warmth of the oven, to the smell floating through your home, to the festive treats you get to eat, it's just a wonderful time. And this cranberry Christmas cake is one of my favorite sweet treats to bake when the holidays roll around. 
Cookies and pies might be the most traditional holiday baked goods, but this gluten-free coffee cake has everything I'm looking for when Christmas is around the corner. Honey, cranberries, and cinnamon make the recipe taste wintry, while orange juice and zest make it fresh. There's a richness from coconut oil and almond flour, and a cranberry, honey, and orange sauce that's the perfect amount of sweet and tart. It's a gluten-free and dairy-free recipe, and it takes only an hour to make. Need a festive treat to eat on Christmas day? Look no further.
What You'll Need
Here are all the ingredients you need for this easy coffee cake recipe. Make sure to check out the recipe card at the end of the article for the exact quantities. 
For the Coffee Cake:
Blanched almond flour – Make sure you use almond flour, and not almond meal.
Toasted quinoa flour – The combination of almond and quinoa flour replicates all-purpose flour, while being gluten-free.
Baking powder
Cinnamon
Sea salt
Coconut oil
Madhava honey
Orange juice – Make sure to use freshly-squeezed orange juice
Eggs
Vanilla extract – You want to use pure 100% vanilla extract.
Orange zest
Dried cranberries
For the sauce:
Fresh cranberries – You can also use frozen cranberries.
Honey
Orange juice
What is Madhava Honey?
Madhava is a type of honey that is unfiltered. It has a more natural flavor than pasteurized honeys, as it still has the naturally-occurring bacteria in it. It's often referred to as "pure" honey.
How to Make Cranberry Orange Coffee Cake
Here's how to make this moist, festive coffee cake. It only takes an hour!
Prep. Preheat the oven to 325F, and grease a bundt pan with coconut oil.
Mix the dry ingredients. Place the almond flour, quinoa flour, baking powder, salt, and cinnamon in a bowl, and mix to combine.
Mix the wet ingredients. In a separate mixing bowl, add the coconut oil, orange juice, and honey, and beat until combined. Add the eggs and vanilla, and whisk until the mixture is smooth.
Combine the dry and wet ingredients. Put a third of the dry mixture into the wet mixture, and mix until well combined. Repeat until the dry ingredients are fully incorporated into the wet ingredients.
Add the zest and cranberries. Place the cranberries and orange zest in the coffee cake batter and fold in.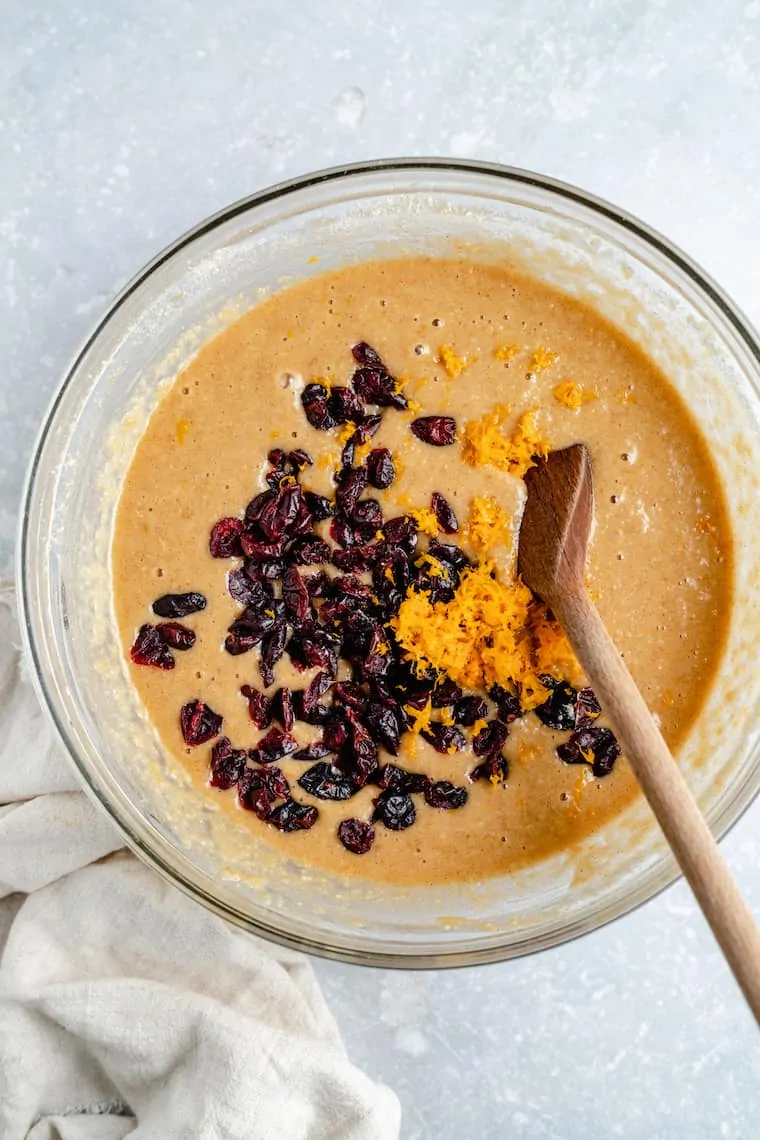 Transfer the batter. Pour the coffee cake batter into the pan. Tap the pan on the counter a few times to release air bubbles from the batter.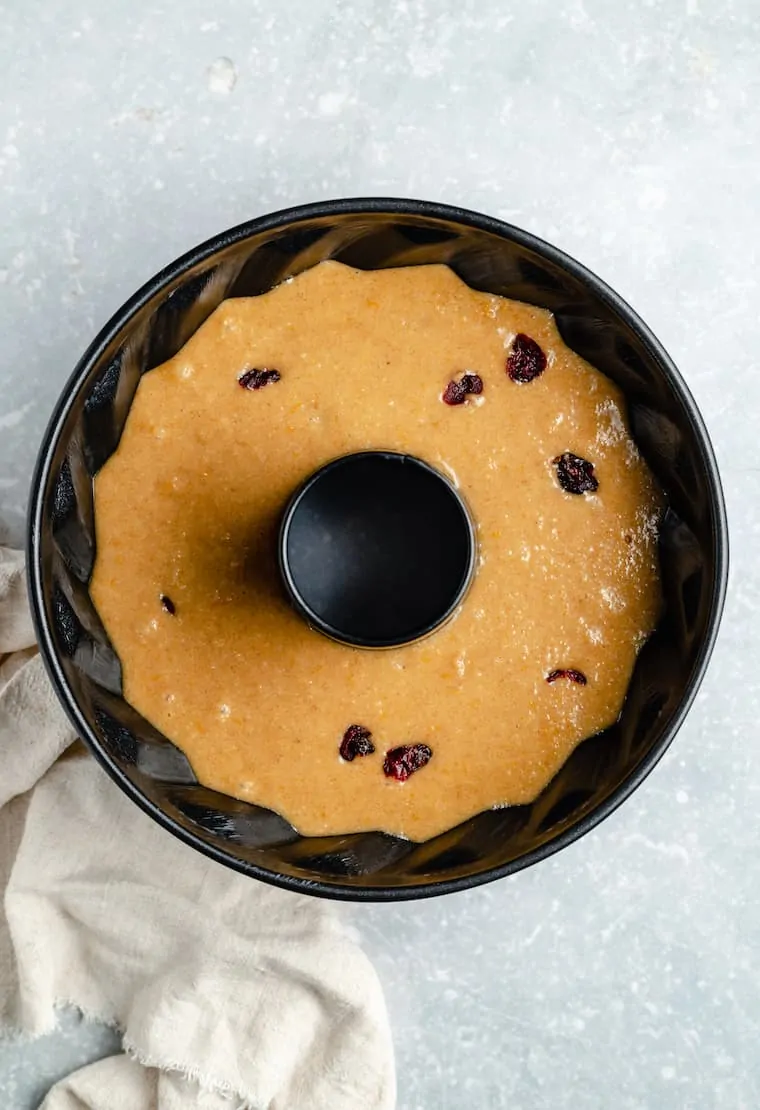 Bake. Bake the coffee cake on the center rack until a toothpick inserted into the middle comes out clean. This should take 35-45 minutes.
Make the sauce. While the cake bakes, combine the cranberries, orange juice, and honey in a saucepan. Bring the mixture to a boil, then lower the heat and simmer until the cranberries break down and the sauce thickens. Remove from the heat.
Cool the coffee cake. Once the cake is done baking, remove it from the heat and cool it in the pan for 15-20 minutes. Then remove the coffee cake from the pan, and cool on a wire rack until fully cooled. Slice, and serve with the cranberry, orange, and honey sauce.
Tricks and Tips
Here are some tips for making the best version of this Christmas coffee cake.
Use room temperature eggs. Remove your eggs from the fridge a few hours before making this coffee cake. Room temperature eggs have an easier time blending with other ingredients. If you use cold eggs, they won't mix as well, and the coffee cake dough may be denser or lumpier.
Don't over mix. When adding the wet and dry ingredients together, stir only until the ingredients are incorporated. And when folding in the zest and cranberries, fold just until they're mixed in. Don't over mix, or you might make the coffee cake dense instead of light.
Let the coffee cake cool completely. It's so tempting to eat this coffee cake as soon as it comes out of the oven, especially since your home will be smelling magical. But resist temptation and let the coffee cake cool fully before diving in. That way the coffee cake will firm up to its optimal texture, and it also won't melt the sauce.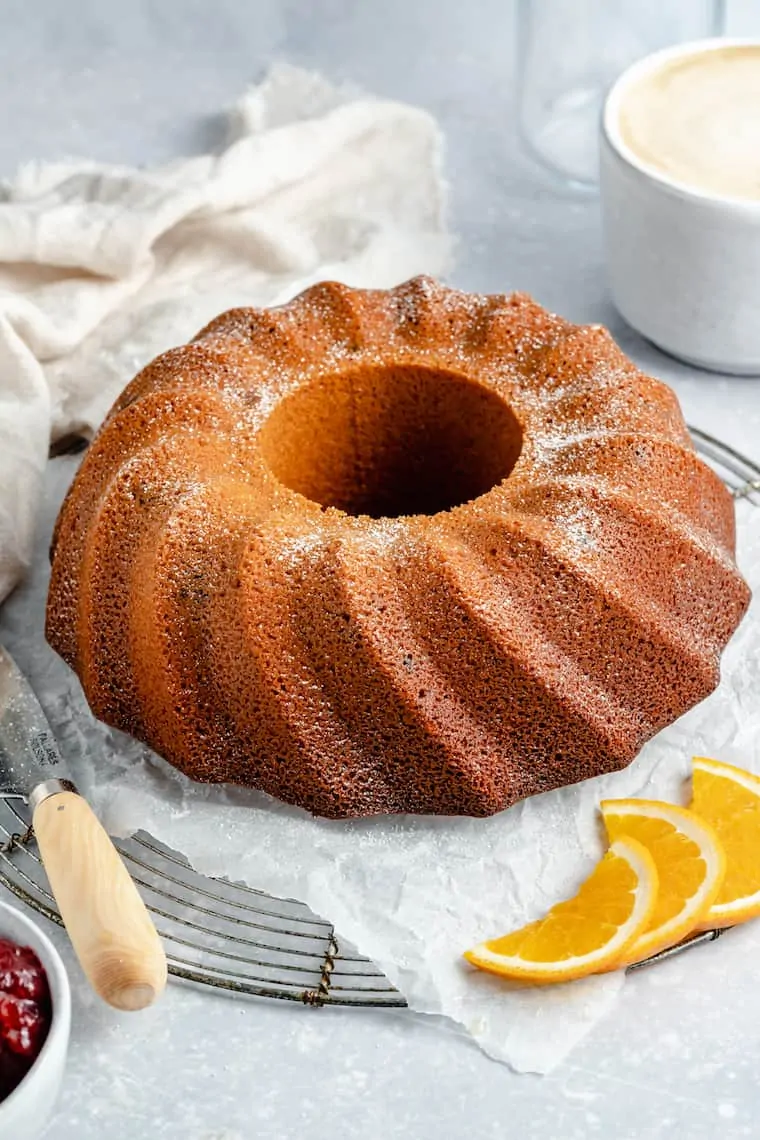 Variations
Here are some fun ways that you can mix up this recipe.
Change the sweetener. Liquid sweetener works best for this recipe, as it helps keep the coffee cake moist. However, if you don't want to use honey, you can change it up and use agave, maple syrup, or another liquid sweetener.
Swap out the dried fruit. I'm a big fan of dried cranberries in this recipe. But if you want to mix things up, you could exchange them for any other dried fruit. Dried cherries or apricots would be particularly excellent in this Christmas coffee cake.
Change the zest. Orange zest works wonderfully in this recipe because it's such a festive flavor. But you can replace it with grapefruit zest or lemon zest if you want to add an extra kick to this coffee cake. Meyer lemon zest would be a fantastic addition to this recipe.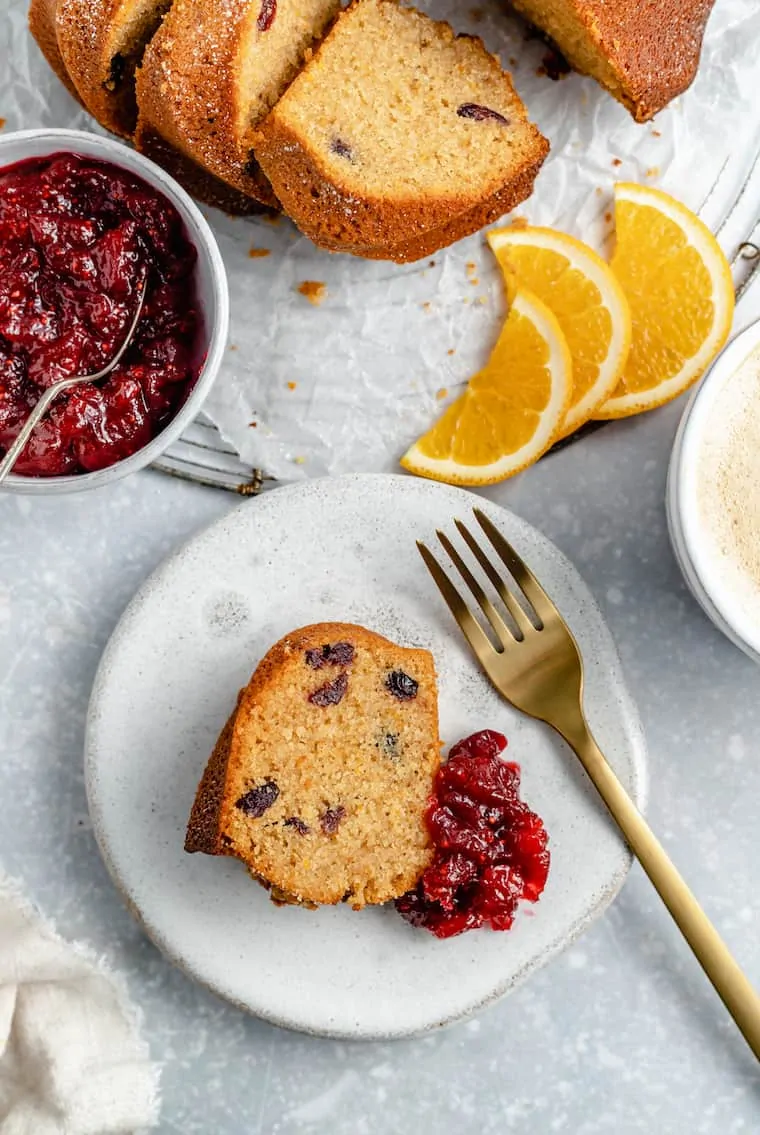 How to Store Cranberry Orange Coffee Cake
You can keep this coffee cake at room temperature for up to 2 days if you store it in an airtight container or bag. The holiday coffee cake will also last for a week if stored in an airtight container in the fridge.
Can You Freeze This Recipe?
You absolutely can. I recommend slicing the cranberry orange cake before freezing it in an airtight container or plastic bag. It will last in the freezer for up to 3 months. Thaw in the fridge overnight, defrost in the microwave, or heat in the toaster oven when you're ready to eat it.
More Coffee Cake Recipes to Make
Here are a few of my other favorite coffee cake recipes for you to bake.
Cranberry Orange Coffee Cake
This cranberry orange coffee cake is a festive treat and a must for your Christmas baking. It's gluten-free, dairy-free, and a perfect dish to celebrate the holidays with.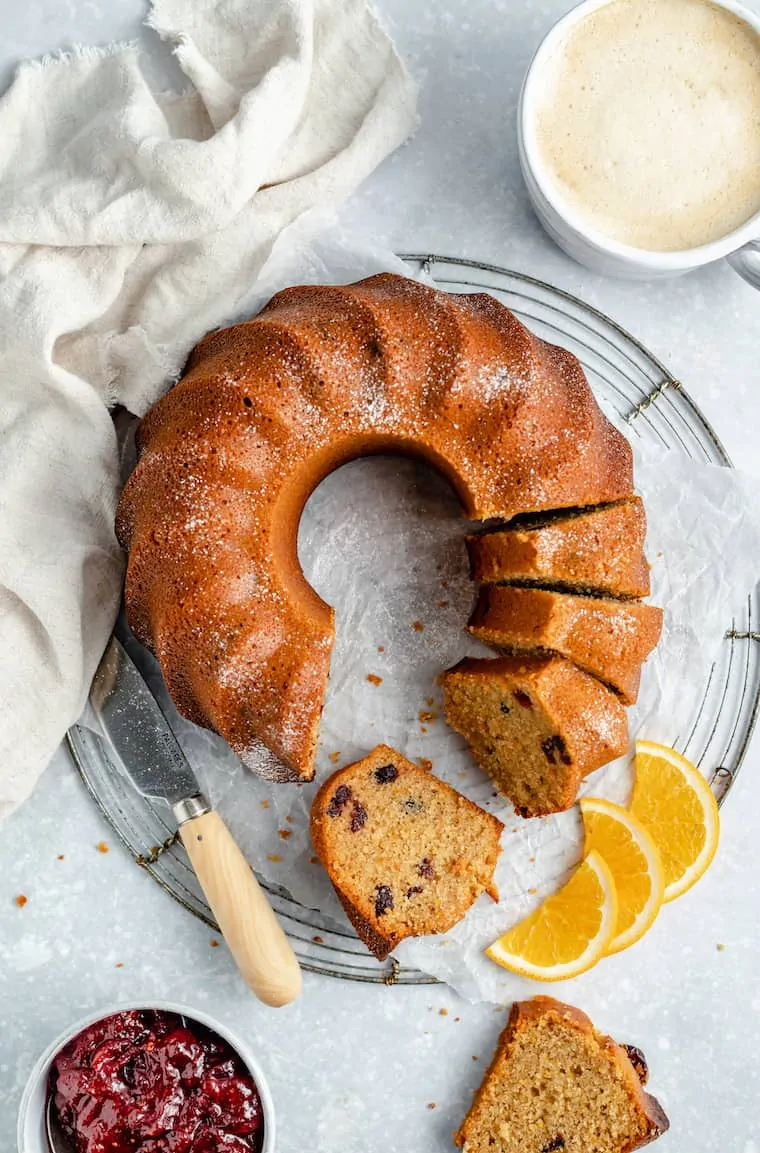 Instructions
Preheat oven to 325 degrees F. Grease a bundt pan with coconut oil and set aside.

Whisk together dry ingredients in a small mixing bowl. Set aside.

In a larger mixing bowl, beat coconut oil, honey and orange juice together until combined. Add eggs and vanilla and whisk until smooth.

Add dry mixture into wet in three additions, mixing well after each.

Fold in orange zest and cranberries.

Pour batter into prepared pan, tapping on the counter to release any air bubbles.

Bake on center rack for 35 – 45 minutes until a toothpick inserted into the center comes out clean.

While cake is baking, make the cranberry sauce by combining all ingredients into a small sauce pan. Bring to a boil then reduce to a simmer and let simmer until cranberries have broken down and mixture has begun to thicken. Set aside until cake is done baking.

When cake is done, remove from the oven and let cool in pan for 15 – 20 minutes. Carefully flip over and release. Let cool completely before slicing.

When ready to serve, top with a dollop of cranberry sauce and enjoy.

Merry Christmas!
Nutrition
Calories:
295
kcal
|
Carbohydrates:
34
g
|
Protein:
6
g
|
Fat:
17
g
|
Saturated Fat:
7
g
|
Polyunsaturated Fat:
0.3
g
|
Monounsaturated Fat:
1
g
|
Trans Fat:
0.004
g
|
Cholesterol:
35
mg
|
Sodium:
59
mg
|
Potassium:
107
mg
|
Fiber:
3
g
|
Sugar:
25
g
|
Vitamin A:
70
IU
|
Vitamin C:
5
mg
|
Calcium:
73
mg
|
Iron:
1
mg
Filed Under: