These flourless protein brownies are fudgy, decadent and healthy. They're naturally gluten-free as well as vegan, no refined sugar and packed with zucchini!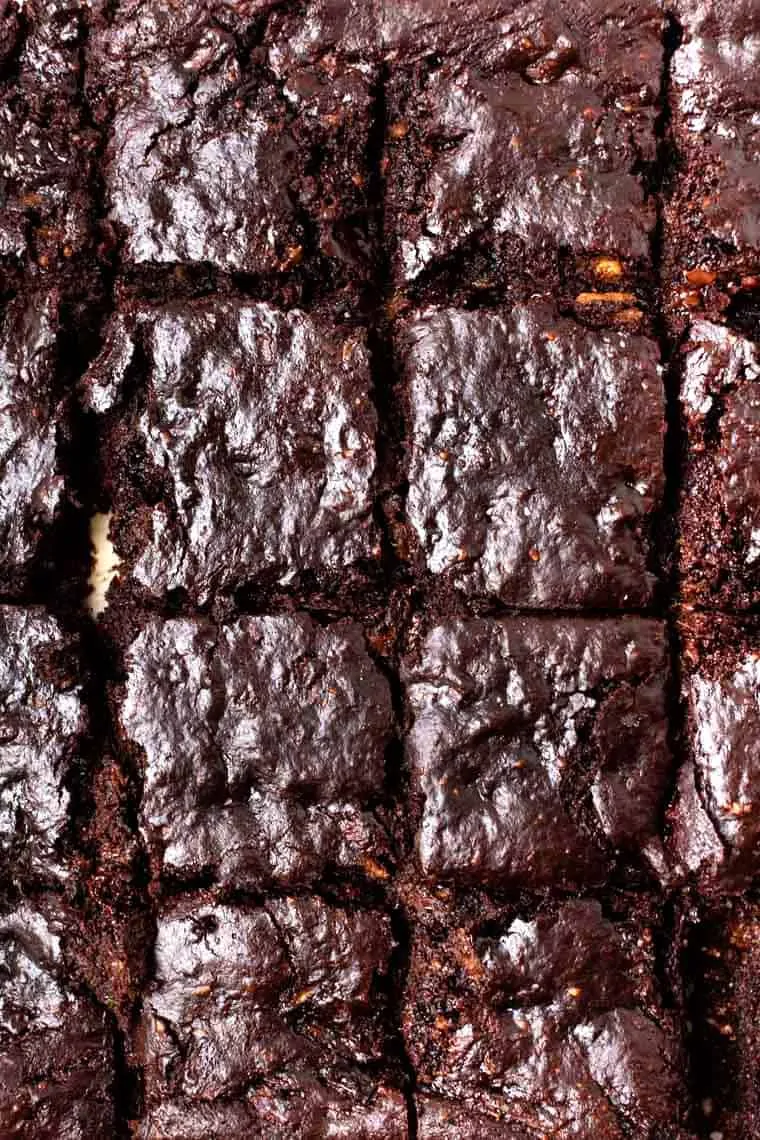 One of my guilty pleasures used to be under baked boxed brownies. I loved how gooey they were, how sugary they were and how decadent they tasted.
I've since learned what's inside those mixes and honestly, not something I'd want to eat. Preservatives, refined flour, tons of sugar. Basically nothing healthy.
But that doesn't mean we still can't enjoy a decadently fudgy brownie from time to time. That's exactly why you need these Flourless Protein Brownies – they're everything you love about boxed brownies just without the crap!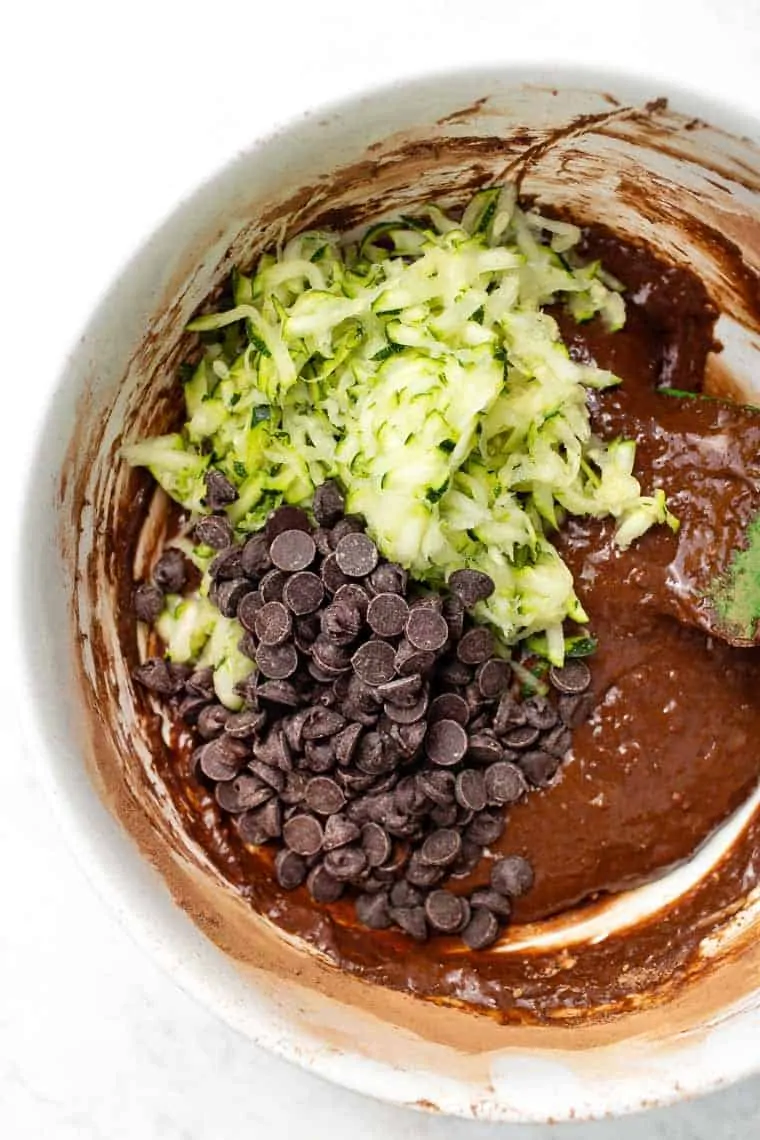 Ingredients for these Flourless Protein Brownies
Making flourless brownies at home is actually pretty simple. We're using a base of banana, cashew butter and a flax egg which gives us fat, moisture, binding powder, and some sweetness. Then we added in some coconut sugar which is lower on the glycemic index than cane sugar, as well as raw cacao powder. That's our base.
When I first made this recipe, I left it at that. But the first batch came out a little too gooey for me. So I went back to the drawing board and the next time I added some protein powder.
That was just what it needed! The protein powder helped absorb a little bit more moisture and the texture was just what I wanted. Plus we get a little extra protein in there which is never a bad thing in my opinion!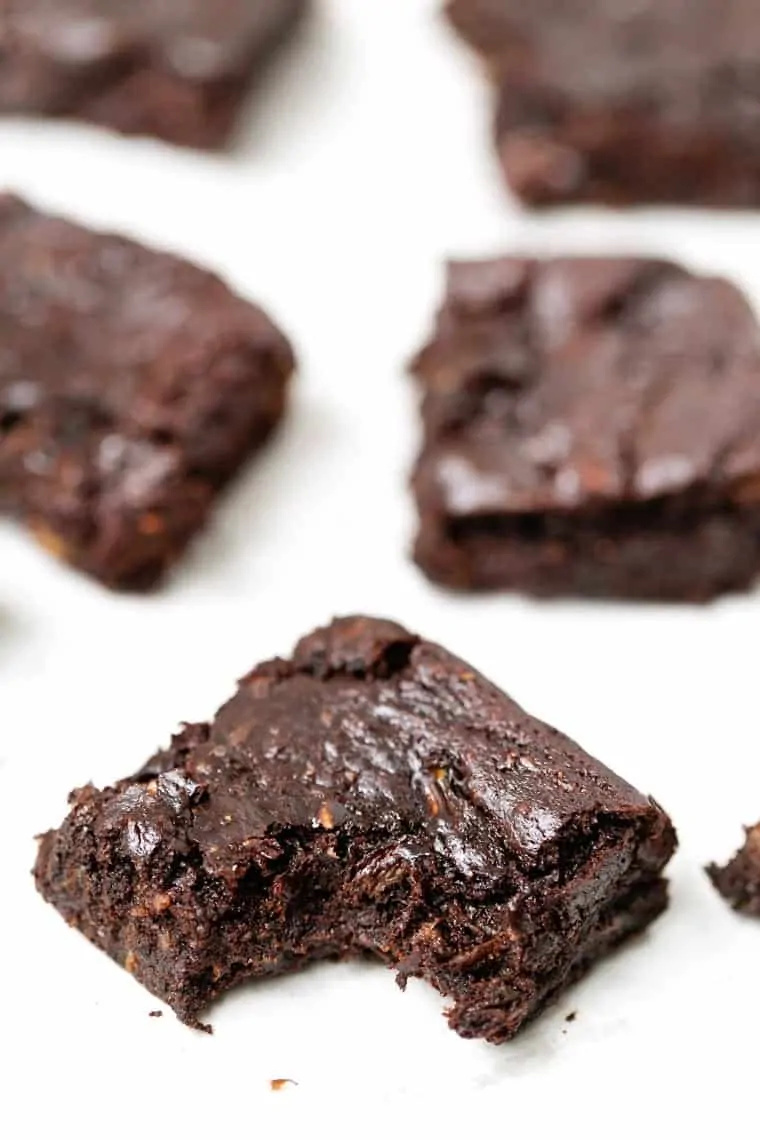 Why Add Zucchini to Brownies?
Okay so we have our basic flourless protein brownie, but I figured why not kick it up a notch!?
Instead of just keeping them plain, we're also adding in some shredded zucchini and chocolate chips. The chocolate chips are self-explanatory (more chocolate is always better!), but the zucchini? That might seem a little strange…
But let me tell you, zucchini is awesome in brownies! And here's why:
it adds a ton of moisture making them fudgier
you get more fiber
you can't taste them at all
you're getting extra veggies
It's a no brainer in my eyes!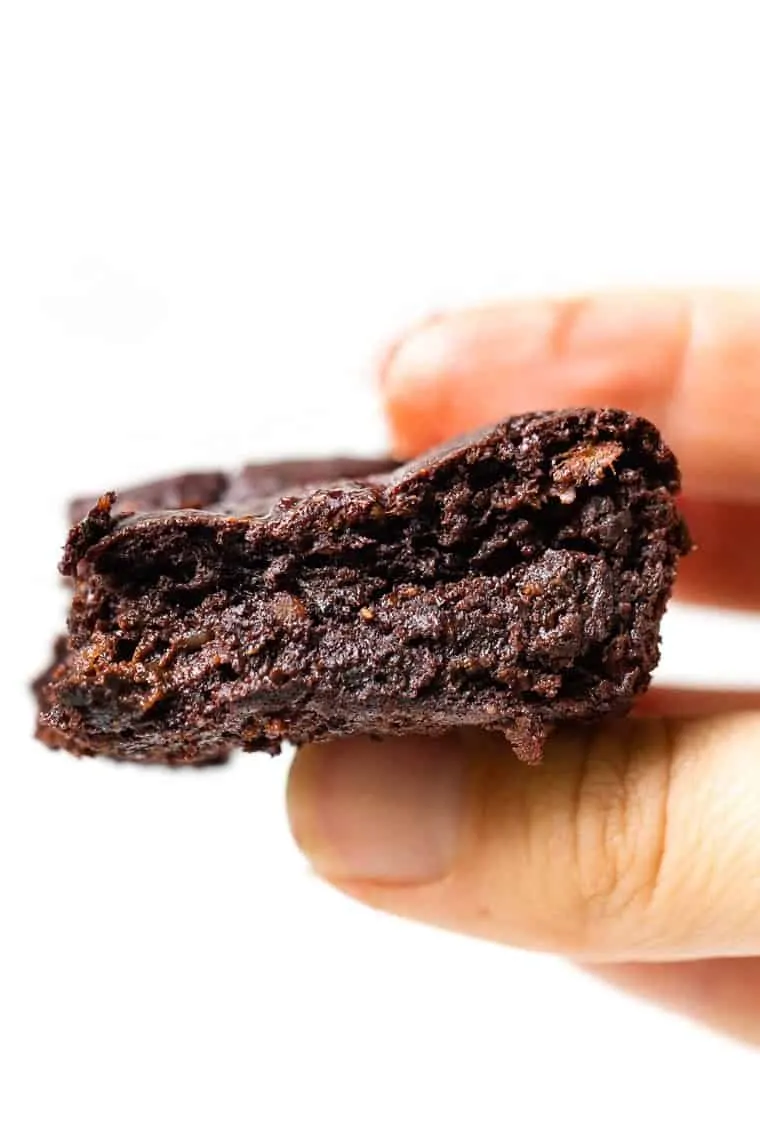 The Best Zucchini Brownies EVER!
So truly, these are the best zucchini brownies (aka flourless protein brownies) EVER! They're vegan, gluten-free, refined sugar-free, made in just one bowl and use just 10 ingredients.
They're a cinch to make, they're totally decadent and yet still healthy!
One of those brownies that you never have to feel guilty about eating. Not that you should ever feel guilty about eating brownies, but still…these are just awesome every way you look at them!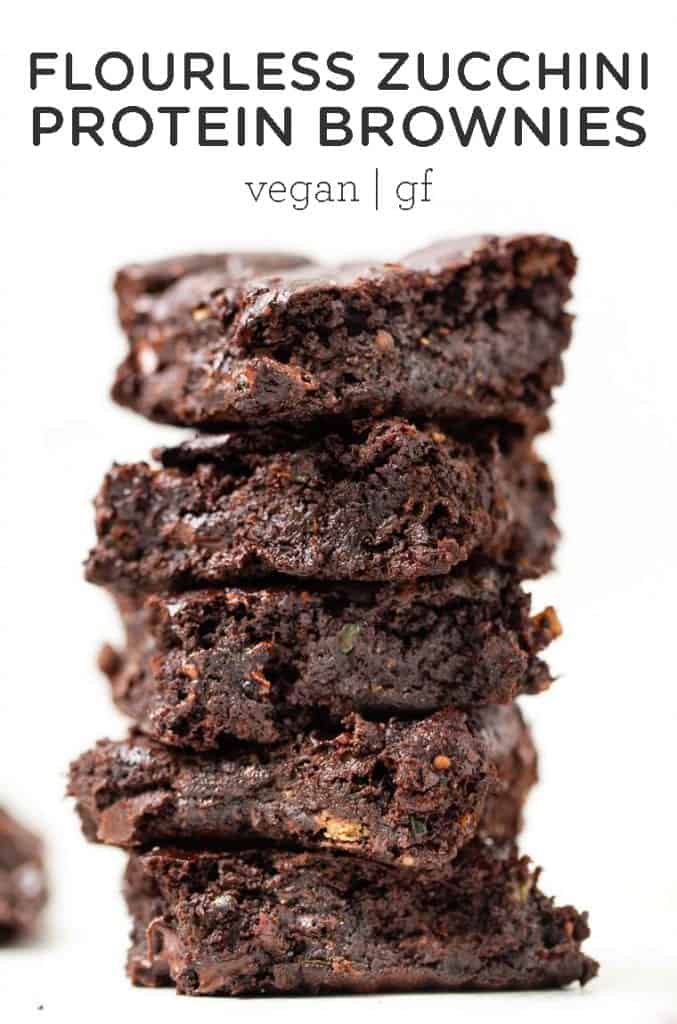 More Vegan Gluten Free Brownie Recipes:
Flourless Zucchini Protein Brownies
These flourless protein brownies are fudgy, decadent and healthy. They're naturally gluten-free as well as vegan and packed with zucchini!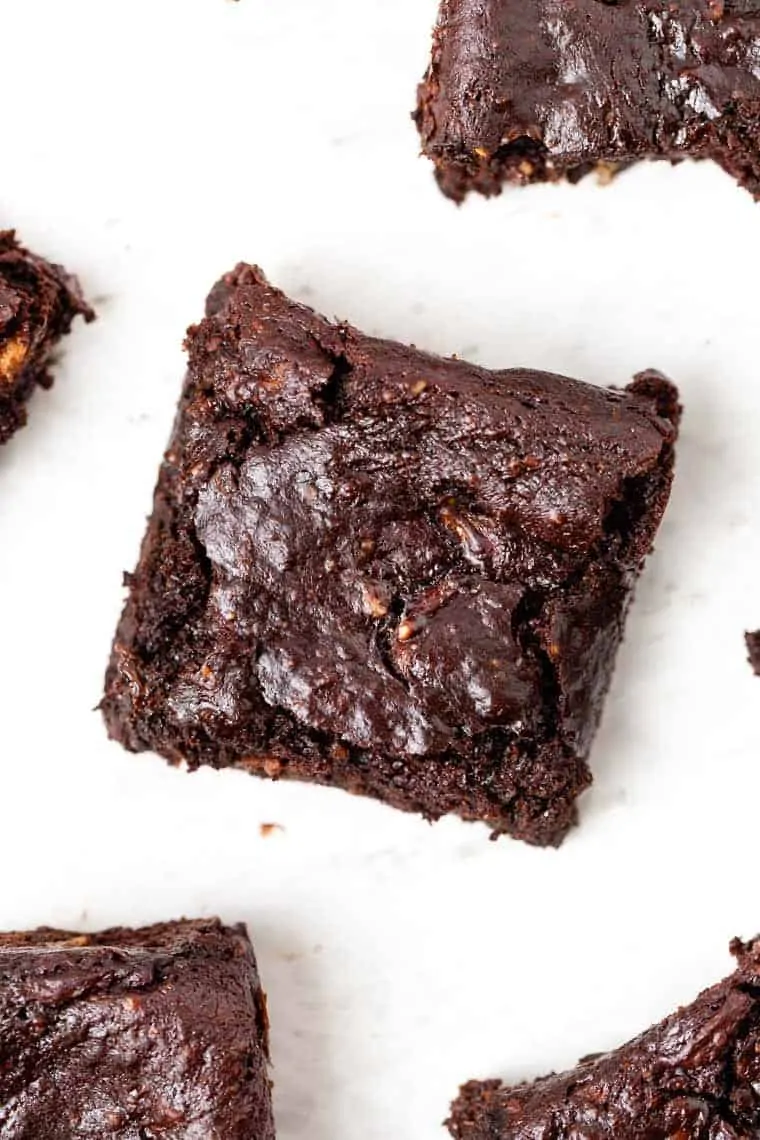 Instructions
Preheat the oven to 350ºLine an 8x8 baking pan with parchment and grease the uncovered sides with cooking spray. Set aside.

Add the cashew butter, banana, flax egg, and coconut sugar into a bowl. Beat until smooth. Stir in the cacao powder, protein powder, baking powder, and salt.

Place the shredded zucchini in a clean dish towel and press out as much liquid as possible (do this over the link). Add the zucchini and chocolate chips into the bowl and fold them into the batter.

Transfer the batter to the prepared tin and bake for 30 - 35 minutes. Allow the brownies to cool completely before slicing into squares and enjoying!*
Notes
* these brownies are very fudgy, so if that's not your thing you should try these instead!
Nutrition
Serving:
1
brownie
|
Calories:
129
kcal
|
Carbohydrates:
16
g
|
Protein:
3
g
|
Fat:
7
g
|
Saturated Fat:
2
g
|
Cholesterol:
1
mg
|
Sodium:
169
mg
|
Potassium:
169
mg
|
Fiber:
2
g
|
Sugar:
9
g
|
Vitamin A:
32
IU
|
Vitamin C:
2
mg
|
Calcium:
19
mg
|
Iron:
1
mg
Filed Under: