These healthy raspberry quinoa brownies are naturally gluten-free and vegan, but are also packed with protein! Under 200 calories and 4.5g of protein per square!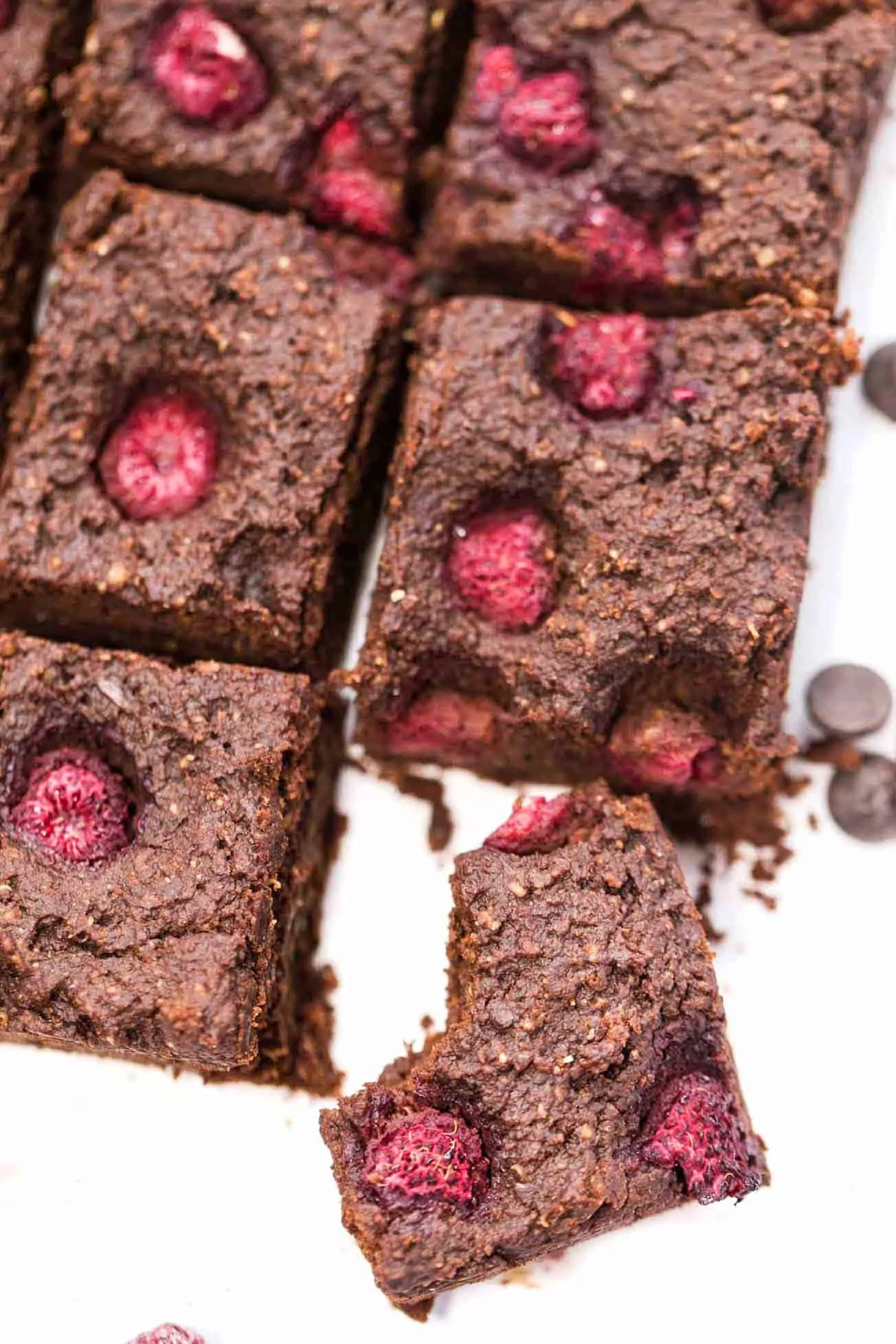 Happy Valentine's Day loves!
Whether you're celebrating with someone special, your best girlfriend(s) or even just chilllin' by yourself tonight, I think it's the perfect day to allow yourself a healthy indulgence. Because after all, this day of love is as much about the people in your life as it is about you. So show yourself some love with these ooey-gooey decadent raspberry quinoa brownies!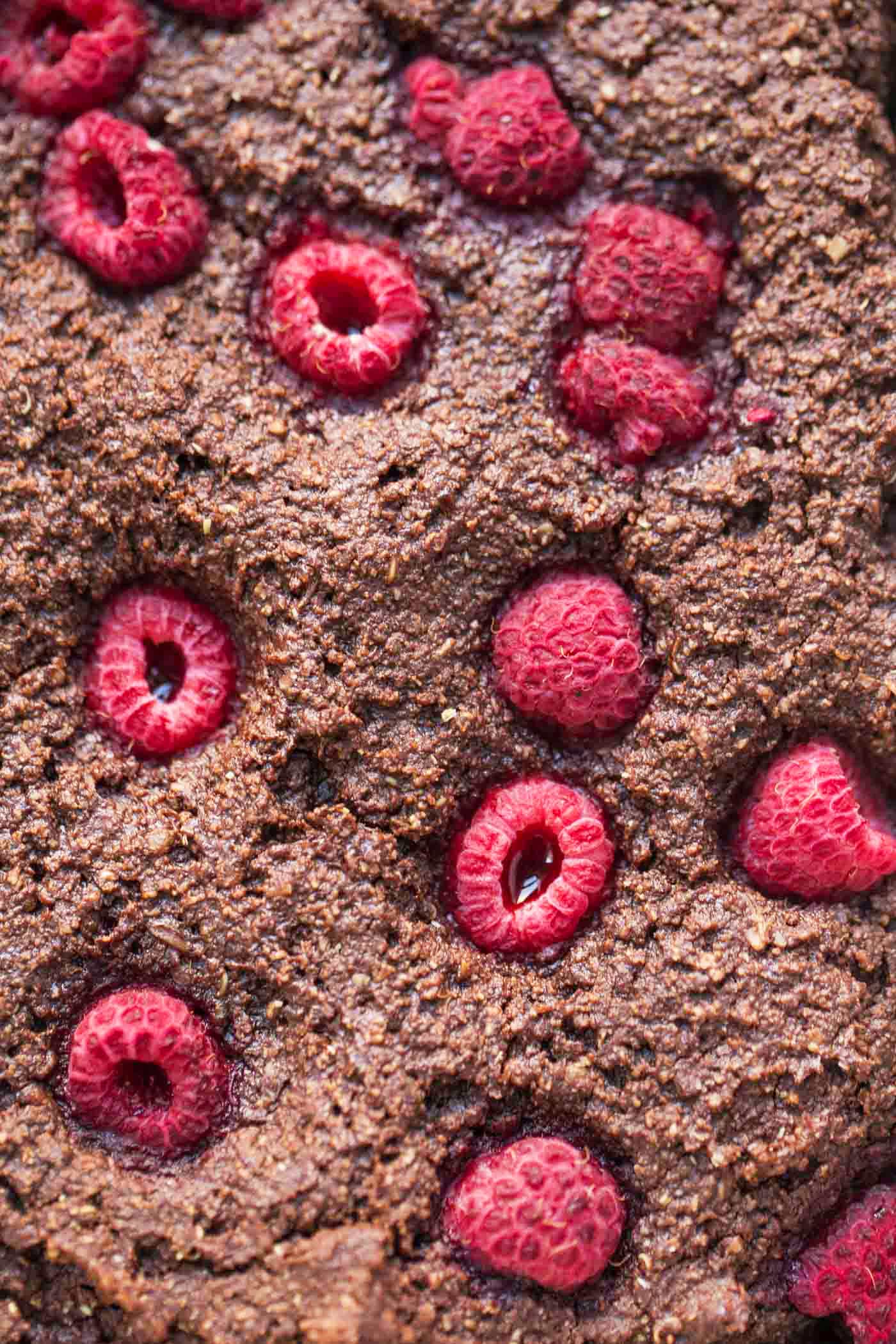 In case you haven't noticed from many of my most recent baking escapades (hello, quinoa bread, quinoa muffins, and quinoa pancakes), but I'm on a huge almond flour kick right now!
I absolutely adore the flavor that it brings to baked goods, as well as the texture it helps create and the nutritional benefits it adds. In this yummy vegan brownie recipe, we're using almond flour in conjunction with oat flour, cooked quinoa and raw cacao powder which makes them seriously delicious (and healthy).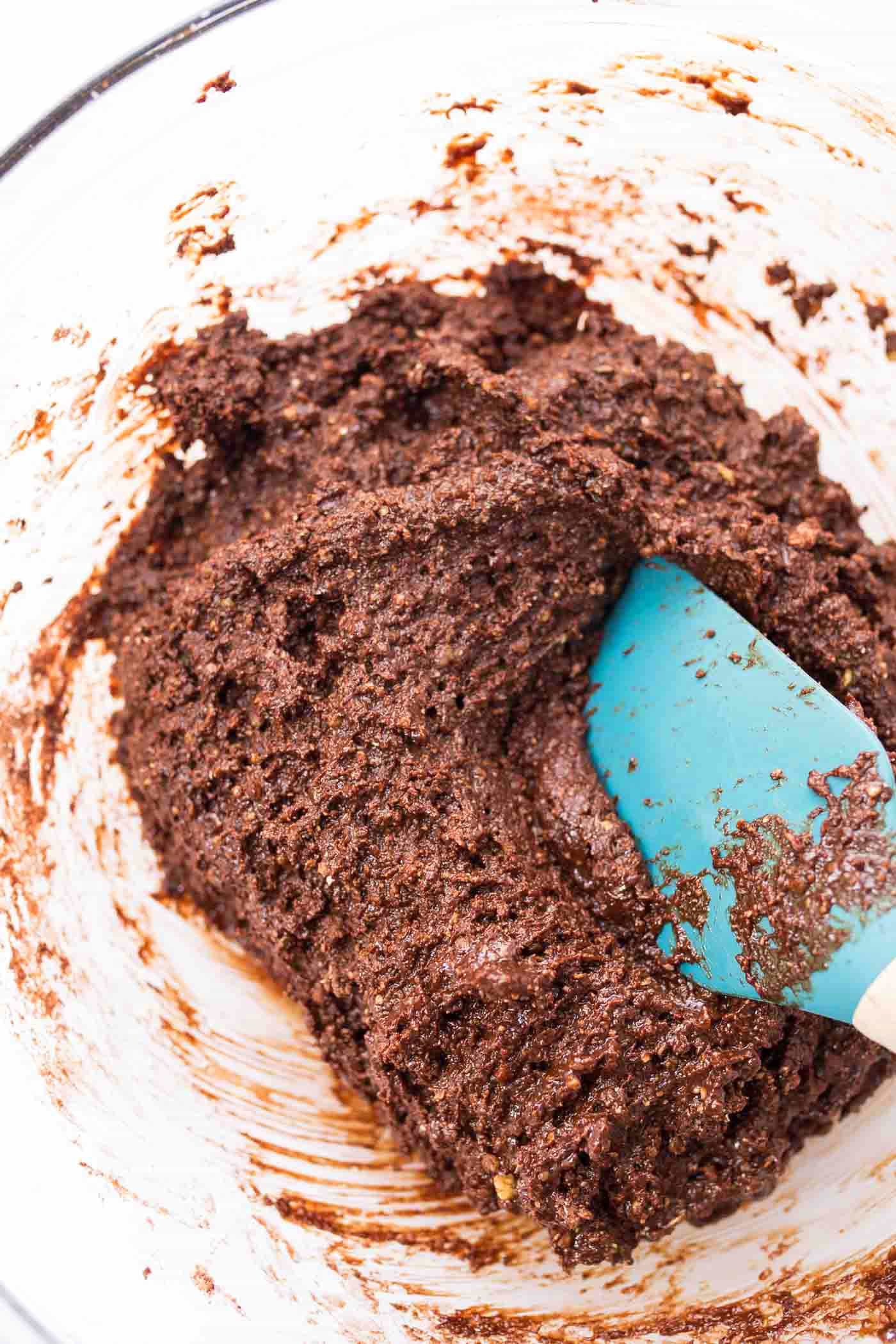 Most brownies, especially when you're trying to achieve that super fudgy texture, use at least 1/2 cup of butter or oil. But since we're always keeping things healthy around here, we've got a few tricks up our sleeve when it comes to the wet ingredients that still yield that super-duper fudgy texture without all that oil.
The trick? Mashed avocado.
I discovered using mashed avocado in my Fudgy Salted Quinoa Brownies, and I've since absolutely fallen in love with it. Now it's not something you can use with every recipe, but avocado and chocolate pair perfectly together. Chocolate has a strong enough flavor on its own that you really can't even taste the avocado at all.
And yet the texture of the brownies is perfection!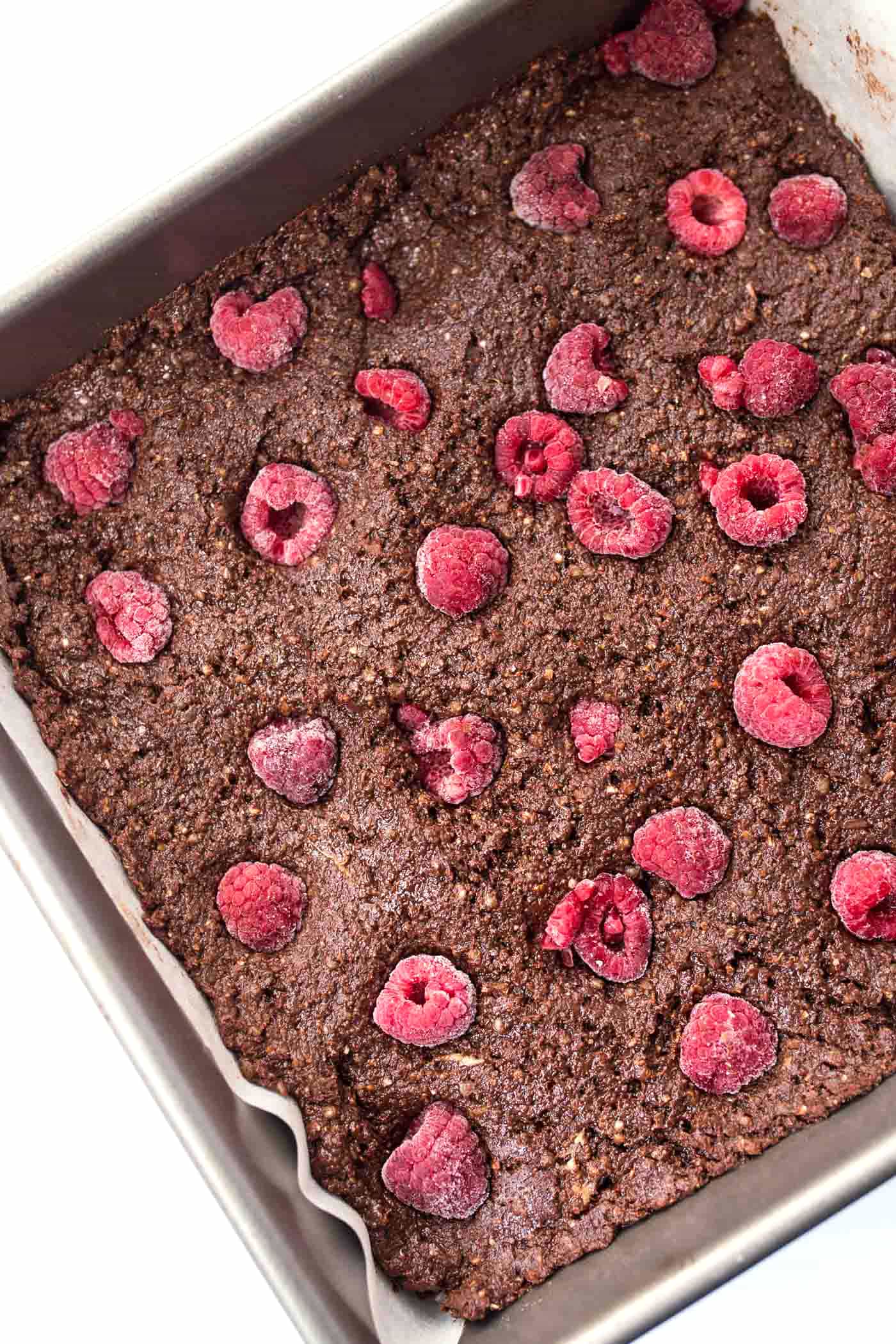 The other trick we have with these brownies is the grind up the coconut sugar in a blender before adding it to the batter. I got this tip from Ashely in her chewy brownie recipe, and I've since been using it in every brownie batch I make. It helps make the texture a bit less grainy, the sugar dissolves more evenly in the dough, and it honestly does make for one delicious brownie!
To grind your sugar, either use a blender, a food processor or even a coffee grinder. And I really don't recommend skipping this step because I swear you won't get the same texture without it.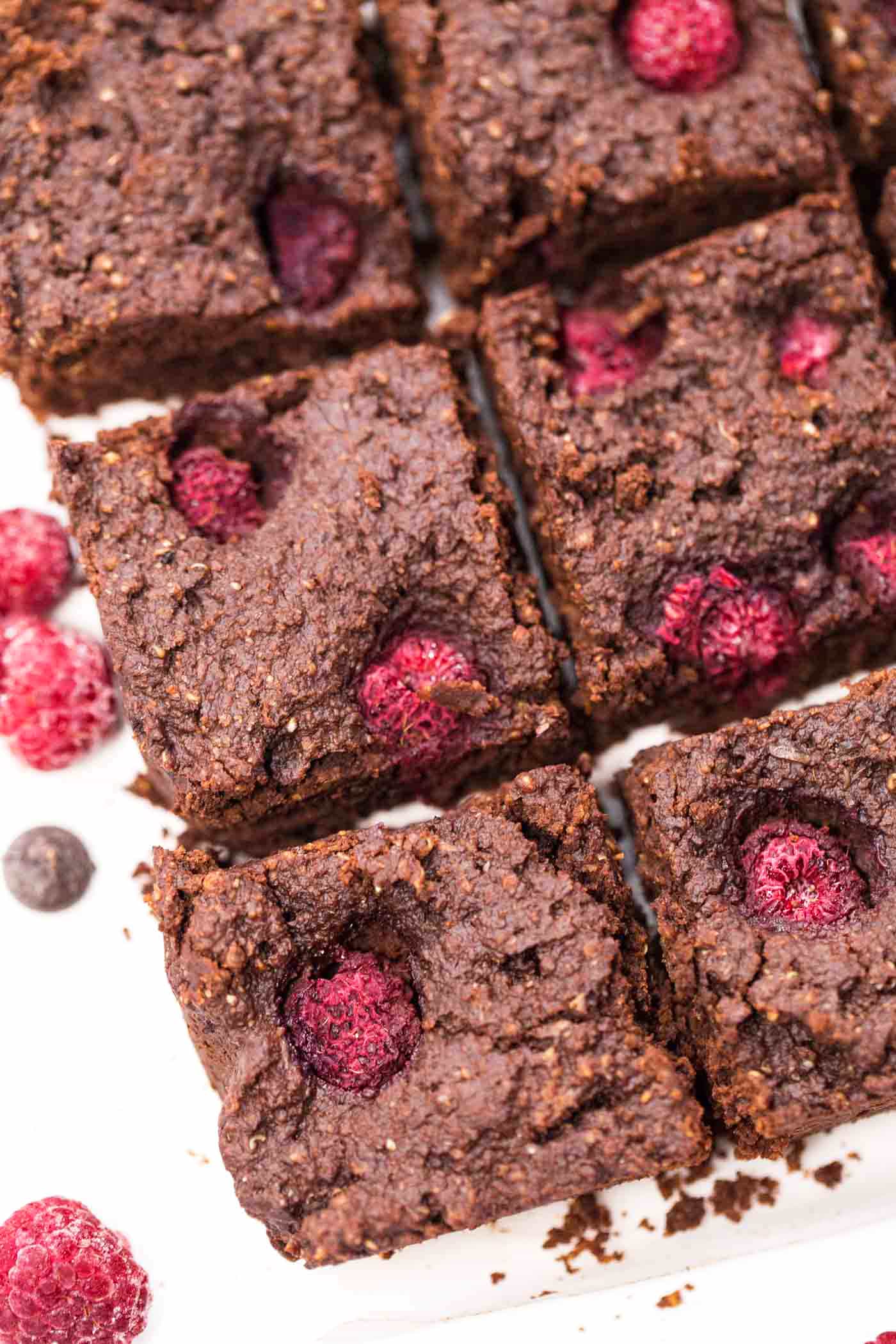 And one final thing to note about these brownies before we dive into the recipe is that the dough is going to be thick. Like really thick!
You'll feel tempted to add more almond milk (I know I was), but resist temptation and just go with it. Stir, stir, stir until that dough comes together and once it does you'll see what I mean.
It will almost feel more like a cookie dough that you sort of dump into the pan, rather than a gooey brownie batter, but it works. You'll just spread it out in the pan, flatten it with your spatula, sprinkle it with raspberries and bake away.
It will make the most deliciously fudgy and chewy brownies ever.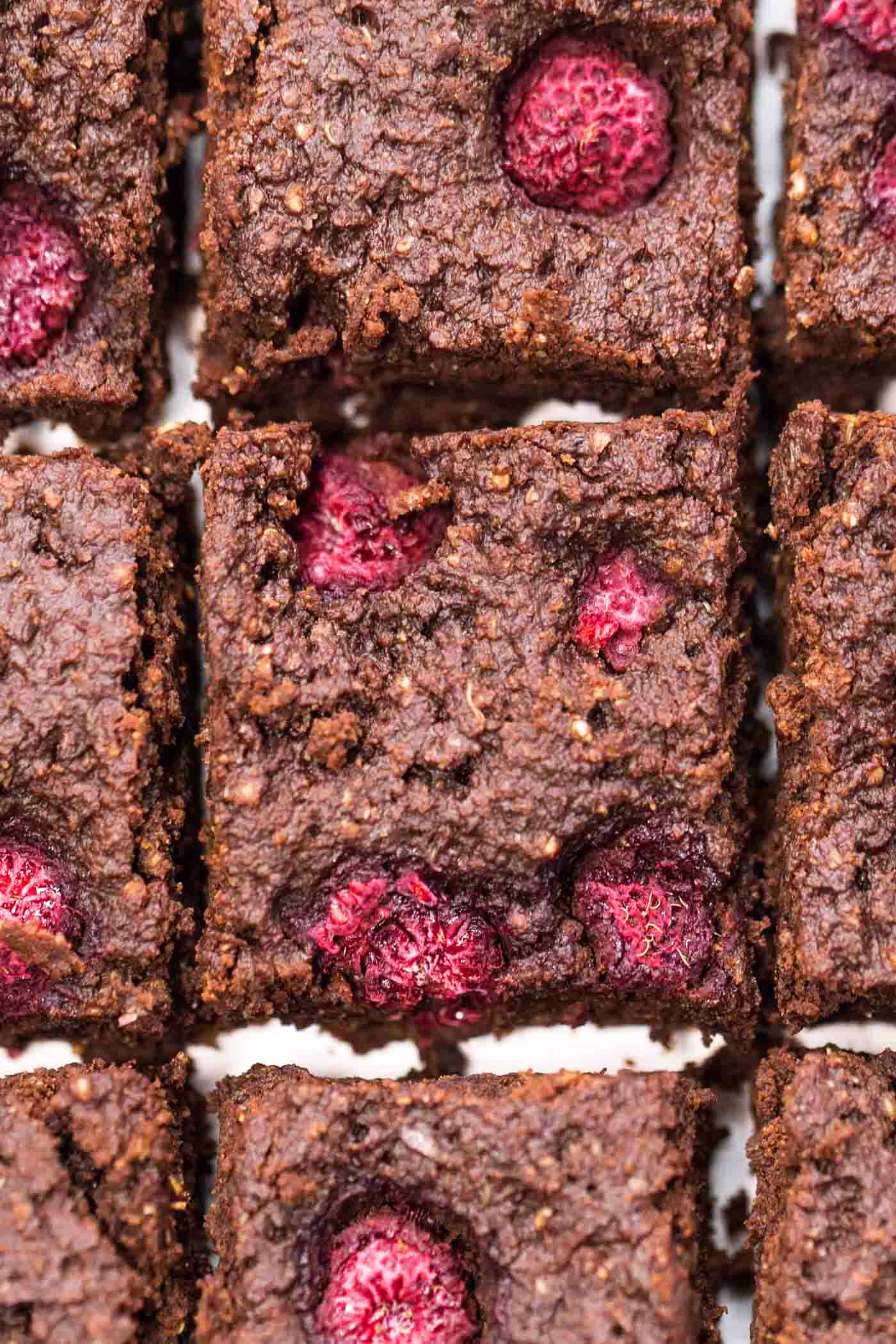 And now my friend, it's time to go celebrate this day of love and eat all the chocolate in sight. Kidding…sort of!
But for real, whip yourself up a batch of these tasty quinoa brownies, tuck in with a steaming cup of tea and cheers to love!
xo Alyssa
More Brownie Recipes to Try:
Healthy Raspberry Quinoa Brownies
These healthy raspberry quinoa brownies are naturally gluten-free and vegan, but are also packed with protein! Under 200 calories and 4.5g of protein per square!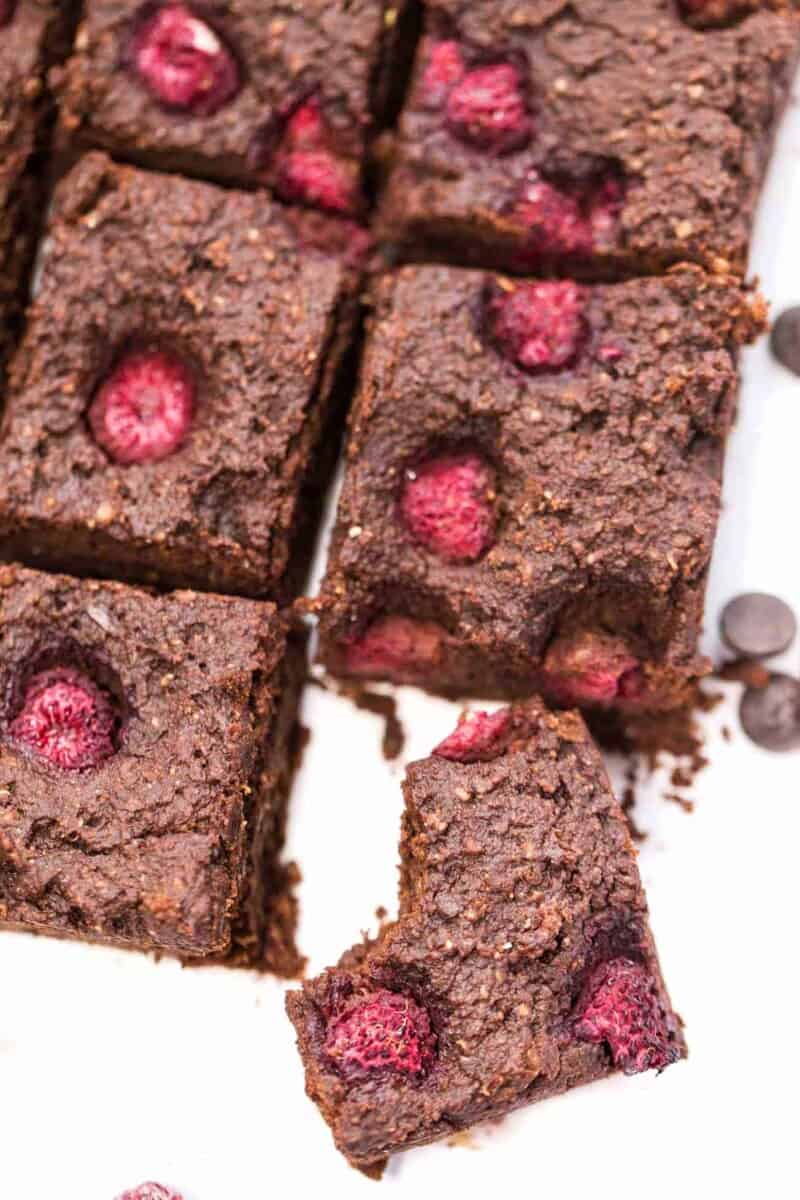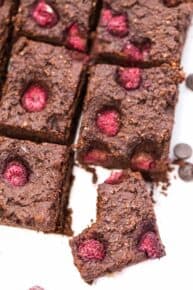 Instructions
Preheat the oven to 350 degrees F. Line a 9X9 baking pan with parchment paper and set aside.

In a small bowl, whisk together the flaxseed meal and water. Set aside while you prepare the remaining ingredients.

In a large mixing bowl, whisk together the flours, quinoa, cacao powder, arrowroot, salt, baking soda and cinnamon. Set bowl aside.

In a double boiler, add chocolate chips and coconut oil. Heat until chocolate has melted and is smooth. Remove from heat and allow to cool for 2 minutes. Once cooled, whisk in the avocado, milk, vanilla and flax egg.

Add coconut sugar to a high powdered blender and blend on high until powdery. Add sugar to the chocolate mixture and stir to combine.

Pour chocolate into dry ingredients. Stir together until a thick dough forms. The dough will be thick, so don't be tempted to add more liquid.

Transfer dough to the prepared pan and press into the pan with wet hands. Smooth the top as best as you can. Press raspberries into top of dough.

Bake on the center rack for 22 - 24 minutes. Remove and sprinkle with salt. Allow to cool for at least 1 hour in the pan before transferring to a wire rack and cooling completely. DO NOT slice the brownies before they are totally cooled down or they will be crumbly.

Store in an airtight container for up to three days.
Nutrition
Serving:
1
g
|
Calories:
182
kcal
|
Carbohydrates:
24
g
|
Protein:
4
g
|
Fat:
8
g
|
Saturated Fat:
3
g
|
Sodium:
87
mg
|
Potassium:
146
mg
|
Fiber:
3
g
|
Sugar:
9
g
|
Vitamin A:
5
IU
|
Vitamin C:
1.2
mg
|
Calcium:
49
mg
|
Iron:
1.3
mg
Filed Under: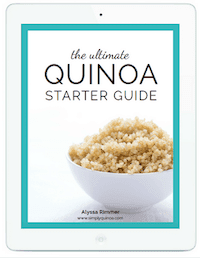 New to cooking quinoa? Grab your FREE Quinoa Starter Guide!
Become part of the Simply Quinoa community and receive weekly emails with exclusive content that I only share in email, as well as my in-depth guide to starting your quinoa journey.
Want more quinoa dessert recipes?
Follow my board on Pinterest!