These festive gingerbread waffles are flavored with the classic molasses for a rich, holiday-inspired breakfast. They're also dairy-free and gluten-free too!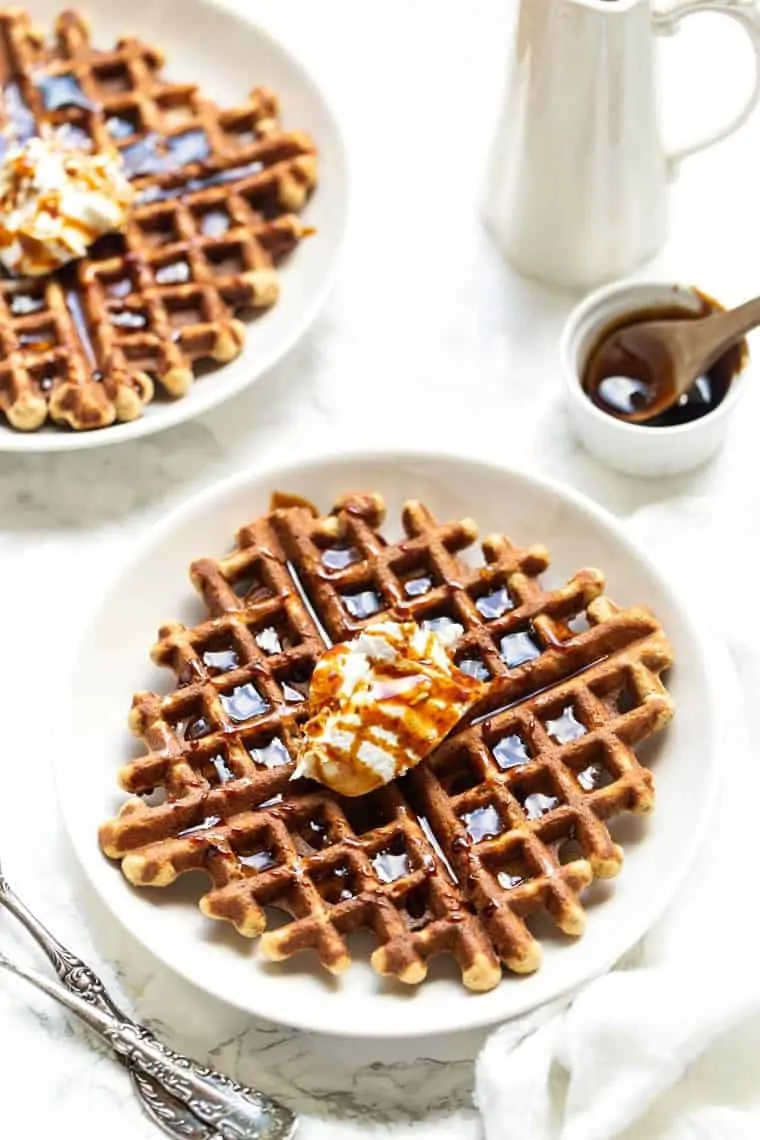 Weekend brunch vibes are going strong in today's post. And bringing in some holiday cheer with a gingerbread themed breakfast that is just out of this world delicious.
If you've already heard about our weekend waffle tradition, then you know Sundays = waffles. Except today I'm shaking things up and taking my dad's Sunday waffle recipe and giving it a holiday twist. This is for sure my newest holiday breakfast obsession: gingerbread waffles!
These crisp and fluffy waffles are the ultimate morning treat. They taste like a gingerbread cookie, with that rich molasses flavor, but smothered in maple syrup and coconut yogurt. To me? It's almost better than a cookie! (well…almost)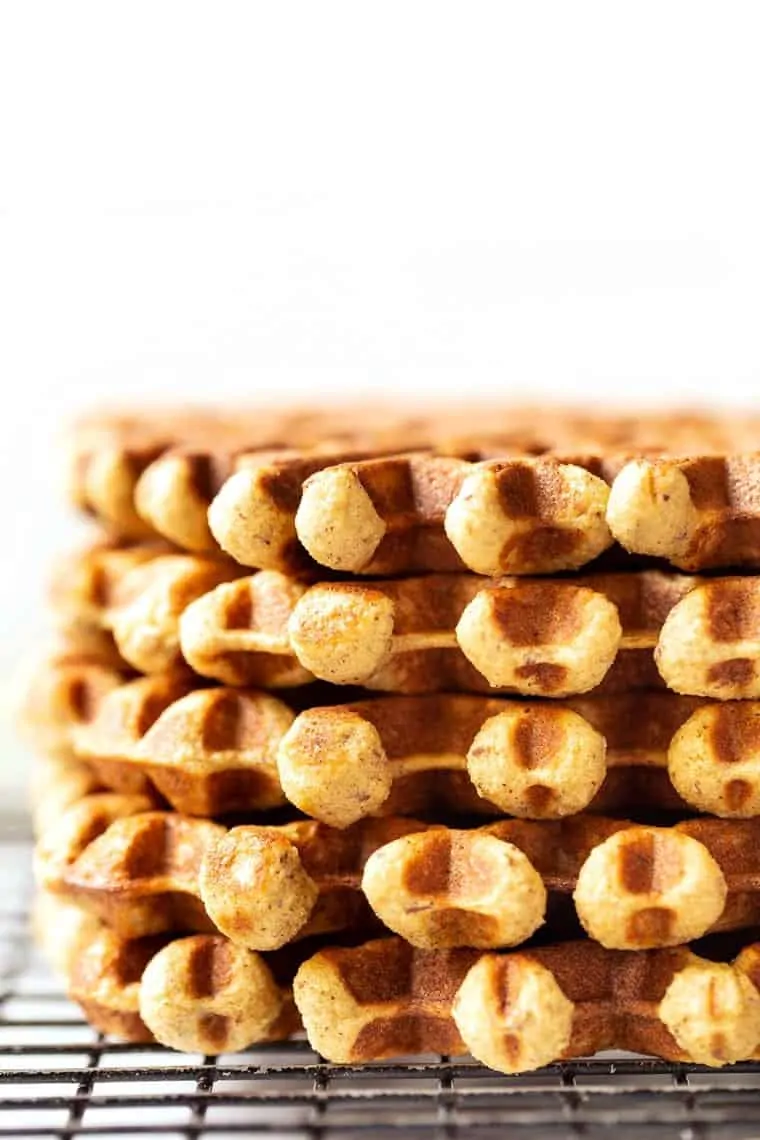 Our Family Christmas Tradition
Every year for Christmas, we pile into the car and head down to visit my mom's family in Southeastern Pennsylvania. My mom has four brothers who still live in the area, so it's a big family affair when we go down there.
My family (mom, dad, brother, Matt & Trevi) stay at my grandmother's house, so we wake up on Christmas morning with just the seven of us. We start with coffee and matcha, then make our way into the living room to open stockings and presents. We spend an hour or so just relaxing with the tree, and then we make our way to the kitchen for breakfast.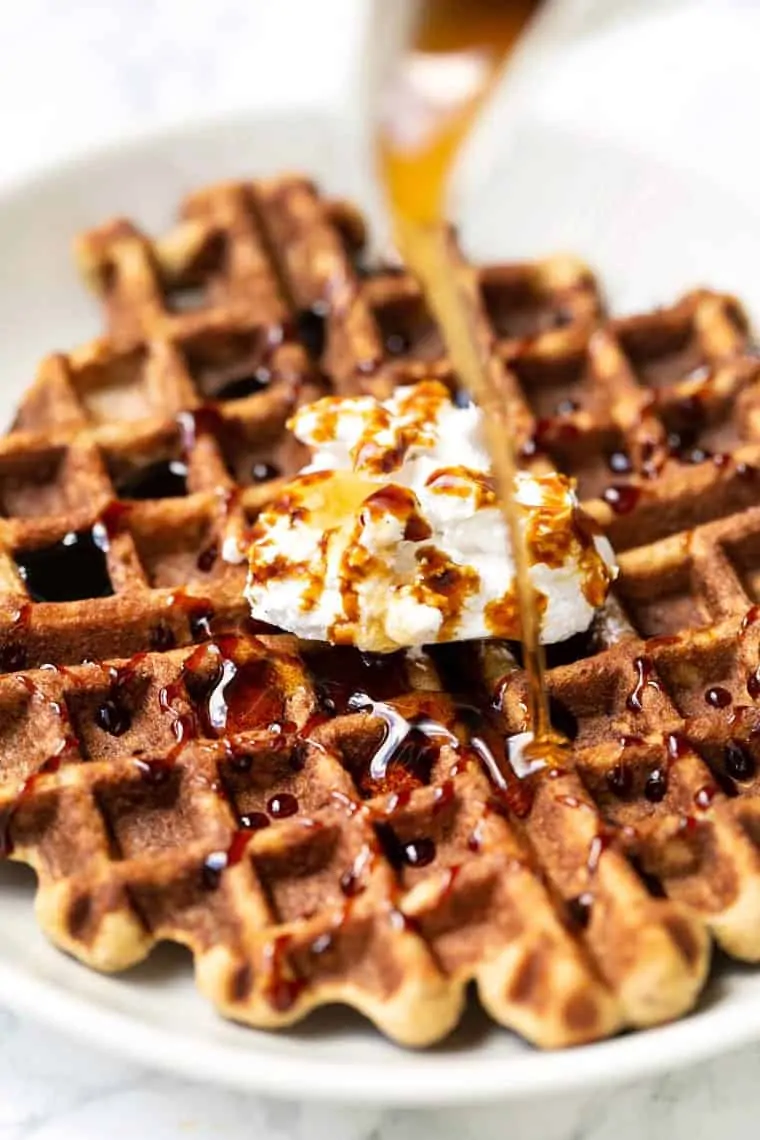 A Healthy Christmas Breakfast
Before I went gluten- and dairy-free, we would usually have some sort of french toast bake or something bread-based. But now we're all about the spread.
We usually do something with eggs (for those savory lovers) and then something sweet. For the past few years it's been a batch of my fluffy blueberry quinoa pancakes, but this year I wanted something a little more holiday focused.
So these fluffy gingerbread waffles are it. They're easy to make, they're nutritious (hello whole grain flours) and they're super flavorful. Classic gingerbread with a breakfast twist…that's how you can describe these waffles!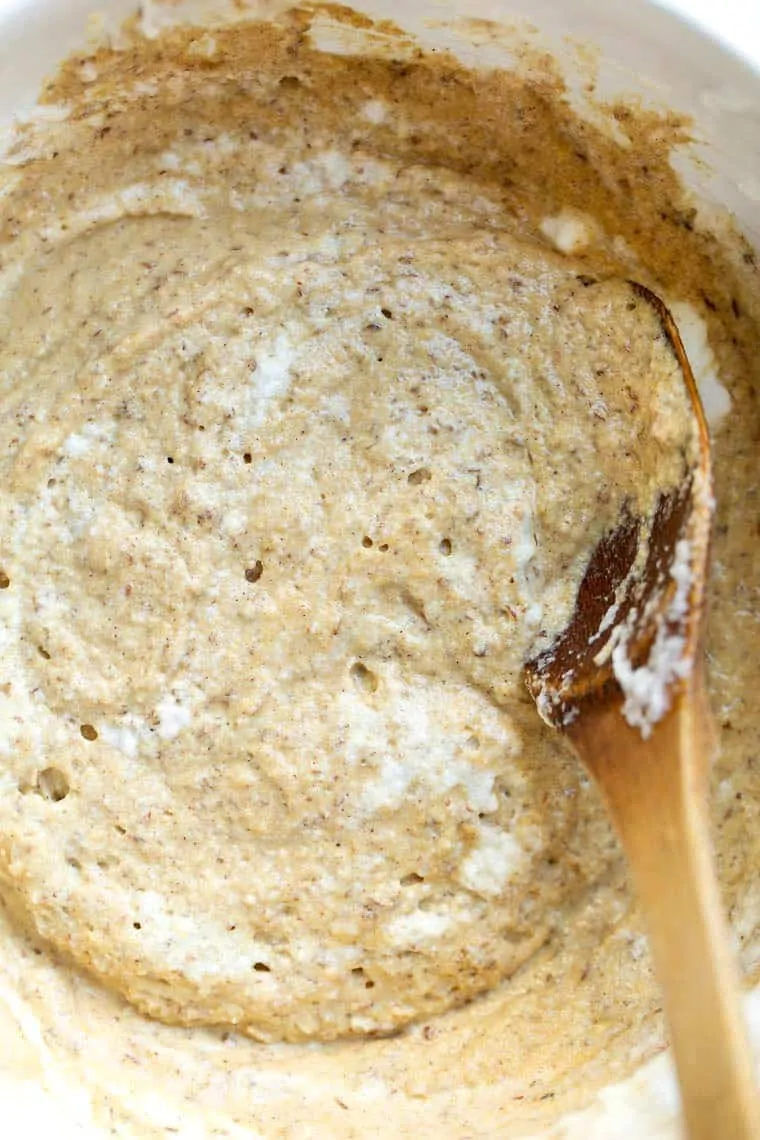 How to make Super Fluffy Waffles
There's really only one secret to super fluffy waffles: eggs.
Making vegan waffles can be really tricky and you'll almost never get that light and fluffy texture. Why? Because the secret to making super fluffy waffles is to whip your egg whites.
So when you want to make waffles, it's important to separate your eggs. You'll beat your egg yolks with your other liquid ingredients, and then whip your egg whites separately until they reach stiff peaks. From there, you gently fold your egg whites into the batter.
The final result is a fluffy waffle batter that yields exceptionally fluffy waffles!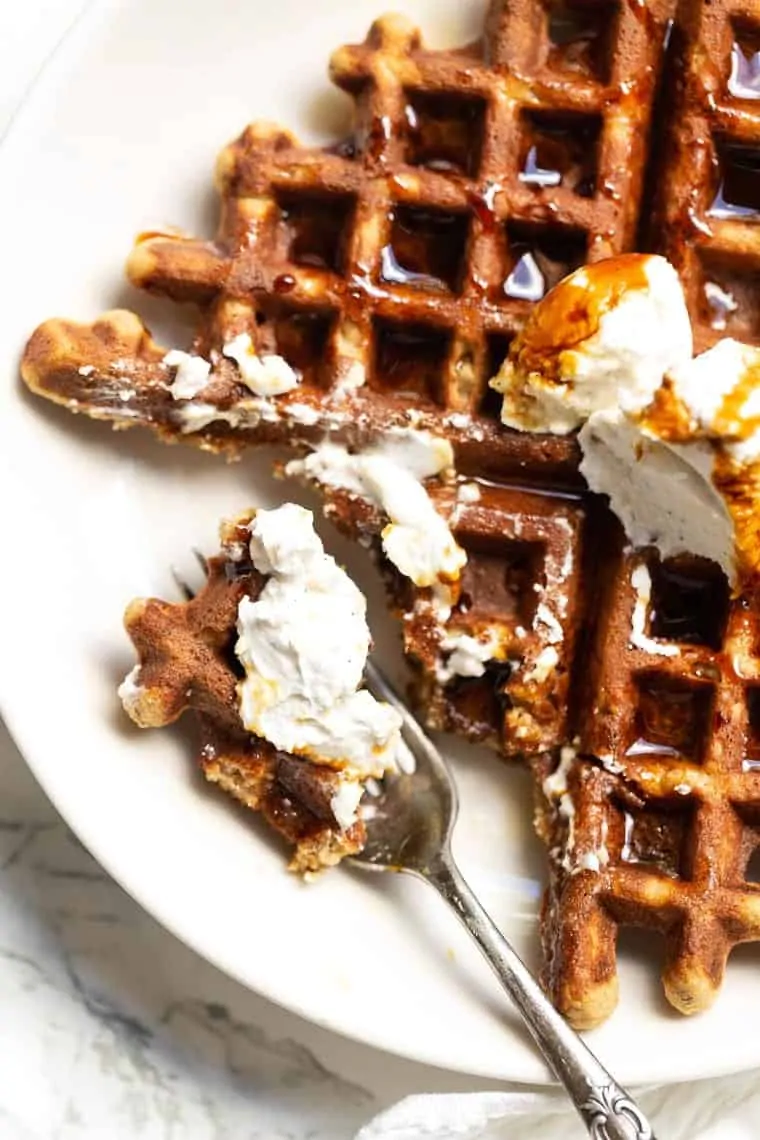 Healthy Gluten-Free Waffles
Of course, since you're on this site, you know this recipe is also healthy ????
Not that traditional waffles are unhealthy, it's just that traditional waffles aren't gluten-free. So instead of just making gluten-free waffles from a standard, starch-based flour, we're using nutritious flours that pack a punch in both flavor and texture!
The blend of almond flour and quinoa flour is one that you see often in my baking, and for good reason. They both bring a ton of protein to the table, they're high in fiber and the resulting texture is out of this world. Fluffy, tender, cakey and just delicious!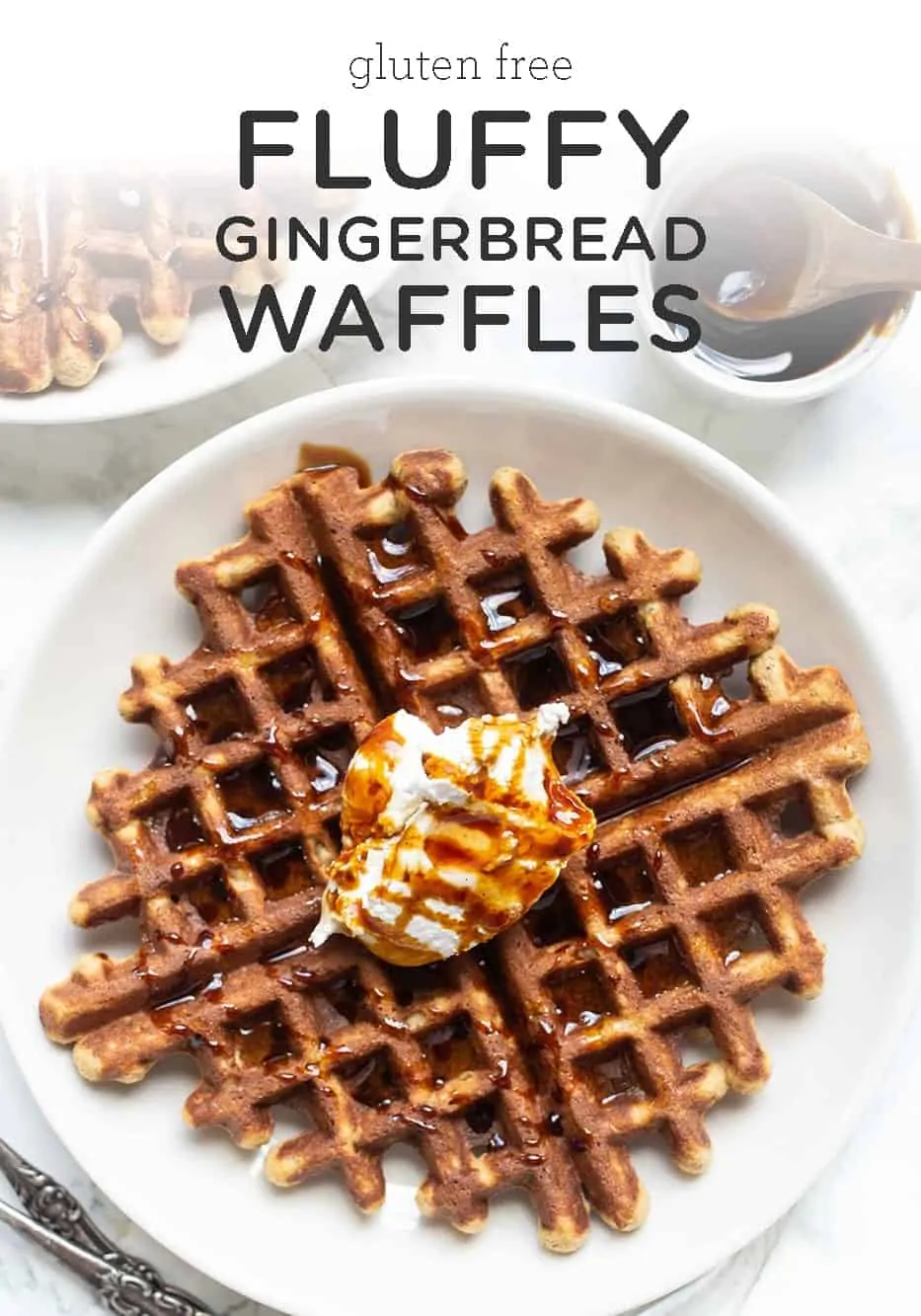 Other Healthy Holiday Breakfast Ideas:
Fluffy Gluten-Free Gingerbread Waffles
These festive gingerbread waffles are flavored with the classic molasses for a rich, holiday-inspired breakfast. They're also dairy-free and gluten-free too!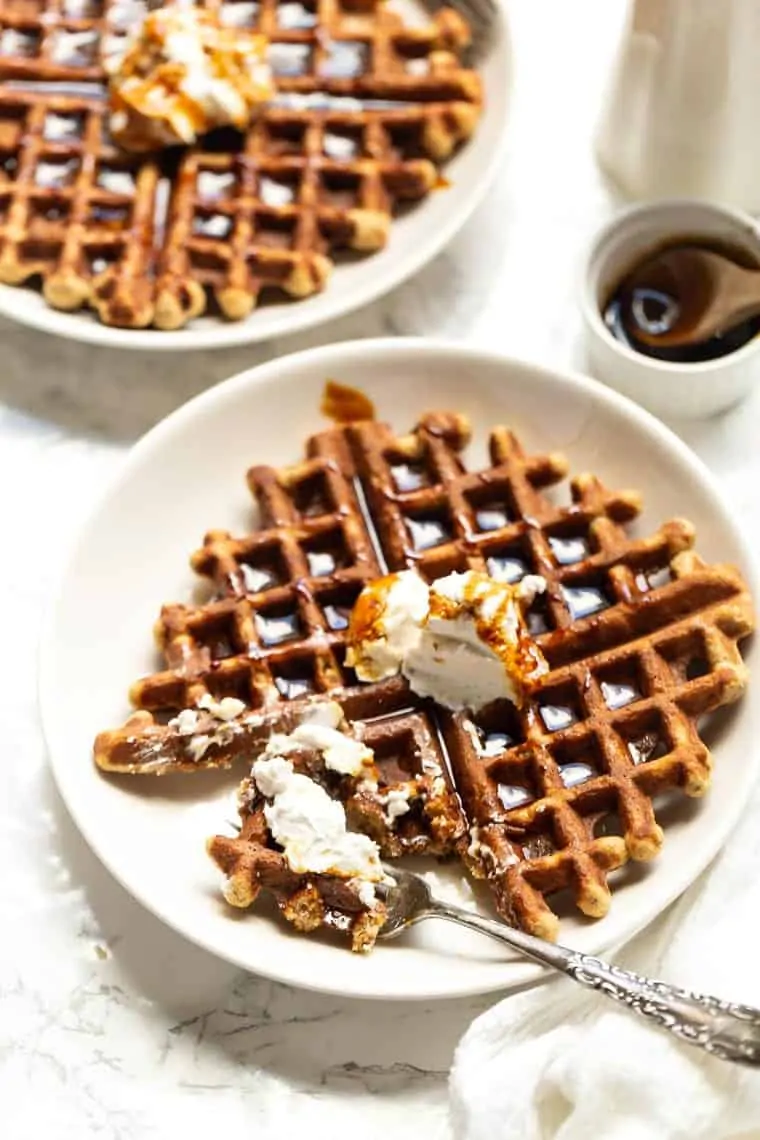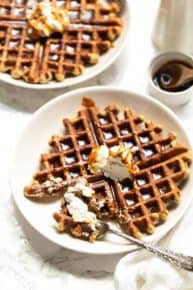 Instructions
Heat a waffle iron to medium-high.

In a large bowl, whisk together the dry ingredients and set aside.

Separate the eggs into two additional mixing bowls. To the bowl with the yolks, add the almond milk, syrup, and oil if using, and beat together until smooth. For the whites, beat on high with an electric mixer until they can hold stiff peaks.

Add the yolk-milk mixture to the dry ingredients and mix until just combined. Add the whites and gently fold until the batter is just combined again. Careful not to over mix as you don't want to deflate the egg whites.

Grease the waffle iron and drop 1/4 cup of batter into the center. Cook according to your waffle maker's instructions until golden brown and lightly crispy; typically about 2 - 3 minutes.

Transfer waffle to a wire rack and repeat with remaining batter.

When ready to serve, top with desired toppings (I used a drizzle of molasses, coconut yogurt and syrup) and enjoy!
Nutrition
Calories:
224
kcal
|
Carbohydrates:
14
g
|
Protein:
8
g
|
Fat:
15
g
|
Saturated Fat:
3
g
|
Cholesterol:
81
mg
|
Sodium:
161
mg
|
Potassium:
257
mg
|
Fiber:
3
g
|
Sugar:
5
g
|
Vitamin A:
120
IU
|
Calcium:
145
mg
|
Iron:
2
mg
Filed Under: