These light + fluffy gingerbread pancakes are vegan, gluten-free and the perfect winter treat! Topped with yogurt, some fresh berries, and a little maple syrup and you've got the perfect holiday breakfast!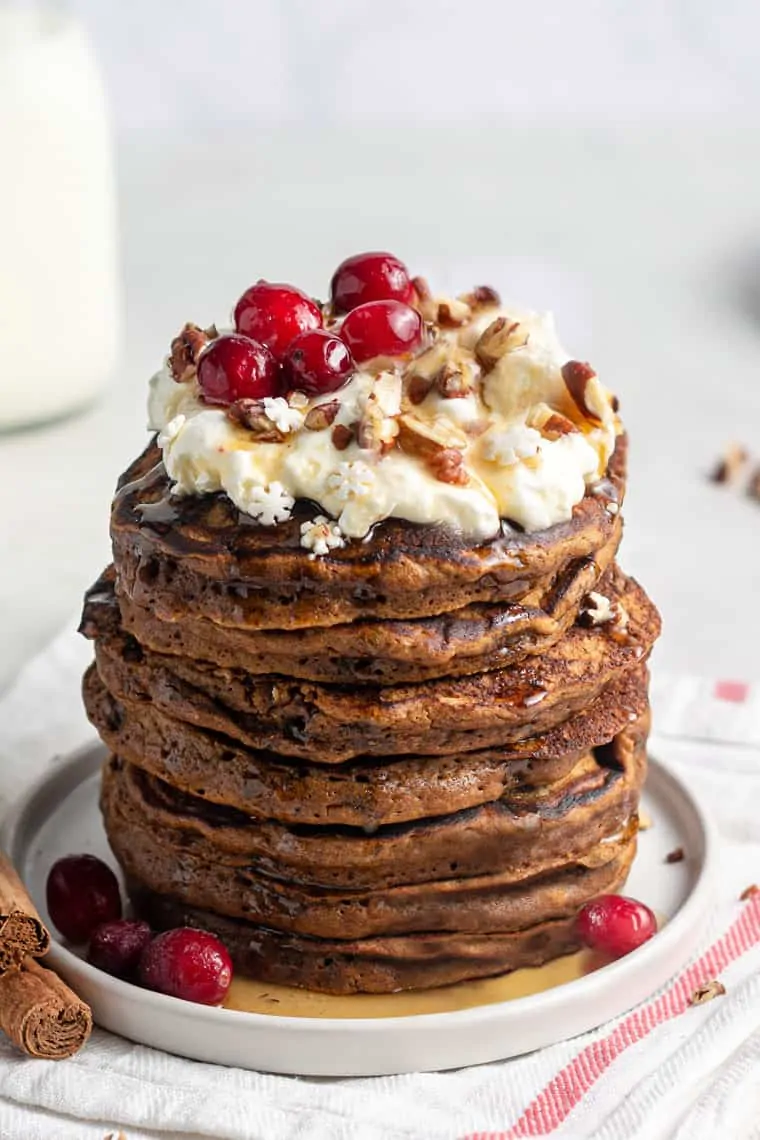 Is there anything more Christmasy than gingerbread?! It's such a classic holiday flavor and while most classically associated with cookies, there's really no end in possibilities for gingerbread.
And today, we're making pancakes!
By now you probably know of my pancake obsession. We have them almost every Saturday and I always have a stash in my freezer. And today's recipe for fluffy gingerbread pancakes is my latest hit – perfect for the holidays, so easy make, totally freezer-friendly, and seriously incredible!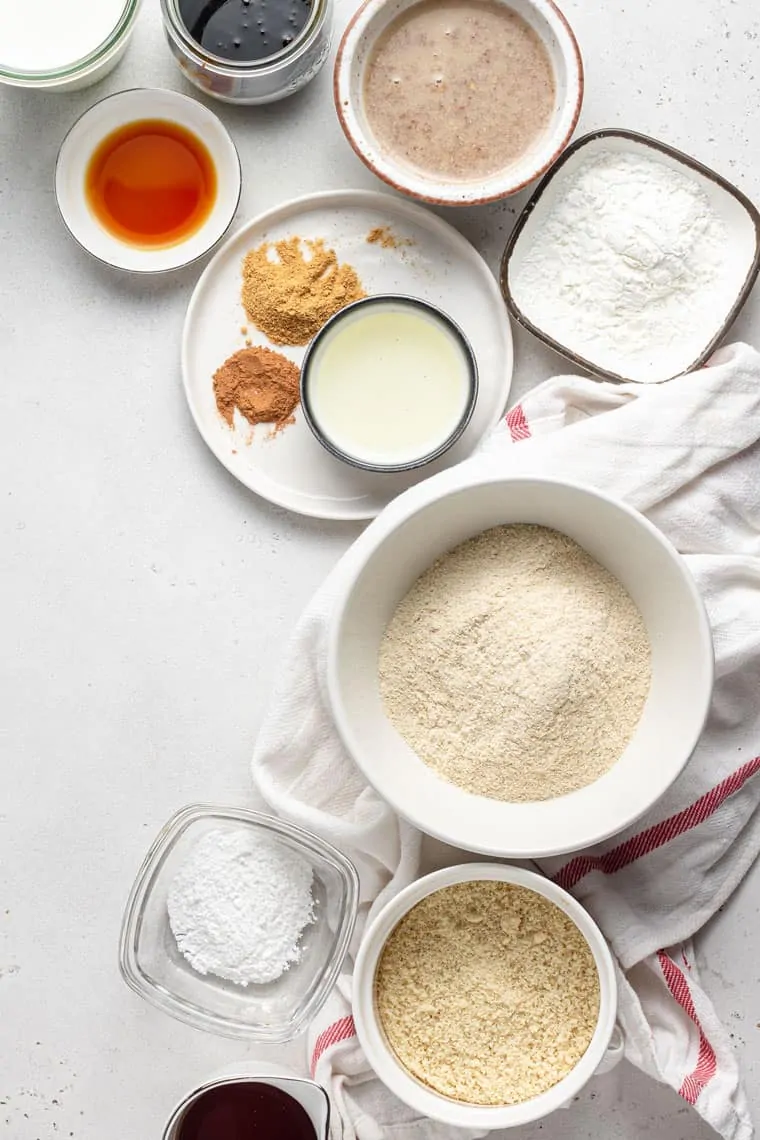 What You Need to Make Gingerbread Pancakes
Since our pancakes are both vegan and gluten-free, our ingredient list is slightly longer than your traditional pancake, but they're still delectably light!
For our dry ingredients we've got:
Quinoa flour: I usually like to toast my quinoa flour for pancakes, but since these have a strong flavor, we are fine leaving it plain!
Almond flour: light and fluffy, this flour adds an amazing texture, but also an extra boost of protein!
Arrowroot powder: partially for binding, but also for the fluff factor
Baking powder: our leavening agent to get those lovely little air bubbles in the batter
Ground ginger: the classic spice that adds "ginger" to our gingerbread
Ground cinnamon: just a little for added warmth and coziness
Sea salt: because everything needs a touch of salt in my opinion!
And for our wet ingredients:
Flax eggs: since these are vegan, we're using flax eggs – here's how to make flax eggs if you don't know – but if you aren't vegan, chicken eggs will work as well
Almond milk: unsweetened for vanilla would be delish, but any milk will work!
Coconut oil: just for a little bit of moisture
Maple syrup: for a touch of sweetness in the batter
Molasses: another classic flavor in gingerbread – it's strong, so start with 1 tablespoon and add more if desired
Vanilla extract: and finally just a little vanilla to round out the flavors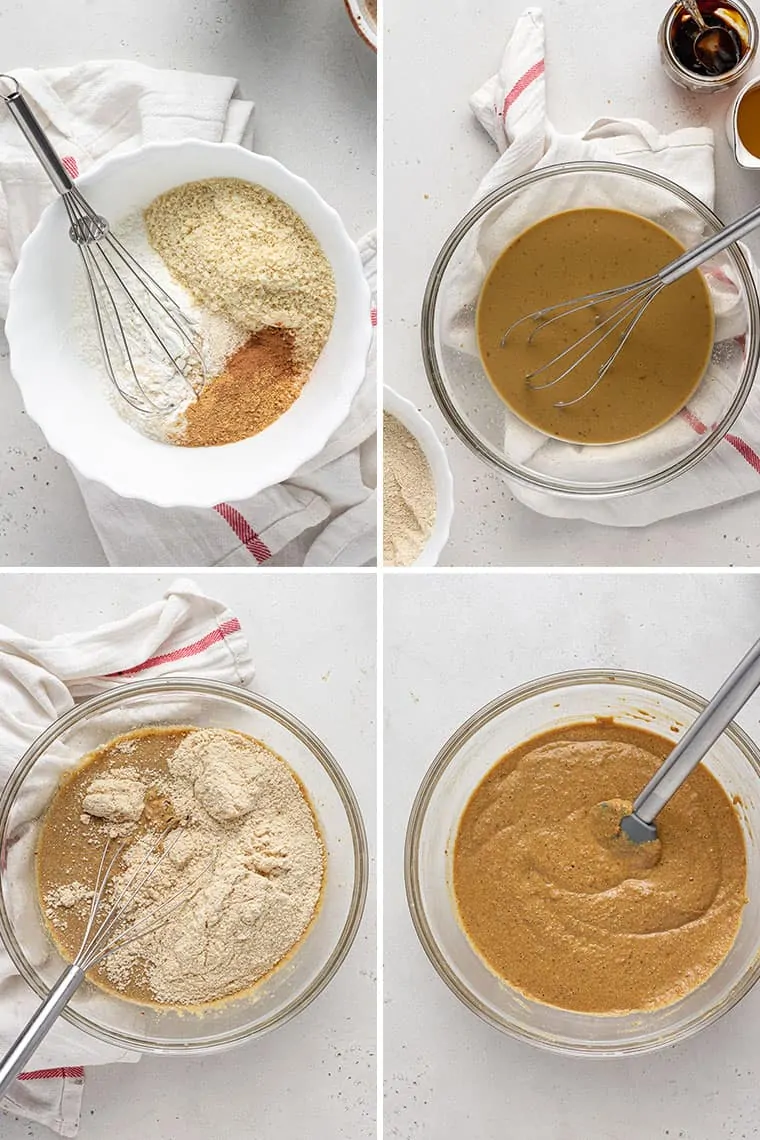 How to Make Fluffy Gingerbread Pancakes
Pancakes are crazy simple to make! You can even do them in one bowl if you're feeling extra lazy.
Whisk the dry ingredients. Add all your dry ingredients into a bowl and give it a good whisk to make sure the spices and baking powder are evenly incorporated.
Beat together the wet ingredients. You can either add these directly into the same bowl or beat them in a separate bowl and add them to dry.
Make your batter. Stir everything together until you have a smooth batter. What's great about gluten-free cooking/baking is that you don't have to worry about overmixing – the batter won't get tough!
Cook your cakes! Heat a skillet over medium heat and add some cooking oil/vegan butter/cooking spray. Cook your pancakes until small bubbles begin to form, flip them over and cook them for a few more minutes.
And then you're ready to serve them up!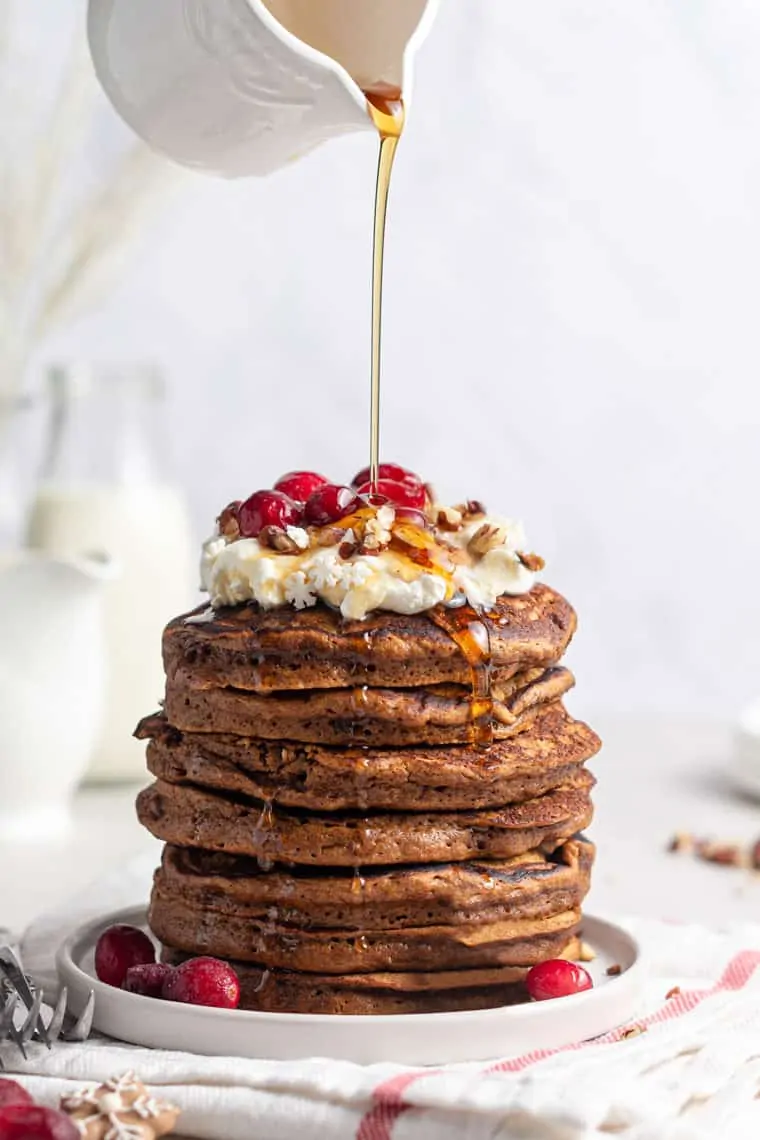 How to Serve Fluffy Gingerbread Pancakes
For me, gingerbread needs some specific toppings. I don't think you can really go with classics like blueberries or banana, but I do have some favorite toppings:
Yogurt: I love using coconut yogurt, but any will work. I especially love plain, vanilla, or cherry yogurt with these pancakes.
Vegan butter: sometimes simplest is best and a little dollop of butter and maple syrup is all you need!
Vegan whip: if you're feeling a little extra fancy – like maybe you made these for Christmas morning?! – then vegan whipped cream is definitely the way to go.
Cranberry jam: cranberries pair really well with gingerbread, so if you make a cranberry jam, that would add a nice tartness with some maple syrup
And finally, you could also keep it simple and just do some powdered sugar.
Tips for Freezing Pancakes
I mentioned this in the beginning, but I often freeze my pancakes. Since it's just two of us at home, we can't usually get through a whole batch in one day, so we love to keep them frozen and just reheat them for a quick weekday breakfast.
To freeze: I let my pancakes cool completely, and then I put them in a freezer-proof bag. I love Stasher bags for this!
To reheat: I just pop them in my toaster oven. Once they're heated, I top them as I would normally and that's breakfast. So easy and SO good!
So if you're ready for the most epic stack of pancakes for the holidays, these fluffy gingerbread pancakes will sure to be a hit! I can't wait to hear what you think ❤️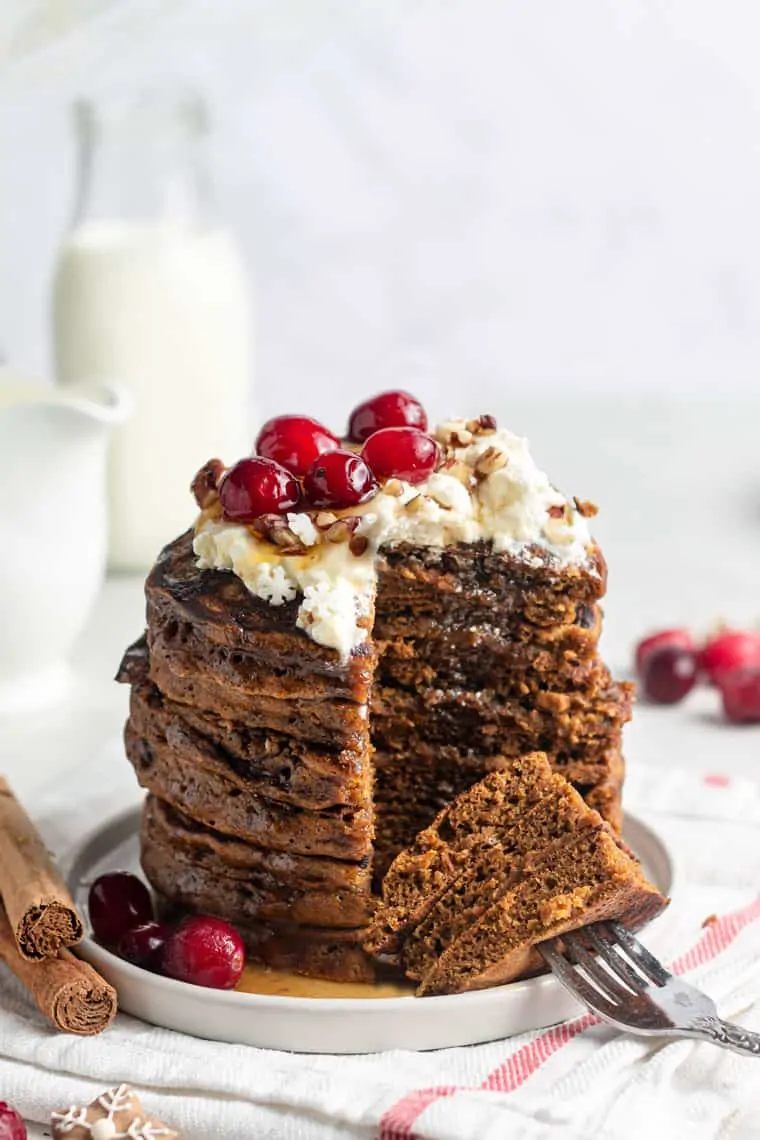 More Gingerbread Recipes to try:
Gingerbread Pancakes
These light + fluffy gingerbread pancakes are vegan, gluten-free and the perfect winter treat! Topped with yogurt, some fresh berries, and a little maple syrup and you've got the perfect holiday breakfast!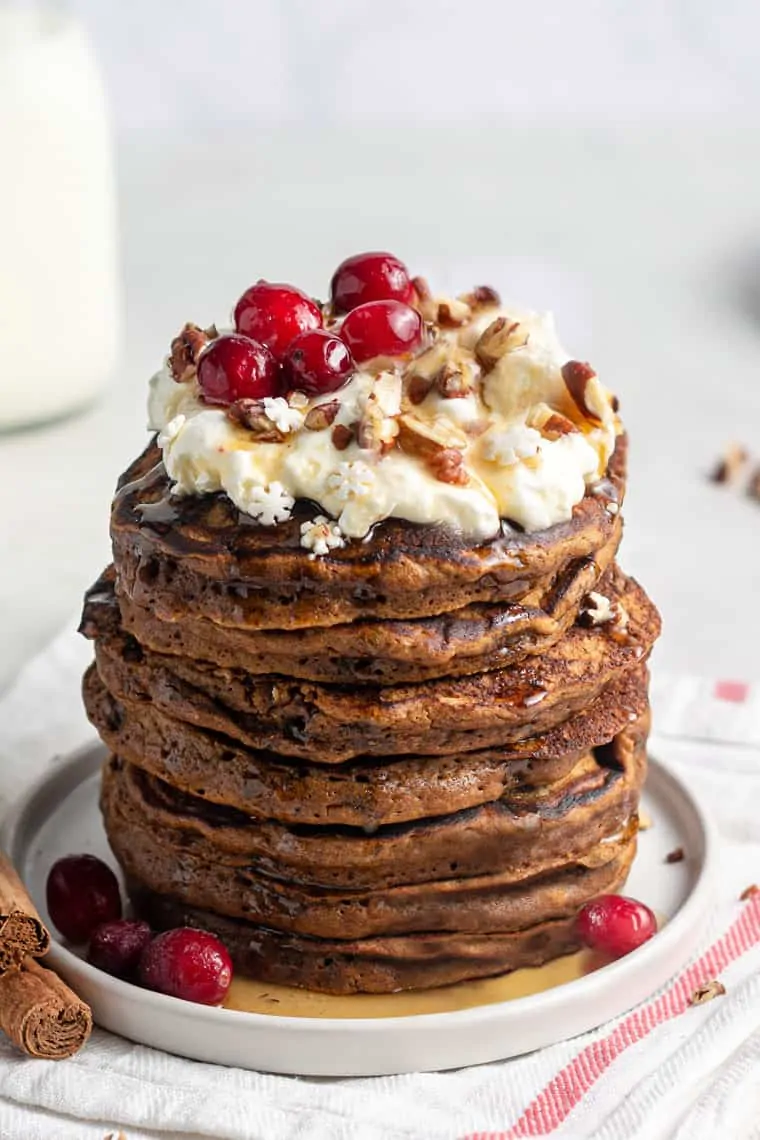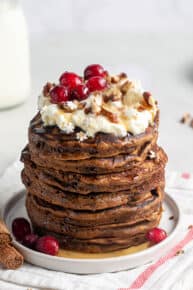 Instructions
Preheat a griddle over medium heat.

Whisk together the flax and water and set aside to gel.

In a large mixing bowl, whisk together the flours, baking powder, spices and salt.

Beat together the flax eggs, milk, oil, molasses and syrup then pour into the dry and mix until a smooth batter forms.

Lightly grease your griddle with nonstick cooking spray or coconut oil. Ladle ¼ cup of batter onto the griddle and repeat until you have filled your pan. Cook the pancakes until small bubbles begin to form around the edges, about 2 - 3 minutes. Flip and cook for another 1 - 2 minutes longer until the other sides are golden brown. Repeat until no batter remains.

Serve warm with toppings of choice! (I like coconut yogurt, chopped nuts, a sprinkle of cinnamon and some maple syrup).
Nutrition
Serving:
3
pancakes
|
Calories:
333
kcal
|
Carbohydrates:
42
g
|
Protein:
8
g
|
Fat:
15
g
|
Saturated Fat:
4
g
|
Sodium:
410
mg
|
Potassium:
474
mg
|
Fiber:
5
g
|
Sugar:
15
g
|
Calcium:
270
mg
|
Iron:
3
mg