This amazing fig cake recipe is gluten-free, dairy-free, and refined sugar-free BUT it doesn't sacrifice any flavor or texture. Light, fluffy, tender, and delicious!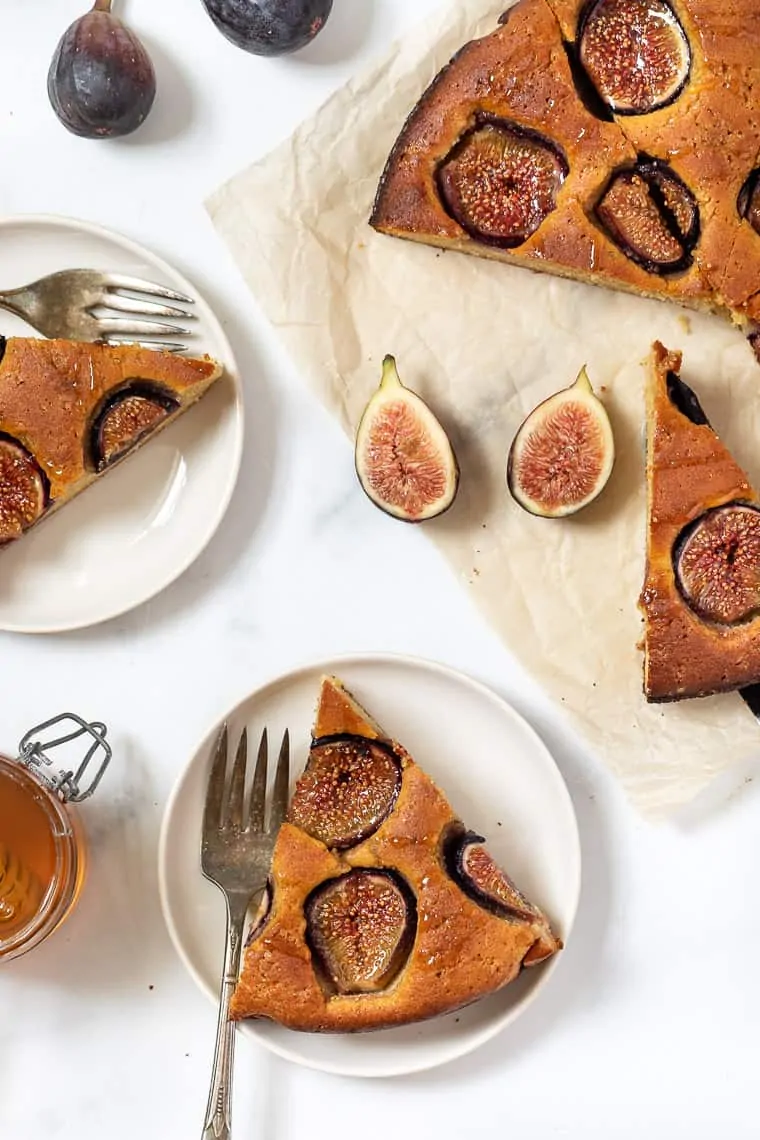 I first discovered figs a few years ago when I went through a phase of eating the dried ones as a snack. I had always associated figs with fig newton bars which I didn't like as a kid, so I steered clear.
But I loooved the dried ones. They were sweet, jammy, and had the best flavor. As my love affair for dried figs grew, I started noticing fresh ones in the stores each fall. I bought a container and wow. Wow, wow, wow. They were delicious!!
And now every year I look forward to fig season!
Usually, I just eat my figs plain as a snack, but this year I wanted to create some recipes with this delicious fruit. I put out a poll on Instagram and cake was the #1 requested recipe. So that's what we're kicking things off with! A delicious, light, fluffy, tender, gluten-free fig cake. It's only 9 ingredients, uses one bowl, and is seriously scrumptious!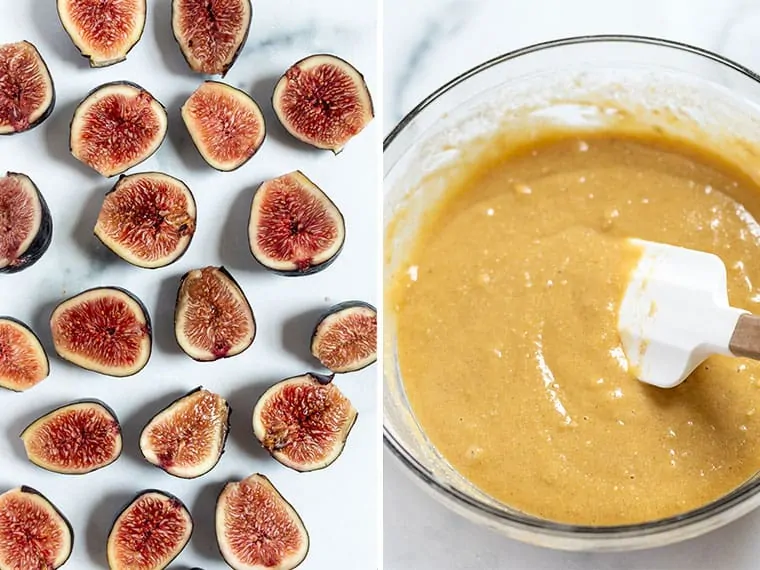 Ingredients for our Fig Cake
This cake couldn't be easier to make. As I said, it's only 9 ingredients. And if you're a gluten-free baker, I bet you have all of these items on hand. The flour blend will be no surprise if you're a regular around here: almond flour + quinoa flour. Both of which provide the absolute best texture!
Olive oil: this is a butter replacement to make this recipe dairy-free. It adds a great flavor and really tender texture.
Honey: I wanted to keep the sweetener unrefined and I knew that honey + figs pair really well. I love the combo of the two!
Eggs: the eggs are important here – they provide structure, lift, bind, and also help with the rise. Unfortunately, I don't think they can be swapped.
Almond flour: make sure to use super fine! Almond flour has a really tender texture and makes amazing cake crumb.
Quinoa flour: I like to add a bit in to help smooth out the texture a bit. Quinoa flour will also help the cake hold together a bit better and will help it rise.
Baking powder: our leavening agent to make it nice and fluffy!
Cinnamon + salt: both there to elevate the flavor of the figs.
Figs: I used fresh Turkish figs that are sliced in half and arranged on top. They're sweet which is why we don't have to add much sweetener!
Need some substitution ideas? I've got those listed down below!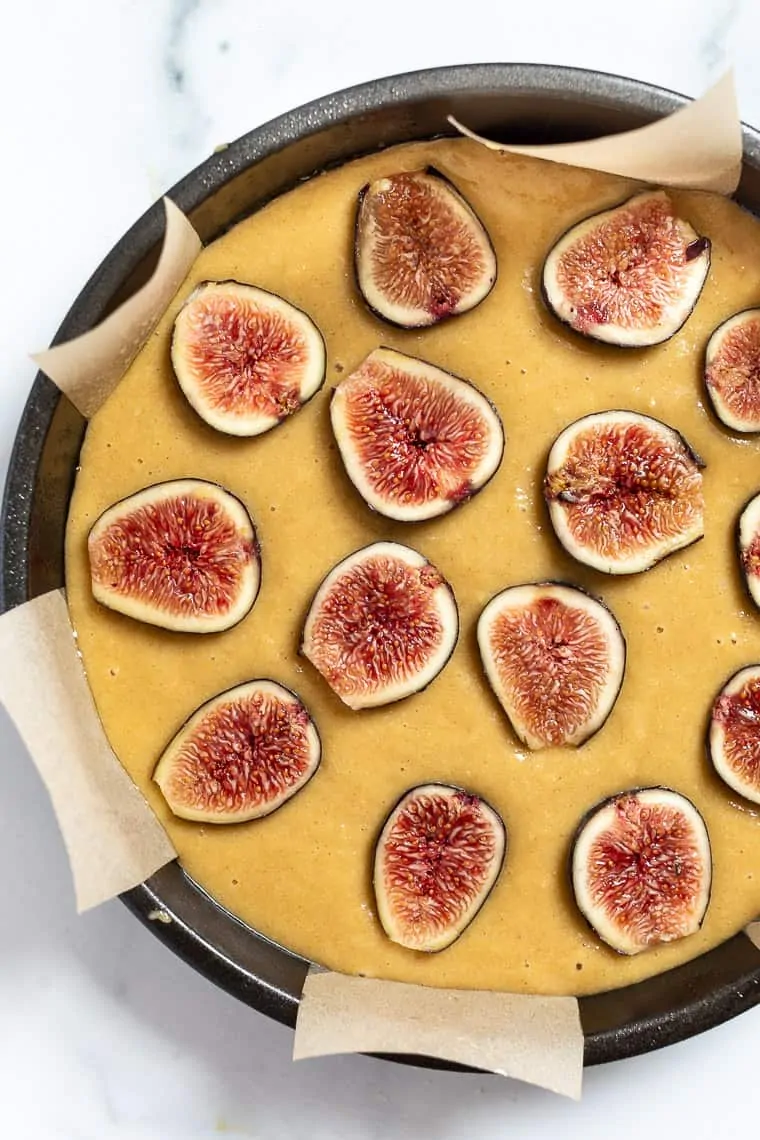 How to make This Almond Flour Cake
Did I mention this cake uses just one bowl? Gotta love these simple recipes!! Here's how to make it:
STEP 1: Prep
There are two things you'll need to do before making your batter. One is to prepare the pan – I like to line it with both cooking spray as well as parchment. That helps reduce the color on the sides and makes sure it doesn't stick. You'll also need to prep the figs – simply slice the stems off and then slice them in half.
STEP 2: Beat
For the batter, start by beating together the wet ingredients. Then add the dry ingredients directly into the bowl. Beat it all together until you have a smooth batter.
STEP 3: Arrange
Our final stage before baking is to arrange the figs on top. You can do them in any pattern that you want, but I like to start with an outer ring, then a few more in the center. It just makes it look a bit more put together.
STEP 4: Bake
Finally, we bake! This bakes on a higher temp than other cakes, so it doesn't need much time. It also browns pretty quickly, so depending on your oven, you might want to cover it with foil about halfway through. Just check it at the 15-minute mark to make sure.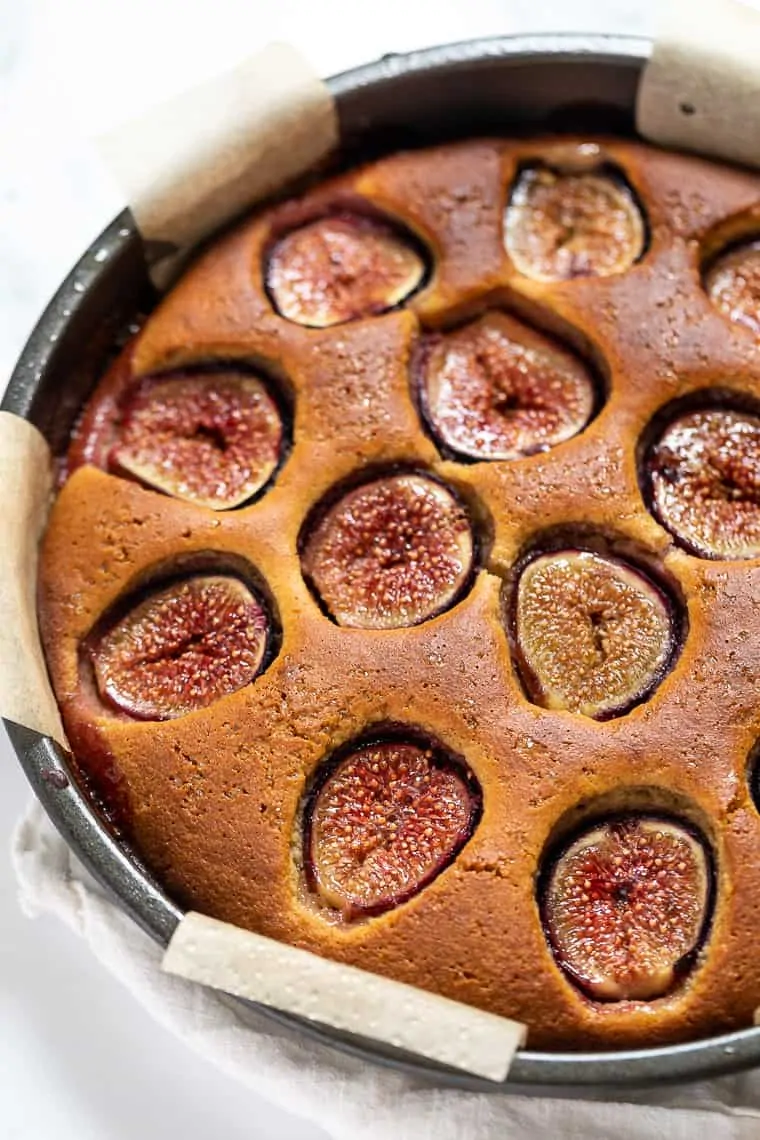 Substitution Ideas for This Recipe
I try my best to provide substitution ideas when possible in my recipes since I know you might not be able to eat every single ingredient I use. If you do want to make any substitutions in this gluten-free fig cake, here are my ideas:
Oil: any melted fat/oil will work. Butter, vegan butter, coconut oil, etc.
Honey: maple syrup or agave. You could also do 1/2 cup of sugar I think.
Eggs: as I said, I don't think there are subs here – sorry!
Almond flour: you'll want to use another nut or seed flour here – hazelnut, pumpkin seeds, cashew, etc.
Quinoa flour: another grain flour will work – or, if you're not gluten-free, you could use all-purpose flour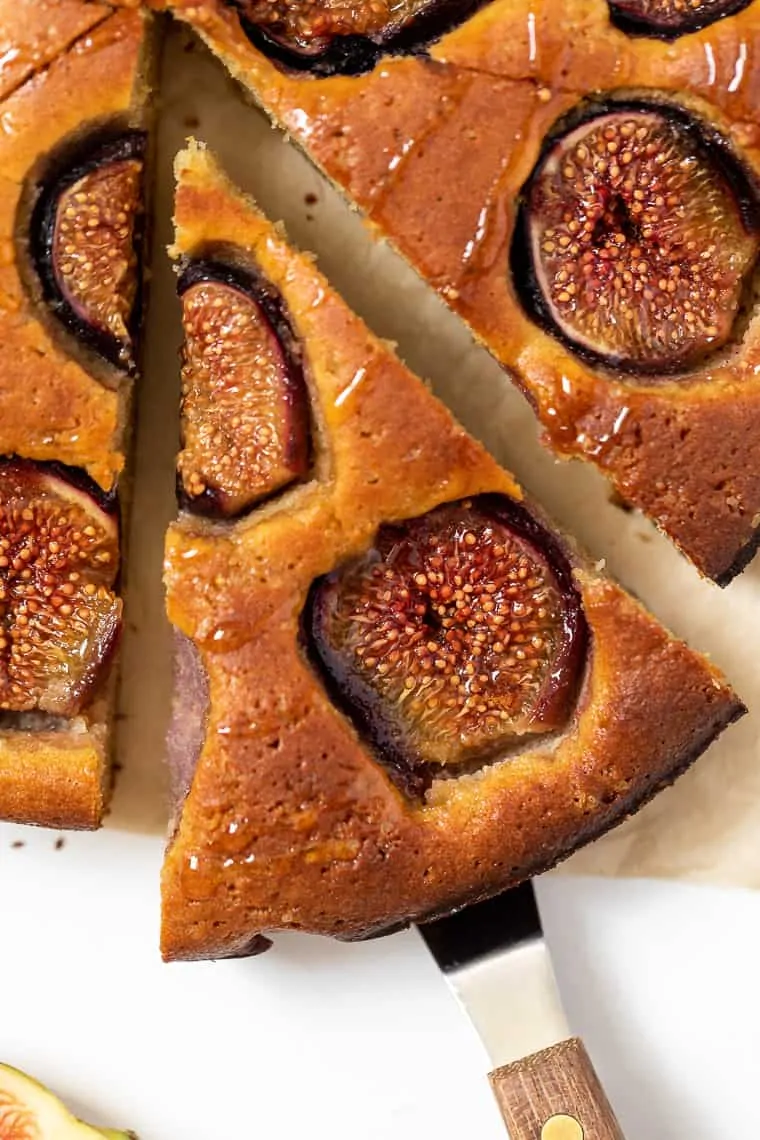 Why You'll Love this Gluten-Free Fig Cake
There is a lot to love about this cake! Here's why I think you NEED to make it. It's…
gluten-free
dairy-free
refined sugar-free
tender & light
easy to make
moist with a perfect crumb
not overly sweet
perfect for breakfast or a snack
Plus, it's honestly pretty darn healthy! I love having a slice for breakfast with a little yogurt on top. Just delicious!
What to serve with Fig Cake
If you're wanting to try this cake for yourself or maybe for company, I think it's fun to jazz it up just a bit!
It's delicious with:
some vegan whipped cream
drizzled with honey
chopped nuts on top
drizzled with some melted coconut butter (as an icing)
Or it's also just delicious on its own. I seriously can't wait for you to try this recipe! Make sure to leave a comment and star rating if you do – I know you're going to LOVE it ❤️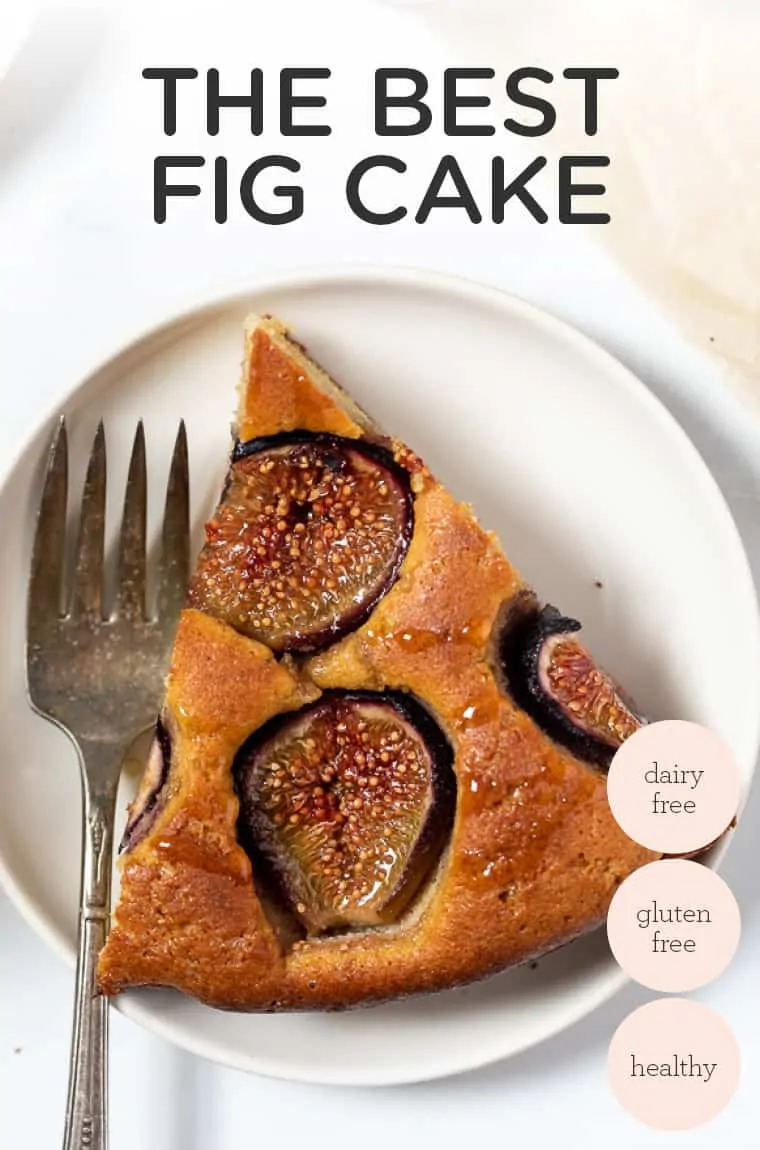 More Tasty Gluten-Free Cake Recipes to try:
Gluten-Free Fig Cake
This amazing fig cake recipe is gluten-free, dairy-free, and refined sugar-free BUT it doesn't sacrifice any flavor or texture. Light, fluffy, tender, and delicious!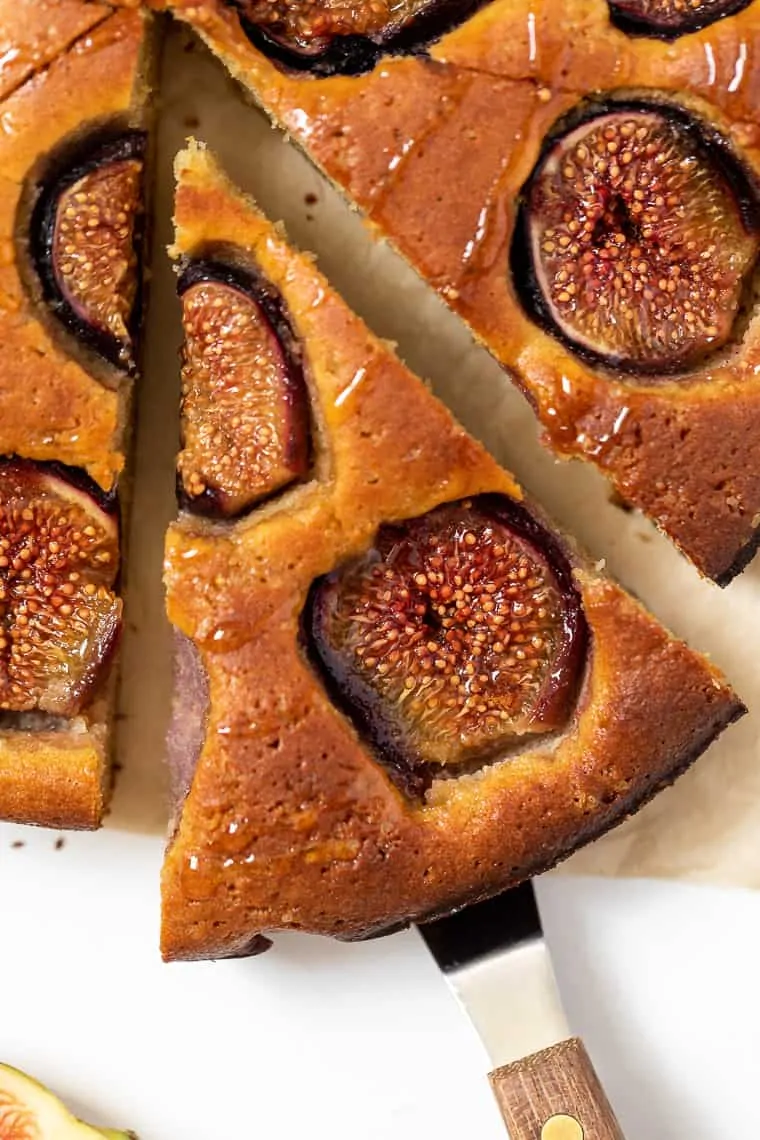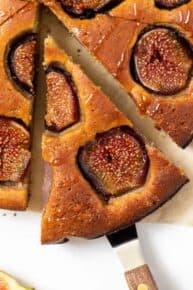 Instructions
Preheat the oven to 375ºF. Spray a 9" cake pan with cooking spray, then line it with parchment paper (this will prevent excessive browning and sticking).

Trim the stem off the tops of the figs and slice them in half. Set aside.

Beat together the olive oil, honey and eggs. Whisk in the dry ingredients until you have a smooth batter.

Pour the batter into the prepared pan.

Arrange the figs on top of the cake, inside face up. Whatever pattern you want is fine!

Pop the cake in the oven for 25 - 30 minutes, until its golden brown and cooked through (use the cake tester method to check). If it starts to brown too quickly on top, cover it with foil.

Remove the cake from the pan then let it cool completely. Slice and serve!
Nutrition
Serving:
1
slice
|
Calories:
275
kcal
|
Carbohydrates:
27
g
|
Protein:
7
g
|
Fat:
17
g
|
Saturated Fat:
2
g
|
Cholesterol:
61
mg
|
Sodium:
99
mg
|
Potassium:
221
mg
|
Fiber:
4
g
|
Sugar:
20
g
|
Vitamin A:
178
IU
|
Vitamin C:
1
mg
|
Calcium:
91
mg
|
Iron:
1
mg
Filed Under: