This gluten-free gingerbread cake is healthy and easy to make. Made with whole grain flours, it's naturally gluten-free, as well as oil-free and dairy-free. Definitely healthier than the traditional versions!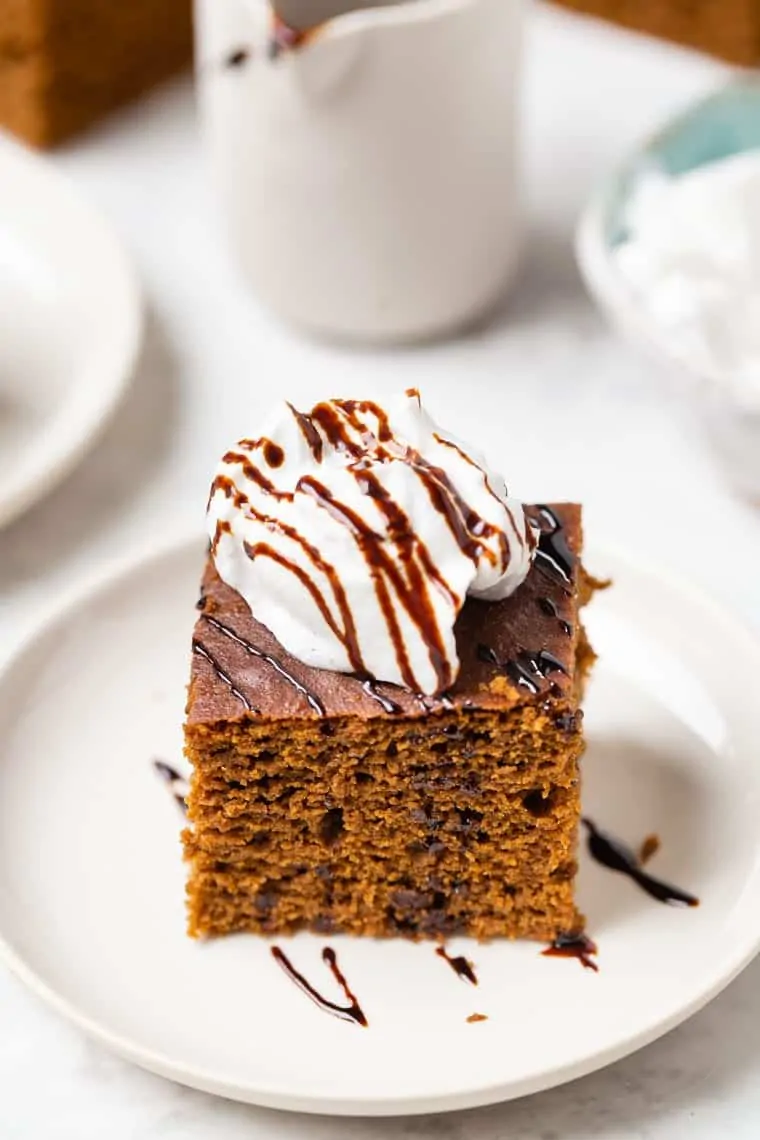 There's something about the smell of gingerbread that makes me feel all warm and fuzzy inside. Gingerbread season means holiday season, which to me means all things cozy. It means spending time with my family. It means snow. And it means relaxing and snuggling up to a wood stove.
While I love a traditional gingerbread cookie, one of the most requested recipes from last year was a gingerbread snacking cake. And since you're the reason I create these recipes in the first place, that's exactly what we're making today!
I've got the most epic Gluten-Free Gingerbread Cake recipe for you. It's made in one bowl, it's moist, tender, full of flavor and the ultimate holiday treat!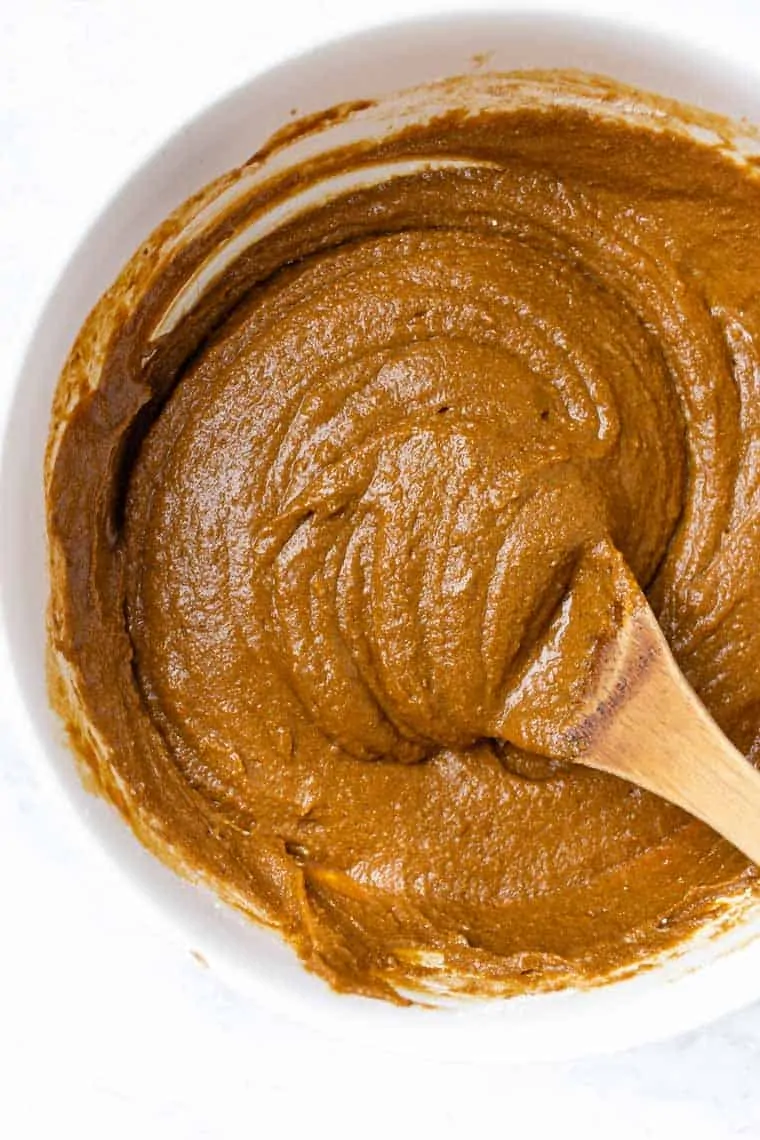 How to Make Gluten-Free Gingerbread Cake
When it came to brainstorming this recipe, I decided to base it off something that has worked for me in the past and just update the flavors. The reason I do this is a) because I know it will work and b) since some of these flours are a little "strange", it means that you can keep the same things in your pantry and bake most of what's on the site.
Now, let's talk about what we need to make this gluten-free gingerbread cake:
Gluten-Free Flour Blend: my blend in today's cake is one of my favorites. The bulk is almond flour which provides a really nice subtle flavor and soft texture. Then we're adding in brown rice flour and quinoa flour which help add a little structure. And finally, some starch which lightens everything up and helps the cake hold its shape.
Gingerbread Spice: I'm sure this is something you can purchase, but we're creating our own for this recipe. It starts with ground ginger and also includes nutmeg and cinnamon.
Organic Eggs: we're using two eggs in this recipe which help the cake rise and retain a cakey texture. While I haven't tested this vegan, I do think it would probably work. I'd say replace with 2 flax eggs and increase the baking time. You definitely won't get the same spongey texture, but it should still work.
Plant-Based Milk: feel free to use any non-dairy (or dairy) milk that you want. Except for maybe canned coconut milk – I think that might be a little too heavy.
Pumpkin Puree: since this cake is oil-free, we're using pumpkin to add some moisture. You can't taste it at all because of our strong flavors, so it's really just there as a bonus!
Coconut Sugar: my go-to granulated sugar that adds a perfect amount of sweetness as well as caramel undertones.
Molasses: no gingerbread recipe would be complete without molasses. I recommend using blackstrap molasses, but if you're not a molasses fan you can use maple syrup or honey instead.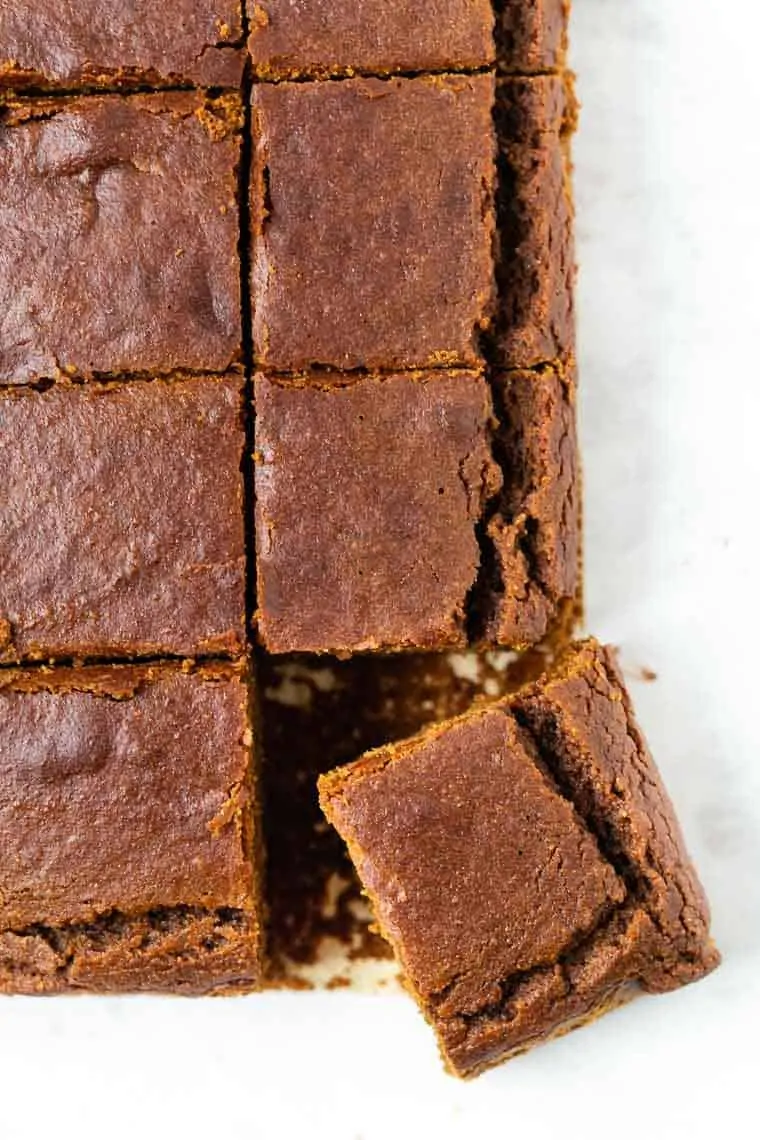 A Healthy Twist on Classic Gingerbread Cake
As you can see from the ingredient list, this gluten-free gingerbread cake isn't like the rest. It uses less sugar, more whole grains, and all real ingredients. And guess what? You'd absolutely never know!
So let's talk highlights. Our healthy gingerbread cake is:
gluten-free
dairy-free
refined sugar-free
oil-free
higher fiber (2g v. 0g)
lower sugar (10g v. 16g)
And we've even snuck in a little protein! Each slice as 3g of protein thanks to the almond flour, quinoa flour, and molasses!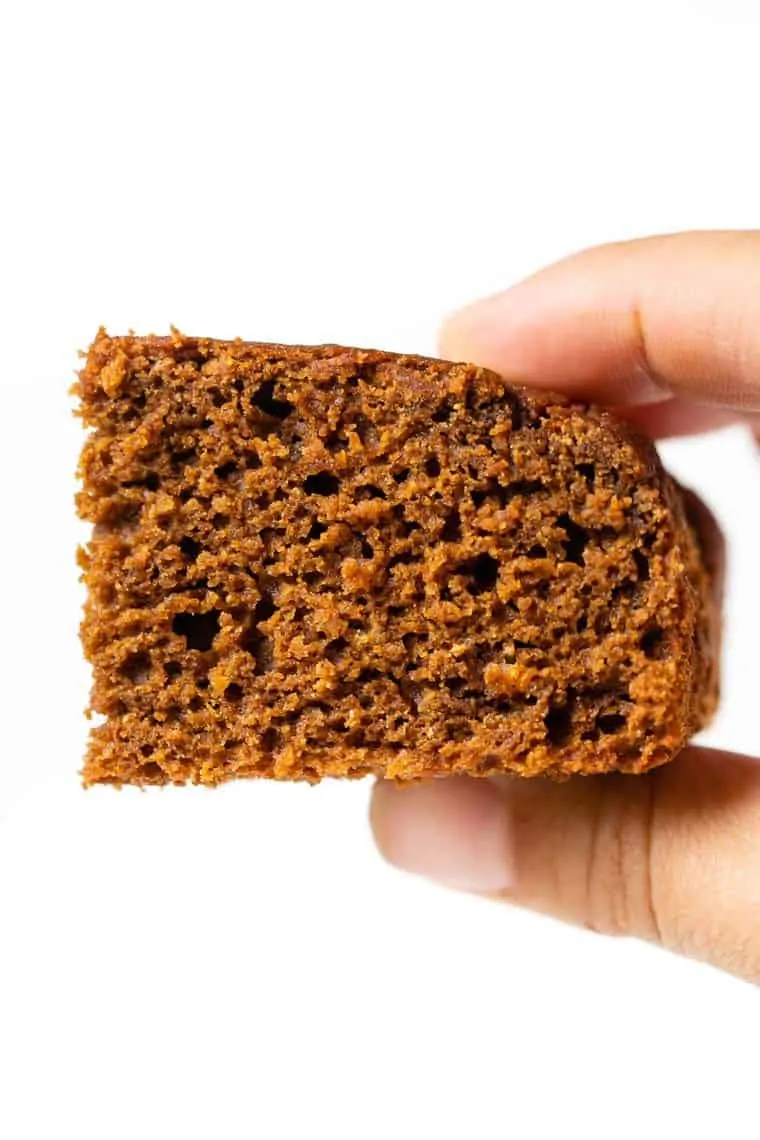 Tricks for Super Moist Gingerbread Cake
Sometimes when you're baking, things can be a little dry. And we definitely don't want that with this gingerbread cake. We want it to be soft, spongy and moist.
Here are some tips for getting super moist gingerbread cake:
Swap in some oil. Fat adds moisture to baking and since we aren't using any in this recipe, you could add a tablespoon or two in. What I would recommend is reducing the plant milk by 2 tablespoons and replacing that with coconut oil.
Add banana. Banana will definitely add more moisture to your cake than pumpkin will, but the tradeoff is the flavor. I purposely didn't want the banana flavor, but if you like it, go for it! The two can be swapped 1:1.
Reduce the baking time. I always recommend doing your first check 2 minutes before a recipe calls for it. Every oven is different, so it's better to be on the safe side. Check your cake at around the 38-minute mark to see how you're doing.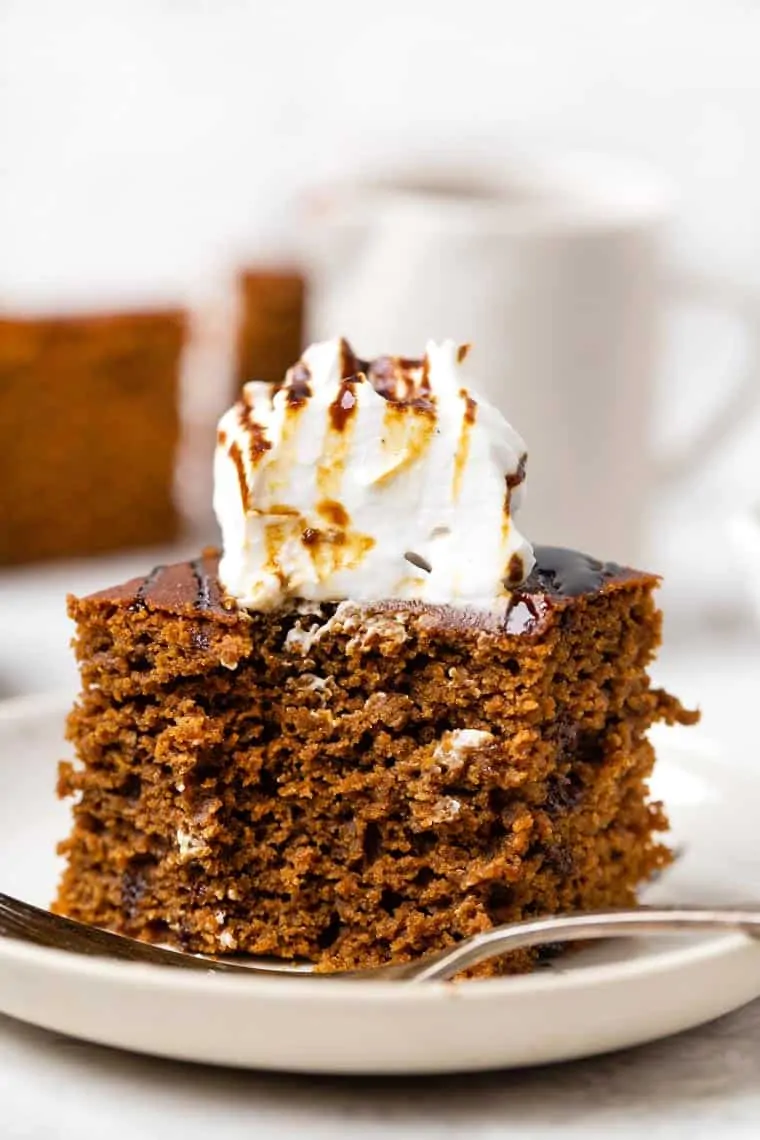 How Long Does Gingerbread Cake Last?
Another trick to keeping your gingerbread cake nice and moist is how you store it. Gluten-free recipes can sometimes dry out when left at room temperature, so for this gluten-free gingerbread cake, I'd recommend keeping it in a sealed container for no more than 2 days. If you want to go any longer, then I'd recommend freezing it.
Can You Freeze Gingerbread Cake?
Just like most other baked goods, you can totally freeze gingerbread cake. Simply wrap it up in aluminum foil, put it in a ziplock bag and you're good to go! You can either reheat it in the microwave or let it come to room temperature.
How to Serve Gingerbread Cake
Last but not least, serving! I like to serve gingerbread cake warm, so I pop it in the microwave for about 7 – 8 seconds and then top it. Here are some of the best ways to serve gingerbread cake:
Sprinkle of powdered sugar
Coconut yogurt & a drizzle of molasses (what you see here!)
Whipped cream
Vanilla ice cream
Or you can just eat it plain! Either way, this gluten-free gingerbread cake is the absolute perfect way to welcome the holiday season. It's time to bring out the decorations, wrap yourself up in blankets, do some baking, and pretty much get as cozy as possible!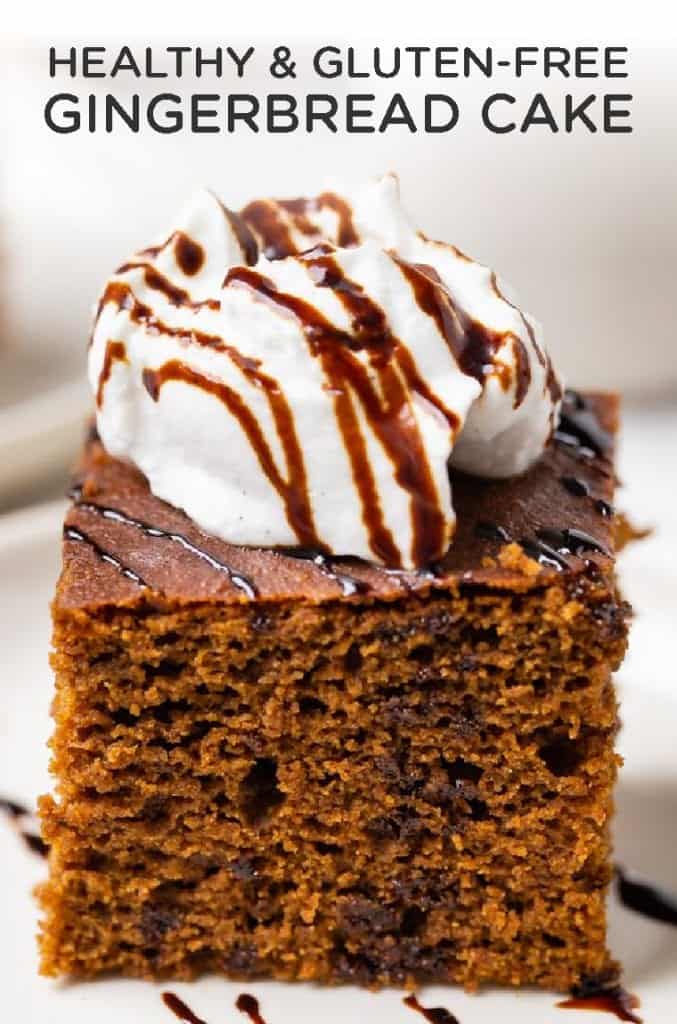 More Gluten-Free Gingerbread Recipes
Gluten-Free Gingerbread Cake
This healthy gluten-free gingerbread cake is the perfect fall breakfast. Made with whole grain flours, it's naturally gluten-free and uses 75% less sugar and oil than the traditional versions!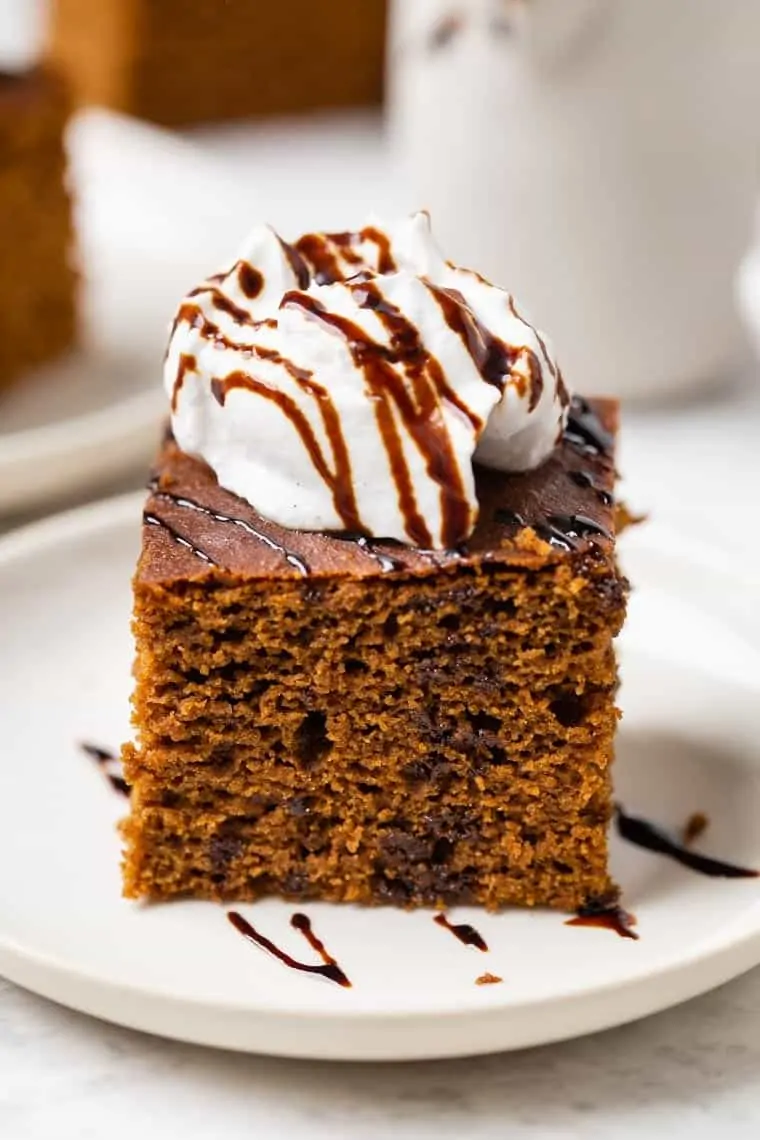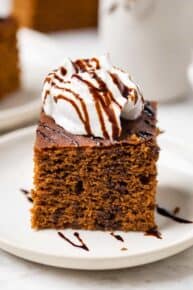 Instructions
Preheat the oven to 350 degrees F. Line a 9" square baking pan with parchment paper and set aside.

In a medium bowl, whisk together your dry ingredients.

In a separate bowl, combine your eggs, pumpkin, milk, molasses and sugar. Beat these into the dry ingredients until a very thick batter begins to form. You want the dough to be slightly thicker than a cake batter. Transfer the mixture into your baking pan.

Bake in the center of your warmed oven for 40 - 45 minutes. Test with a cake tester by placing it in the center of the cake. If there is nothing on the stick when you remove it, the cake is ready!

Remove from oven and allow to cool for 10 - 15 minutes before transferring to a wire rack to cool completely, before slicing into squares. Serve with a dollop of coconut yogurt (or whipped cream) and a drizzle of molasses.
Nutrition
Serving:
1
slice
|
Calories:
137
kcal
|
Carbohydrates:
24
g
|
Protein:
3
g
|
Fat:
4
g
|
Saturated Fat:
1
g
|
Cholesterol:
20
mg
|
Sodium:
37
mg
|
Potassium:
157
mg
|
Fiber:
2
g
|
Sugar:
10
g
|
Vitamin A:
1250
IU
|
Vitamin C:
1
mg
|
Calcium:
58
mg
|
Iron:
1
mg
Filed Under: