Light, airy, and moist, this healthy lemon almond flour cake is the perfect springtime dessert and will surely satisfy your dessert cravings in a healthy way!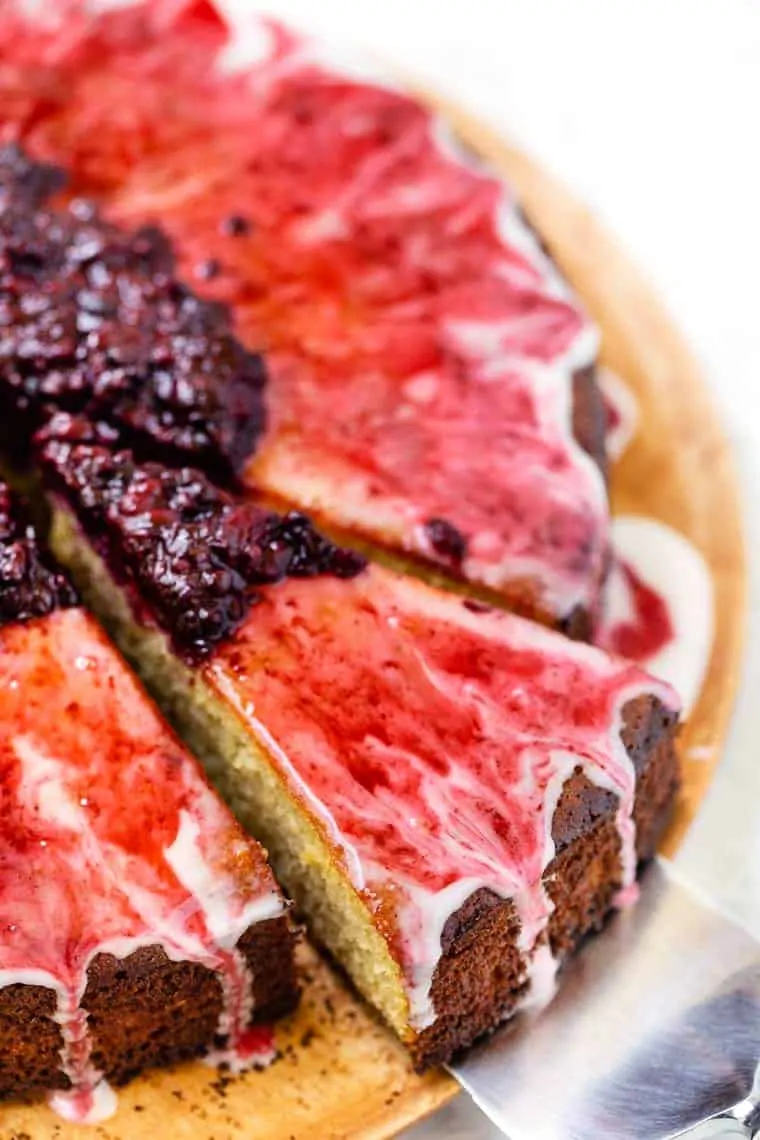 Cake baking has always been somewhat of a mystery to me. Sometimes they sink, sometimes they brown, sometimes they're not cooked through. And it can be tricky when you're using gluten-free flours.
But I think we've hit the jackpot here. I mean truly, this cake is incredible!
Today I'm going to show you how to make the best, most delicious, absolutely incredible Lemon Almond Flour Cake that is not only gluten-free but also dairy-free and ultra-moist. And we're topping it with a lemon glaze and blackberry sauce. It's honestly the perfect cake!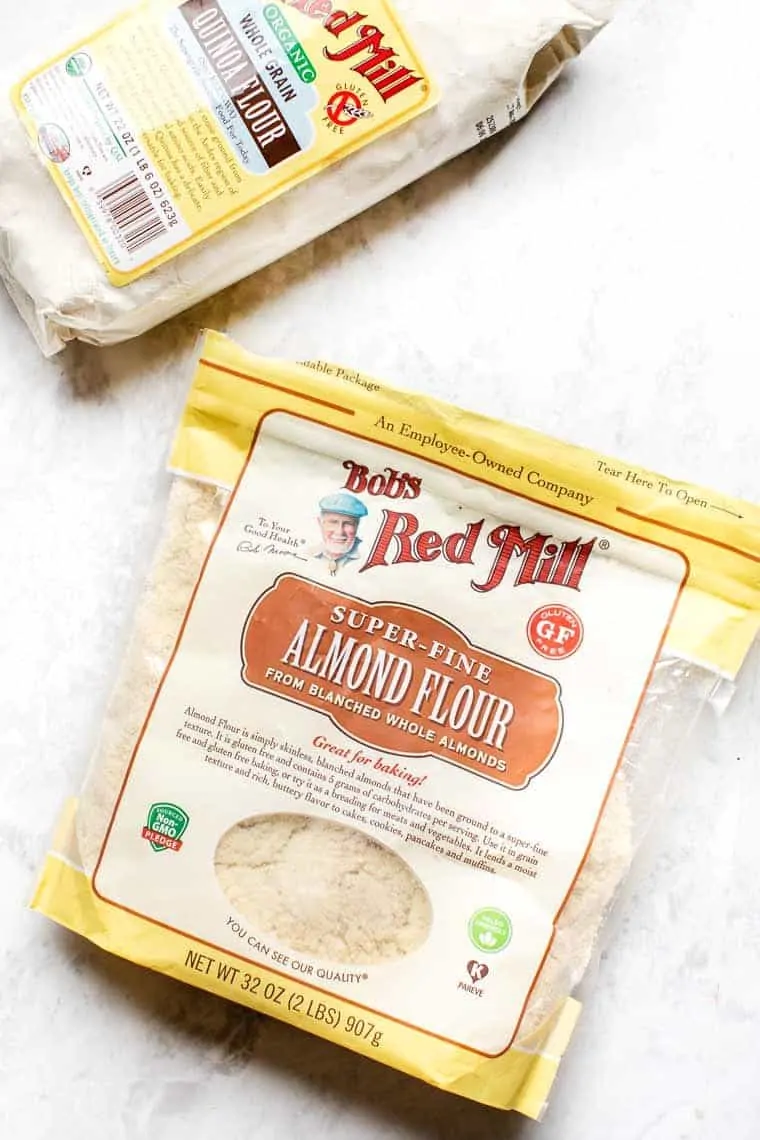 How to Use Almond Flour
You've probably noticed that I use almond flour a lot in my recipes. I love it for a couple of reasons:
it helps baked goods have an amazing texture
it's nutritious
it's naturally gluten-free
it is grain-free
And it's so fabulous in this cake! The one thing to keep in mind with almond flour is the type of almond flour that you're purchasing. You want to make sure that you get blanched almond flour!
See that photo above? The best brand on the market! You can never go wrong with Bob's Red Mill, but their almond flour is awesome. Not only does it come in 2 lb bags now, but it also has the best texture of any that I've tried. It's also at the same price point as others and Bob's Red Mill is just like the best company ever and I love knowing that I'm supporting a truly great team.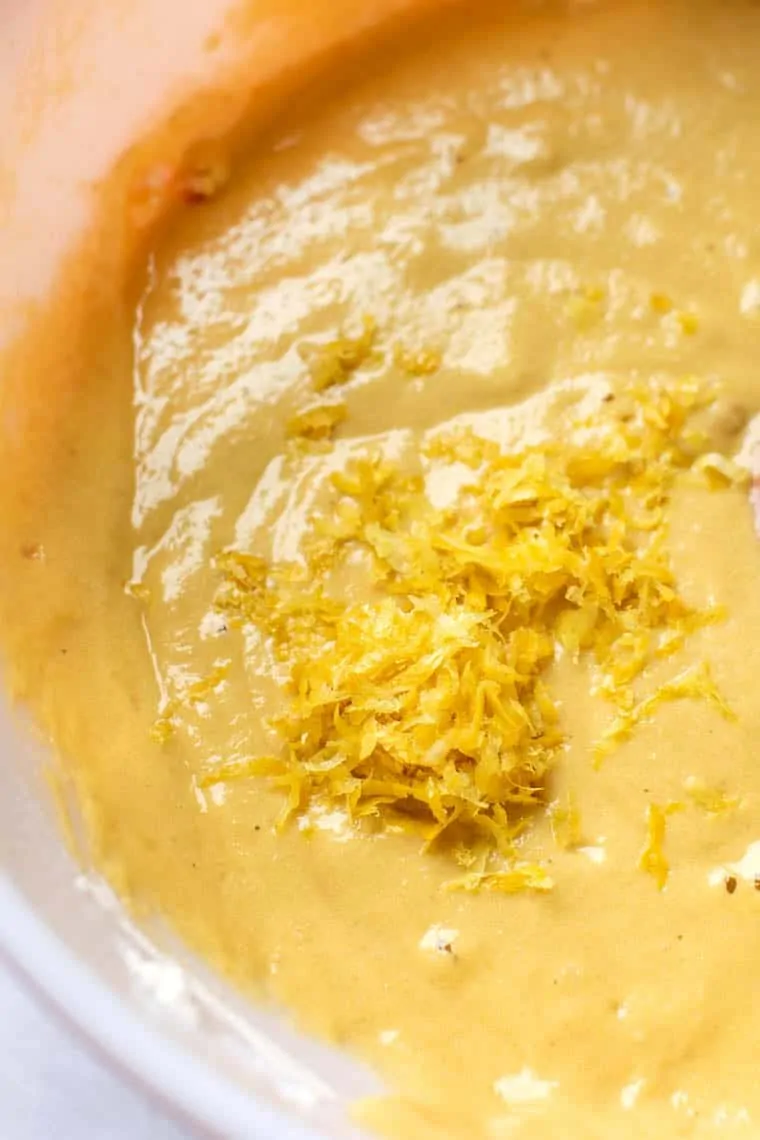 Ingredients for Almond Flour Cake
Naturally, when you clicked on this Lemon Almond Flour cake, you're expecting to see almond flour as the base. Yes, we're using it as our primary flour, but we're also adding in some quinoa flour which helps to give it a slightly denser crumb and a bit more height.
In addition to our flours, the recipe is actually quite simple. We're using:
eggs as our binder and structure
honey to sweeten
olive oil to add extra moisture
lemon juice & zest for our flavor
And then just a few other items to round it all out. In all this almond flour cake has just 11 ingredients and is made in one bowl!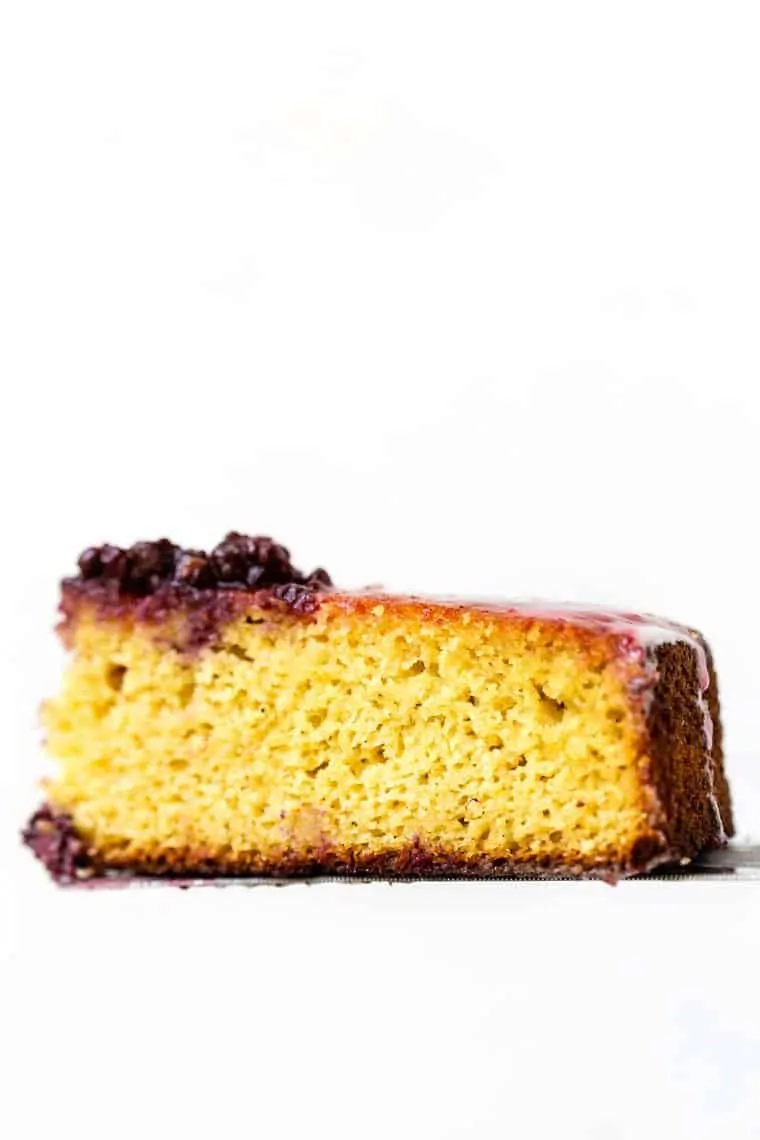 Why Use Olive Oil In Cake?
When you're baking a cake, fat plays and important role, It helps make the cake moist, but it also helps develop a somewhat spongey texture. This cake has both and the secret is olive oil!
Why use olive oil in a cake? Because of the flavor and richness of the oil. And also that gorgeous yellowy color!
This cake has a very slight hint of olive oil underneath the lemon and it is perfection. It cuts down on the sweetness level a bit because it adds an almost savory quality, but it also brings in a little richness which balances out the bright lemon. I've quickly fallen for olive oil in my baked goods!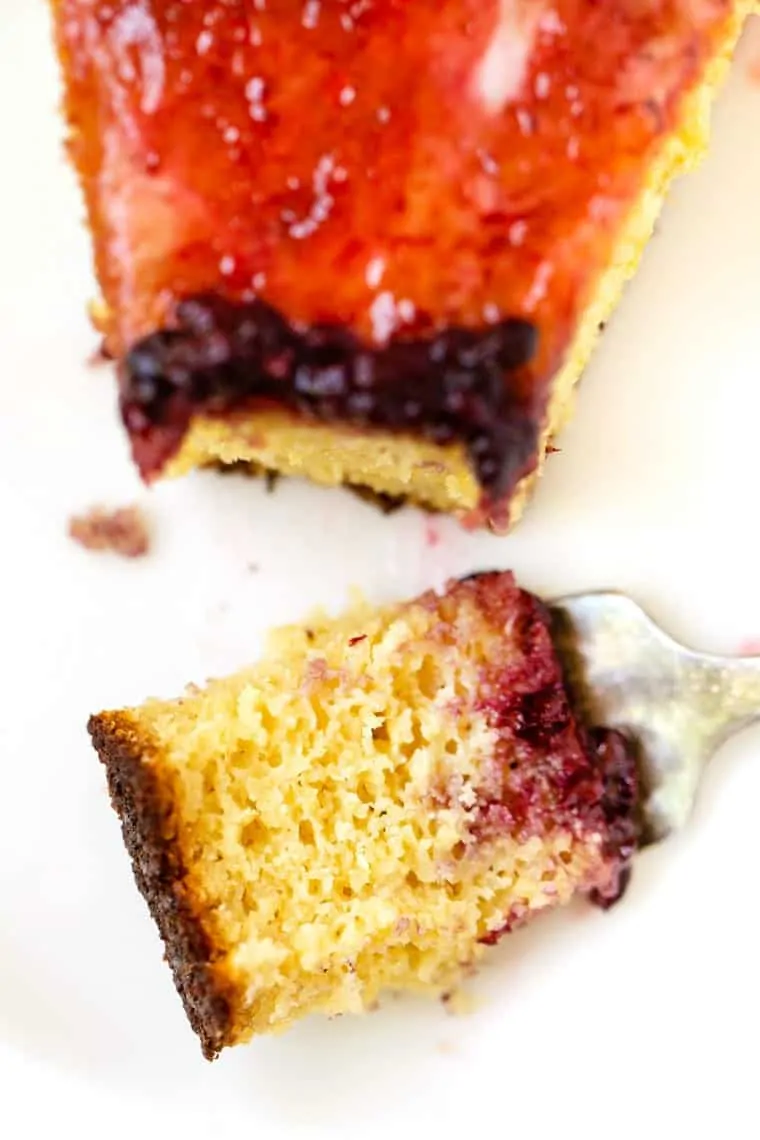 Best Gluten-Free Lemon Cake
If I had to pick a favorite gluten-free cake it would be this one. It's so tender, it's got an amazing lemon kick and even though we took it a bit over the top with the icing and berries, it's every bit as delicious on its own.
Better yet, this almond flour cake has just 1/3 cup of sweetener in the entire recipe! Isn't that amazing?! It makes an amazing afternoon treat (with tea, anyone?!) and could also be made into a layer cake by doubling the batch and putting the frosting in the middle!
This is definitely going to become my new go-to GF birthday cake! I mean after all…who can say no to this!?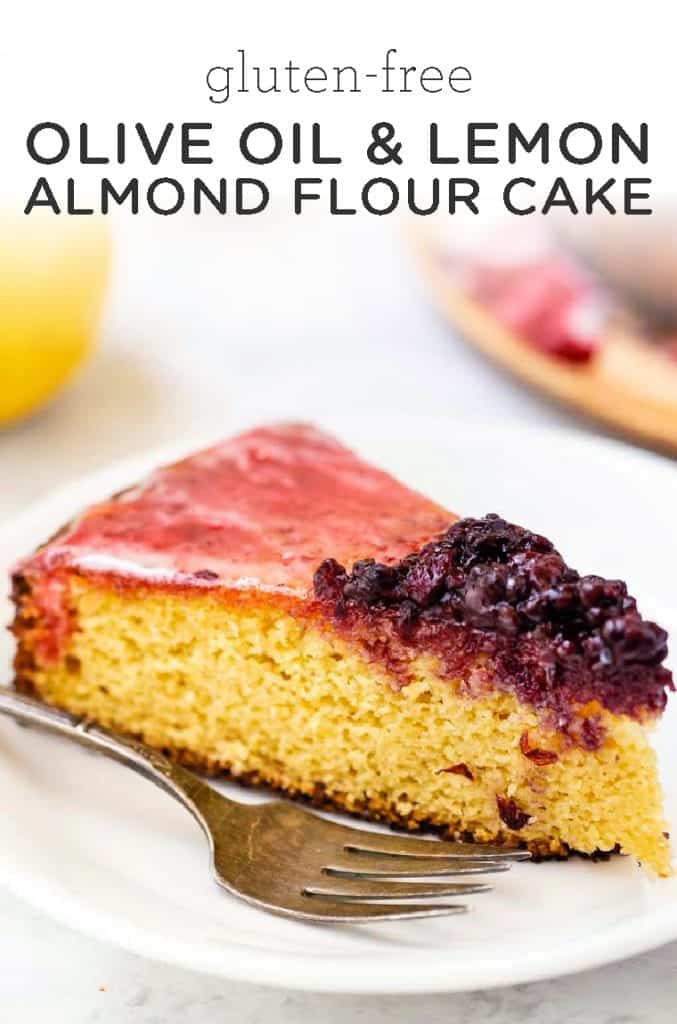 More Healthy Gluten-Free Dessert Recipes:
Olive Oil & Lemon Almond Flour Cake
Light, airy, and moist, this almond flour cake is the perfect springtime dessert and will surely satisfy your dessert cravings in a healthy way!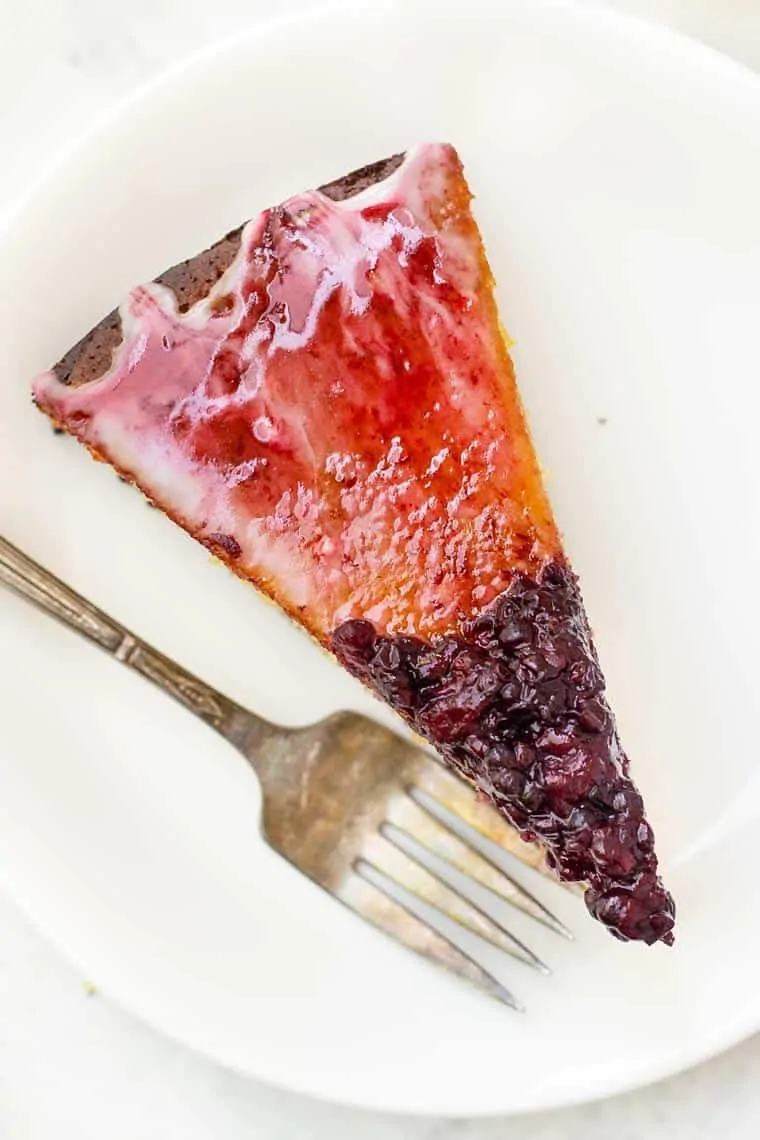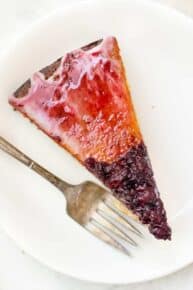 Instructions
Preheat the oven to 350º F and line a 9" springform pan with parchment paper. Cover the bottom with parchment paper, then snap the pan back together and trim the excess. Spray the sides and bottom of the pan with cooking spray and set aside.

Whisk together the eggs and honey until they are fluffy and have turned a pale yellow. Add the remaining wet ingredients and beat well.

Add the dry ingredients and mix until just combined. Fold in the lemon zest.

Transfer the batter to the greased pan and bake for 20 minutes, then cover with foil, and bake for another 20 minutes until a cake tester inserted in the center comes out clean.

Cool the cake before removing the springform pan.

Add the blackberries into a small saucepan and heat over medium heat. Cook until you can mash them with a fork and then remove from the heat.

In a small bowl, whisk together the powdered sugar and lemon juice. Pour the glaze over the cake and spread it out with the back of a spoon. Place the mashed berries in the center and allow the juices to mix with the glaze.

Slice and serve with whipped cream, ice cream, fresh berries, a drizzle of honey, etc.
Nutrition
Serving:
1
slice
|
Calories:
276
kcal
|
Carbohydrates:
21
g
|
Protein:
7
g
|
Fat:
20
g
|
Saturated Fat:
2
g
|
Cholesterol:
55
mg
|
Sodium:
95
mg
|
Potassium:
86
mg
|
Fiber:
2
g
|
Sugar:
14
g
|
Vitamin A:
86
IU
|
Vitamin C:
3
mg
|
Calcium:
72
mg
|
Iron:
1
mg
Filed Under: