Instant Pot Vegan Wild Rice Soup
This Creamy Vegan Wild Rice Soup is made in the Instant Pot and is a simple, healthy and hearty meal that's packed with nutrients! Full of vegetables, wild rice, coconut milk and herbs! Great for meal prep, freezes well and is also gluten-free.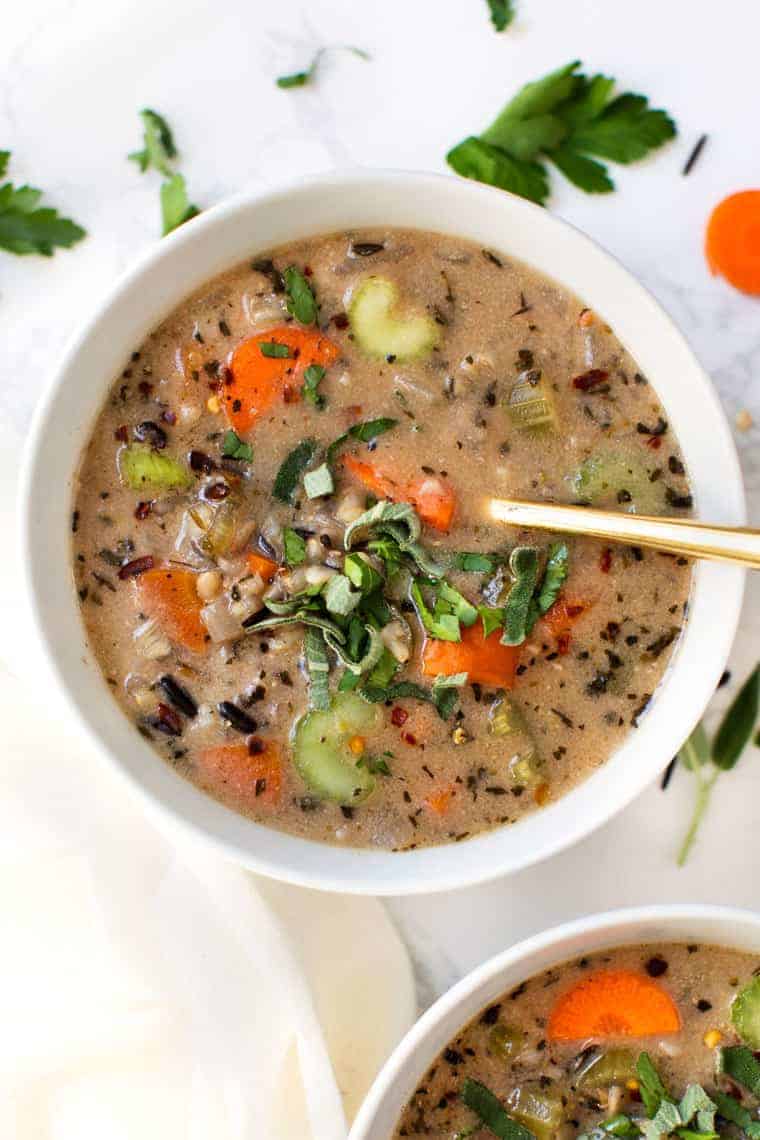 One of the things I missed while I was away was my kitchen appliances. Things like my blender, my countertop oven, my food processor, and yes, my Instant Pot.
I'll admit, my Instant Pot isn't something I use all that much, but I absolutely love it when I do. It also still scares me a little!
But either way, my favorite thing to make (aside from steel cut oats) is soup. It's so easy, it gets super flavor, and you can cook it really quickly. Today I'm going to show you how to make this delicious vegan wild rice soup that is creamy, hearty and a great weeknight meal!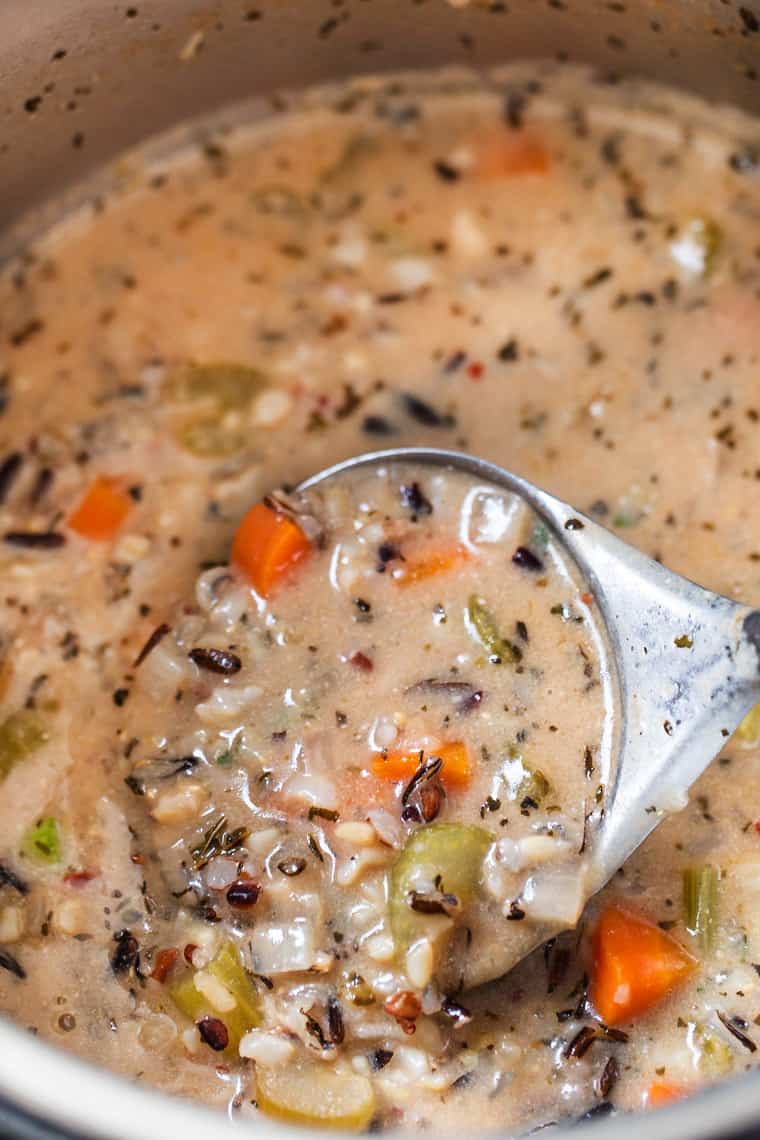 Ingredients for Vegan Wild Rice Soup
I'm keeping the base of this soup fairly simple and protein-free so that you can just add what you want. It's great on its own, but you could also totally add in something like chickpeas, tofu, shredded chicken, etc.
Either way, the base is simple as I said. So here's what you'll need:
Mirepoix: the classic combo of onions, carrots, celery are acting as the veggies in our soup.
Garlic: because I can't not use garlic! If you're on a low FODMAP diet, feel free to leave this and the onions out.
Wild rice blend: I personally like to use a wild rice blend, but you can use whatever you like/have.
Veggie broth: the main liquid for our soup.
Coconut milk: I use full-fat which definitely adds to the richness, but is so worth it in terms of flavor!
Dried herbs: I also think this is customizable – feel free to use what you like! You'll see my choices down below 😉
And we'll be finishing the soup off with some lemon juice and fresh herbs!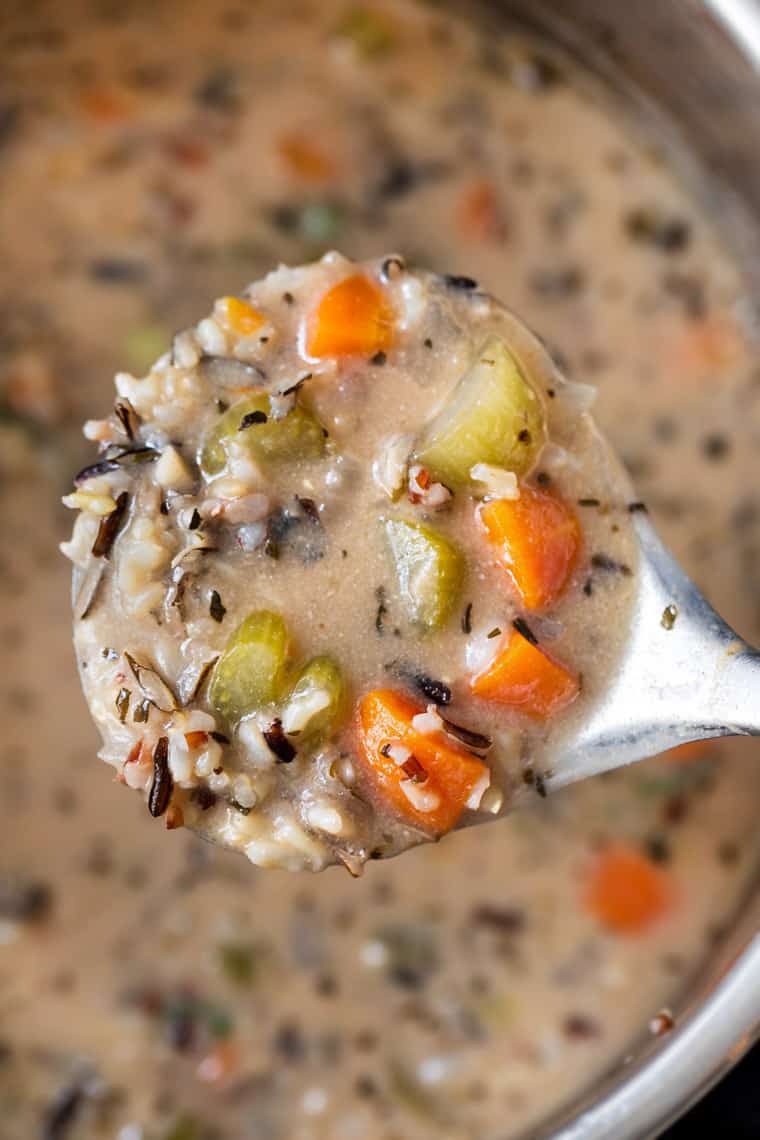 How to make Soup in the Instant Pot
One of the things I do love about the Instant Pot are the different settings. Unlike a slow cooker, you can start by sauteeing things and then cooking them under pressure.
That's what we're doing with this soup. We start with the saute function and then we use the high-pressure function.
So while it's not technically a dump and cook meal, the only hands-on time is the sauteing which takes about 5 minutes. Once you've sauteed your veggies, you'll add everything else in, seal the lid, turn on the pressure and let it do its thing!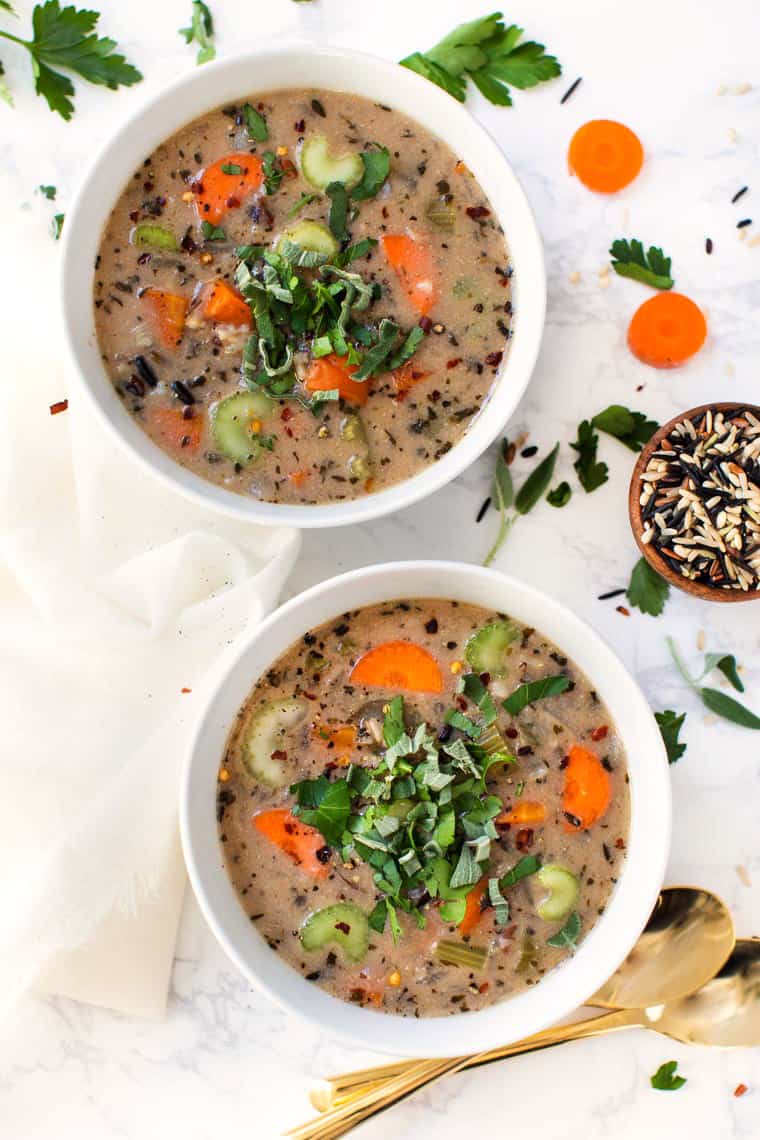 Instant Pot vs. Slow Cooker
I feel like when the Instant Pot first started to get popular lots of people asked themselves if it was worth getting. If you had a slow cooker already, do you really need an Instant Pot? In my personal opinion, I think you could replace your slow cooker with the Instant pot because it has a slow cook function.
Other benefits of the Instant Pot include:
faster cooking times
more tender meat (if you eat it)
deeper flavors because the IP is completely sealed
uses less energy
If you have any other questions about an Instant Pot, let me know in the comments!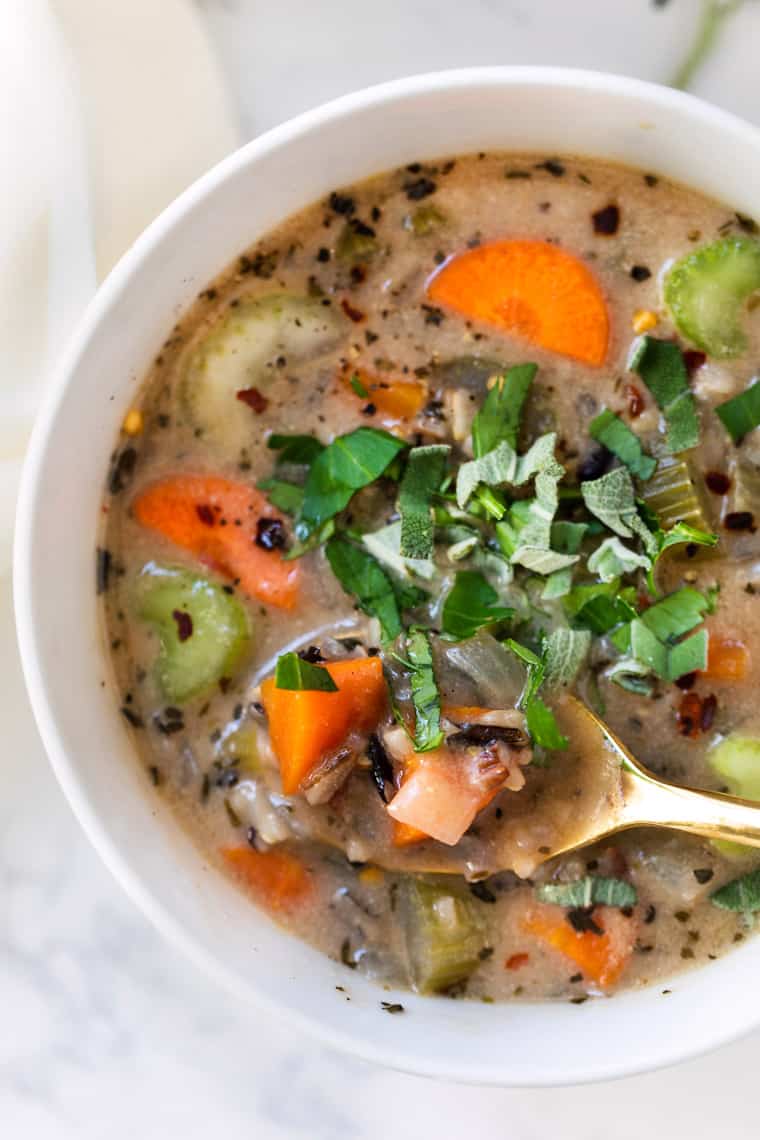 Can You Freeze This Vegan Soup?
You can absolutely freeze this soup! That's one of the things I love about soups in general – they're totally freezer-friendly. All you need to do is allow the soup to cool completely, then pack it up into your containers and pop it in the freezer.
For thawing, I like to allow the soup to thaw as much as possible at room temperature – like take it out of the freezer in the morning and leave it on the counter. Then pop it in a pot when you're ready to heat it up!
Other Ways to Cook Vegan Wild Rice Soup
Don't have an Instant Pot? That's totally fine, there are a few ways you can cook this soup:
Slow Cooker: the only thing you'll do differently if you cook this in a slow cooker is that you won't saute the veggies first (and skip the oil). Add everything into your slow cooker and cook it on high for at least 4 hours.
Stovetop: start by sauteing the veggies, then add the rest of the soup ingredients into the pot. Bring the mixture to a boil, reduce it to simmer and cook it for a good 45 – 50 minutes.
Otherwise, you've got all the information you need to make this awesome soup. I hope you love it as much as we did!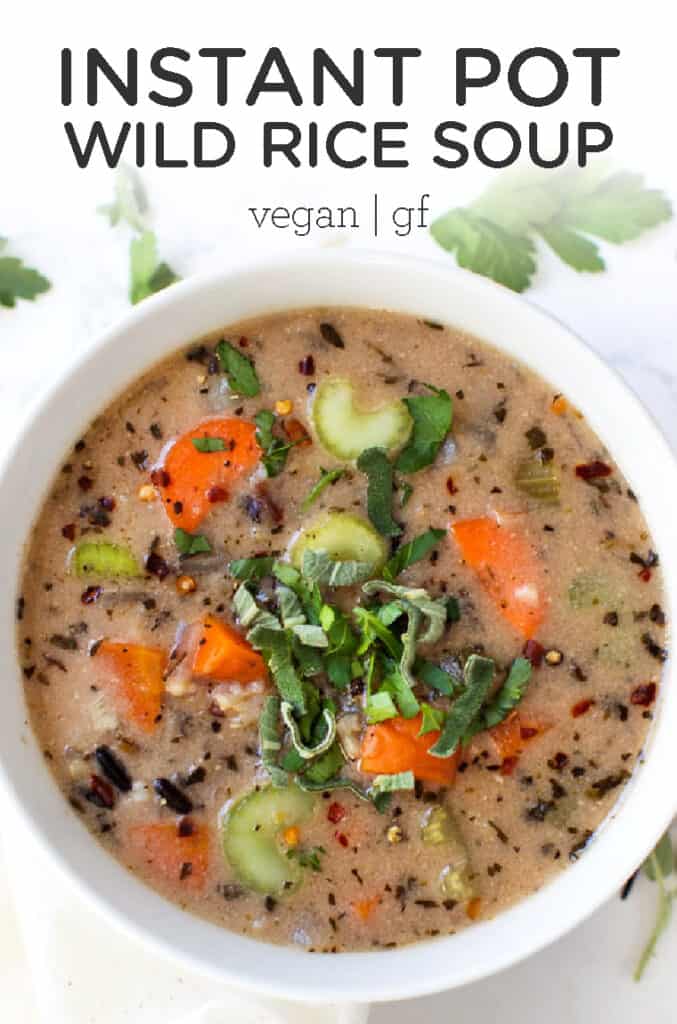 More Instant Pot Recipes to try:
Vegan Wild Rice Soup
This vegan wild rice soup is creamy, rich, and fresh. It's comforting in the cold months, super healthy, and entirely vegan and gluten-free.
Servings 6 servings
Calories 294kcal
Ingredients
1 tablespoon olive oil
1/2 a medium white onion
1 cup carrots
1 cup celery
2 garlic cloves , minced
1 cup wild rice blend
4 cups veggie broth
2 cups full-fat coconut milk
1 teaspoon dried thyme
2 teaspoons basil
2 bay leaves
1 teaspoon salt + pepper (more as needed)
1 teaspoon arrowroot starch
Juice of 1/2 a lemon
To garnish: parsley, sage, pepper, pepper flakes
Instructions
Turn the Instant Pot to the sauté setting. Add the oil and once it's hot, add the veggies. Sauté the veggies for 4 - 5 minutes until they're starting to soften.

Add the rice, broth, coconut milk, and herbs. Season with salt and pepper and give it a quick stir.

Place your lid on the Instant Pot and close it. Make sure the vent is set to sealed. Turn the Instant Pot to high pressure and set the timer for 15 minutes.

Allow the Instant Pot to do its thing – it will come to pressure, then it will cook for the 15 minutes.

Once the Instant Pot is done cooking, allow it to naturally release the pressure for 15 minutes. Then release the rest of the pressure through the vent.

Remove the lid and scoop out a bit of the broth into a small bowl. Whisk in the arrowroot starch and pour to create a slurry, and pour it back into the pot, stirring it thoroughly. This will help thicken the soup slightly. Stir in the lemon juice, then taste and adjust the salt and pepper if needed.

If you want to add anything else – like chickpeas, shredded chicken, spinach, etc. – add that now. I also love stirring in 1/2 cup of nutritional yeast here as well (it tastes so good!).

Serve the soup hot and top with fresh herbs and seasonings. Enjoy!
Notes
Store in an airtight container in the fridge for up to 5 days, or in the freezer for up to 4 months. Reheat over medium heat on the stove, or on 80% power in the microwave.
Nutrition
Serving: 1.5cups | Calories: 294kcal | Carbohydrates: 29g | Protein: 6g | Fat: 19g | Saturated Fat: 15g | Polyunsaturated Fat: 1g | Monounsaturated Fat: 2g | Sodium: 1055mg | Potassium: 421mg | Fiber: 3g | Sugar: 4g | Vitamin A: 3989IU | Vitamin C: 8mg | Calcium: 41mg | Iron: 3mg
share what you make
Tag #simplyquinoa on Instagram with your creations! We love sharing what you make with the community. We can't wait to see!

follow on instagram