This Peanut Butter-Banana Quinoa Granola is a quick, delicious recipe for perfect gluten-free vegan granola. And it's filled with fiber, protein and healthy fats to keep you fueled all morning long!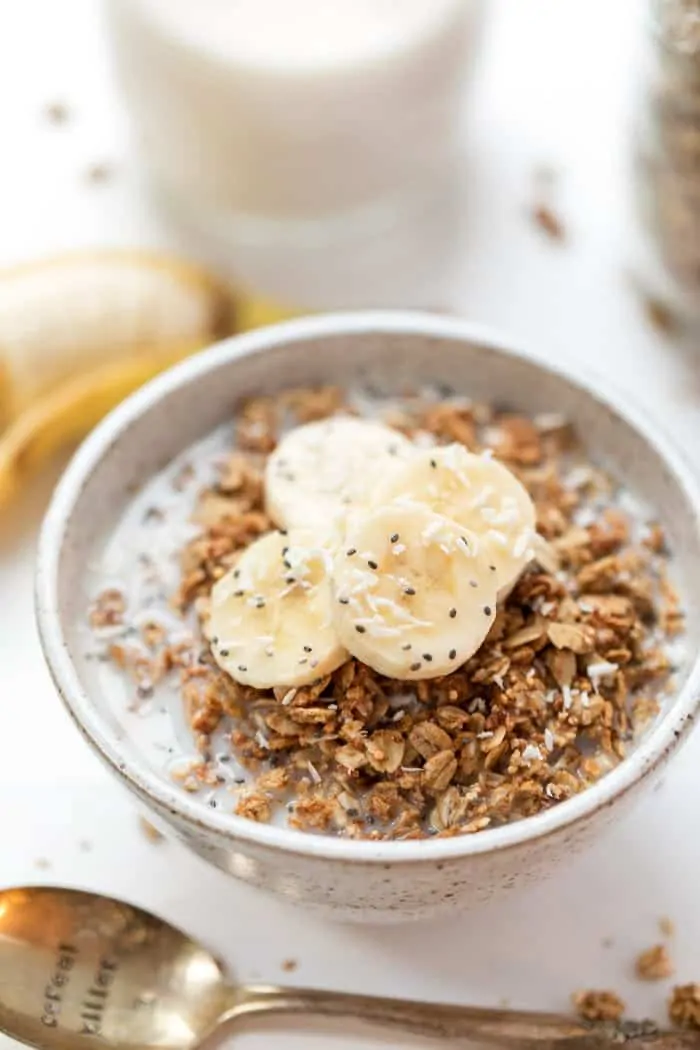 You know when you bake something for the first time, and it comes out of the oven smelling amazing, and you know you've just nailed it? That's what happened with this quinoa granola the first time I made it.
It's been almost 5 years since I first created this recipe and it's only gotten better the more I make it. It's flavorful, it's easy, it's healthy and is arguably one of the best vegan granola recipes I've ever tasted.
I love that it's full of crunchy oat clusters, has that mild sweetness of banana and TONS of peanut butter flavor. If you haven't made it yet, you're in for a treat!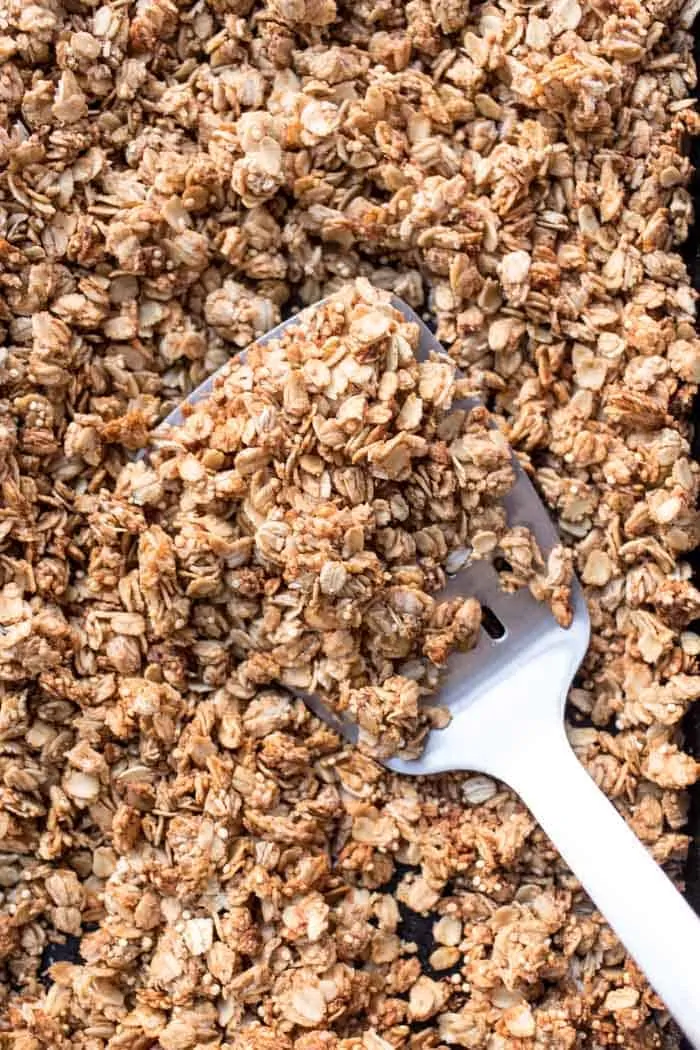 Of course, it's hard to get more classic than the peanut butter and banana combo, especially for breakfast. Which is exactly how this recipe came to be.
I was back in Vermont visiting my parents for a long weekend and I was having a hankering for granola. But I was feeling somewhat lazy and couldn't decide between spending the time to make a big batch of homemade granola or just having a piece of gluten-free toast smeared with peanut butter and topped with sliced banana.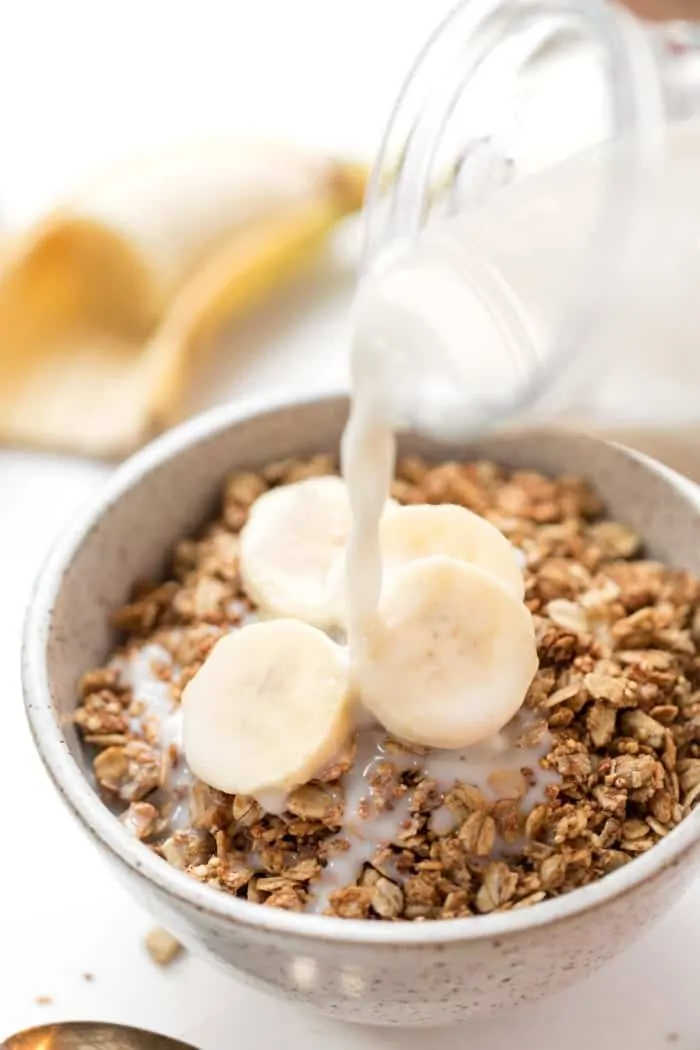 As I sipped on my matcha latte, I realized granola was the only thing that would satisfy that craving, so I decided to mash these two together and this Peanut Butter Banana Quinoa Granola was born.
It's delicious. It's easy. It's customizable based on what you have in your pantry. It's just the right balance of peanut butter and banana. It's crunchy and sweet.
And it's by far my favorite granola recipe ever.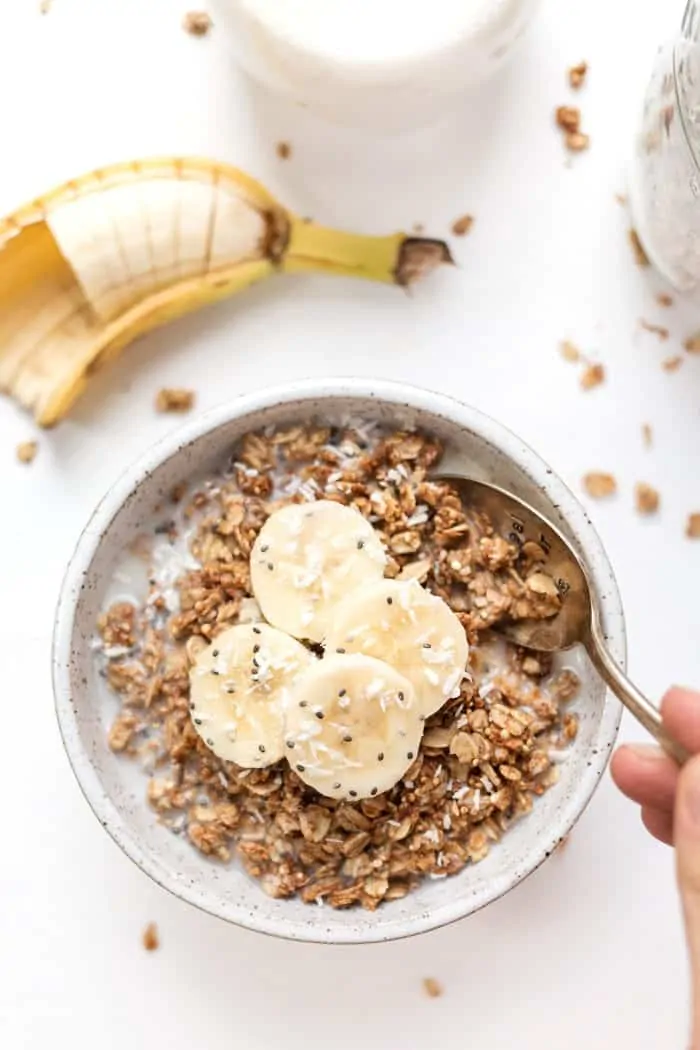 Now quinoa might seem like a strange thing to add to your granola, especially uncooked, but I promise it's delicious!
It adds a nice little crunch, makes it a bit crispier and gives the granola a little boost in protein.
That combined with the oats, which are high in fiber, coconut and peanut butter which are high in healthy fats, this peanut butter quinoa granola definitely makes for a balanced breakfast (or snack!).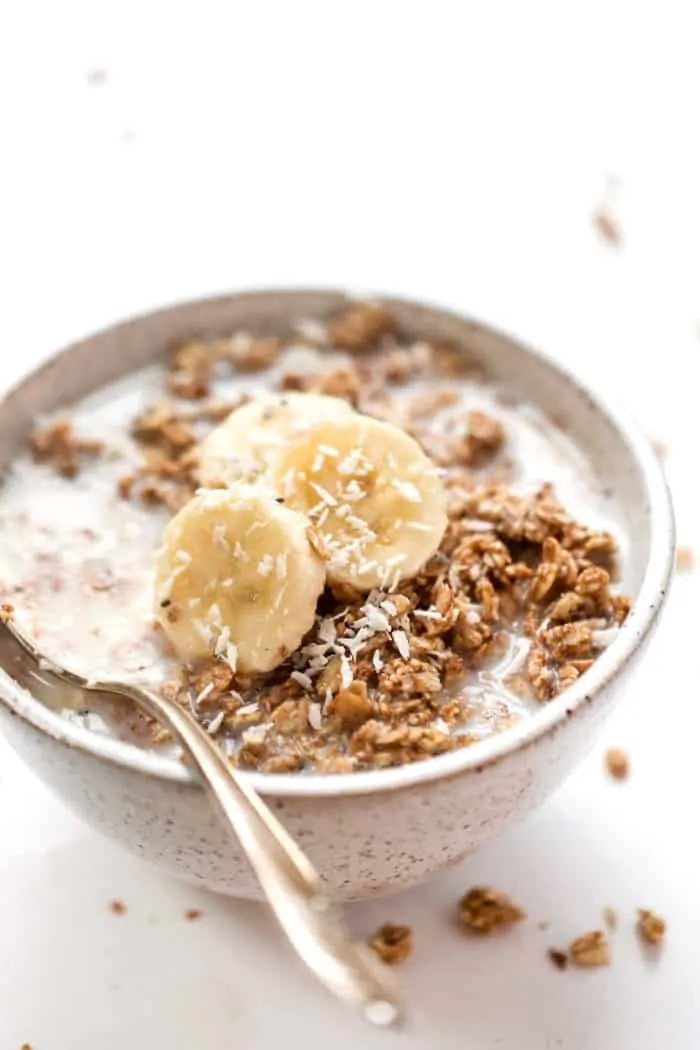 For serving, you really can't go wrong. I love using granola with…
almond milk and fresh fruit
coconut yogurt & chia seeds
smoothie bowls
nut butter stuffed dates
toast and jam
pancakes & waffles
And of course, granola is also a portable option for snacking! I used to like keeping some hidden away in my desk at the office, in my car for long road trips and even in my gym bag. You just never know when you'll get hungry!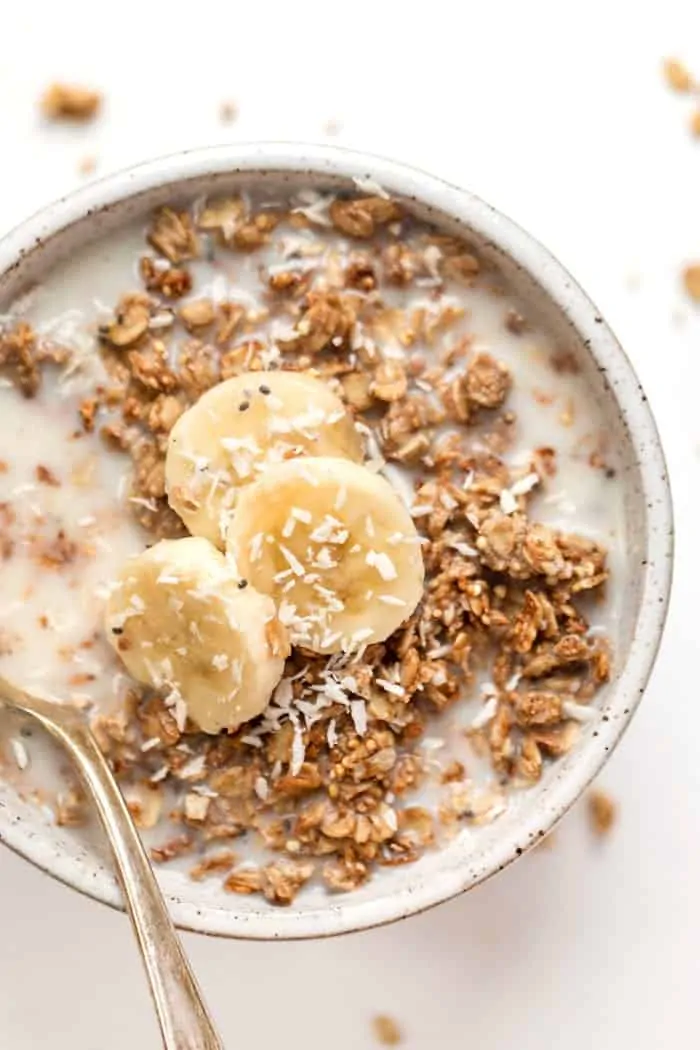 Now before I let you go, let me give you a few quick tips for substituting in case you don't have all these ingredients on hand (or want to make changes):
General rule: use the same proportions and you're good!
Oats: swap for another grain flake
Coconut: swap for another nut or seed:
Quinoa: swap for another grain, more oats, coconut or another nut/seed
Peanut Butter: swap for another nut/seed butter
Oil: swap for another light flavored oil OR add 2 more tbsp of peanut butter and 2 tbsp of oil
Syrup: use honey or another liquid sweetener:
Banana: swap for another fruit puree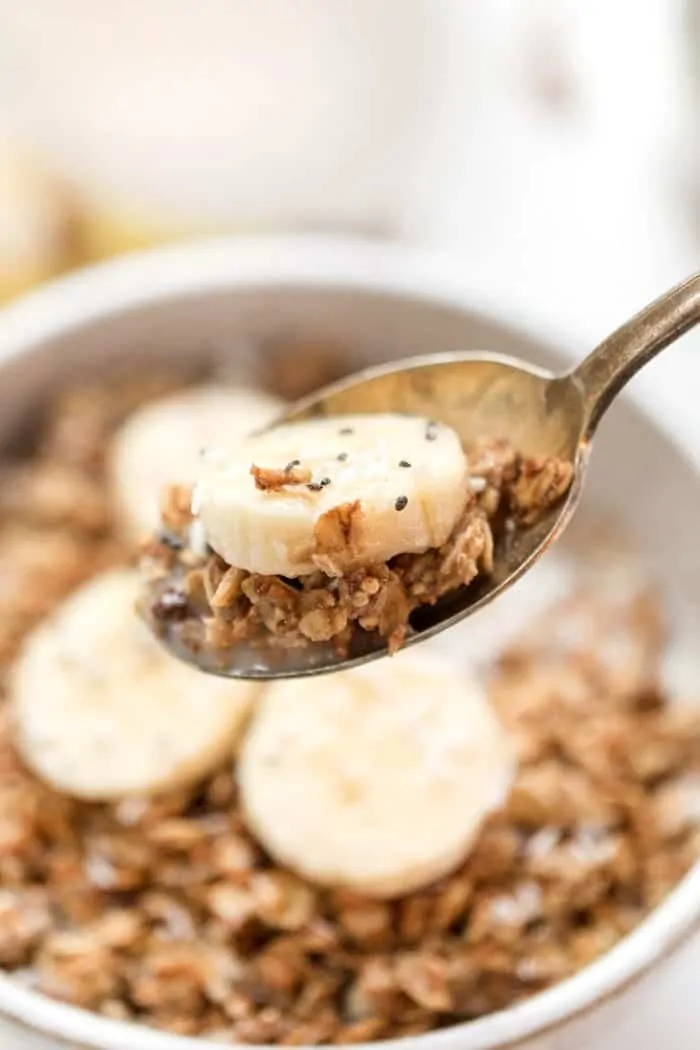 And that pretty much does it!
I'm turning it over to you ♡ I can't wait to see your recreations and be sure to come back to this post and let us know how it turns out! Or if you make any substitutions, definitely share those as well — your tweaks might also help someone else, so share away!
xo
– A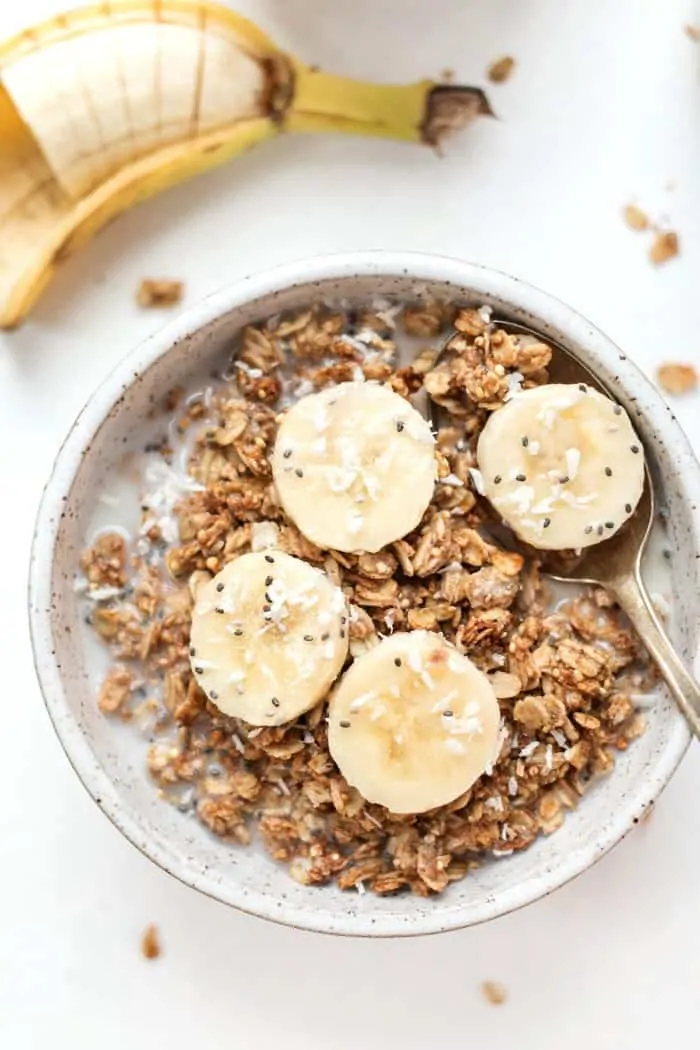 More Granola Recipes To Try:
How to make this Vegan Quinoa Granola
Peanut Butter-Banana Quinoa Granola
This Peanut Butter-Banana Quinoa Granola is a quick, delicious recipe for perfect gluten-free vegan granola. And it's filled with fiber, protein and healthy fats to keep you fueled all morning long!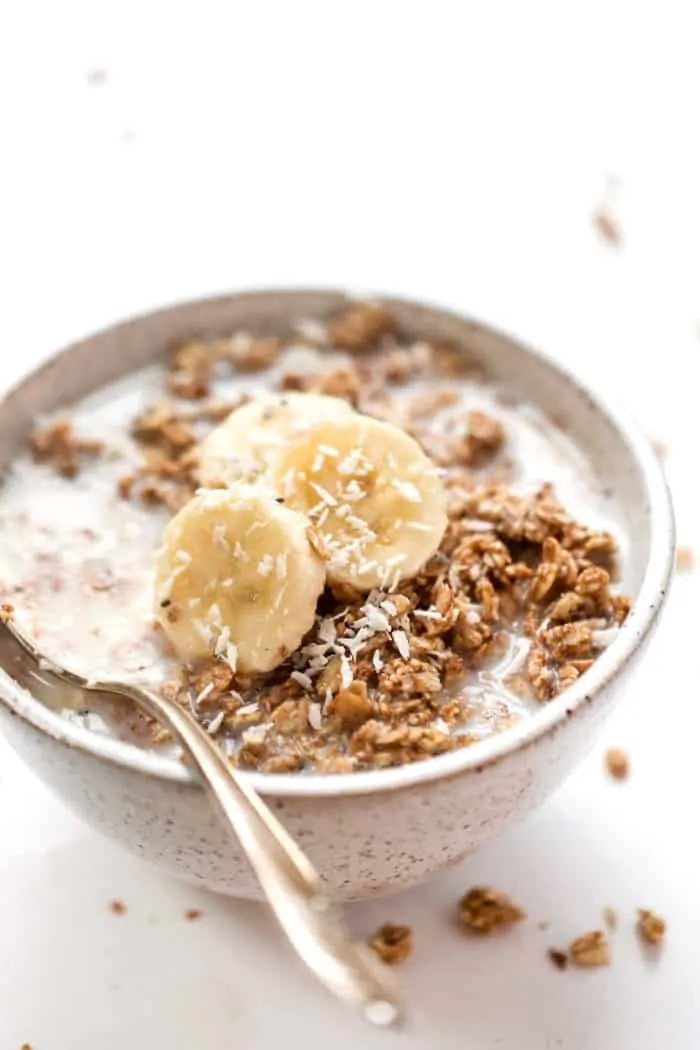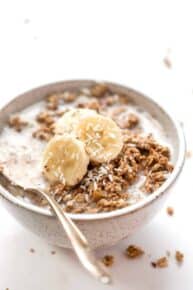 Instructions
Preheat the oven to 300 degrees F.

Combine all the dry ingredients in a large mixing bowl. In a small sauce pan, heat the wet ingredients together until the peanut butter and coconut oil have melted. Add the wet ingredients to the dry and stir until well mixed and all the ingredients are coated.

Separate the mixture onto two baking sheets, and bake for 30 - 35 minutes, until the granola is starting to brown. I recommend stirring and flipping it every 10 minutes to ensure even cooking.

Let cool completely then transfer to an air tight container. Store in a cool, dry place for two weeks.
Nutrition
Calories:
655
kcal
|
Carbohydrates:
70
g
|
Protein:
18
g
|
Fat:
36
g
|
Saturated Fat:
13
g
|
Sodium:
258
mg
|
Potassium:
644
mg
|
Fiber:
12
g
|
Sugar:
15
g
|
Vitamin A:
10
IU
|
Vitamin C:
1.5
mg
|
Calcium:
104
mg
|
Iron:
4.5
mg
Filed Under: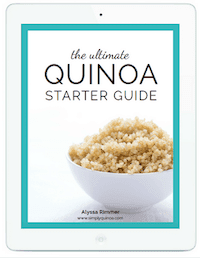 New to cooking quinoa? Grab your FREE Quinoa Starter Guide!
Become part of the Simply Quinoa community and receive weekly emails with exclusive content that I only share in email, as well as my in-depth guide to starting your quinoa journey.