How to make the best homemade peanut butter ever! This peanut butter is filled with protein, has an awesome crunchy texture and a subtle hint of cinnamon.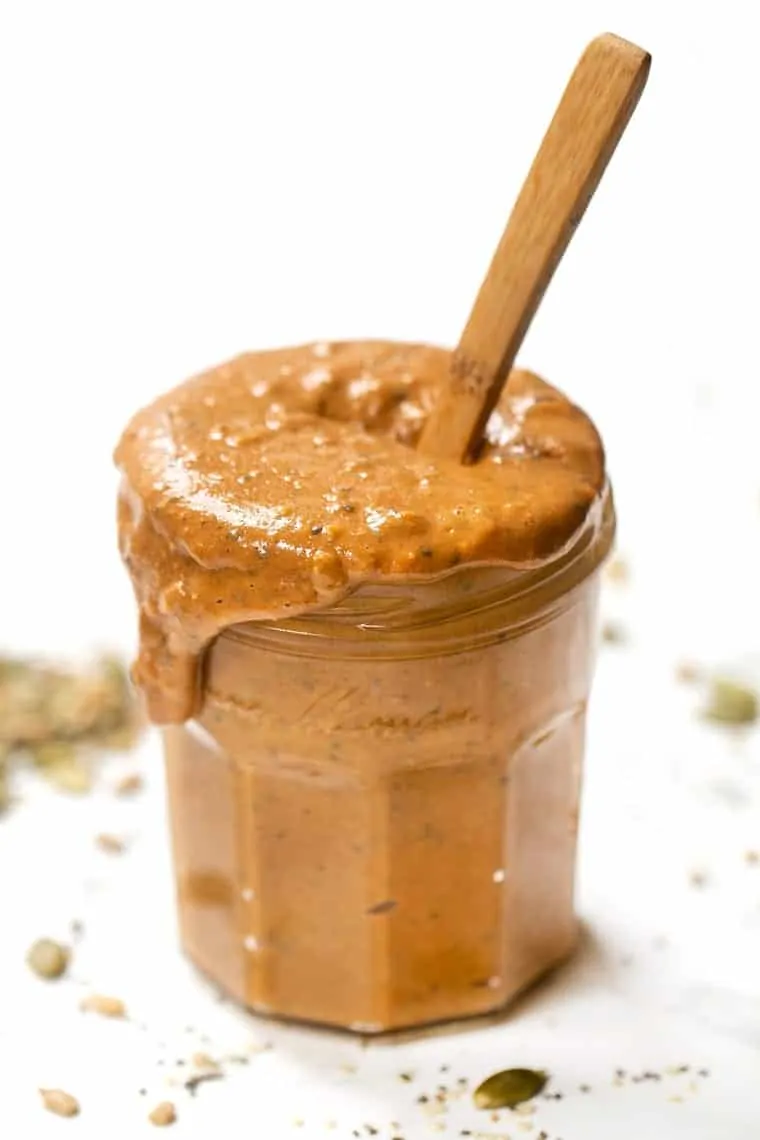 If I had to choose one nut butter to eat forever and ever it would be peanut butter. No questions asked. It's my absolute favorite!
But I'm also a little picky when it comes to peanut butter. I don't want it to have that Skippy smooth texture, I don't want it to be salty and I definitely don't want it to be sweet. Oh, and I want it to be organic with only natural ingredients.
Over the years, I've found brands I love, but organic, natural nut butter can be pricey. That's when I realized that making homemade peanut butter is the way to go!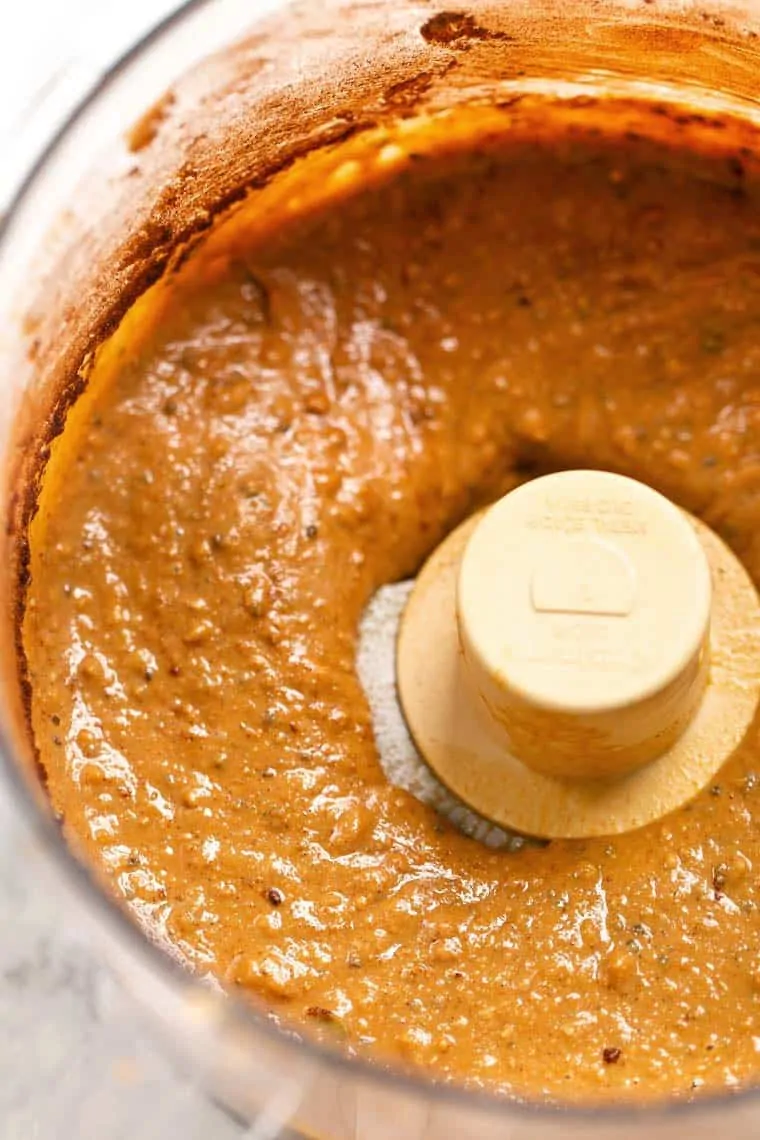 How to Make Homemade Peanut Butter
Just like any nut butter, you need just two things to make homemade peanut butter: a food processor and peanuts!
I always get asked about my food processor, and I have the 11-cup one from Cuisinart. I've tried other brands, but this one is definitely the best. They last forever, they're sturdy, they won't overheat and they're powerful. So if you're in the market for a new food processor, def recommend that one!
And to actually make the peanut butter, you just blend it up until it's smooth and creamy. If you saw my Ultimate Guide to Homemade Nut Butter, then you might remember it can take some time to get the right texture. I've found that peanuts are actually quicker than other nuts, but they can still take 10 – 15 minutes to blend.
Once you're blended up, you can either serve it right away OR you can add in some goodies like we're doing with this recipe!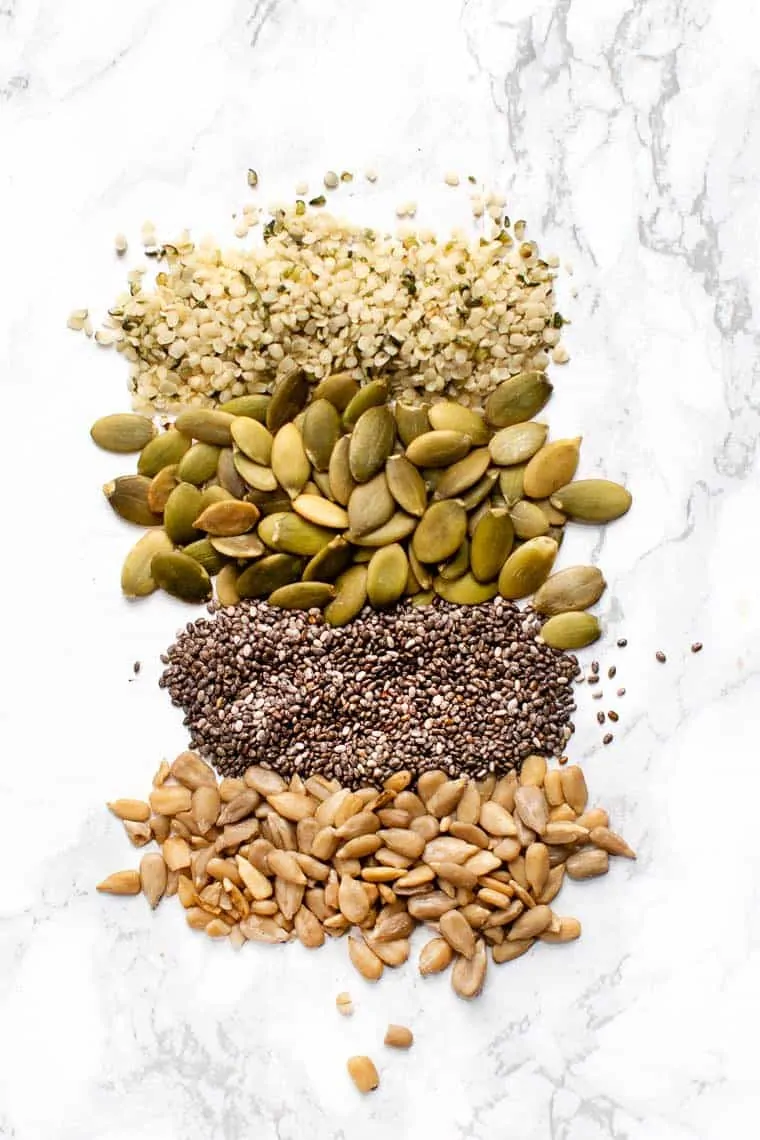 Why Are Seeds So Healthy?
For today's homemade peanut butter recipe, we're jacking it up with some seeds. Seeds are incredibly nutrient right and a really easy way to add texture to your nut butter, while also boosting the nutrition!
The four seeds we're using are:
Hemp seeds
Sunflower seeds
Pumpkin seeds
The health benefits of seeds are that they're high in protein and healthy fats, but they also have a lot of vitamins and minerals that other nuts don't have. They're full of B vitamins, as well as magnesium, potassium, iron and even calcium!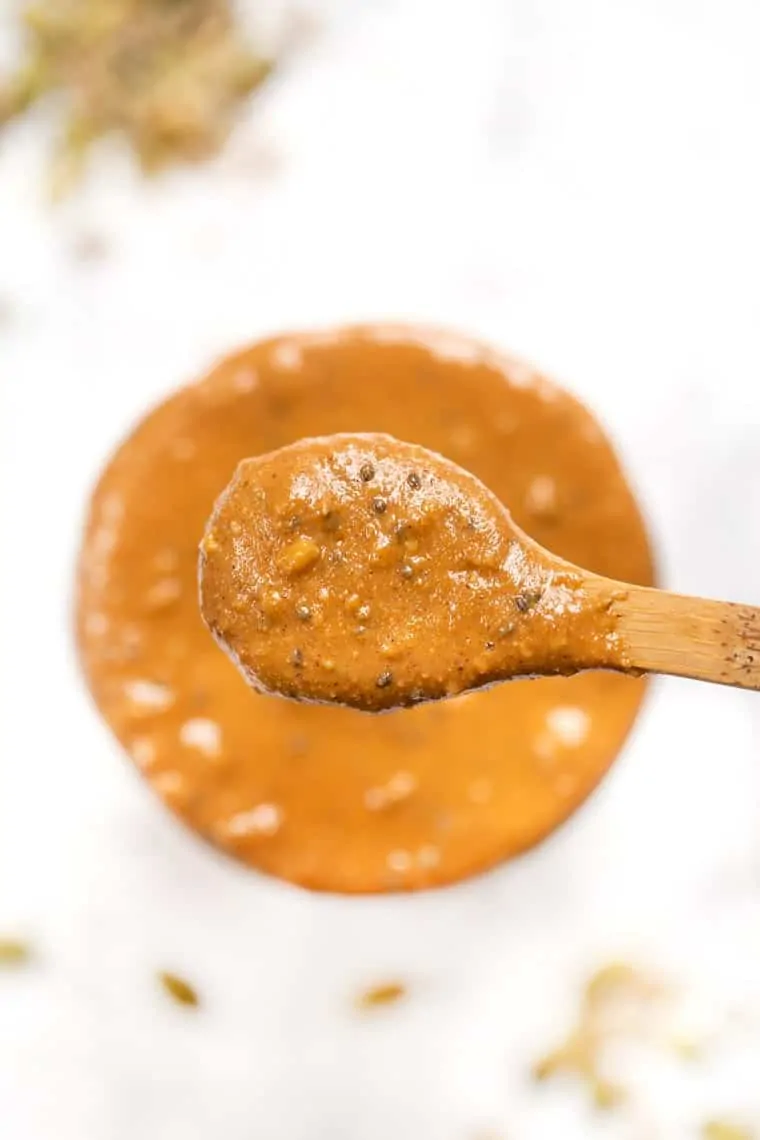 The Healthiest Homemade Peanut Butter
While I usually like smooth peanut butter, there's also something really delicious about chunky peanut butter! Don't you think? The texture adds a bit of crunch and interest if you're using it one something like toast.
This is my way of making chunky peanut butter at home, but also adding in a ton of other health benefits! Just check out that nutrition label down below – we're getting protein, potassium, iron and even some fiber too.
I'd definitely say as peanut butter goes, this is one of the healthiest versions out there!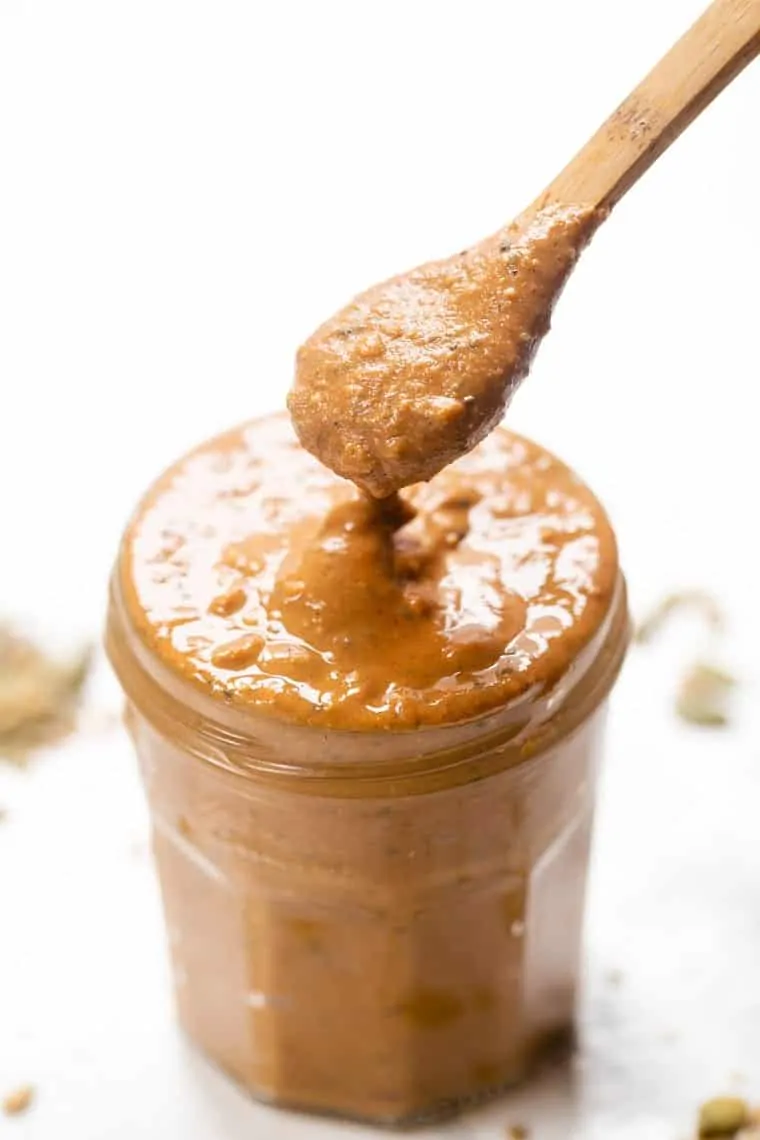 Our Favorite Ways to Use Peanut Butter
Now it might seem like this is a fancy peanut butter that you can only use on its own, but this homemade peanut butter is super versatile! You can use it any which way you like, but here are some of our favorite ways to eat it:
On top of our morning smoothie bowls
Spread on toast with sliced banana and extra seeds
Stuffed into a date as a quick snack
Turned into energy balls (like our Chocolate Chip Peanut Butter Energy Balls)
For cookies!
And honestly, just scooping it out of the jar also makes a quick and easy snack!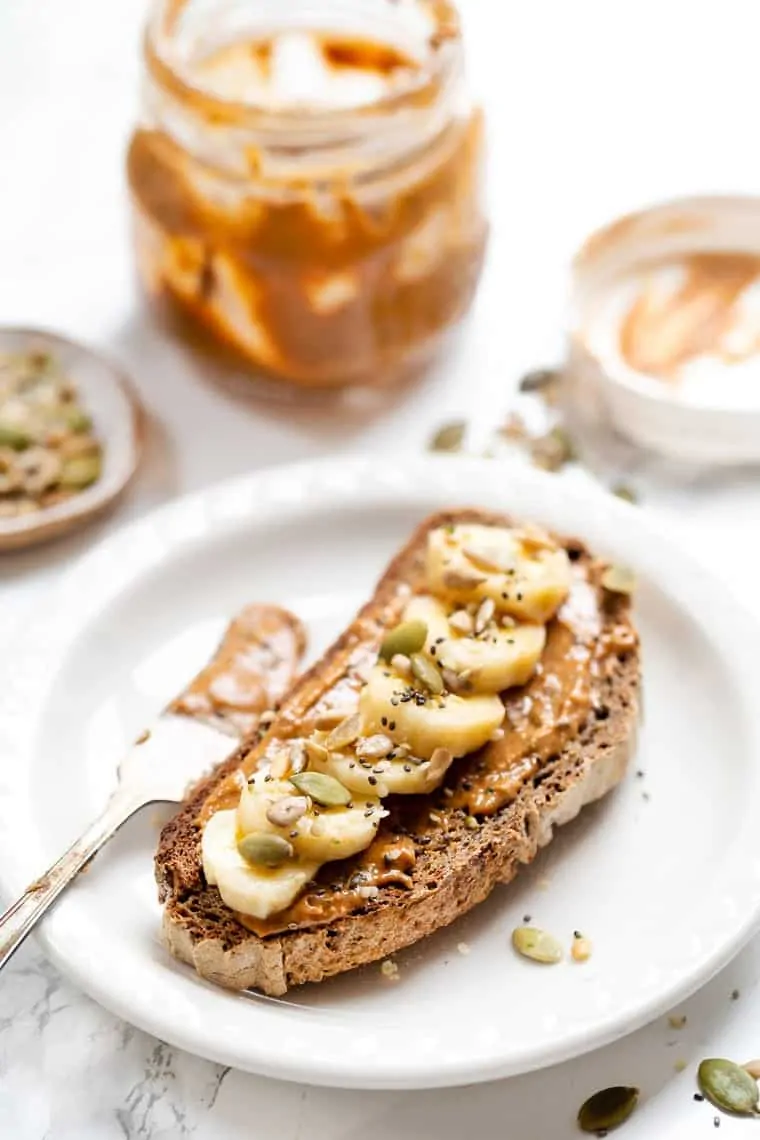 Will You Try Making Peanut Butter At Home?
We sure hope so! This recipe is so easy and you're going to absolutely love the texture.
If you've never made nut butter at home before, you're in for a treat! It has such an awesome texture and it really allows you to have a little more fun than just the store bought jars offer. Plus, you'll probably save a little money while you're at it!
Make sure to share a photo with us if you end up making this recipe – tag @simplyquinoa on Instagram. We love seeing your creations!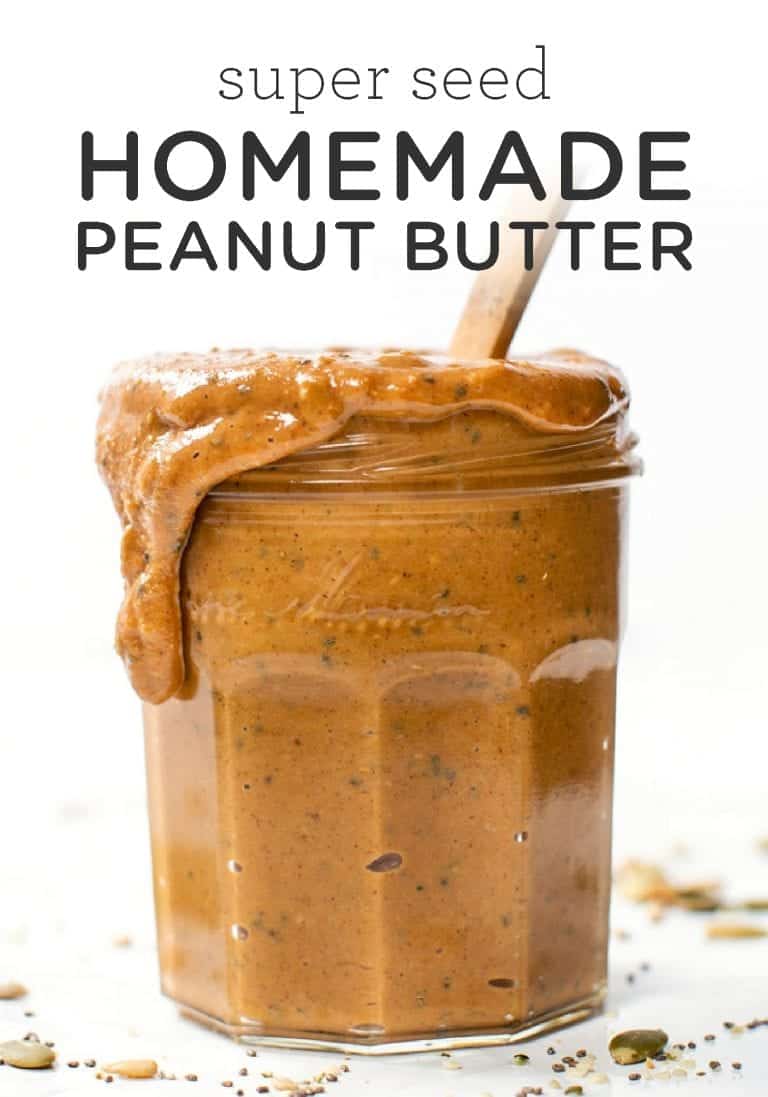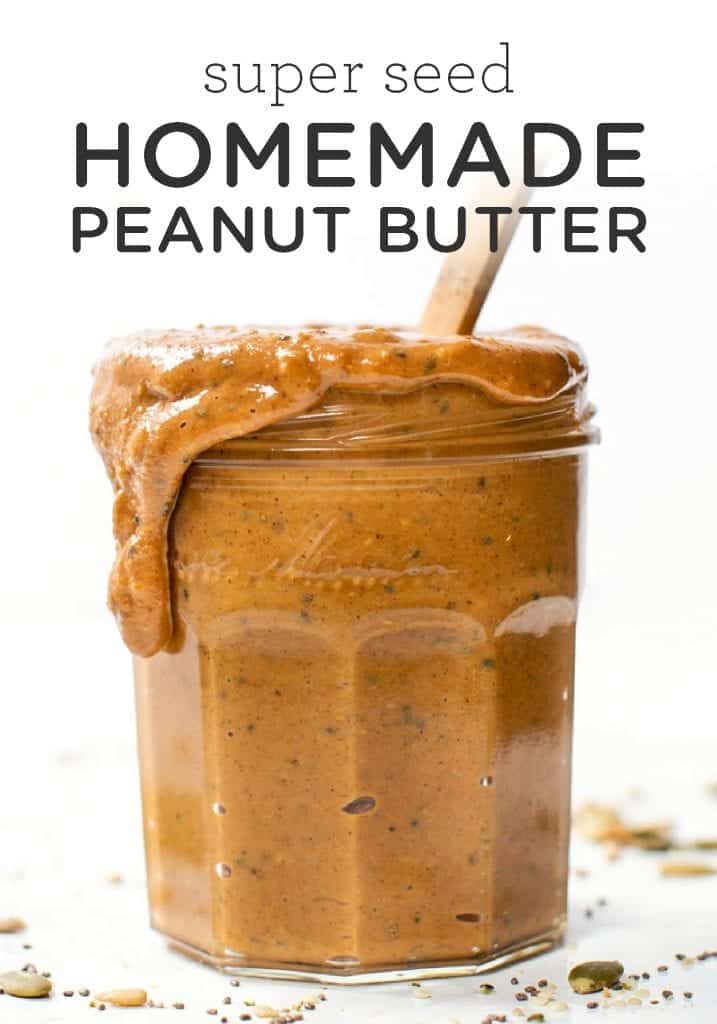 More Homemade Nut Butter Recipes to Try:
Super Seed Homemade Peanut Butter
This might just be the best homemade peanut butter ever! It's filled with protein, has an awesome crunchy texture and a subtle hint of cinnamon.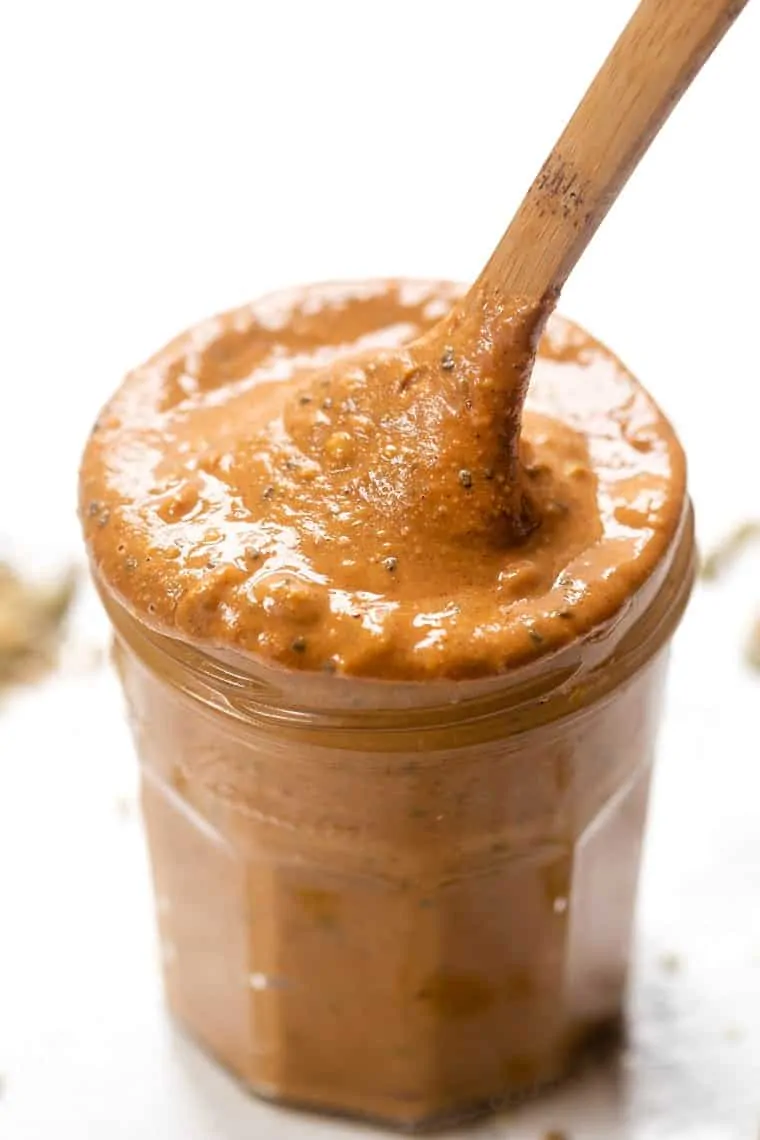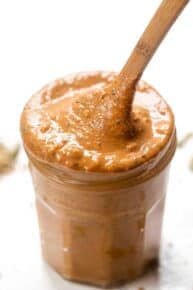 Instructions
Add the peanuts to a food processor and process on high until smooth and creamy. You might have to scrape the sides down as you go to help the nuts continue to blend.

Add the cinnamon and blend again until smooth.

Add all the seeds into the food processor and pulse 5 - 10 times until incorporated.

Transfer to a glass container and store in a cool dark place.
Nutrition
Serving:
2
tablespoons
|
Calories:
131
kcal
|
Carbohydrates:
4
g
|
Protein:
5
g
|
Fat:
11
g
|
Saturated Fat:
1
g
|
Sodium:
127
mg
|
Potassium:
139
mg
|
Fiber:
2
g
|
Vitamin A:
5
IU
|
Calcium:
20
mg
|
Iron:
0.8
mg
Filed Under: