This superfood Vegan Nutella recipe combines hazelnuts with amazing superfoods to get a healthy, delicious and decadent twist on this classic junk food!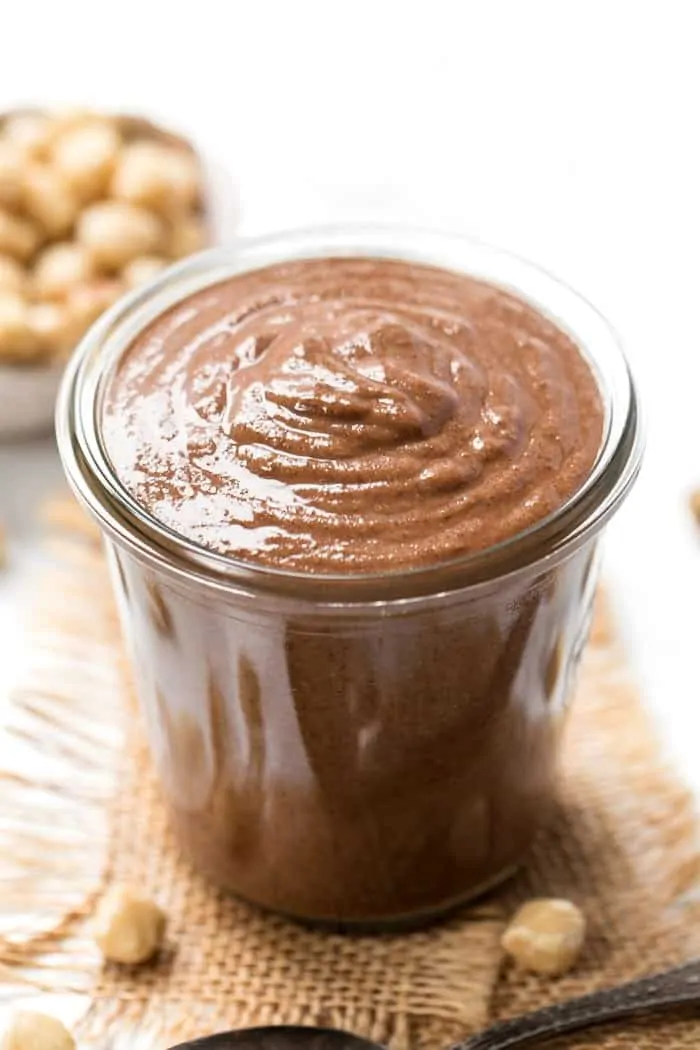 Chocolate + hazelnuts are a match made in heaven! Especially when they're blended together into this dreamy spread that is now known as Nutella ????????
But classic Nutella? Not plant-based and definitely not healthy.
So today we're making it from scratch! We're stripping out the junk, and adding in some of my favorite superfoods, to create this epic Superfood Vegan Nutella.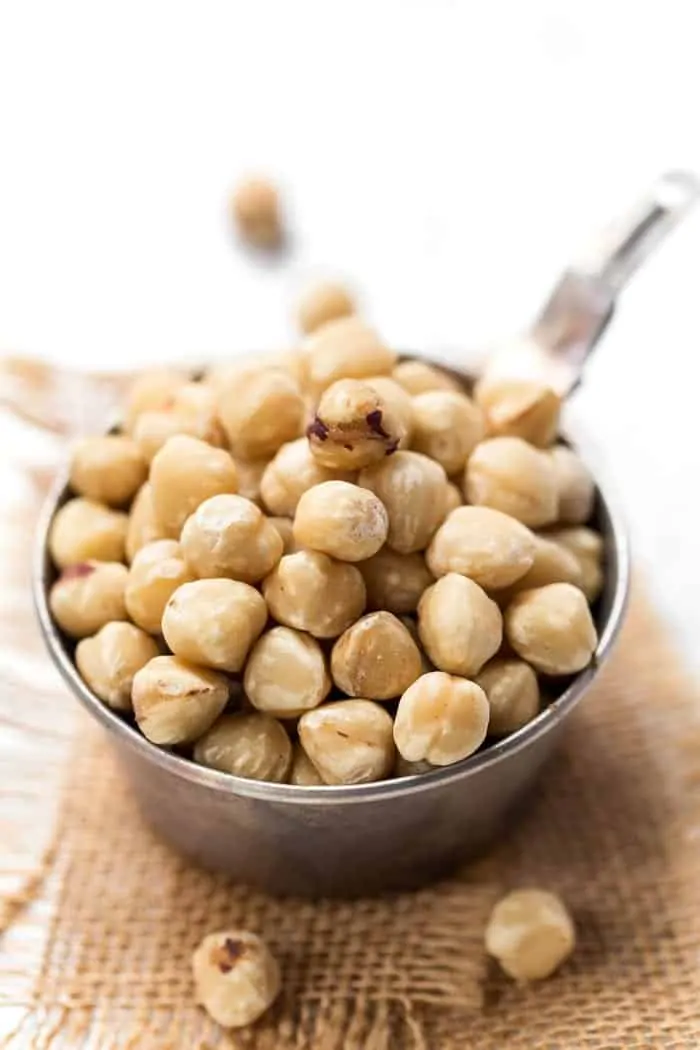 When I was in high school, I did a foreign exchange program in a small city outside of Venice, Italy. I stayed with an Italian family for about 10 days, and every single morning we were served Nutella with our breakfast spread.
Back then (almost 12 years ago now), this was something new. Not only the fact that breakfast was an assortment of cereals, toasts, pastries, etc., but Nutella.
I was the kid growing up who had to check the label on cereal boxes because we weren't allowed to have anything with more than 10g of sugar in our house (which I know seriously thank my parents for). So chocolate for breakfast? I was ALL in.
But now that I'm more conscious and aware of the food I put into my body, I realize that chocolatey spread of my dreams is actually not so great. Packed with sugar, palm oil, milk powder and chemicals that are just so not needed!
Luckily, making Nutella at home is crazy simple.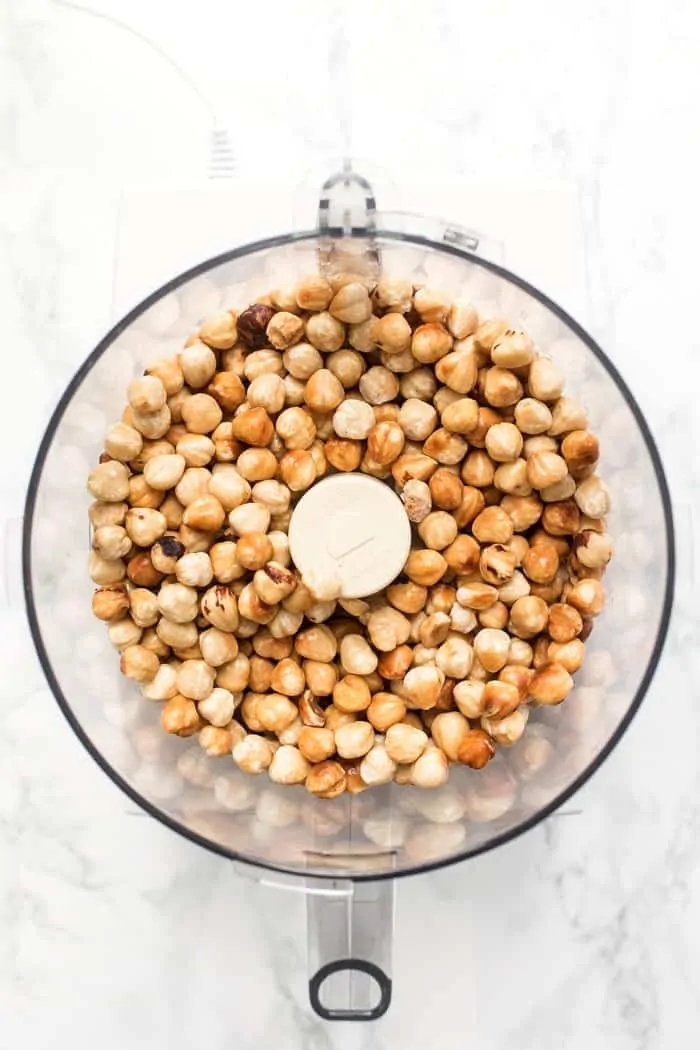 I've given you a 2-ingredient Nutella recipe before, but today we're changing things up and we're making this recipe free from refined sugar, and also sprinkling in some superfoods to make it that much better for you!
Our starting point is blanched hazelnuts. I like to toast mine before processing them in the food processor because I've found that giving them a little heat not only makes the blending process easier, but it also give the nutella a really nice flavor.
Just remember, making homemade nut butters takes TIME. And lots of it. Be patient, this could take upwards of 15 minutes to get smooth.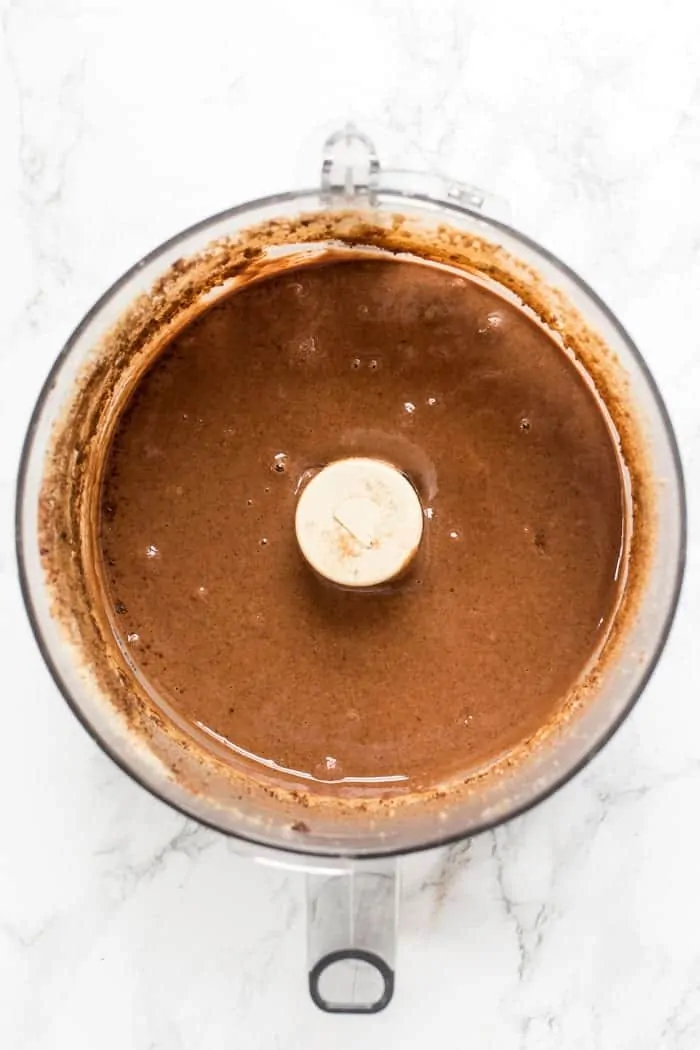 But once you do have it nice and smooth, then it's time to add your goodies.
Our secrets for our superfood Nutella? Raw cacao, MCT oil and medicinal mushrooms!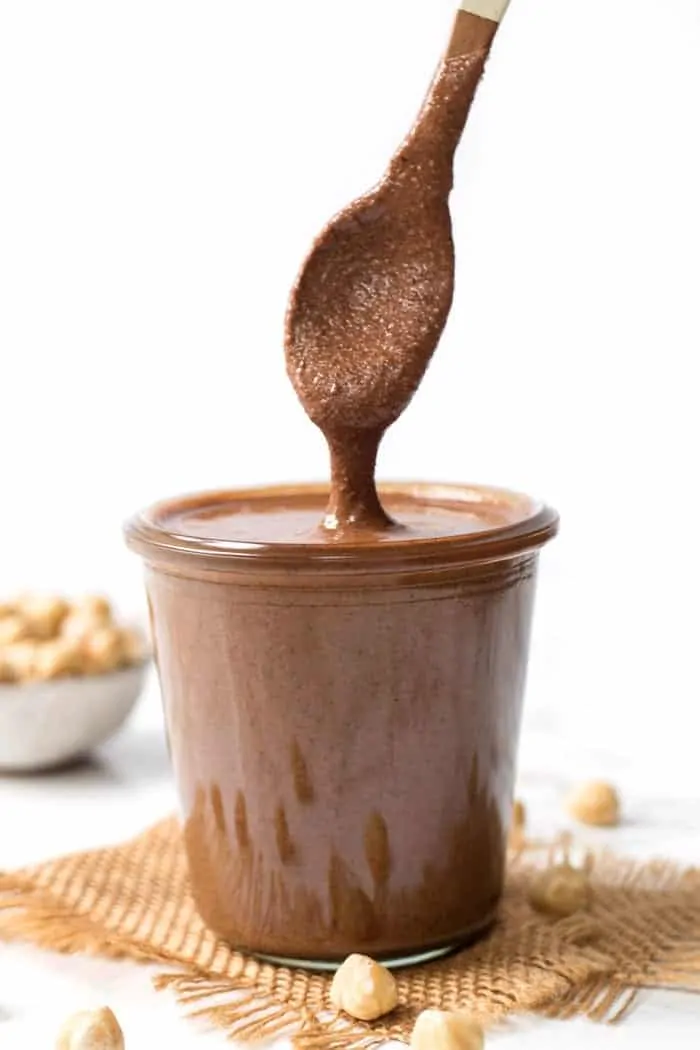 Now before you click the back button because mushrooms don't belong in your nut butter, bear with me. I promise these little powders are incredible and totally untraceable to the palette. You'll get all the amazing benefits without even knowing they're there!
Here's what we're using to make our Vegan Nutella superfood-rich!
Raw Cacao. Incredibly high in antioxidants, it's a great little energy booster (hello, morning blues!), it strengthens skin, hair and nails, and it can help to improve cognitive function.
MCT Oil. A medium-chain triglyceride oil that has been shown to be much easier to digest. When consumed, it goes directly to the liver and brain instead of being stored as fat which means it can boost our metabolism and actually reduce stored body fat. MCT oil is also great for gut health, have antioxidants AND are anti-inflammatory.
Reishi. This is known as the "queen" of mushrooms and is a powerful immune modulator, cardiotonic, hormone balancer, and nervine tonic. It's amazing for harmonizing the mind and body, and has been used for thousands of years to help prevent aging, reduce inflammation, help with digestive issues, relieve anxiety and insomnia.
Chaga. This is known as the "king" of mushrooms and just like reishi has a very broad range of uses. Chaga is one of the highest known sources of antioxidants but is also rich in phytonutrients, zinc, b-vitamins and digestive enzymes. Chaga can also reduce inflammation, cleanse the liver, aid in digestion, and regulate the immune system.
And yes, we're adding ALL these bad boys into our vegan Nutella (along with some coconut sugar to sweeten it up a bit).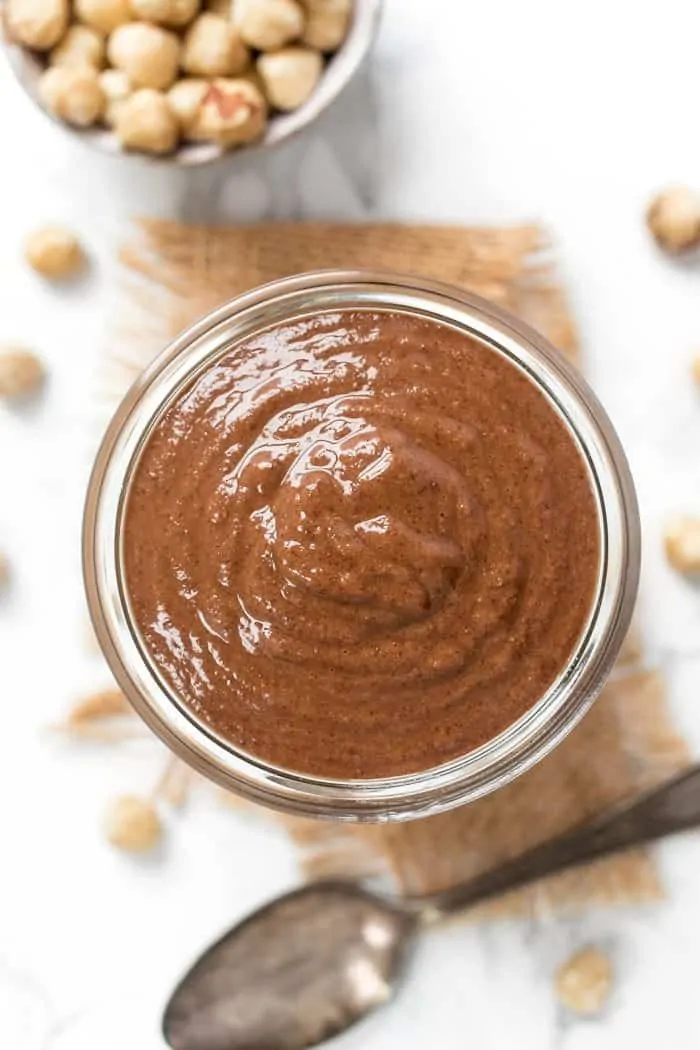 Now you might be wondering…"how the heck can I use this vegan nutella?!"
For starters, think of this as any other nut butter just with a hint of chocolate. Wherever you might use almond butter, peanut butter or cashew butter, this Nutella would be perfect.
You can also think of it as a chocolate sauce. Since it's nice and drippy, you can drizzle it on all sorts of things!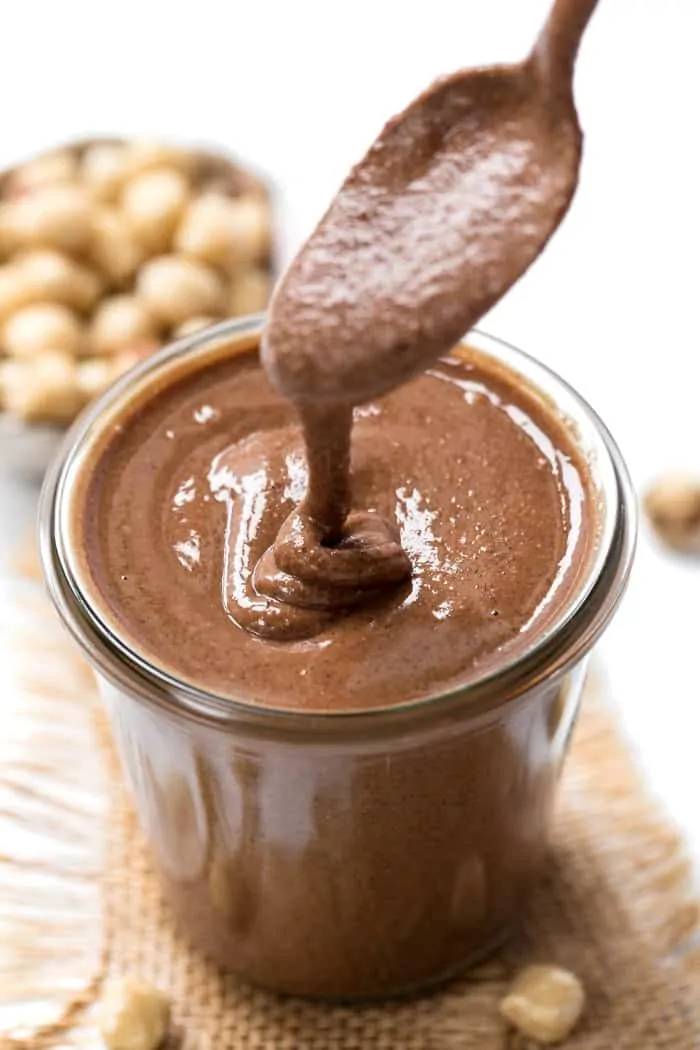 But in all honesty, there really are about a million and one ways to use it, so let me narrow it down a bit and share some of my absolute favorites:
No matter which way you try this Superfood Vegan Nutella, I know you are going to fall in ♡ with it!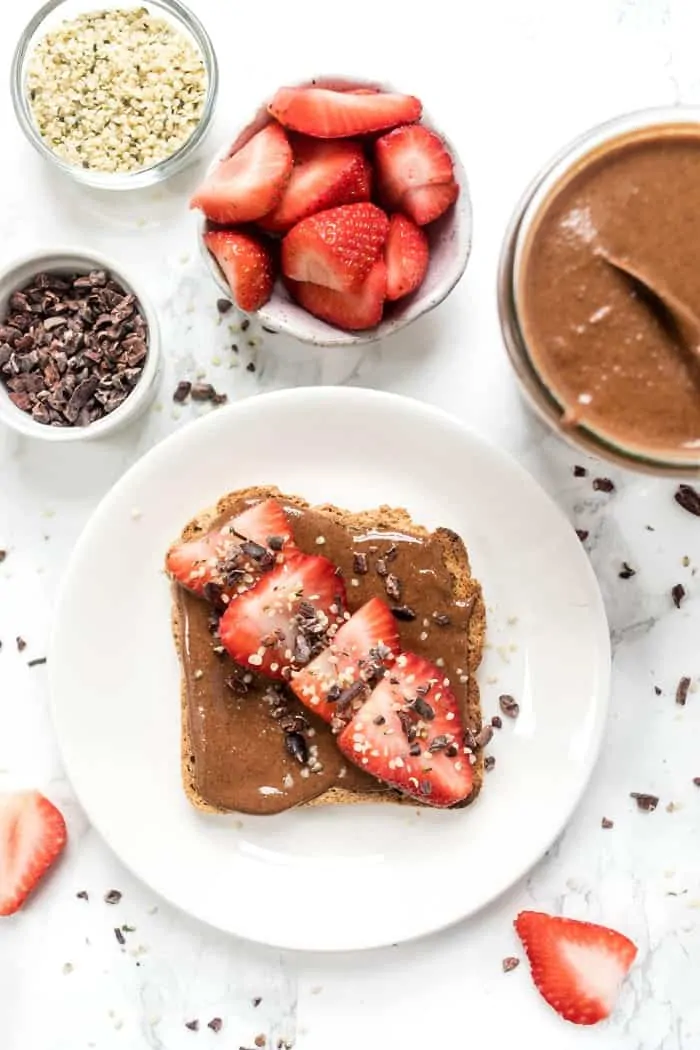 More Homemade Nut Butter Recipes:
Superfood Vegan Nutella
This superfood Vegan Nutella recipe combines hazelnuts with amazing superfoods to get a healthy, delicious and decadent twist on this classic junk food!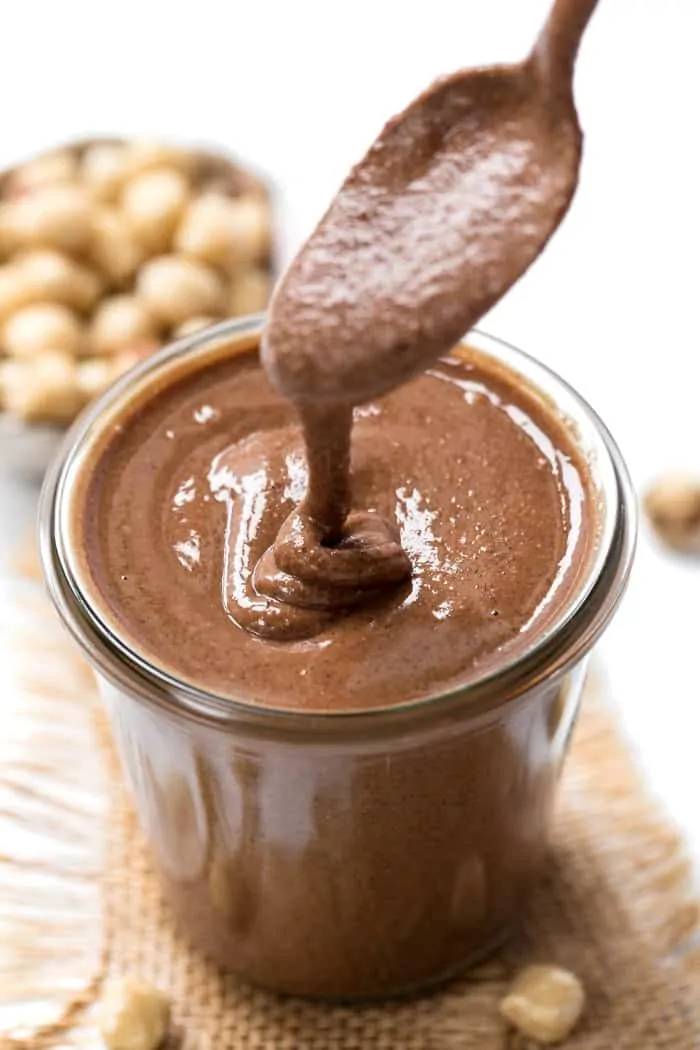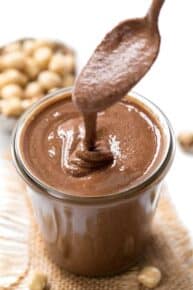 Instructions
Add the hazelnuts to a toaster oven baking sheet. Toast for 5 minutes, until nuts are golden brown. No toaster oven? Roast at 375º for 10 minutes, stirring every 3 minutes.

Once browned, transfer the hazelnuts into a food processor. Process on high until the nuts resemble and smooth butter, scraping down the sides as needed. This process can take a while, so be patient!

Once smooth, add the remaining ingredients into the food processor and blend to combine. Taste and add additional sweetener if desired.

Transfer the nutella into a glass container and allow to cool fully before sealing and storing in a cool dark place.
Notes
* if you want to try these mushroom powders, head over to www.rootandbones.com and use code "simplyquinoa" for 15% off!
Nutritional value based on 1 jar
Nutrition
Serving:
2
tablespoons
|
Calories:
168
kcal
|
Carbohydrates:
9
g
|
Protein:
4
g
|
Fat:
15
g
|
Saturated Fat:
1
g
|
Sodium:
11
mg
|
Potassium:
163
mg
|
Fiber:
2
g
|
Sugar:
5
g
|
Vitamin A:
5
IU
|
Vitamin C:
1
mg
|
Calcium:
26
mg
|
Iron:
1
mg
Filed Under: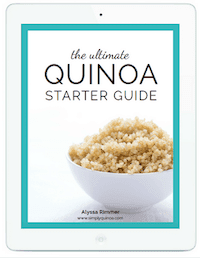 New to cooking quinoa? Grab your FREE Quinoa Starter Guide!
Become part of the Simply Quinoa community and receive weekly emails with exclusive content that I only share in email, as well as my in-depth guide to starting your quinoa journey.