Make a quick, healthy vegan broccoli tofu stir fry recipe with quinoa and a simple, flavorful spicy soy sauce for a naturally gluten-free weeknight dinner.
Lately we've been all about the quick dinners! Even though we're working from home, I still lose motivation with cooking. So I've been finding myself reaching for quick and easy meals like 30-minute tofu pad thai or a quick quinoa fried rice. Speedy and healthy is the name of the game for us!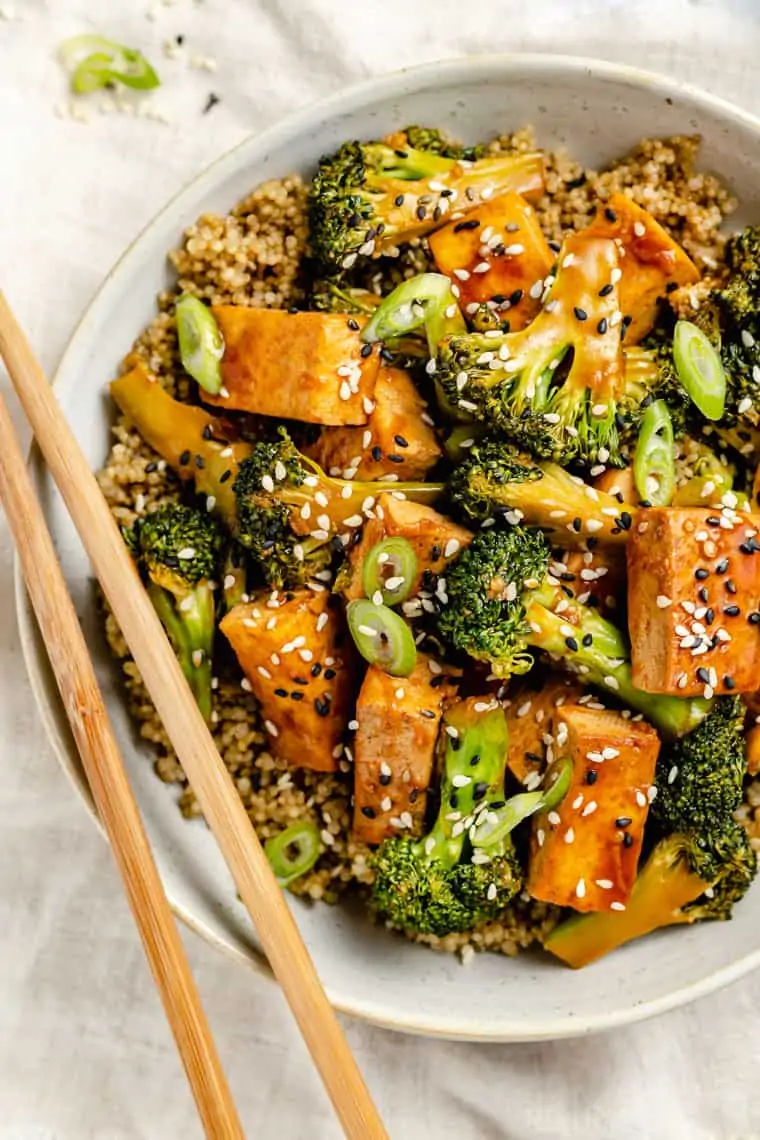 And today I've got another easy peasy dinner idea for you!
If you have a broccoli hater in your family, a stir-fry is totally the place to put it. Why? Because broccoli florets, with all their nooks and crannies, are the perfect vessel for sauce. Lots and lots of sauce.
I loved the sauce-soaked broccoli so much in fact, that I would save them for the very end of my meal. And that's what has inspired this fabulous broccoli tofu stir fry. A remake of one that I loved growing up, and still every bit as memorable!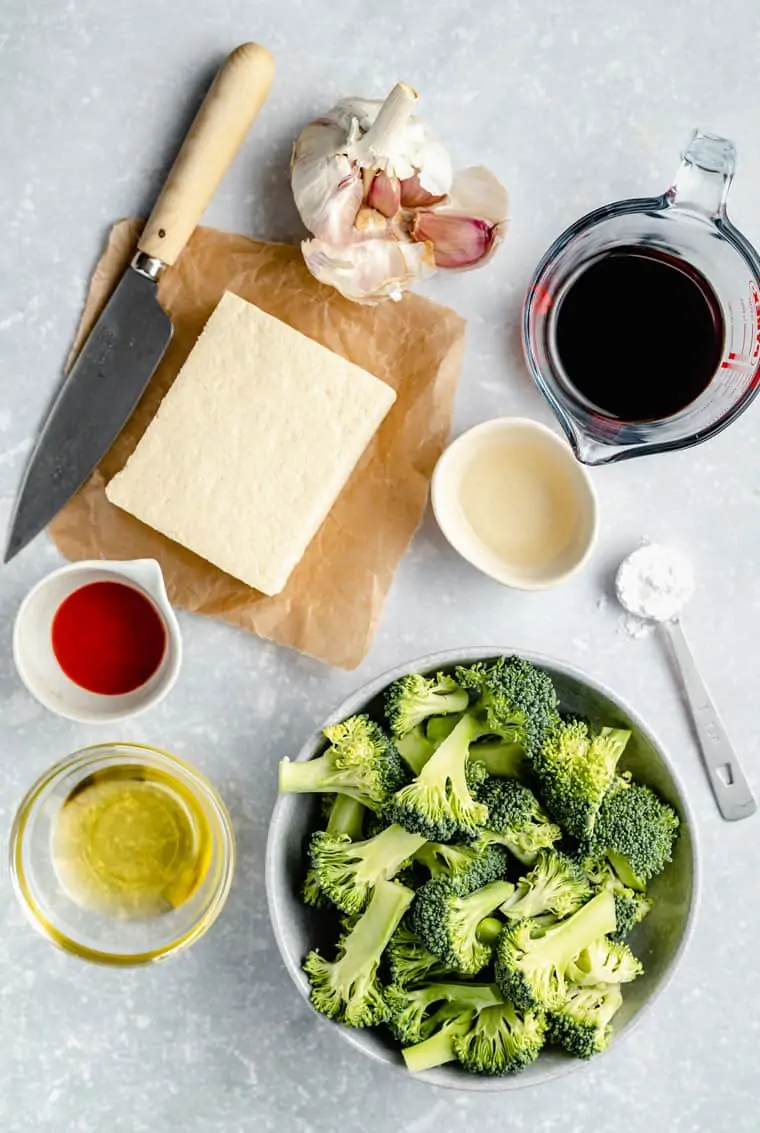 What You Need to Make Broccoli Tofu Stir Fry
I'm all about speediness when it comes to dinner, which is why we've kept things simple and straightforward. This quinoa tofu stir fry will take no more than 15 minutes and uses just a few simple ingredients:
Tofu: first up is our tofu. We'll talk more about this in the next section, but make sure to buy extra or super firm tofu.
Broccoli: we've got a total of 4 cups of florets, but this can substituted with other veggies if you'd like!
Soy sauce: the base of our "teriyaki" sauce – it's salty and delicious! Make sure to buy wheat-free if you're trying to make this gluten-free.
Vineagar: I always use rice vinegar and really like how the acid from the vinegar amps up the flavor of the dish.
Hot sauce: I'm a spice fan, so a little sriracha hot sauce is just what this recipe needs, but if you want to skip the sauce, that's totally fine too!
Garlic: wouldn't be a recipe for me without garlic! I also sometimes add some grated ginger to the mix as well.
Arrowroot powder: to give the sauce the right "teriyaki" feel where it's a little sticky, the arrowroot powder will help to create that consistency. You can also use cornstarch or tapioca starch!
Quinoa: and finally, I love serving this with quinoa. It's simple, adds more protein and is quick to make. If you'd rather use rice or another grain, go right ahead!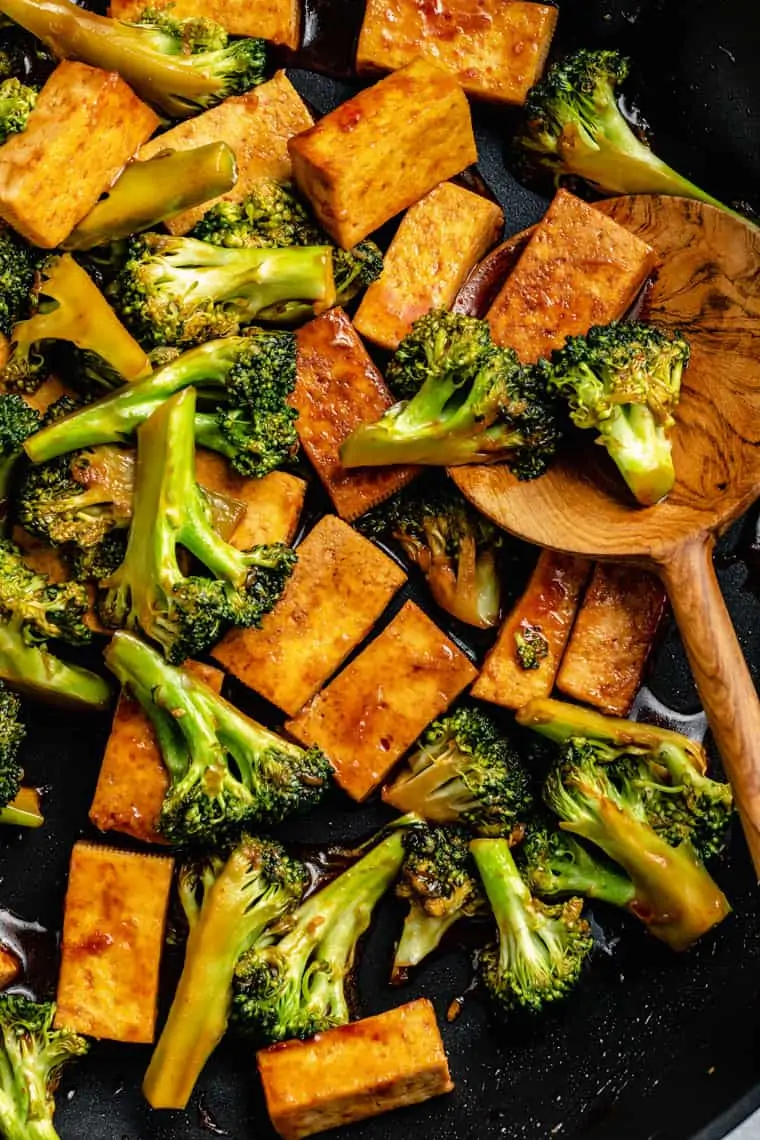 Which Tofu for Stir Fry
There are only two types of tofu I recommend for stir fry:
Extra firm: this will require extra pressing to remove more of the liquid. If you skip the pressing part, you'll likely end up with tofu that's crumbly and breaks apart.
Super firm: for the super firm tofu I find here in the US, I don't need to press it. Most of the water has been removed already and it stays nice and in tact like you see in the photos.
I would NOT recommend using silken tofu or medium firm tofu. You could get away with firm, but you'd want to press it for even longer.
How to Prepare Tofu For Stir Fry
Preparing tofu for stir fry is easy! As mentioned above, if you're using any tofu aside from super firm, you'll need to press it first. If you have a tofu press, great! But if you don't, it's easy to do at home.
Here's how to press tofu:
line a plate with a paper towel
place the tofu on top of the plate
lay another layer of paper towel on top of the tofu
place a cutting board or plate on top of the tofu (so it's basically sandwiched between two flat surfaces)
place something heavy on top of the additional plate/cutting board (like a tea kettle, cast iron pan, a few cookbooks, etc.)
allow the tofu to sit for at least 30 minutes
once pressed, drain off any liquid and cut your tofu into squares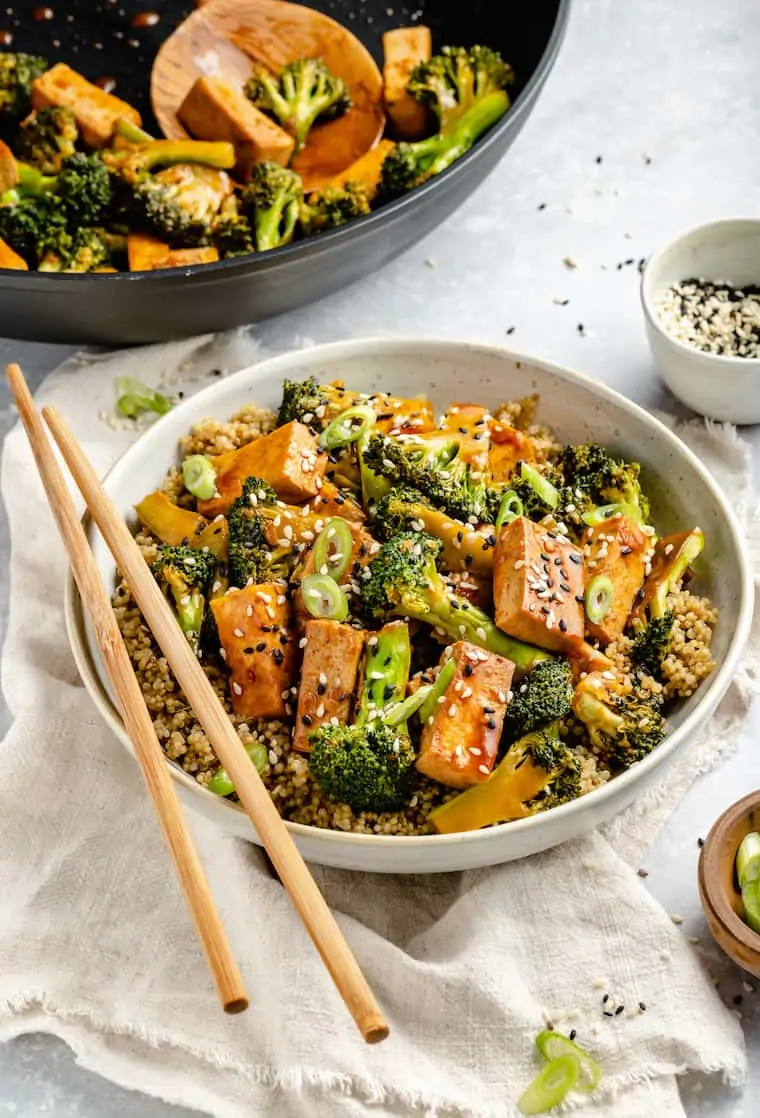 How to Make Broccoli and Tofu Stir Fry
If you don't need to press, this tofu and broccoli stir fry couldn't be easier to make!
I like to first sautee my broccoli and garlic with a little oil. Once fragrant, I'll add the tofu and cook it for a few more minutes. Then I'll mix the sauce together and pour the sauce over the stir fry. Allow the sauce to cook and thicken a bit and once everything is coated in that beautiful teriyaki sauce, you'll serve it up!
I serve my broccoli tofu stir fry with:
cooked quinoa (or white rice)
sliced scallions
sesame seeds
dash of lime and hot sauce
It's honestly the quickest weeknight meal and it's so yum! We make this at least once per week and I adore having the leftovers for lunch the next day. Easy to scale up as well if you're feeding a larger family/want more leftovers!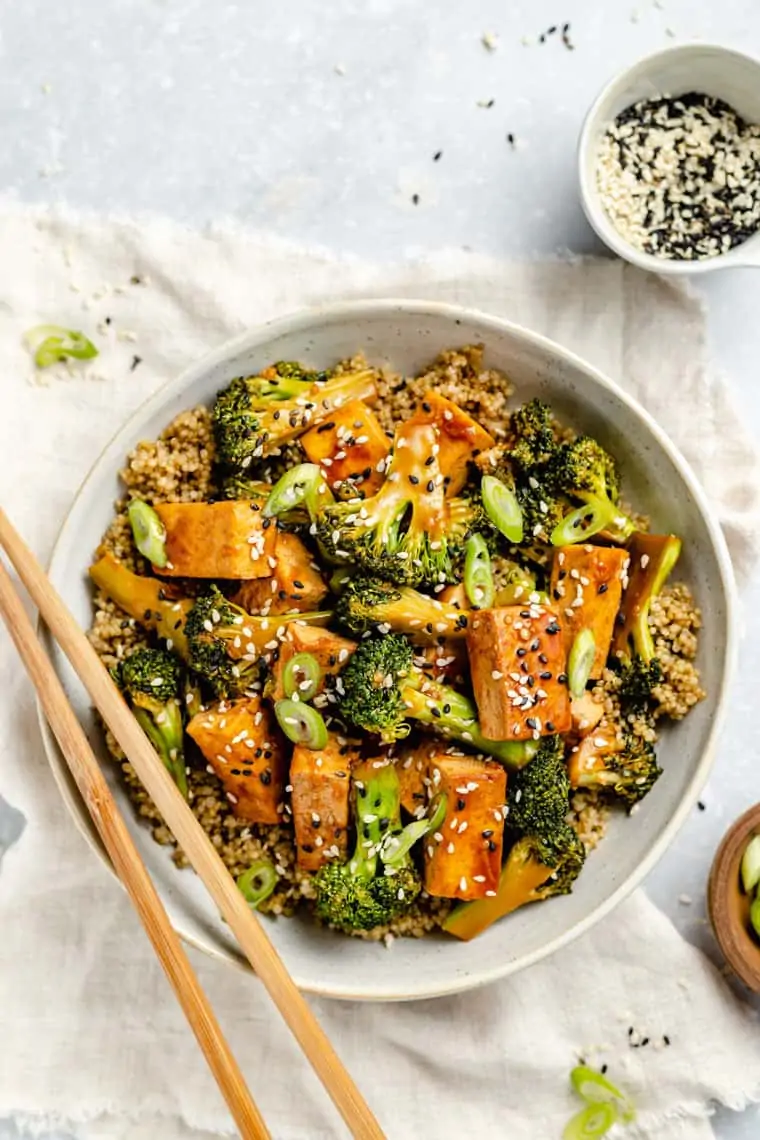 More Delicious Ways to Use Broccoli
Broccoli Tofu Stir Fry with Quinoa
This Broccoli Tofu Stir Fry is a quick, easy and healthy meal that tastes delicious. This quinoa stir fry is vegan, gluten-free, protein packed and takes just 15 MINUTES to make! An easy homemade recipe that is a great dinner idea and perfect for meal prep!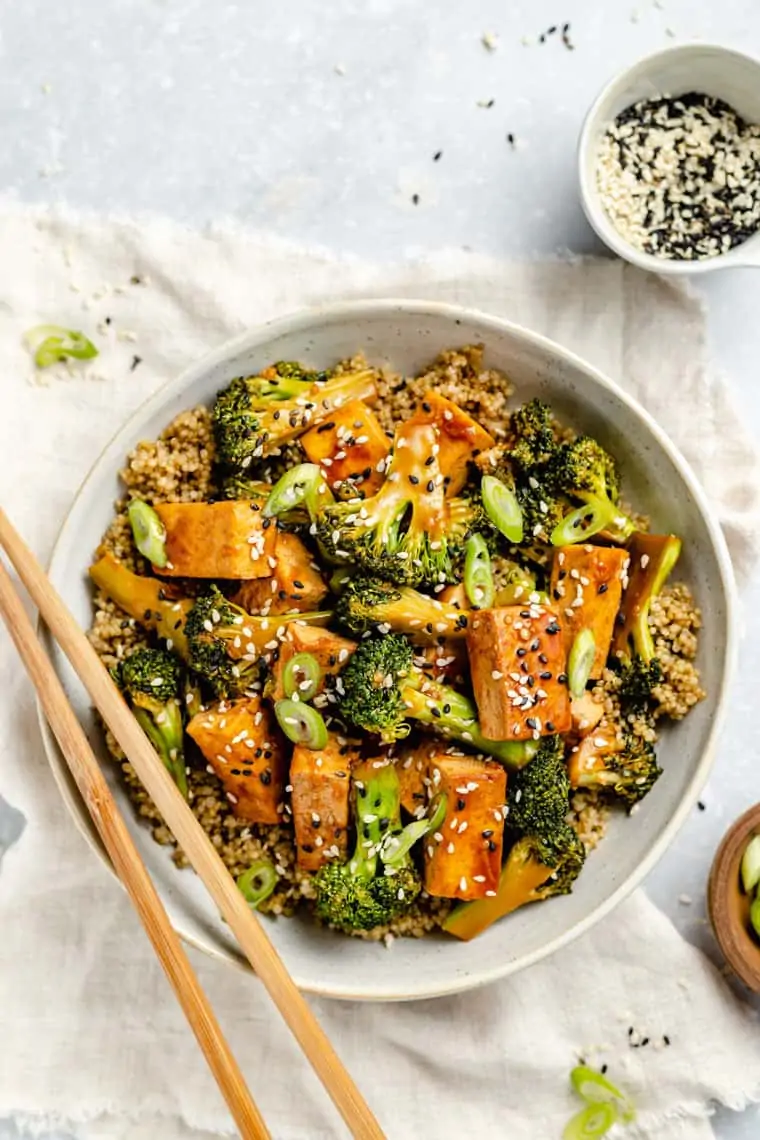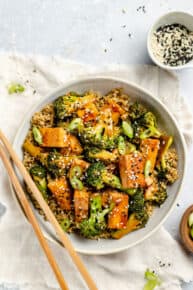 Instructions
* if your tofu is still pretty soft/watery, you'll want to press it. To press it, simply place it on a paper towel-lined plate, top with another paper towel, and place something heavy (like a few cookbooks or a tea kettle/cast iron pan) on top of it. Allow the tofu to sit for at least 30 minutes. Once pressed, drain the water and cut the tofu into cubes.

Heat a skillet over medium heat. Once hot, add 1 tablespoon of oil, along with the broccoli and tofu. Add a splash of water + 1 tablespoon of soy sauce. Cover and let cook until hot, about 5 minutes. Stir again to combine.

In a separate bowl, combine the remaining ingredients. Whisk everything together until smooth. Pour the sauce of the tofu and broccoli and cook another 1 - 2 minutes until everything is coated and then serve immediate over quinoa or rice!
Notes
If you have the time, I recommend pressing the tofu. This will help it get more crispy when baked. To press the tofu, place a few paper towels on a large plate, place tofu block on top of towel and cover with a few more paper towels. Place something heavy (I use cookbooks or my tea kettle with water in it) on top of the tofu and let sit for 30 minutes. Then follow recipe as written.
Nutrition
Serving:
0.25
of the recipe
|
Calories:
273
kcal
|
Carbohydrates:
30
g
|
Protein:
15
g
|
Fat:
11
g
|
Saturated Fat:
2
g
|
Sodium:
716
mg
|
Potassium:
628
mg
|
Fiber:
5
g
|
Sugar:
4
g
|
Vitamin A:
567
IU
|
Vitamin C:
84
mg
|
Calcium:
92
mg
|
Iron:
4
mg
Filed Under: