This is the creamiest vegan mushroom risotto with white wine, arborio rice, almond milk and nutritional yeast for a healthy and hearty dairy-free side dish or entree.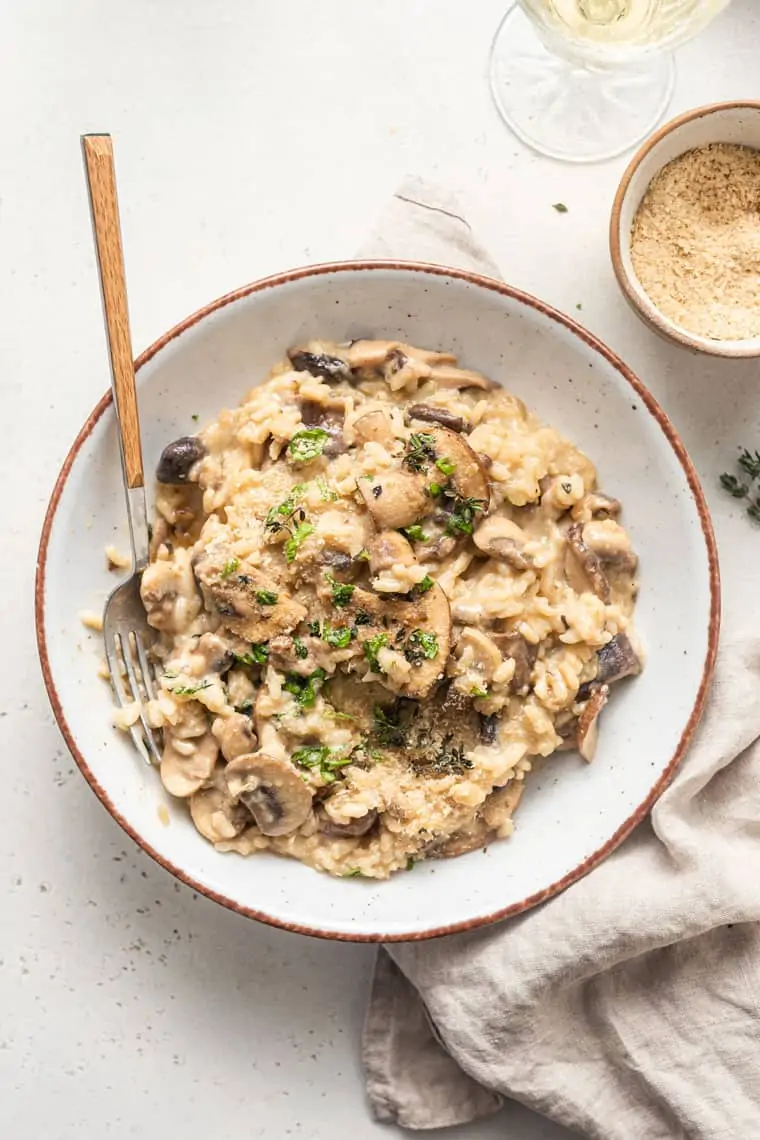 When the weather is freezing out. Or even just. a bit chilly, I love a warm and comforting bowl of creamy risotto. And while most traditional risotto recipes are packed with dairy from butter cheese and cream, it's easier and more delicious than you might think to make a healthier version that's totally dairy-free.
This mushroom risotto gets its unique umami flavor from mixed sauteed mushrooms, nutritional yeast, and white wine. The result is an incredibly creamy and soft side dish or entree to eat all year long.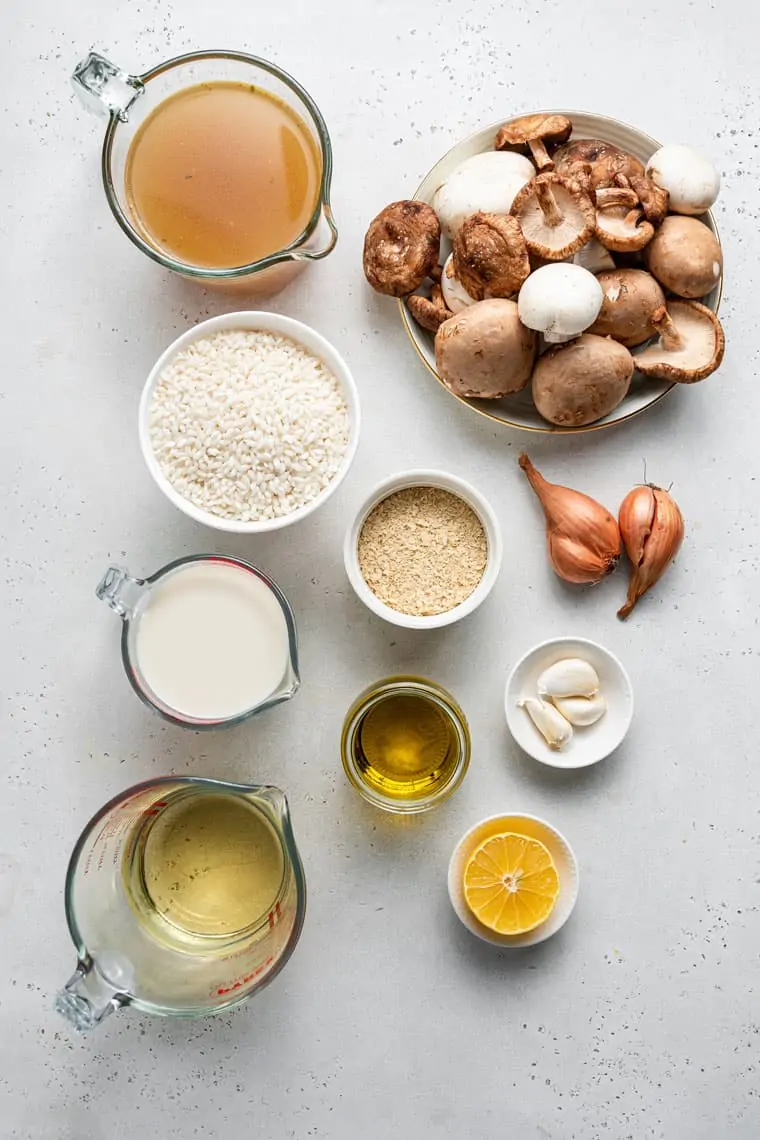 Ingredients for Vegan Risotto
The ingredients for this dairy-free recipe are standard for creamy risotto, with some special dairy-free additions so you don't need butter, cream, or cheese.
Vegetable broth. Use homemade or store-bought broth. If you're using store-bought and don't want to open a  second container for one more cup, feel free to use a cup of water.
Olive oil. To replace butter in traditional risotto!
Mushrooms. You can use any kind of mushroom you like. Try a mix for added flavor and texture.
Shallots and garlic for a nice savory flavor base.
Arborio rice. This is the best kind of rice to make risotto. You can usually find it in well-stocked grocery stores
White wine. Choose something dry and tasty. It doesn't have to be cooking wine, just something you like! That's not too expensive 🙂
Almond milk. Make sure it's unsweetened! You can use any kind of non-dairy milk, but oat or soy are naturally sweet, so I'd stick to something nut-based
Nutritional yeast. To give your risotto rich cheesy flavor with no dairy.
Lemon. This brightens up the risotto right at the end.
Fresh herbs. Try thyme, oregano, tarragon, rosemary, or basil.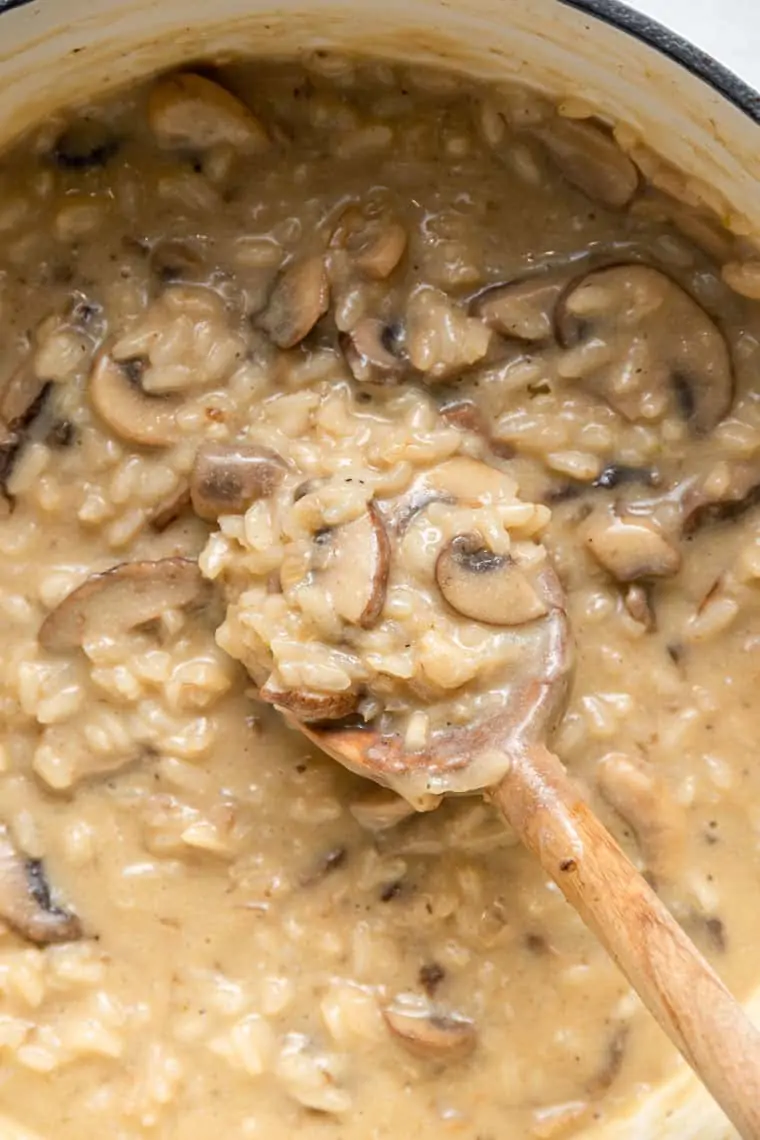 Tips to Make the Best Risotto
Here are some helpful tips to keep in mind when making this vegan mushroom risotto:
Toasting the rice grains in a bit of olive oil helps add a depth of flavor to your dish and a bit of nuttiness.
Adding wine before broth helps hydrate the rice starch granules so they're ultra-flavorful and ready to soften up.
Add the broth slowly and make sure it's fully absorbed by the rice grains before you add another ladle full.
The broth should be kept warm (not boiling) on the stove as you add it. Otherwise, every time you add broth you'll decrease the temperature of your pot significantly. This will take much longer to cook.
The risotto is done when the grains are totally soft and creamy.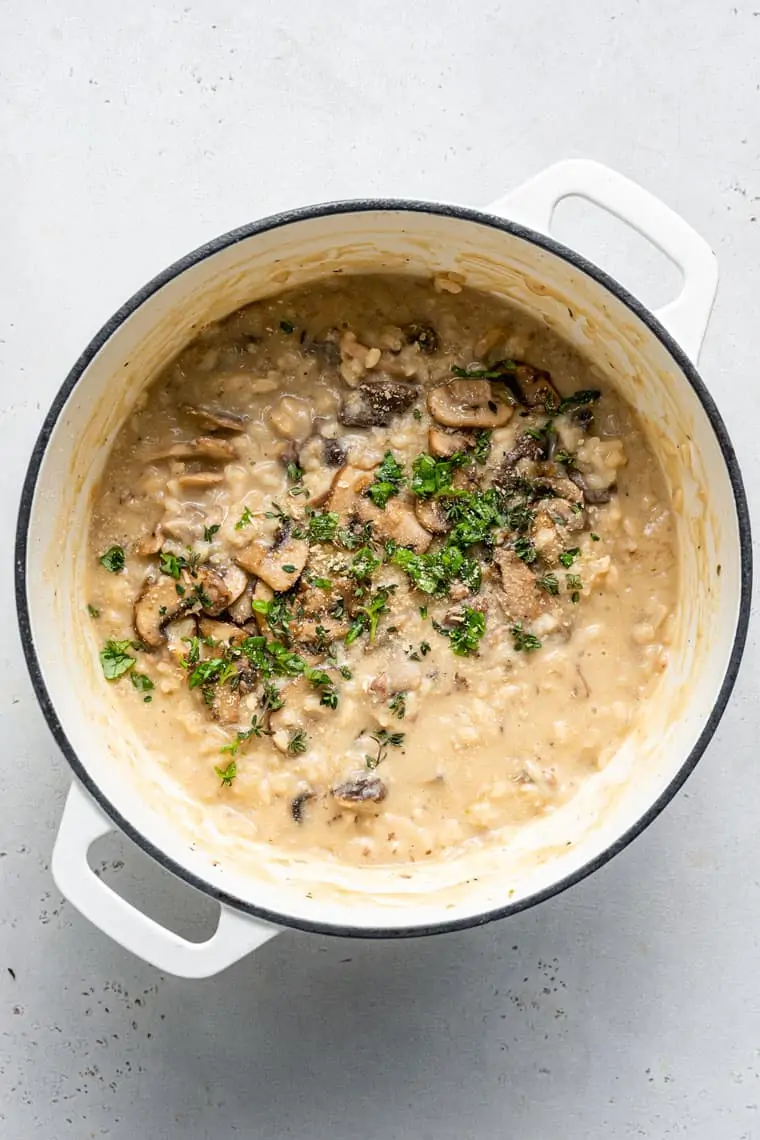 What to Serve with Mushroom Risotto
This creamy risotto can easily be a meal all on its own. It's hearty, comforting and so satisfying on a chilly night. If you want to add some protein, serve your risotto with Citrus & Fennel Roasted Salmon or Herb Crusted Baked Tofu.
To round out your meal with something green, try a Pear and Arugula Salad or the Ultimate Vegan Caesar Salad.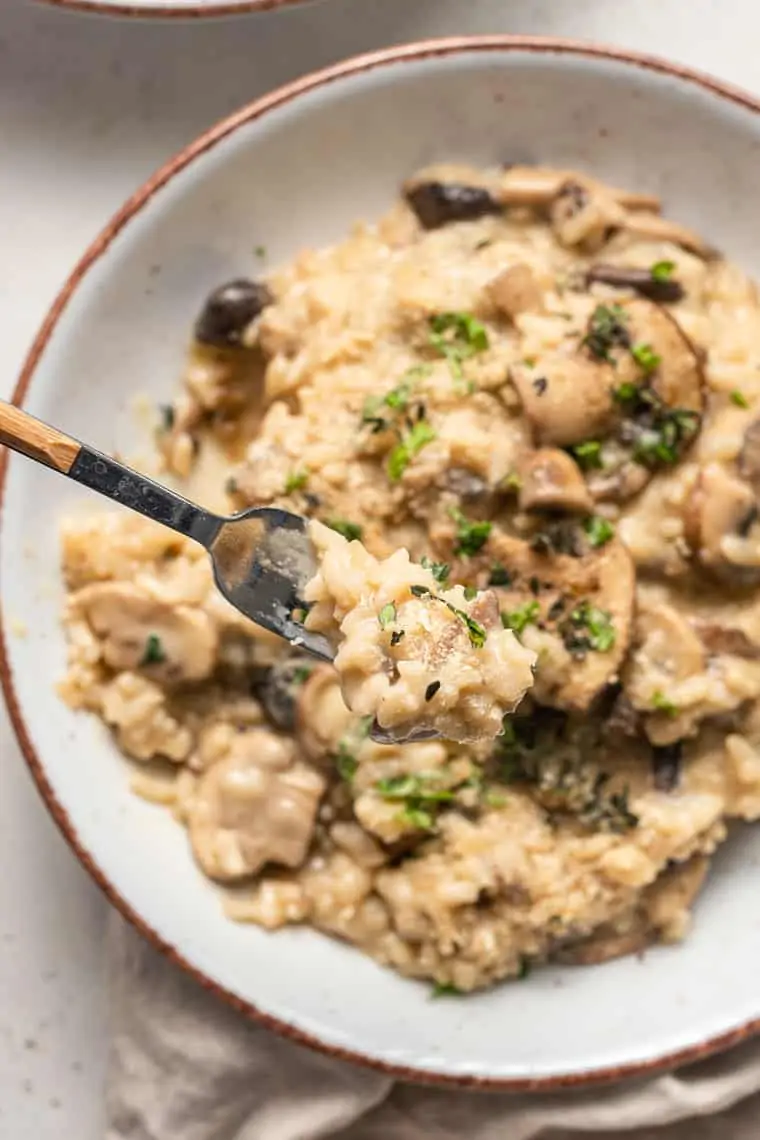 More Vegan Rice Dishes
If you make this Vegan Mushroom Risotto recipe, be sure to let me know what you think with a comment below!
Vegan Mushroom Risotto with White Wine
This creamy vegan mushroom risotto is made with dried and fresh mushrooms, white wine, and arborio rice for a healthy and hearty dairy-free side dish.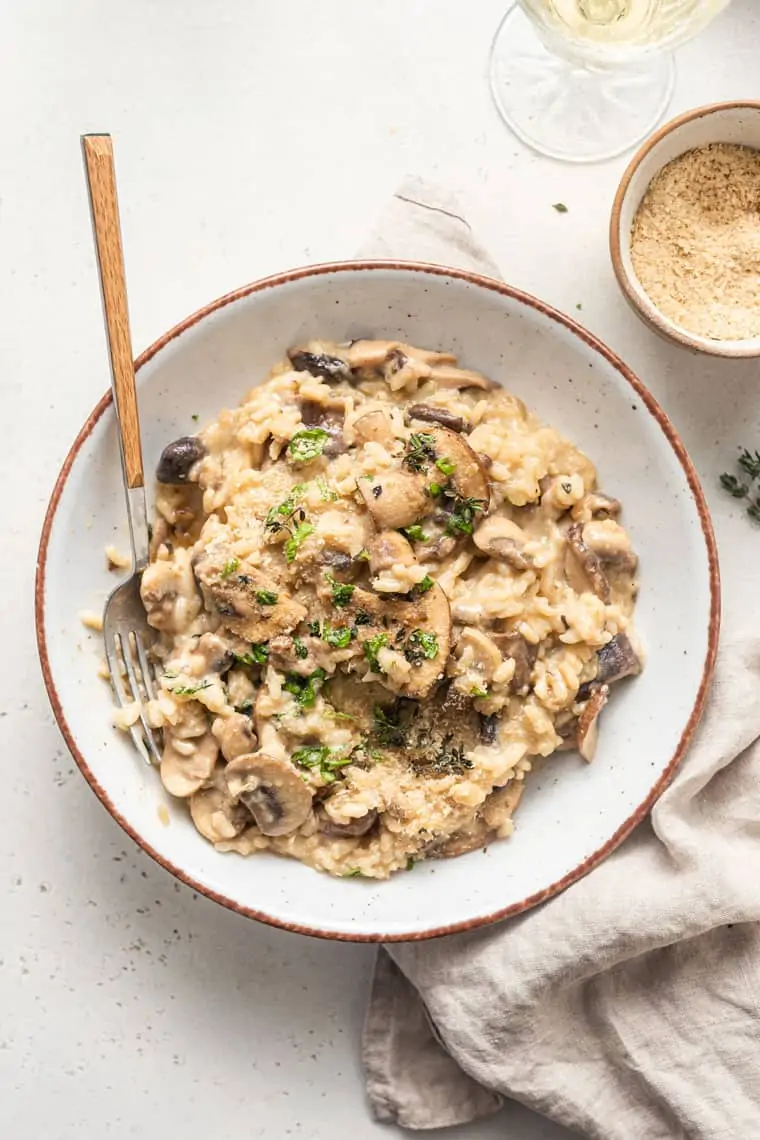 Ingredients
5

cups

vegetable broth

(or 4 cups + 1 cup water)

6

tablespoons

olive oil

, divided

1

lb

mushrooms

, diced

2

shallots

, diced

2 - 3

garlic cloves

, minced

1 1/2

cups

arborio rice

1

cup

dry white wine

1

cup

unsweetened almond milk

1/3

cup

nutritional yeast

Juice of 1/2 a lemon

Fresh herbs to serve
Instructions
Add the vegetable broth into a small saucepan. Heat over low heat and leave to sit for the entire recipe.

Heat 3 tablespoons of oil in a separate stockpot. Saute the mushrooms, shallots and garlic until the mushrooms have softened. Season with salt and pepper.

Remove the mushrooms and place pot back on the stove.

Heat the remaining olive oil and add the rice. Toast for about 3 - 4 minutes until the rice has started to turn golden brown.

Add the wine and bring to a simmer. Stir every few seconds until most of the wine has been absorbed.

Add the warm broth, 1 cup at a time, stirring consistently between each addition. Allow the mixture to simmer and only add additional broth once the liquid has mostly been absorbed.

Continue adding broth in 1 cup increments and stirring consistently, until all the broth has been used.

Once the rice is almost done and creamy, add the almond milk, nutritional yeast and mushrooms back in. Stir for another 5(ish) minutes until the almond milk has been mostly absorbed and you're left with a super creamy risotto.

Stir in the lemon and serve!
Nutrition
Serving:
1
cup
|
Calories:
387
kcal
|
Carbohydrates:
49
g
|
Protein:
7
g
|
Fat:
15
g
|
Saturated Fat:
2
g
|
Polyunsaturated Fat:
2
g
|
Monounsaturated Fat:
11
g
|
Sodium:
845
mg
|
Potassium:
394
mg
|
Fiber:
3
g
|
Sugar:
4
g
|
Vitamin A:
418
IU
|
Vitamin C:
3
mg
|
Calcium:
65
mg
|
Iron:
3
mg