You might think that after running a blog all about quinoa for nearly 5 years and churning out 3+ quinoa recipes a week, my pantry would be stocked with pretty much one thing: quinoa. And while yes, I feel like I have quinoa coming out my ears, over the years I've come to appreciate the variety and nutrition that other grains can add to your diet.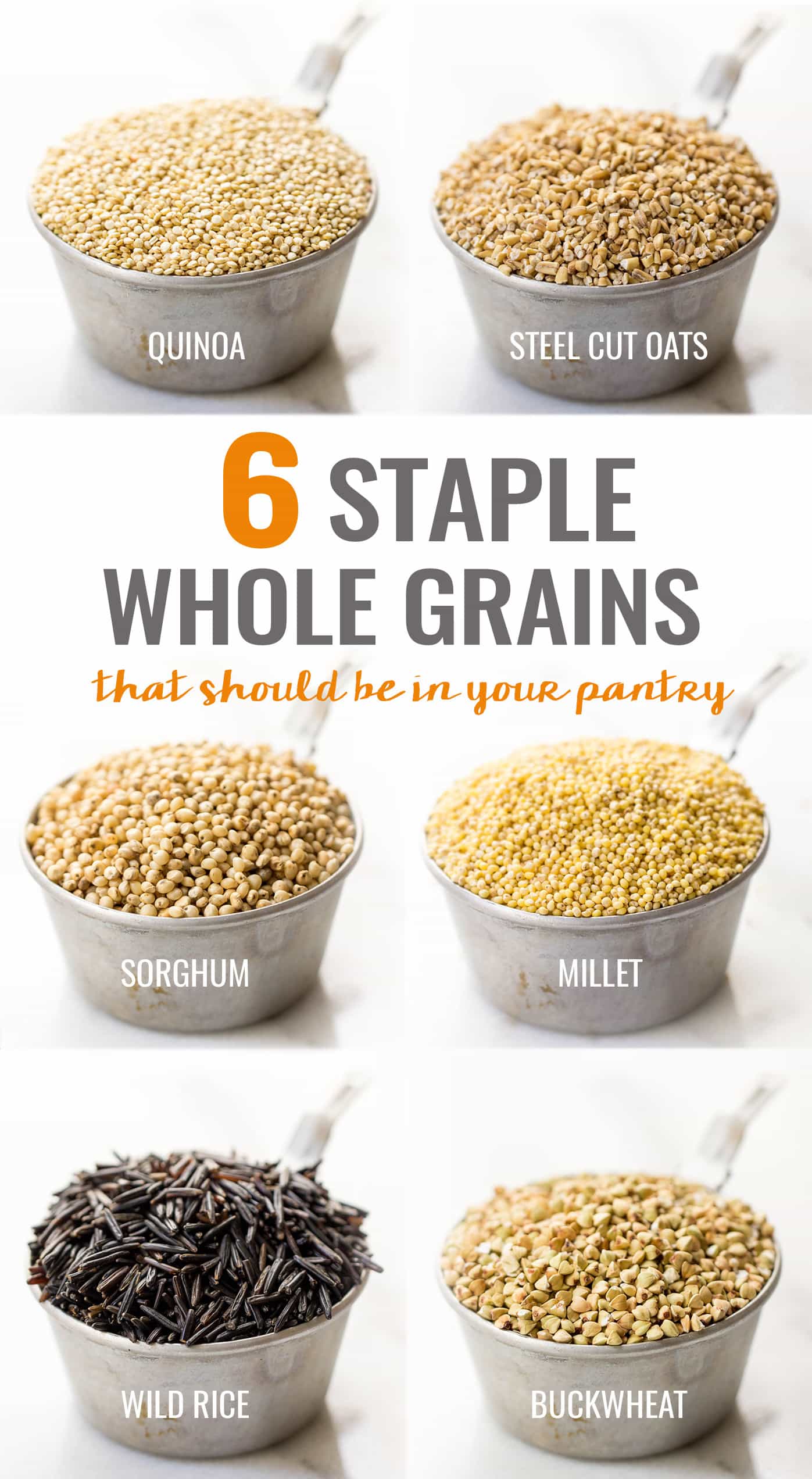 Why are whole grains important?
There has been extensive research done about the benefits of adding whole grains to your diet and it's without a doubt one of the best things you can do for your health. Whole grains are high in dietary fiber, are packed with vitamins and minerals like B vitamins, vitamin E, iron and magnesium. You'll also find that many whole grains have antioxidants, much as you would find in fruits and vegetables.
I'm sure you've heard me talk about how quinoa is a complex carbohydrate before, but the same is true for most whole grains. This means that when we eat whole grains – like the staples we'll be talking about today – they digest more slowly in the body which not only helps stabilize blood sugar but also keeps us fuller for longer and provides more sustained energy.
And finally (although the list of benefits goes on and on), many whole grains are great sources of easily digestible, plant-based protein. What's really incredible is when you compare people who eat whole grains vs. people who don't. The risk of developing chronic illnesses for people who have added whole grains into their diet is dramatically lower – we're talking sometimes upwards of 40%! I'm not a doctor or anything, but that's pretty incredible!
Whole grains for every day
Part of my health journey over the last few years has been really focused on cleaning up (and cleaning out) my pantry, then making sure it stays as clean as possible. The pantry is often where overly processed foods hide – things crackers, chips, cookies, and cereals – so my goal is to make sure that my pantry only contains whole foods. Because I know that if I have those snacks and sweets in there, I'll eat them, no matter how good I think my willpower may be.
It started with nuts and seeds, then moved to pasta and now it's my grains. It used to just be four types of quinoa, but now I've expanded my horizon and started including a bunch of other whole grains and you know what? I love it. Not only does the variety keep my meals more exciting, but I've realized that my body needs to be fueled by more than just one grain. While I do love quinoa and it will probably always be numero uno in my heart, here are the 6 staple whole grains I think every panty should have.
QUINOA

Of course, quinoa is at the top of my list, but for good reason too. One serving of quinoa (which is about 1 cup of cooked quinoa) has 8 grams of protein, 5 grams of dietary fiber and tons of essential minerals like magnesium, manganese, zinc, and copper. Quinoa comes in four different varieties, so feel free to shake things up based on how you're feeling. My favorite varieties are white and tri-color! The other amazing thing about quinoa is how versatile it is – you can make it for breakfast, turn it into nutritious snacks, serve it for lunch/dinner or even make a decadent sweet treat. The possibilities are truly endless!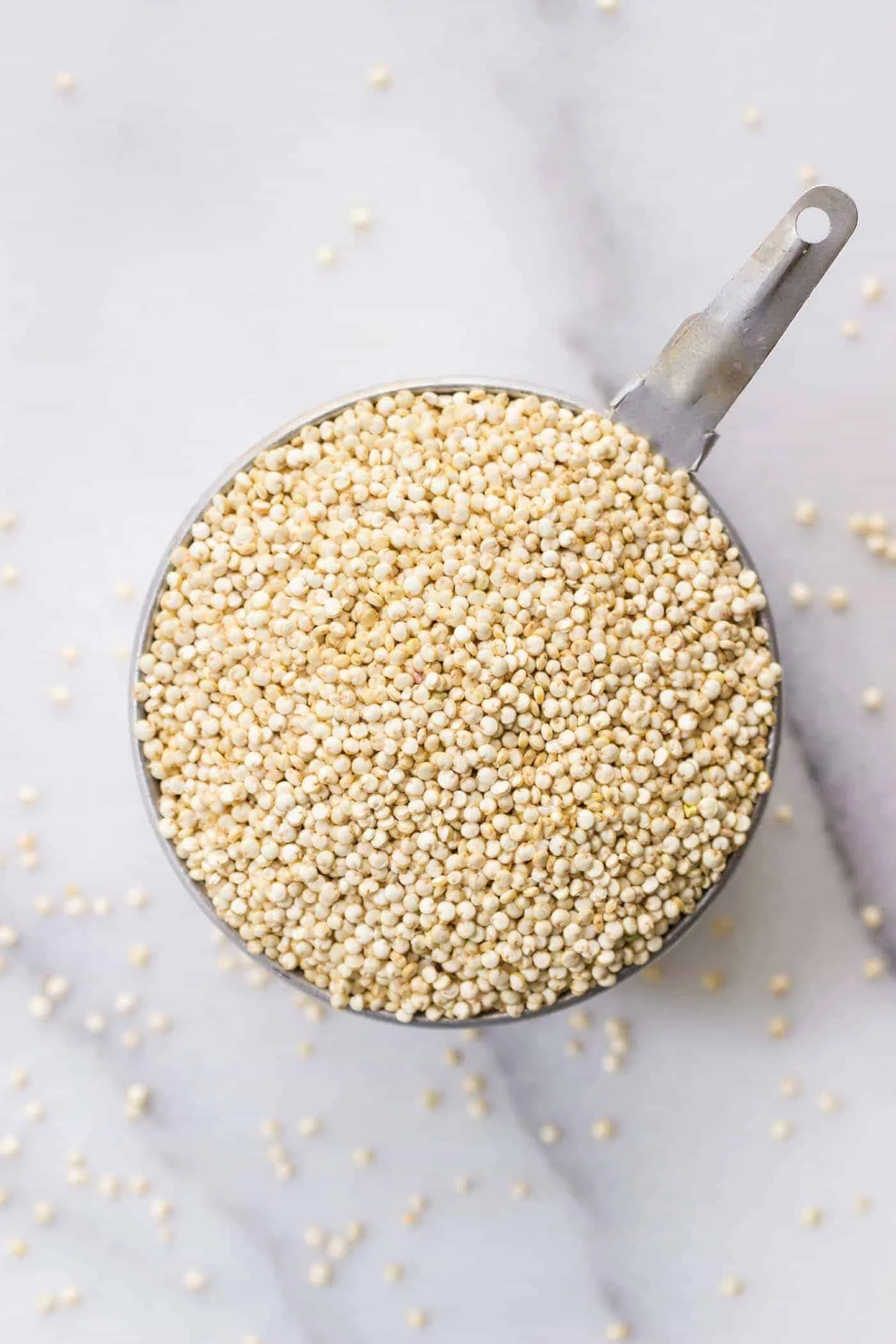 Recipes that use quinoa:
STEEL CUT OATS

Second on my list are steel-cut oats, which are a basically like coarse oatmeal. To make steel-cut oats, they take the whole oat groats and then chop them into two or three pieces. I've always been a fan of oats, but in the last year or so, these have become my favorite. I find that they make the creamiest porridge ever and I feel like the course texture makes them a bit more filling. Nutritionally speaking, steel-cut oats are fabulous – one serving has 6 grams of protein and 8 grams of dietary fiber. For those of us with gluten sensitivities or celiac disease, Bob's Red Mill makes certified gluten-free steel-cut oats which is amazing!

Recipes that use steel cut oats:
SORGHUM

So this is a fairly new-to-me grain, but I've had a lot of fun experimenting with it. I'm more familiar with using sorghum as flour, but you can use it like you would quinoa in lots of recipes. Sorghum is naturally gluten-free and one serving contains 5 grams of protein and 8 grams of fiber. The texture of sorghum is a bit fluffier than quinoa, but it's a wonderful addition to grain salads and bowls or used in breakfast porridge. I've heard that you can also pop sorghum (kind of like popcorn) although I have yet to give it a try.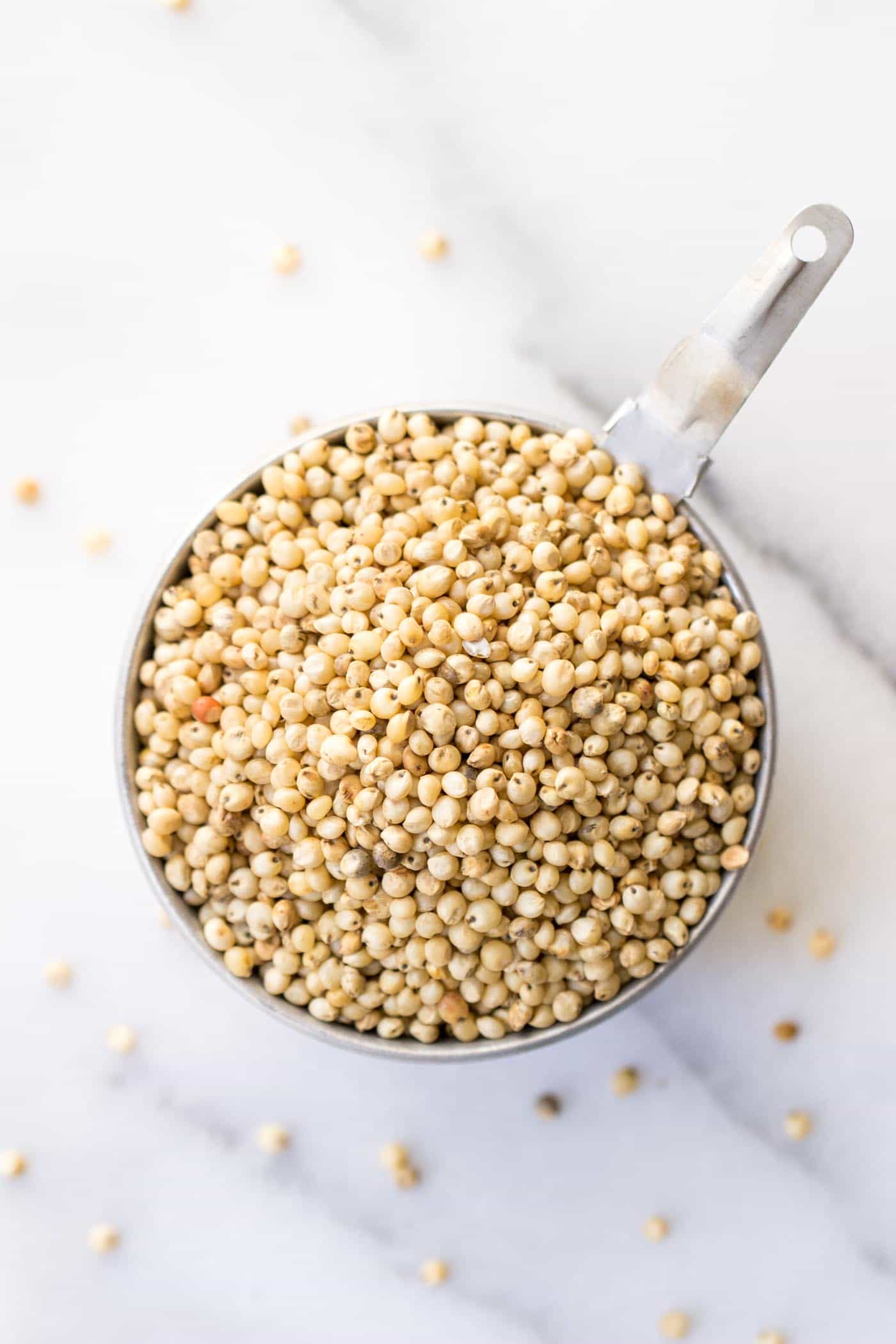 Recipes that use sorghum:
MILLET

This is one of my favorite alternatives to quinoa because they are so similar in size and texture. Millet doesn't cook quite as quickly as quinoa, but it has a much softer and mellower taste. For those who find quinoa to be bitter or grassy tasting, millet might be a great option for you. Millet is also naturally gluten-free and a superstar when it comes to nutrition – one serving has 7 grams of protein and a whopping 9 grams of fiber. And just like many of these other grains, millet can be used in a variety of ways – from breakfast porridges to savory salads. You can also purchase puffed millet which is delicious added to granola and even energy balls.

Recipes that use millet:
WILD RICE

I just posted my first wild rice salad a few weeks ago and in that post I talked about my discovery of wild rice. I absolutely love it. It's has a slightly nutty flavor and the texture is wonderfully chewy and crunchy at the same time. Usually wild rice takes forever to cook, but I like the one from Bob's Red Mill because it's a quick-cooking variety and only takes 30 – 40 minutes to make. Nutritionally speaking, wild rice is slightly lower in terms of protein and fiber – one serving as 4 grams of protein and 2 grams of fiber – but it's still a lovely addition to your pantry. I really enjoy adding it to salads along with a higher protein grain like quinoa or sorghum.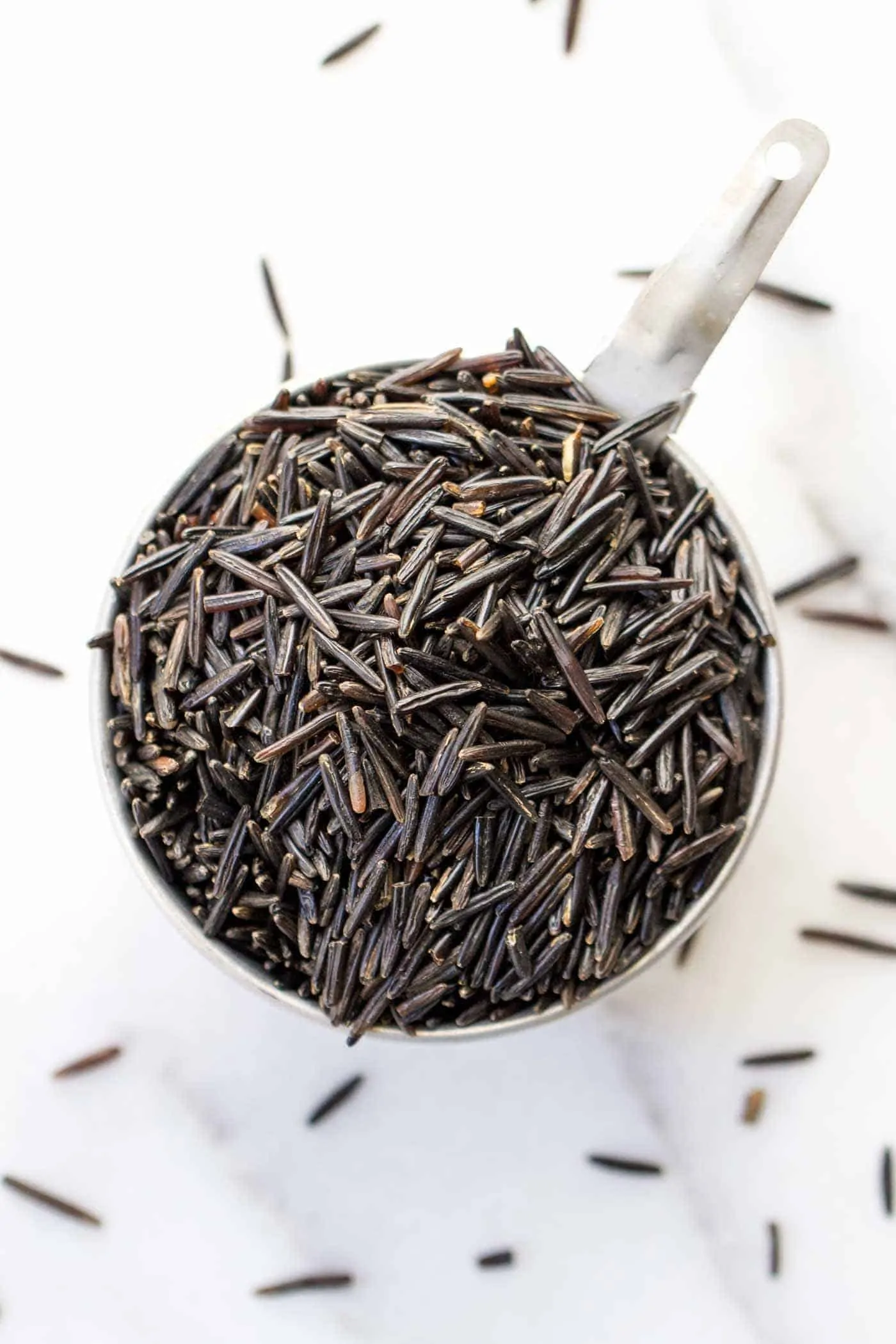 Recipes that use wild rice:
BUCKWHEAT

Finally, our sixth staple whole grain to add to your pantry is buckwheat. Unlike the name, buckwheat doesn't contain any wheat whatsoever. It's naturally gluten-free, wholesome and so delicious. One serving of buckwheat has 6 grams of protein and 1 gram of fiber, and just like quinoa, buckwheat is actually the seeds of buckwheat plants, not grains like most of us think. Buckwheat is traditionally found in Eastern European cuisines but is now a common breakfast food here. The flavor of buckwheat is very mild, but it when you can toast the groats to intensify the nutty qualities.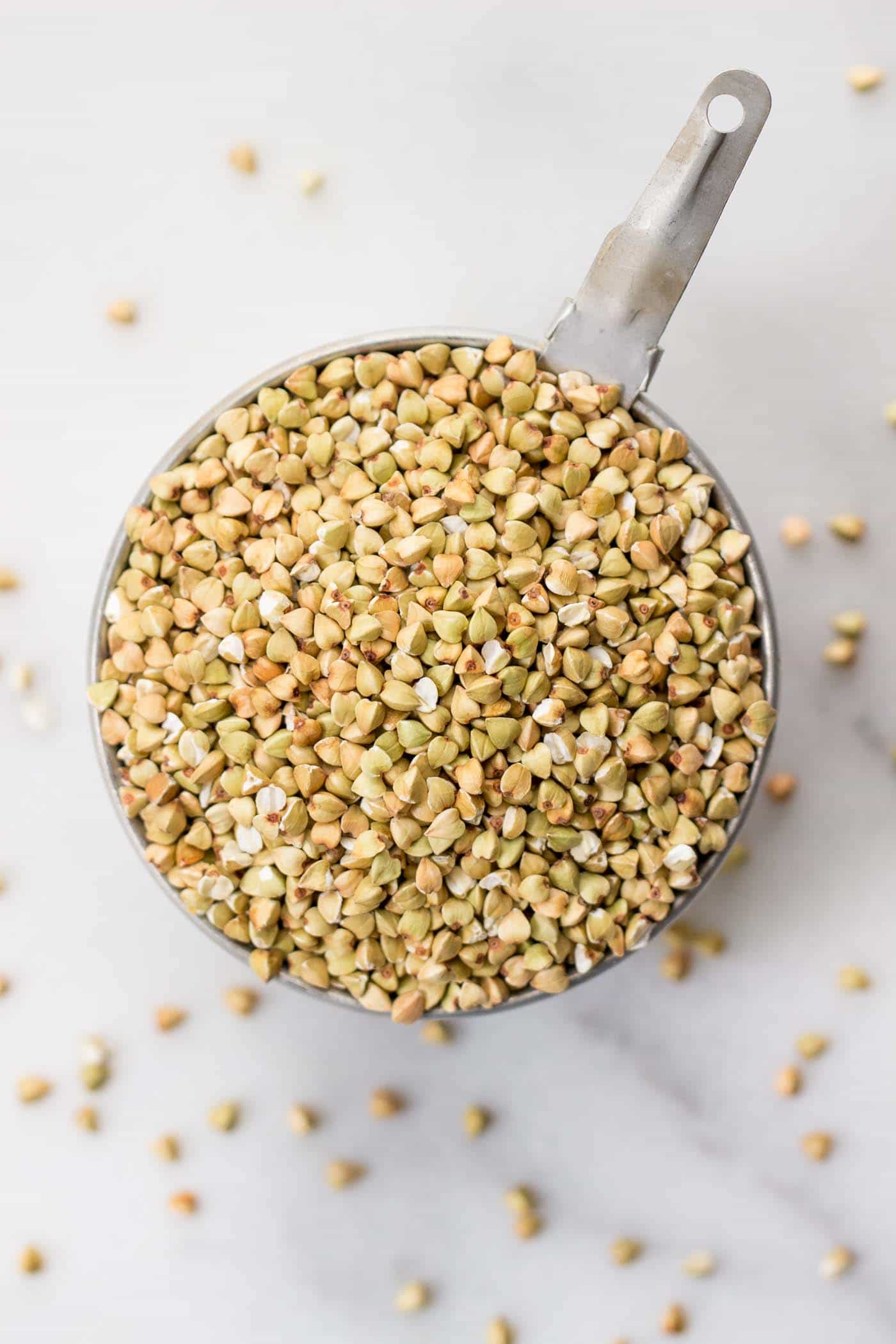 Recipes that use buckwheat:
Now it's your turn…
Open up your pantry and count how many whole grains are inside. What do you see? Come back here and let us know which ones you keep stocked and which from this list you're excited to try.
When you go to purchase whole grains, I recommend that you either check out the bulk aisle of your natural food store OR visit Bob's Red Mill and check out their amazing assortment of whole grains. You'll be shocked how many there are to choose from!
xo Alyssa
Want to learn more about why whole grains are so important to Bob's? Watch this video!
This post was sponsored by Bob's Red Mill in celebration of National Nutrition Month. Bob's is my favorite source of healthy, nutritious ingredients! Stay tuned all month long as we share simple and delicious recipes using the amazing products from Bob's. Thank you for supporting the companies I believe in! xo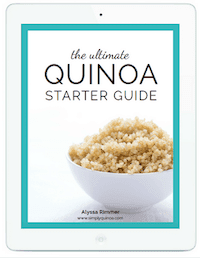 New to cooking quinoa? Grab your FREE Quinoa Starter Guide!
Become part of the Simply Quinoa community and receive weekly emails with exclusive content that I only share in email, as well as my in-depth guide to starting your quinoa journey.