These dark chocolate overnight oats are a heart-friendly and easy breakfast idea to start your day. They're vegan, gluten-free and naturally sweet. Plus they taste like dessert!
Want even more ways to make overnight oats? Check out these 6 irresistible overnight oats recipes.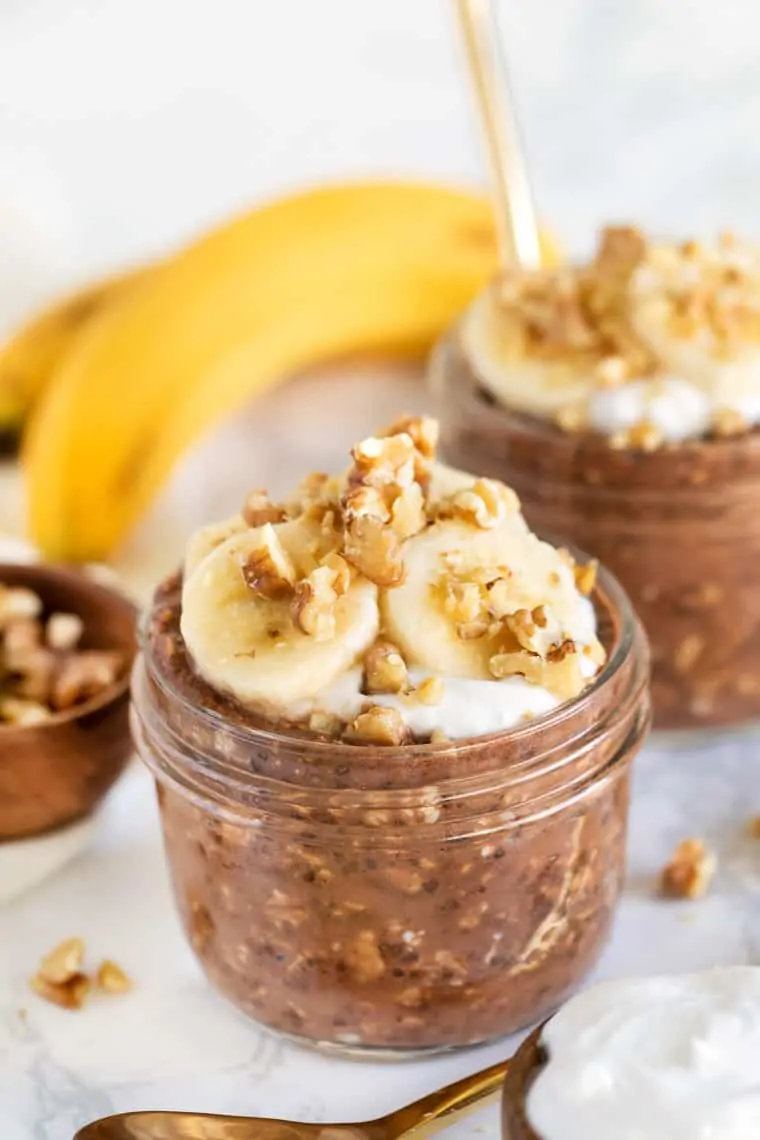 How could you ever say no to chocolate for breakfast?! I'm someone who is all about creating a nutritious breakfast that also tastes like a dessert. I have a massive sweet tooth, and am a giant chocolate lover, so something like this is pretty much my ultimate morning meal.
Today we're making Dark Chocolate Overnight Oats! They're crazy easy to put together, they're awesome for meal prep, and they're also packed with good-for-you ingredients.
And even better, we're celebrating American Heart Month this February with our friends at California Walnuts and bringing you two delicious and nutritious recipes. Heart disease is the leading cause of death globally [3], and my goal is to share recipes that are not only delicious but also help you make small changes in your diet to support that gorgeous heart of yours!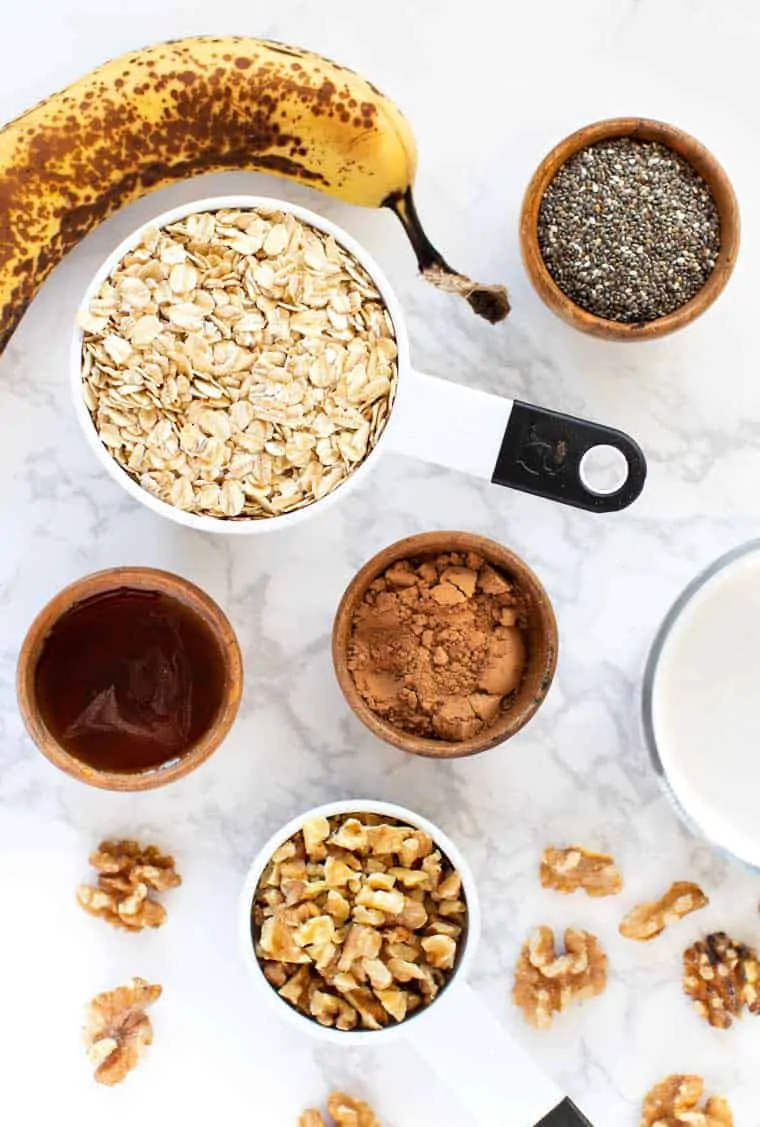 What's in Chocolate Overnight Oats?
Don't you just love when breakfast requires pretty much zero time to make AND you have most of the ingredients on hand? I know I do!
I wanted to make sure these overnight oats used a simple ingredient list, yet still maximized the nutrition. So we've got a blend of ingredients here that are very common and are also a great way for you to kickstart your day.
Here's what you'll find inside these little bowls of deliciousness: Be sure to scroll down to the recipe card for specific amounts.
Rolled oats: I find that rolled oats work best in overnight oats as they are thick enough to soak up some of the liquid, but they still retain their shape and texture.
Banana: I wanted to cut down on added sugars as much as possible in this recipe, so we're relying on bananas to help us out with the sweetness. Aside from sweetness, bananas also add fiber

(3g per medium banana)

and potassium

(420mg per medium banana)

!
Chia seeds: these help to absorb some of the liquid and thicken the overnight oats up a bit. Chia seeds also add protein (5g/oz) and good fats

(5g/oz omega-3 ALA)

as well!
Cacao powder: because I know we all love chocolate, we're adding just a bit of cacao powder for the flavor! If you don't have cacao powder, you can also use unsweetened cocoa powder.
Maple syrup: when tested without a touch of maple syrup, the chocolate flavor was a bit too bitter for me, but all we need is a touch to make a difference. If you find the banana is enough, feel free to leave this out!
Milk: depending on your dietary needs, you can use whatever type of milk that works best for you. I personally used walnut milk here, but 1% would also work well if dairy is okay for you!
Walnuts: and finally…our walnuts! In this recipe, they're bringing a much-needed crunch, as well as adding fiber (2g/oz), protein (4g/oz), and good fats (2.5g/oz omega-3 ALA)!
And of course, we also save some goodies for our toppings. But we'll talk about that later!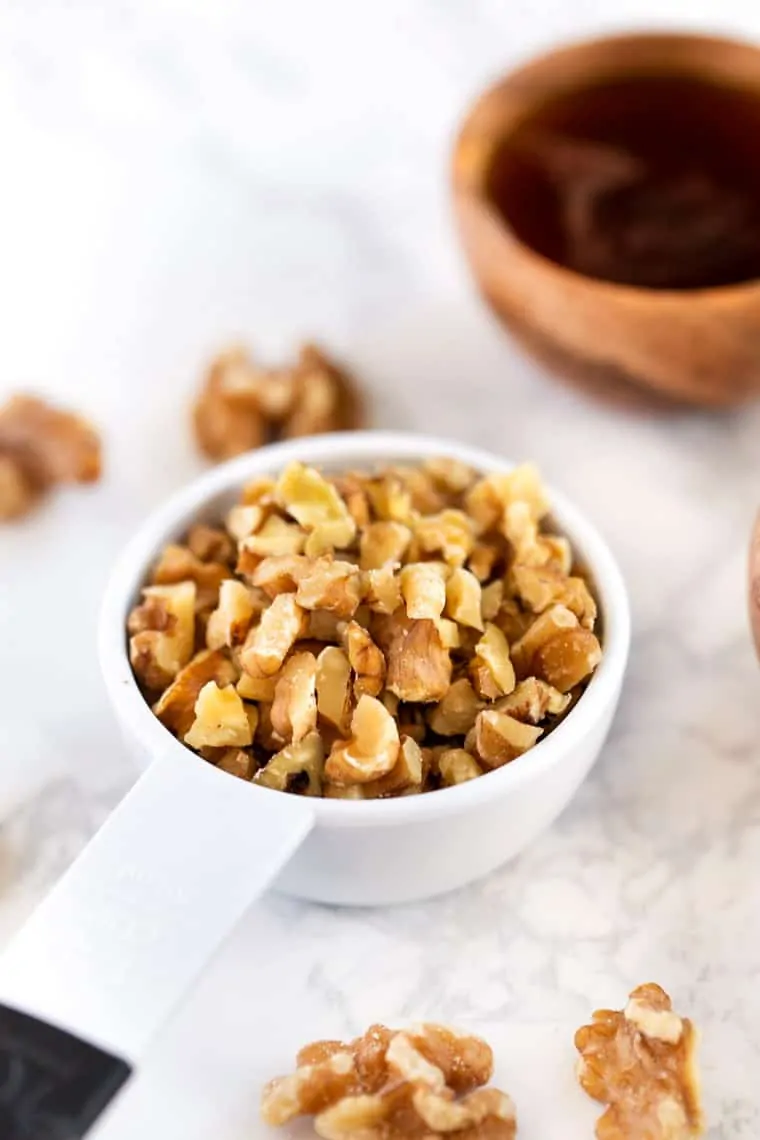 Why Walnuts Are Amazing for Heart Health
Okay, so…let's talk walnuts and why they're so awesome!
I'm excited to be partnering with California Walnuts in today's post to celebrate American Heart Month. As you may or may not know, heart disease is the leading cause of death for both men and women in the U.S. [3]
As a heart-healthy food [1] – certified by the American Heart Association's Heart-Check program [2] – walnuts are a nutritious and convenient option to support heart health and are a go-to nut for me in both cooking, baking and snacking!
Fiber: Walnuts are a great way to get more fiber into your diet with 2 grams of fiber per 1 ounce serving
Protein: Eating 1 ounce of walnuts will get you 4 grams of protein
Omega-3 and ALA Fatty Acids: Walnuts are the only nut with an excellent source of omega-3 ALA fatty acids – 1 ounce of walnuts contains 2.5 grams of
Decreases heart disease risk: Eating walnuts as part of a healthy diet may help decrease your risk of heart disease, the leading cause of death globally [3]
And aside from the nutritional benefits of walnuts, they're also SO easy to add to your diet. From eating a handful as a nutritious snack, incorporating them into your favorite trail mix, adding them into cookies or brownies, or even using them in a savory recipe, they're delicious each and every way!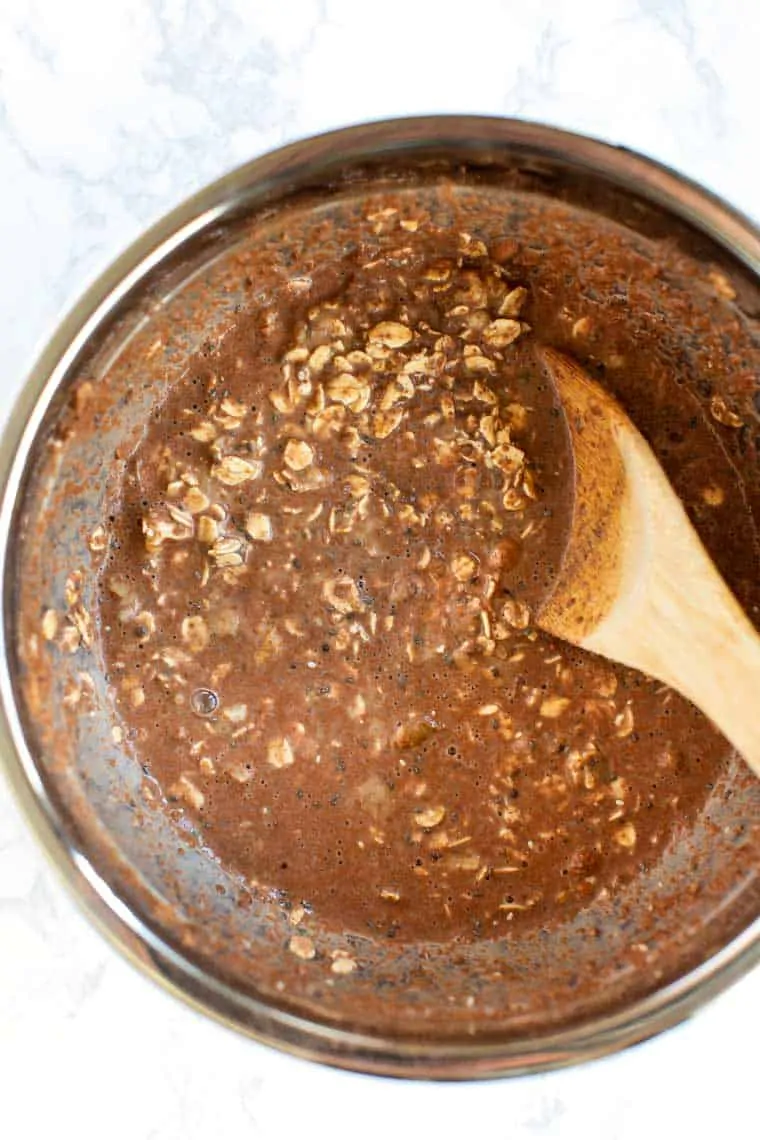 How to Make Overnight Oats
If you're new to overnight oats, one of the things I think you'll love is how easy they are to make. Our recipe right here, uses just 3 simple steps:
Mash the banana: We'll start by mashing our banana in a bowl until it's as smooth as possible.
Add remaining ingredients. Add the rest of your ingredients (minus your toppings) and stir it all together.
Let them sit. Overnight oats need a bit of time to soak (hence the "overnight" part) so that the oats can soften and they can thicken up. You can leave them for a few hours or keep them in your fridge for multiple days!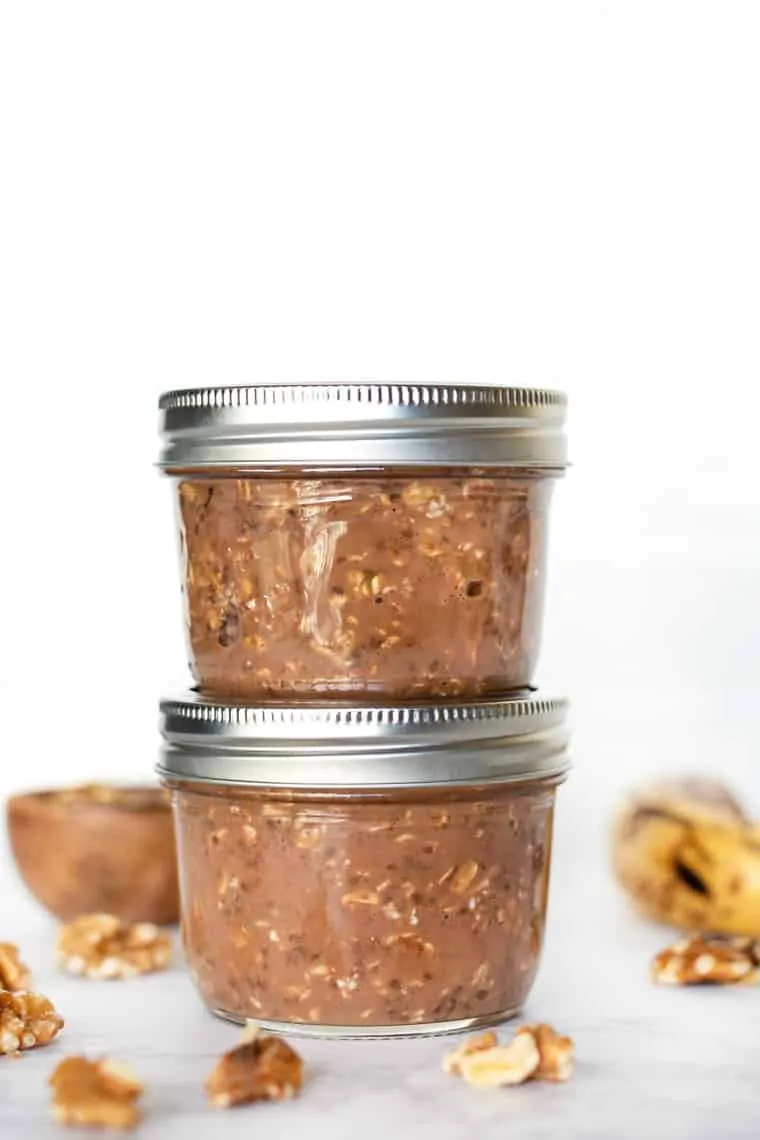 Are Overnight Oats Good for Meal Prep?
What's great about these chocolate overnight oats is that they can easily be meal-prepped. Whether you want to make them the night before or make a big batch on Sunday for the week ahead, they'll still work. I for one am all about saving time, so if I can make my breakfast the night before, I'm all for it.
For today's post, I'm showing you how to make two servings, but this recipe can totally be scaled up for even more days if you want!
The only thing you'll want to do is mix it all together in a big bowl, then divide your portions into individual containers. I like using these wide mouth mason jars – they fit the perfect amount and will keep the oats airtight!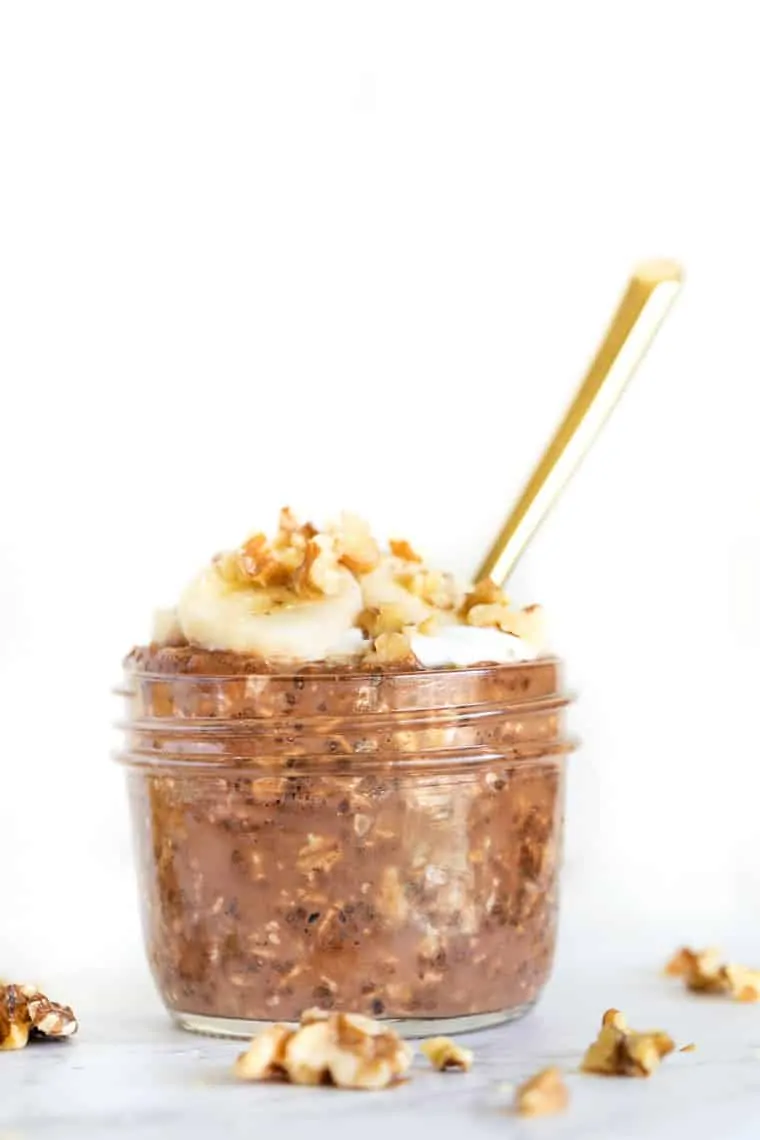 Your Overnight Oat Questions…Answered!
We've started including these little Q&As in our posts and I personally love it! So let's look at some of the common questions that get asked about overnight oats:
Are overnight oats healthy?
In my personal opinion, yes! Especially these chocolate overnight oats since we've created a breakfast that, nutritionally speaking, is great for supporting the health of your heart. Check out the nutrition label below to see the full breakdown. We've got 12g of fiber and 12g of protein per serving!
What is the ratio for overnight oats?
It depends on what other ingredients you're using, but in general, I say it's 1:1. So if you have 1/2 cup of oats (with no chia seeds), you'd use around 1/2 cup of liquid. Since we're adding in chia seeds, banana, and cacao powder, we used a little bit more liquid as those ingredients will soak some up as well.
Do you cook overnight oats?
Nope! You actually eat overnight oats raw. But don't worry, they don't taste raw at all. Since they soak for 4+ hours, everything is nice and soft. However, you can also totally heat them up if you're not a fan of eating cold breakfasts!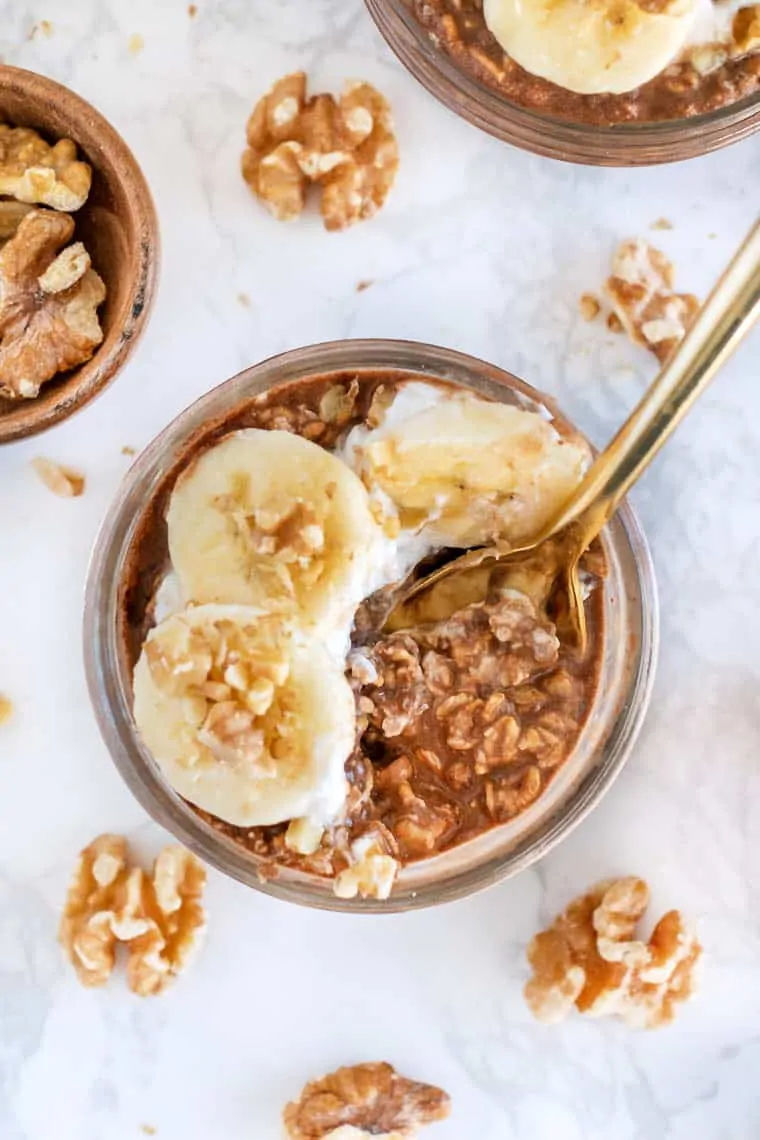 Try This Heart-Friendly Breakfast Idea!
So as you can see from today's post, these chocolate overnight oats are an amazing way to start your day! They're easy to make, they're delicious and they're also good for your heart.
Want to learn more about American Heart Month or why walnuts are such a heart-healthy food? [2], Here are some studies that you might find interesting!
And as always, I hope you enjoy this delicious recipe! If you end up making it, please share a photo with us on Instagram by tagging @simplyquinoa and @calwanuts ❤️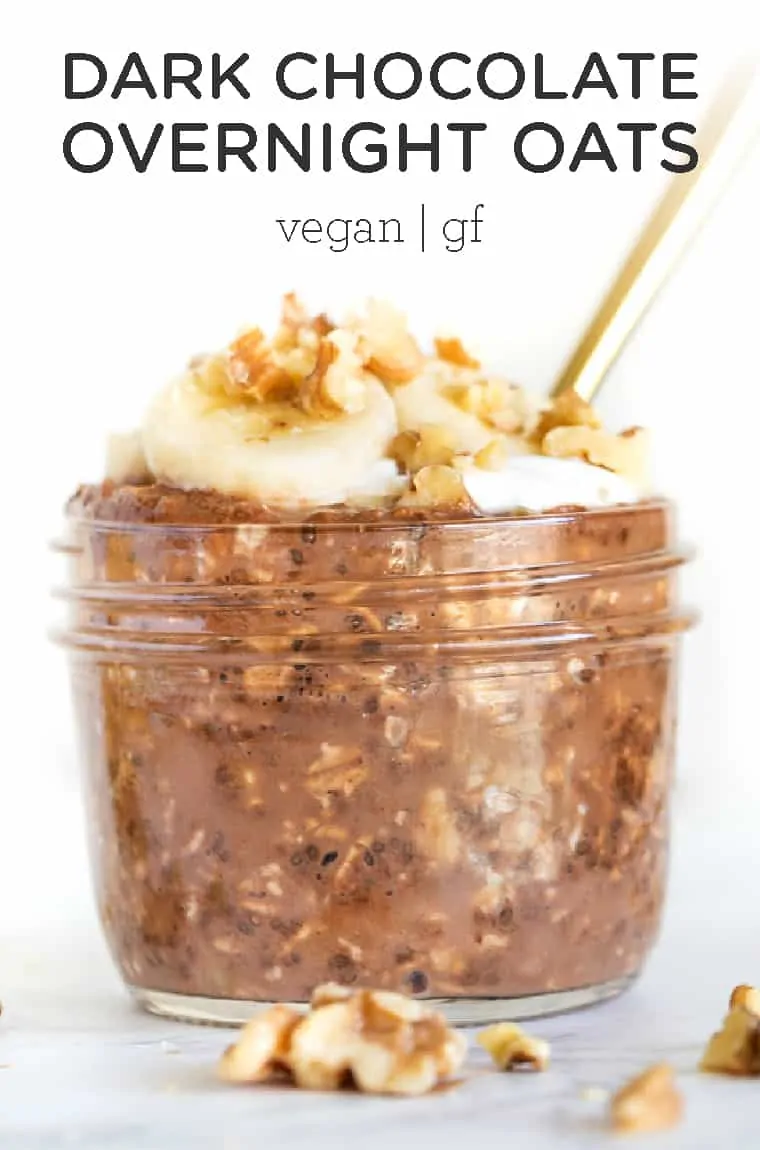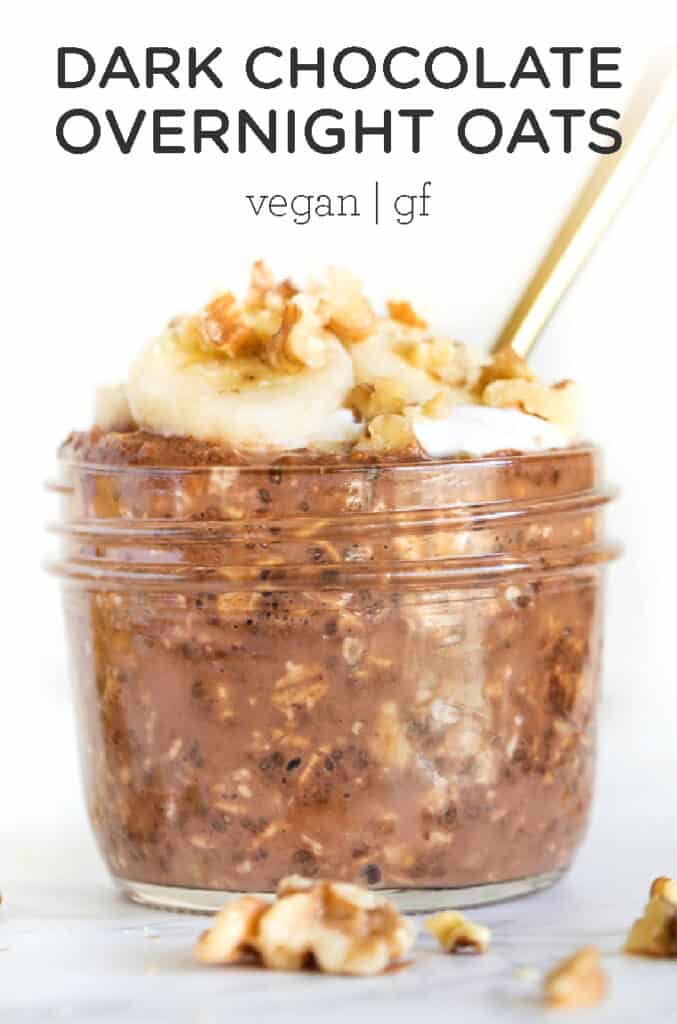 More Recipes Using Walnuts:
Dark Chocolate Overnight Oats
These dark chocolate overnight oats are a heart-healthy way to start your day! They're vegan, gluten-free and naturally sweetened. They taste like dessert as well!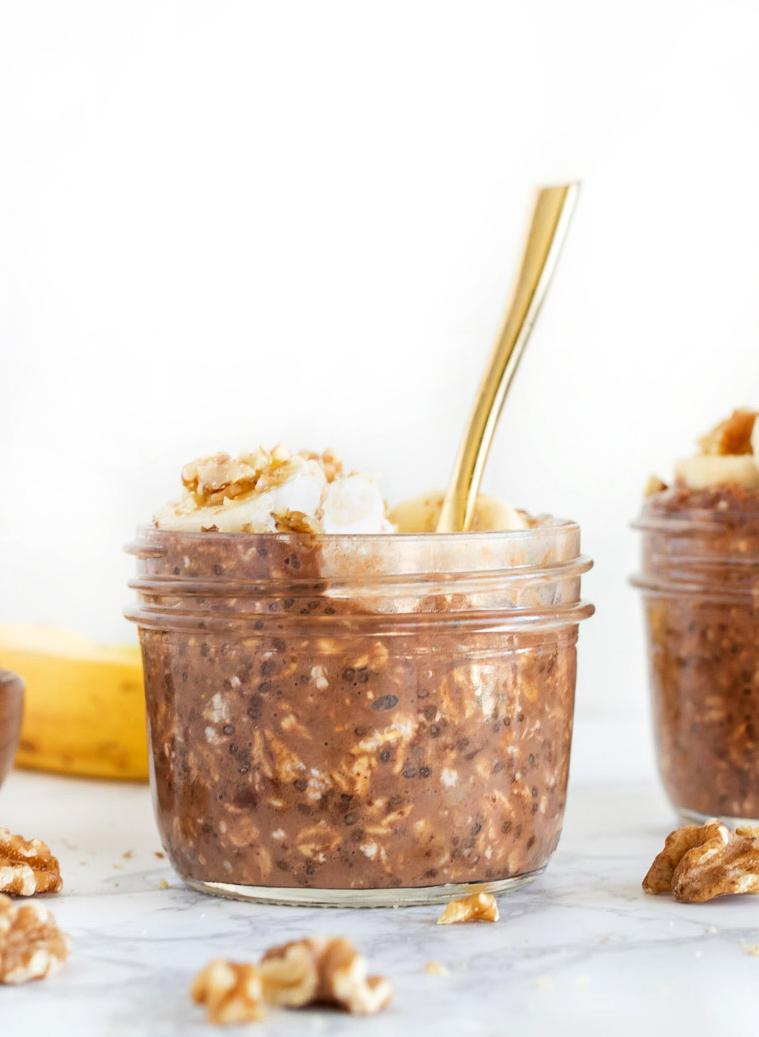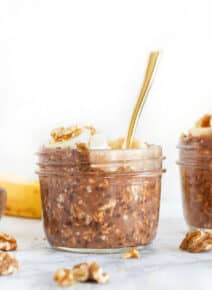 Instructions
Cut the banana in half. Mash that in a mixing bowl.

Add the oats, chia seeds, cacao powder, syrup, milk and 2 tablespoons of walnuts into the container as well. Stir everything together then divide between two containers and place in the fridge. Let sit for at least 4 hours or overnight.

When ready to serve, top your serving with 1 tablespoon of coconut yogurt, 1 tablespoon of chopped walnuts and 1/2 of the rest of the banana (sliced!). Enjoy!
Nutrition
Serving:
0.5
the recipe
|
Calories:
493
kcal
|
Carbohydrates:
66
g
|
Protein:
12
g
|
Fat:
23
g
|
Saturated Fat:
5
g
|
Sodium:
9
mg
|
Potassium:
495
mg
|
Fiber:
12
g
|
Sugar:
22
g
|
Vitamin C:
7
mg
|
Calcium:
217
mg
|
Iron:
4
mg
Filed Under:
This post is brought to you in partnership with California Walnuts. As always, all opinions are my own!
1 Supportive but not conclusive research shows that eating 1.5 ounces of walnuts per day, as part of a low saturated fat and low cholesterol diet, and not resulting in increased caloric intake may reduce the risk of coronary heart disease. One ounce of walnuts provides 18g of total fat, 2.5g of monounsaturated fat, 13g of polyunsaturated fat, including 2.5g of alpha-linolenic acid, the plant-based omega-3.
2 Heart-Check Certification does not apply to scientific research by an organization other than the American Heart Association, unless expressly stated.
3 CDC. Heart Disease Facts. https://www.cdc.gov/heartdisease/facts.htm