These vegan chocolate orange truffles make the perfect sweet treat! They're healthy, grain-free, low sugar and seriously delicious. They're also easy to make!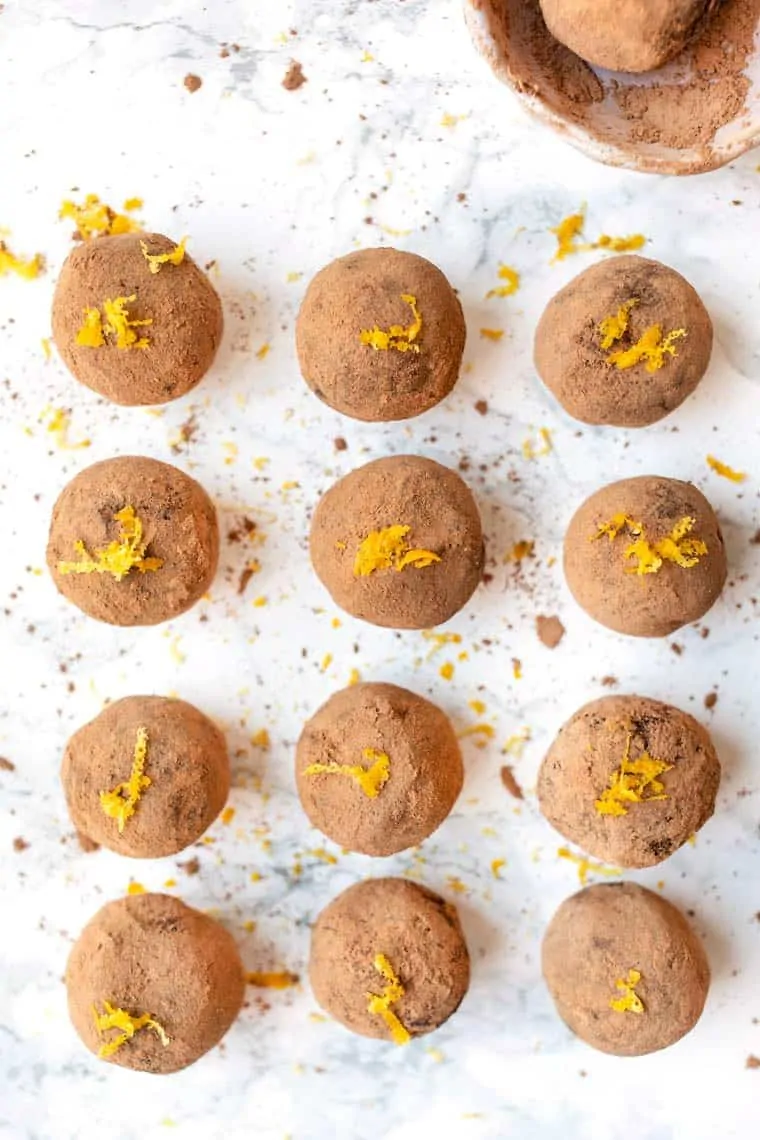 When it comes to dessert, I'm all about chocolate. Dark and decadent, it's my favorite indulgences. And there's nothing more satisfying to me than a simple bite of dark chocolate.
We do a lot of baking around here, but not today. Today we're not using our oven at all. And yet we're still whipping up an absolutely epic treat.
We're making vegan chocolate orange truffles using just 9 ingredients and without any cream or refined sugar. And they're still the perfect bite of sweetness to satisfy any and all of your chocolate cravings!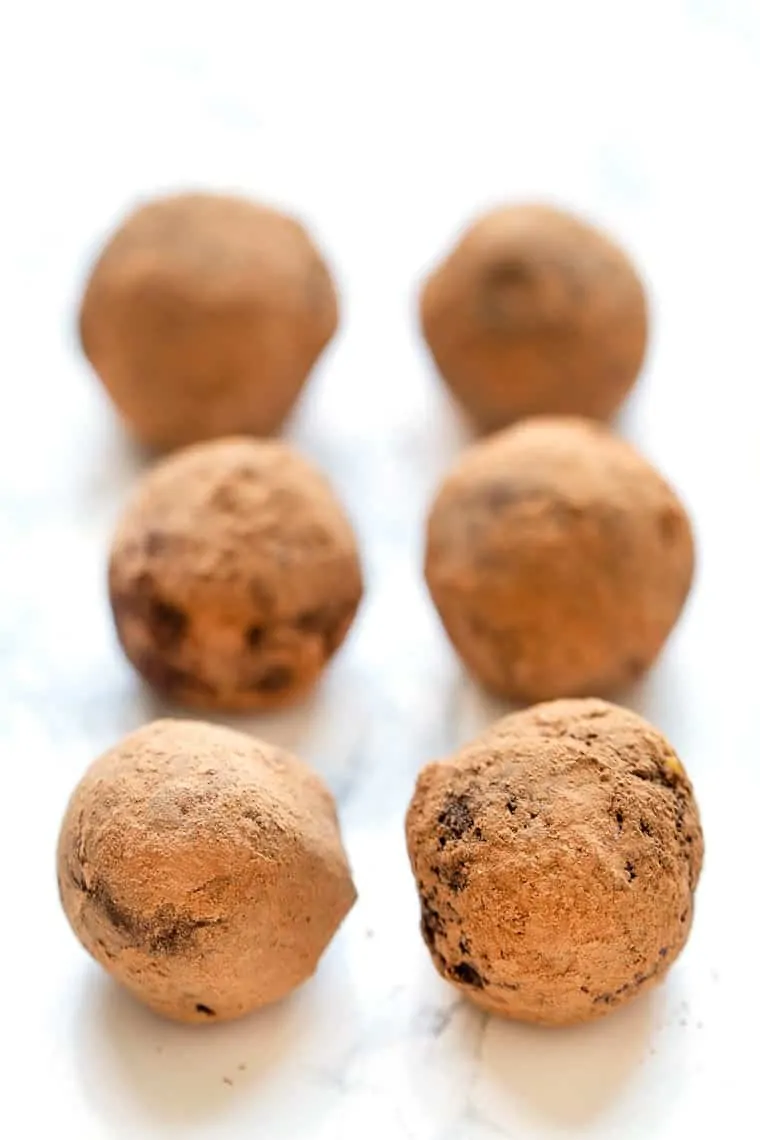 Ingredients for Chocolate Orange Truffles
I wanted to keep things super simple with this recipe. So we're kind of making a similar base to energy balls, but we're turning them into truffles instead. And as I said, you just need 9 simple ingredients!
Here's what you'll find inside these vegan truffles:
Medjool dates: these act not only as our sugar, but also our "cream". Medjool dates are super soft and sticky, so when blended up they're the perfect base for our truffles.
Almonds: adding a nice texture and a subtle flavor.
Walnuts: I like using two types of nuts and walnuts are great because they're a bit more oily than almonds and have a slightly creamier texture. Plus, walnuts and chocolate are a match made in heaven!
Cacao powder: this is how we're getting our dark chocolate flavor – so so good! We're also going to use this at the end to roll our truffles in and give them that extra little "pop"!
Almond butter: we use this to help the truffles blend up a bit better and also stick together. Plus, it adds more creaminess which makes them even more decadent.
Maple syrup: again for blending, but also for a touch more sweetness!
Orange juice: one key to our orange flavor!
Orange zest: and the second ingredient to this awesome orange flavor we've got.
Coconut flour: this helps the dough stick together, but also gives them a soft and almost cakey texture. I also love using coconut flour in my desserts because it has a touch of natural sweetness to it.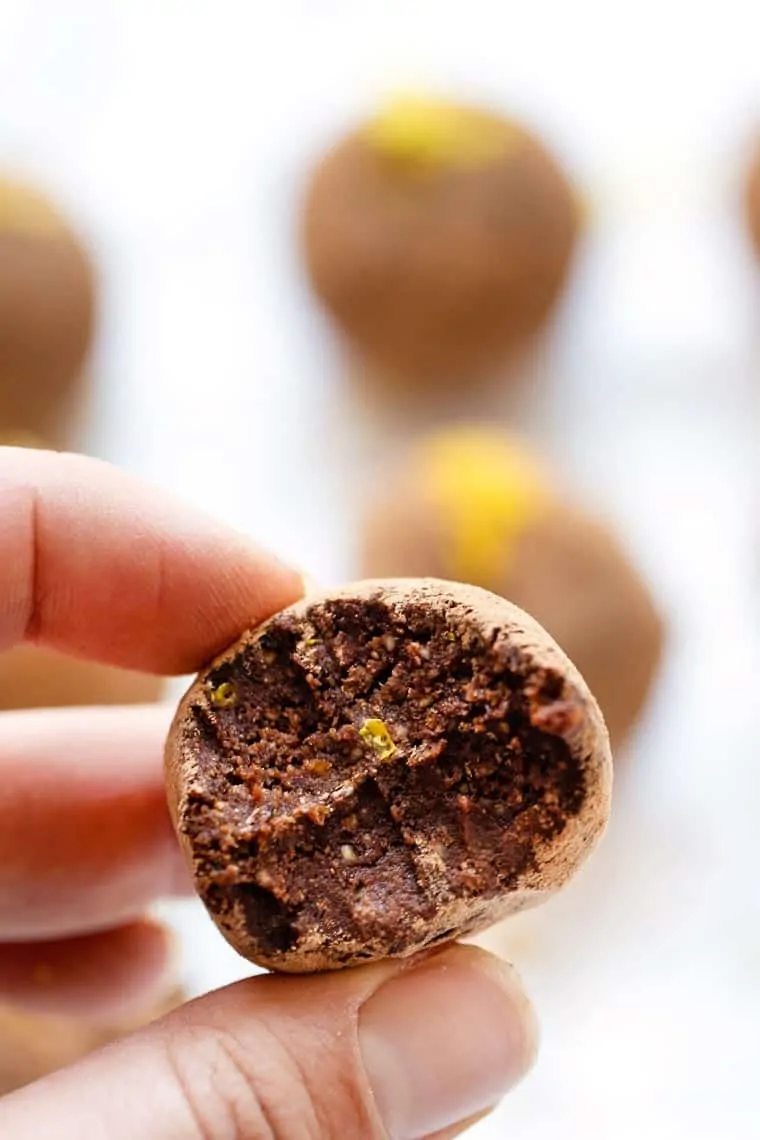 How to Make Vegan Truffles
There are a few ways of making vegan truffles that I've seen. Some use a bowl to mix them and the fridge to solidify them (like these ones from Minimalist Baker), but I went with the food processor route.
Since we're using dates and nuts, we need a machine that can really grind them up and turn them into a truffle-like consistency. We're basically just making energy balls, but letting the texture be a bit creamier so they feel more like truffles.
All you'll need to make these truffles is your food processor. I recommend this 11-cup one from Cuisinart – it's an absolute beast, but it also doesn't take up much space. Plus I love that it's white!
And guess what? Making these chocolate orange truffles is just four simple steps:
Start by grinding up your dates and nuts
Once those are a kind of sandy texture, blend in the rest of your ingredients.
Form the dough into balls
Roll them in cacao powder
And that's it! So simple and so delicious!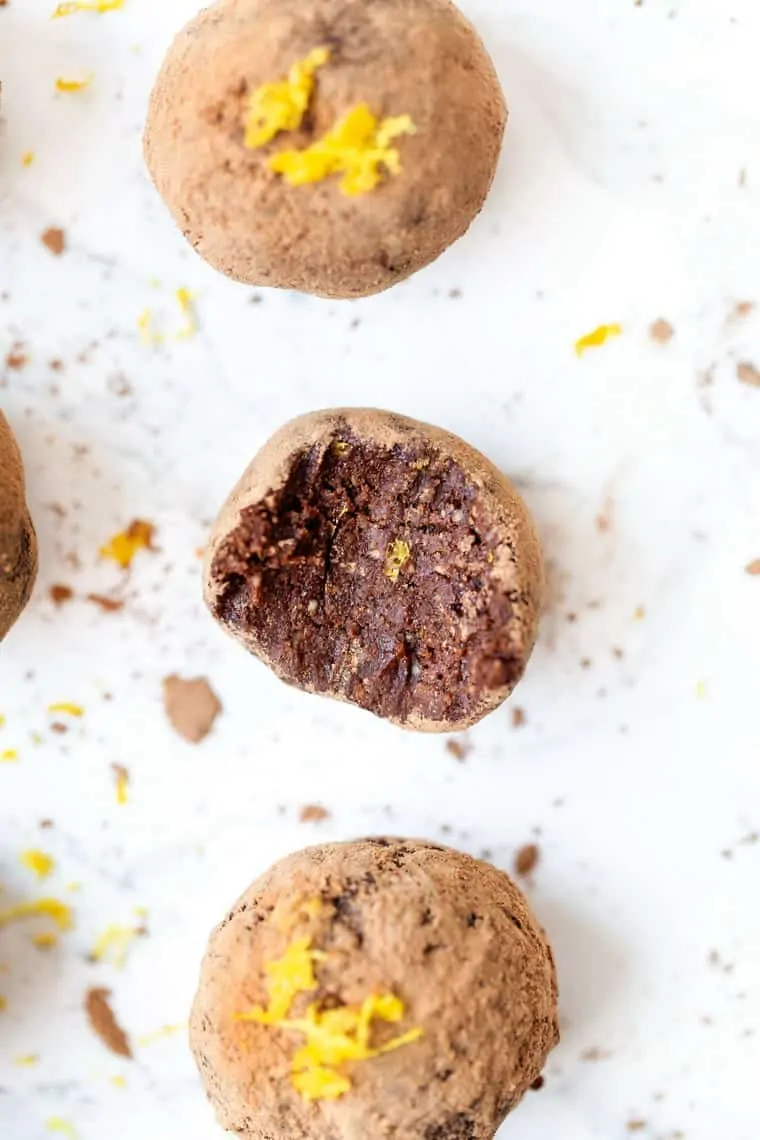 How to Store Vegan Truffles
The best way to store your vegan truffles is in the fridge or freezer. You can keep them in a small silicone bag or in a sealed container for at least 1 week in the fridge and 3+ months in the freezer. They should be soft enough to be able to just eat straight out of the freezer without any problem.
And if you do end up gifting them, they'll also be fine at room temp for a bit. Just tell the person you're giving them to to pop them in the freezer when they get a chance!
An Easy No Bake Holiday Dessert Idea
One of the things I love about these vegan truffles is the flavor combo. Chocolate and orange go so well together and for some reason, I also think it's perfect for the holidays.
If you're stuck on a gift idea, everyone loves things they can consume. For me at least, most of the people in my life that I'm giving gifts to don't really need more "stuff". So edible gifts are where it's at! And who wouldn't love getting a batch of homemade chocolate orange truffles?! I know I would!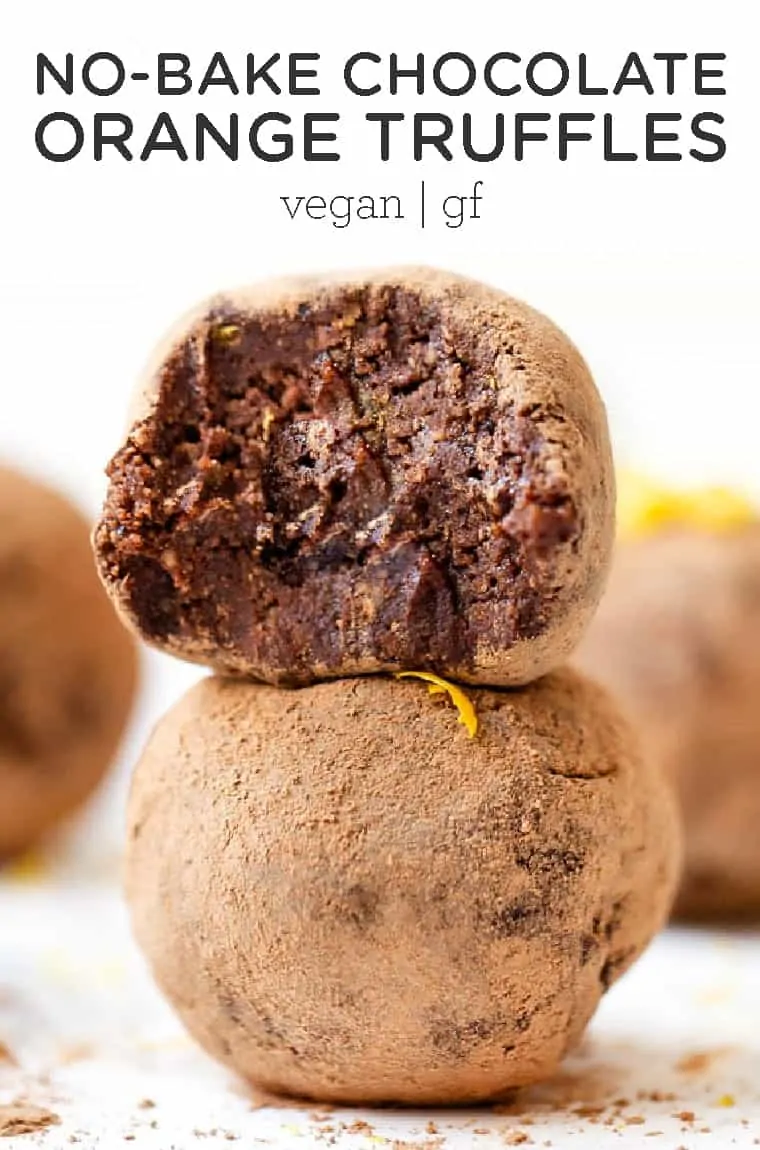 More Healthy Chocolate Dessert Recipes:
Vegan Chocolate Orange Truffles
These vegan chocolate orange truffles make the perfect sweet treat! They're healthy, grain-free, low sugar and seriously delicious. They're also easy to make!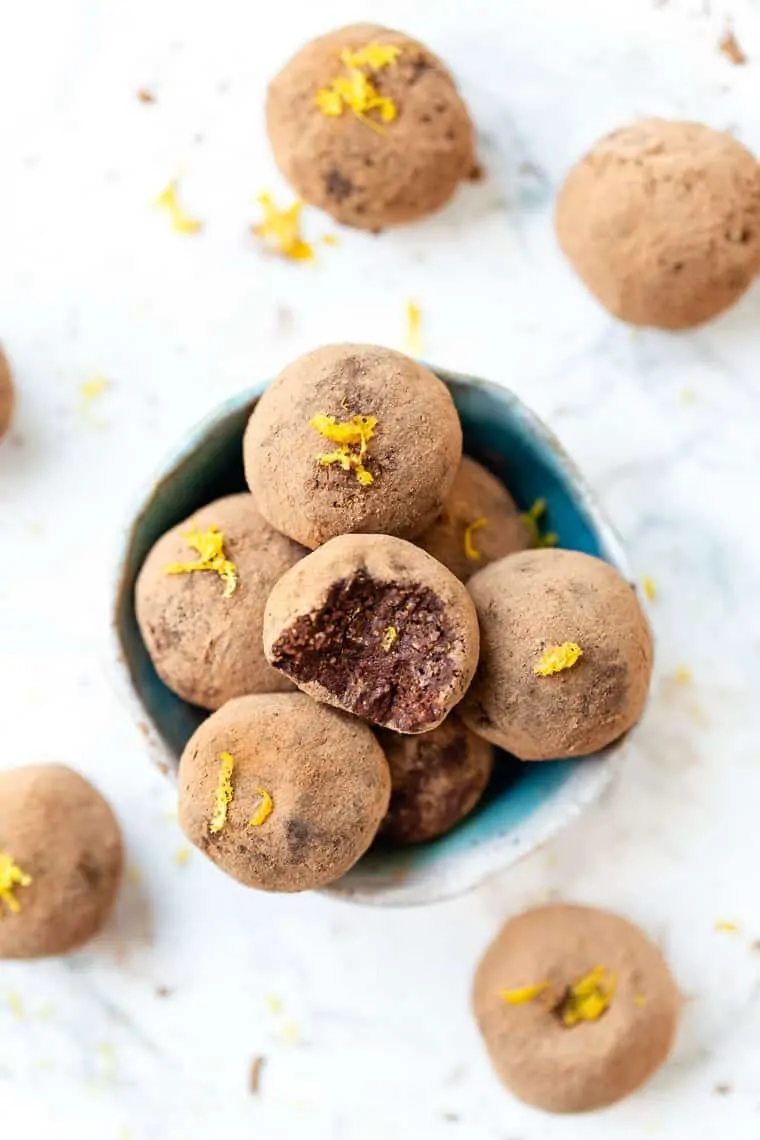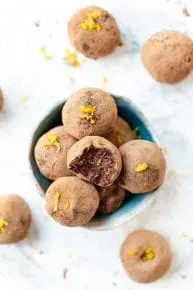 Instructions
In a food processor, add the dates, walnuts, and almonds. Process on high until a sandy texture forms, about 30 seconds. Add the remaining ingredients (starting with 1 tablespoon of coconut flour) and blend again until a smooth dough forms. If the dough is still a bit sticky, add another tablespoon of coconut flour.

Roll the dough into 1" balls. Toss each ball in raw cacao powder (if desired) and enjoy!
Nutrition
Serving:
1
truffle
|
Calories:
108
kcal
|
Carbohydrates:
13
g
|
Protein:
3
g
|
Fat:
6
g
|
Saturated Fat:
1
g
|
Sodium:
4
mg
|
Potassium:
168
mg
|
Fiber:
3
g
|
Sugar:
9
g
|
Vitamin A:
21
IU
|
Vitamin C:
1
mg
|
Calcium:
32
mg
|
Iron:
1
mg
Filed Under: