Creamy Vegan Potato Leek Soup
Creamy and healthy Vegan Potato Leek Soup. Made with just 10 ingredients, this soup is packed with flavor, super creamy without using any butter or milk.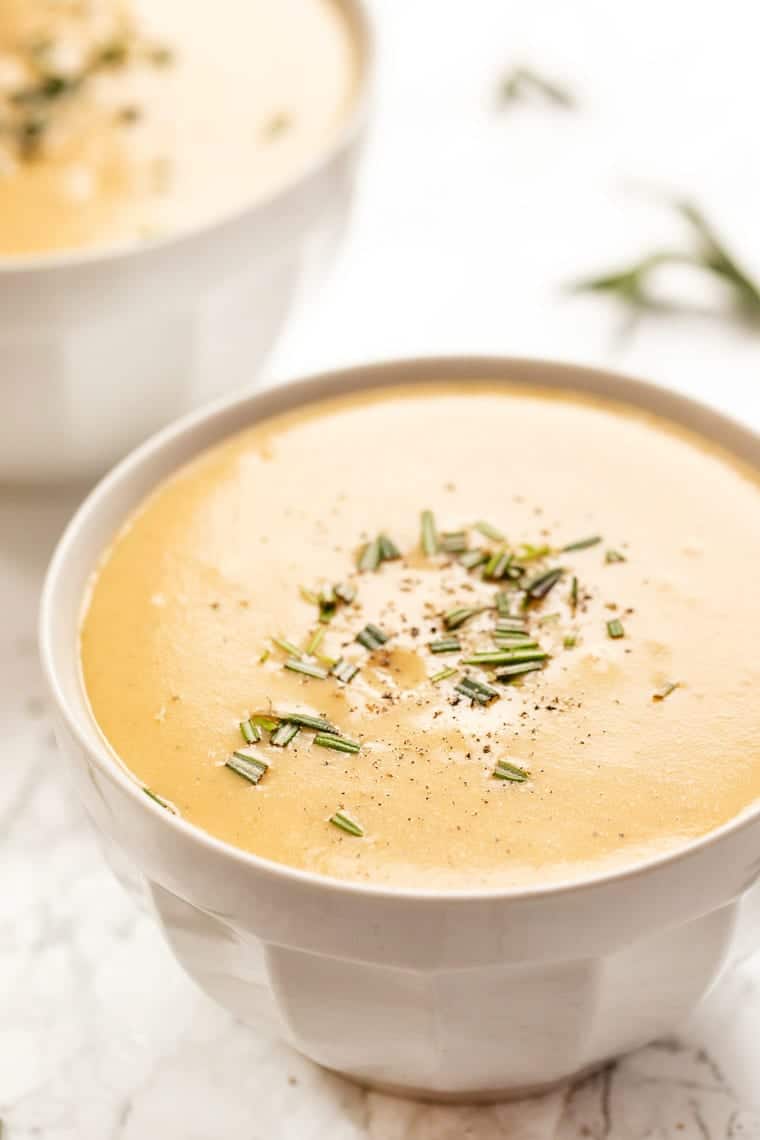 Talk about the ultimate comfort food! Creamy potato soup is probably in my top three – it's so cozy, it's full of yummy carbs and when it's silky smooth, it just totally hits the spot.
I used to love potato soup growing up, but since moving to New York, I haven't made a batch. I had a hankering the other week so I decided to whip up my own vegan potato leek soup. It kind of reminds me of a soup that my dad used to make growing up, just without all the butter, milk and cheese.
This soup is thick and creamy, but also completely dairy-free!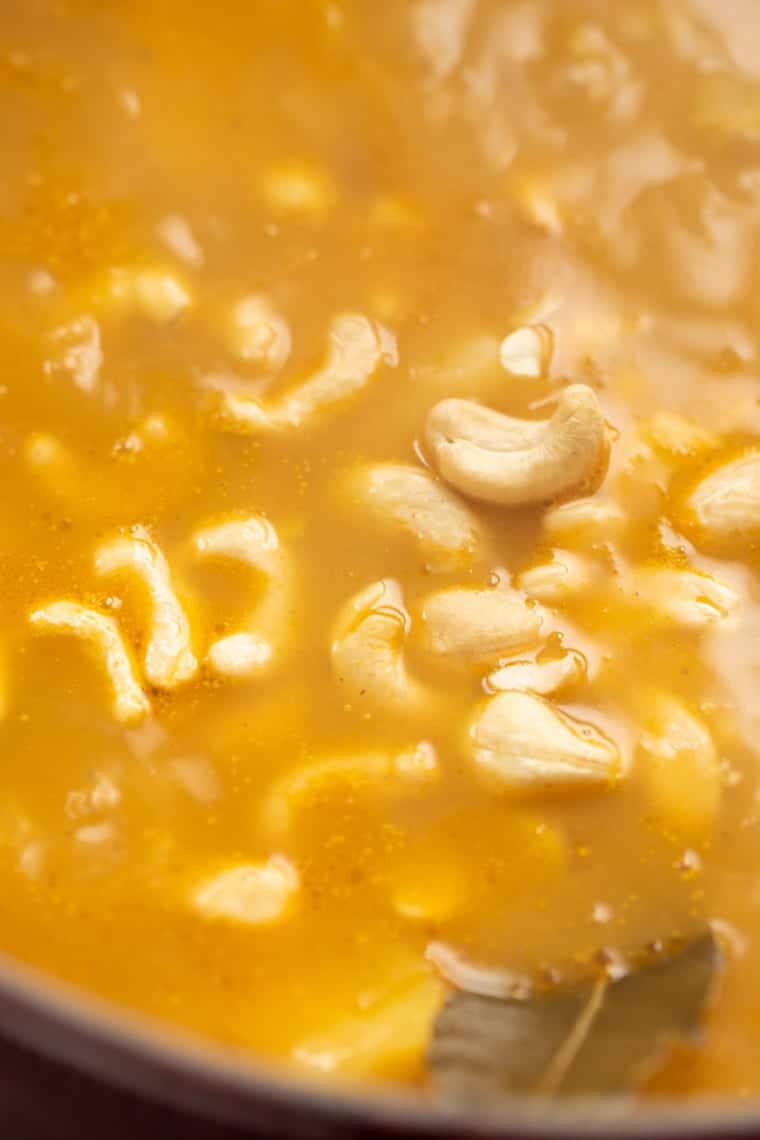 How to make Creamy Vegan Soups
If you're making a traditional creamy soup the base is full-fat cream which helps give the soup that thick, creamy texture. But when you're dairy-free, there really isn't a great alternative.
Most non-dairy or plant milks are fairly watery so you won't get that same texture. The only one that really works is full-fat coconut milk, but then you're stuck with that coconut flavor which sometimes you just don't want (like with a vegan potato leek soup).
Well, friends, I have a solution: RAW CASHEWS!
I know it might sound strange, but when blended up, raw cashews can mimic full-fat cream almost exactly. And best of all? They're pretty much flavorless!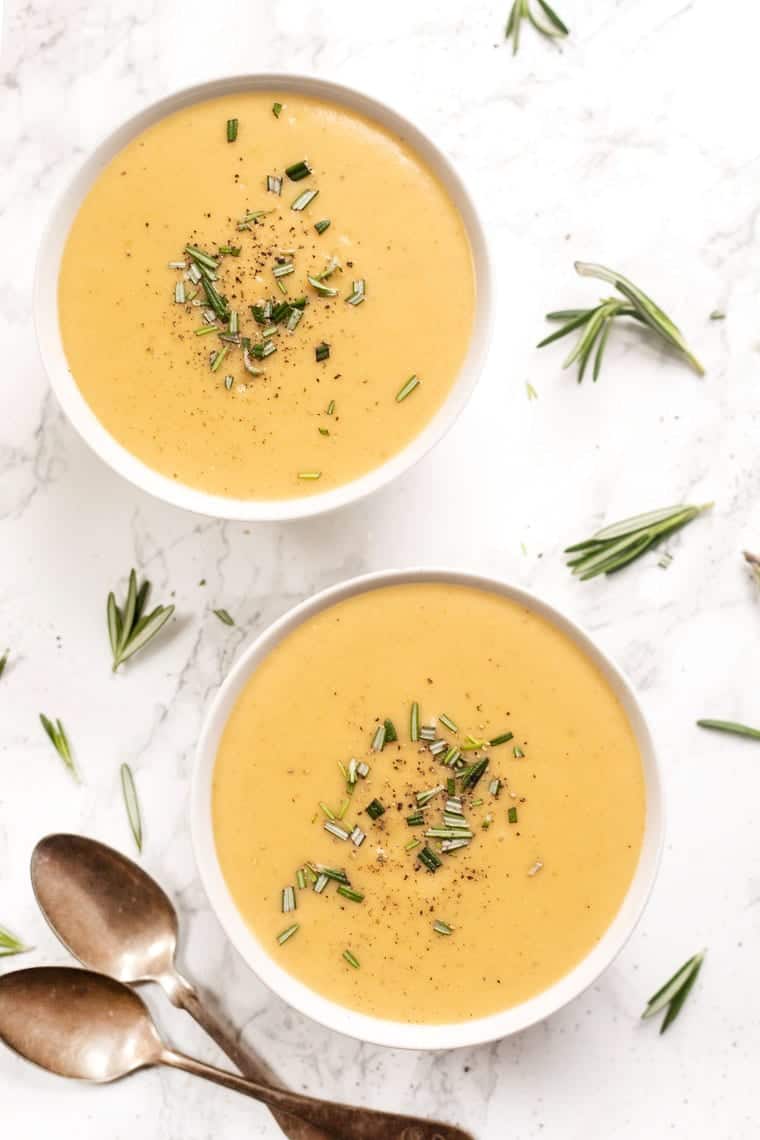 Our Ultimate Vegan Potato Leek Soup
So that's what we're going to do with this recipe!
We're using raw cashews at the tail end of cooking and then blending up the soup in a blender to get it perfectly smooth. The end result is almost exactly like classic potato leek soup, but instead, it's vegan!
What about if you're nut-free? I know there will be some people who are allergic to cashews, so my recommendation would to add an extra cup of potatoes. You won't get quite the same creaminess, but as long as you've got a high powered blender, you'll still get a silky smooth potato leek soup!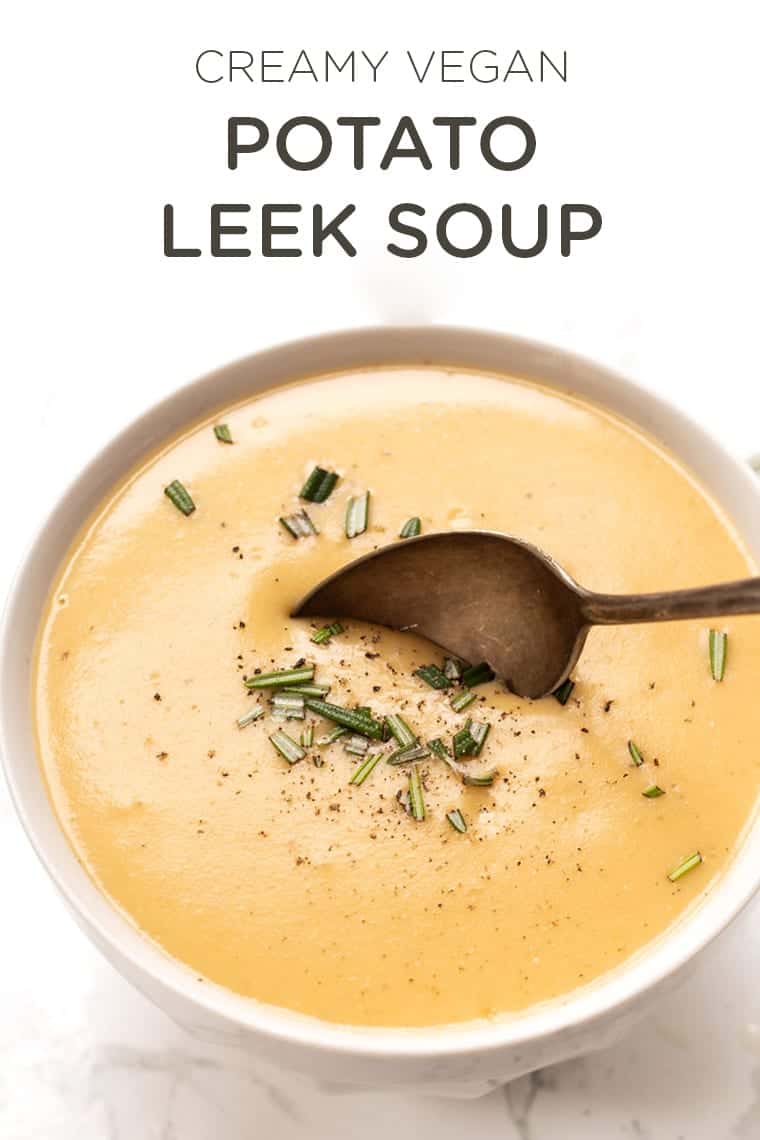 And yes, this truly is the perfect comfort food. Serve it up with some chopped rosemary on top, a little toast on the side and you've got the ultimate winter meal on the table. Oh – it also freezes well so it's great for meal prep too!
More Creamy Vegan Soup Recipes:
Vegan Leek and Potato Soup
This vegan leek and potato soup recipe is creamy, rich, and mouth watering, and takes only 40 minutes to make.
Servings 6 servings
Calories 196kcal
Ingredients
2 tablespoons olive oil
3 garlic cloves , minced
4 leeks , cleaned & thinly sliced
3 cups cubed white potato , about 2 - 3 medium russet potatoes
1/2 teaspoon sea salt & pepper
4 cups vegetable broth (low sodium if desired)
2 bay leaves
1/2 cup raw cashews
Fresh rosemary to garnish
Instructions
Heat the oil in large saucepan or dutch oven. Add garlic and leeks and saute until the leeks start to soften, about 4 minutes.

Add the potatoes and season with salt and pepper. Saute another 2 minutes.

Add broth and bay leaves and stir to combine. Bring the soup to a boil, then turn down to simmer and cook until potatoes are just tender, about 15 - 20 minutes. Stir in cashews and cook another minute.

Transfer the contents of the soup into a blender. Blend on high until smooth and creamy. Pour into bowls and garnish with chopped rosemary.
Notes
Store the soup in an airtight container in the fridge for up to 4 days, or in the freezer for up to 1 month. Reheat on the stove top or in the microwave.
Nutrition
Calories: 196kcal | Carbohydrates: 24g | Protein: 5g | Fat: 9g | Saturated Fat: 1g | Sodium: 648mg | Potassium: 534mg | Fiber: 3g | Sugar: 4g | Vitamin A: 1325IU | Vitamin C: 17.2mg | Calcium: 67mg | Iron: 4.7mg
share what you make
Tag #simplyquinoa on Instagram with your creations! We love sharing what you make with the community. We can't wait to see!

follow on instagram