An amazing recipe for Gluten-Free Croutons! Made with olive oil instead of butter and tossed with garlic and rosemary. They're healthy, easy and vegan too!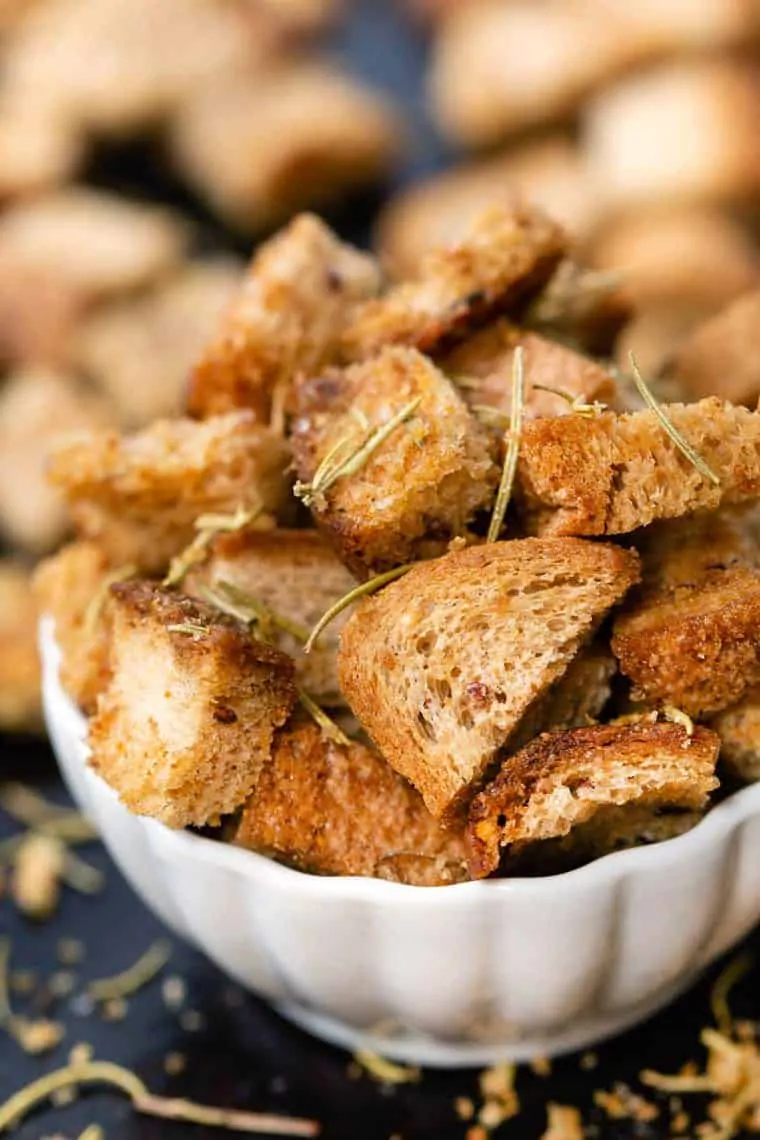 Growing up we always had croutons on our salad. You know the kind that comes in a bag? I loved them, but when I went gluten-free I stopped eating them.
Partly because the gluten-free options at the store aren't very good and also because they're not healthy. Packed with additives, preservatives, oils/butter, and even sugar. Just not something I ever wanted to buy.
But they're also something I crave sometimes. I want that crunch on top of my salad. I want that buttery taste. But I want it to be healthy. So I set out to make my own. And you know what? We totally nailed it. And today I'm going to show you how to make the absolute best gluten-free croutons EVER!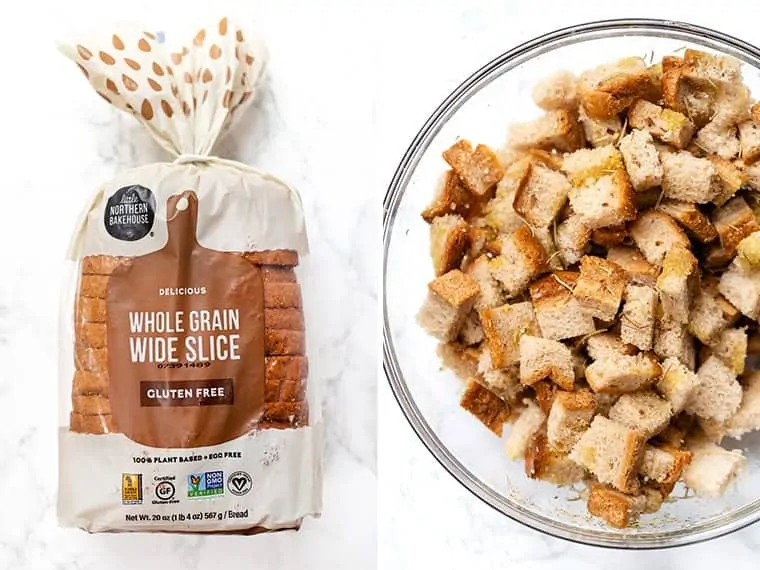 Best Type of Bread for Croutons
If you are looking to make croutons at home, you're in luck! All you need to make them is a loaf of bread. And the best part is? Pretty much any type of gluten-free bread will work!
I'm excited to be partnering up with Little Northern Bakehouse for today's post because they have my all-time favorite crouton-making loaf. I use their Whole Grain Wide Slice gluten-free bread and it's perfection. The wide slice enables you to have larger cubes (which I love) and the whole grains have such an awesome flavor.
But truthfully, you can't go wrong with any of their options. I've tried them all and they're all great and I think they would all be interchangeable in this recipe. If you want to browse their selection – it's huge and everything is gluten-free, non-GMO and egg-free – check it out right here!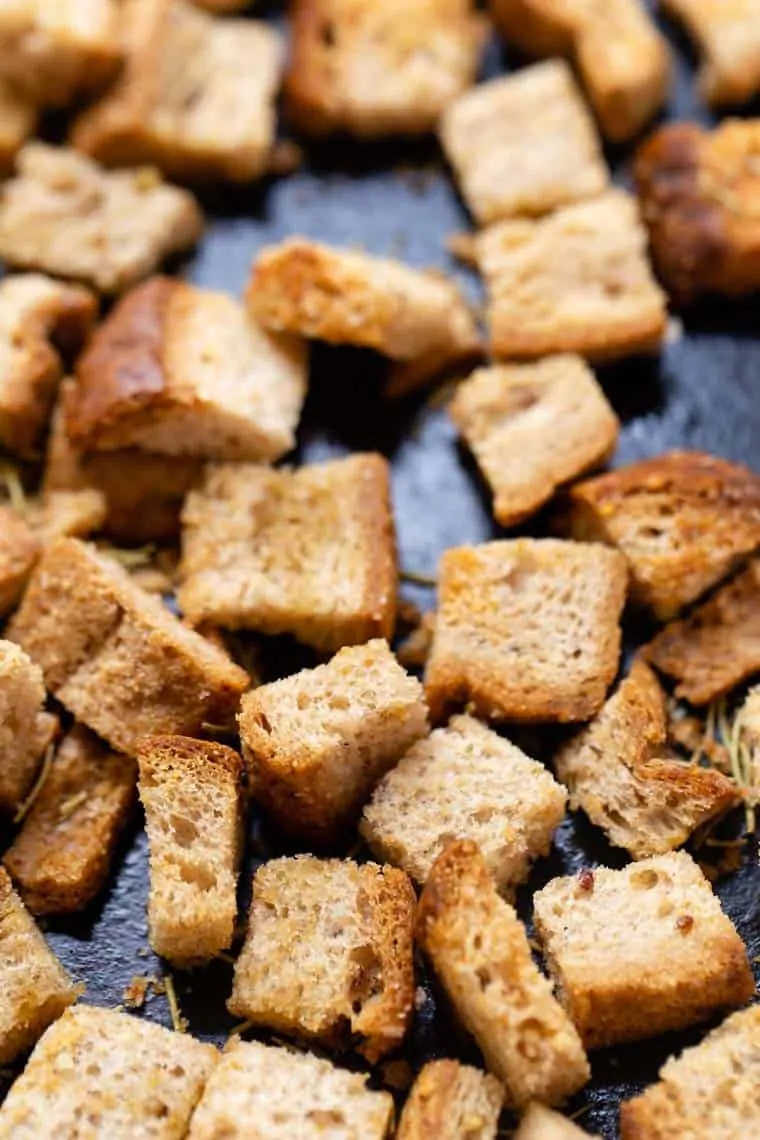 Ingredients for Gluten-Free Croutons
Aside from the bread, there isn't too much else when it comes to making croutons at all. I personally like to flavor them up with spices, but you could also totally just leave them plain.
Here's what I used to make these gluten-free croutons:
Olive Oil: I find that having an oil or melted butter (vegan in my life) gives the croutons a nice crisp, but also helps moisten them up a little bit. Plus, even with olive oil, you get a "buttery" flavor which is awesome!
Garlic Powder: I pretty much put garlic on everything savory, so this is my go-to spice. I find it goes with everything and adds a really nice flavor without being too overpowering.
Dried Rosemary: I wanted something "herby" on these croutons so I went with rosemary. I love the earthiness and woodiness you get from rosemary, but you could totally swap in different spices. I'll share some other combo ideas in a second!
Sea salt: you gotta have some salt on your croutons! That's what really brings out the flavor and rounds everything out.
And that's it! All you need are 5 simple ingredients – 4 of which I bet you already have on hand – and in just about 30 minutes you'll have the best gluten-free croutons EVER!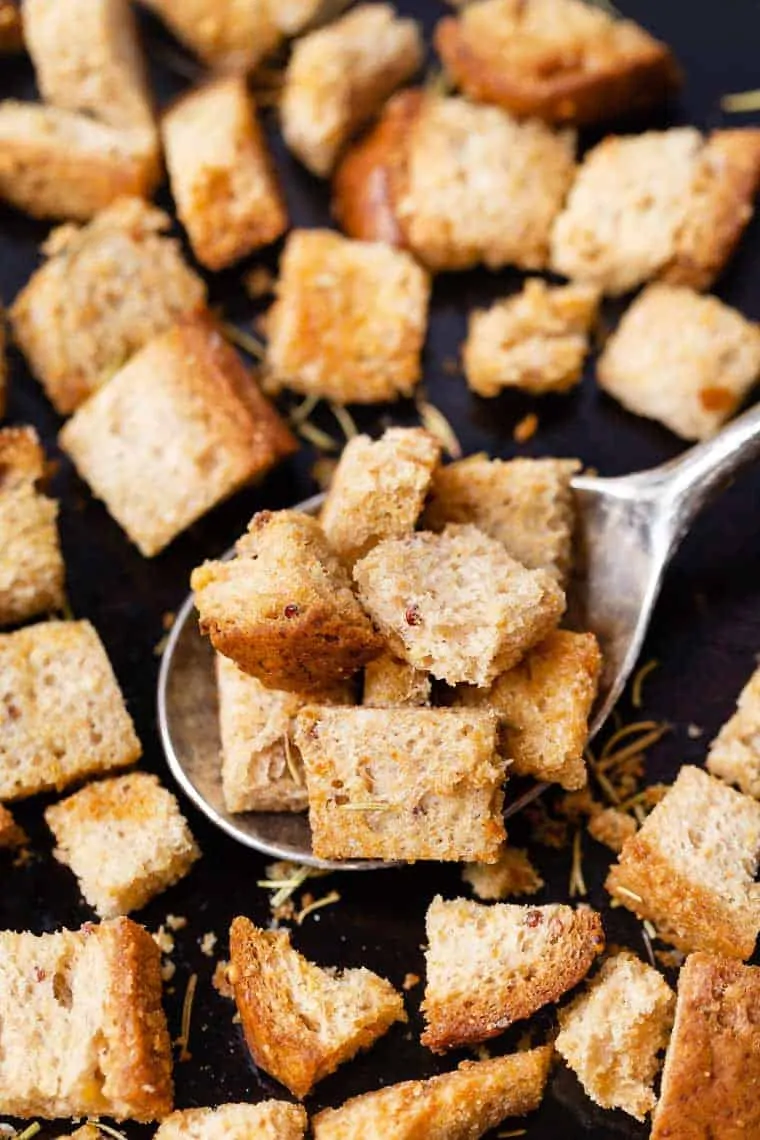 How to make Gluten-Free Croutons
Alright, now let's talk assembly! Making gluten-free croutons at home is so easy. You start by choosing your bread (which we've done).
Next, taking a few slices at a time, cut the bread into cubes. You'll transfer the bread cubes into a mixing bowl and add in the rest of the ingredients: oil, spices, salt. Toss it all together, transfer it to a baking sheet and bake them up until they're nice and crispy.
One tip: if you want super-duper crispy croutons, when they look done (i.e. are golden brown), turn the oven off and let them cool in the oven. You'll keep the oven door slightly propped open and this dehydrates them even more without cooking them more.
I use this trick for my banana bread granola too and it works like a charm!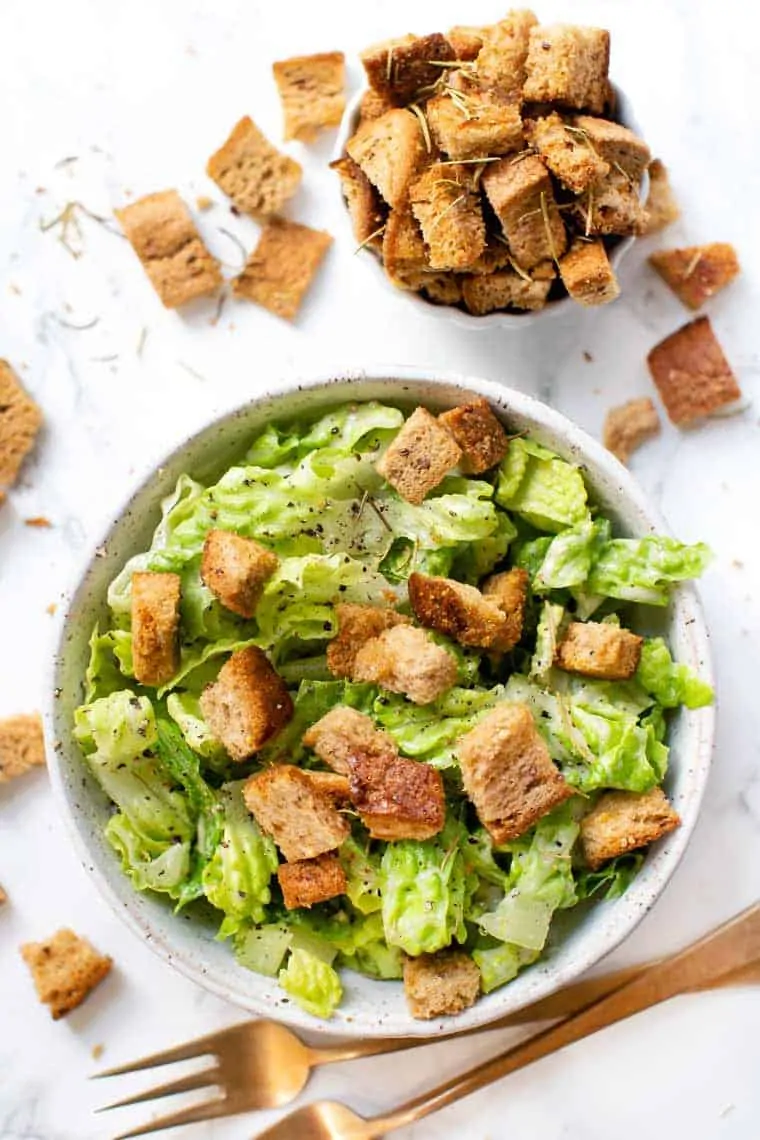 Flavor Ideas for Homemade Croutons
What's awesome about croutons is that they truly are customizable. You have bread as your base, which we all know can turn into pretty much any flavor you like, so I encourage you to have some fun. If garlic and rosemary ain't your thing, here are some other ideas for flavoring your homemade croutons:
Italian: Italian seasoning + salt & pepper
Lemon pepper: fresh cracked pepper + tons of lemon zest
Vegan "parmesan": nutritional yeast + salt + pepper + garlic
Everything bagel: everything bagel seasoning + salt
Smoky: smoked paprika + onion powder + salt & pepper
And honestly, the list goes on! No matter which way you make them, they're sure to be absolutely scrumptious!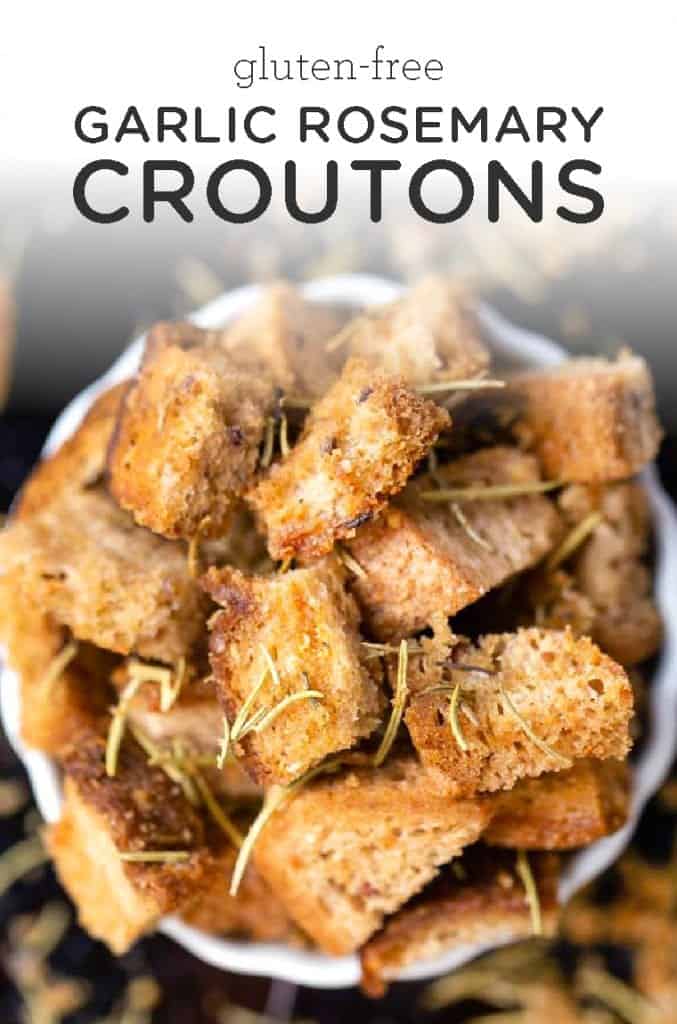 Ways to Use Healthy Homemade Croutons
Need some ideas for how to use your gluten-free croutons? I love putting them on salads as well as creamy soups! Here are some recipes from the site they'd go perfectly with:
Gluten-Free Croutons with Garlic & Rosemary
An amazing recipe for Gluten-Free Croutons! Made with olive oil instead of butter and tossed with garlic and rosemary. They're healthy, easy and vegan too!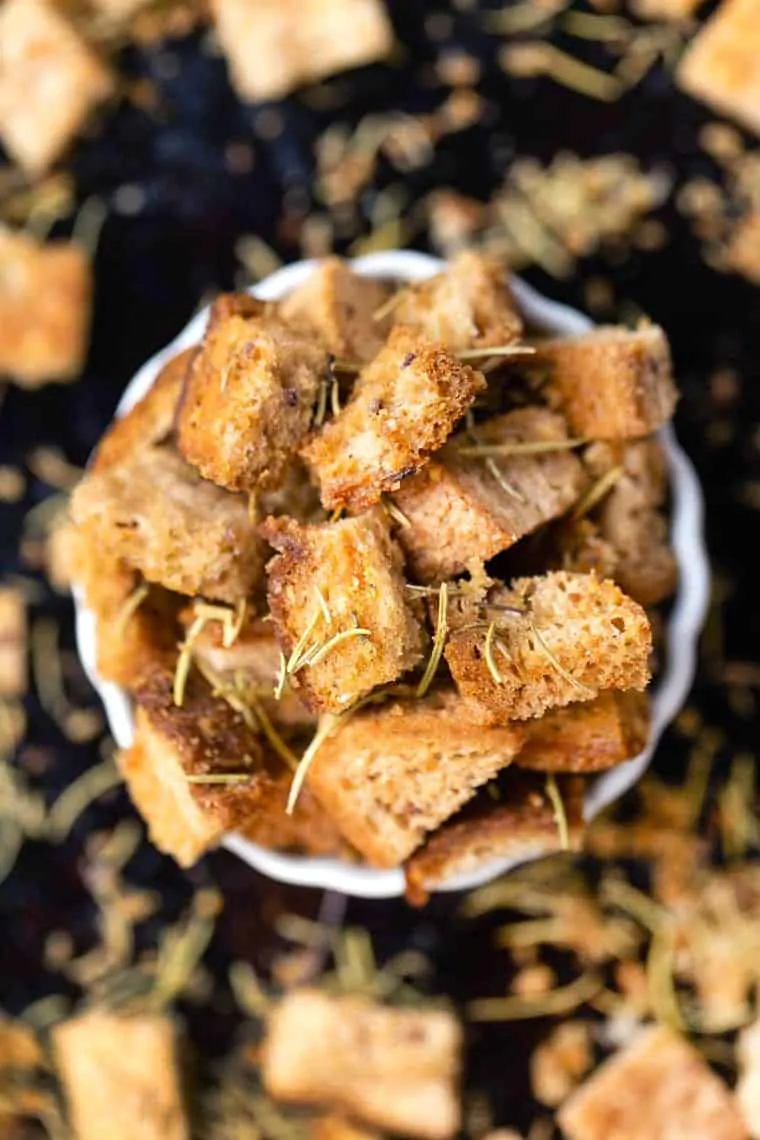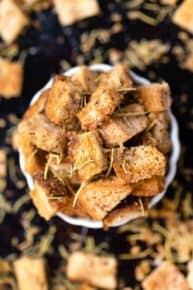 Ingredients
1

loaf

Whole Grain Gluten-Free Bread

(I use the wide slice loaf from Little Northern Bakehouse)

1/4

cup

olive oil

2

teaspoons

garlic powder

2

teaspoons

dried rosemary

(fresh also works)

1

teaspoon

sea salt
Instructions
Preheat the oven to 375ºF.

Cut the loaf into cubes and transfer them to a bowl. Top with olive oil, garlic, rosemary and sea salt. Toss to combine.

Transfer the bread cubes to a baking sheet. Bake for 25 - 35 minutes, flipping halfway through. Watch them carefully so they don't burn.*

Allow croutons to cool completely, then store in a sealed container and use for up to 1 week.
Notes
* if the crounts are getting brown too quickly and not crisping up, turn the oven off and let them cool in the oven with the door propped open for 1 - 2 hours.
** nutrition value will differ based on the bread you use.
Nutrition
Serving:
0.25
g
|
Calories:
172
kcal
|
Carbohydrates:
23
g
|
Protein:
2
g
|
Fat:
7
g
|
Saturated Fat:
1
g
|
Cholesterol:
9
mg
|
Sodium:
321
mg
|
Potassium:
4
mg
|
Fiber:
1
g
|
Sugar:
3
g
|
Vitamin A:
115
IU
|
Calcium:
57
mg
|
Iron:
1
mg
Filed Under: