Roasted Red Pepper + Tomato Quinoa Soup
This healthy roasted red pepper and tomato quinoa soup is ready in 30 minutes, is packed with nutritious ingredients and has the perfect creamy texture!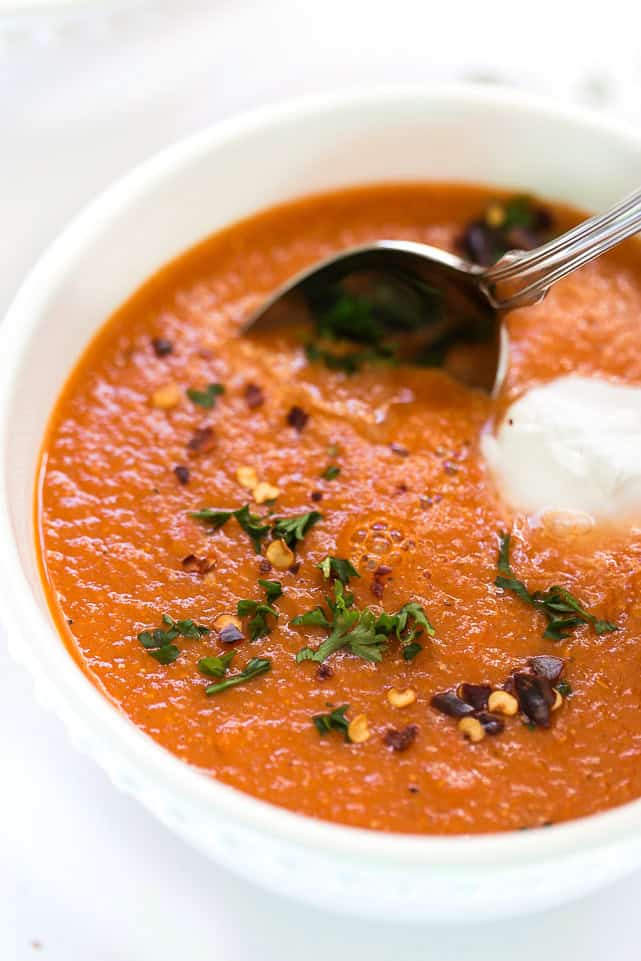 It's soup season and I'm one happy little camper. There's nothing more comforting than a steaming bowl of soup on a cold fall night. It warms the soul, nourishes the body and is the perfect way to wind down at the end of the day.
When I first started this blog, back when it was called Queen of Quinoa, I did a 21-day cleanse program that consisted of a lot of liquid meals. Soups were a staple for me and as such, I have a bunch of outdated recipes in the archives in desperate need of an update.
This Roasted Red Pepper + Tomato Quinoa Soup was one of them.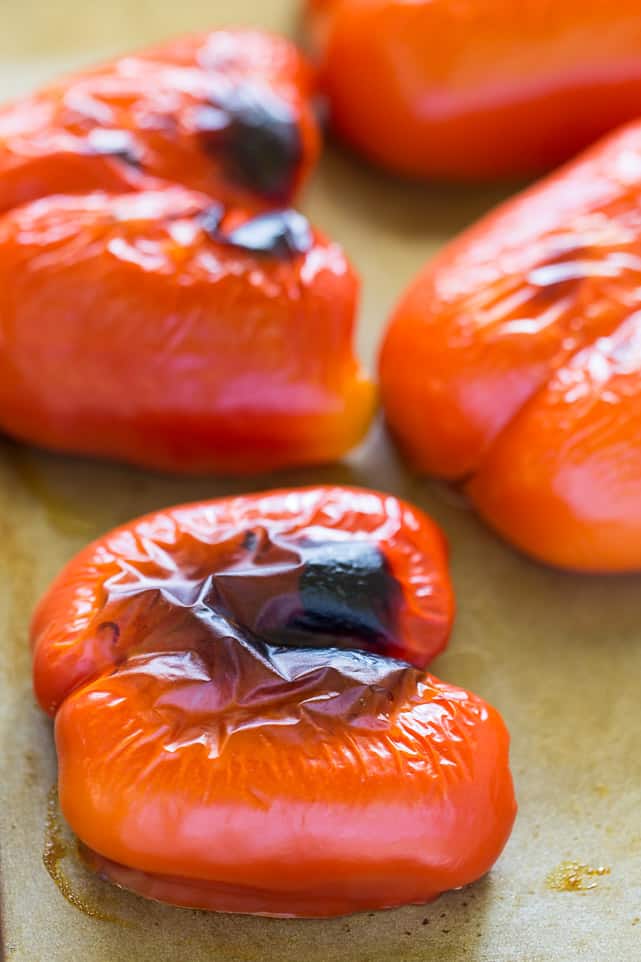 The photos were a bit lackluster and I also changed up the flavors a little bit. But the base still remains…homemade roasted red peppers.
Sounds tricky, but honestly SO easy. You just broil them for about 10 minutes and you have perfectly roasted red peppers. Cheaper than the jarred variety and no added oil needed!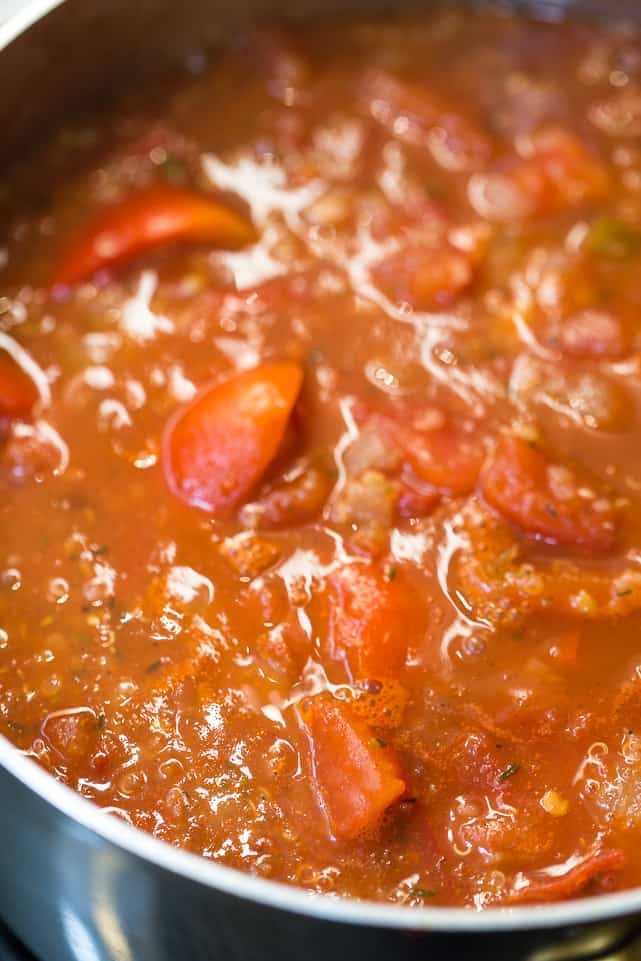 From there, we just let the soup do its thing in the pot.
And while it simmers away, building up all those luscious flavors, you can do your thang! Do a face mask, drink a nice glass of red wine, read a book or just hang with your love.
Hands off dinners are THE BEST.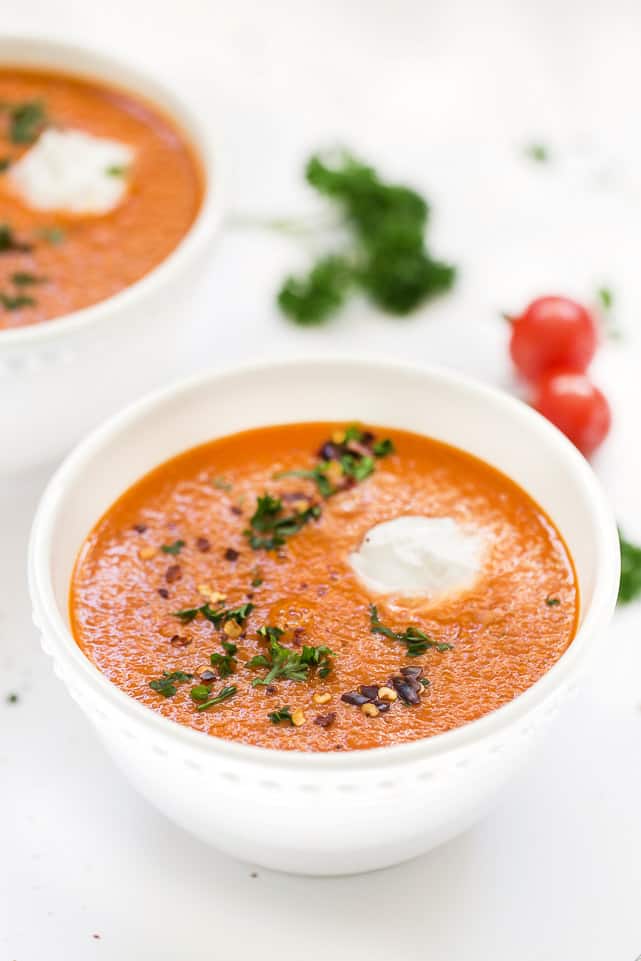 As I've chatted about before in some of my other soup posts, for me, a perfect soup is all about the texture. Granted, I love my quinoa chilis, but my absolute fave thing is definitely a thick, creamy soup. And this soup meets all my criteria and then some! It's…
Creamy
Vegan
Vegetable based
Filling
Dunkalicious
Yes, I said dunkalicious. And yes, that's definitely at the top of my list.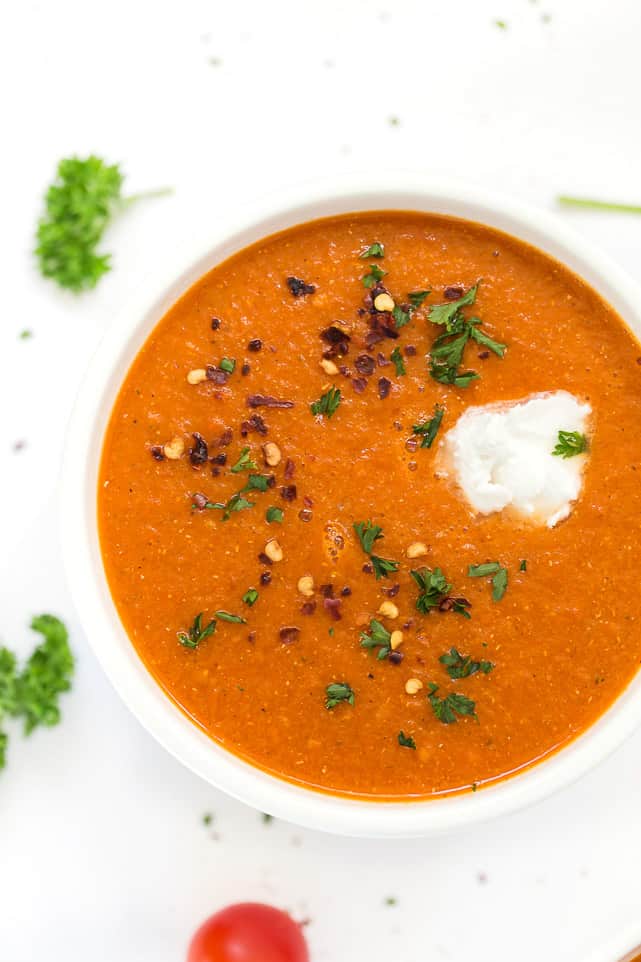 A dunkalicious soup is probably one of the best things ever. Dunk in a piece of toast or a grilled tomato sandwich? It's the perfect combination!
And I know you're going to absolutely love this recipe!
It's a twist on a traditional tomato basil soup, using roasted red pepper for a smokey flavor, a mix of dried herbs for a bit more zing, and quinoa for added thickness. The result is a seriously delicious soup, that's healthy and packed with nutrients.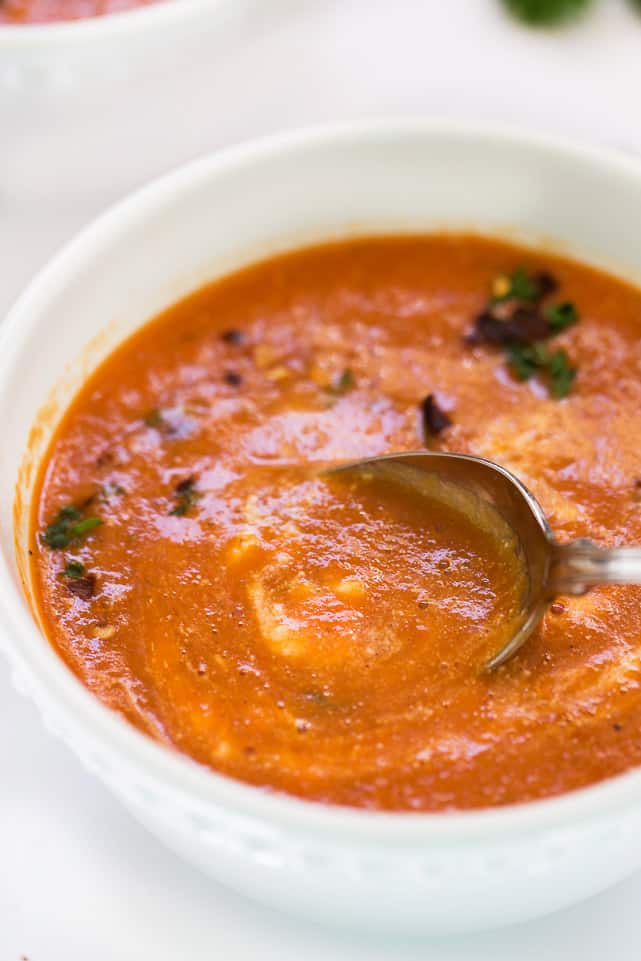 Want even more cozy fall soups? Watch this video!
More Soup Recipes To Try:
Roasted Red Pepper Soup With Tomatoes and Quinoa
This easy and nutritious roasted red pepper soup is packed with fresh vegetables and quinoa. It only takes about an hour to make, and it's cozy, hearty, and super flavorful.
Servings 4 servings
Calories 157kcal
Instructions
Turn on broiler and flatten the seeded peppers, skin side up, on a cookie sheet.

Roast for about 10 - 15 minutes, until the skins are blackened. Remove from the oven and immediately place the peppers in a resealable bag. After 15 minutes, remove the peppers and rub off the skin. Slice into 1" pieces and set aside.

Heat oil in a large saucepan over medium-high heat. Add onions and garlic and sauté until the onions are translucent. Add tomatoes, tomato sauce, red peppers, vegetable broth, quinoa, herbs and spices. Bring the soup to a boil and reduce heat to simmer. Cover and cook for 20 – 25 minutes.

Remove soup from the heat and blend with an immersion blender or in a high-speed blender (in two batches), until smooth. Stir in hot sauce if desired.

Serve immediately and enjoy!
Notes
Store in an airtight container in the fridge for 3 days, or in the freezer for 4 months. Reheat over medium heat for 5 minutes, or in the microwave on 80% power in 30-second increments. 
Nutrition
Calories: 157kcal | Carbohydrates: 19g | Protein: 4g | Fat: 8g | Saturated Fat: 1g | Polyunsaturated Fat: 1g | Monounsaturated Fat: 5g | Sodium: 622mg | Potassium: 399mg | Fiber: 4g | Sugar: 6g | Vitamin A: 2474IU | Vitamin C: 88mg | Calcium: 42mg | Iron: 2mg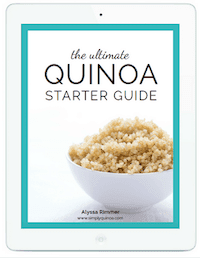 New to cooking quinoa? Grab your FREE Quinoa Starter Guide!
Become part of the Simply Quinoa community and receive weekly emails with exclusive content that I only share in email, as well as my in-depth guide to starting your quinoa journey.
share what you make
Tag #simplyquinoa on Instagram with your creations! We love sharing what you make with the community. We can't wait to see!

follow on instagram