These healthy curry roasted vegetable quinoa bowls are the perfect meal! They're easy to make, packed with protein, filled veggies & tons of amazing spices!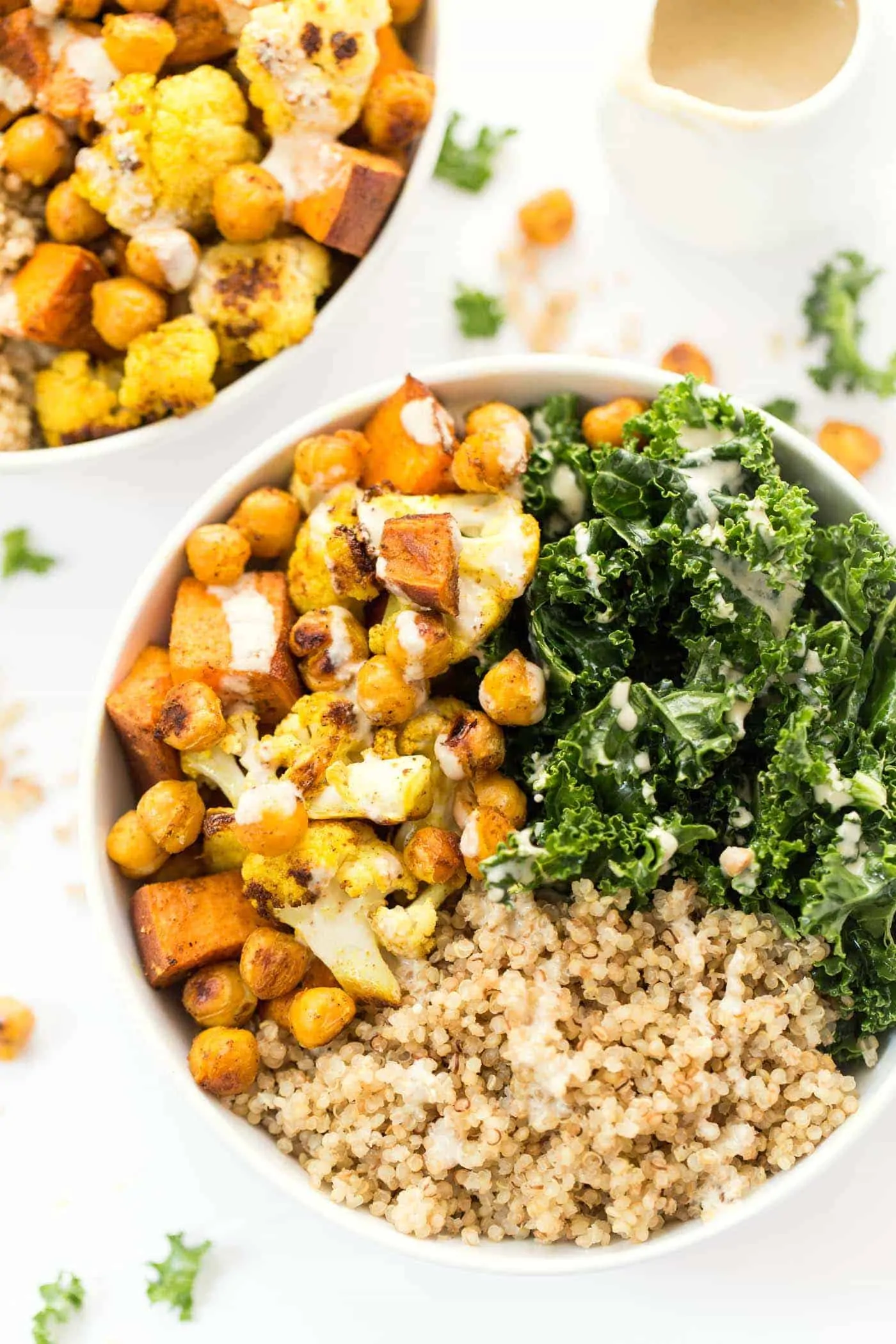 Curry. Oh, curry. There are so many ways to enjoy it and it's always one of my absolute favorite dishes. Whether it's Thai, Indian, Lebanese, Moroccan, you name it, curry recipes always catch my eye. We've done a lot of curry-flavored dishes here on the blog, like my Coconut Quinoa Curry or Moroccan Chickpea Stew, but that wasn't what I was in the mood for.
This time when the curry craving hit, it wasn't a simmered soup or slow cooker dish that my body wanted, it was more like a warm and cozy buddha bowl-type meal. Except for this time with all those amazing curry flavors.
So I whipped up these super easy curry roasted vegetable quinoa bowls and they totally hit the spot. Exactly what my body was looking for!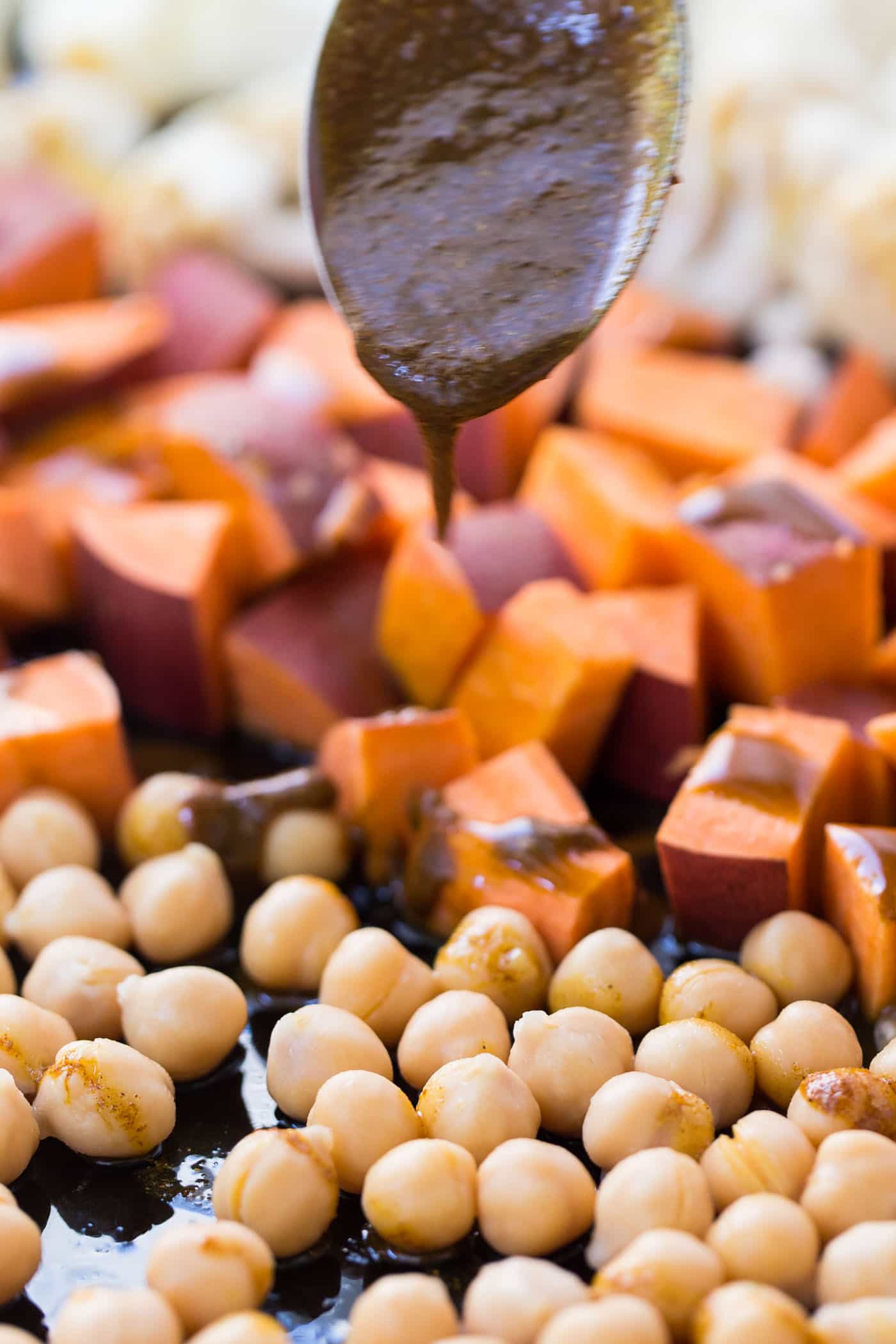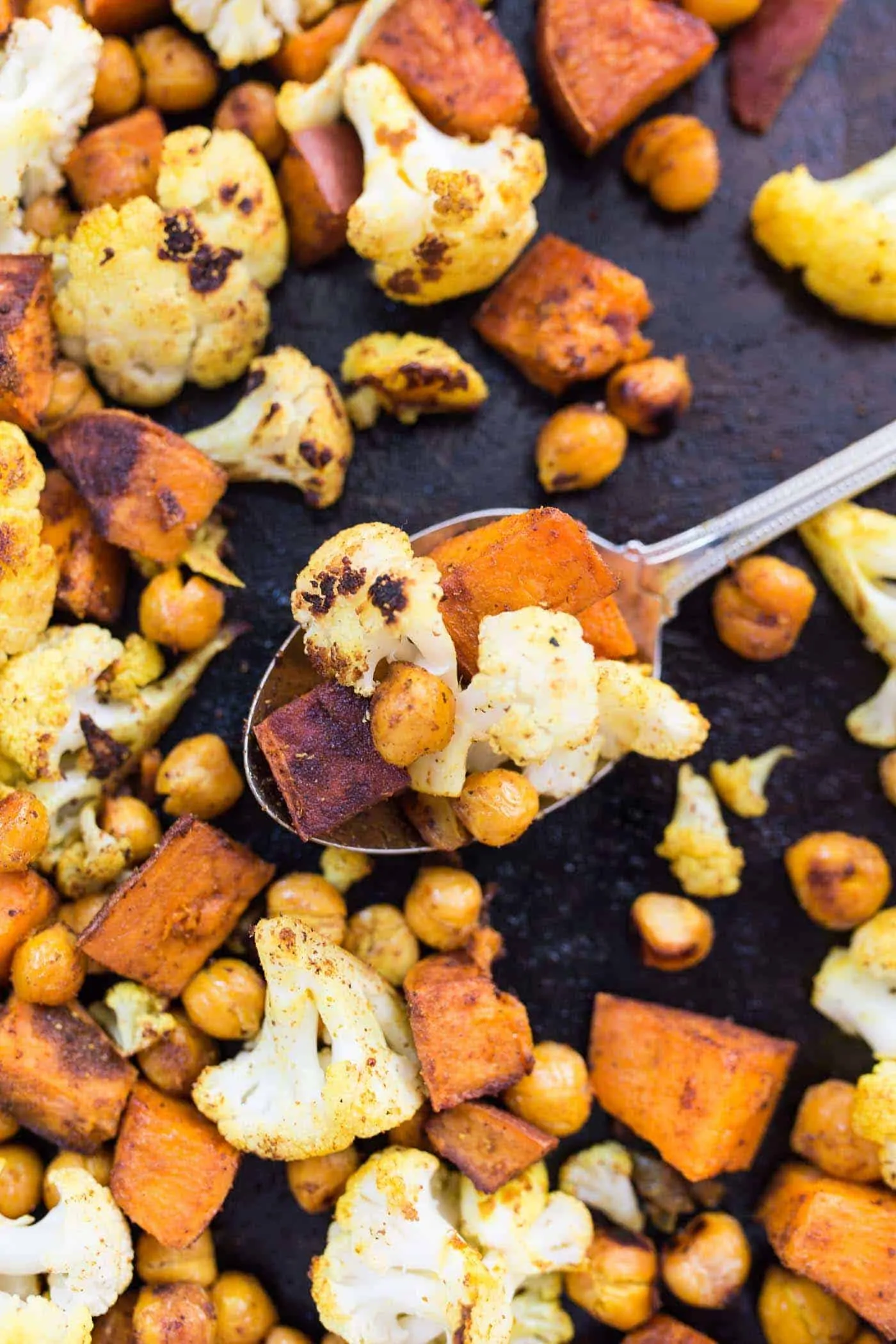 Indian flavors were on my mind tonight, and with my jar of curry powder was staring longingly at me from the spice cabinet and the fresh cauliflower flirting with me from the fridge, I knew it was time to make some curry roasted veggies.
Typically when I roast veggies, I like to toss them all separately and then roast them on the same pan, but this time, I just added everything to the pan, whisk up a quick curry-spiced marinade and drizzle it over the top. I even added the chickpeas to the pan since I knew they would get nice and crispy as they cooked!'ve honestly never done this method of roasting things before, but
Now I can fully understand the draw of sheet-pan meals. This was so frickin' easy it was insane. I loved it! I'm definitely going to doing this more often now.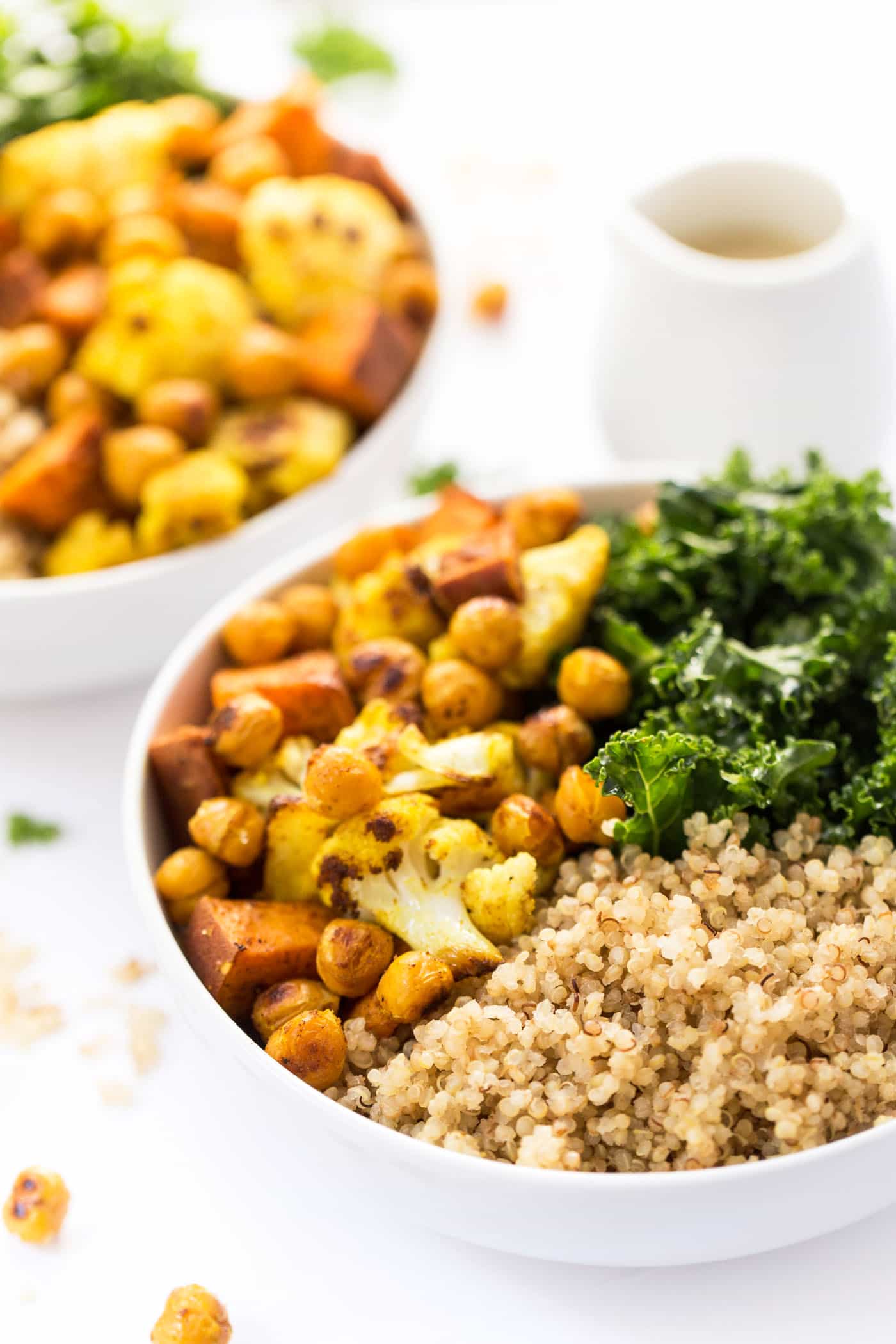 Then you basically just put it all together in a bowl and boom!
You guys know how much I like to have a meal with greens, so for this recipe, I went with massaged kale, but it would also be delicious with spinach, arugula or even chopped romaine.
But the kale was on the verge of going bad, so I just ripped it up into pieces, tossed in a bowl with a little olive oil and lemon, and massaged the heck out of it until it was soft and tender. It was the perfect complement to my quinoa bowls!
It was the perfect complement to my quinoa bowls!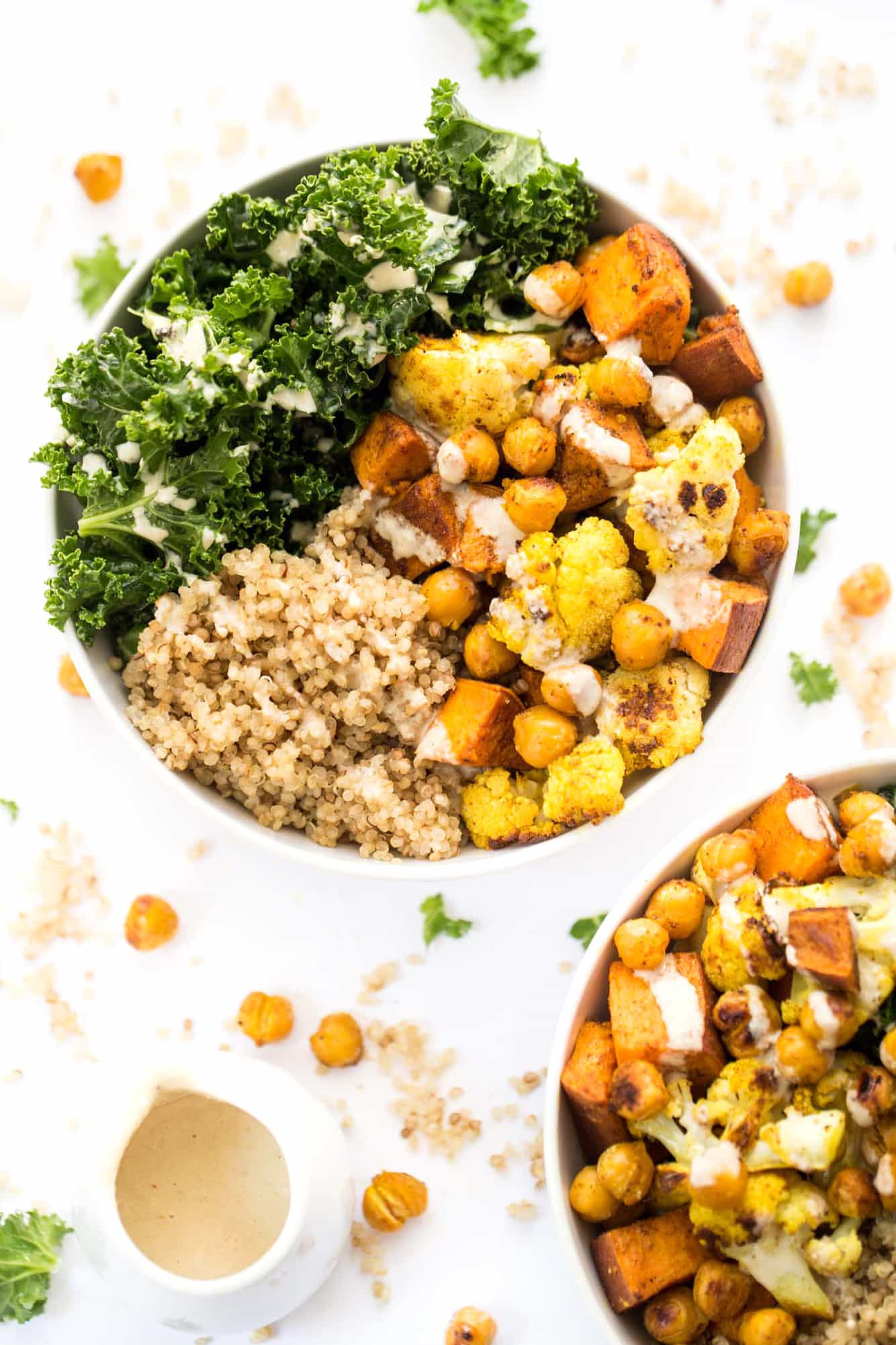 The best part about this meal is that it's also super customizable. Here are some substitution ideas in case these exact ingredients don't vibe with your taste buds or you don't have them on hand:
Veggies: feel free to swap in any other veggie that can handle roasting! I think things like squash, eggplant, broccoli, turnips, carrots, zucchini, etc
Quinoa: any other whole grain would totally work in this dish including brown rice, sorghum, amaranth, millet, or even pasta!
Greens: I went with massage kale, but it would be delish with spinach, arugula, romaine, or swiss chard
Protein: if chickpeas aren't your thing, you can totally make this non-veg and add grilled chicken, shrimp, lamb or steak! (you could also just make that on the side for the meat-eater in your life!)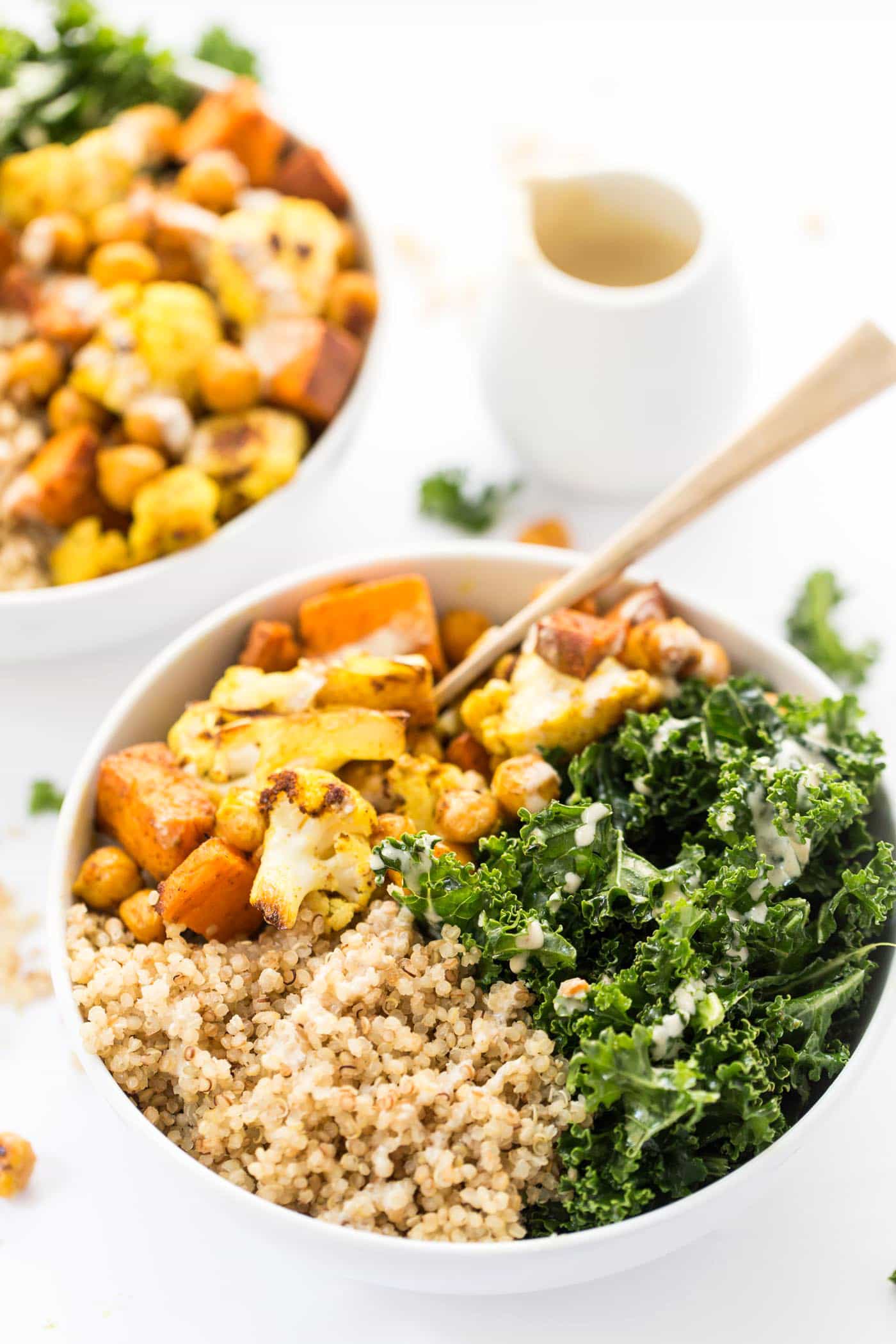 And one last thing before you go…these bowls also makes an amazing meal prep option/leftovers for lunch!
The veggies, quinoa, and kale will all keep in the fridge for at least 4 – 5 days, so you can make a batch one night and have lunches/dinners all week long! I'm currently eating my leftovers and am SO happy about it.
Enjoy! xo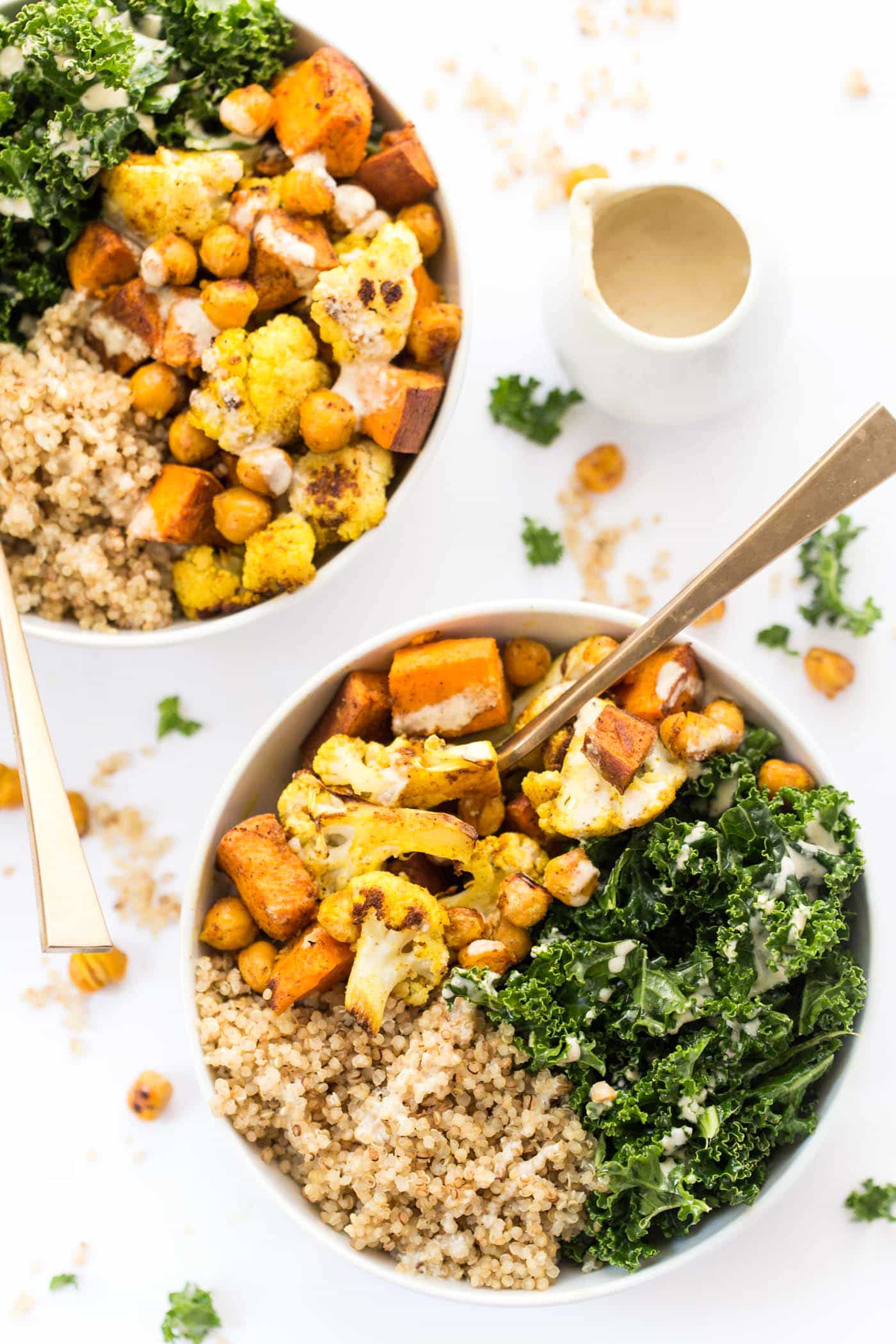 More Curry Inspired Recipes to Try:
Curry Roasted Vegetable Quinoa Bowls
Super easy curry roasted vegetable quinoa bowls and they totally hit the spot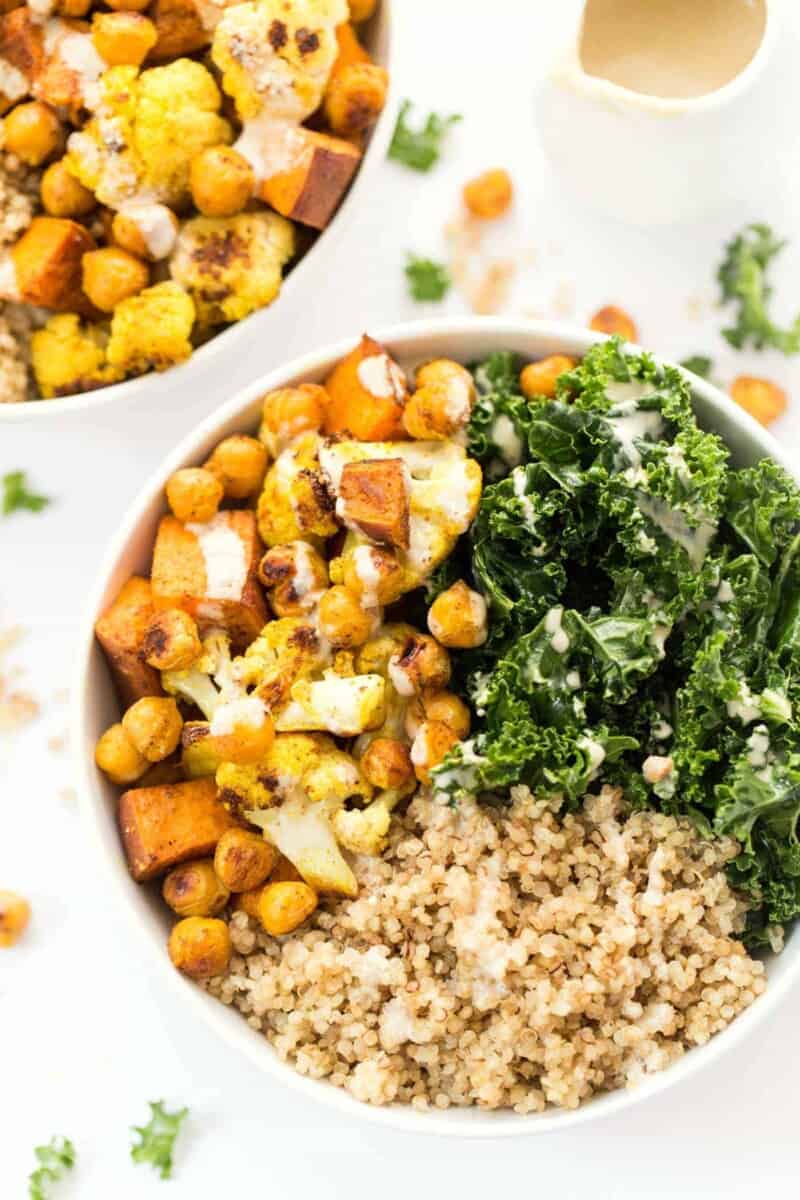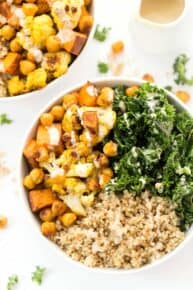 Instructions
Preheat the oven to 425ºF. Spray a baking sheet with non-stick cooking spray (I like avocado oil spray). Place cauliflower, sweet potatoes and chickpeas on the baking sheet.

In a small bowl, whisk together 3 tablespoons olive oil, curry powder, turmeric, cumin, salt and paprika. Pour dressing over the veggies and toss to combine. Roast on the center rack for 20 - 30 minutes, flipping halfway through.

While the veggies are roasting, add quinoa and vegetable broth to a small saucepan. Bring to a boil, cover and reduce to simmer for 15 minutes. Remove from heat and allow to cool until ready to serve.

For the kale, begin by removing the stems, then tear it into small pieces and add it to a large mixing bowl. Drizzle with remaining tablespoon of olive oil and the juice of the lemon. Massage with your hands until the kale has softened.

When vegetables are done roasting, remove them from the oven and divide between four bowls. Add equal amounts of quinoa and kale to all of the bowls, then drizzle with tahini dressing of choice.
Nutrition
Calories:
438
kcal
|
Carbohydrates:
56
g
|
Protein:
13
g
|
Fat:
19
g
|
Saturated Fat:
2
g
|
Sodium:
1301
mg
|
Potassium:
701
mg
|
Fiber:
10
g
|
Sugar:
3
g
|
Vitamin A:
6610
IU
|
Vitamin C:
48.1
mg
|
Calcium:
105
mg
|
Iron:
4.5
mg
Filed Under: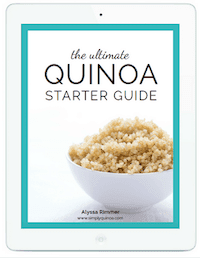 New to cooking quinoa? Grab your FREE Quinoa Starter Guide!
Become part of the Simply Quinoa community and receive weekly emails with exclusive content that I only share in email, as well as my in-depth guide to starting your quinoa journey.
Want more quinoa bowl recipes?
Follow my board on Pinterest!