A gingered carrot bisque from the Food52 Vegan Cookbook is the perfect recipe to warm you up and satisfying your appetite all winter long.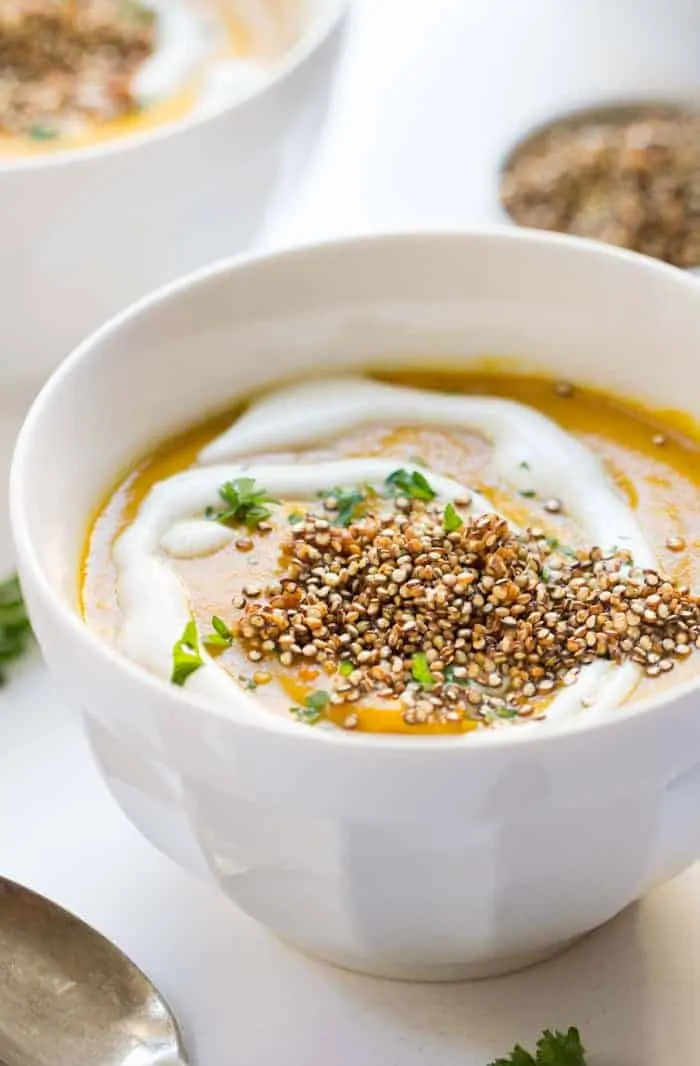 I've tried to make the perfect carrot ginger soup for years. But every time I try it comes out either way too bland, way too strong or way too carroty.
Don't get me wrong, I know I'm making carrot soup, but I don't want it to taste like I'm drinking a straight-up glass of carrot juice. It needs some depth in the flavor. Something that brings out the sweetness of the carrots and makes my mouth dance with excitement.
Years it's taken me to find the perfect recipe. And now I finally have!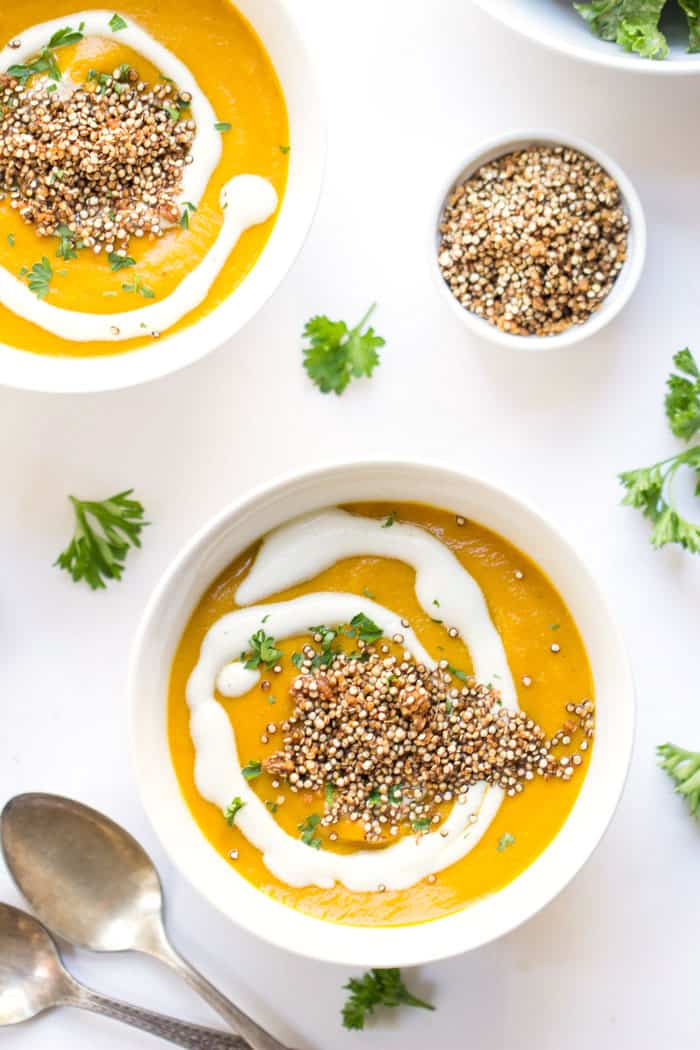 The recipe comes from the new Food52 Vegan cookbook, which was authored by the oh-so-talented Gena Hamshaw. If you don't know Gena, she's the wonderful lady behind The Full Helping (formerly Choosing Raw), a website full of delicious plant-based recipes.
I first discovered Gena's blog years ago (like 6+ years ago) and have been following her ever since. I love her simple approach to plant-based eating and the fact that she doesn't use over-the-top ingredients. Everything is accessible, easy and absolutely delicious.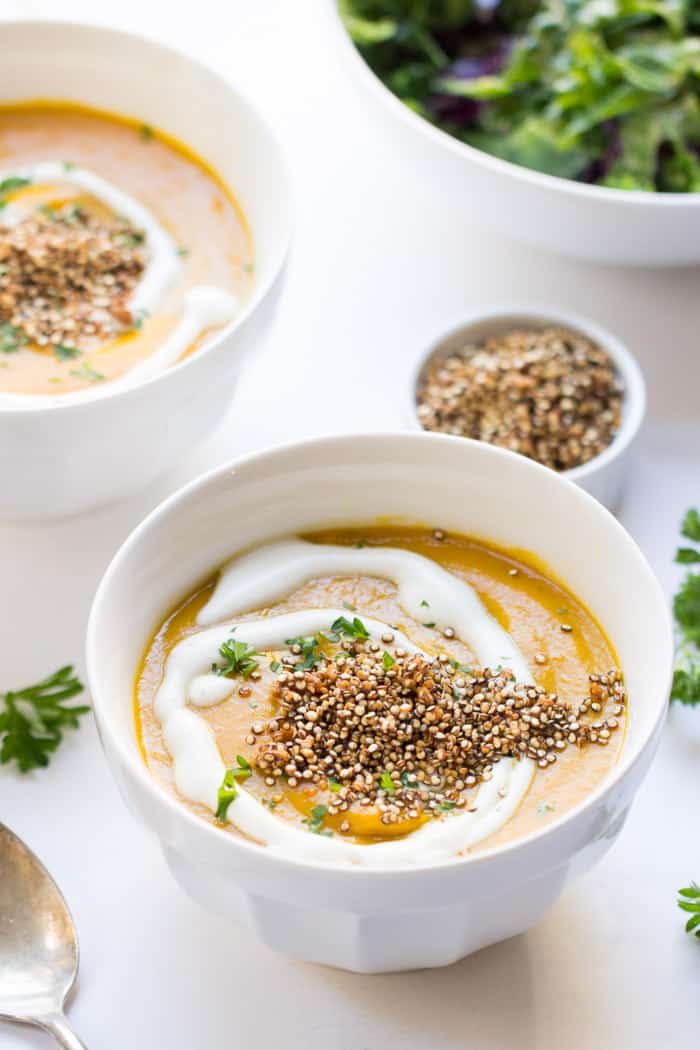 When I found out Gena was coming out with this new cookbook for Food52, I immediately emailed her and asked how I could help get the word out. Judging by her track record, I knew this was going to be a great resource for those of you who are interested in vegetarian and vegan recipes and aren't that experienced with this form of cooking.
As soon as I cracked it open and landed on the Coconut Quinoa Porridge with Toasted Almonds (I mean…come on), I was done for. I proceeded to flip through every single page and earmark the ones I wanted to try. In the end, it felt like I had marked every single recipe!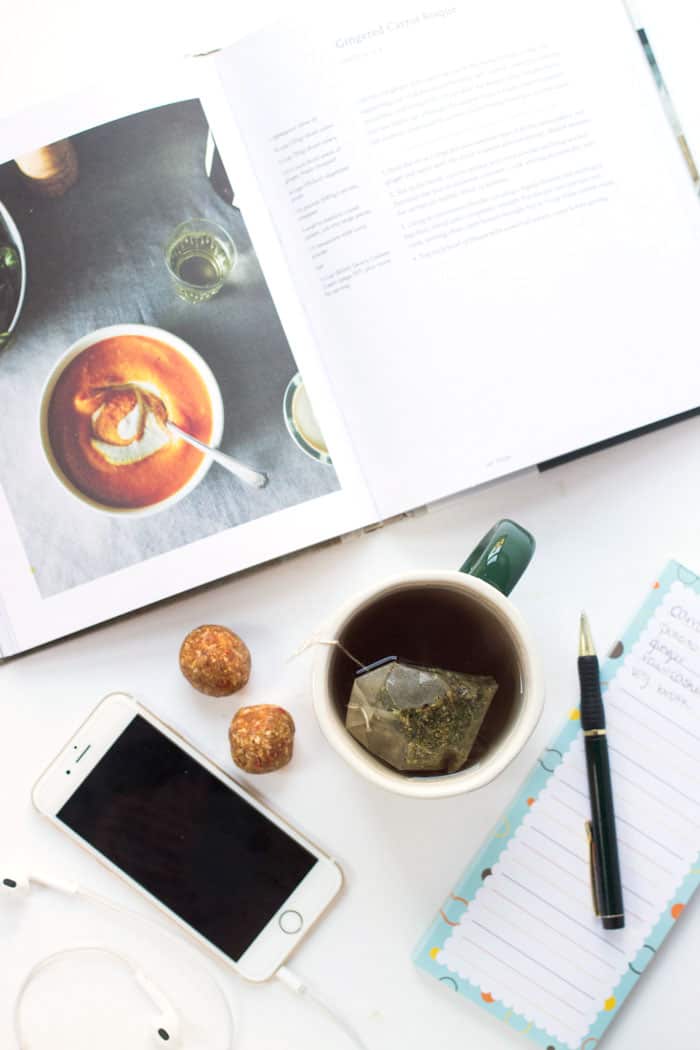 I started with her gingered carrot soup because my previous experience had been lackluster at best. Plus, I loved that all the ingredients were already pantry staples. Oh and that savory cashew cream on top definitely didn't hurt.
This soup has the perfect balance of flavors. It's mildly sweet, but has a nice kick from the ginger. The curry powder adds some complexity without taking over the entire dish. It's there almost as an enhancer.
Normally, I don't use white potatoes in my soup – I'm much more of a sweet potato kind of girl – but I decided to ignore my gut and trust the recipe wouldn't need it. Of course, as soon as I tasted it I realized it was perfect as is. No sweet potato needed – in fact, I think the sweet potato would have taken away from the carrots.
To top it all off, I wanted to give it a fun quinoa garnish.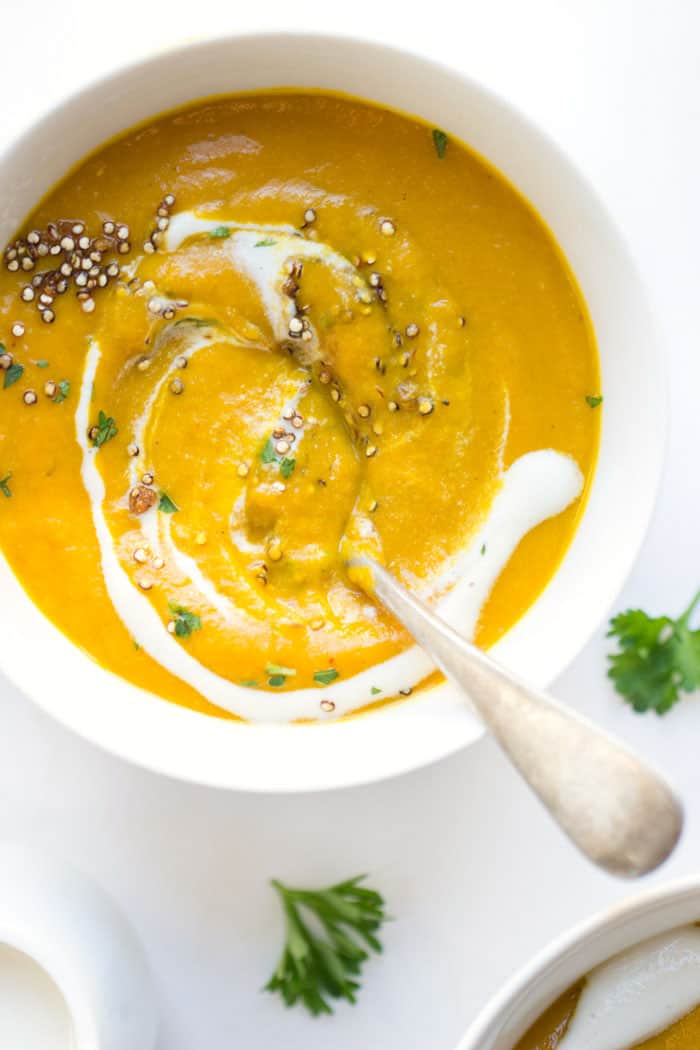 You've seen me add quinoa to pureed soups before to help thicken them up, but this one didn't need a thing. So to add my own quinoa twist to it, I decided to add some toasted quinoa on top. But rather than just toasting it and tossing it on top, I decided to give the quinoa a boost in flavor by stirring it in an olive oil + garlic paste. It was still crispy, but now had this smoky garlic flavor that went really well with the soup. SO SO GOOD!
Now before I let you go, I want to encourage you to check out the Food52 Vegan Cookbook. Even if you aren't vegan, there are still SO many amazing recipes for every tastebud and every lifestyle (even the picky eaters in your life). Whether you need a quick breakfast, a hearty salad to take to the office or a decadent dessert to serve at a dinner party, this book has you covered.
You can pick up a copy on Amazon, and the sooner the better because there are loads of recipes that are perfect for the holidays!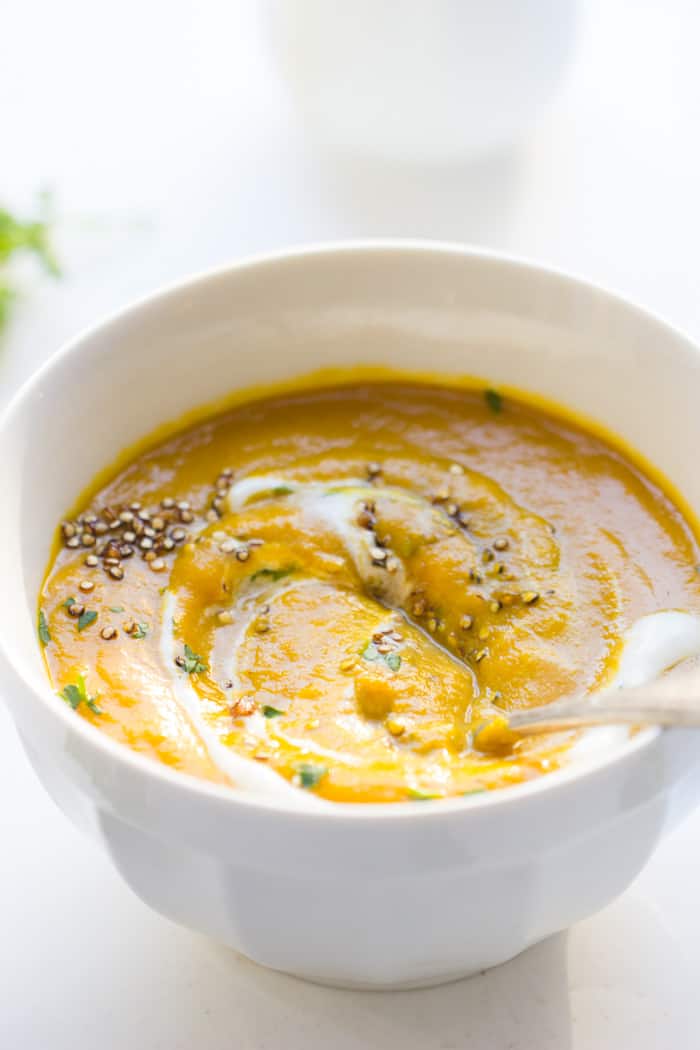 More Healthy Soup Recipes to try:
Carrot Ginger Bisque with Crispy Garlic Quinoa
Years it's taken me to find the perfect recipe. And now I finally have!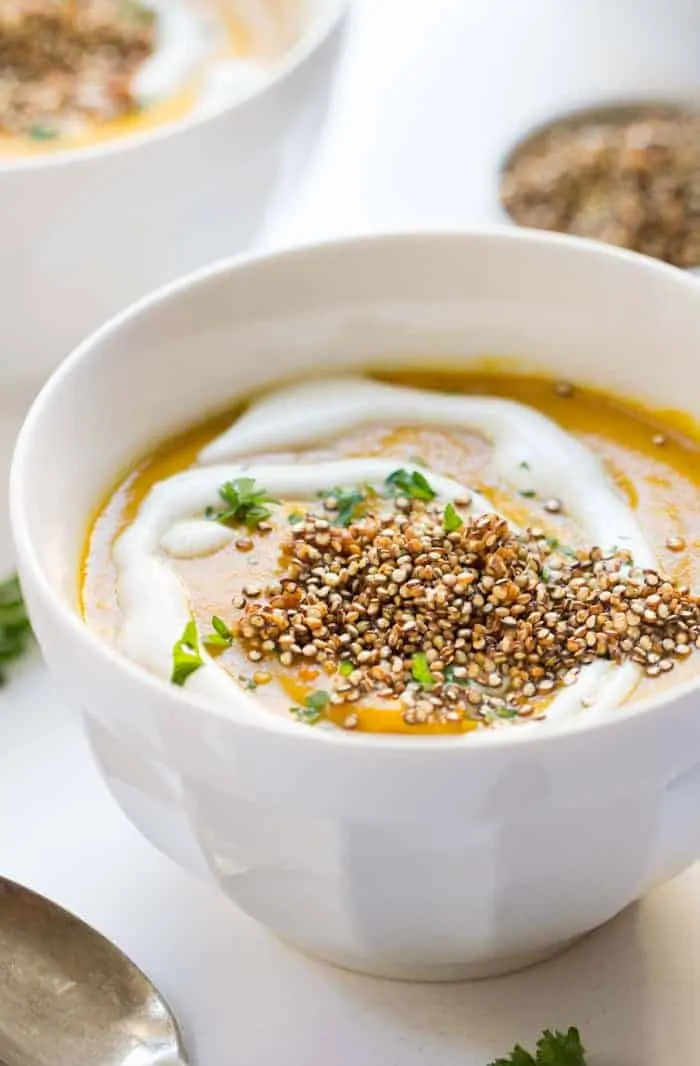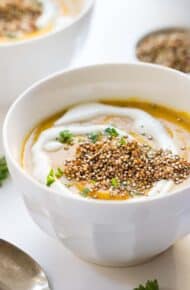 Ingredients
for the soup:
1

tablespoon

olive oil

3/4

cup

diced onion

1/2

cup

diced celery

1

1 1/2-inch piece of ginger, finely chopped

4

cups

vegetable broth

1 1/4

pounds

carrots

chopped

1

small to medium russet potato

cut into large pieces

1 1/2

teaspoons

mild curry powder

1/3

cup

Savory Cashew Cream

recipes follows below



for the savory cashew cream (makes about 2 3/4 cups):
2

cups

cashew pieces

soaked in water for at least 3 hours and drained

1 to 2

tablespoons

freshly squeezed lemon juice

optional

1/2

teaspoon

salt

optional

1

cup

cold water

plus more if desired



Instructions
For the soup: Heat the oil in a large pot over medium heat. Add the onion, celery, and ginger and sauté until the onion is tender and translucent, about 8 minutes. Stir in the broth, carrots, potato, and curry powder and bring to a boil. Decrease the heat to maintain a simmer. Cook, stirring occasionally, until the carrots are tender, about 25 minutes. Using an immersion blender (or using a regular blender and working in batches), blend until completely smooth. Put the pot over low heat and cook, stirring often, until heated through. Stir in 1/3 cup of the cashew cream.

For the cashew cream: Put the cashews in a food processor or high-speed blender and pulse a few times to grind them up. Add the lemon juice and salt. With the motor running, drizzle in the water and process until completely smooth (which may take a few minutes), stopping occasionally to scrape down the sides of the work bowl or blender jar. Add more water for a thinner consistency, if desired; you may want it as thick as whipped cream or as thin as coconut milk, depending on how you plan to use it. (store extra in a covered container in the refrigerator)

for the quinoa: add quinoa to a dry skillet over medium heat. Toss until quinoa begins to pop and get brown. While quinoa is popping, whisk together remaining ingredients. Once quinoa is toasted, about 1 minute, remove from heat and stir in olive oil-garlic paste. Stir to completely combine then set aside.

to serve: transfer soup to bowls then garnish with a touch more cashew cream and a sprinkle of quinoa. Enjoy!
Nutrition
Calories:
361
kcal
|
Carbohydrates:
35
g
|
Protein:
10
g
|
Fat:
22
g
|
Saturated Fat:
3
g
|
Sodium:
806
mg
|
Potassium:
812
mg
|
Fiber:
5
g
|
Sugar:
9
g
|
Vitamin A:
16160
IU
|
Vitamin C:
9.6
mg
|
Calcium:
62
mg
|
Iron:
3.8
mg
Filed Under:
Side note: This post contains affiliate for the Food52 Vegan Cookbook, which means I will earn 6 – 7% commission on any sales generated from my links. Thank you so much!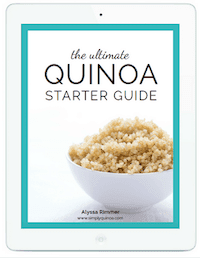 New to cooking quinoa? Grab your FREE Quinoa Starter Guide!
Become part of the Simply Quinoa community and receive weekly emails with exclusive content that I only share in email, as well as my in-depth guide to starting your quinoa journey.