These Gluten-Free and Vegan Apricot Oat Bars make a delicious and easy breakfast or dessert! They're also healthy and have a yummy crumble topping on top!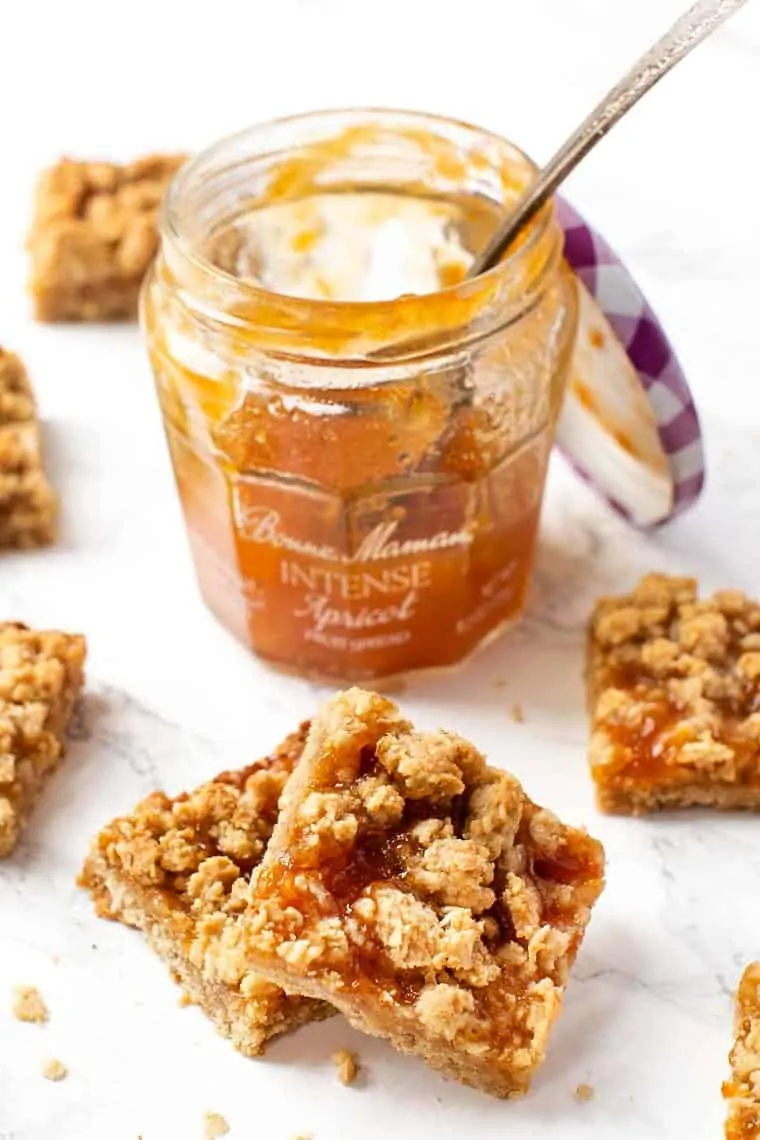 Just wow. These little vegan apricot oat bars are heavenly. Truly!
They've got a crunchy, semi-sweet, cookie-like crust, then a layer of the most luxurious apricot jam, and finished with a crispy, golden brown crumble topping. Not too sweet, with a little tartness and overall just perfectly balanced. Each bite oozes with the bright flavor of apricot, combined with the nutty crust and topping. And we've got all the textures: crunchy, gooey, and cakey all in one.
Good for breakfast, good for dessert, good as an afternoon snack. Just fabulous all around and the ultimate spring recipe!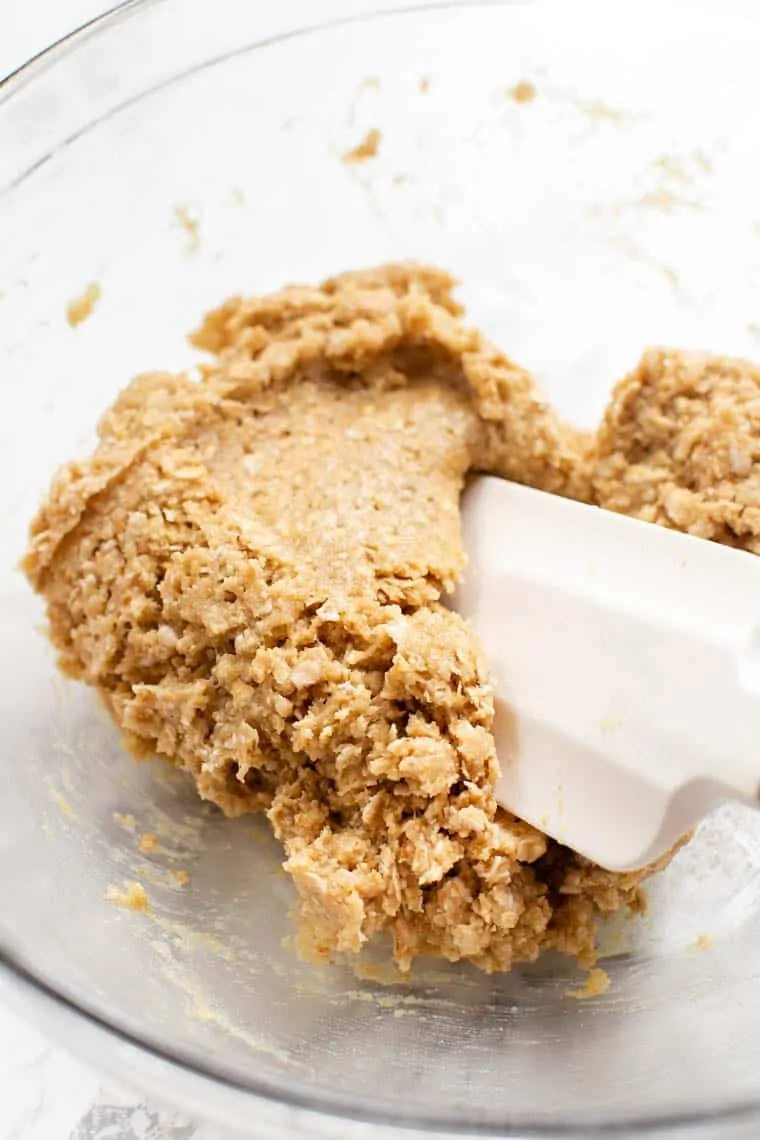 Vegan & Gluten-Free Crust
When it comes to crumble bars like we're making here, the first layer is the "cookie" base. You're looking for something that is kind of crunchy, but also soft, and not too sweet. Since we'll be using apricot preserves, we don't need our base to be super sweet.
I found that by combining just a few simple ingredients you can get the perfect crust! Here's what we're using:
quick cooking oats: these give it a little chewiness, but don't create too much texture
almond flour: I love how almond flour provides a nuttiness, a natural sweetness and also a delicate texture
quinoa flour: quinoa flour helps to make the crust a little denser and crispier
maple syrup: we need a touch of sweetness and the maple does just that!
coconut oil: helps with the crispiness, but is also a key ingredient for the crumble topping
flax egg: the final thing that holds this crust together and keeps it from crumbling!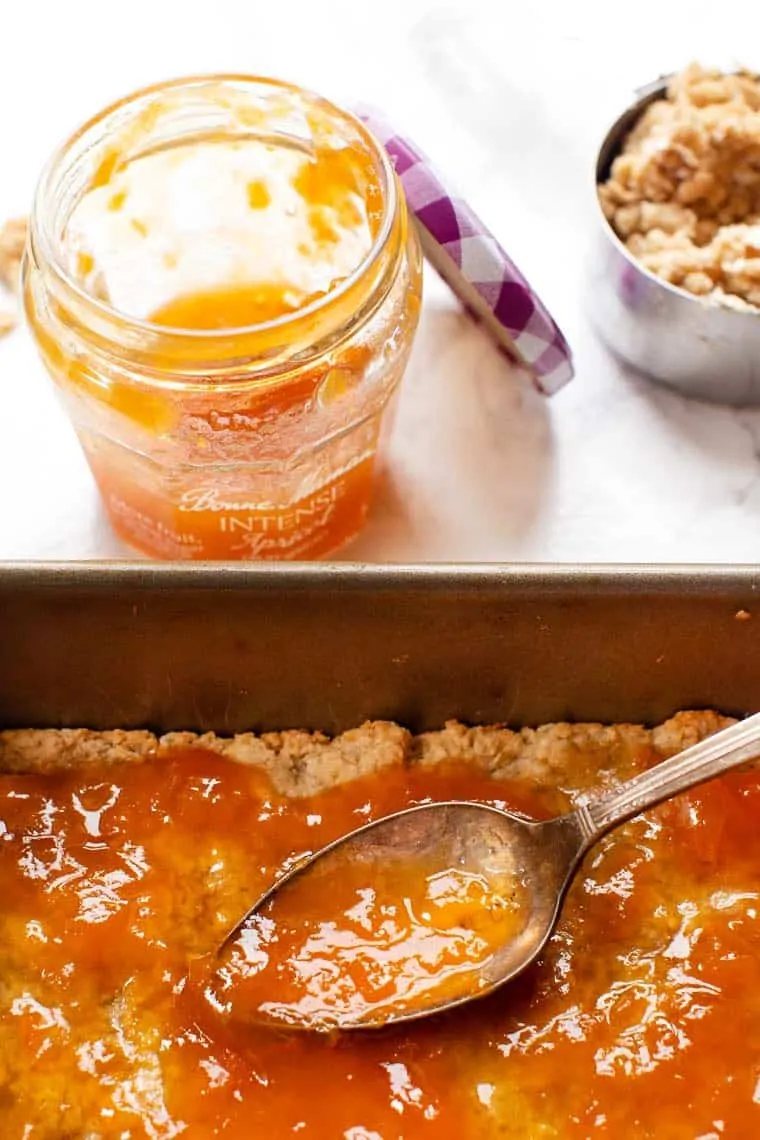 The Healthiest Apricot Jam
Once you've got the crust made, the next layer is all about the apricot. I'm so excited to be partnering with Bonne Maman for today's recipe to highlight their new Intense Fruit Spreads line. This line is non-GMO project certified, is made with simple, natural ingredients and uses 38% less sugar!
We're using the Bonne Maman INTENSE Apricot Fruit Spread in today's recipe and I gotta tell you: the apricot flavor is honestly incredible.
While I don't usually opt for products with cane sugar, this one I can fully stand behind. They use high-quality ingredients, you know everything that's on the label and it has an amazing flavor.
It's tart and sweet at the same time, and when cooked into these apricot bars, you get these subtle slight caramel undertones. Even better, it also holds together and doesn't get runny (which means you bars won't get soggy!).

Easy Vegan Crumble Topping
The final layer in our vegan apricot oat bars is the crumble topping. I'll admit this is usually my favorite part of a dessert and this one does not disappoint.
It gets golden brown and crispy as it bakes and it doesn't overpower the apricot spread. And just like everything else in this recipe, it's not too sweet which helps the apricot really be the star.
But that's not even the best part. Best of all, this crumble is made from the crust ingredients! You just scoop a little extra out before you press down your crust and you've got your crumble. Saves you time and dishes!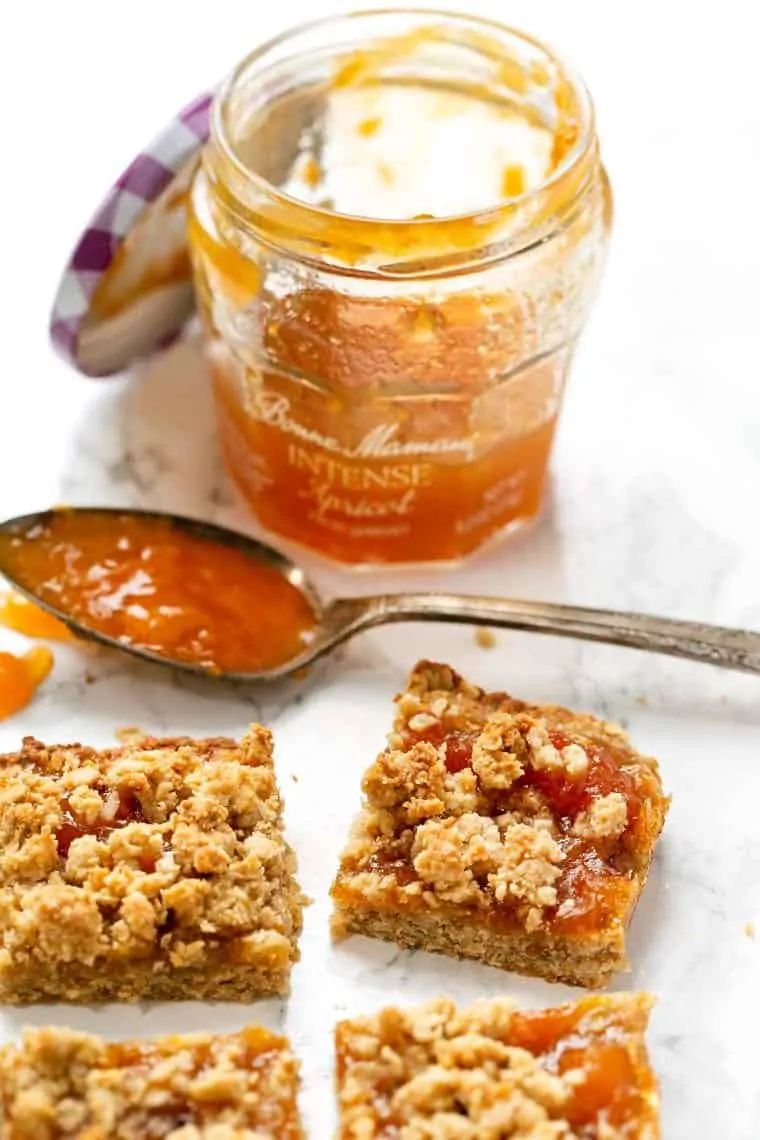 How to Make Healthy Apricot Oatmeal Squares
These bars are really the easiest. So let's talk assembly. How the heck do you make these beauties? Here's how:
Make your crust (and reserve your crumble topping)
Press the crust firmly into your baking pan, making sure to really press hard so that it doesn't crumble once it's done baking
Give the crust a quick bake to ensure it gets crispy(ish)
Layer on your Bonne Maman INTENSE Apricot Fruit Spread
Sprinkle your crumble topping on top of the spread
Bake this baby up until the topping is golden brown and glorious
One bowl, 6 steps, 8 ingredients. And that's IT!

The BEST Vegan Apricot Oat Bars Ever!
Not only are these bars easy to make, but they're also delicious. And the apricot really shines through.
You've probably tried dried apricots before, but fresh is a whole different ball game. Apricots, which are in season during the spring, are a stone fruit (like peaches) that have this lovely balance of sweet and tart. It's a very unique and somewhat delicate flavor that you don't want to overpower.
What I love about the Bonne Maman INTENSE Apricot Fruit Spread is that they've been able to capture all that flavor in the jar using just four simple ingredients.
I think this is the absolutely perfect recipe to whip up for your Mother's Day spread. They've got some class, some decadence, but they're also healthy. Mom will be thrilled!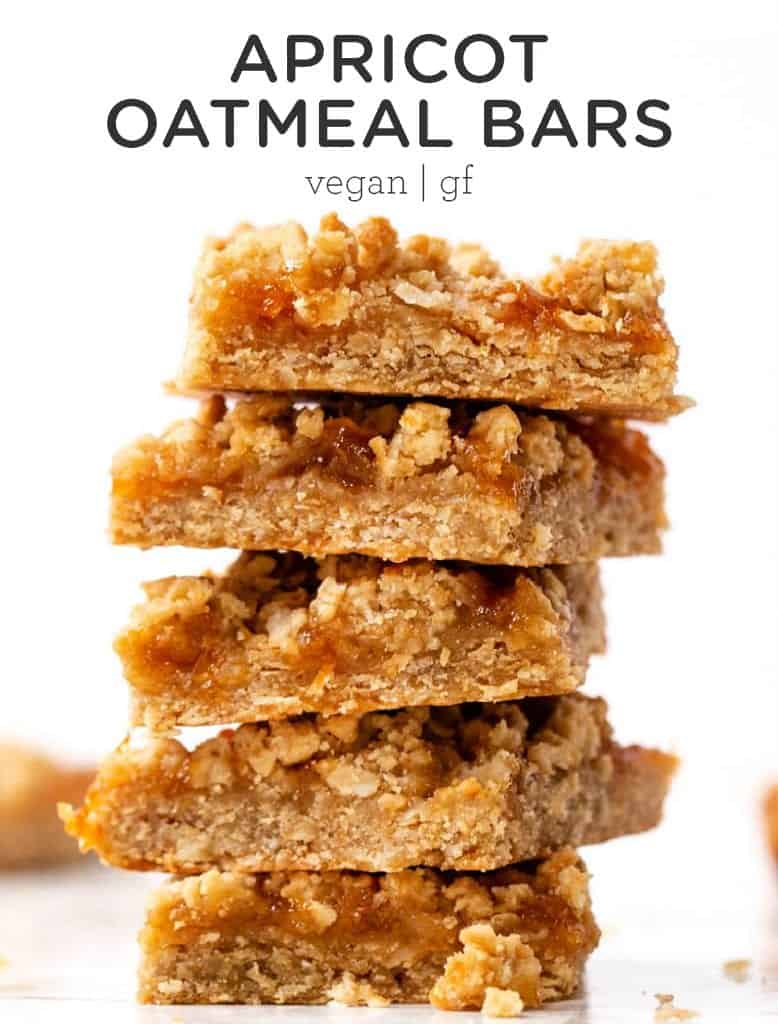 Other Healthy Breakfast Bars to try:
Gluten-Free & Vegan Apricot Oatmeal Bars
These Gluten-Free and Vegan Apricot Oat Bars make a delicious and easy breakfast or dessert! They're also healthy and have a yummy crumble topping on top!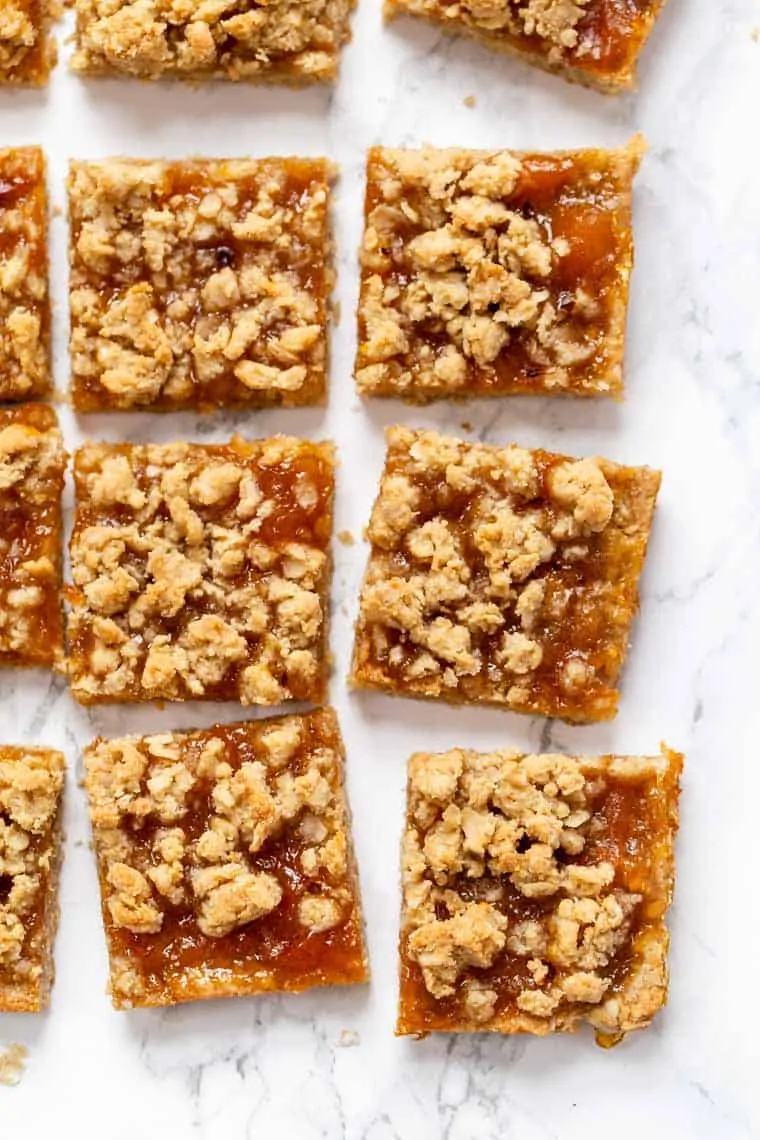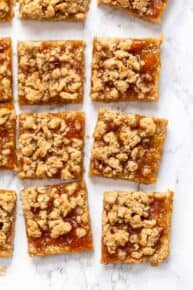 Instructions
Preheat the oven to 350 degrees F. Grease a 9" baking pan and set aside.

In a large mixing bowl, whisk together the dry ingredients. Mix in the maple syrup and coconut oil and crumble with your hands until it resembles a coarse, sandy texture. Reserve 1/2 cup of the dough for the topping.

Stir in the flax egg then transfer the dough into the greased baking pan and press it evenly into the pan. Bake for 15 minutes.

Spread the apricot fruit spread evenly over the layer of dough, leaving a little at the edges so it's easier to remove from the pan. Sprinkle with the reserved oat topping.

Bake in the center of the oven for 20 - 25 minutes until the crumble topping is golden brown. Cool completely before cutting into squares and serving.
Nutrition
Serving:
1
square
|
Calories:
116
kcal
|
Carbohydrates:
17
g
|
Protein:
2
g
|
Fat:
5
g
|
Saturated Fat:
3
g
|
Sodium:
38
mg
|
Potassium:
43
mg
|
Fiber:
1
g
|
Sugar:
8
g
|
Calcium:
19
mg
|
Iron:
0.6
mg
Filed Under: