Try this Gluten-Free Lemon Blueberry Coffee Cake for breakfast or brunch! It's made with wholesome ingredients, is easy to put together and tastes amazing!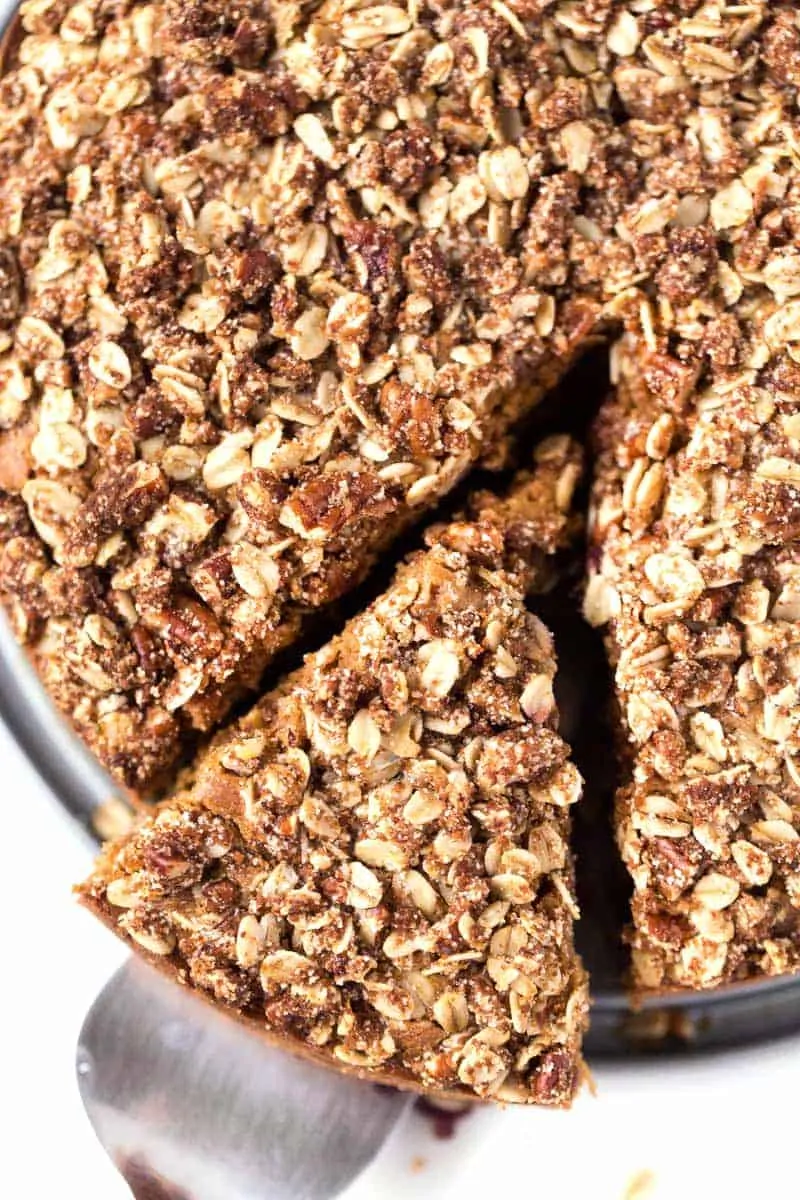 I first developed this recipe back in 2012 during my first year of blogging and honestly? I hadn't made it since. I don't often revisit recipes from waaaaay back in the archives because truthfully I'm a much better cook now. I have a much better sense of flavor, understand how flours work together and in general, just feel like I'm a better recipe developer.
But I'm slowly working my way through older posts, giving them new photos and tweaks to the recipes, because I want to a) make sure every recipe on this site actually works and tastes good and b) better reflects the SQ brand.
So today we're making this incredible Gluten-Free Lemon Blueberry Coffee Cake and I'm so excited to (re)share it with you!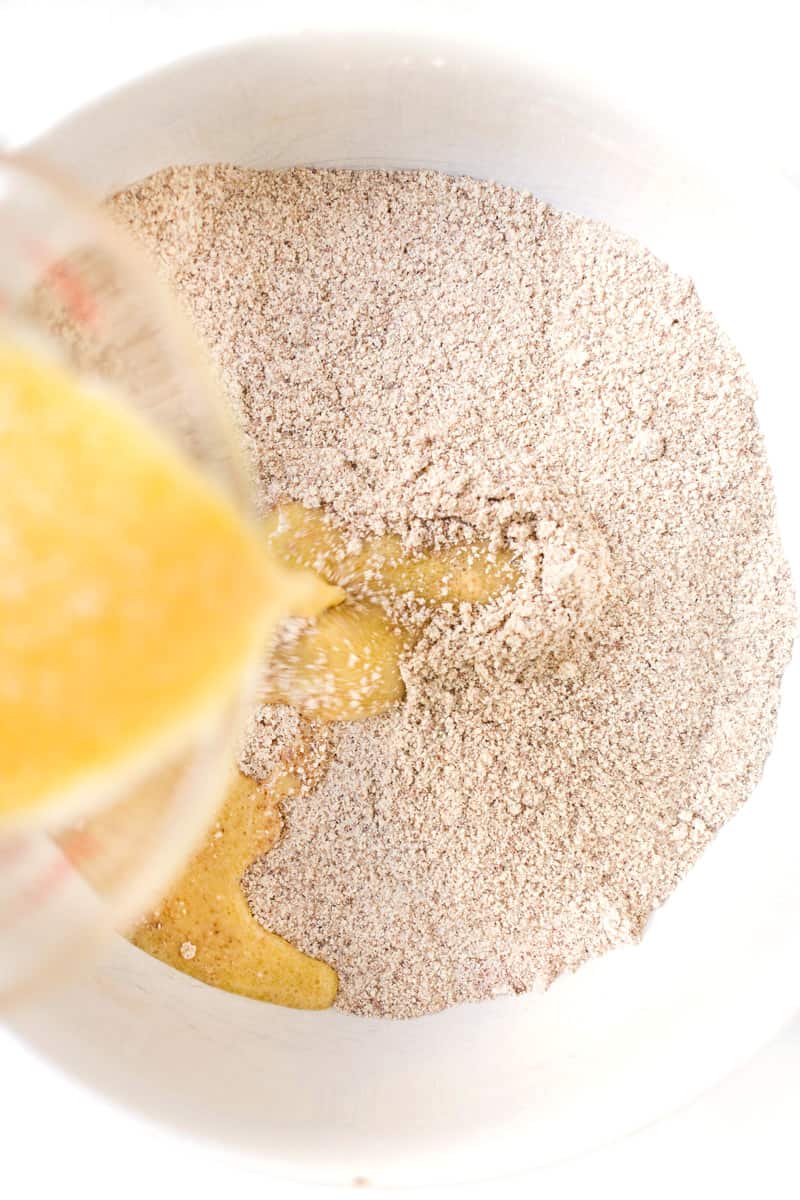 Since sharing that post, I've stopped using gums in my baking, so I did have to tweak this recipe slightly from the original. BUT I'm thrilled to say the new version is even better than the last!
We're starting with a base of whole grain flours. I've successfully used sorghum, millet and quinoa flours. Then we add in our almond flour, which I'm sure you've heard to talk about before, but gives baked goods (especially cakes) the most amazing texture and crumb. To finish it off, we're using tapioca starch, which helps give the cake some lightness and also a bit of spring.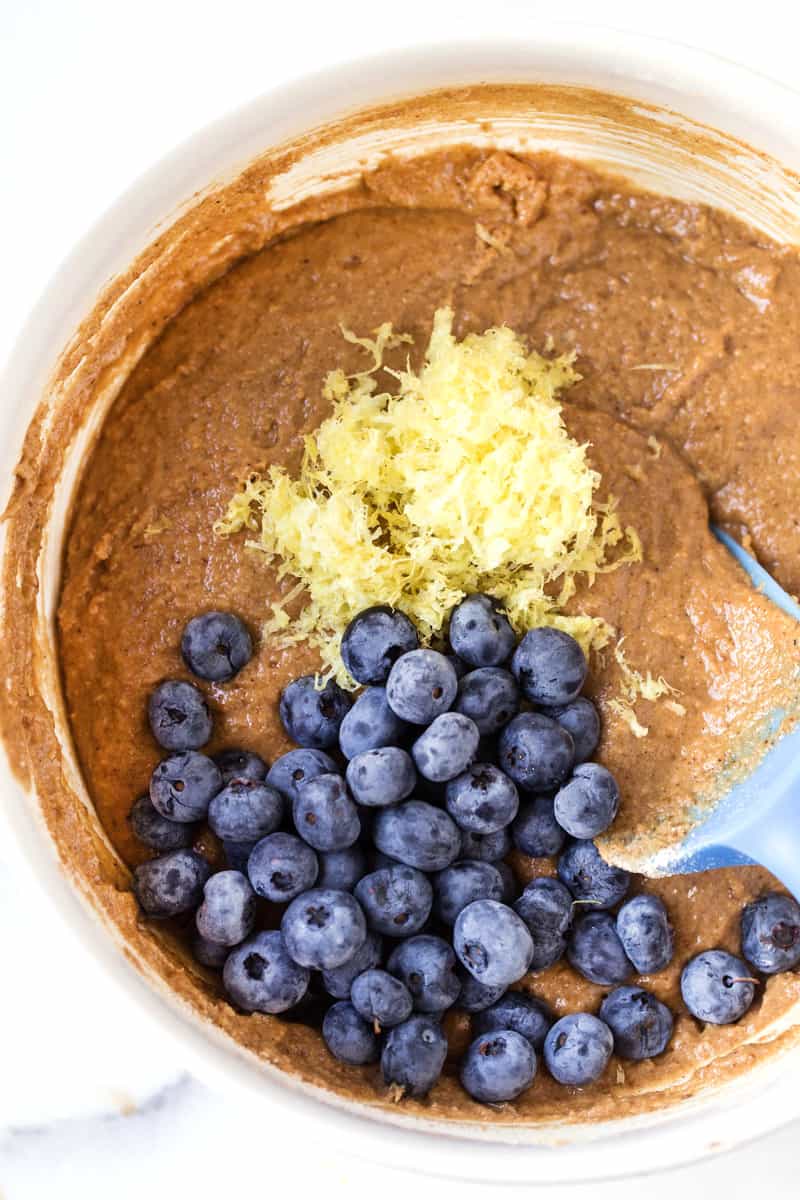 For our wet ingredients, you can use a few different options:
Any oil should work (I've used coconut and olive with equal results)
Any milk will work (I've used coconut and almond)
Eggs *might* be able to be replaced with a flax/chia egg, but I haven't tested that yet
And then we basically just stir it all together, fold in our lemon zest and blueberries and move on to the topping!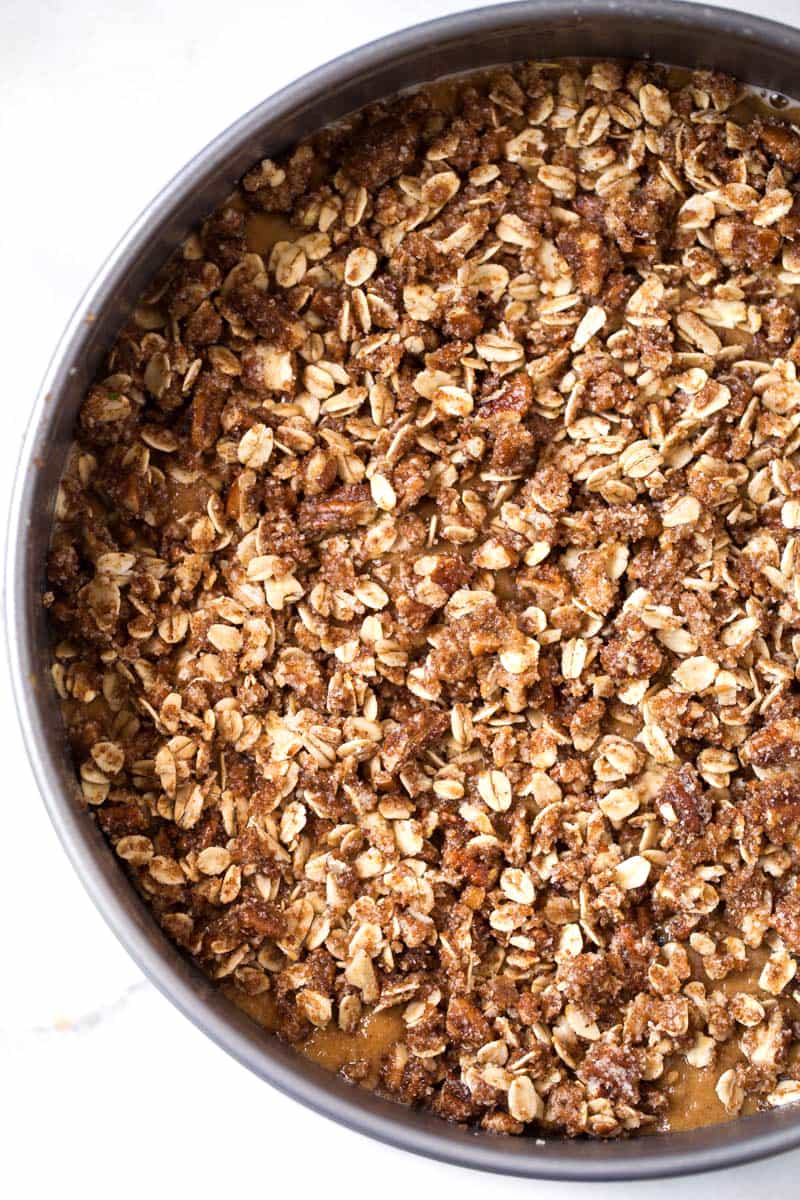 A little fact about me? I L-O-V-E (like big time ❤) any dessert or treat that has a crumb topping. The combination of a fluffy cake/muffin or soft fruit, with a sweet, crunchy topping is pure heaven in my book.
So this coffee cake? It's epic.
For the crumble, we're going with a blend of coconut oil, coconut sugar, oats, almond flour and pecans. The sugar makes the whole cake just a tiny be sweeter, while the oats and pecans add a lovely little crunch. And the almond flour? That's there to help it stick together a bit more and make it all clumpy and perfect.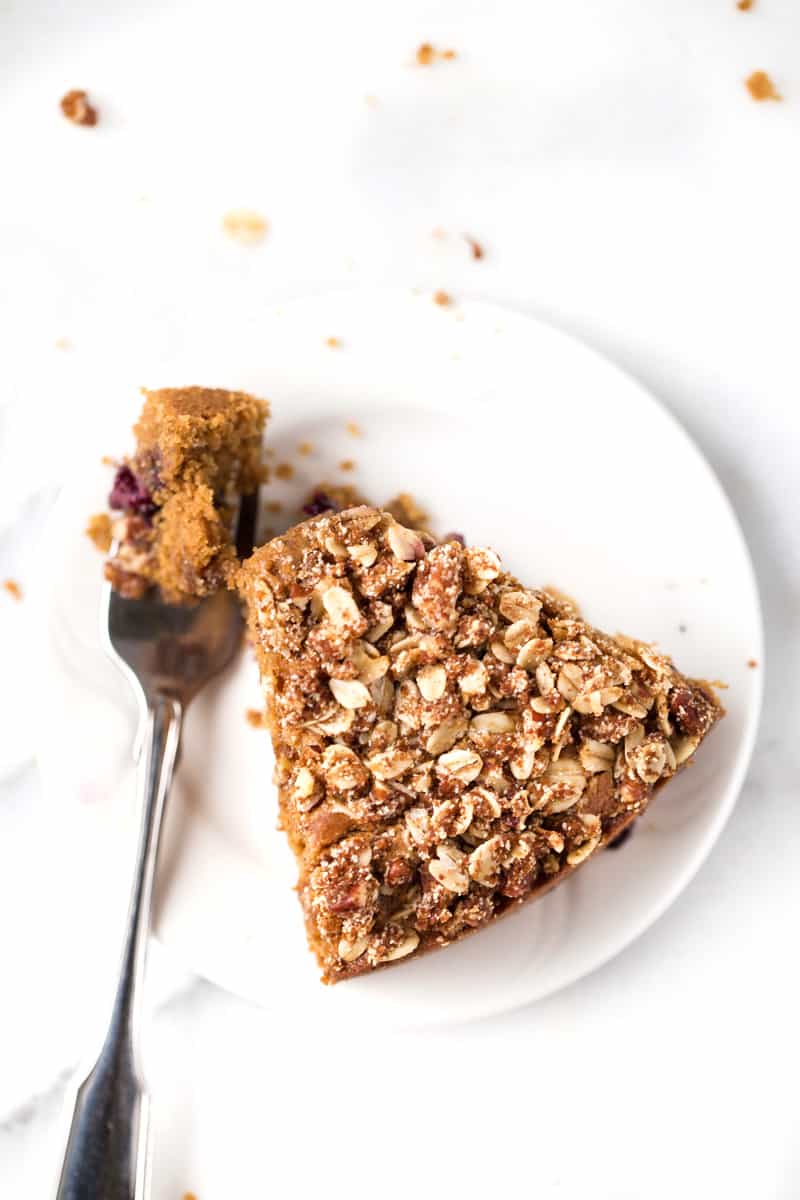 I do want to say, cakes can be a bit intimidating. Trust me, I pretty much shy away from baking a cake any chance I get. But this one? It's easy to put together, can be made in two bowls and takes just about 45 mins to make.
And the beauty of a breakfast cake is that it also only requires one pan to bake; you pop it in the oven and you're done. Unlike pancakes and waffles, which need constant attention, breakfast cakes are easy-going and mellow, plus with my adaptations, they're healthy and nutritious.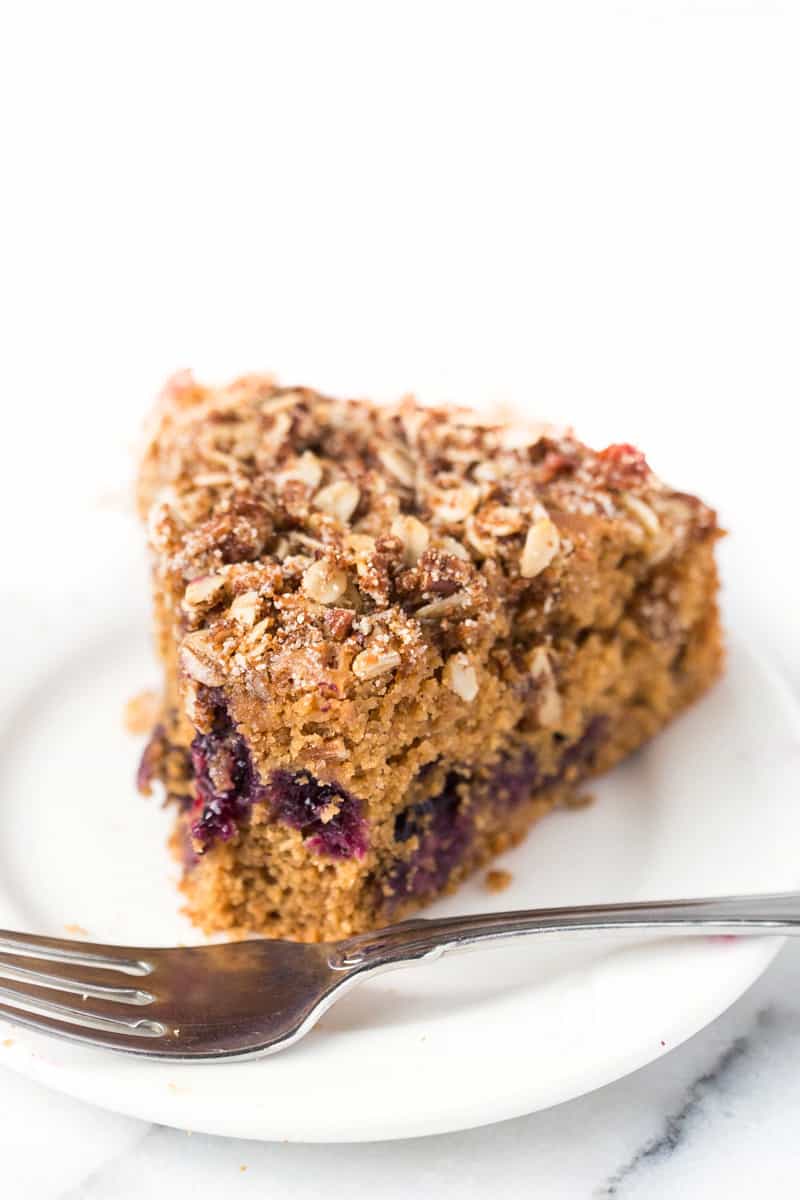 This particular coffee cake also gives you the freedom to play around with different ingredients and flavors.
If you don't like blueberries, or want to nix the whole fruit thing in general, you can totally just leave the berries out. Or you could swap them with something different.
Here are some other ingredients you could try:
Any berry like strawberries, raspberries or blackberries
Any citrus zest like orange, lime or grapefruit (although that might be a bit bitter)
Any other chopped fruit like apples, pears or peaches
Basically, what I'm trying to show you is that the base for this coffee cake is incredibly versatile and can be changed based on what is in season at the time!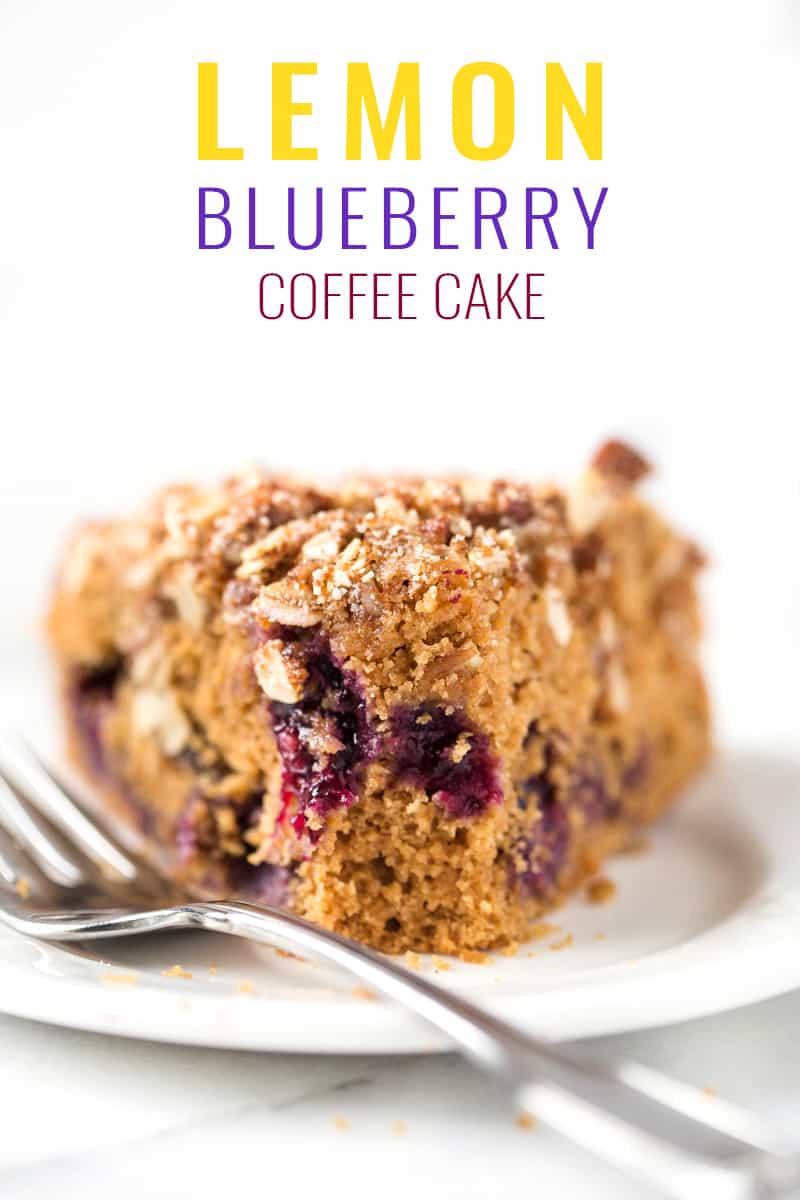 And guys, if you're looking to make an entire brunch spread? I think you'll love these Blackberry Lime Quinoa Muffins, Triple Berry Quinoa Salad, Wholesome Almond Flour Waffles and/or Kimchi Tofu Scramble!
Hope you ❤ this lemon blueberry coffee cake recipe! I can't wait to see what you end up serving it with. Make sure to snap a pic and share it with me on Instagram by tagging @simplyquinoaand using #simplyquinoa!
xo Alyssa
More Almond Flour Cake Recipes:

Lemon Blueberry Coffee Cake
Try this Gluten-Free Lemon Blueberry Coffee Cake for breakfast or brunch! It's made with wholesome ingredients, is easy to put together and tastes amazing!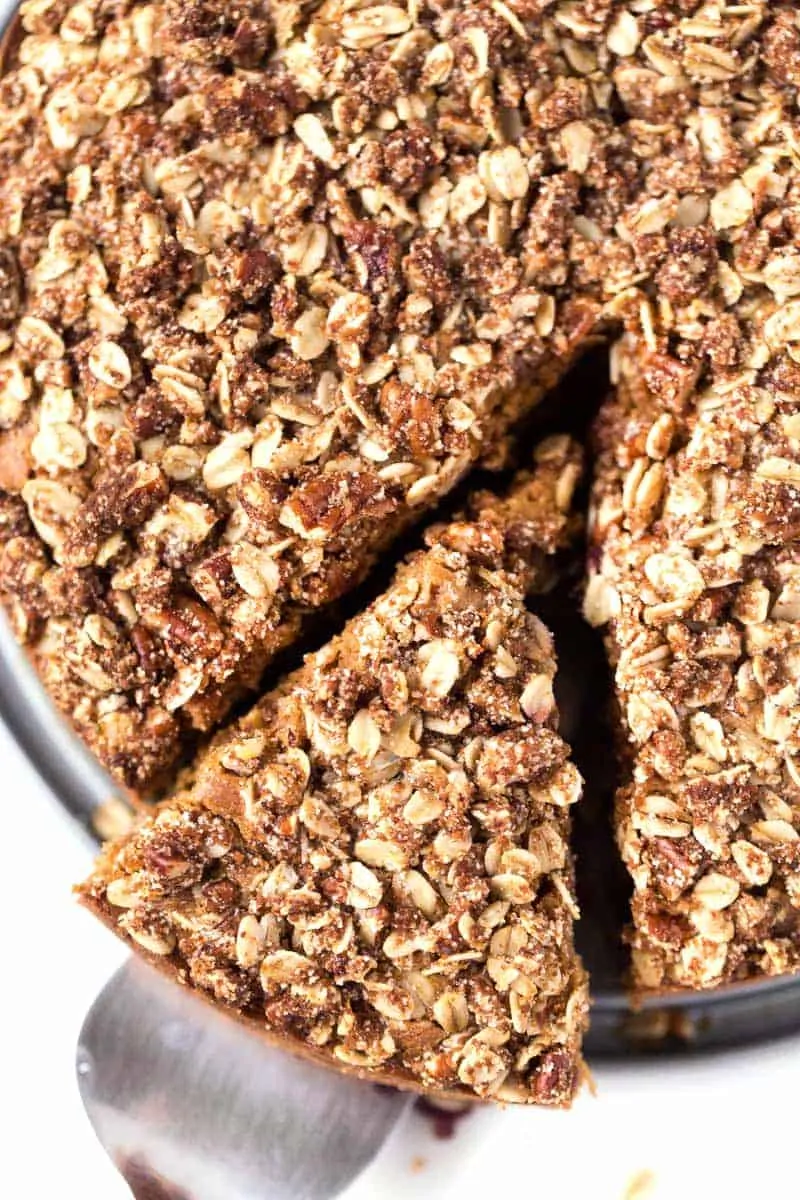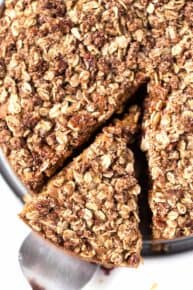 Instructions
Preheat the oven to 350 degrees F. Line a 9" round baking pan (or spring form pan) with parchment paper and set aside.

In a medium bowl, whisk together your dry ingredients.

In a separate bowl, combine your eggs, oil, vanilla and 1/2 cup coconut milk. Beat these into the dry ingredients until a very thick batter begins to form. Slowly add the rest of your coconut milk, one tablespoon at a time. You want the dough to be slightly thicker than a cake batter. Fold in the lemon zest and blueberries.

Transfer the mixture into your baking pan and set aside.

Prepare the crumb topping by combining all the ingredients into a small bowl and beat until you have a sandy texture. Sprinkle the mixture evenly over the top of the cake.

Bake in the center of your warmed oven for 40 - 45 minutes. Test with a cake tester by placing it in the center of the cake. If there is nothing on the stick when you remove it, the cake is ready!

Remove from oven and allow to cool for 10 - 15 minutes before transferring to a wire rack to cool completely.
Nutrition
Calories:
350
kcal
|
Carbohydrates:
40
g
|
Protein:
6
g
|
Fat:
20
g
|
Saturated Fat:
10
g
|
Cholesterol:
32
mg
|
Sodium:
117
mg
|
Potassium:
173
mg
|
Fiber:
3
g
|
Sugar:
15
g
|
Vitamin A:
55
IU
|
Vitamin C:
2.3
mg
|
Calcium:
73
mg
|
Iron:
1.8
mg
Filed Under: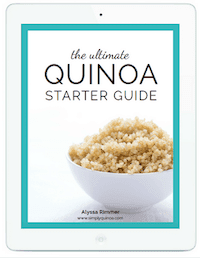 New to cooking quinoa? Grab your FREE Quinoa Starter Guide!
Become part of the Simply Quinoa community and receive weekly emails with exclusive content that I only share in email, as well as my in-depth guide to starting your quinoa journey.