How to make gluten-free pumpkin cookies. These healthy cookies are soft, chewy and perfect for fall. They're also high in protein and easy to make vegan!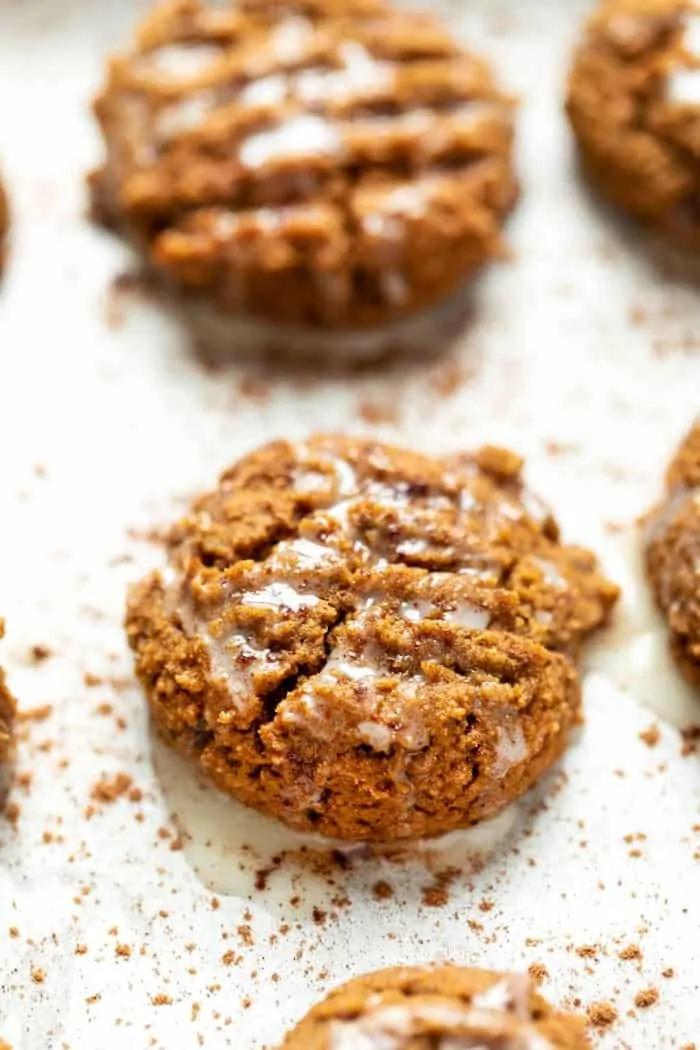 You know when you make something and you taste it and you're just like, "WOW"? That's what happened when these delicious pumpkin cookies came out of the oven!
If I had to choose, my favorite thing to bake is definitely cookies. I have over 20 cookie recipes on the site, and it's because cookies are easy and quick. I can whip up a batch in less than 20 minutes, they're easy to make healthy and they always satisfy those sweet craving.
And these gluten-free pumpkin cookies definitely did the trick!
Not only was my house smelling amazing – hello there warm fall spices – but they had the most perfect texture. Soft on the outside, slightly chewy, with an almost cake-like feel. Finished off with a quick drizzle of melted coconut butter…holy YUM!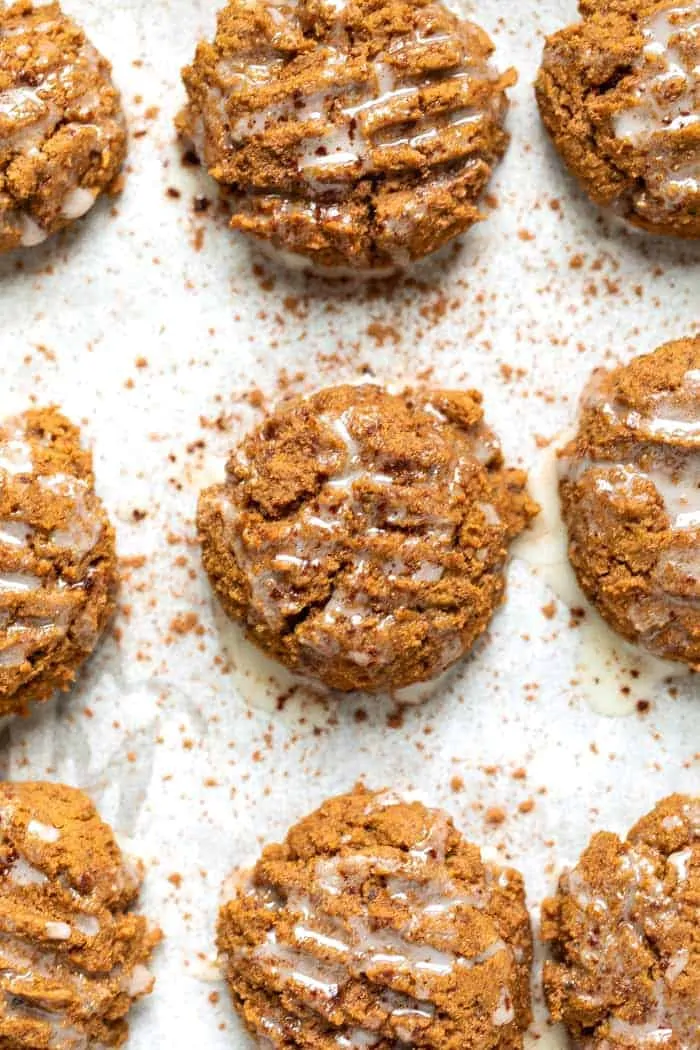 How to Make Pumpkin Pie Spice
The first order of business with anything pumpkin is the spice! We're going with the classic pumpkin pie spices here: cinnamon, nutmeg, ginger and cloves.
That's the same combo that you would find in a pumpkin pie blend, but we're keeping them separate so that you can adjust to your liking.
For me, the ratio is usually this:
1 teaspoon cinnamon
1/4 teaspoon nutmeg
1/4 teaspoon ginger
1/8 teaspoon cloves
But again, make it your own. Love ginger? Add more! More of a nutmeg fan? Fantastic! You can also leave some of them out if they're not for you!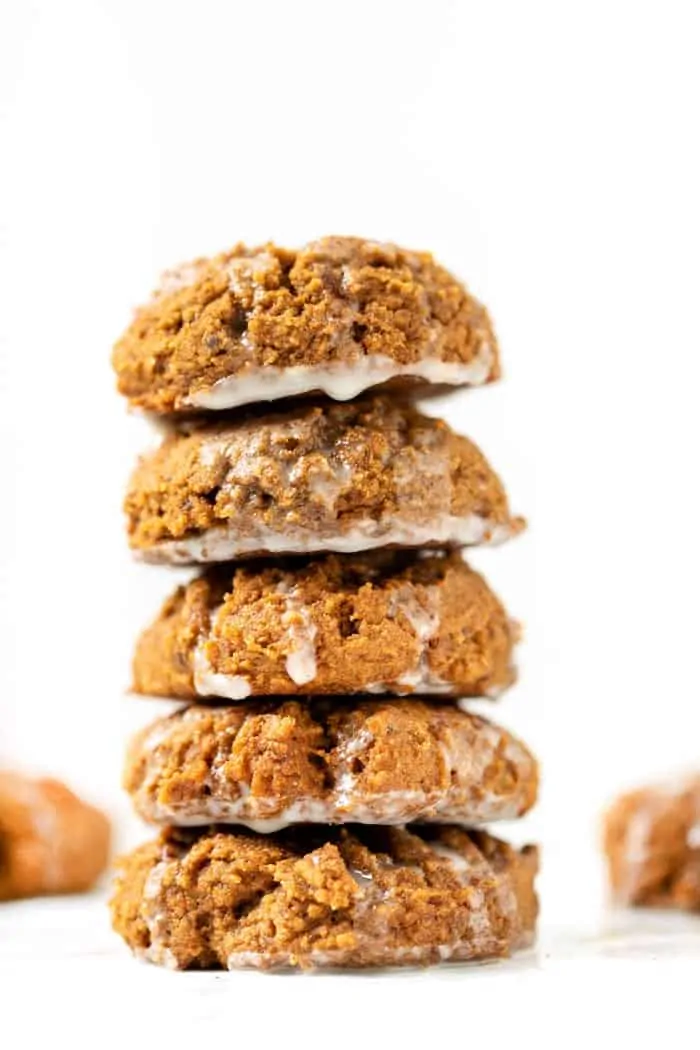 Soft & Chewy Pumpkin Cookies
One of the secrets to making these gluten-free pumpkin cookies nice and soft is using less fat. The more fat you use in a cookie, the flatter and chewier it usually becomes. We're only using 3 tablespoons of coconut oil in this entire recipe – and that's our only form of fat.
And speaking of coconut oil, I know some people aren't a big fan of oil. If that's the case, I think you could swap the coconut oil with 1/4 cup of nut butter and still get a super delicious cookie. I don't know about you, but peanut butter sounds pretty darn delicious to me!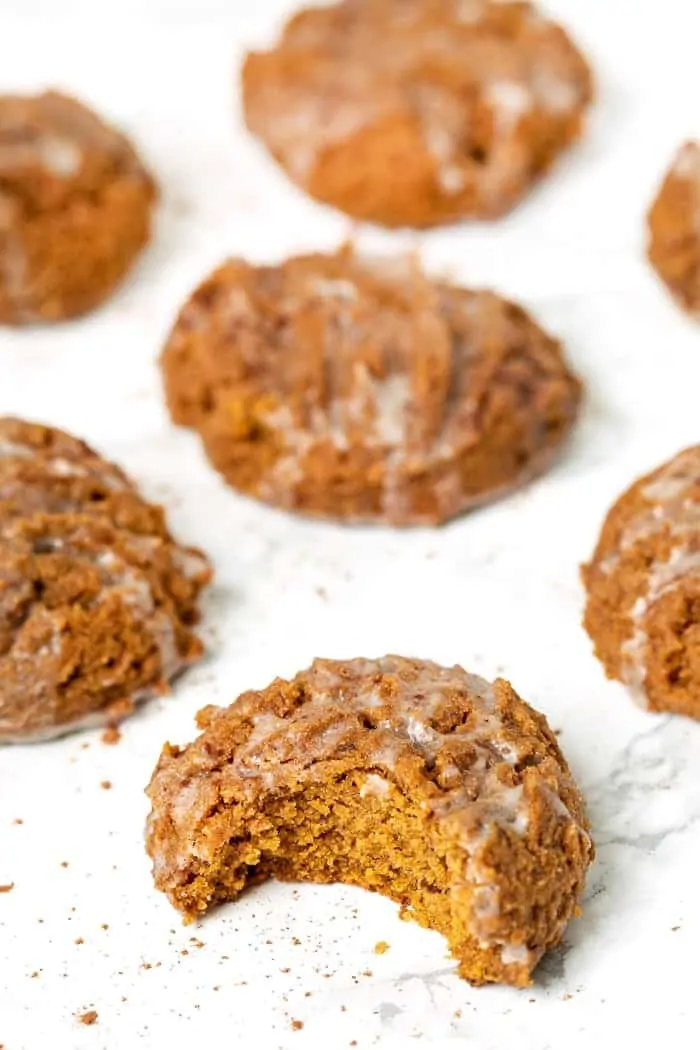 The Best Gluten-Free Pumpkin Cookies
Pumpkin, as you know, is one of my most favorite things in the world. Cookies, muffins, breads, pies, smoothies, soups. Any which way you make it, pumpkin is always delicious. So I knew if I was baking to impress, I better stick with the flavor profile I love.
These little morsels are seriously delicious. Remember when I said they have the perfect texture? Well, they do!
They've got a crispy outside, but a soft and chewy center. They're almost like little pumpkin pie bites but in cookie form. I used a crazy combination of flours, but it was totally worth it.
They have a somewhat nutty, fuller-bodied flavor from the quinoa flour and the coconut palm sugar gives it those perfect undertones of caramel. Overall, these cookies are fairly healthy, and even when we top them with our coconut butter "icing", we're still able to make a holiday treat that everyone will love. Gluten-free or not!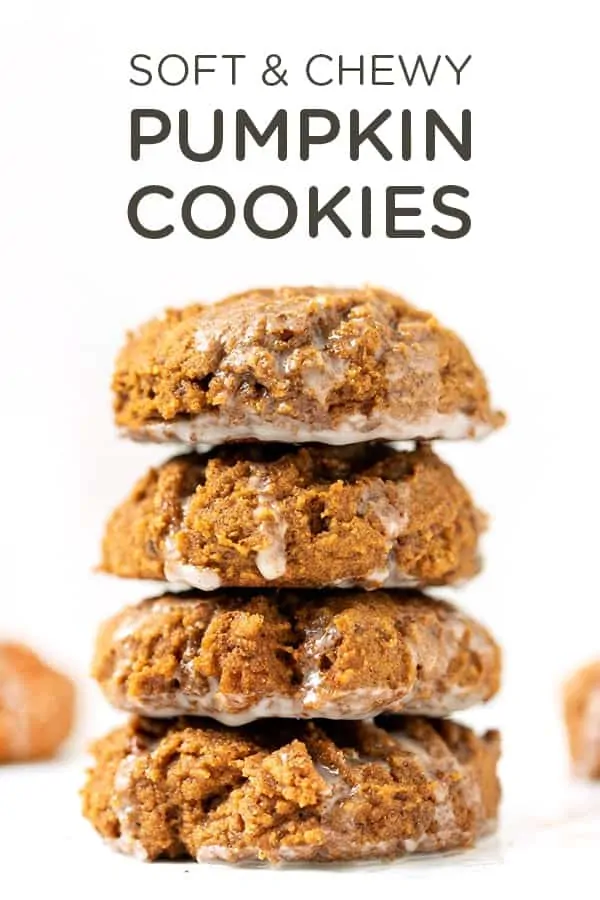 More Healthy Gluten-Free Cookies to try
Gluten-Free Pumpkin Cookies
These Gluten-Free Pumpkin Cookies are thee perfect fall treat! Made with a blend of healthy, whole grain flours, sweetened with coconut sugar and topped with a creamy coconut butter "icing"!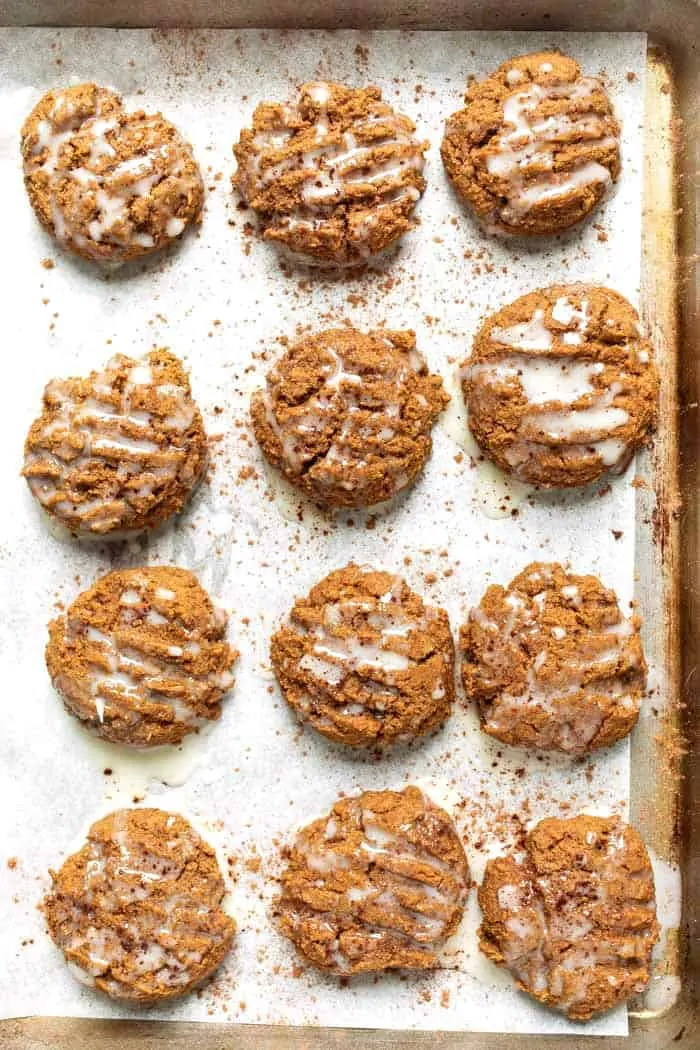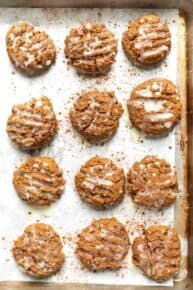 Instructions
Preheat the oven to 350 degrees F and line a baking sheet with parchment paper.

Combine all the dry ingredients into a large bowl and whisk to combine.

Add the wet ingredients (oil, syrup, pumpkin, egg, vanilla) and beat to combine.

Scoop the mixture onto the parchment paper and smooth them with the back of a metal spoon or flatten with a fork. Bake in the center of a warm oven for 12 - 15 minutes, until the cookies are golden brown.

Drizzle with melted coconut butter and enjoy!
Nutrition
Calories:
117
kcal
|
Carbohydrates:
17
g
|
Protein:
1
g
|
Fat:
4
g
|
Saturated Fat:
3
g
|
Cholesterol:
10
mg
|
Sodium:
98
mg
|
Potassium:
44
mg
|
Fiber:
1
g
|
Sugar:
6
g
|
Vitamin A:
1285
IU
|
Vitamin C:
0.3
mg
|
Calcium:
10
mg
|
Iron:
0.5
mg
Filed Under: