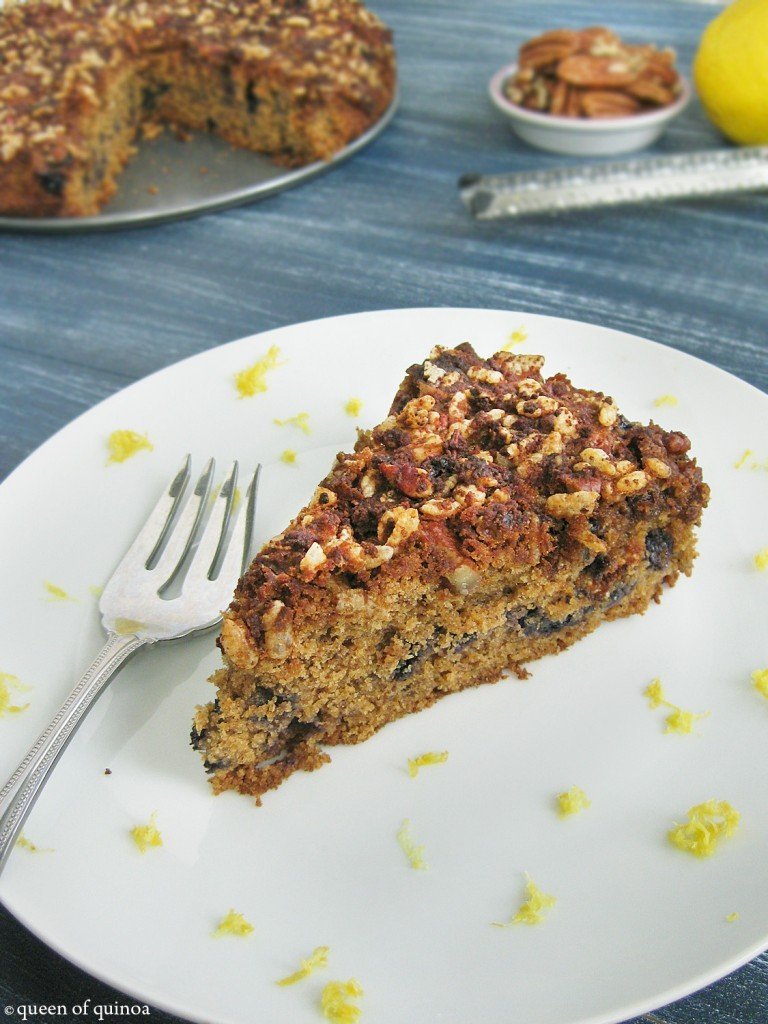 When I was asked to develop a recipe for the Whole Grain Brunch, organized by Bob's Red Mill and Attune Foods, I couldn't have been happier. Two of my favorite brands, joining forces to promote my favorite meal of the day. As I'm sure you can imagine, I gladly accepted.
It took me awhile to choose which type of dish I wanted to make. I was going back and forth between pancakes, waffles and breakfast cake. They're all delicious, all fairly easy to make gluten-free and all absolutely perfect for breakfast.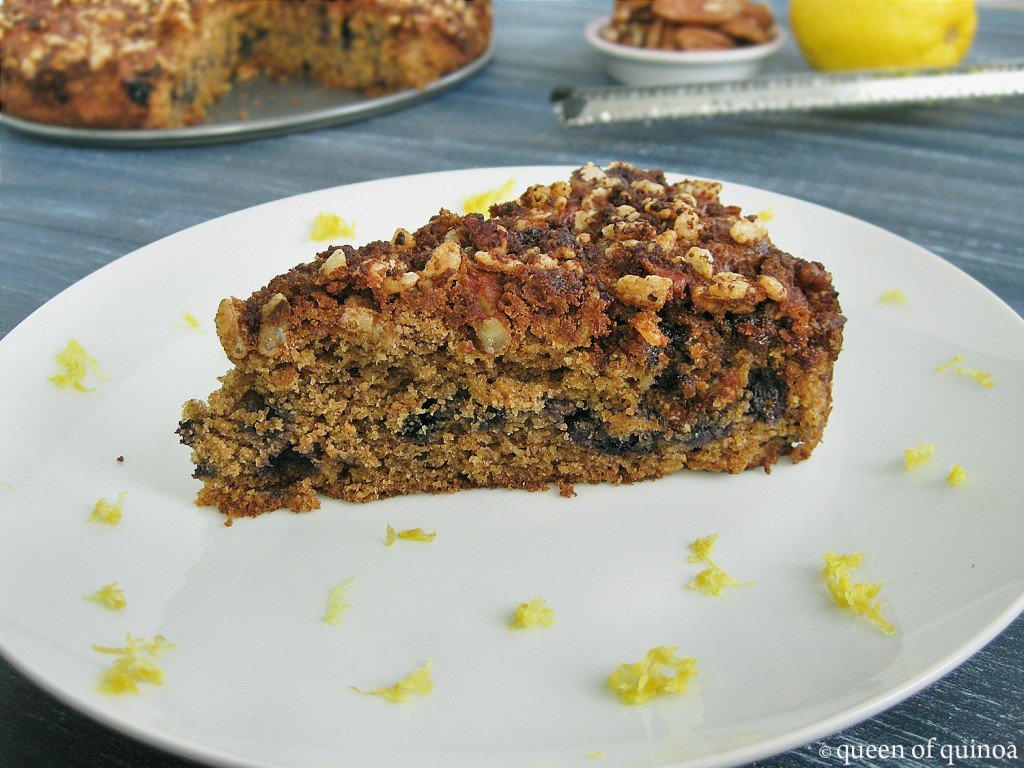 I settled on breakfast cake for a couple of reasons. First, it gives you freedom to play around with different ingredients and flavors. Second, it loves fruit – and I mean loves fruit – especially berries. Third, it only requires one pan; you pop it in the oven and you're done. Unlike pancakes and waffles, which need constant attention, breakfast cakes are easy-going and mellow, plus with my adaptations they're healthy and nutritious.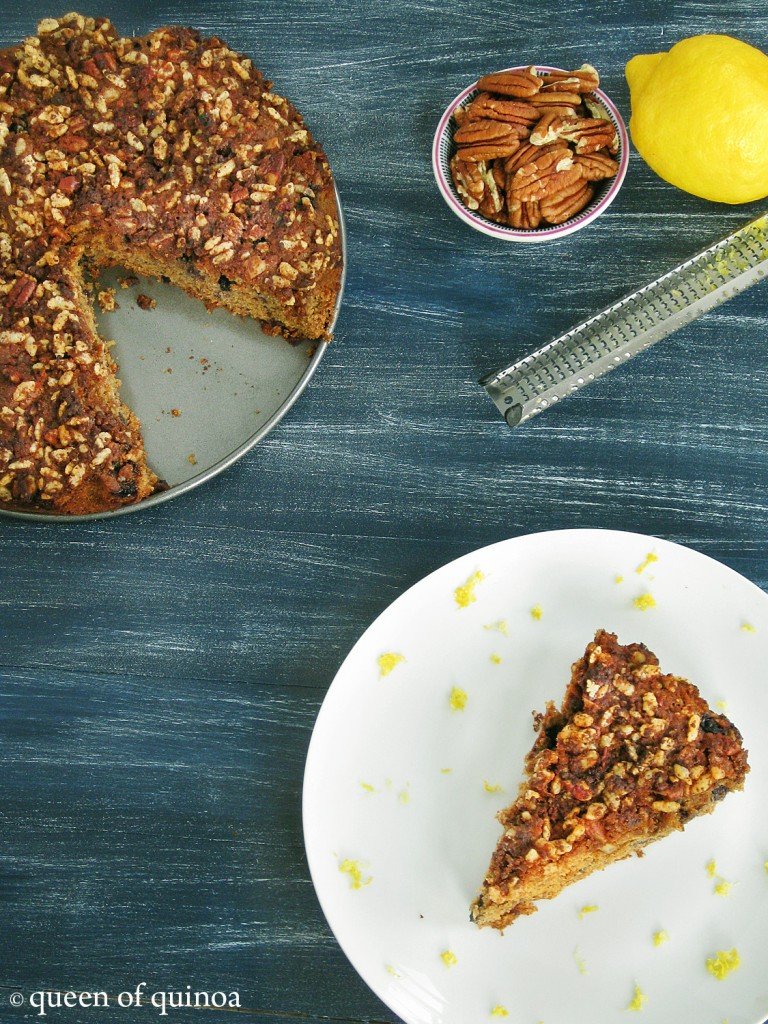 Lemon Blueberry Coffee Cake
serves 6 – 8
for the cake:
½ cup sweet sorghum flour
½ cup toasted quinoa flour
¾ cup Bob's Red Mill Almond Meal
½ cup tapioca starch
1 cup coconut sugar
2 teaspoons baking powder
1 teaspoon guar gum
1 teaspoon cinnamon
½ teaspoon nutmeg
¼ teaspoon salt
2 organic eggs, beaten
¼ cup melted coconut oil
2 teaspoons vanilla
8 tablespoons coconut milk
Zest of one lemon
1 cup frozen blueberries (preferably Maine blueberries)
for the streusel topping:
⅓ cup coconut sugar
2 tablespoons coconut oil, melted
¼ cup Erewhon's Crispy Brown Rice Cereal
1 teaspoon lemon zest
¼ cup chopped pecans
2 tablespoons Bob's Red Mill Almond Meal
Preheat the oven to 350 degrees F. Line a 9″ round baking pan with parchment paper and set aside.
In a medium bowl or stand-up mixer, combine your dry ingredients and whisk them together to combine.
In a separate bowl, combine your eggs, coconut oil, vanilla and half of the coconut milk. Beat these into the dry ingredients until a very thick batter begins to form. Slowly add the rest of your coconut milk, one tablespoon at a time. You want the dough to still be slightly thicker than a cake batter. Fold in the lemon zest and blueberries.
Spoon the mixture into your baking pan and set aside.
Prepare the crumb topping by combining all the ingredients into a small bowl and beat until you have a sandy texture. Sprinkle the mixture evenly over the top of the cake.
Bake in the center of your warmed oven for 40 – 45 minutes. Test with a cake tester by placing it in the center of the cake. If there is nothing on the stick when you remove it, the cake is ready!
Slice into 6 -8 slices and serve.

This recipe is linked to: Friday Foodie Fix
And now for the giveaway!!
This giveaway is now closed. Thanks to all who entered!
Bob's Red Mill and Attune Foods have both generously offered to supply one lucky reader with the ingredients to make this recipe! This giveaway includes:
1 bag of Bob's Red Mill Almond Meal
1 box of Attune Foods' Erewhon Brown Rice Crispy Cereal
Here's how to enter:
Leave a comment on this post, whatever you would like. For example, you could share what your favorite brunch item is.
Additional entries:
Follow the Queen of Quinoa on Pinterest*
Follow Bob's Red Mill on Pinterest
Follow Attune Foods on Pinterest
Subscribe to the Queen of Quinoa via email or RSS Feed*
This giveaway is open to US residents. The giveaway is open until 9:00am EST on Friday, May 25th, 2012. One winner with valid entries will be randomly selected and notified by email that they have won.
Remember, you must leave a separate comment for each entry.
* If you already follow me on Facebook, Twitter, Pinterest and/or already subscribe to the Queen of Quinoa, let me know in your comment below.
Good luck everyone and happy brunching!
This giveaway is now closed. Thanks to all who entered!