This healthy chocolate almond butter granola uses just 7 ingredients, tastes incredible and is also oil-free and vegan. It's the perfect morning treat!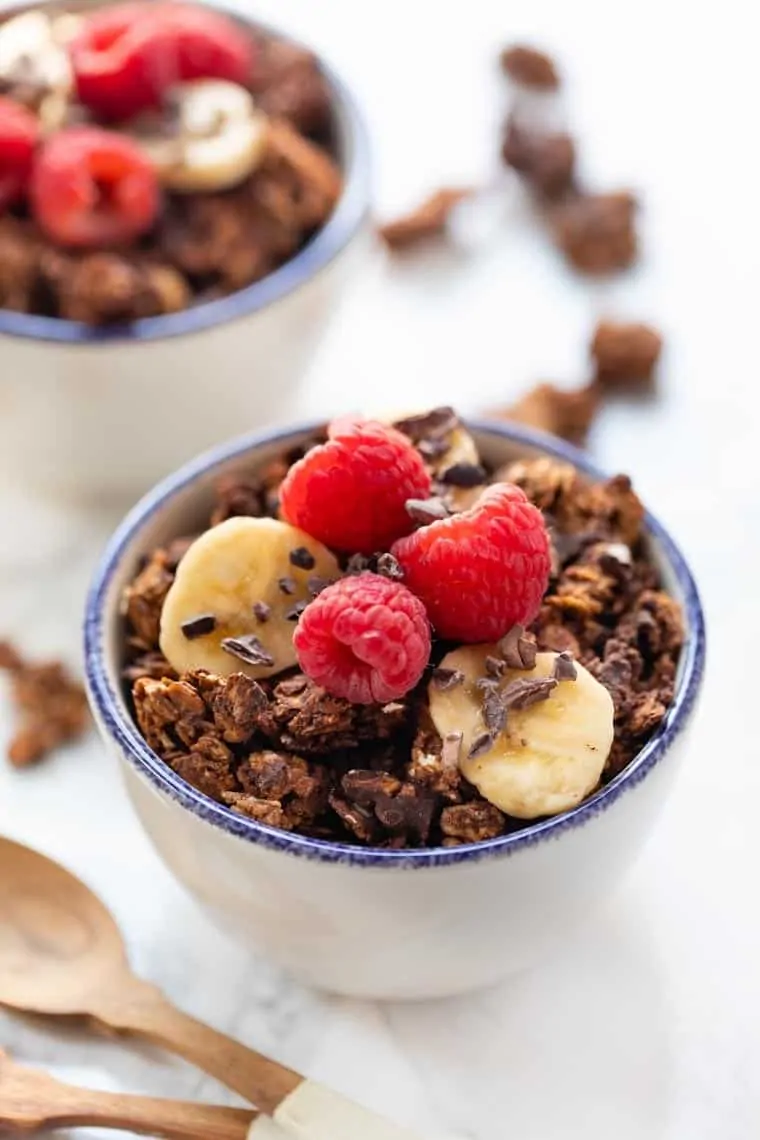 Who wouldn't love starting their day with a big bowl of cocoa crispies?! I know for sure I would! But we also all know that regardless of how delicious they are, cocoa crispies aren't a nutritious breakfast.
That doesn't mean that all chocolate is off limits though! And that doesn't mean that we can't make our own chocolate breakfast cereal that tastes delicious and is also nutritious!
Enter your new breakfast obsession: Chocolate Almond Butter Granola! It's a tasty breakfast treat that might feel like it's on the edge of decadence, but it not's loaded with sugar and actually has some fiber and good nutrients. Oh and that chocolate cereal milk I know you love? Yeah, we've got that too!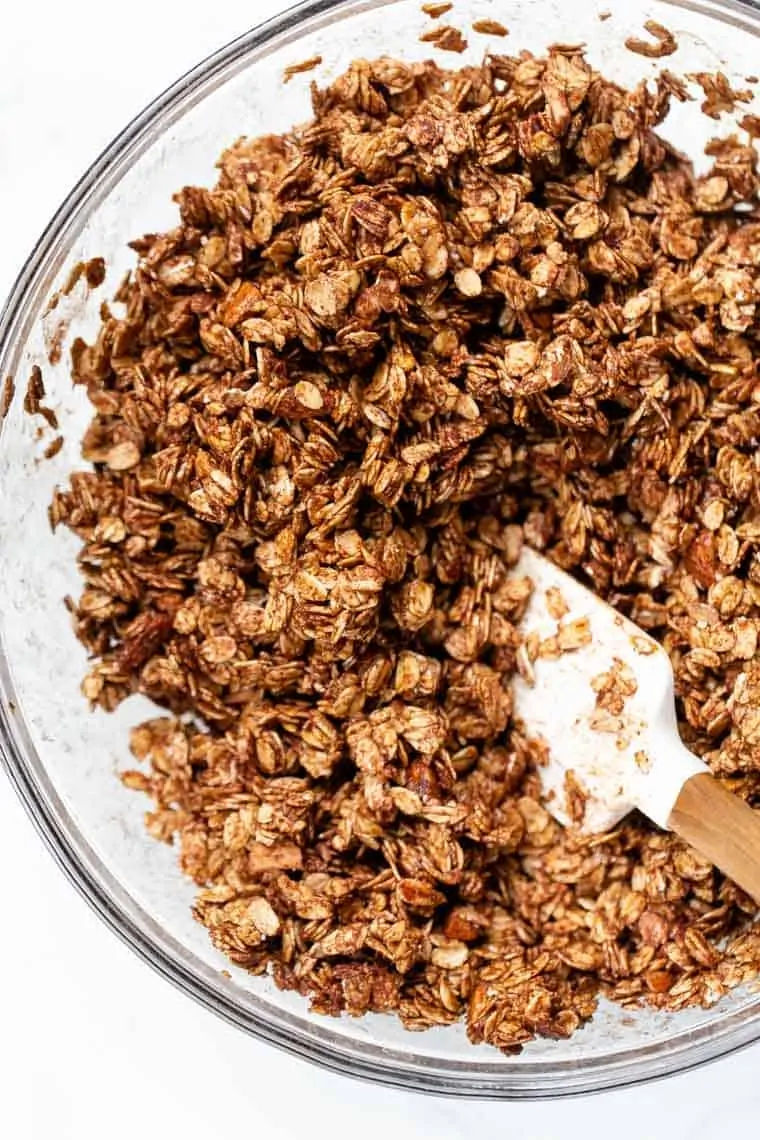 Ingredients for Almond Butter Granola
I had a few stipulations when I was creating this granola. I didn't want it to be too sweet, I wanted it to have less than 10 ingredients, I didn't want it to be complicated and I didn't want it to taste like dessert.
This recipe checks all those boxes and more.
We start with a big bowl of rolled oats. I love using just old fashioned rolled oats for my granola recipes because they get nice and crispy, but they're not too chunky.
Next, we've got almonds and cacao powder. Our crunch factor and our chocolate factor.
Then it's just almond butter and maple syrup – that's right no oil! – as well as some chocolate chips and coconut at the end. Simple, yet totally effective!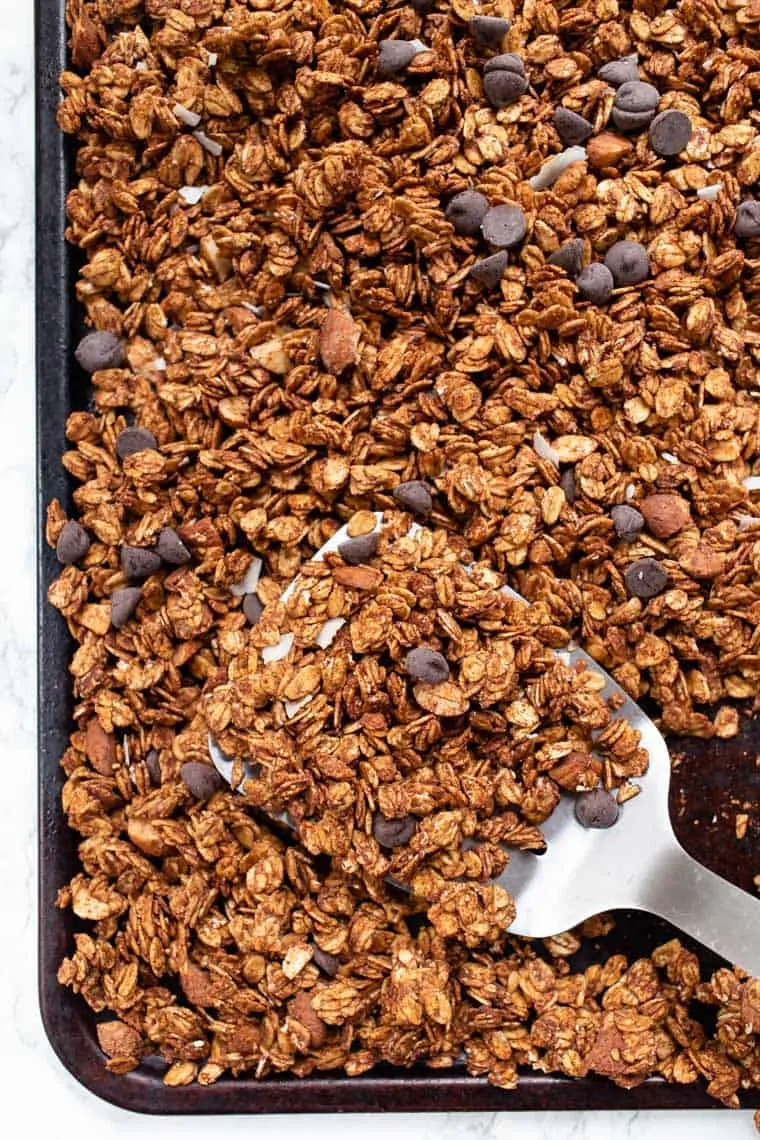 Does Granola Need Oil?
The simple answer is no that granola doesn't need oil. But granola does need fat. And for most big food producers who are making store-bought oatmeal, oil is the cheapest form of fat they can add.
There are a couple of reasons why granola needs fat:
it helps get the granola crispy
it helps you get clusters in your granola
the granola is more filling
And we know that adding healthy fats is an important thing for our meals. Fat helps our brain, it gives us energy and it makes us stay fuller for longer.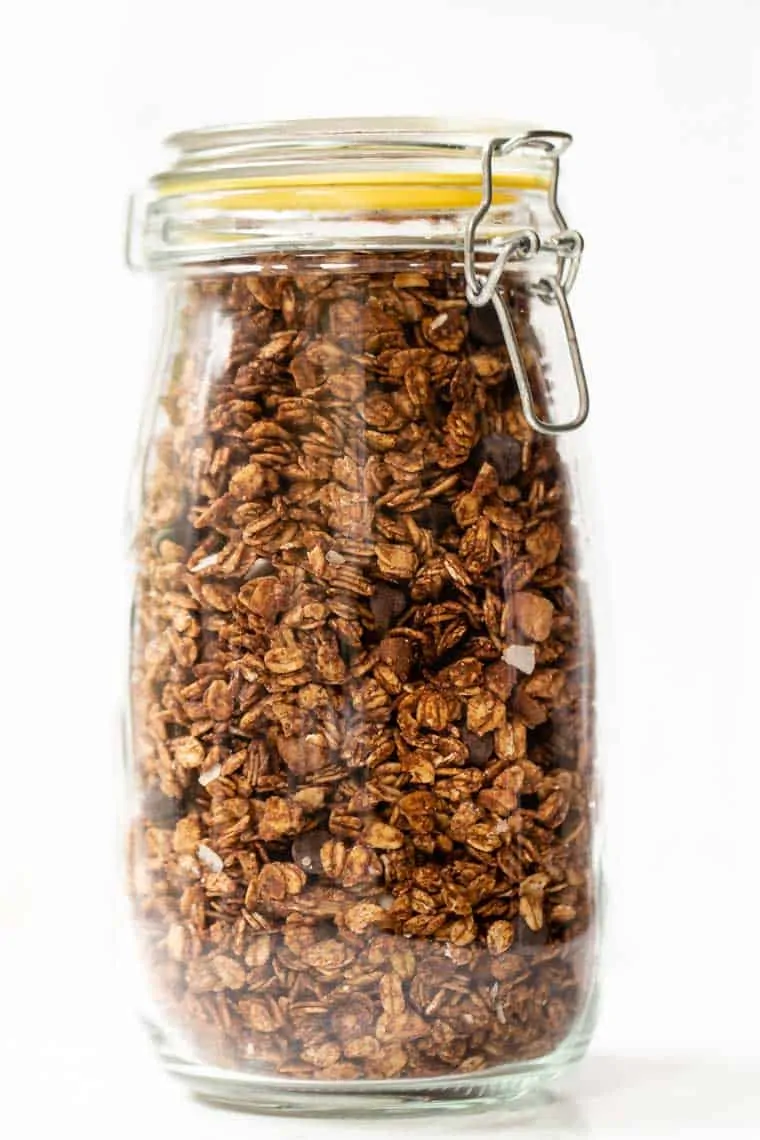 A New Vegan Oil Free Granola
If you want to replace the oil in your granola I think the best substitution is nut butter. Nut butter has that same healthy fat component, but unlike oil, nut butter is also giving you the fiber and protein components as well.
In my oil-free banana bread granola, we used tahini. In today's almond butter granola, we're using… almond butter!
If you're sensitive to nuts, you can use a seed butter (sunflower or tahini). And if you don't like almonds, or want something different, you can swap the almond butter with peanut, cashew, pecan, etc.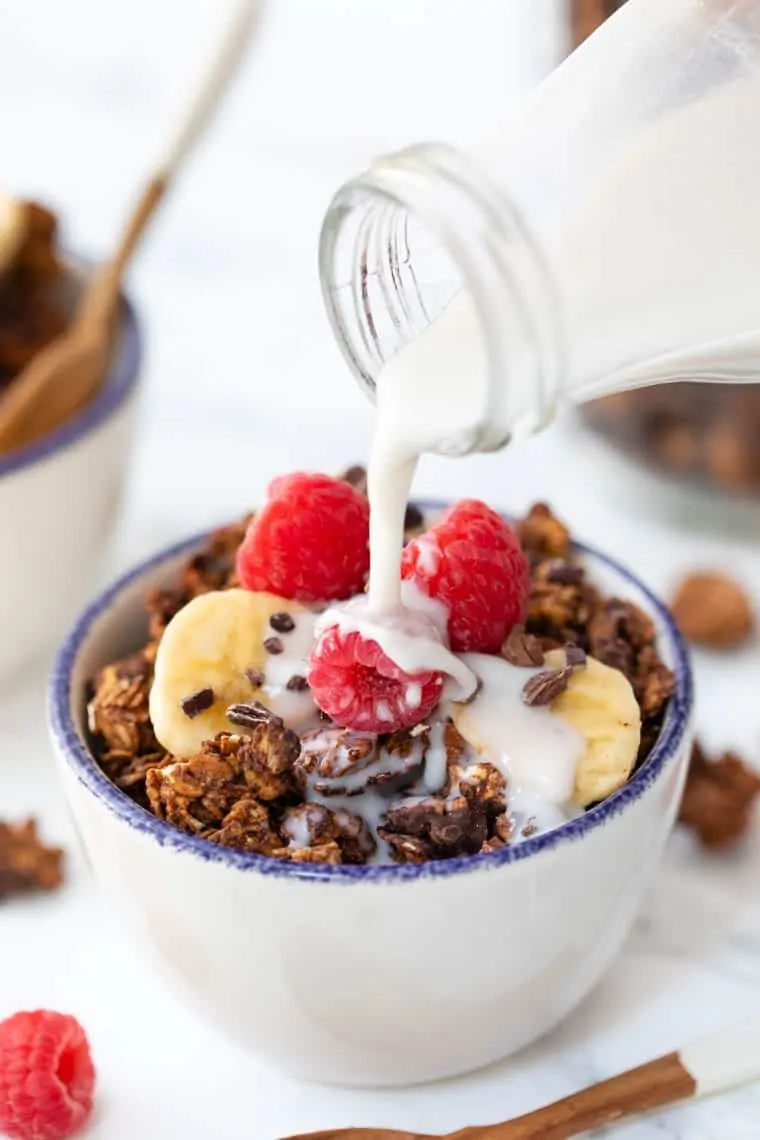 A Healthy Chocolate Granola for the Morning
Essentially, this Chocolate Almond Butter Granola has it all. We've got:
fiber
protein
healthy fats
Plus we're eating chocolate. For breakfast. Does it get any better?
Oh, yea it actually does. We also get the chocolate cereal milk at the end. We're only using 7 ingredients. It's gluten-free, vegan and oil-free. And did I mention chocolate?
Basically… a big old bowl of this granola is definitely better than cocoa crispies. It's perhaps even a game-changer. But I'll let you decide on that one ????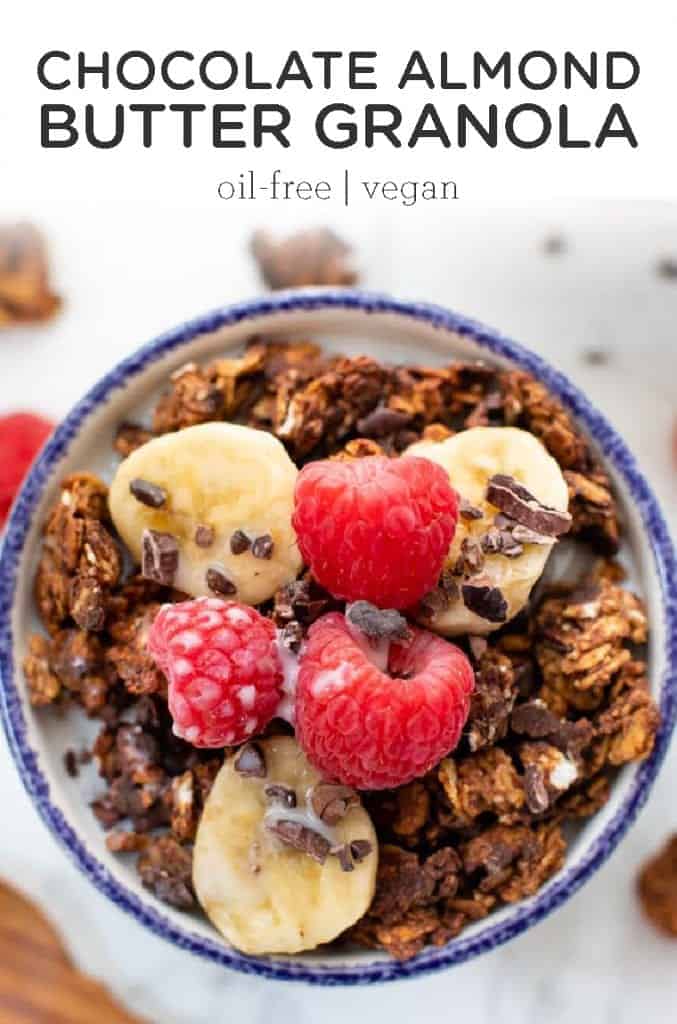 More Healthy Granola Recipes to try:
Oil-Free Chocolate Almond Butter Granola
This healthy chocolate almond butter granola uses just 7 ingredients, tastes incredible and is also oil-free and vegan. It's the perfect morning treat!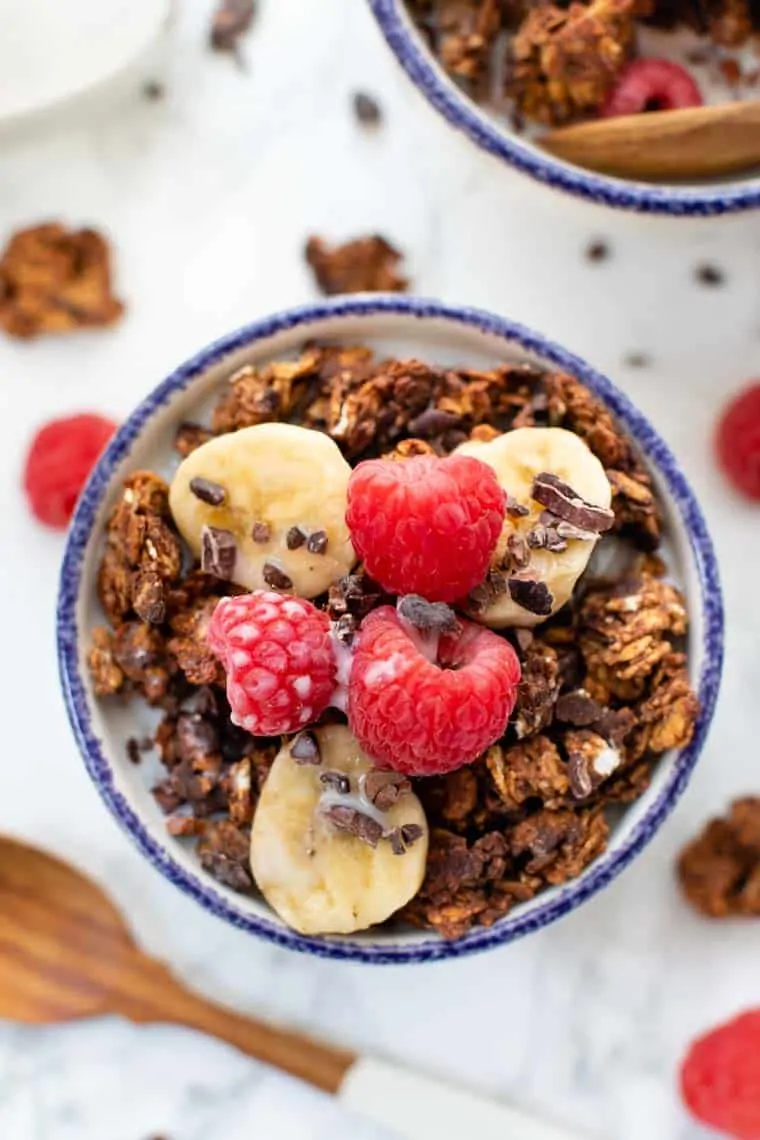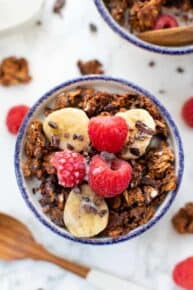 Instructions
Preheat the oven to 325ºF.

Combine all the dry ingredients in a large mixing bowl and set aside.

Melt together the almond butter, syrup and water, whisking together until smooth.

Pour the wet ingredients to the dry and stir until well mixed and all the ingredients are coated.

Separate the mixture onto two baking sheets, and bake for 30 - 35 minutes, until the granola is starting to brown. I recommend stirring and flipping it every 10 minutes to ensure even cooking.

Let cool completely then transfer to an airtight container. Store in a cool, dry place for two weeks.
Nutrition
Serving:
0.25
cups
|
Calories:
150
kcal
|
Carbohydrates:
19
g
|
Protein:
5
g
|
Fat:
7
g
|
Saturated Fat:
1
g
|
Sodium:
2
mg
|
Potassium:
171
mg
|
Fiber:
3
g
|
Sugar:
5
g
|
Calcium:
51
mg
|
Iron:
1
mg
Filed Under: