Pozole verde is a hearty Mexican stew that's full of bold flavors and tart, bright tomatillos. Use chicken for a more traditional version, or swap in tofu for a vegan option.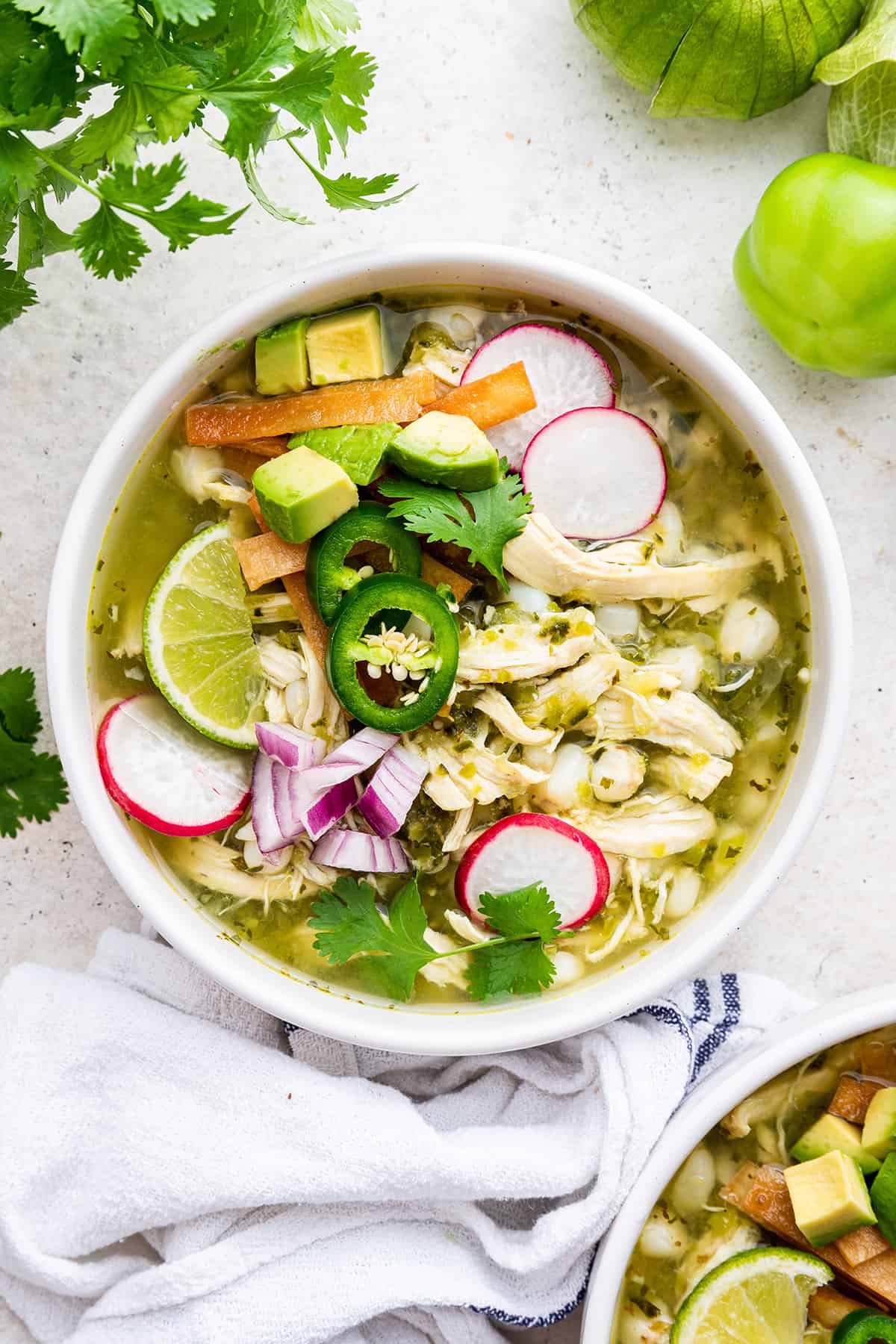 It's that time of year when we're all looking for satisfying recipes that will warm us up and fill our bellies. Well, pozole verde is the perfect dish! And even better, you can get it on the table in under an hour, including prep time.
What Is Pozole?
Pozole is a traditional Mexican stew or soup made with hominy and meat—often pork or chicken. It can be made with red chiles, or with tomatillos and green chiles, which is pozole verde. (Another option is pozole blanco, which is made without red or green sauce.)
The name pozole comes from the Nahuatl language, and the dish dates back to Aztec empire; it's still enjoyed throughout Mexico and the Southwest, and, of course, at Mexican restaurants around the globe.
While the meat, hominy, peppers, and tomatillos are the heavy hitters in pozole verde, a number of other ingredients are usually added on top for garnish, adding some visual appeal, along with extra flavor and contrasting textures. If you love customizing a burrito bowl or Buddha bowl, you'll love assembling your pozole bowl!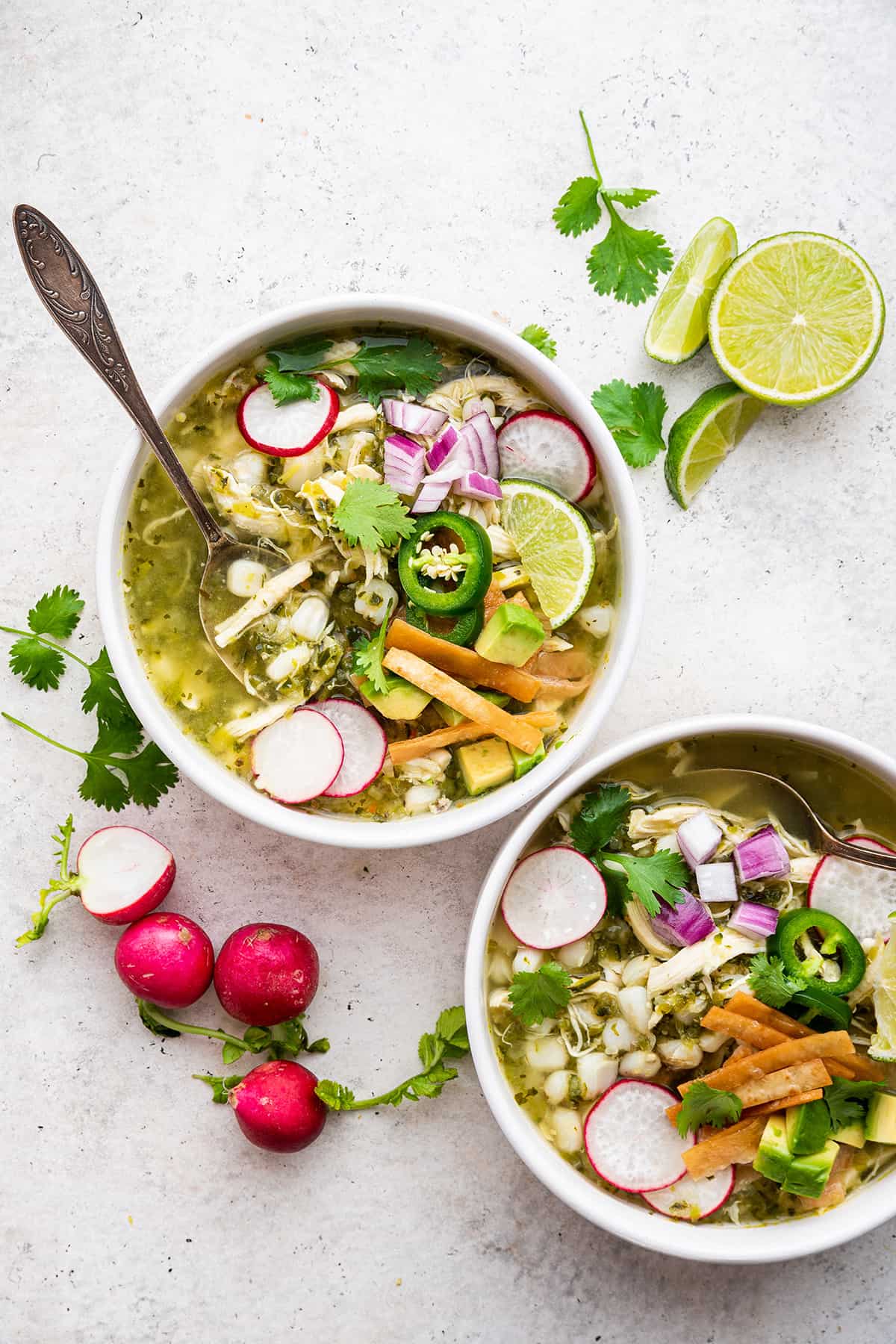 Why You'll Love This Pozole Verde Recipe
Here's what makes this pozole verde recipe a winner:
Flexitarian. You can prepare pozole verde with chicken or swap in tofu to make it meatless.
Hearty and nutritious. This soup is packed with lean protein from the chicken or tofu and it's naturally gluten-free. In addition, the way hominy is processed means its minerals are more bioavailable.
Full of flavor. The combination of piquant tomatillos, three varieties of chile peppers, and all those toppings makes pozole a super flavorful dish.
Done in under an hour. This isn't the kind of soup or stew that needs to simmer on the stovetop for hours! And that means it's perfect for a weeknight dinner.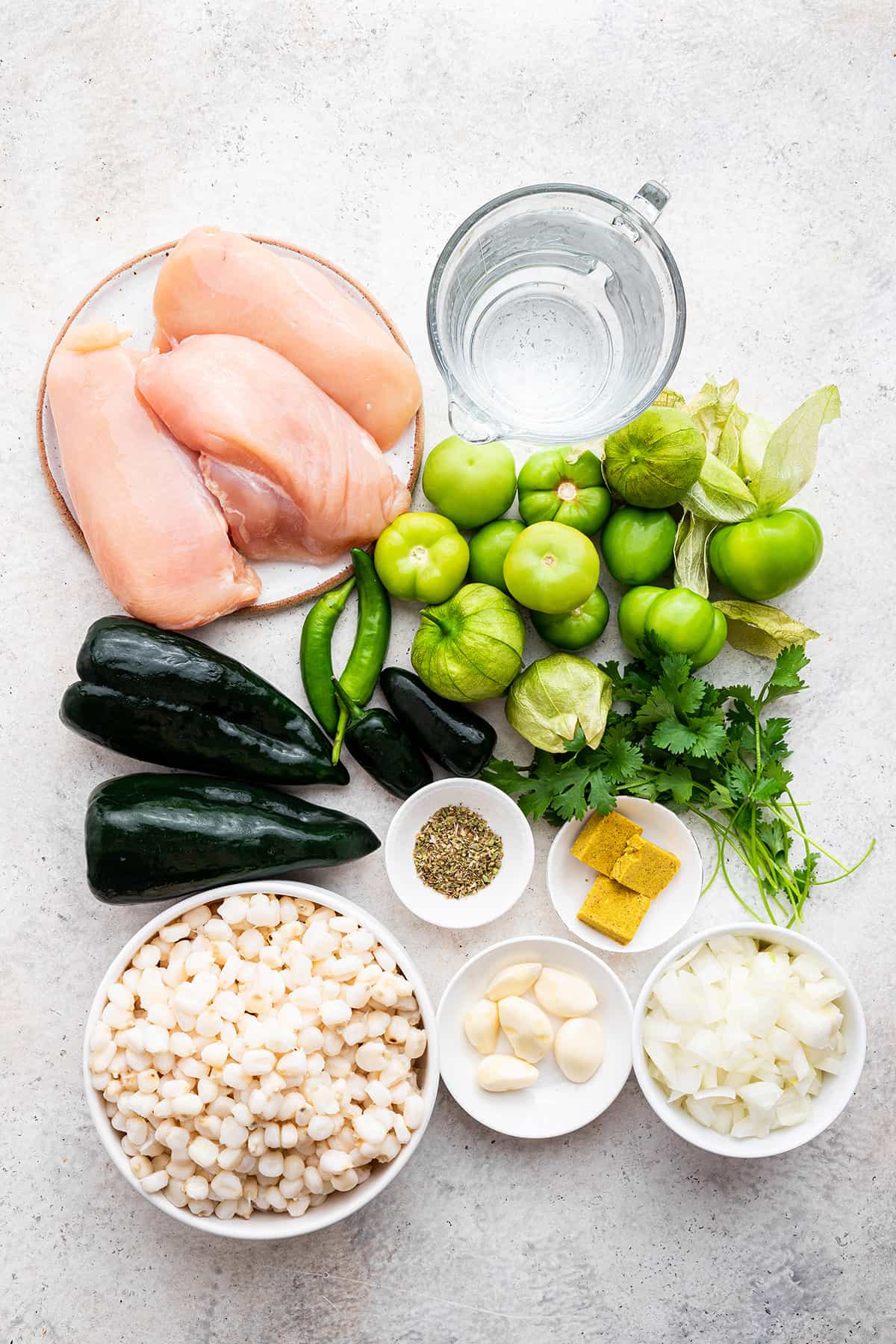 What You'll Need
Here are all of the ingredients you'll need when making pozole verde. Make sure to check out the recipe card at the bottom of the page to see the exact quantities for each ingredient.
Boneless skinless chicken breasts – Or use 14 to 16 ounces of extra-firm tofu to make vegan pozole verde.
Water
Chicken bouillon cubes – Use vegan chicken or vegetable bouillon cubes to make it vegan.
Tomatillos – Peel away the husks, then cut the tomatillos in half.
White onion – You can substitute yellow onion; they're just a little bit milder.
Poblano peppers – A mellower chile pepper.
Jalapeño peppers – In addition to a spicy kick, jalapeños have a bright, almost grassy flavor.
Serrano peppers – Serranos bring the heat! You can reduce the number or use extra jalapeños instead if you'd like.
Garlic
Cilantro – The cilantro is blended with the other ingredients, so even if you're a cilantro hater, you might not mind it here.
Dried oregano
Hominy
Optional toppings – Lime wedges, tortilla chips, sour cream, avocado, onion, radish, lettuce or cabbage, cilantro, sliced jalapeños, etc.
What Is Hominy?
Hominy is a large yellow or white corn kernel that has been soaked in an alkaline solution, typically made from lime or wood ash. This process, called nixtamilization, softens the hull and puffs up the kernels; it also makes it easier for the body to absorb the kernels' nutrients. Hominy has a mildly sweet, nutty flavor and a unique chewy texture.
How to Make Pozole Verde
Ready to get started? Here's what you'll need to do to make pozole verde at home.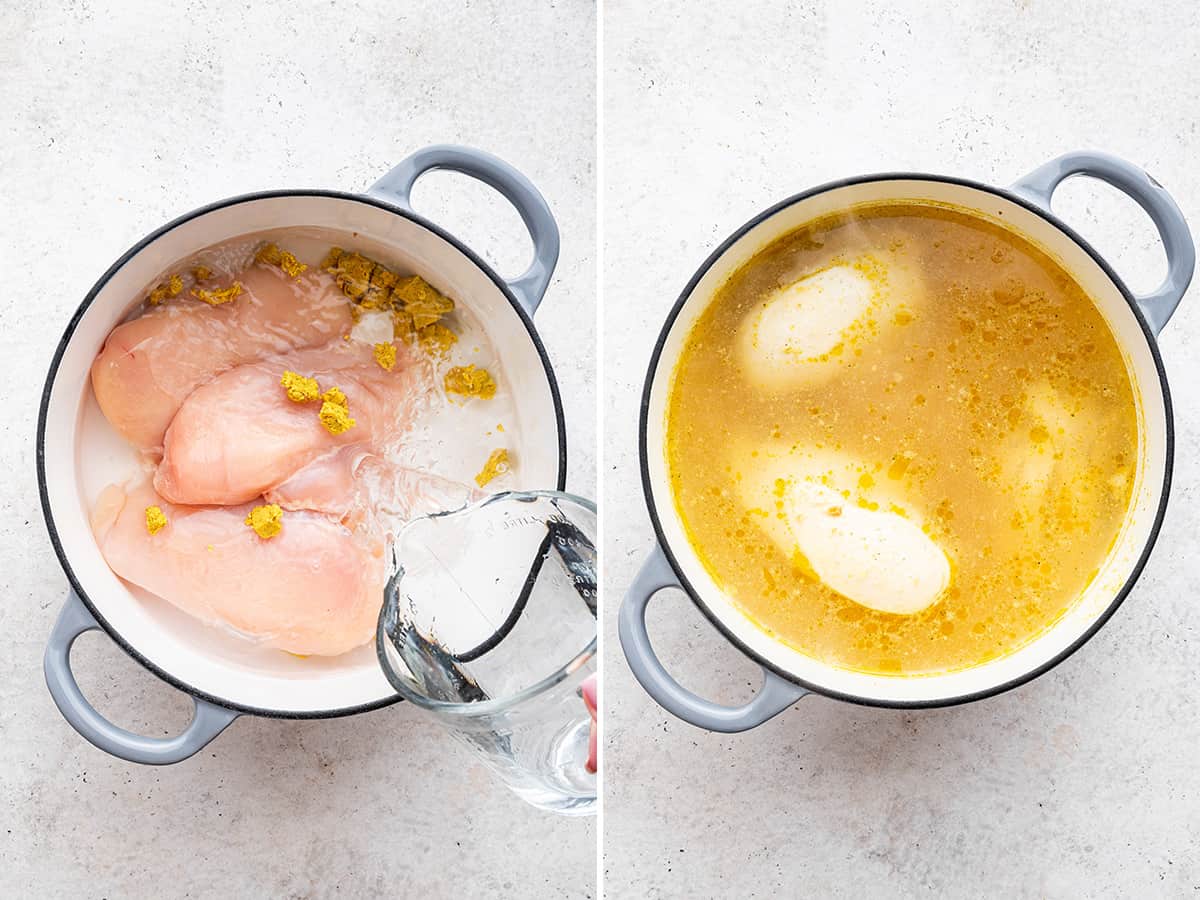 Simmer the protein. Bring the chicken, water, and bouillon cubes to a boil in a large Dutch oven, smashing the bouillon cubes with a wooden spoon to break them up. Reduce the heat to a low simmer, cover, and cook for 30 minutes.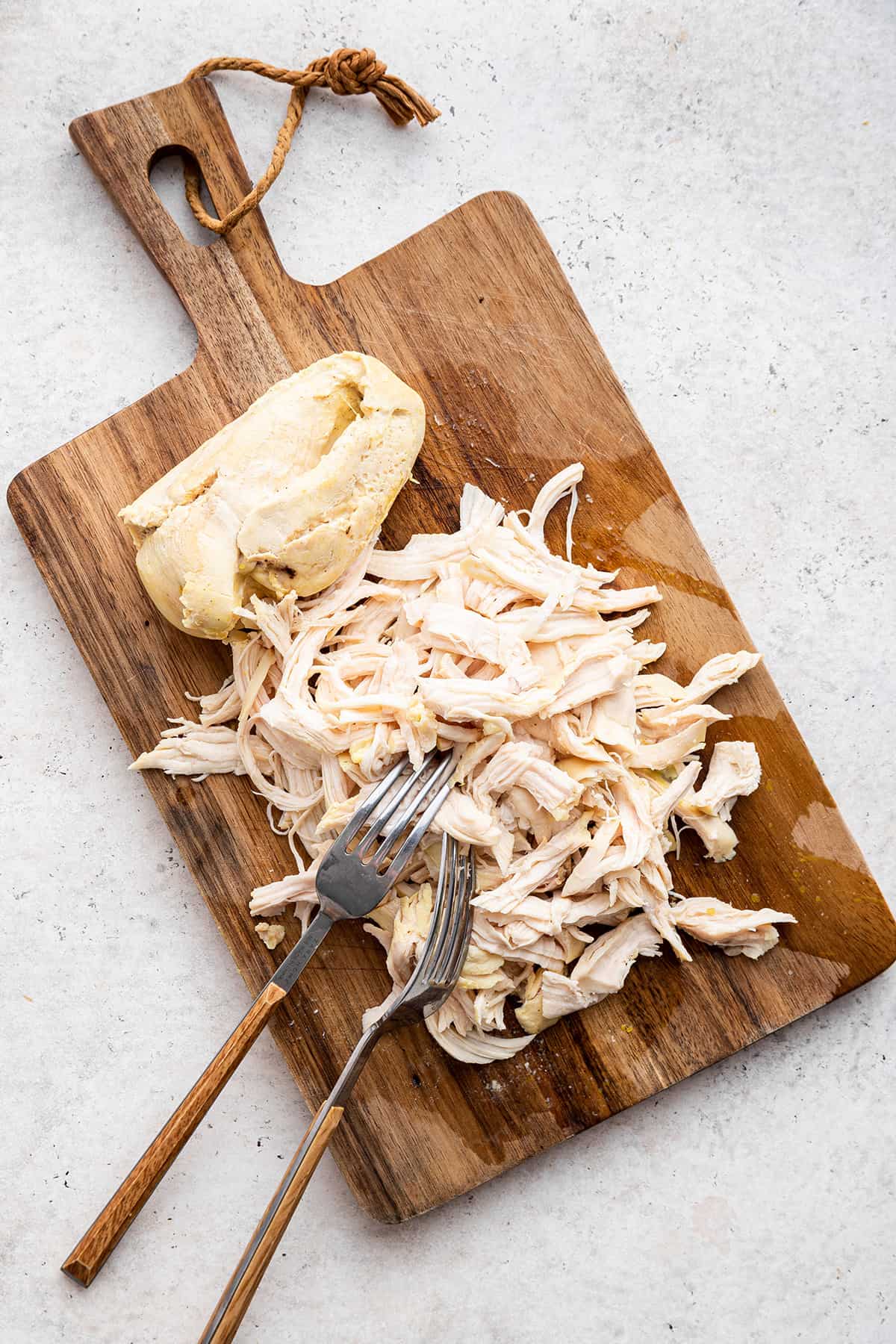 Remove the chicken. Reduce the heat to low and skim off the excess fat from the broth. Transfer the chicken to a cutting board and shred it once it has cooled.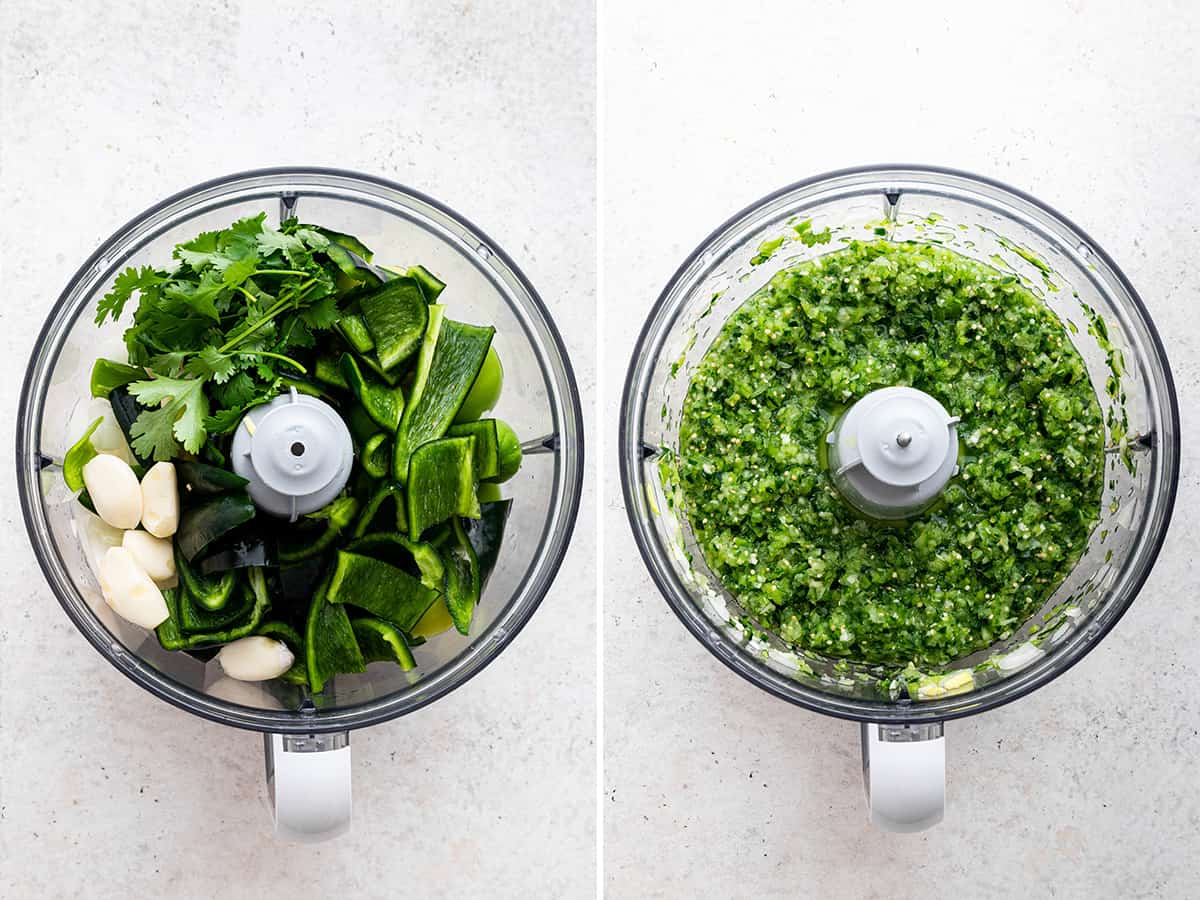 Make the chile and tomatillo mixture. Pulse the tomatillos, onion, peppers, garlic, cilantro, and oregano in your food processor to mince; add up to a cup of broth if needed.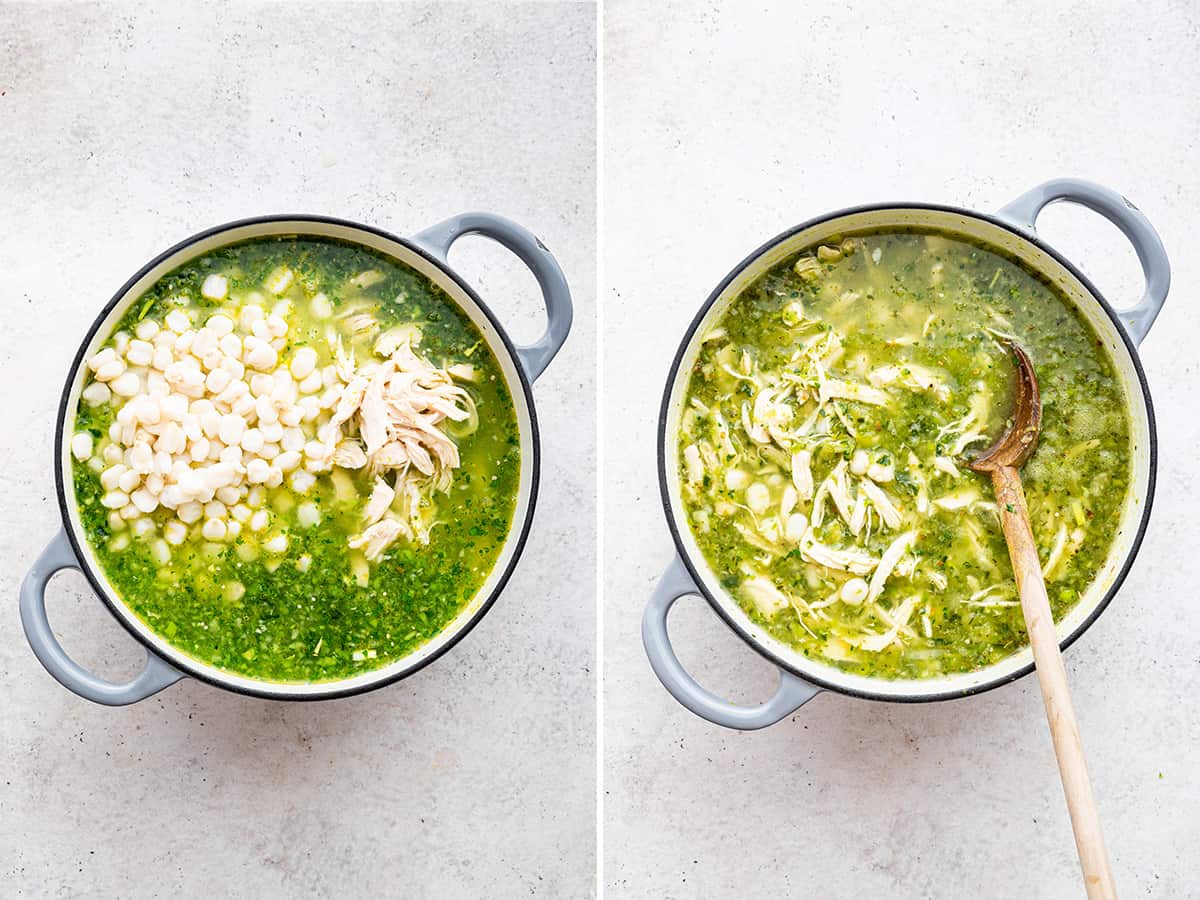 Simmer. Add the chile and tomatillo mixture to the Dutch oven with the broth, then stir in the chicken and hominy. Season with salt to taste and bring to a simmer, then cover and cook for 10 minutes more.
Serve. Ladle the pozole verde into bowls and add your desired garnishes.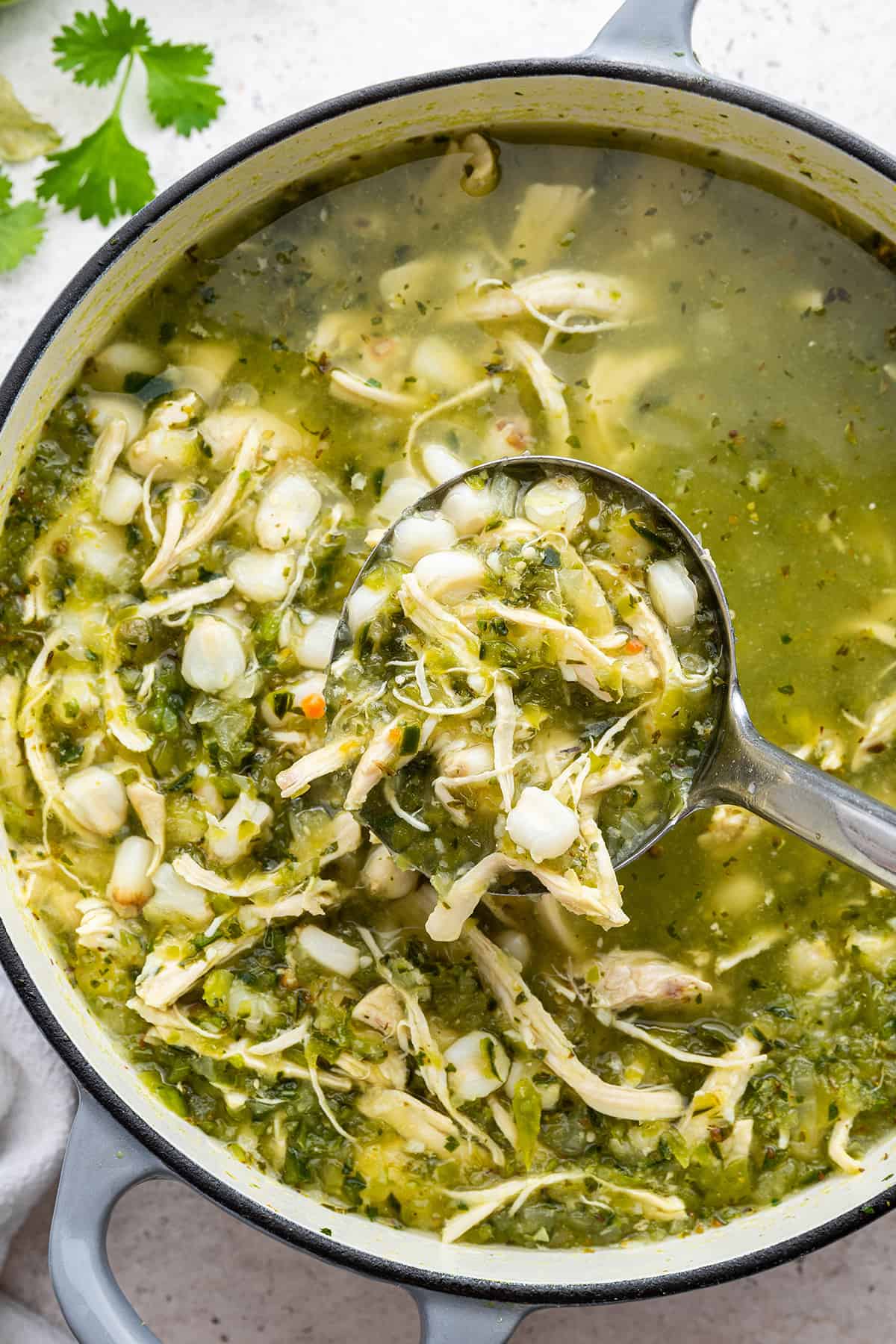 Tips for Success
These hints and tips will help make sure your pozole verde turns out perfect:
Rinse the tomatillos. After you peel away the papery husks from the tomatillos, you'll find a layer of sticky residue. It's annoying, but luckily it rinses off easily in cool water.
Use disposable gloves. You'll be handling a lot of hot peppers to make this pozole verde and gloves will save you from a lot of discomfort! Even if your hands feel fine as you cut the peppers (and even after you wash your hands!), you might touch your face or eyes and burn yourself later.
Adjust the heat. If you remove the seeds and ribs from the hot peppers, your pozole will be milder; leave them in and it will be spicier.
Variations
You can try making pozole verde with pork instead of chicken, or switch things up with another vegetarian option like rinsed and drained pinto beans or plant-based chicken.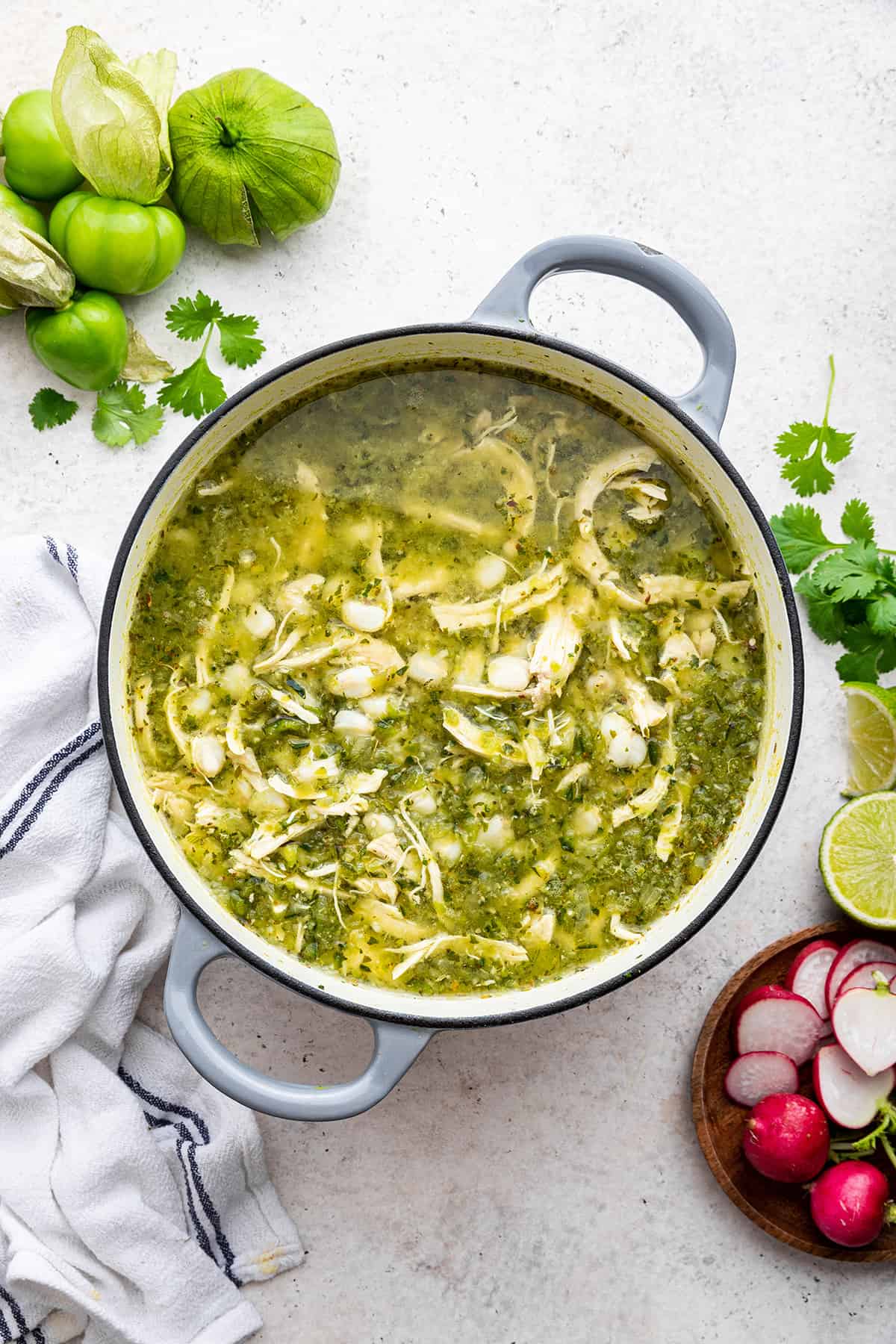 How to Store Leftovers
Store leftover pozole verde in an airtight container in the refrigerator for 4 to 5 days. Reheat it gently on the stovetop or in the microwave before serving.
Can I Freeze This Recipe?
To freeze pozole verde, transfer it to an airtight container or large freezer bag. Store it for up to 3 months and let it thaw in the refrigerator before reheating according to the instructions above.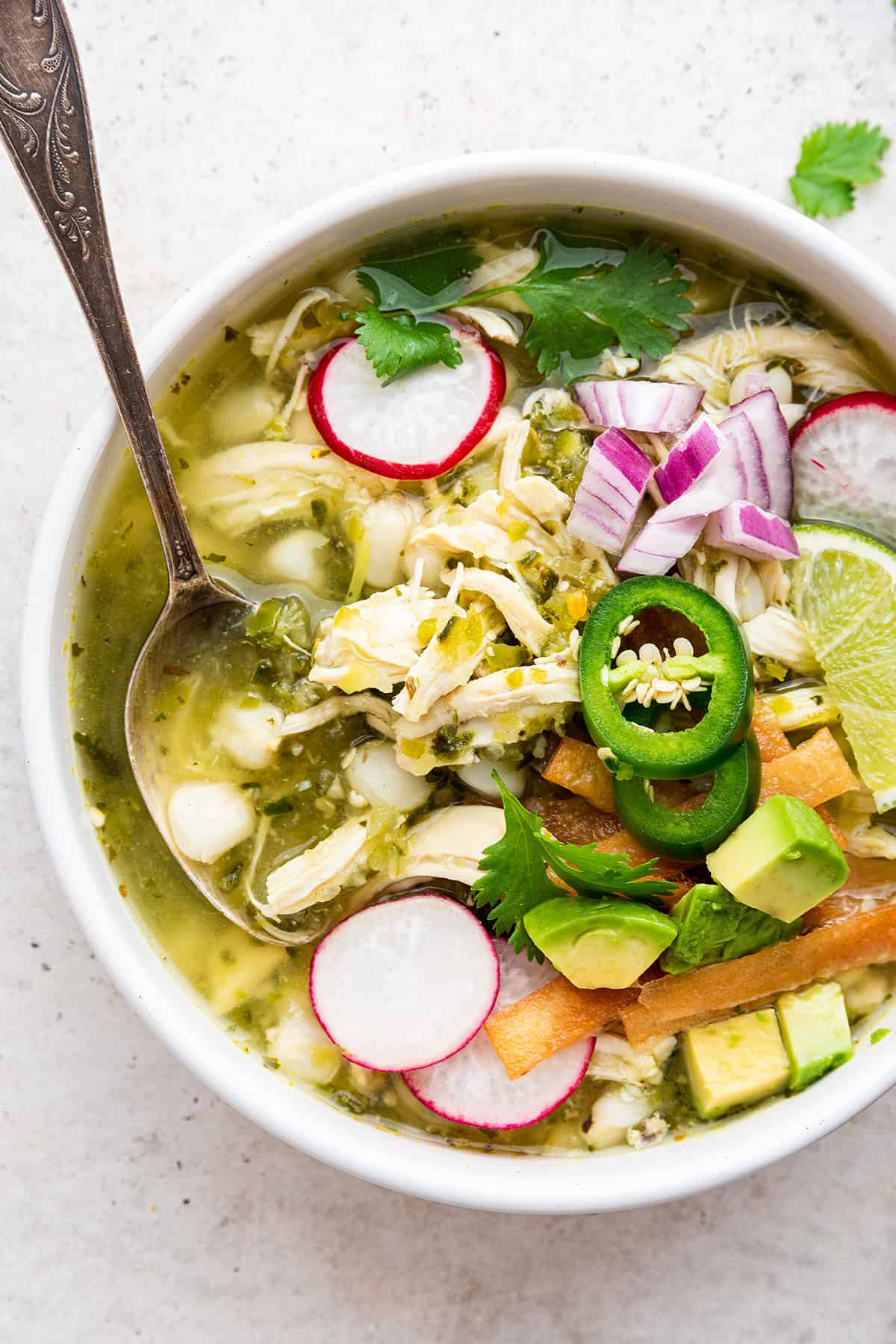 More Healthy Soups and Stews
Pozole Verde
This pozole verde recipe is a hearty Mexican stew that's full of bold flavors and tart, bright tomatillos. Dinner's done in under an hour!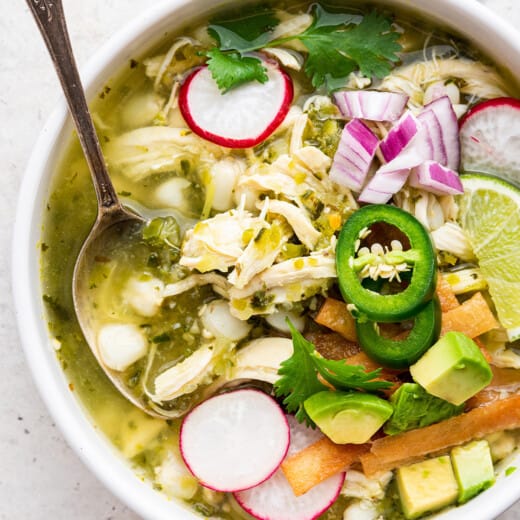 Ingredients
3

large boneless skinless chicken breasts, fresh or frozen

(vegan/vegetarian option: 14 – 16 ounces of extra firm tofu, drained and small cubed)

6

cups

water

3

chicken bouillon cubes

(vegan/vegetarian option: 3 vegan chicken or vegetable bouillon cubes)

1

pound

tomatillos

husked and halved (approximately 2 1/2 cups)

1

white onion

rough chopped (1 1/2 cups)

2

poblano peppers

stems and seeds removed and rough chopped* (approximately 2 cups)

2

jalapeño peppers

stems and seeds removed and rough chopped* (approximately 1 1/2 cup)

2

serrano peppers

stems and seeds removed and rough chopped* (approximately 1 1/4 cup)

6

garlic cloves

peeled

1

cup

fresh cilantro

rough chopped

1

teaspoon

dried oregano

30

ounce

can of hominy

drained
Optional Toppings:
Lime wedges

Tortilla chips

Sour cream

(vegan/vegetarian option: dairy-free sour cream)

Avocado

diced or thinly sliced

Onion

diced

Radish

thinly sliced

Iceberg lettuce or cabbage

thinly shredded

Cilantro

torn or rough chopped

Jalapeño slices
Instructions
Add the chicken (or tofu), water, and bouillon cubes to a large dutch oven. Use a large spoon to stir/mash the bouillon cubes up a bit before bringing everything to a boil. Once boiling, reduce the boil to a low simmer, cover the pot with a lid, and cook for 30 minutes or until the chicken is fully cooked through.

Reduce the heat to low. Skim any excess fat that's floating on the surface. Carefully remove the chicken from the pot and place it on a cutting board or plate to cool. Once cooled, shred the chicken and set aside.

In a food processor, add the tomatillos, onion, poblano peppers, jalapeño peppers, serrano peppers, garlic, cilantro, and oregano. Pulse a few times until everything is minced. Add up to 1 cup of broth to the food processor if needed to help blend.

Add the contents of the food processor to the dutch oven containing the broth.

Add the shredded chicken and hominy. Stir a few times, season with salt to taste, and bring everything back to a simmer. Cover the pot with a lid and cook for an additional 10 minutes.

Serve with toppings of choice.
Notes
If you want this dish to be spicier, you can leave a few of the seeds in the peppers. If you prefer it to be less spicy, then I recommend removing all seeds.
Nutrition
Calories:
219
kcal
|
Carbohydrates:
30
g
|
Protein:
16
g
|
Fat:
4
g
|
Saturated Fat:
1
g
|
Polyunsaturated Fat:
1
g
|
Monounsaturated Fat:
1
g
|
Trans Fat:
0.01
g
|
Cholesterol:
36
mg
|
Sodium:
1049
mg
|
Potassium:
575
mg
|
Fiber:
6
g
|
Sugar:
8
g
|
Vitamin A:
507
IU
|
Vitamin C:
51
mg
|
Calcium:
55
mg
|
Iron:
2
mg