This amazing creamy chickpea and pumpkin stew is the perfect cozy recipe. Packed with flavor, hearty vegetables, and the best creamy texture!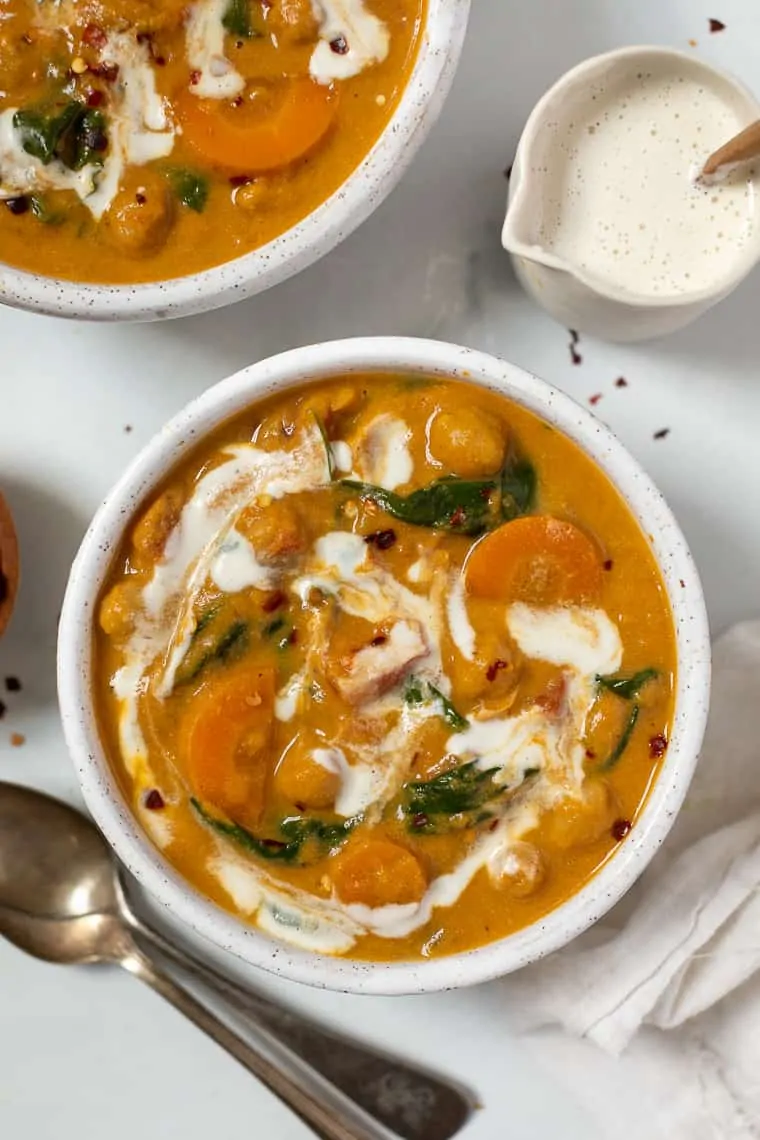 When it comes to pumpkin, I'm almost exclusively been on the sweet side of things my whole life.
But the last few years, I've started to use pumpkin in savory recipes and have honestly fallen in even more love with this amazing ingredient. Remember my pumpkin alfredo noodles? Or my pumpkin chili? All packed with pumpkin, but not the flavor profile you typically expect.
And that's what makes pumpkin such a unique and special ingredient. It's versatile and it's adaptable.
Today I've got another savory pumpkin recipe for you. A creamy pumpkin stew with chickpeas, carrots, spinach and even some cashew cream. It's easy, it's relatively quick, and it tastes incredible!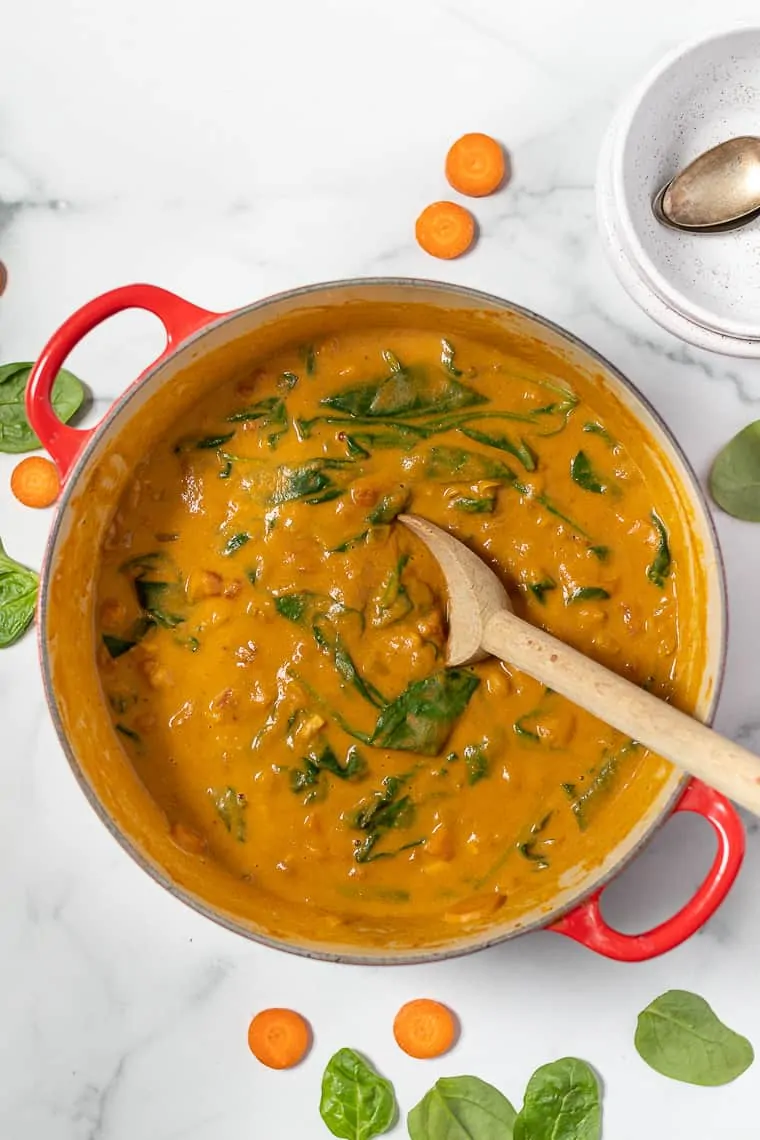 What You'll Need to Make This Stew
This recipe is actually quite similar to my Creamy Italian Quinoa Soup, but I've swapped the spices, added in some pumpkin and changed up a few of the other ingredients. But otherwise, it's the same!
Here's what we've got:
Onion: I truly believe the base of a good soup comes from onion, garlic and carrots. It's the perfect combo and it works perfectly in this recipe.
Carrots: I chose to slice my carrots into discs, but you could also dice them if you wanted smaller pieces.
Garlic: there's kind of a lot of garlic in here, so if you're not big into garlic, you might want to just do 2 cloves.
Chickpeas: my bean of choice for this recipe, but it would also be great with lentils or great northern beans.
Diced tomatoes: for a little juiciness and flavor, these are a great addition!
Canned pumpkin: I went with canned pumpkin out of sheer convenience, but you could totally do fresh if you wanted to make it at home.
Spices: for our spices, we're going with curry powder, ginger, salt and pepper. Flavorful, but simple.
Cashew cream: and to get that creamy texture in our pumpkin stew, we're finishing things off with a hint of cashew cream.
And then we're also stirring in some spinach at the end to get our greens in!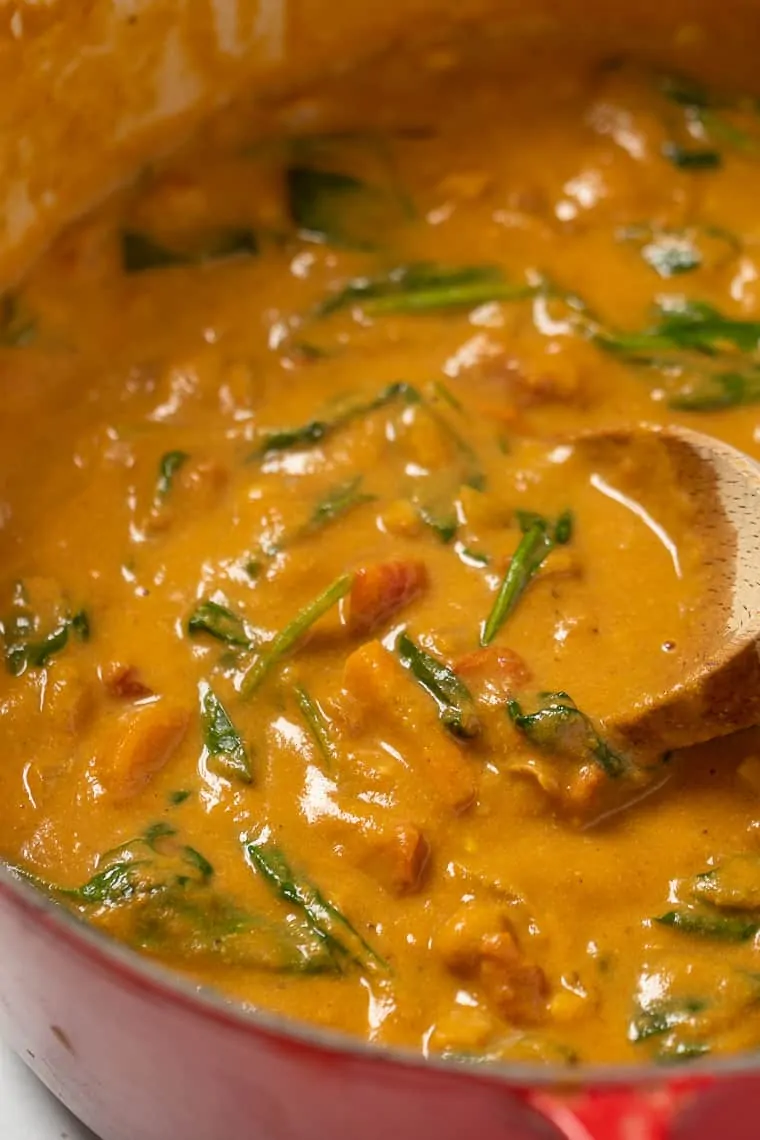 How to Make Pumpkin Stew
One of the best things about soup is how simple it is to make. You just need one pot and a bit of time to let it cook!
STEP ONE: Saute
As with most dishes, you'll start by sauteeing your onions, garlic, and carrots together. Once those have gotten fragrant and the carrots have softened, it's time to add the rest of your ingredients!
STEP TWO: Simmer
Once you add the rest of your ingredients (minus the spinach and cream), you'll just let the soup simmer for a bit. Essentially, you're just looking to build flavor and also cook the carrots. Everything else is pretty much cooked! Once the carrots are soft, you can serve it up.
STEP THREE: Serve
Just before serving your pumpkin stew, stir in your spinach and cashew cream. Continue to stir until the spinach has wilted, you can dish it up!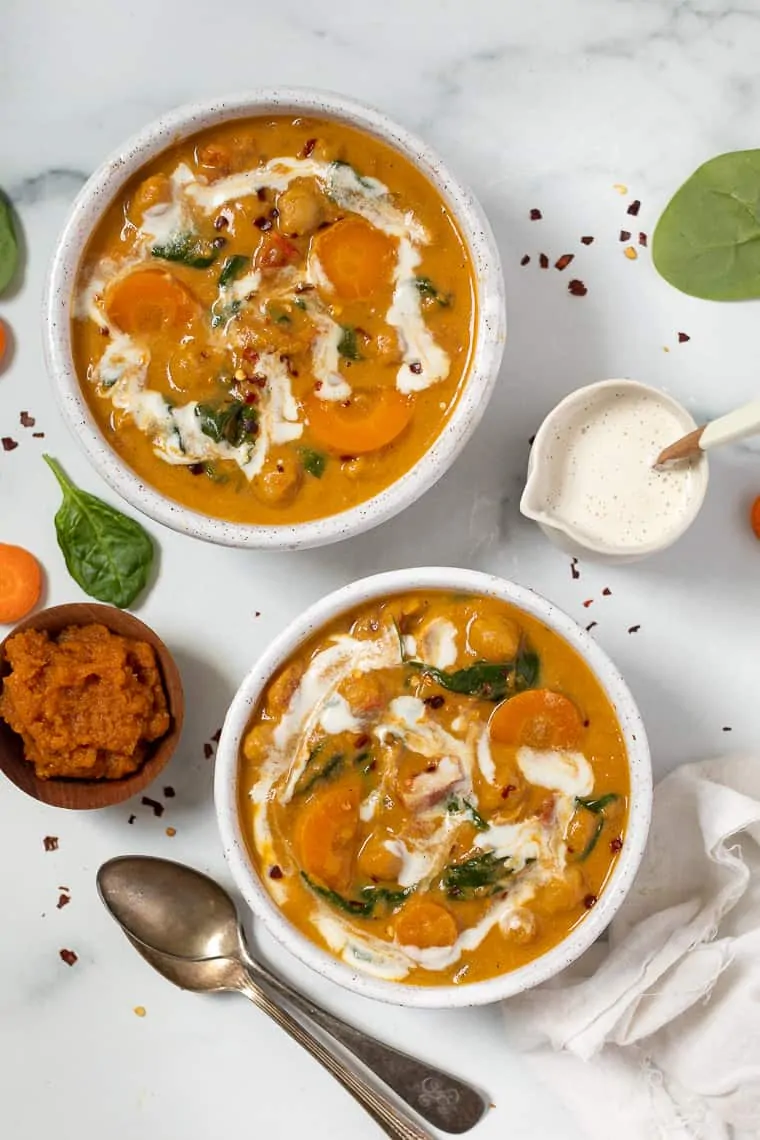 What to Serve with Stew
When it comes to soups and stews, I like to keep things pretty simple. I usually make a small salad (my best ever massaged kale salad is my fave with this one), and have something to dip inside.
That could be toast, it could be a gluten-free popover, maybe it's even just a dinner roll. But I like to be able to scoop some of it out and let the bread soak up all that goodness!
Best Ways to Store Soup and Stew
This pumpkin stew is amazing for meal prep. It will keep for multiple days in the fridge, or it can be frozen.
For the fridge: keep it in a sealed container for 4 – 5 days. Reheat in the microwave or on the stove.
For the freezer: keep it in a sealed container for 3 – 6 months. Allow to thaw at room temperature, then reheat on the stove or in the microwave.
And that pretty much does it! I can't wait to see you make this recipe and hear what you think. It's so cozy, so comforting, and the perfect meal for fall.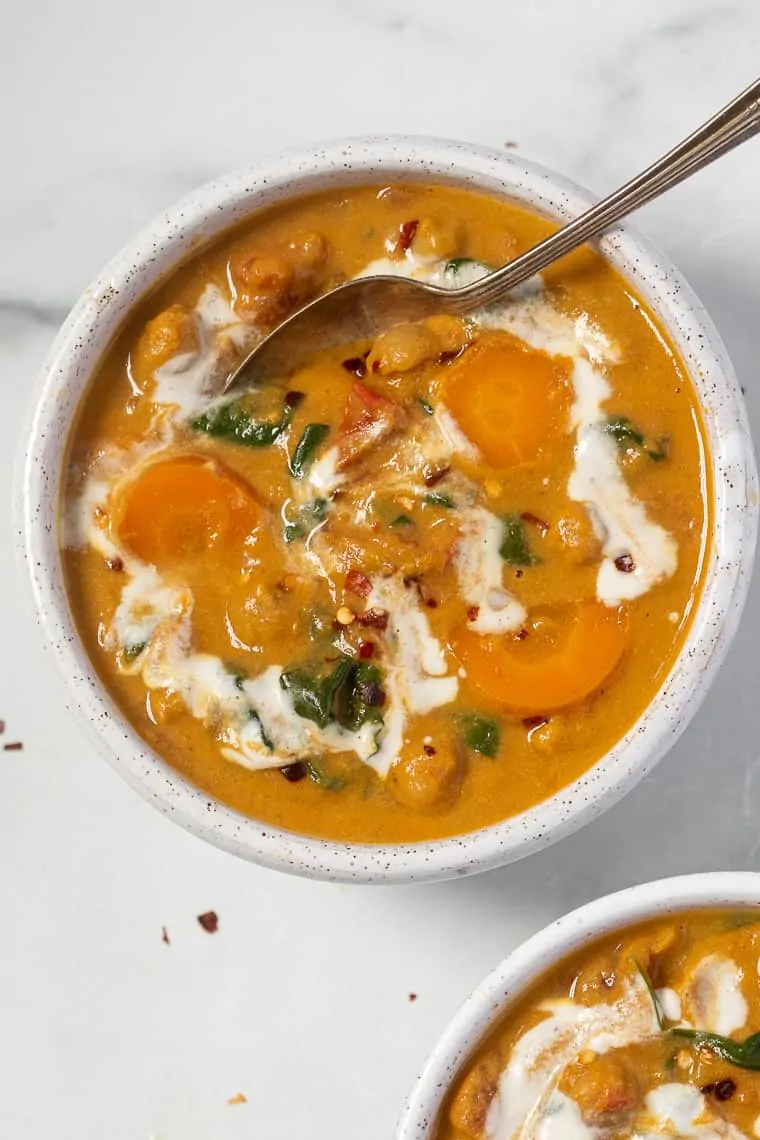 More Hearty Fall Recipes to try:
Creamy Chickpea + Pumpkin Stew
Not only is it a cinch to make, but it's also healthy, full of flavor and is made entirely from plant-based goodies.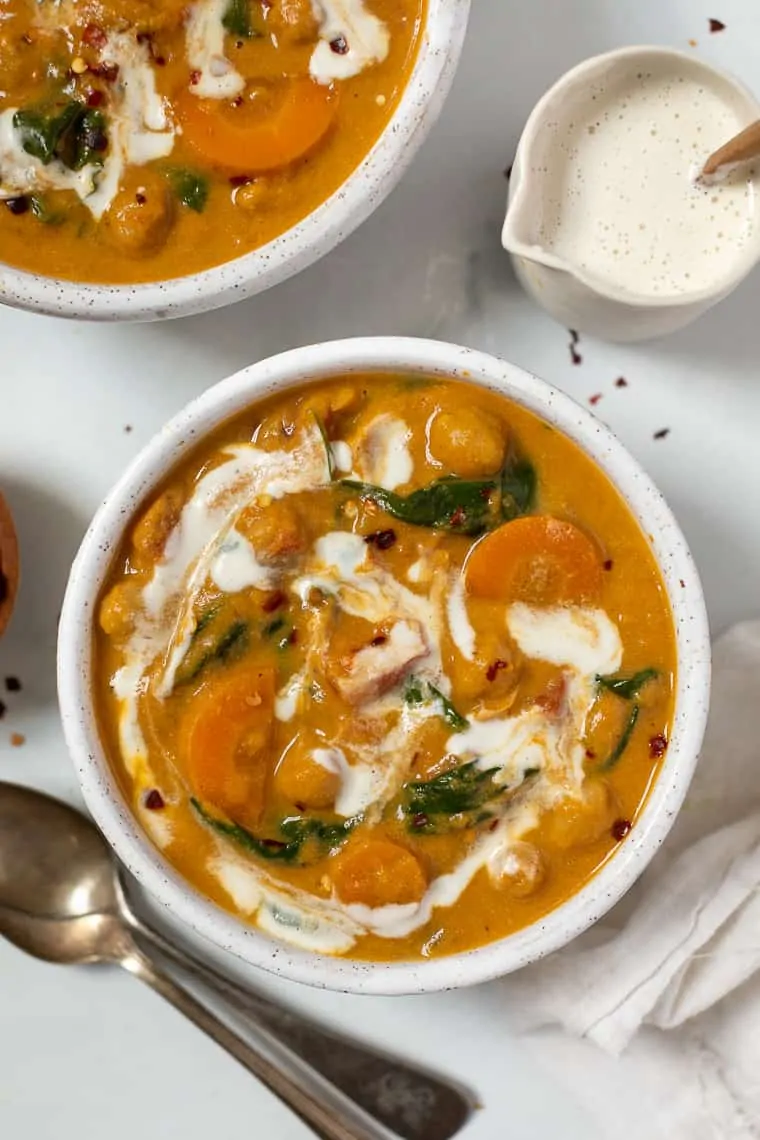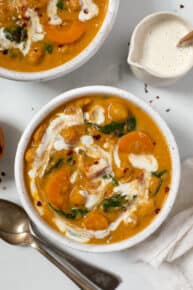 Instructions
Heat oil in a large saucepan or dutch oven over medium heat. Add onion, carrots, and garlic and saute until carrots have started to soften, about 5 minutes. Season with salt and pepper.

Add chickpeas, tomatoes, pumpkin, broth and spices and stir to combine. Season with a bit more salt and pepper. Bring mixture to a boil, reduce to simmer and simmer, partially covered, for 20 - 30 minutes (or longer if desired).

When ready to serve, stir in spinach, cashew cream and nutritional yeast. Taste and adjust seasonings as necessary. Serve immediately!
Notes
* substitute diced tomatoes if desired
Nutrition
Serving:
1.5
cups
|
Calories:
179
kcal
|
Carbohydrates:
25
g
|
Protein:
7
g
|
Fat:
7
g
|
Saturated Fat:
1
g
|
Sodium:
741
mg
|
Potassium:
744
mg
|
Fiber:
8
g
|
Sugar:
7
g
|
Vitamin A:
17260
IU
|
Vitamin C:
21
mg
|
Calcium:
107
mg
|
Iron:
4
mg