This pumpkin baked oatmeal recipe is gluten-free, vegan and packed with flavor! It's like you're having a slice of pumpkin pie for breakfast!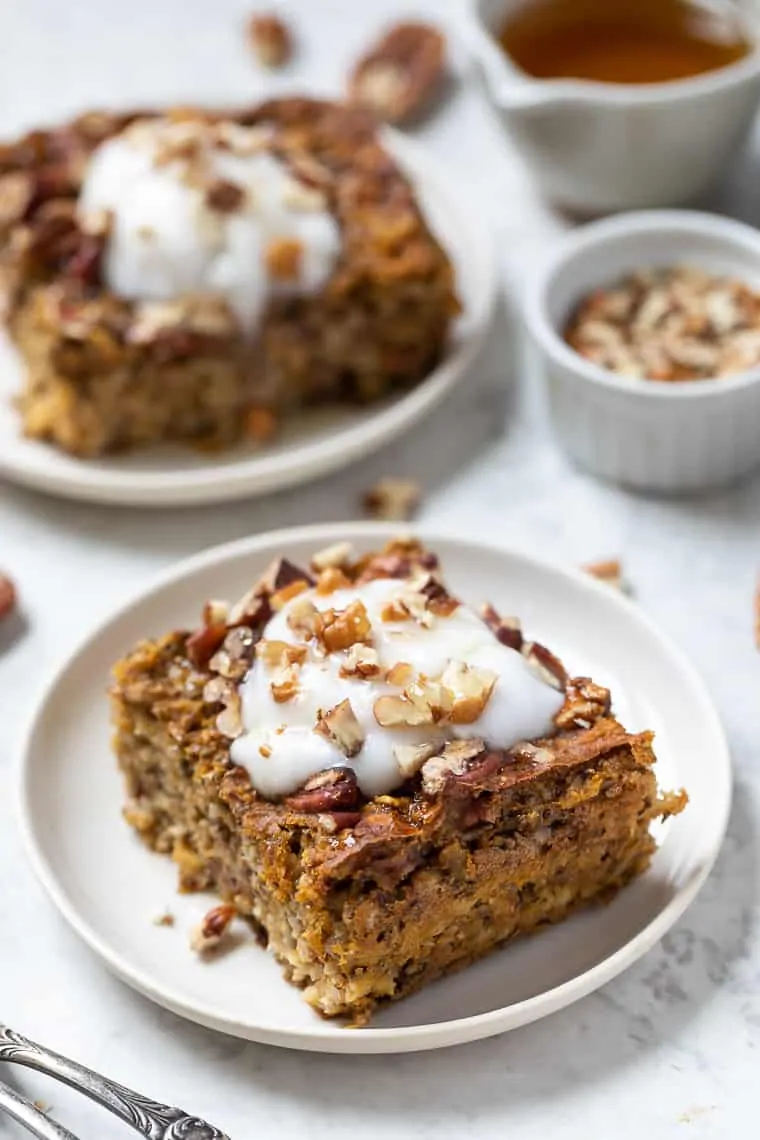 We're back with another amazing baked oatmeal recipe, but this time it uses one of my absolute favorite fall ingredients. Pumpkin.
I literally look forward to pumpkin season all year long. And of all the pumpkin recipes I've made on the blog so far (we've got at least 20+), this is one of the best.
Not only is baked oatmeal a cinch to make, but this pumpkin baked oatmeal will remind you of eating a slice of pie, but in breakfast form. It's cozy, comforting, great for meal prep, and also vegan and gluten-free!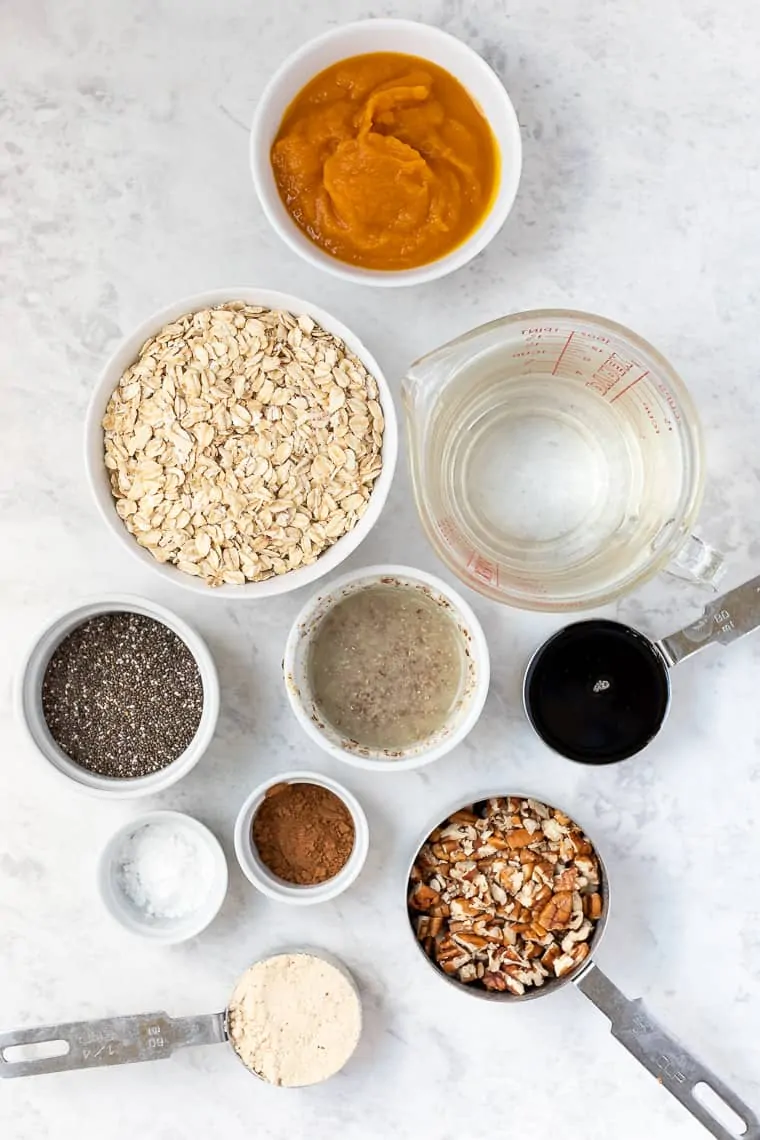 What You Need for this Recipe
As with my other baked oatmeal recipes, the ingredient list is pretty basic. I tried to stick with ingredients that you probably have on hand, and for the ones that you might not, there are tips for replacing them.
Oats: old fashioned rolled oats are the name of the game with baked oatmeal. They hold their texture and still have a slight chew, but don't go soft and mushy.
Pumpkin puree: I personally used canned pumpkin just because I always have it on hand, but fresh homemade puree will work too. And if pumpkin isn't your thing, you can swap it with sweet potato or butternut squash.
Flax egg: this helps to hold the baked oatmeal together and can be replaced by a regular egg if you aren't vegan!
Maple syrup: the absolute best sweetener to pair with pumpkin – caramel-y, rich and so delicious.
Vegan protein powder: this is a simple way to amp up the protein content of your oatmeal, but it can easily be skipped if you don't have it on hand. I would use 1/2 cup extra rolled oats to replace the powder.
Chia seeds: another way to increase the nutrition of this recipe, chia seeds are high in protein, fiber, and omega-3s.
Pecans: adding chopped nuts is a great way to give the oatmeal texture – any nut or seed would work here!
Almond milk: and finally, the liquid I use is unsweetened almond milk, but this could also be replaced by any milk you like.
And then you'll also want to throw in some pumpkin pie spice, baking powder, and a pinch of salt.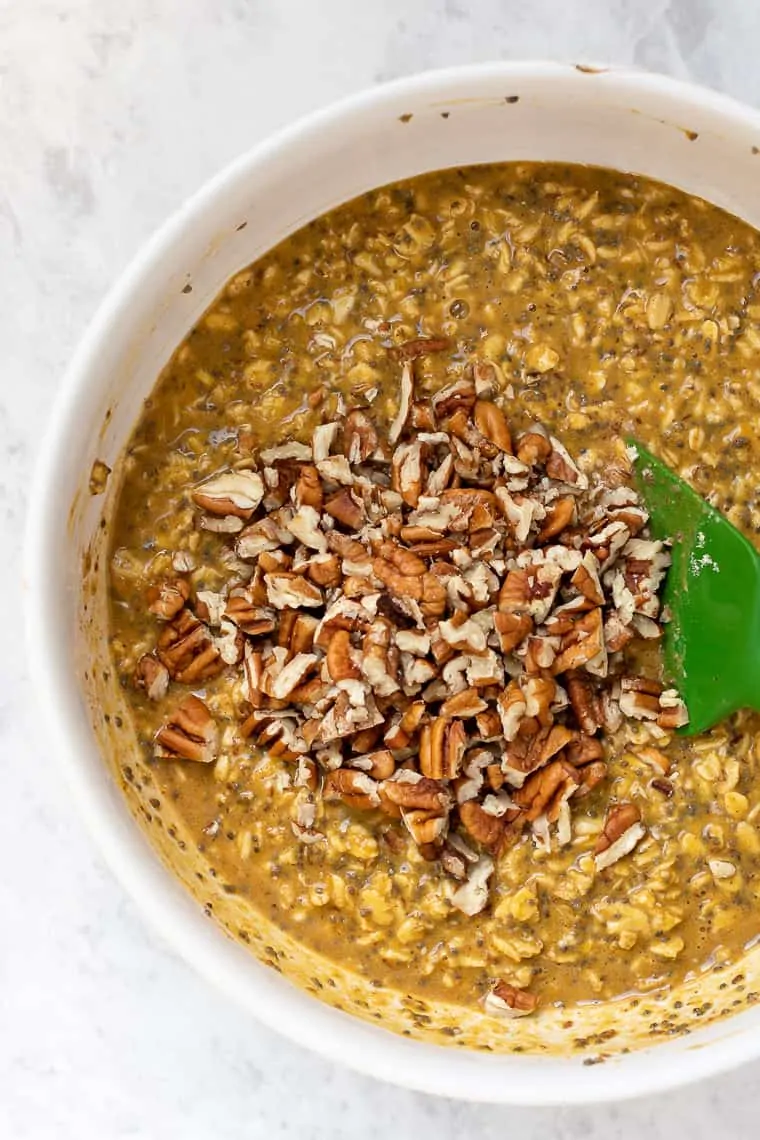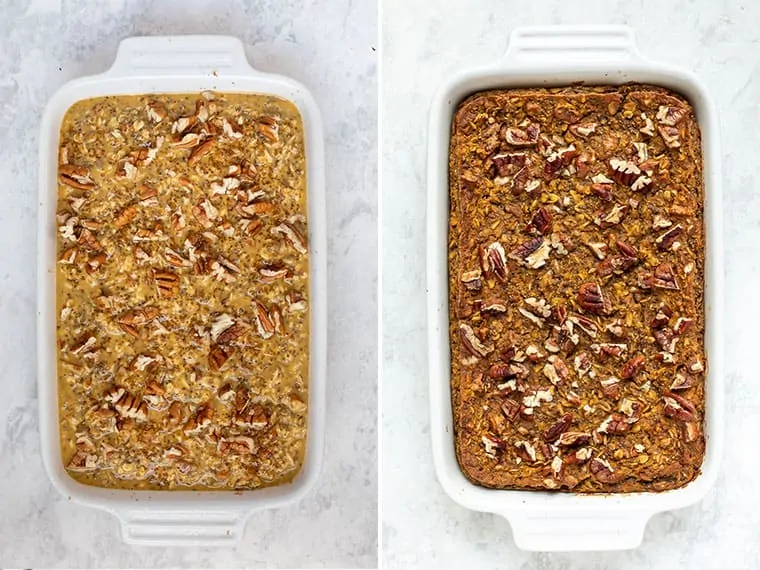 How to Make Pumpkin Baked Oatmeal
There seem to be a few different methods for making baked oatmeal, but the one I like best goes like this:
STEP ONE: Soak
We'll start by quickly soaking the oats in boiling water. I find that it helps to soften the oats a bit and gives the final recipe a really nice texture.
STEP TWO: Mix
Once the oats have soaked and absorbed most of the water, add the rest of your ingredients. You'll mix until everything forms a thick(ish) batter and then fold in your pecans. If you want, you can also sprinkle some extra pecans on top along with some raw sugar for a nice sweet crackly top!
STEP THREE: Bake
And lastly, pop your pumpkin baked oatmeal into the oven! It does take a while to bake, but the waiting is well worth it!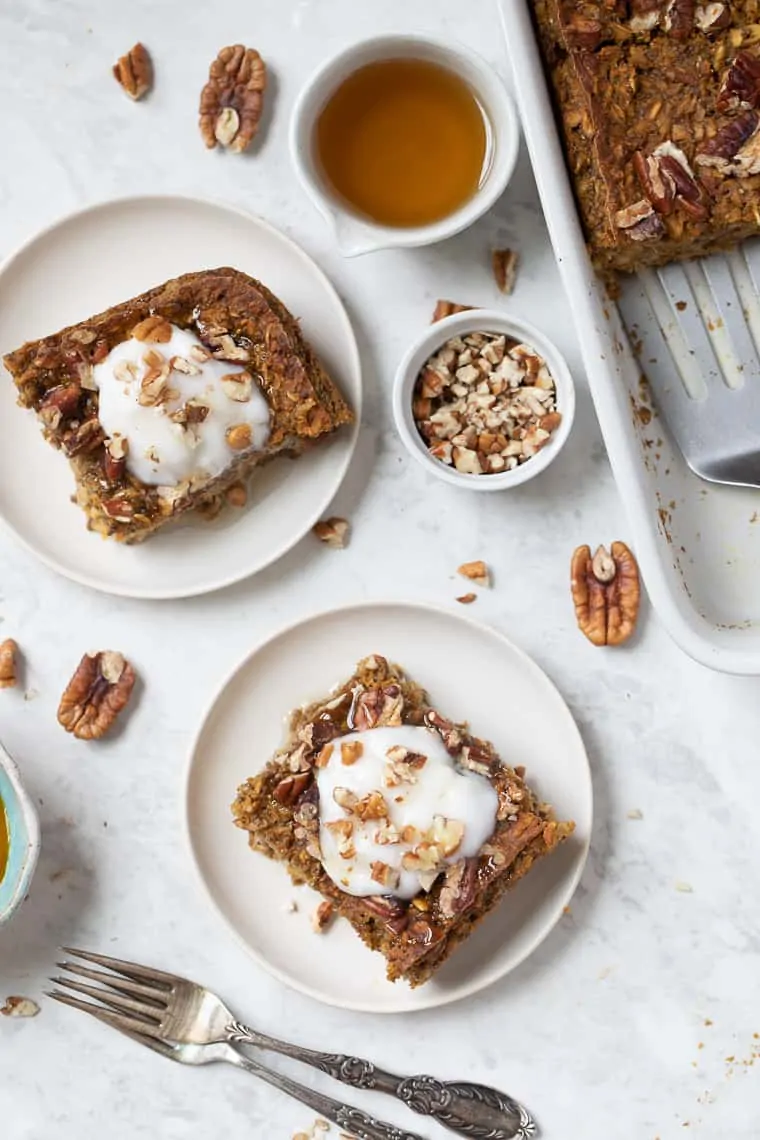 Can Oatmeal be Made Ahead?
Oatmeal can definitely be made ahead of time. I personally like to fully cook everything and just reheat, but this I think you could also store unbaked a day in advance. Reheating is super easy though, so I'd really recommend just going ahead with the bake and then heating it back up.
Baked Oatmeal Storage Tips
What's great about recipes like this pumpkin baked oatmeal is that they're really easy to store. I like to cut the whole tray into my squares and then either freeze some of the squares for later or keep them all in this dish with a cover on and reheat them as desired.
For the refrigerator: store in the fridge in a sealed container and reheat in the microwave or toaster oven.
For the freezer: wrap them up in foil and put them in a sealed bag. Freeze for 3 – 6 months. When thawing, allow to thaw completely at room temp (or in the fridge) and reheat in the microwave or toaster oven (on 300ºF).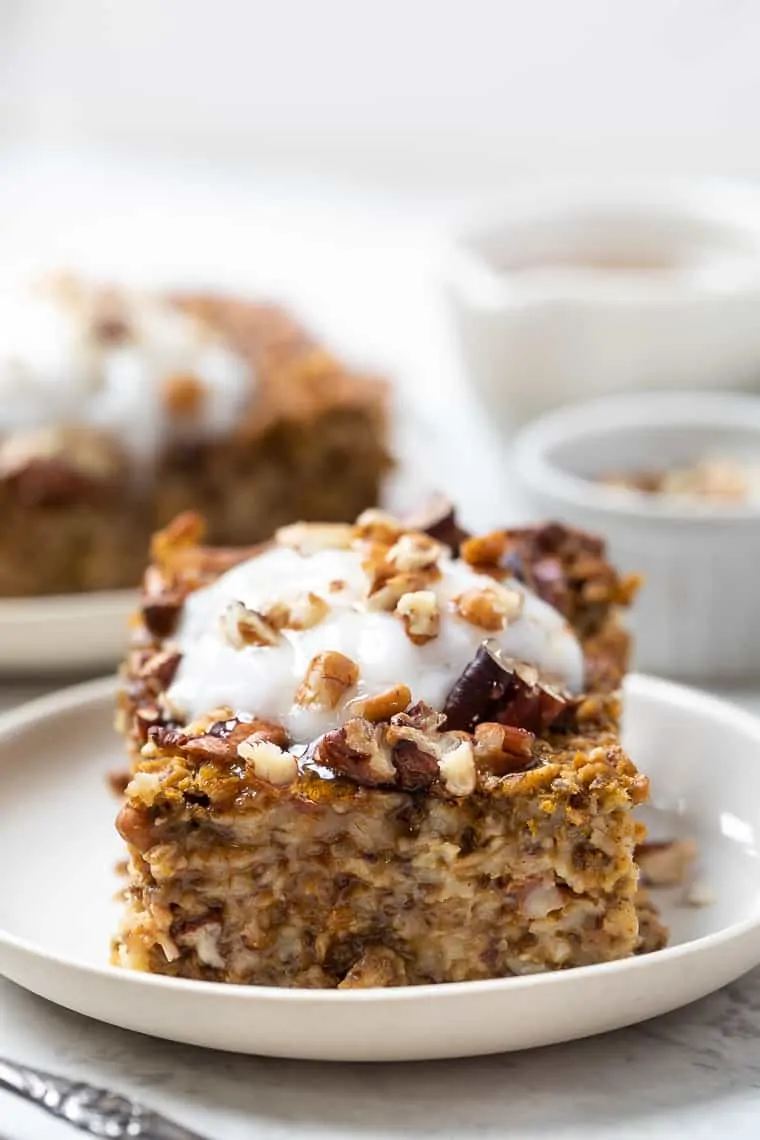 Why You'll Love This Pumpkin Baked Oatmeal
If you've never tried baked oatmeal before, prepare to fall in love. It's actually semi-new to me and I'm obsessed! It's…
easy to make
awesome for meal prep
hearty and filling
simple to adjust for allergies or flavor preferences
gluten-free & vegan
flavored like pumpkin pie
And it totally tastes like you're eating dessert for breakfast! How can you beat that?!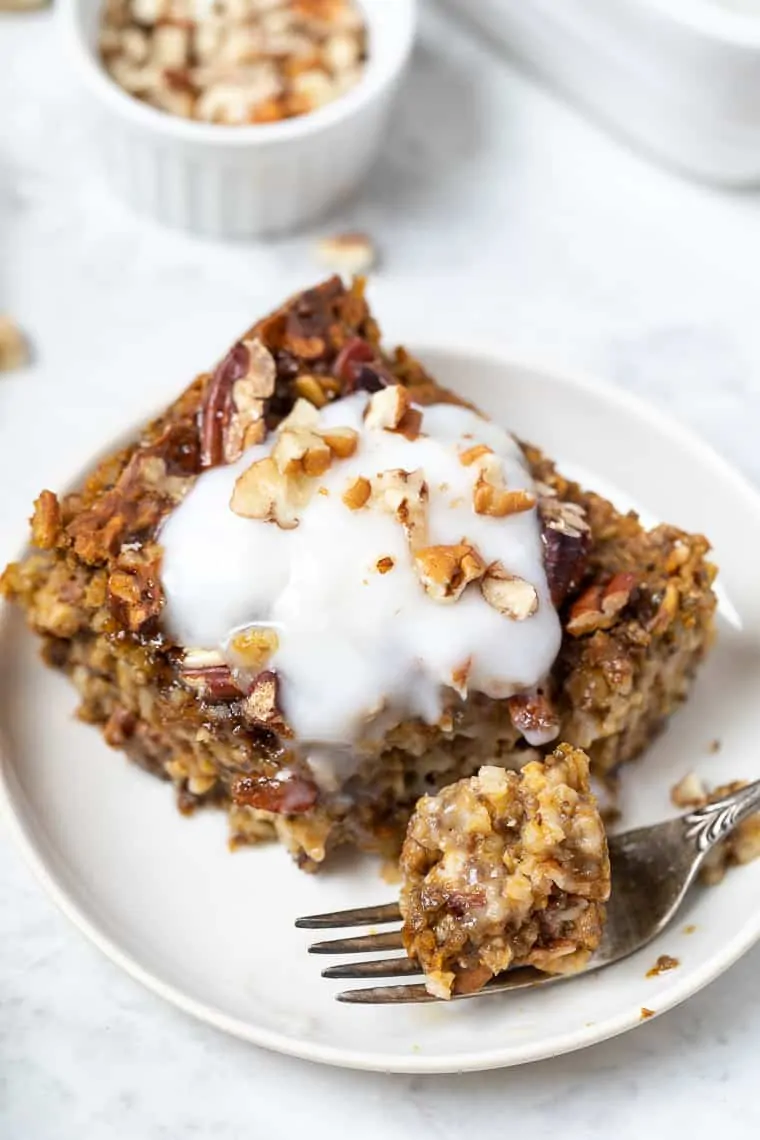 More Healthy Oatmeal Recipes to try
Vegan Pumpkin Baked Oatmeal
This pumpkin baked oatmeal recipe is gluten-free, vegan and packed with flavor! It's like you're having a slice of pumpkin pie for breakfast!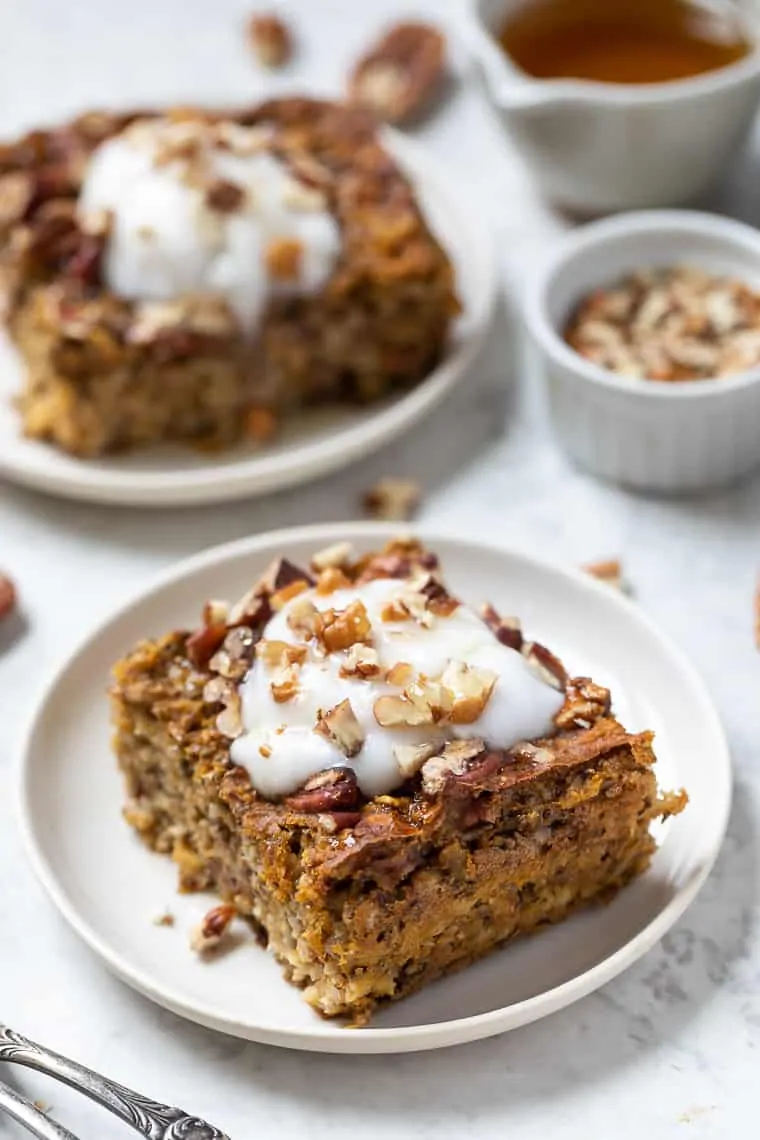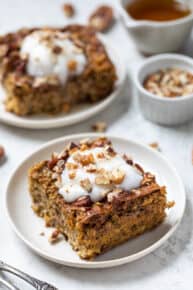 Instructions
Add the oats and boiling water into a mixing bowl. Allow to sit for 10 - 15 minutes.

Meanwhile, stir together the pumpkin, flax egg, syrup and protein powder. Pour this mixture over the softened oats and stir to combine.

Add the remaining ingredients into the bowl and stir again to combine.

Pour the oat mixture into a 9x13 baking pan. Top with additional pecans if desired.

Bake at 375ºF for 50 - 60 minutes. Allow to cool slightly, then cut into squares (or scoop out) and enjoy.
Nutrition
Serving:
1
square
|
Calories:
263
kcal
|
Carbohydrates:
30
g
|
Protein:
8
g
|
Fat:
14
g
|
Saturated Fat:
1
g
|
Sodium:
70
mg
|
Potassium:
289
mg
|
Fiber:
6
g
|
Sugar:
10
g
|
Vitamin A:
3582
IU
|
Vitamin C:
1
mg
|
Calcium:
135
mg
|
Iron:
3
mg
Filed Under: