This Spicy Green Mexican Quinoa recipe goes with everything! Wrap it up in a burrito, serve with grilled chicken, or top it with an egg. You can't go wrong!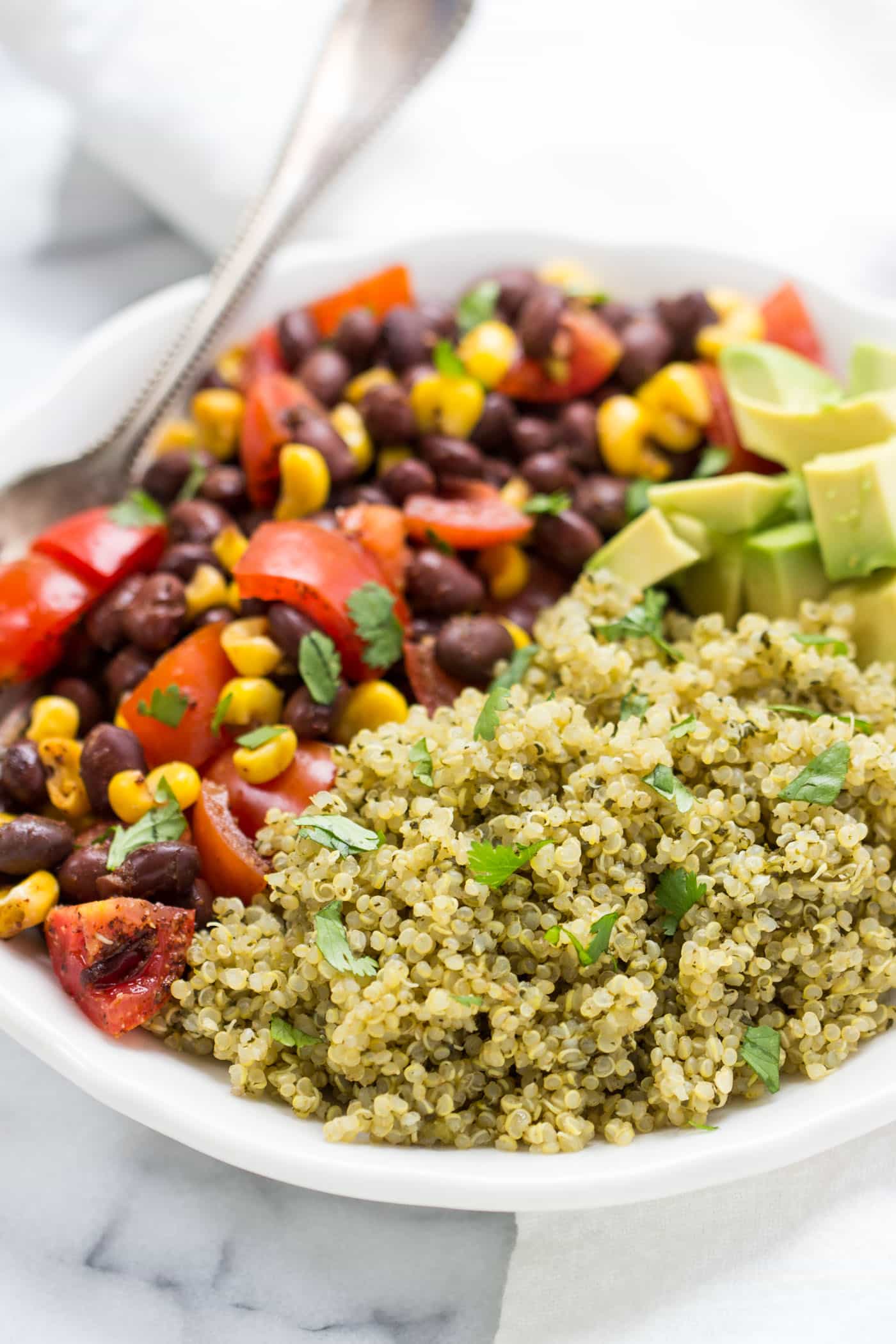 Happy Cinco de Mayo!
I couldn't resist passing up another holiday without giving you a recipe to celebrate the occasion. While quinoa isn't technically from Mexico, it works wonderfully with Mexican-inspired ingredients. In this recipe we're recreating a classic Mexican dish, "Arroz Verde", and giving it a healthier spin.
Forget the canola oil and white rice, we're sticking with all things green and nutritious with for this recipe.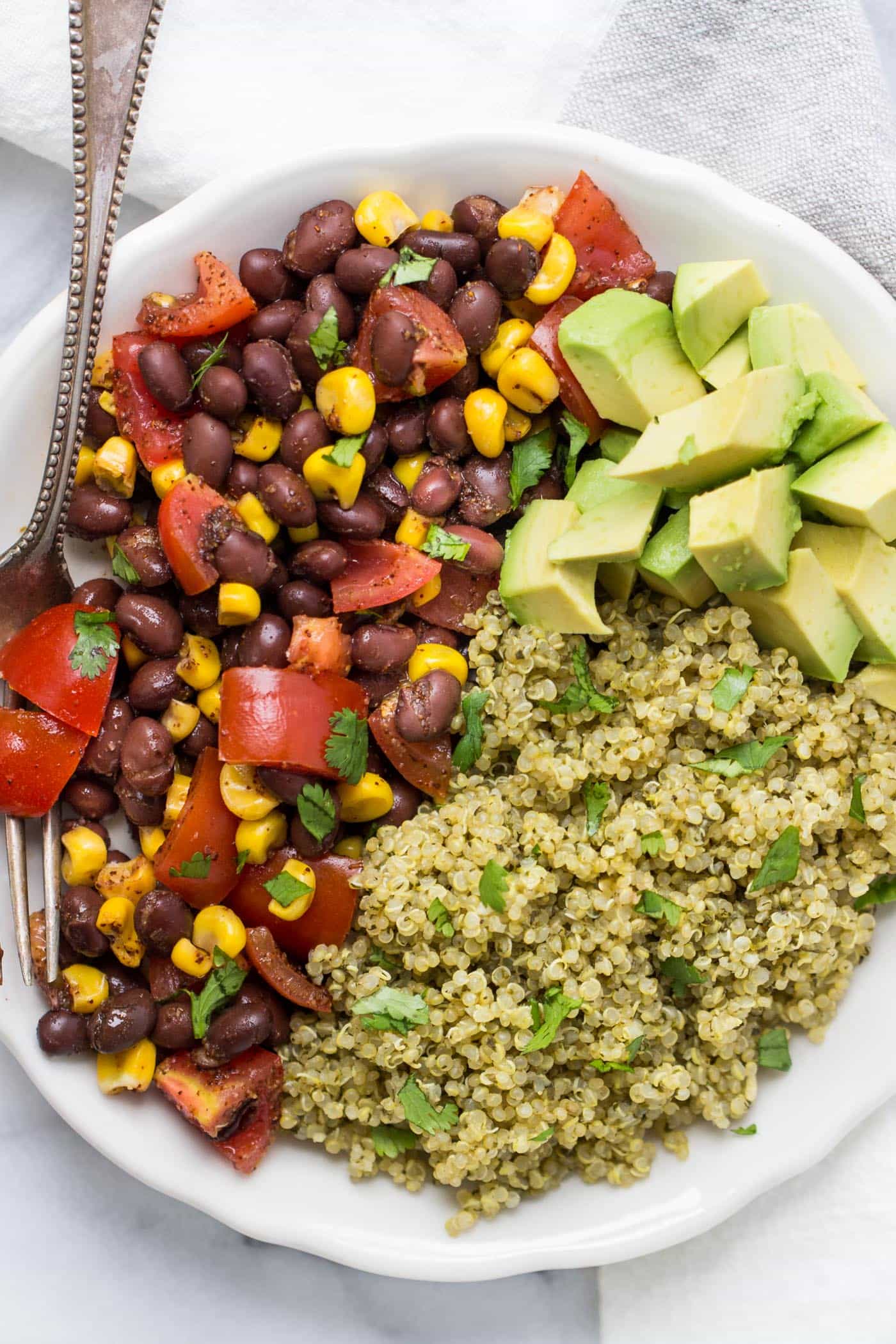 Celebrating with friends/family today? Awesome, because this recipe definitely needs to be on the menu.
And seeing that Cinco de Mayo is today and I gave you zero time to prepare, luckily this recipe is super simple to make. You just need to make a quick verde sauce, stir it into the quinoa then cook it like you normally would and DONE. 5 minutes hands-on time max.
That means you can whip up a batch of this quinoa, throw on your party outfit and be out the door in under 30 minutes.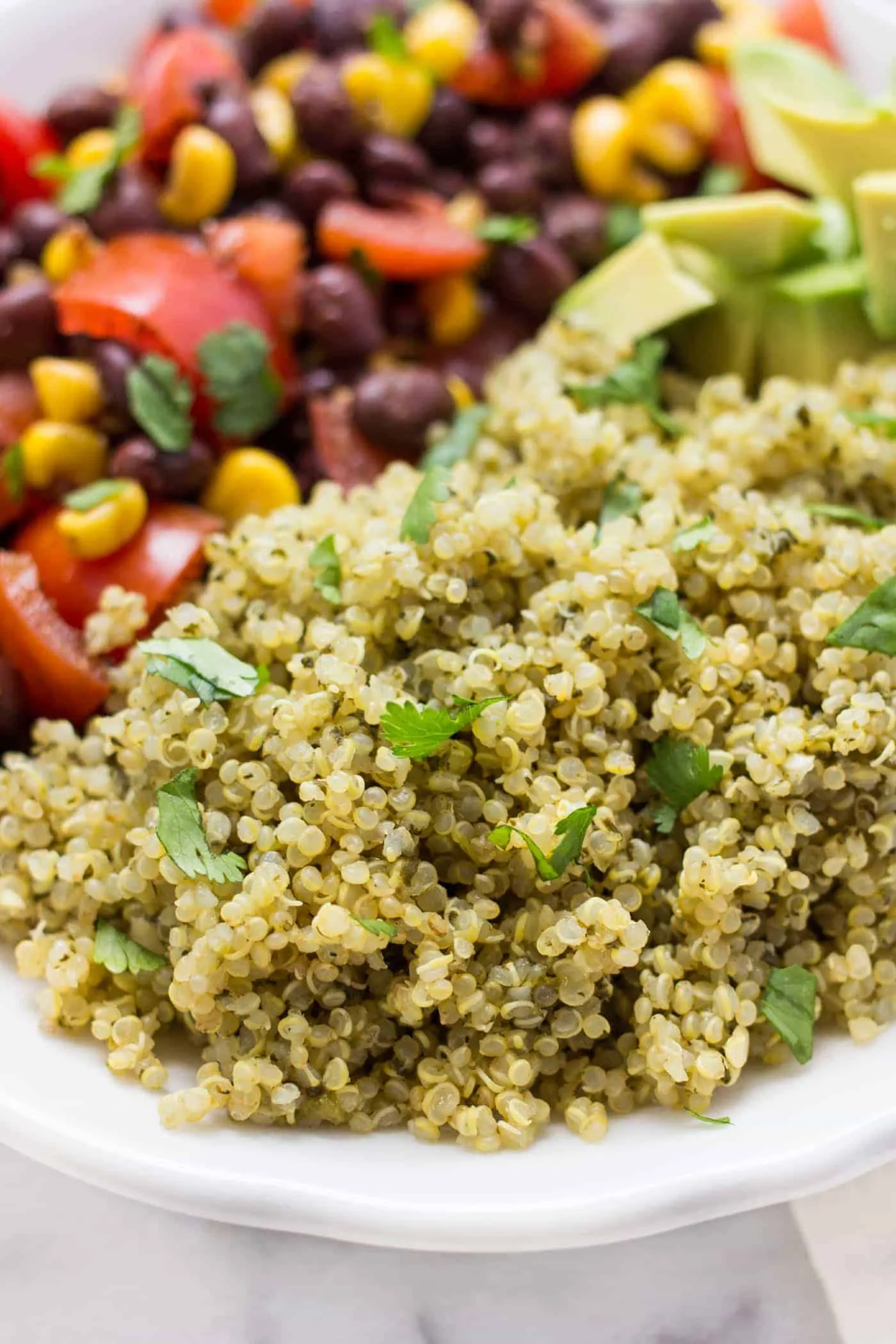 Now if you've ever made Mexican rice before than you know they usually cook it in oil first and then add the water. The oil gives the rice that slightly crunchy texture and nutty flavor. I love the concept of that, but when I tried it with quinoa it was a TOTAL FLOP.
The quinoa was mushy, greasy and seriously disgusting.
So I figure why ruin a good thing? Let's just leave the oil out and cook our quinoa like we normally would, just add in this yummy spicy green sauce.
Sound good? Awesome ????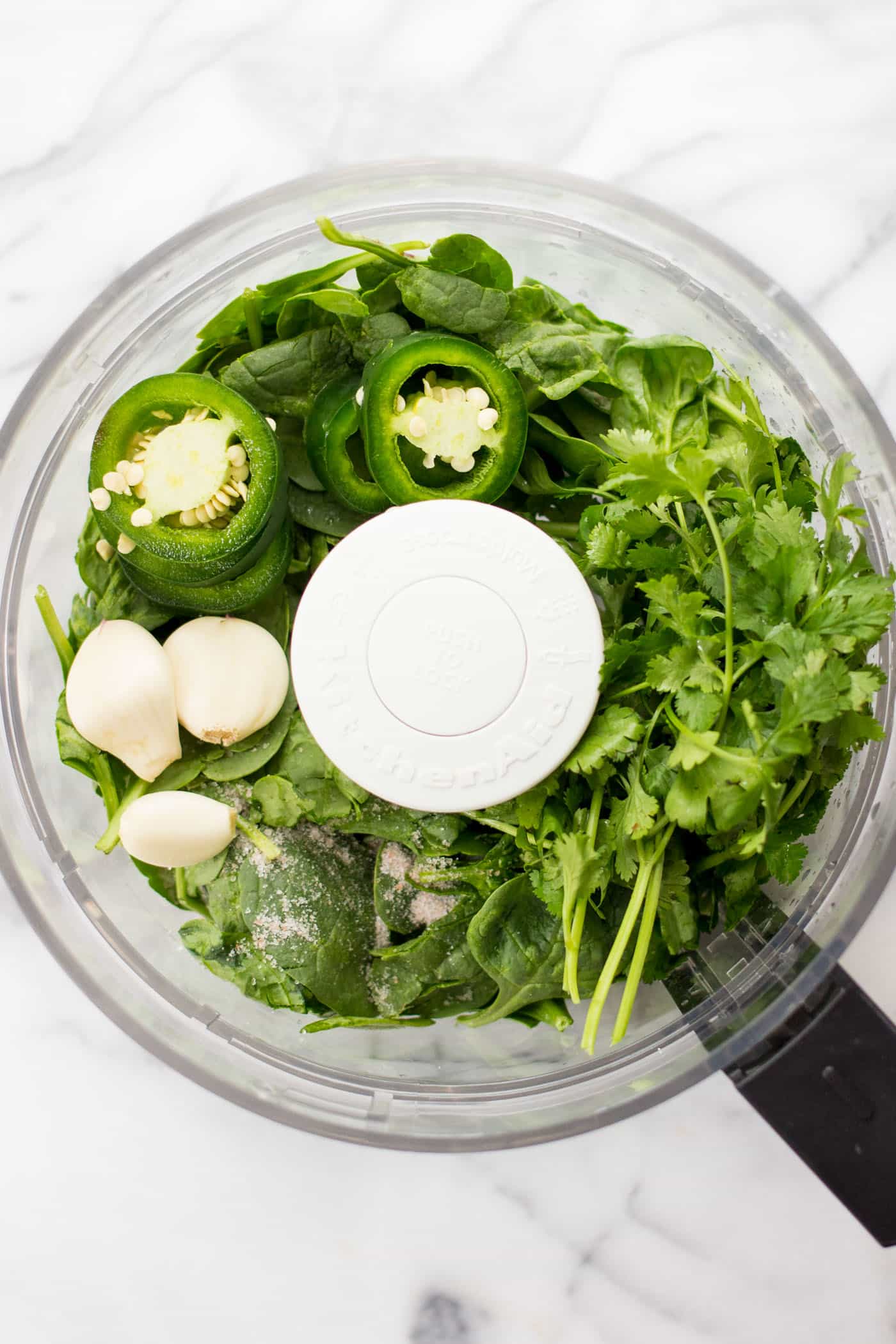 The green sauce starts with spinach, which is very mild in taste but packed with vitamins and minerals. Then there's cilantro (can't have a Mexican dish without cilantro!), a jalapeño pepper, some garlic, some lime and a touch of salt.
THAT'S IT.
You just whiz it up in your food processor and you're done.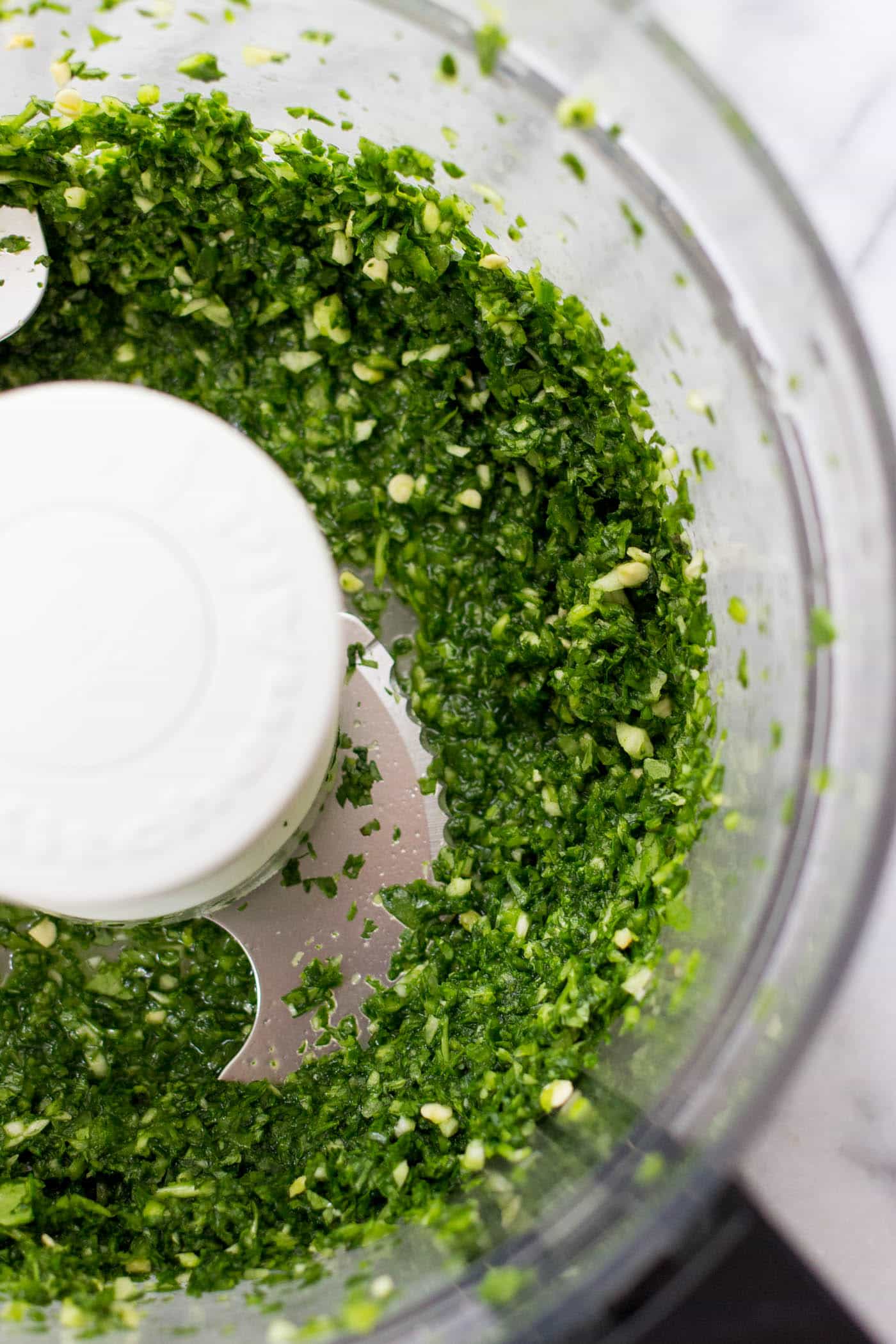 In many of my recipes, I actually start with pre-cooked quinoa. I've talked all about how I love to cook a big batch of quinoa on Sundays and then keep it throughout the week, but not this time. This time we're actually cooking the quinoa in the green sauce. So the quinoa soaks up all that amazing green goodness and holy moly… yum!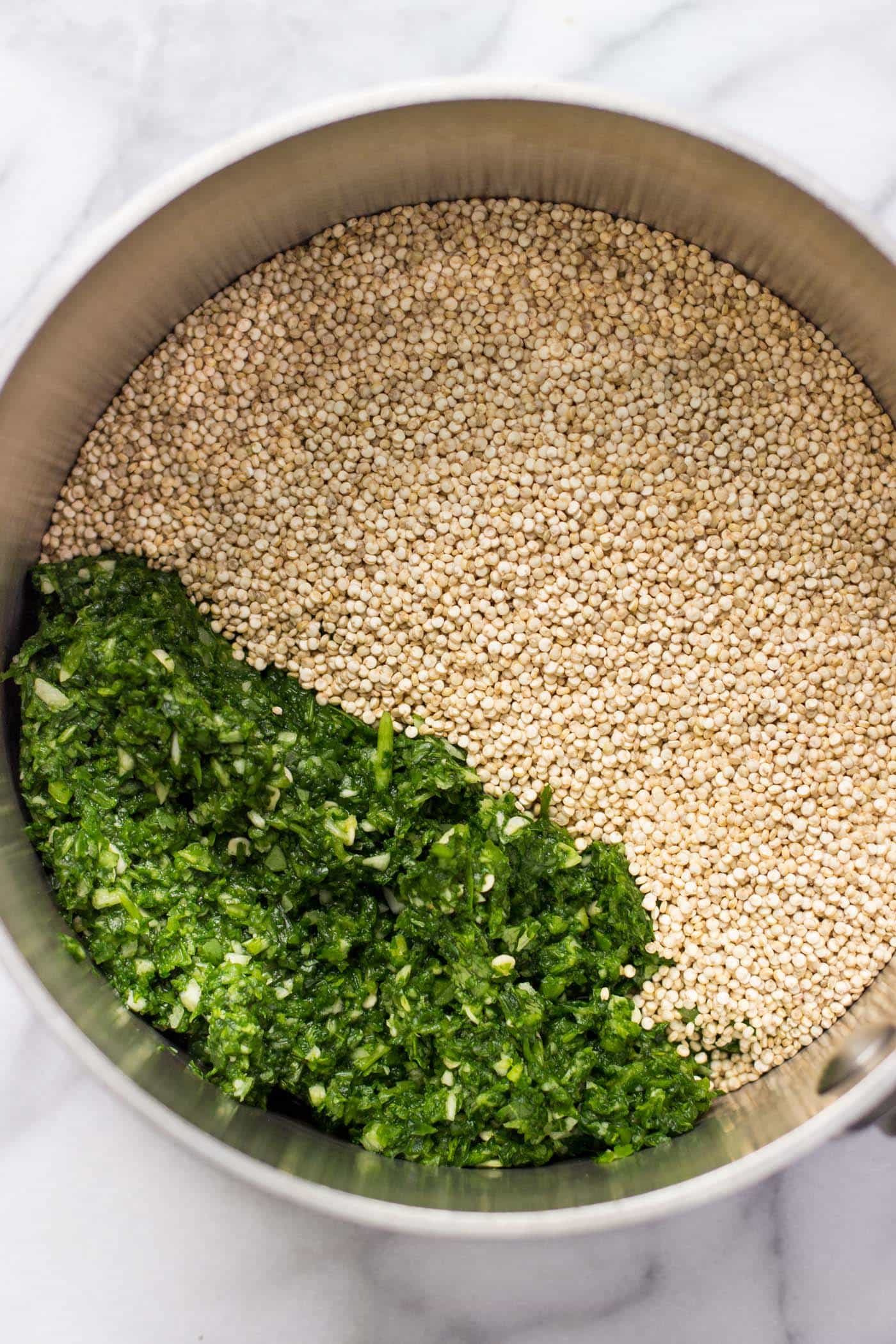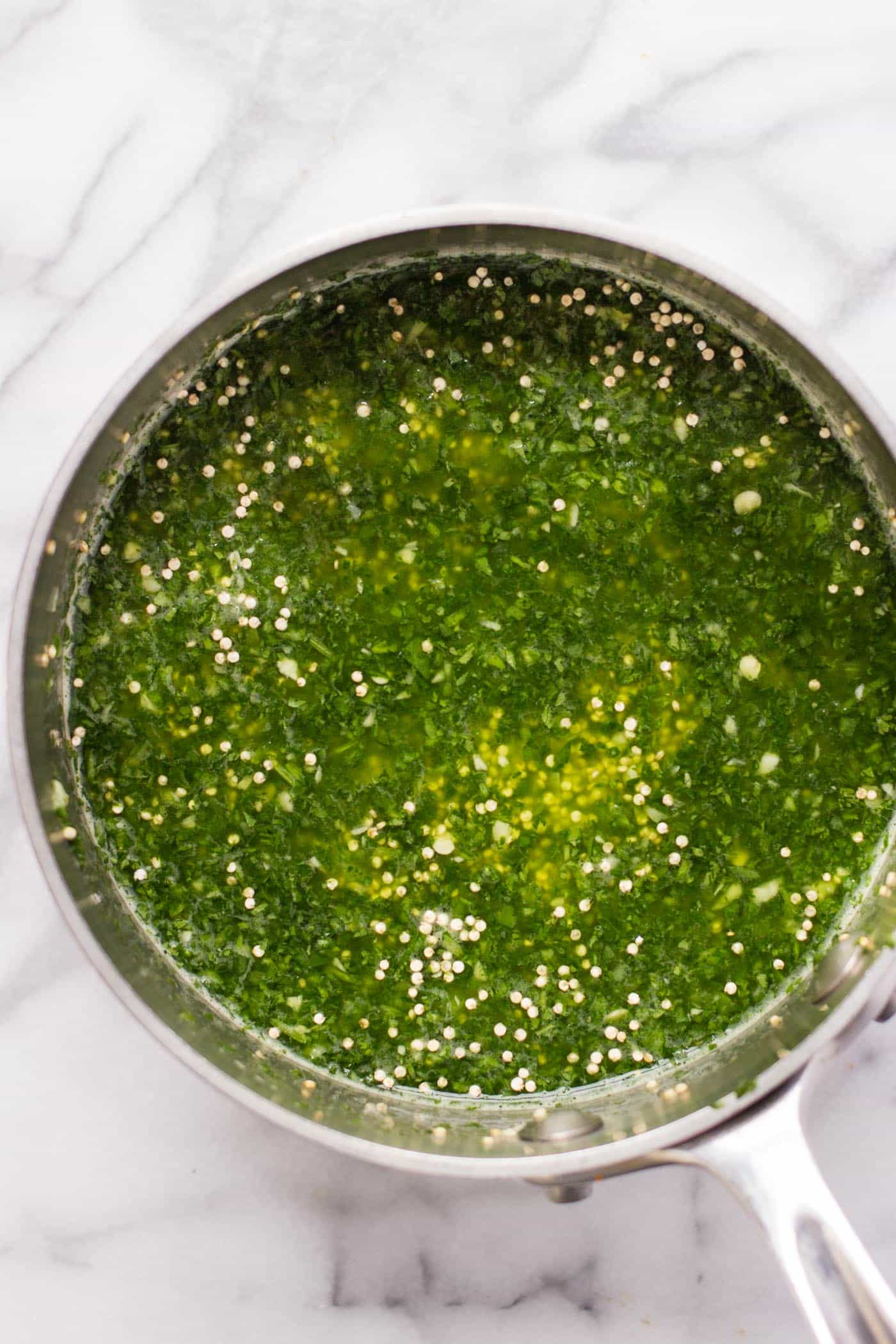 This has got me realizing that I need to do a lot more experimenting with flavoring quinoa as it cooks!
But back to this recipe…what I absolutely love about it, aside from the color, is the flavor. It's not overly spicy – I think the quinoa actually mellows it out a bit – but it has an underlying bite that goes so well with pretty much any type of Mexican dish you can imagine. I served mine with a quick black bean salad (in the recipe below!), but you could also serve it with:
Poached eggs + avocado (like this recipe!)
Black beans, pico + guac in a burrito
Grilled chicken, shrimp or steak
Fried plantains
or even tacos!
It's super versatile and kind of reminds me of Chipotle's cilantro lime rice, but spicier and less salty. So good!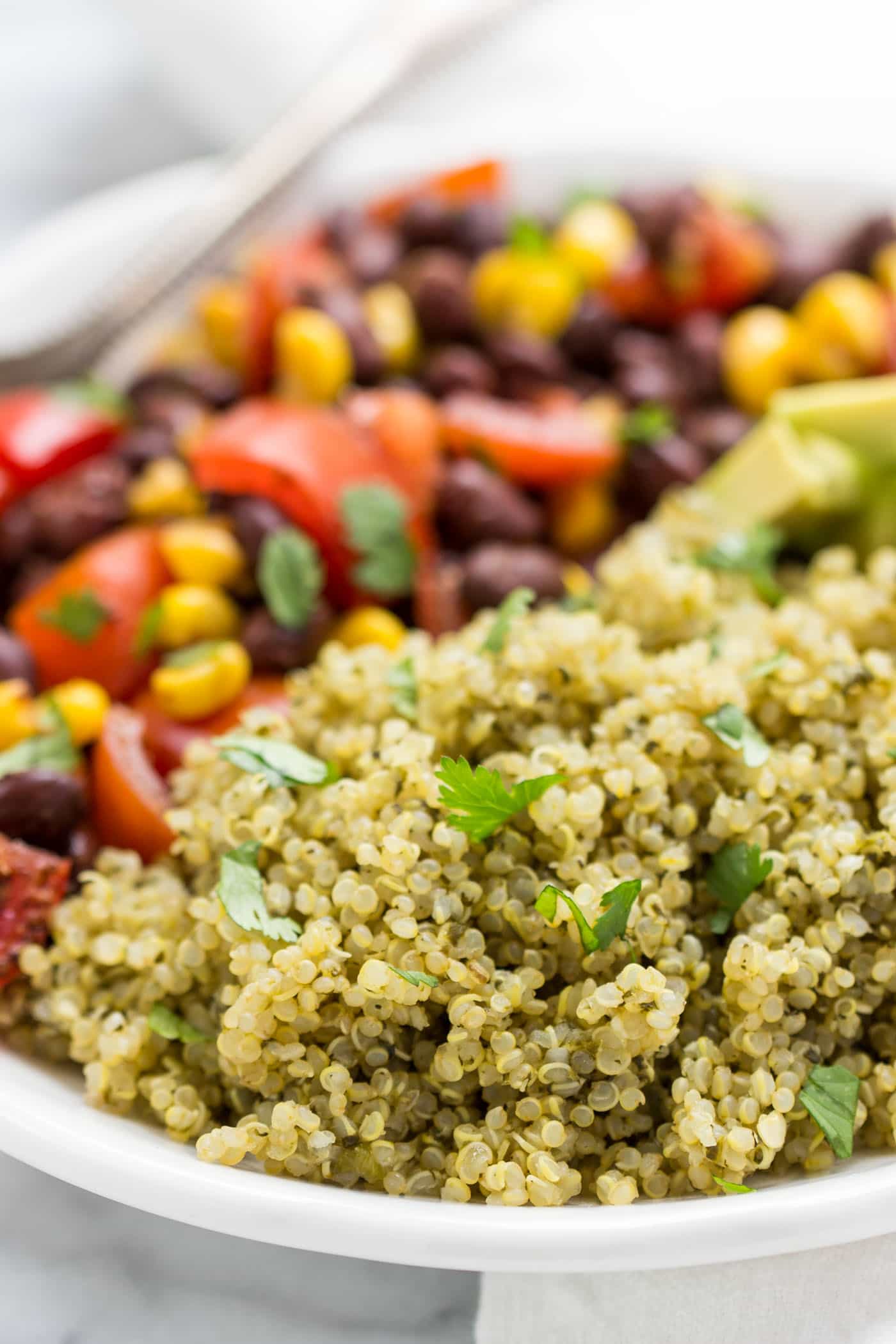 So now that we have the perfect dish to serve with all our favorite Mexican meals, I think it's time for you to go off and celebrate. And if you're reading this after Cinco has passed, take a moment and celebrate you. Because you're here, reading this recipe, making a healthy choice and nourishing your body with whole foods. You should be celebrated to, friend ❤
Your turn…
Have you ever tried flavoring your quinoa as it cooks? What is your favorite method?! I'd love to know as I really want to try out some new methods. Share in the comments below 🙂 Next up for me is going to be coconut water and maybe turn it into a breakfast bowl. YUM!
xo Alyssa
p.s. this recipe is totally perfect for packing up and taking with you to a party or potluck! I packaged mine up in this glass containers (which I'm obsessed with) and took it over to up parents house!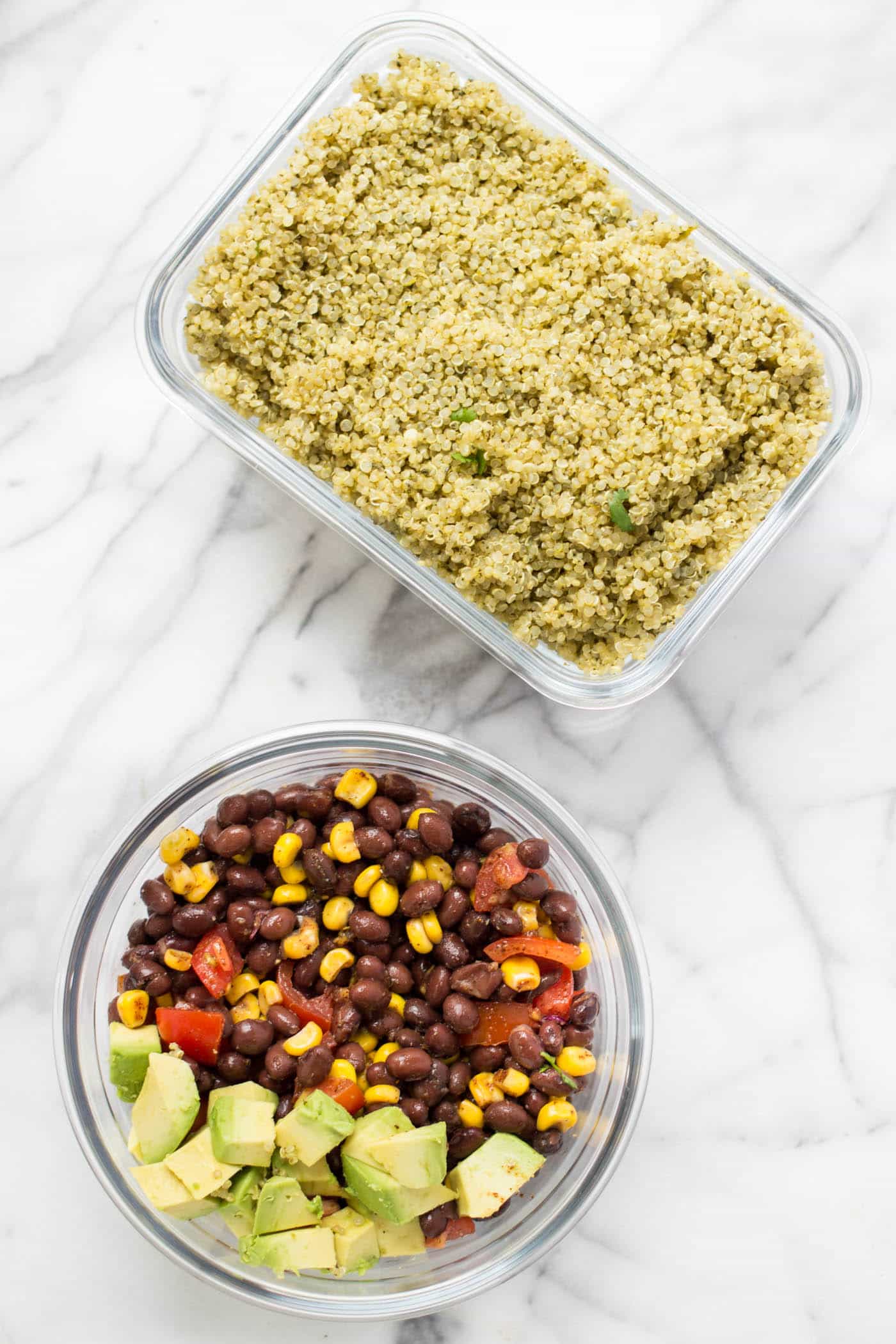 More Mexican Inspired Healthy Recipes:
Spicy Green Mexican Quinoa
It's super versatile and kind of reminds me of Chipotle's cilantro lime rice, but spicier and less salty. So good!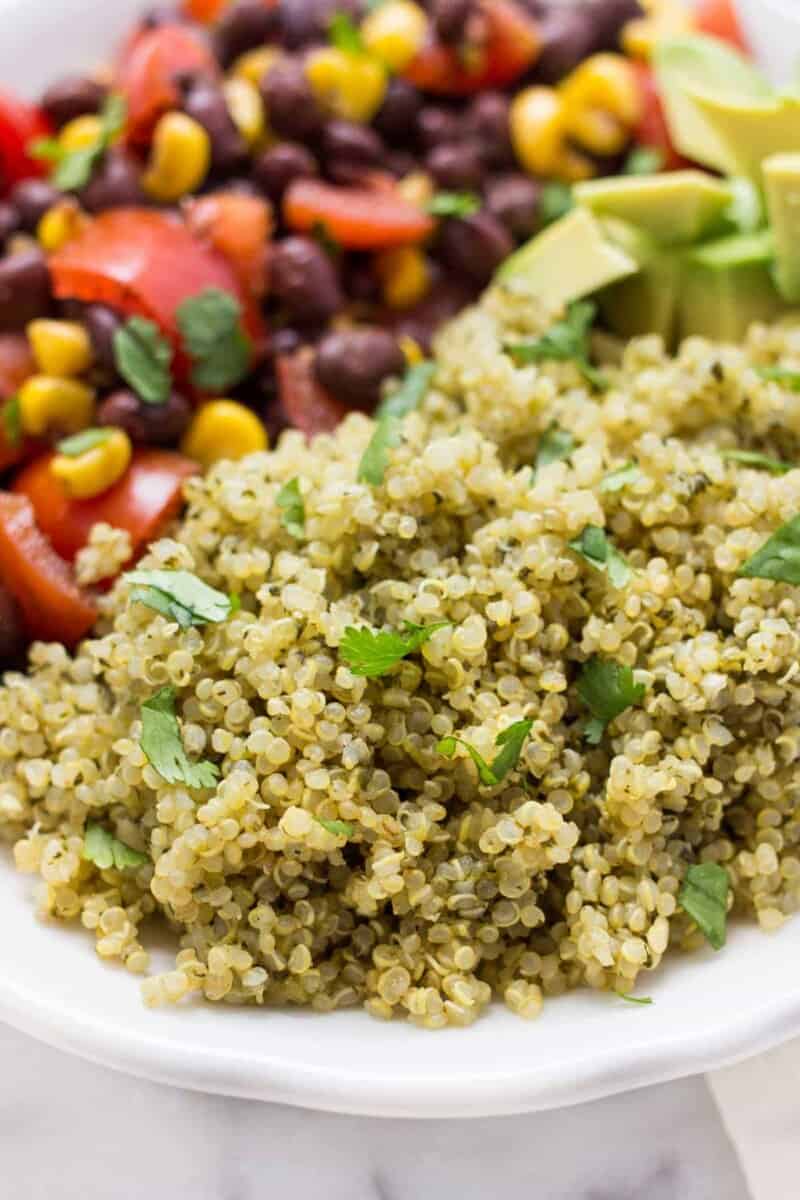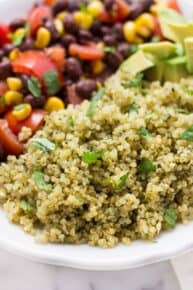 Ingredients
for the quinoa:

1 1/2

cups

fresh spinach

1/2

cup

cilantro

1

jalapeño

sliced

3

garlic cloves

Juice of 1 lime

Pinch

of sea salt

1 1/2

cups

uncooked quinoa

2 1/4

cups

water

for the black bean salad:

1/4

cup

corn kernels

1/4

cup

chopped tomatoes

1

teaspoon

chili powder

1/2

teaspoon

garlic powder

1/4

teaspoon

cayenne pepper

optional

Lime juice to taste

optional

Pinch

of salt
Instructions
Add spinach, cilantro, jalapeño, garlic, lime juice and salt into a food processor. Pulse until a chunky paste forms.

Add quinoa and green paste into a small sauce pan. Cover with water and stir to combine. Bring to a boil, then cover and reduce to simmer. Simmer for 15 - 20 minutes until the water is absorbed and quinoa is fluffy. Remove lid and set aside for 5 minutes.

While quinoa is cooling, add the black beans, corn and tomatoes into a small bowl. Stir together then season with spices, lime juice and salt. Taste and adjust seasonings as necessary.

Before serving, taste the quinoa and adjust the salt if needed, then serve warm with the black bean salad and diced avocado. Garnish with cilantro and hot sauce if desired.
Nutrition
Calories:
235
kcal
|
Carbohydrates:
42
g
|
Protein:
10
g
|
Fat:
2
g
|
Sodium:
415
mg
|
Potassium:
547
mg
|
Fiber:
8
g
|
Vitamin A:
930
IU
|
Vitamin C:
10.1
mg
|
Calcium:
61
mg
|
Iron:
3.7
mg
Filed Under: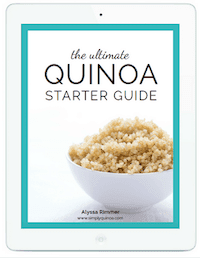 New to cooking quinoa? Grab your FREE Quinoa Starter Guide!
Become part of the Simply Quinoa community and receive weekly emails with exclusive content that I only share in email, as well as my in-depth guide to starting your quinoa journey.
Want more quinoa salad recipes?
Follow my board on Pinterest!