This savory breakfast quinoa takes 5 minutes to make and is the perfect way to start your day. Packed with protein and veggies, it's healthy and delish!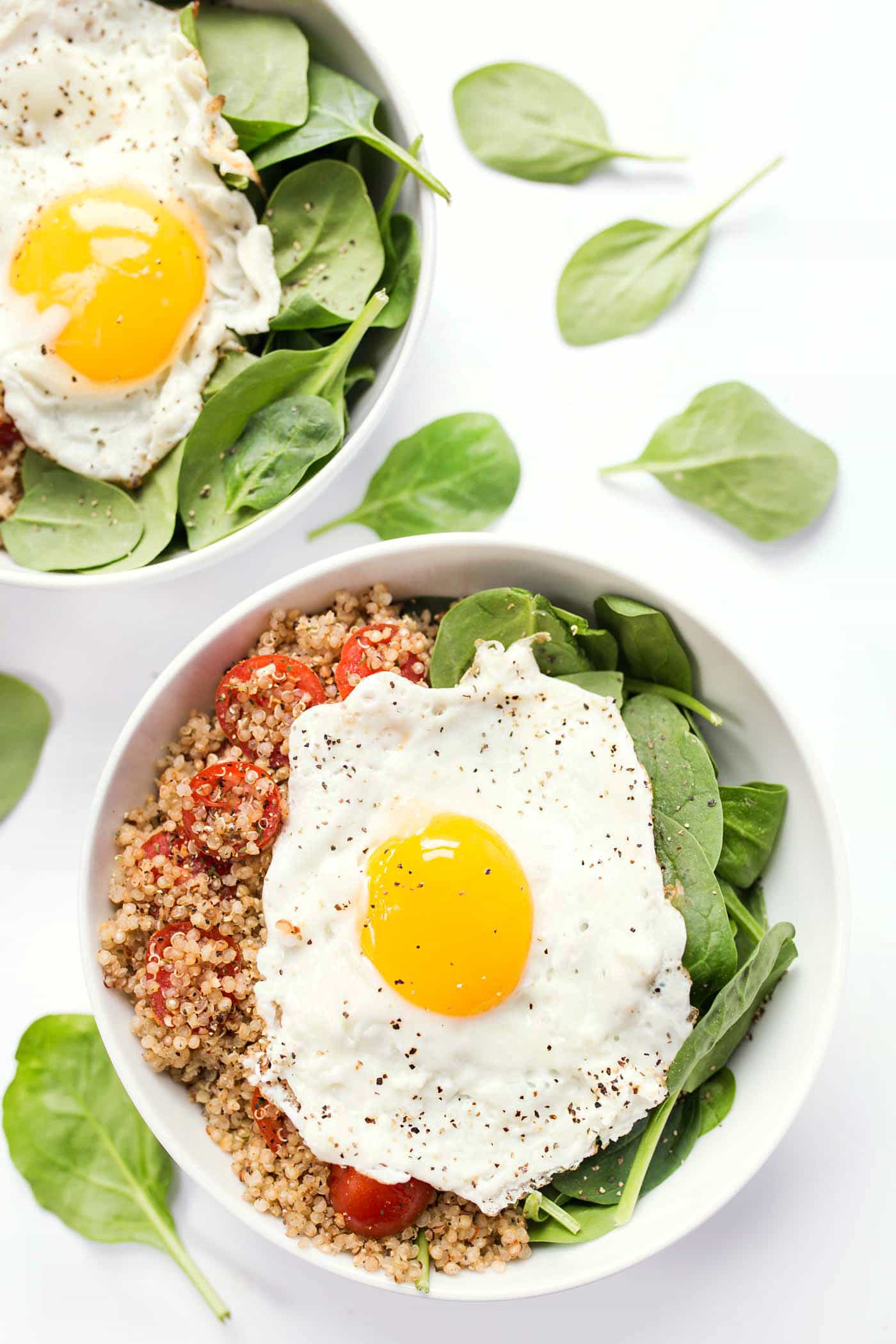 It's about time I give you another savory breakfast recipe, don't ya think?! We've been pretty sweet around here lately, especially in the breakfast department, so today we're whipping up some savory breakfast quinoa that takes only 5 minutes to make!
Honestly, I tend to wake up and craving sugar. Not like a slice of cake, but I realllly like my sweet breakfasts, and since I eat everything I share, I've been a little selfish in not sharing anything savory with you.
But that all changes today my friends because we're making delicious savory breakfast quinoa made with tomatoes and spinach and topped with a runny fried egg and hot sauce. Plus, did I mention it only takes 5 minutes? Yep, now there's no excuse not to start your day with a protein-rich, veggie-packed meal.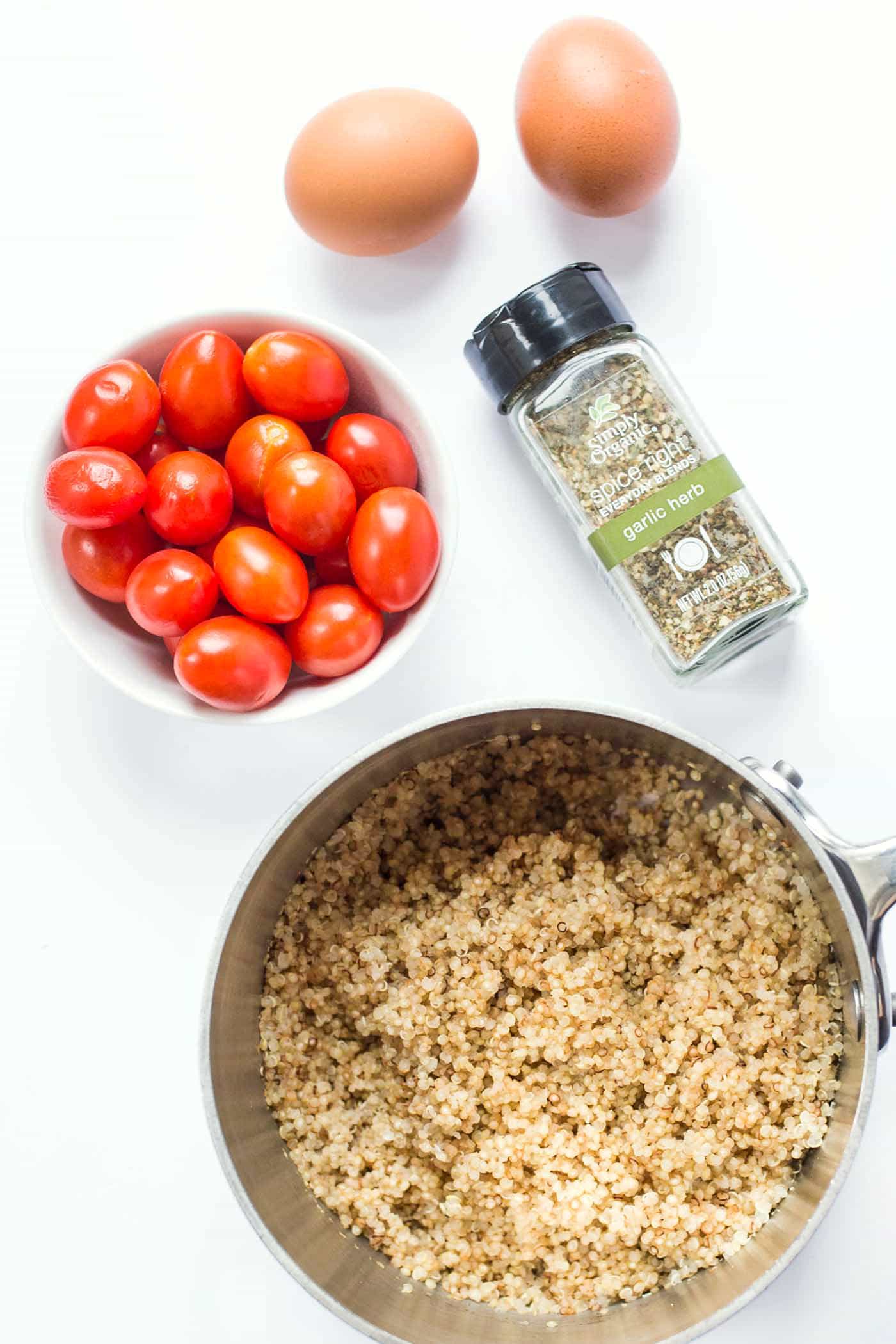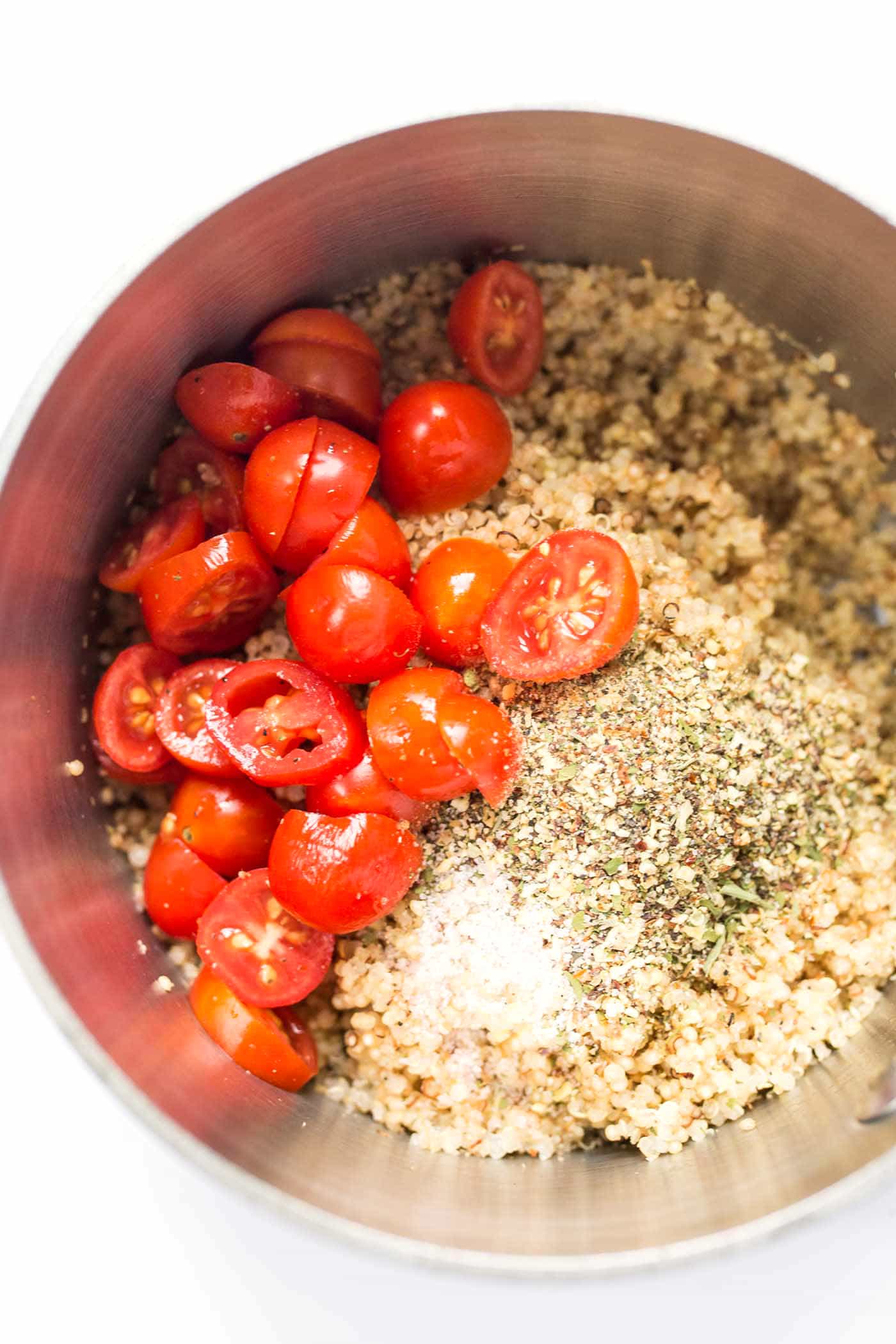 The trick with having this breakfast ready so quickly is having pre-cooked quinoa.
You guys know how much of a fan I am of cooking a big batch of quinoa on a Sunday and keeping it all week long, and it's for recipes like this where that comes in handy. I recommend that every week you cook up at least 1 cup of dry quinoa and then keep it for your meals all week long (quinoa will last you at least 4 – 5 days in the fridge).
Then with the cooked quinoa on hand, all you have to do for this recipe is basically just stir everything together – the tomatoes, spice blend (I used a garlic herb blend from Simply Organic but you could use whatever you wanted) – and serving it. With a runny fried egg, of course!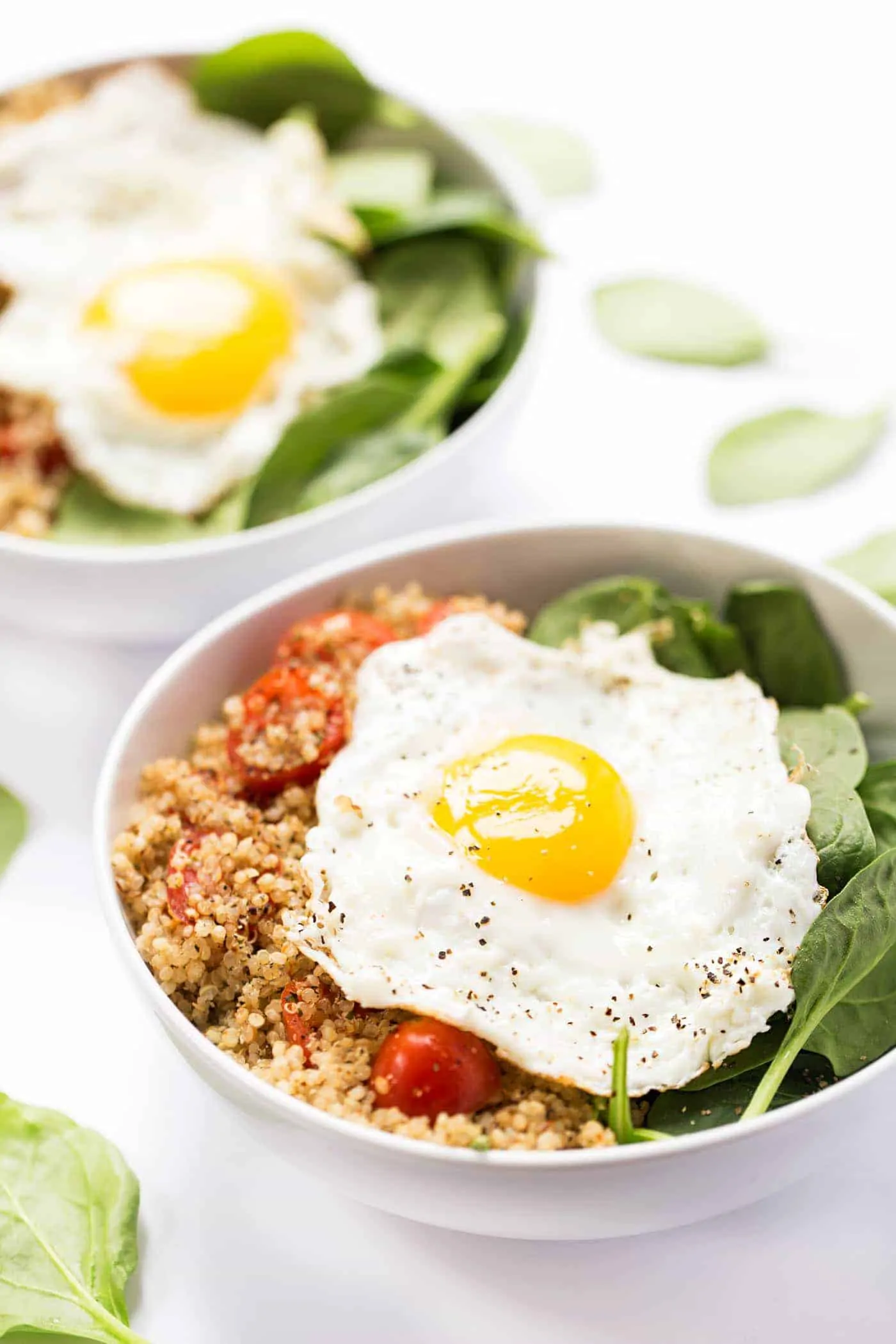 Please tell me you agree that whenever you top something with a friend egg it tastes infinitely better. I'm not alone here, right?
And what's great about eggs is that they take like zero time to make and are packed with nutrients!
Eggs are most well known for their protein content (there's 6g of protein per egg!), but eggs also have all nine essential amino acids, plus vitamins D and B12, and minerals phosphorus and riboflavin. Eggs are also high in Omega 3 fatty acids!
One thing I do want to note about eggs though… make sure you're buying eggs from organic, pasture-raised chickens, preferably from a local farm (if that's accessible to you).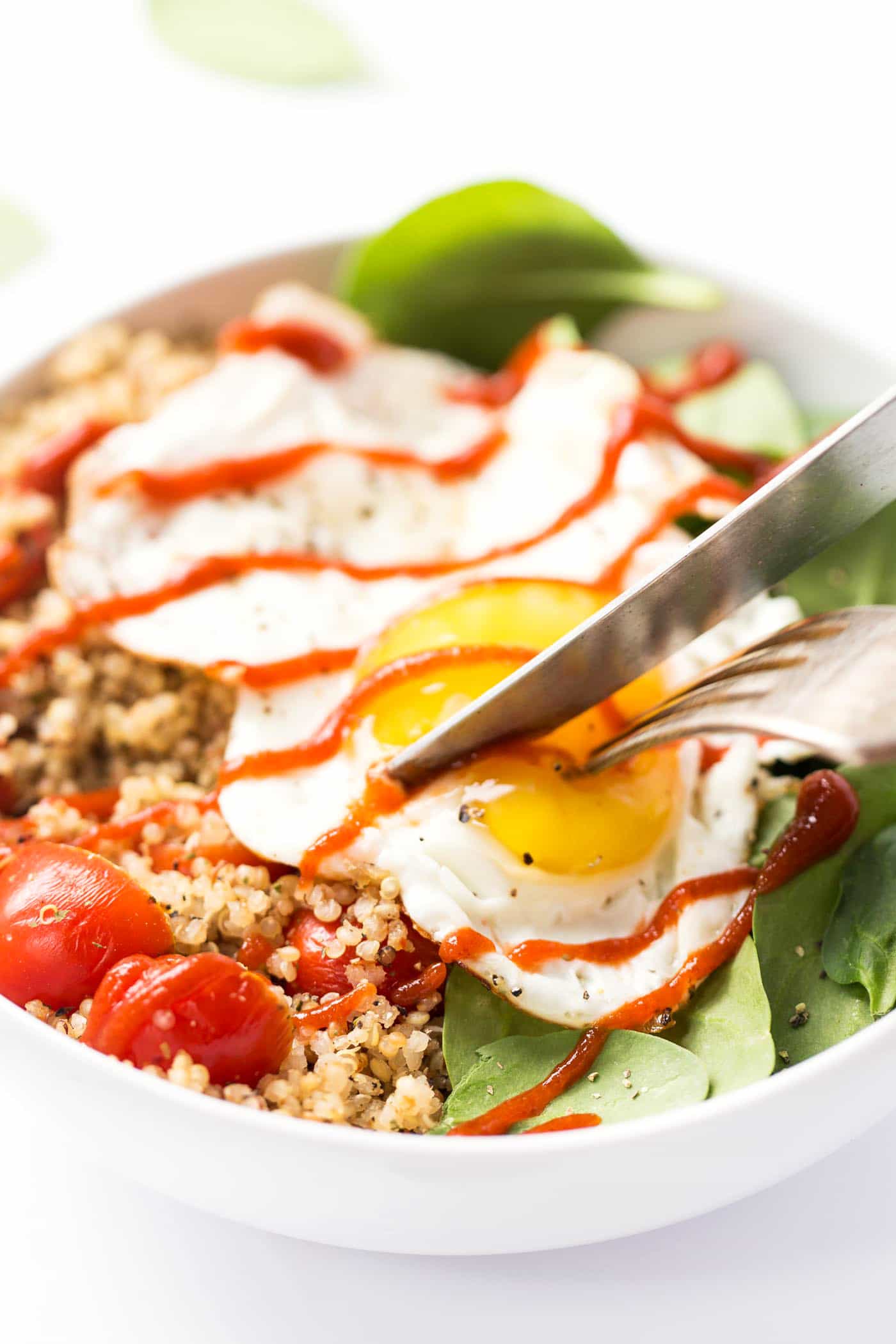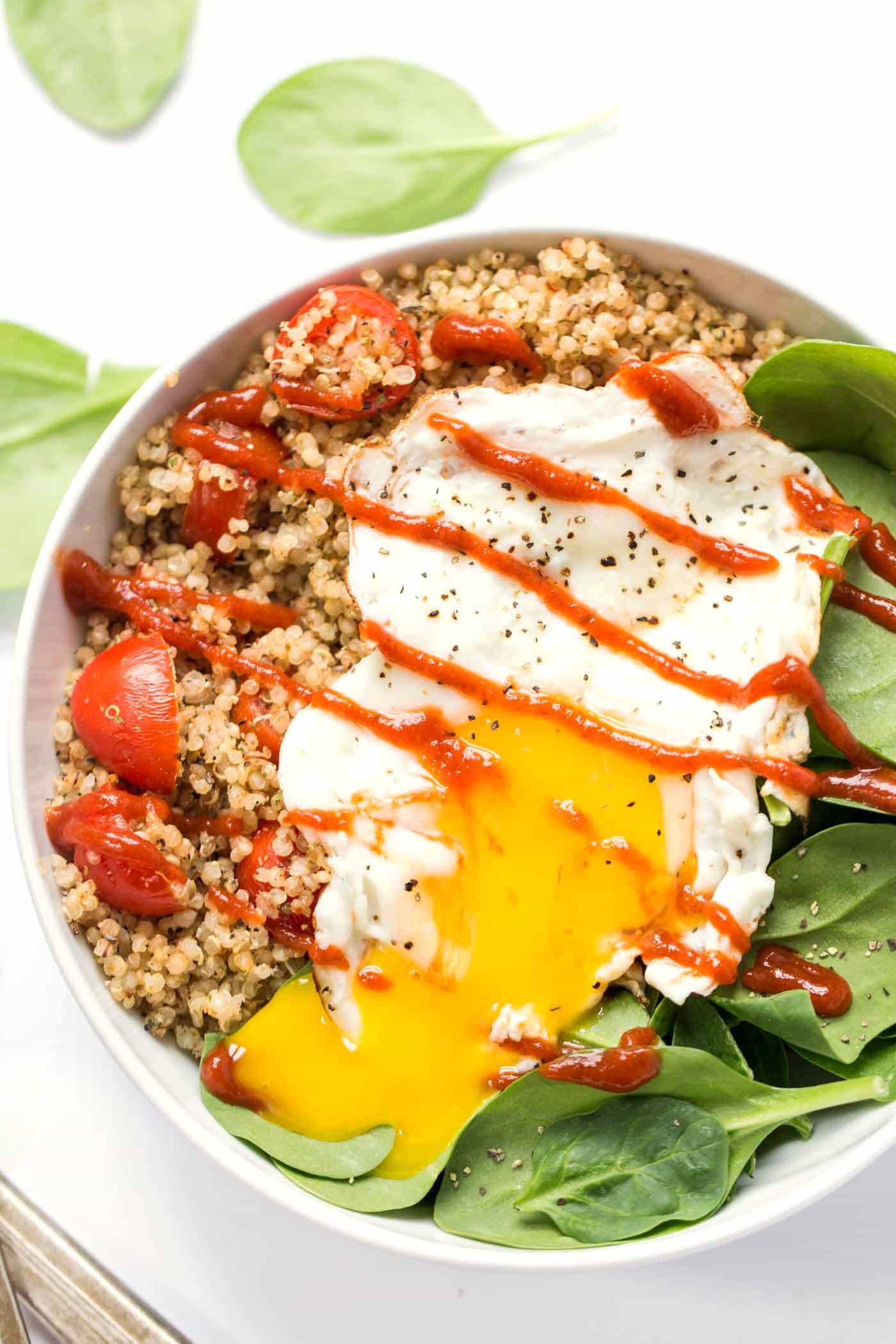 And these bowls are also totally customizable. Here are some swap ideas:
Greens: swap out the spinach for finely shredded kale, chard, arugula or even romaine
Tomatoes: swap for sundried tomatoes or bell peppers
Spices: change the garlic herb spices for any other spice blend you like (Italian or Mexican would both be wonderful)
Hot sauce is also optional, but highly recommended!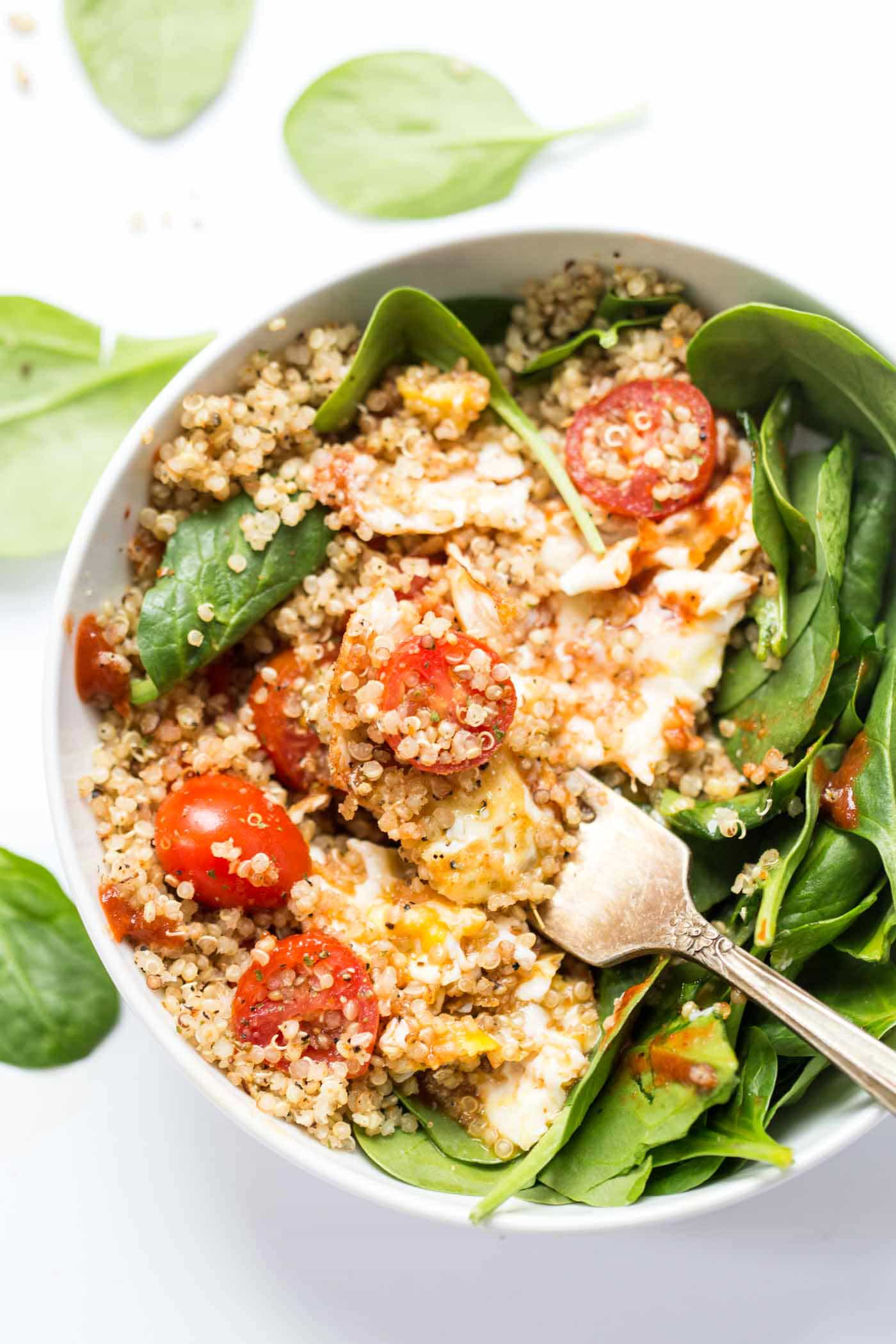 And here's the best part of it all:
When you slice into the egg, the yolk starts dripping into the quinoa, then you mix it all together! Each bite is a little warm from the egg, spicy from the hot sauce and perfectly balanced with the fluffy quinoa and crunchy spinach.
It's just one of those recipes that you must try. Because once you start your day with a meal like this, you're gonna feel like a total superstar!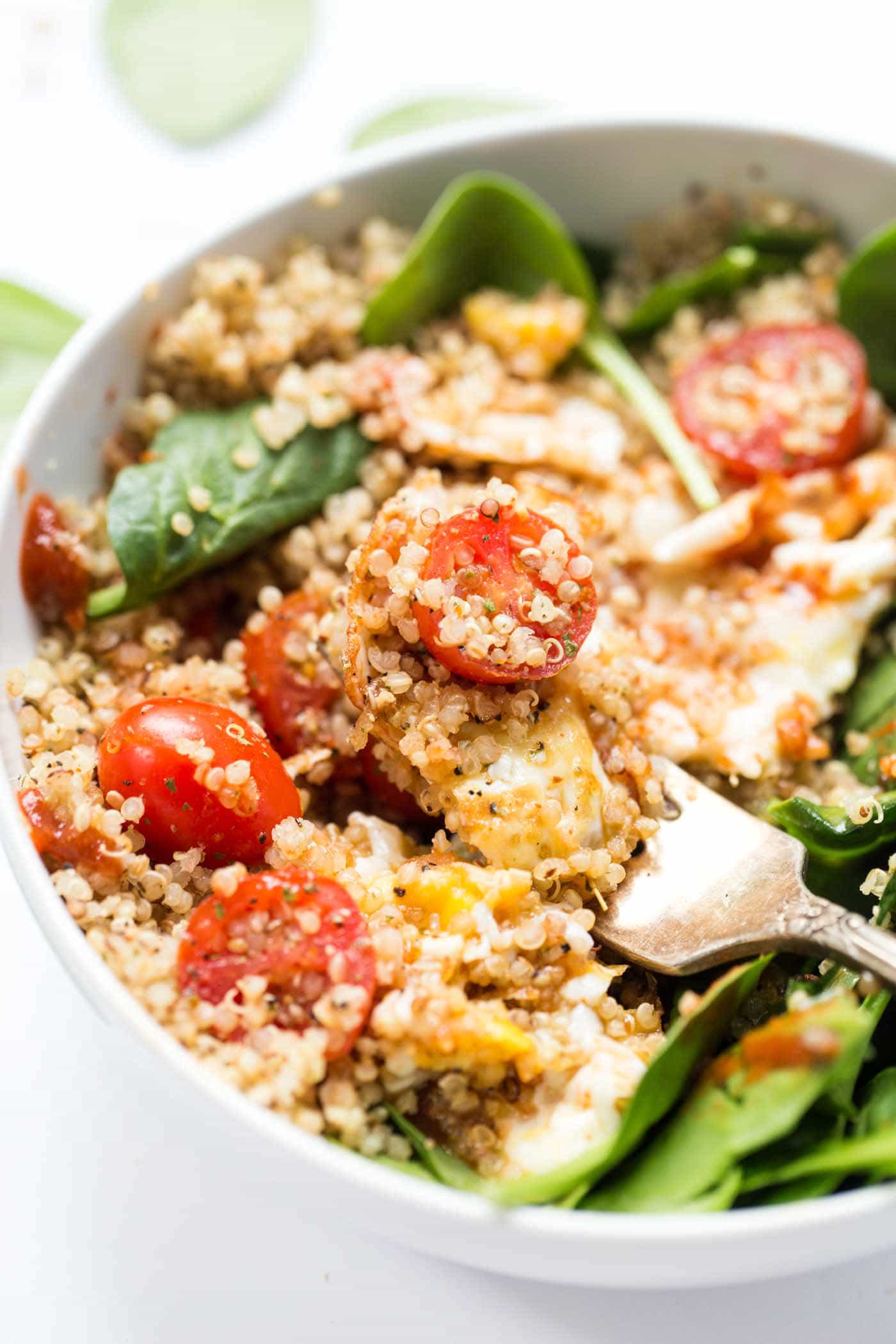 More Breakfast Quinoa Recipes to Try:
5-minute Savory Breakfast Quinoa
Now there's no excuse not to start your day with a protein-rich, veggie-packed meal!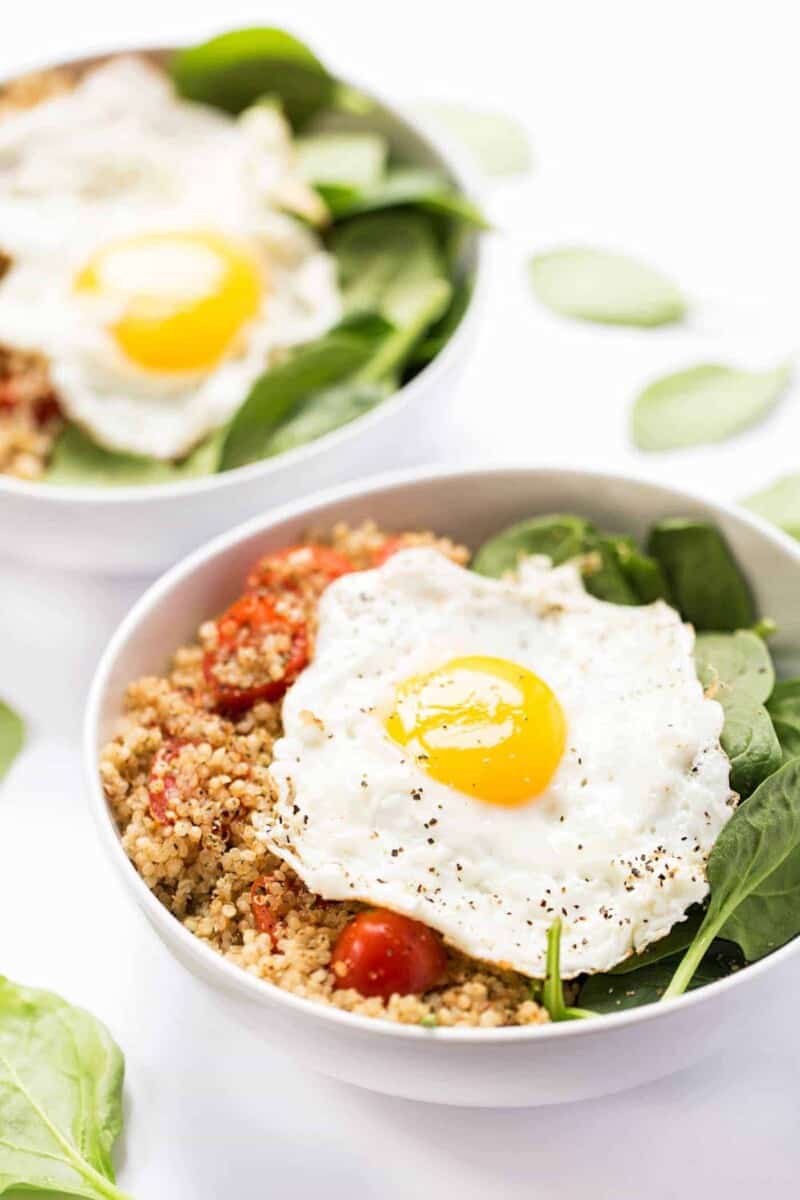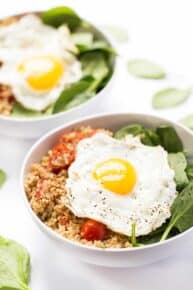 Instructions
In a small bowl or saucepan, mix together the quinoa, tomatoes, seasoning and salt if using.

Evenly distribute between four bowls. To the bowls add 1 cup spinach and set aside.

Heat a non-stick skillet over medium-low heat. Fry eggs about 1 minute per side and top each bowl with an egg.

Sprinkle with pepper and hot sauce if desired and enjoy!
Nutrition
Calories:
249
kcal
|
Carbohydrates:
34
g
|
Protein:
13
g
|
Fat:
7
g
|
Saturated Fat:
1
g
|
Cholesterol:
163
mg
|
Sodium:
245
mg
|
Potassium:
579
mg
|
Fiber:
5
g
|
Sugar:
2
g
|
Vitamin A:
3275
IU
|
Vitamin C:
16.9
mg
|
Calcium:
122
mg
|
Iron:
4.8
mg
Filed Under:
This post was sponsored by Simply Organic, but as always all opions are my own. Thank you for supporting me and the companies that make this website possible!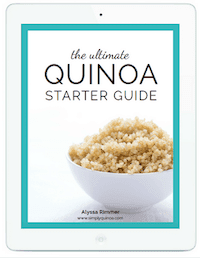 New to cooking quinoa? Grab your FREE Quinoa Starter Guide!
Become part of the Simply Quinoa community and receive weekly emails with exclusive content that I only share in email, as well as my in-depth guide to starting your quinoa journey.
Want more quinoa dinner recipes?
Follow my board on Pinterest!