This is hands down the BEST vegan mashed cauliflower you'll ever taste. It's creamy, buttery, and flavorful, with a thick texture that happens to be dairy-free and low-carb.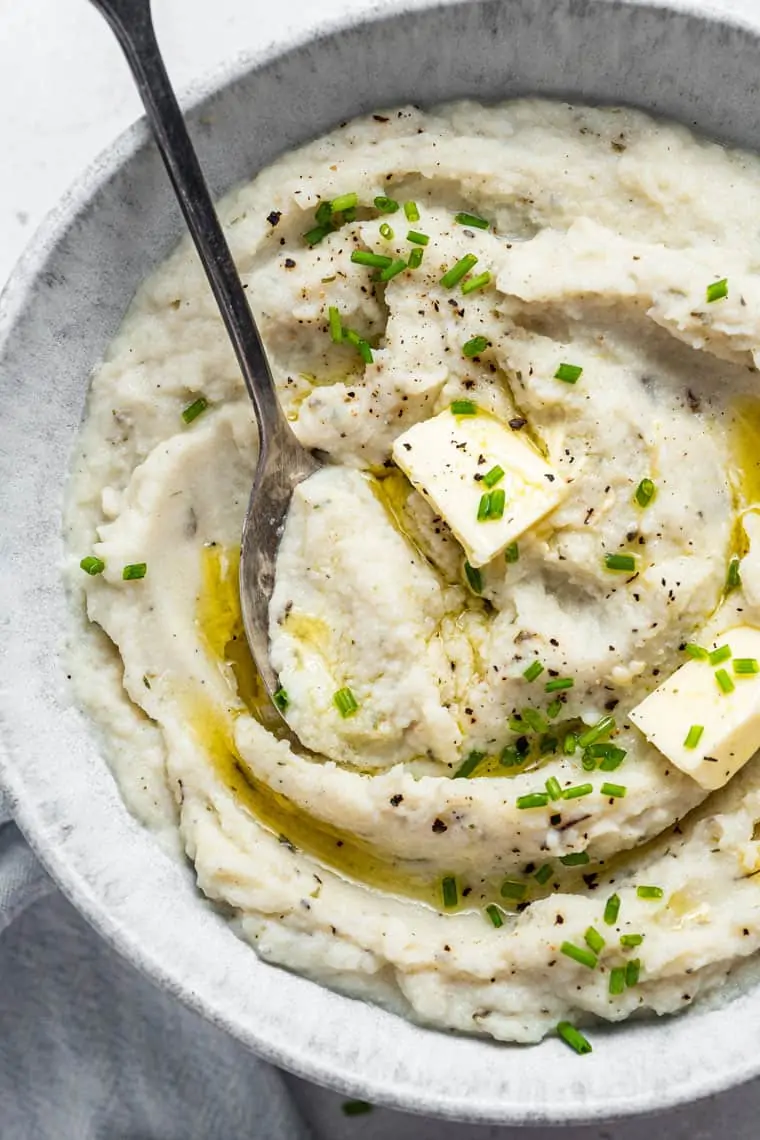 I've been working on this recipe for vegan mashed cauliflower for years. These days, it's my go-to substitute for mashed potatoes when it comes to holiday side dishes.
I first tried making cauliflower mash a few years ago when cauliflower was becoming super popular. I even started adding cauliflower to my smoothies!
But cauliflower mashed potatoes just never fooled me. They were always watery and not as satisfying as the real thing. That's why I developed this recipe for the absolute perfect, most delicious vegan mashed cauliflower you'll find. Give it a try for Thanksgiving or any night of the week and see for yourself!
What is Mashed Cauliflower?
If you haven't tried it yet, mashed cauliflower is a dish meant to mimic mashed potatoes. But instead of the potatoes, it uses cauliflower for a lower carb and lighter side dish.
It's difficult to hide the "cauliflower" nature of this recipe, but by adding a few key ingredients, you can build a deliciously garlicy and rich flavor that will rival potatoes.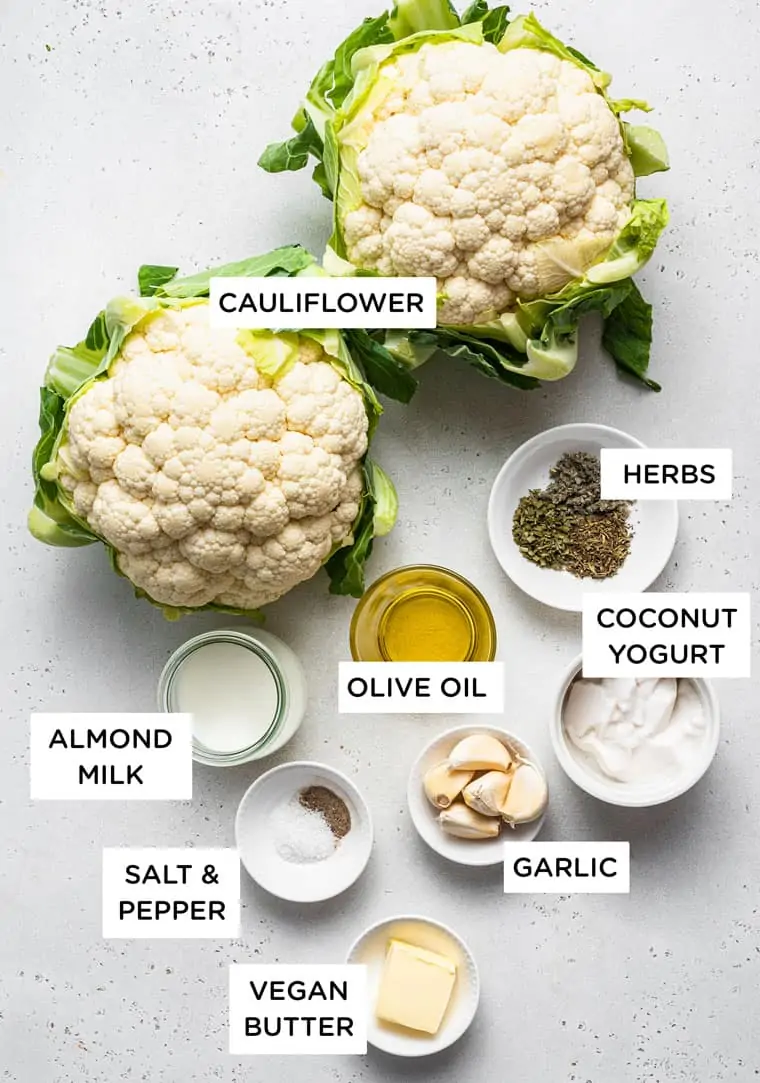 Ingredients
This recipe doesn't have a long or complicated ingredient list, but each element is key:
Cauliflower: This cooks down a bit, so I use two whole heads of cauliflower to feed a crowd.
Almond milk: You can use any dairy-free milk you like. Just make sure it's unsweetened!
Coconut yogurt: one of the things that kept popping up when I was looking at mashed potato recipes was sour cream. I haven't found a good vegan sour cream that I like, so I always opt for coconut yogurt. If you can't find it, use your favorite vegan sour cream, or cashew cream and a bit of lemon juice.
Garlic: one of the secret weapons to this dish is the sauteed garlic. It adds so much flavor!
Fresh herbs: I also LOVE adding fresh herbs to this dish. You can have fun with this, but I like to keep it more on the hearty side. For this one I did: chives, sage, and fresh thyme.
Vegan butter: to add a little bit of pop, we're beating in some vegan butter. It just gives it that extra decadence that mashed potatoes have, and really rounds out the recipe.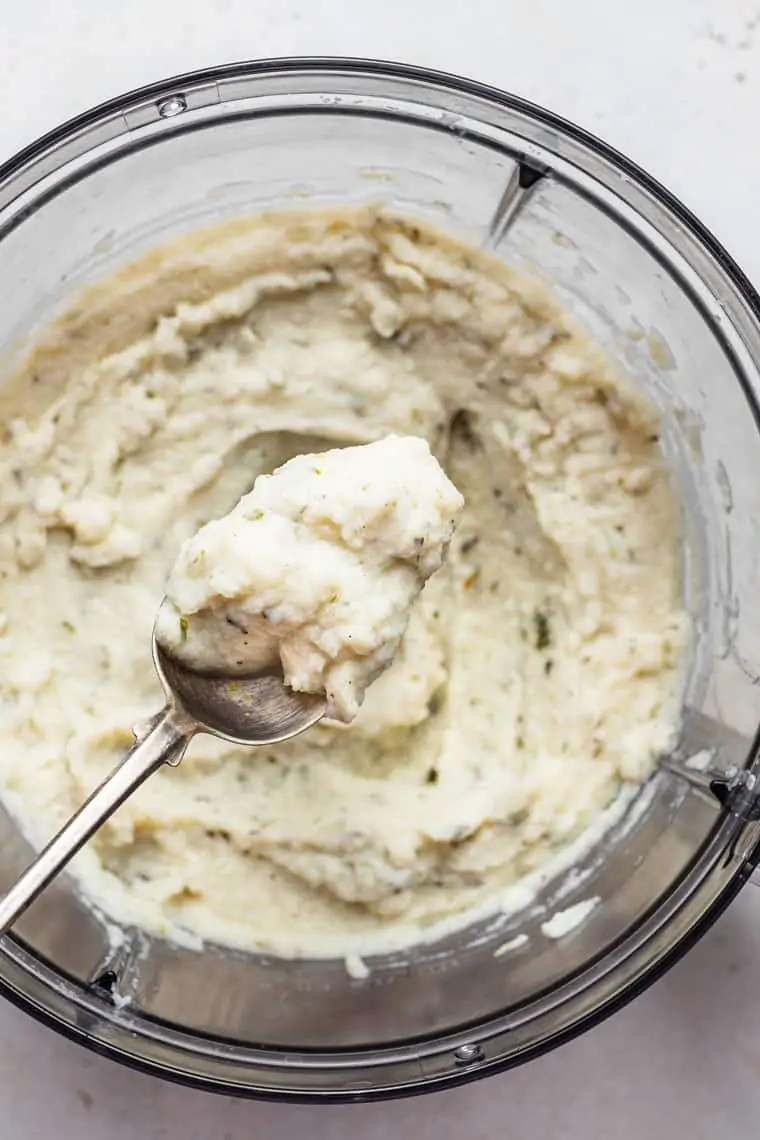 How to Make Vegan Mashed Cauliflower
This is also quite a simple recipe which I know you always appreciate. Here's how to make it:
STEP ONE: Steam
First we need to steam the cauliflower. I use a steamer basket inside a large pot and let it steam for about 5 minutes. The florets should be very tender.
Tip: you can also boil the cauliflower in water if you prefer.
STEP TWO: Saute
While the cauliflower is steaming, quickly saute the smashed peeled garlic in some olive oil. This helps to elevate the flavor and is NOT a step to miss. Raw garlic will not have the same rich flavor.
STEP THREE: Blend
Once the cauliflower is tender and the garlic is cooked, you'll blend it all together in a food processor until it's smooth. You can also use a blender!
From there, you're done and ready to serve!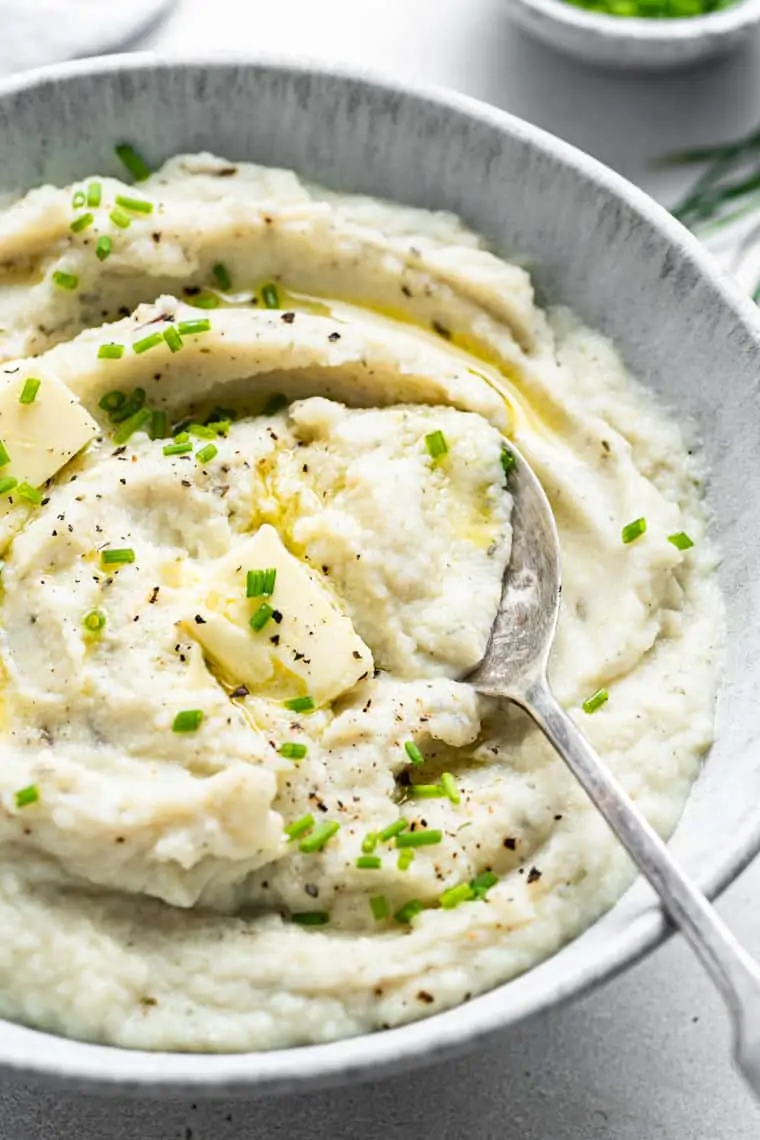 How to Serve Cauliflower Mashed Potatoes
This honestly is one of the best recipes I've ever made and I don't say that lightly. It's a staple on our Thanksgiving table. I like to serve it with a pat of vegan butter and a sprinkle of herbs like fresh rosemary or parsley.
And if you're looking for more holiday side dishes that happen to be gluten-free and vegan, give these a try:
Storage
You can store leftover cauliflower mash in an airtight container in the fridge for up to four days. Reheat it in the microwave or on the stove and top with a pat of dairy-free butter to serve.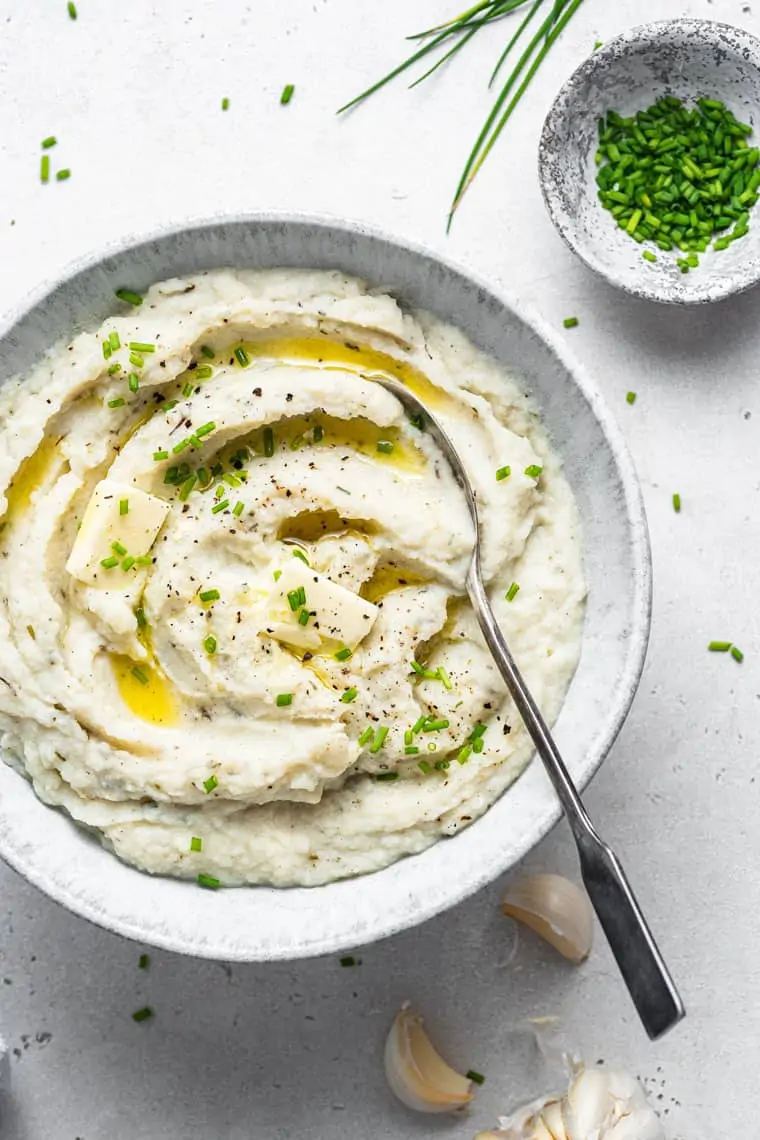 More Cauliflower Recipes
If you make this Vegan Mashed Cauliflower, let me know what you think with a comment below!
Best Vegan Mashed Cauliflower
This is hands down the BEST vegan mashed cauliflower you'll ever taste. It's creamy, buttery, and flavorful, without being watery at all. It's easy to make and absolutely delicious!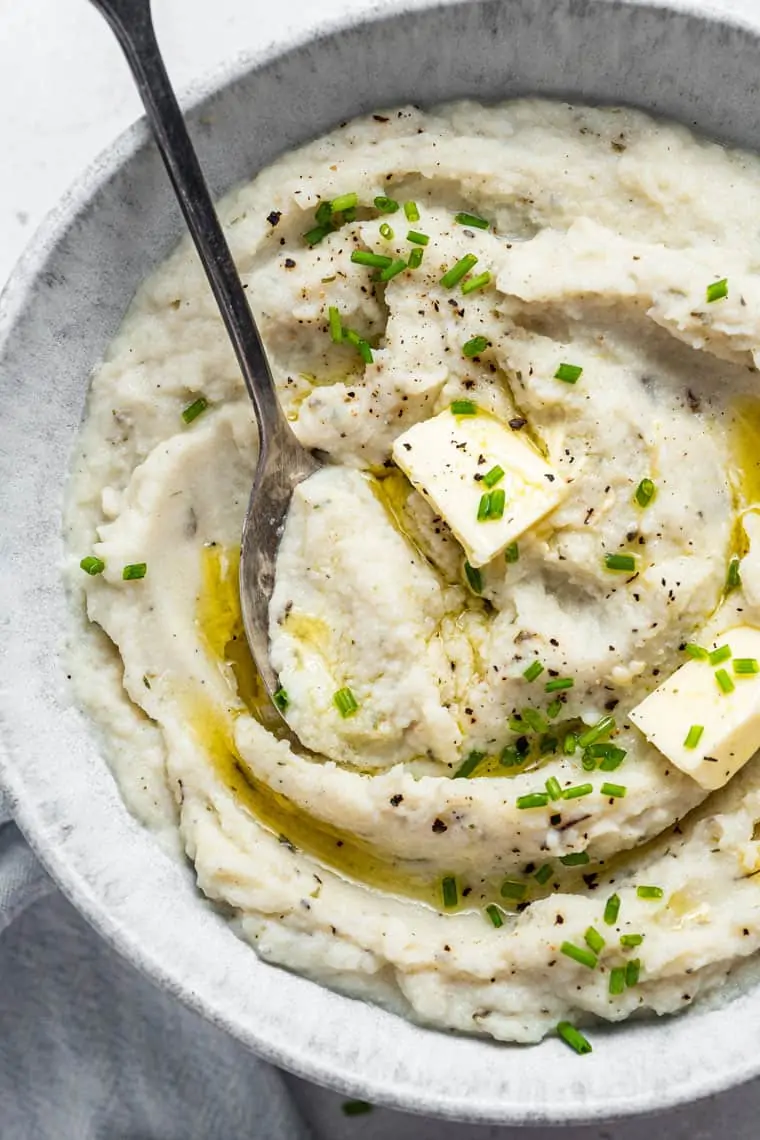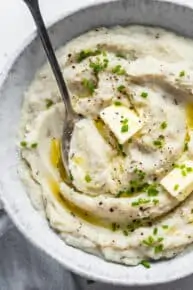 Ingredients
Instructions
Add the cauliflower to a large pot with a steamer basket. Add 2" of water and cover. Turn to high and steam the cauliflower until tender, about 5 minutes.

While the cauliflower is steaming, saute the garlic in the oil over medium heat, until the garlic is fragrant and golden brown, about 2 minutes. Remove from heat.

Transfer the steamed cauliflower (not with the water) into a food processor. Blender on high until smooth.

Add the garlic, and remaining ingredients and process again until smooth. Taste and adjust seasonings as needed.

Serve immediately and enjoy!
Nutrition
Serving:
0.666
cup
|
Calories:
84
kcal
|
Carbohydrates:
9
g
|
Protein:
3
g
|
Fat:
5
g
|
Saturated Fat:
1
g
|
Cholesterol:
1
mg
|
Sodium:
74
mg
|
Potassium:
437
mg
|
Fiber:
3
g
|
Sugar:
3
g
|
Vitamin A:
115
IU
|
Vitamin C:
67
mg
|
Calcium:
66
mg
|
Iron:
1
mg
Filed Under: