These amazing vegan french toast muffins are flavored with cinnamon and apple! They're healthy, naturally sweet, perfect for fall and easy to meal prep too!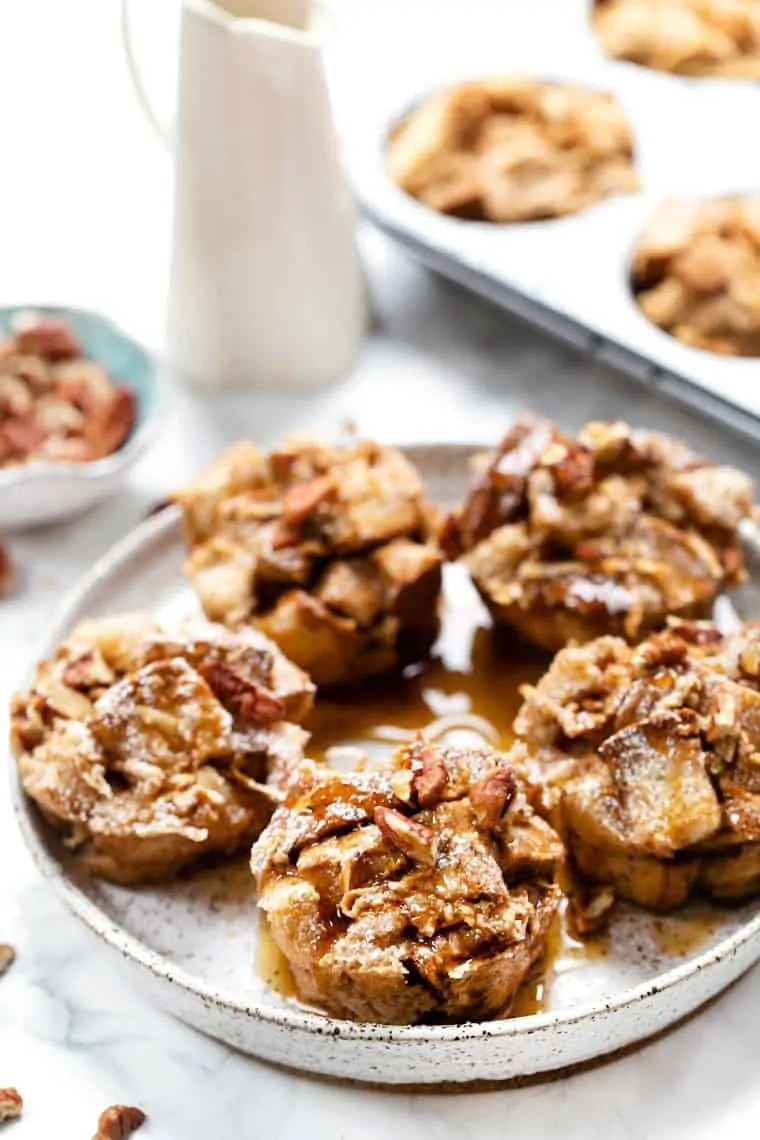 Well, hello there beautiful little muffins of french toast deliciousness! You're entering my breakfast world and I'm here for it. Because I'm all about a breakfast mash-up!
So basically here's what we're looking at today: vegan french toast, made into muffins, flavored with apple and cinnamon, topped with maple syrup. I mean…how dreamy does that sound!?
Bonus points for these french toast muffins: they're also super simple to make, use just 6 ingredients, are vegan, gluten-free and super healthy!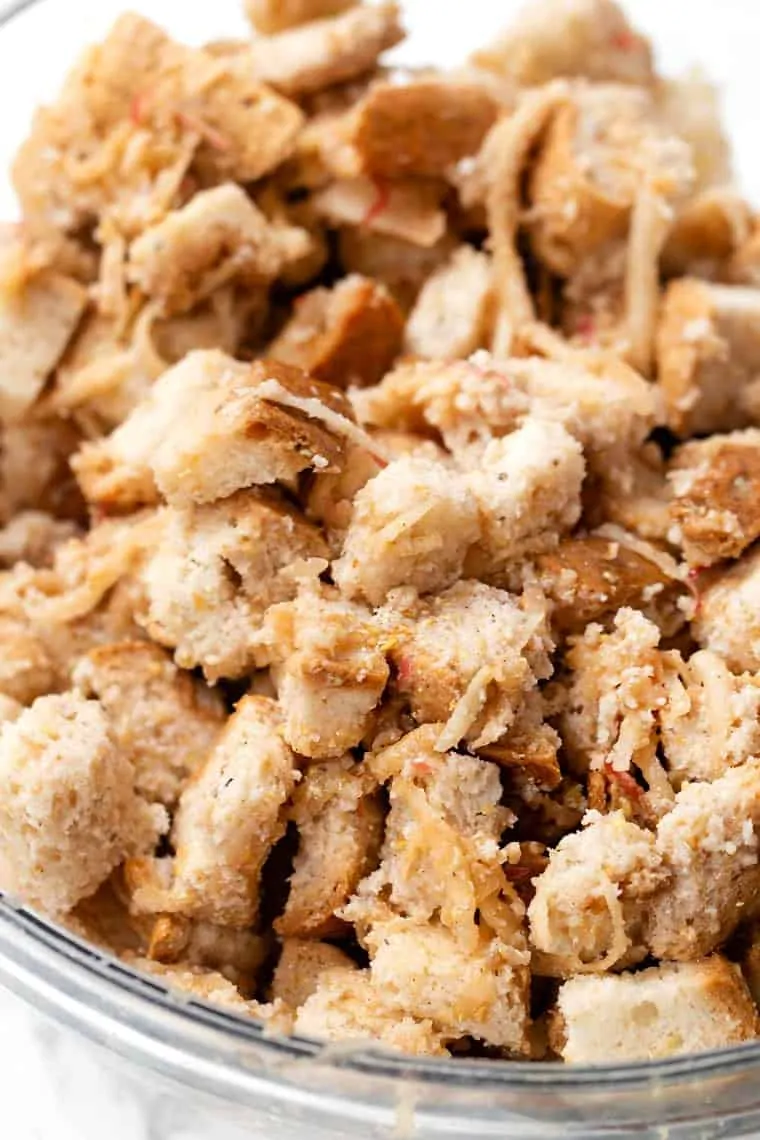 Ingredients for Vegan French Toast Muffins
French toast is actually SO easy to make. You just need three simple ingredients: bread, eggs, and milk. French toast muffins? Also, crazy simple to make!
But since we're making vegan french toast muffins, we're making a few simple tweaks. We're also adding some apple and cinnamon, so this recipe uses 6 ingredients instead of the classic 3 ????
Here's what you need to make them:
gluten-free bread
almond milk
flax eggs
maple syrup
apple
& cinnamon
And that's it! You'll also see that they use just one bowl, are meal prep friendly and seriously tasty!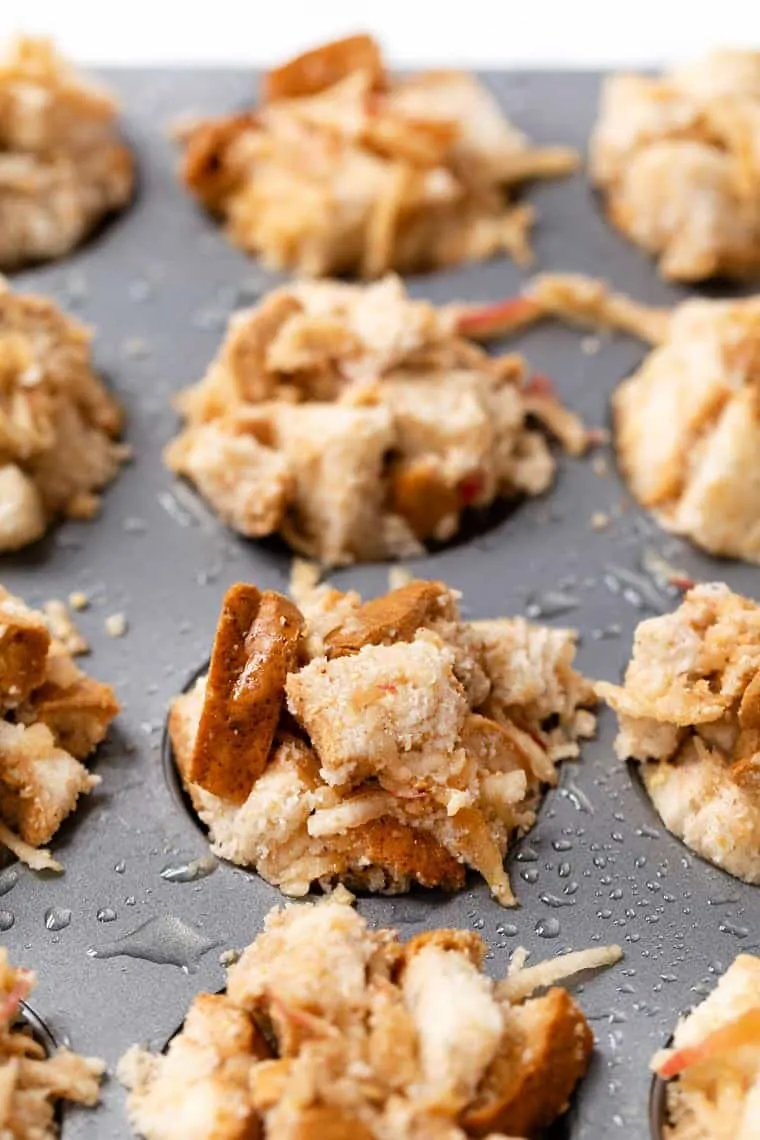 How to Make French Toast Muffins
Although we're using similar ingredients to traditional french toast, these french toast muffins are a bit different to make.
We start by chopping up our gluten-free bread. Just pick whatever GF bread you like best and then take the whole loaf and cut it into cubes. This is going to help us fit those cute little bread cubes into our muffin tins.
From there, add your almond milk, flax eggs, and maple syrup. Stir it all together then add in your apple and cinnamon.
The final step is to scoop it into your muffin tins and bake it up. Once they're golden brown and your house is smelling like apple pie, you can pull them out, pop them out of the tins and drizzle them with maple syrup. SO. DANG. GOOD!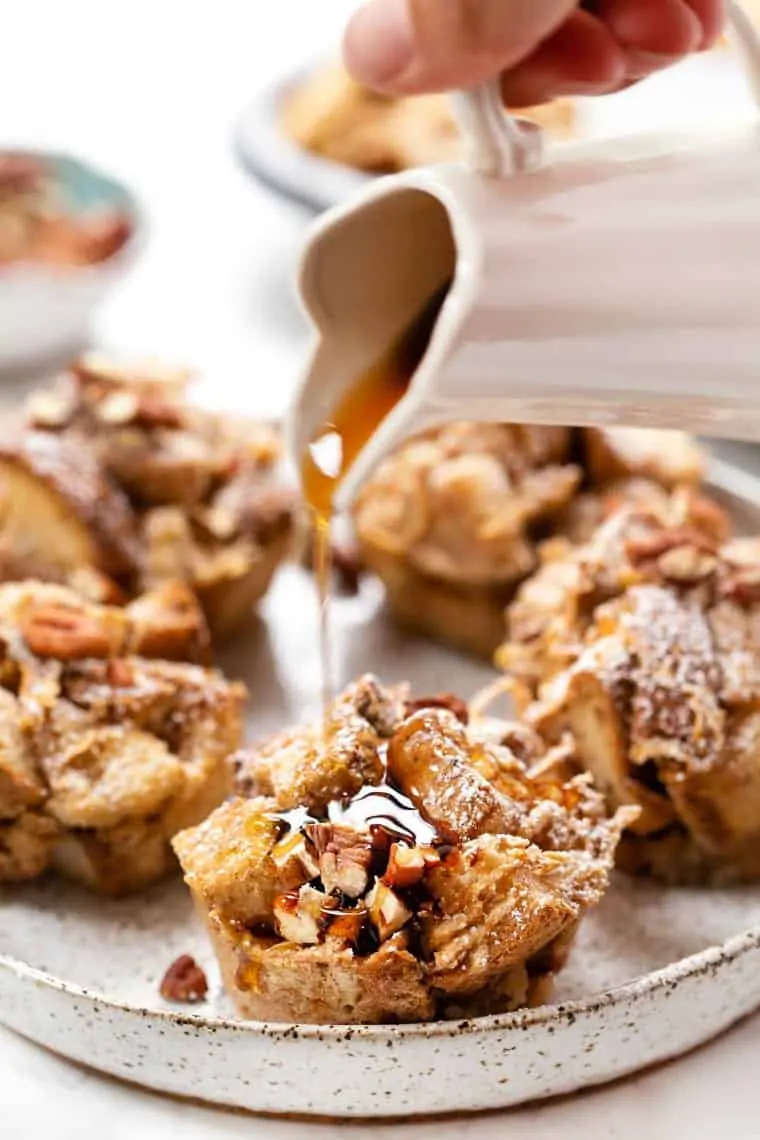 Apple Cinnamon French Toast…in Muffin Form
These healthy little bites of heaven are the ultimate morning treat. They're a cross between french toast and muffins. And we're throwing in some fruit for good measure!
So here's why you need to make these vegan french toast muffins:
Portable. Firstly, they're portable. Rather than taking a slice or two of french toast to the office, you can take two little muffins, reheat them, top them with some syrup (or peanut butter) and you've got breakfast. There's nothing better than not having to worry about breakfast in the morning!
Easy. So yes, they use only 6 ingredients. But they're also ready pretty darn quickly and they're meal prep friendly. They bake in about 35 minutes and will keep in the fridge for 4 – 5 days!
Delicious. You can't beat the combo of apple and cinnamon. Not to mention the texture of these french toast muffins. They're crispy on the outside, soft and tender on the inside, slightly sweet and full of flavor.
And Healthy. And yes, they're still healthy too! I like to use whole grain bread to make sure I'm getting in fiber and complex carbohydrates, but we're also getting sweetness naturally and extra fiber from the fruit!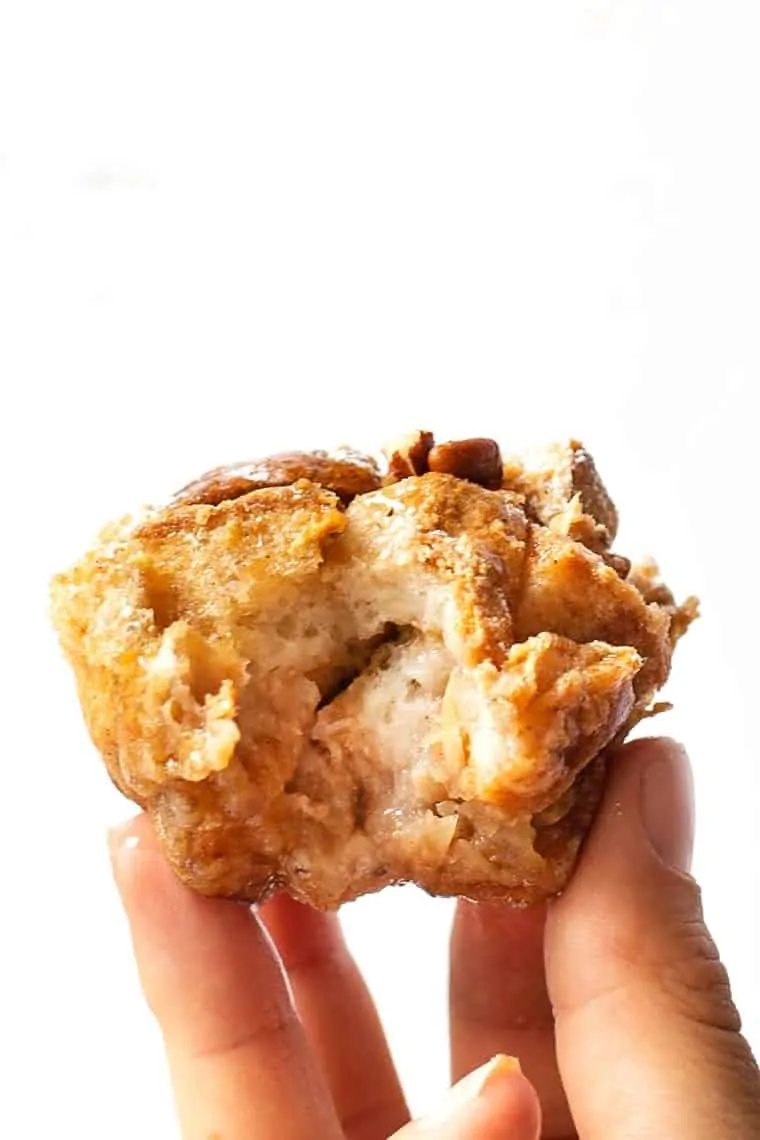 A Healthy & Easy Vegan Breakfast
So when it comes it down to it, these are pretty much the ultimate breakfast. And there are a million ways you can enjoy them.
For starters, I love them with a little maple syrup. But if you're not feeling the sweetness, there are lots of other ways to serve them too! Top them with a drizzle of peanut butter. Open one up and sandwich it with some coconut yogurt. Sprinkle them with some coconut flakes and apple butter.
I mean truly, these vegan french toast muffins are an epic breakfast option. They're one of my favorite morning meals and I know you're going to just love them!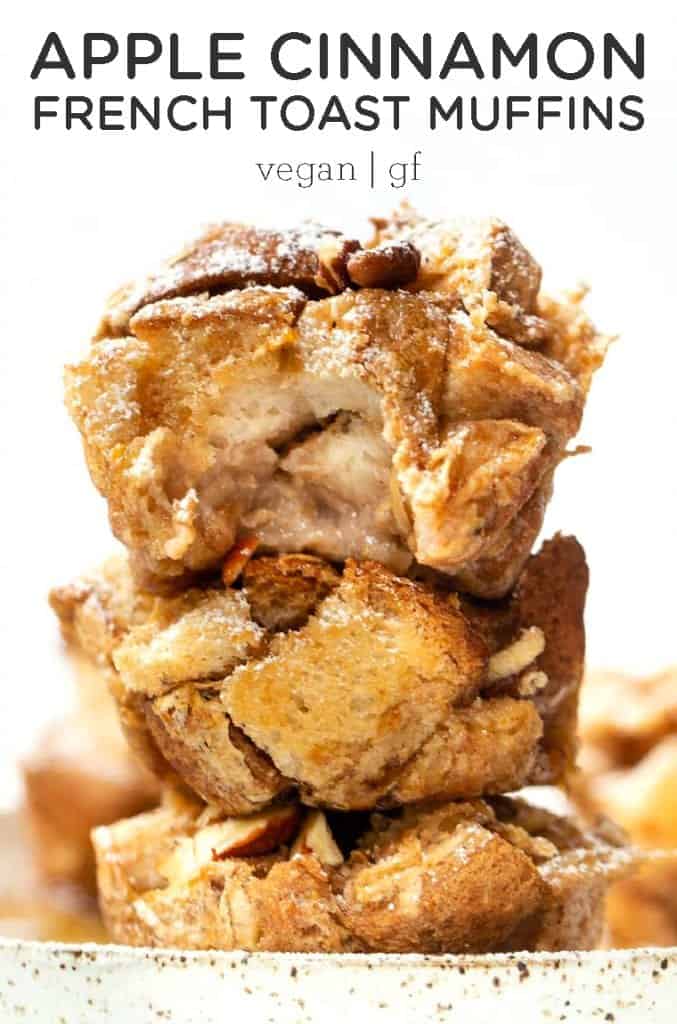 More Healthy Vegan Breakfast Ideas:
Apple Cinnamon Vegan French Toast Muffins
These amazing vegan french toast muffins are flavored with cinnamon and apple! They're healthy, perfect for fall and easy to meal prep!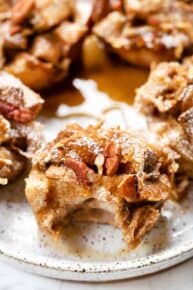 Instructions
Chop the bread into cubes and add to a bowl.

Beat together the milk, eggs, syrup, and cinnamon. Pour over the bread cubes, add the apple and fold together. Fill 12 muffin tins with the cubes, piling them high!

Bake at 350ºF for 35 minutes. Remove and serve with maple syrup!
Notes
* nutrition values will change based on which type of bread you use!
Nutrition
Serving:
1
muffin
|
Calories:
227
kcal
|
Carbohydrates:
38
g
|
Protein:
4
g
|
Fat:
6
g
|
Saturated Fat:
1
g
|
Cholesterol:
12
mg
|
Sodium:
263
mg
|
Potassium:
54
mg
|
Fiber:
3
g
|
Sugar:
10
g
|
Vitamin A:
169
IU
|
Vitamin C:
1
mg
|
Calcium:
118
mg
|
Iron:
1
mg
Filed Under: