This Vegan French Toast recipe is an easy egg- and dairy-free breakfast made with rich, flavorful coconut milk, flaxseed, and cinnamon.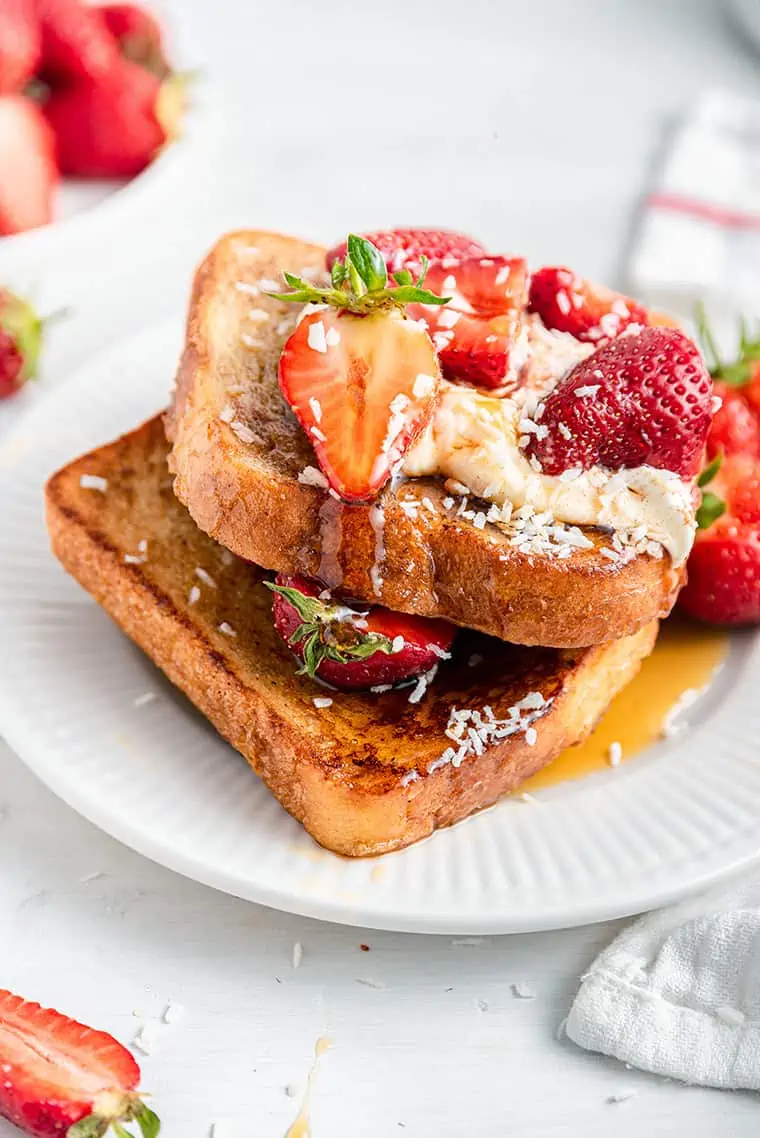 French toast is a classic childhood breakfast that adults love just as much as little ones. Similar to blueberry pancakes or fluffy waffles, french toast is one of those breakfasts that brings up some sort of memory.
Since classic french toast is loaded with sugar, eggs, and cream, I wanted to give you a lightened-up version that doesn't require any of those things. It's allergy-friendly, easy to make gluten-free, and still just as good as the traditional version.
This vegan french toast is just as custardy and soft in the center with golden crispy edges. Plus, it's just four ingredients and takes 20 minutes to make. You can easily whip this fancy breakfast up on a weekday!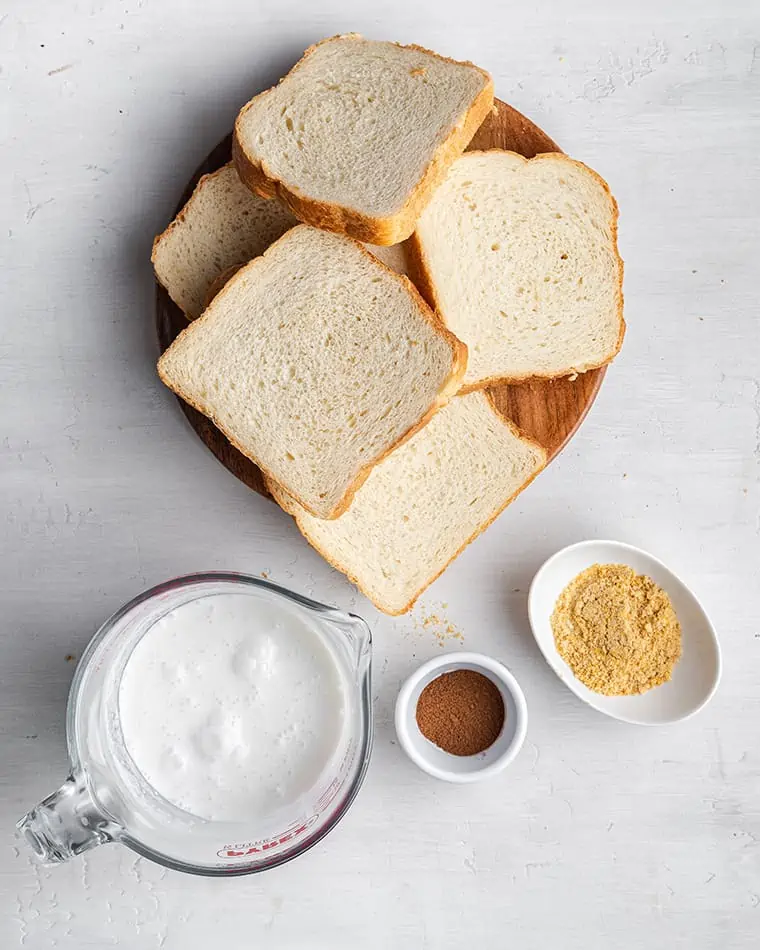 Ingredients for Vegan French Toast
The trickiest thing to replace in classic French toast is the eggs. Without the eggs, you will need to add a thickening agent to the batter. I like to use flaxseed meal, but you could also add a dash of cornstarch if you wanted.
Here are the four simple ingredients we're using the make French toast:
Coconut milk. I use light canned coconut milk, but the refrigerated kind or full-fat will also work.
Flaxseed meal. This is the egg substitute to help bind your liquid ingredients together for a custardy texture. Plus it adds healthy fat and fiber.
Ground cinnamon for the classic french toast flavor.
Sourdough. You can use any bread you like, including gluten-free, with no changes to the recipe.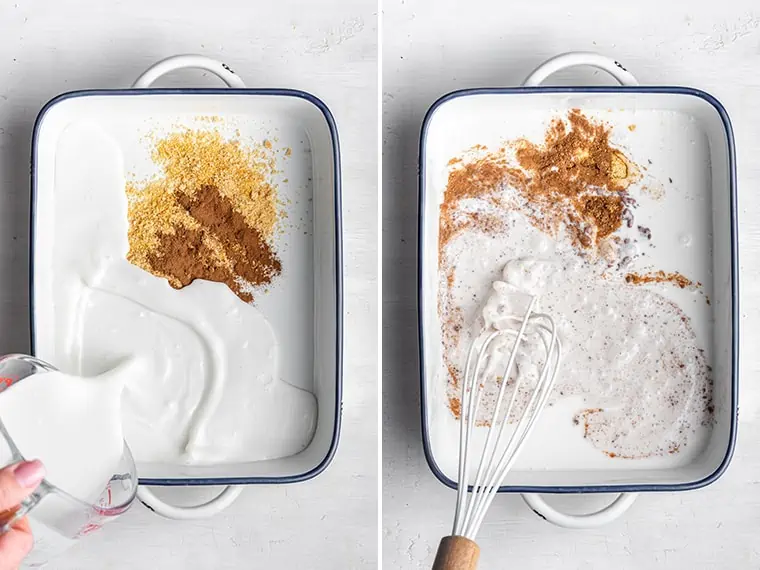 How to Make Dairy-Free French Toast
Whisk together the ingredients. Making this recipe is very similar to regular french toast. Start by combining the coconut milk, flaxseed meal, and cinnamon in a shallow dish or baking pan.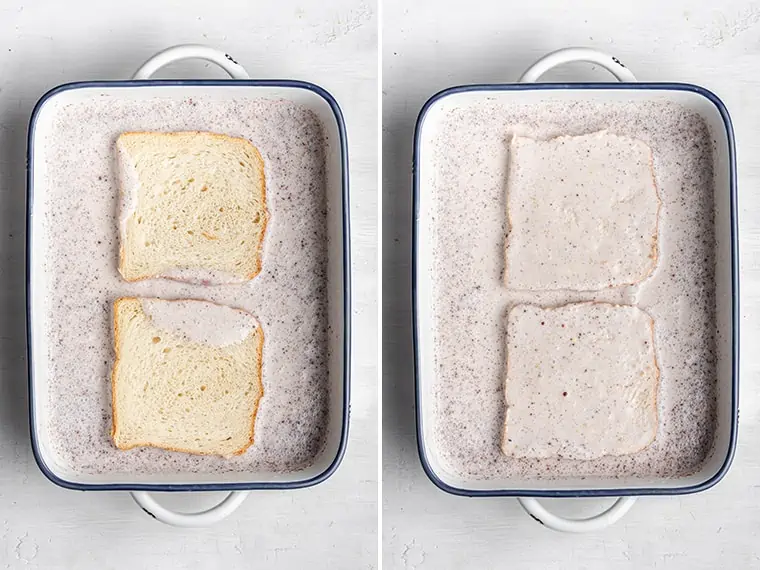 Soak the bread. Heat your flat pan or griddle to medium heat, then soak slices of bread in the liquid for 30 to 60 seconds.
You don't want it to soak too long, as the bread can fall apart. But long enough so that it's soaked through. Denser bread will need to soak longer than light and airy slices, such as challah or brioche.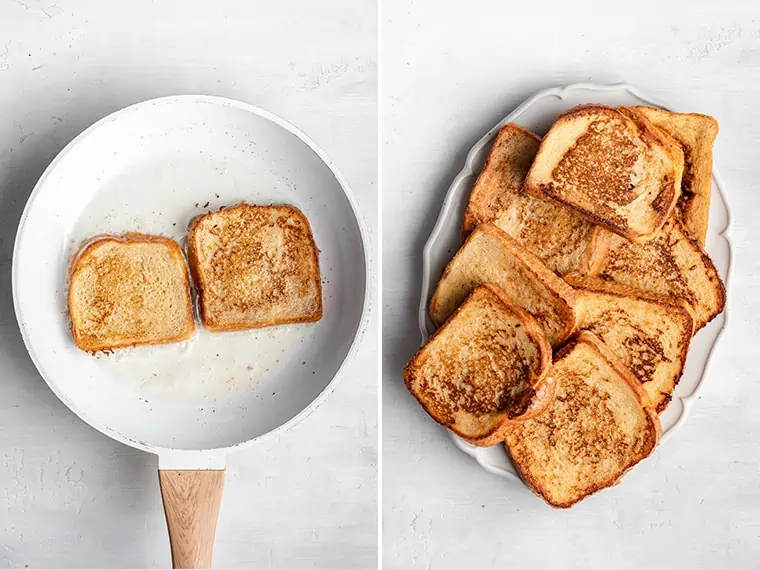 Cook on the griddle or pan. Finally, sear your soaked bread slices on the hot griddle until golden brown on both sides. Enjoy!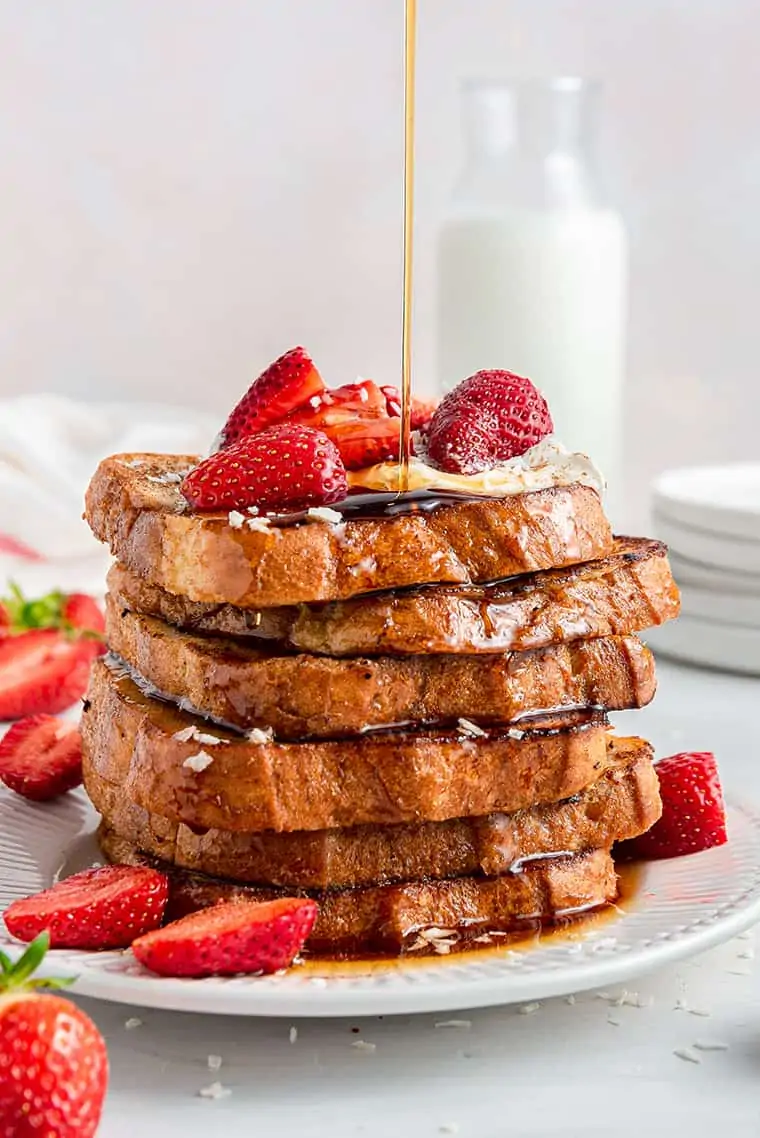 Toppings Ideas
This is a sweet breakfast that calls for your favorite sweet toppings. I like to drizzle a stack of vegan French toast with maple syrup and top with sliced berries. Here are some other delicious topping ideas:
Your Questions Answered!
What is French Toast?
French toast is a breakfast dish made by soaking sliced bread in an egg and milk mixture. It dates back to the Roman Empire and is seen in many different cultures around the world.
What can you substitute eggs for in French toast?
You can replace the eggs with any vegan alternative including a flax egg, chia egg, or store-bought egg replacer.
What can you substitute for milk in French toast?
Milk is the easiest ingredient to replace in French toast. Simply use any type of non-dairy milk as you would traditional milk or cream.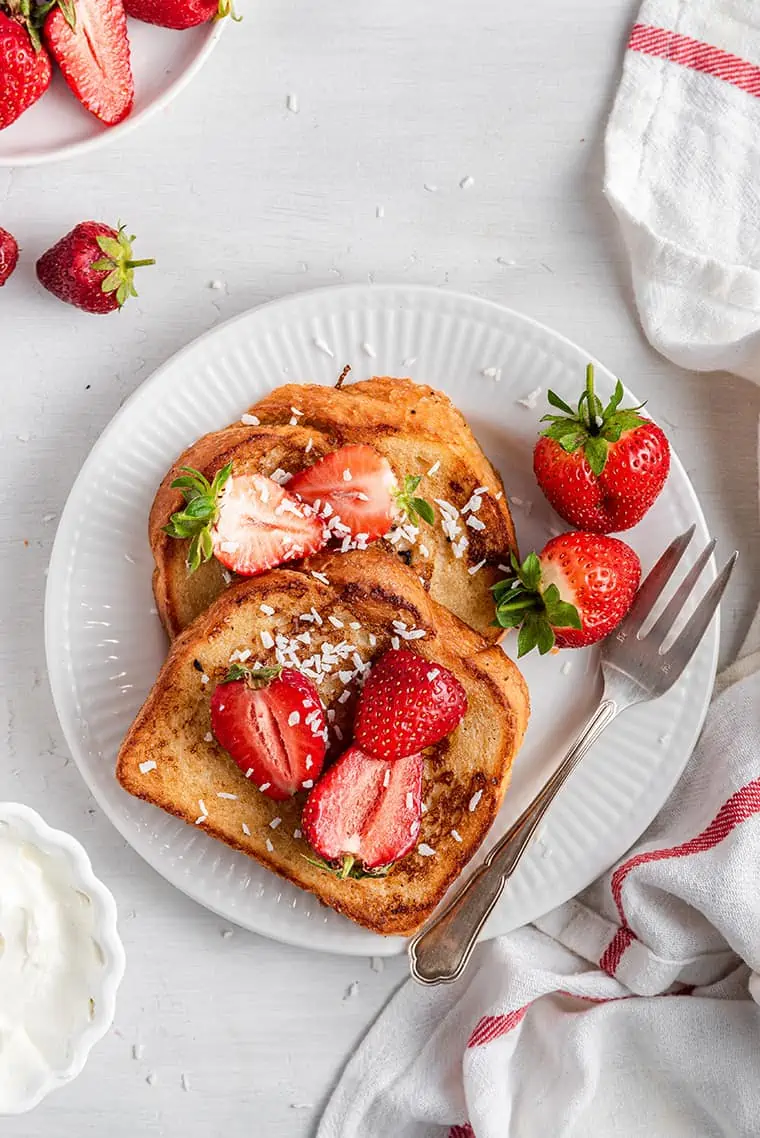 More French Toast Recipes to Try
If you make this Vegan French Toast Recipe, be sure to let me know what you think with a comment below!
Vegan French Toast
This Vegan French Toast recipe is an easy egg- and dairy-free breakfast made with rich, flavorful coconut milk, flaxseed, and cinnamon.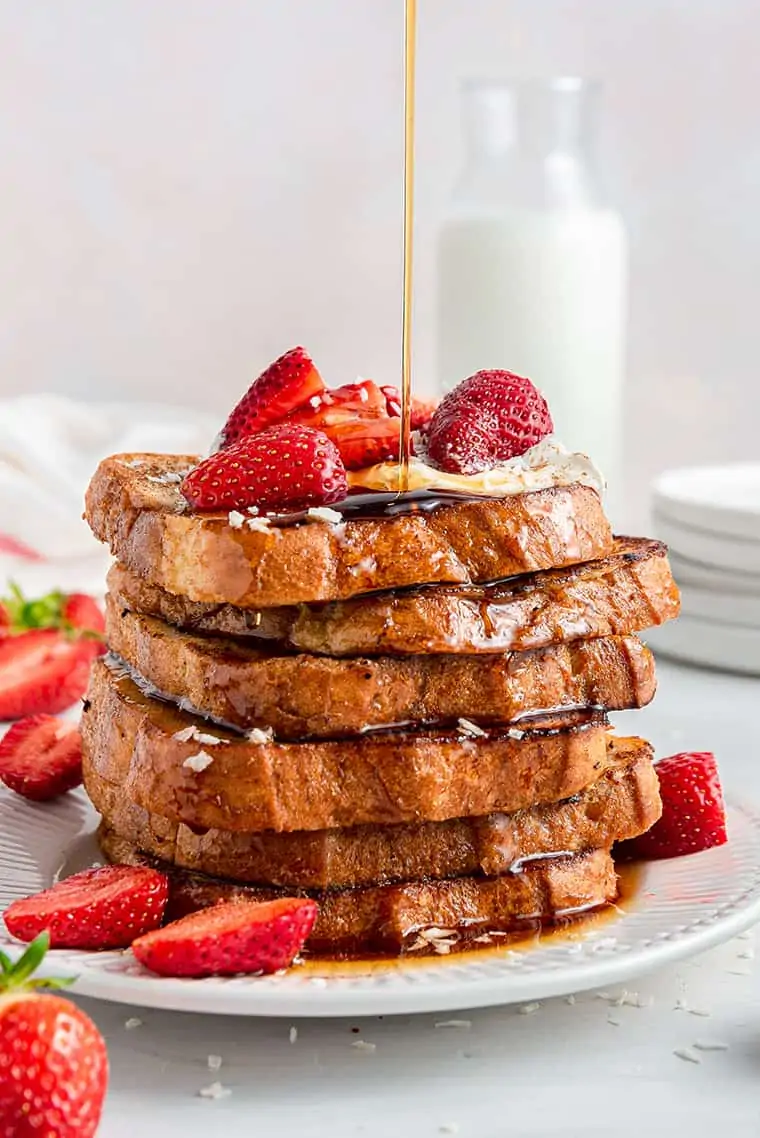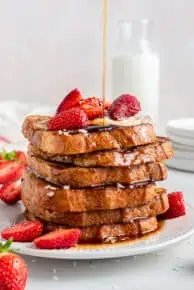 Instructions
Whisk together the coconut milk, flaxseed + cinnamon in a shallow dish or bowl. Set aside for 5 minutes to thicken.

Heat a non-stick grilled over medium-low heat and grease with coconut oil or vegan butter.

Taking one or two slices of bread a time, place them in the dish with coconut milk mixture. Allow to soak for 30 – 60 seconds, flip and soak the other side for another 30 seconds. Place on the griddle and cook for 2 – 3 minutes per side. Repeat with remaining slices of bread.

Serve warm with sliced berries and a drizzle of maple syrup!
Nutrition
Serving:
2
slices
|
Calories:
410
kcal
|
Carbohydrates:
69
g
|
Protein:
14
g
|
Fat:
8
g
|
Saturated Fat:
5
g
|
Polyunsaturated Fat:
2
g
|
Monounsaturated Fat:
1
g
|
Sodium:
823
mg
|
Potassium:
165
mg
|
Fiber:
3
g
|
Sugar:
6
g
|
Vitamin A:
1
IU
|
Vitamin C:
1
mg
|
Calcium:
74
mg
|
Iron:
5
mg