This white bean mushroom veggie burger recipe is the best you'll ever try! They're meaty, easy to make, perfectly seasoned as well as vegan and gluten-free!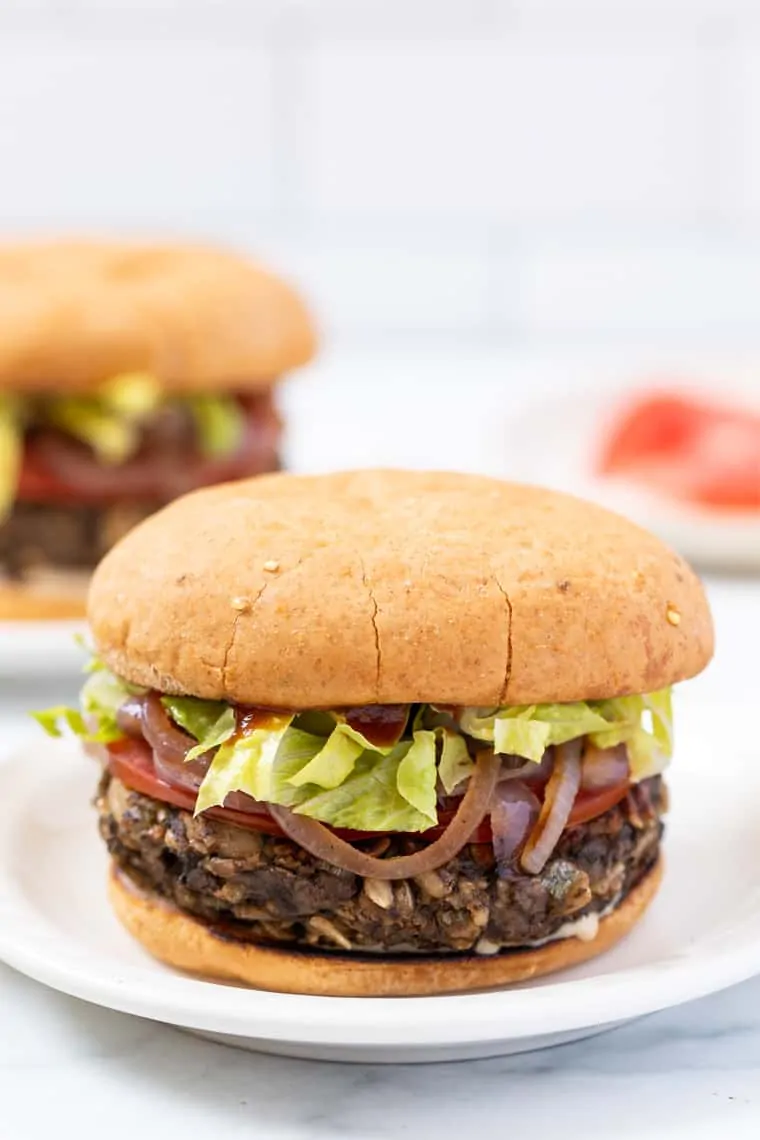 I've been trying to create the perfect mushroom burger for years. Yes, YEARS! And I've finally nailed it!
Just a quick little story: the recipe inspiration for these burgers goes all the way back to the first year I went gluten-free (like 10+ years ago). I had a white bean mushroom burger at a restaurant in Vermont and it was amazing. My mom and I have talked about them for years and I've never been able to totally recreate it. Until now!
These White Bean Mushroom Veggie Burgers are flavorful, packed with healthy ingredients, and have an awesome meaty texture. They're delicious on their own, but can also stand up to all sorts of toppings (we served them on the BEST gf buns ever!). And they're actually super easy to make too!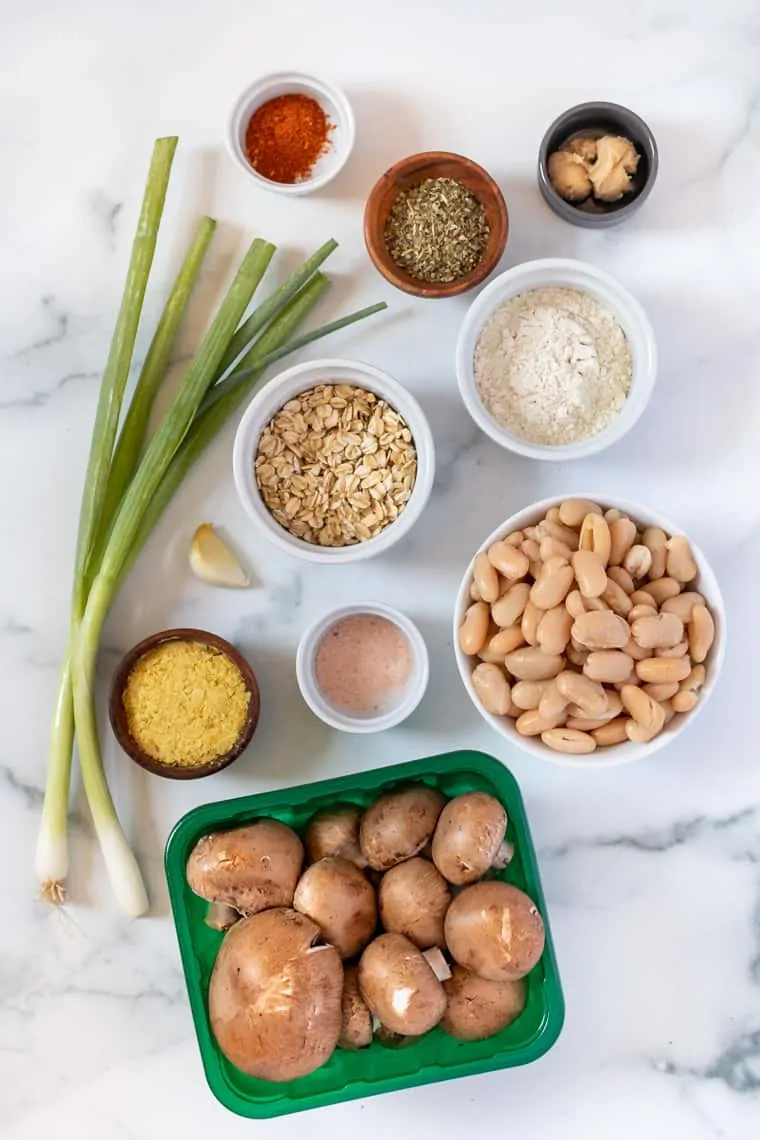 Ingredients for our Mushroom Veggie Burger
What I think you're going to love about these burgers is the ingredient list. It's fairly short – with the bulk being mostly in the flavorings. It's also totally customizable based on what you like, but we'll chat more about that in a sec.
For now, let's check out what makes up the base of these delicious burgers:
Mushrooms (I went with baby bella mushrooms, but you can use whichever you like)
White beans (any variety will work – I used cannellini)
Garlic
Scallions
Oats
Quinoa flour
And then for our seasonings, we use miso paste, Italian seasoning, harissa, nutritional yeast, and sea salt.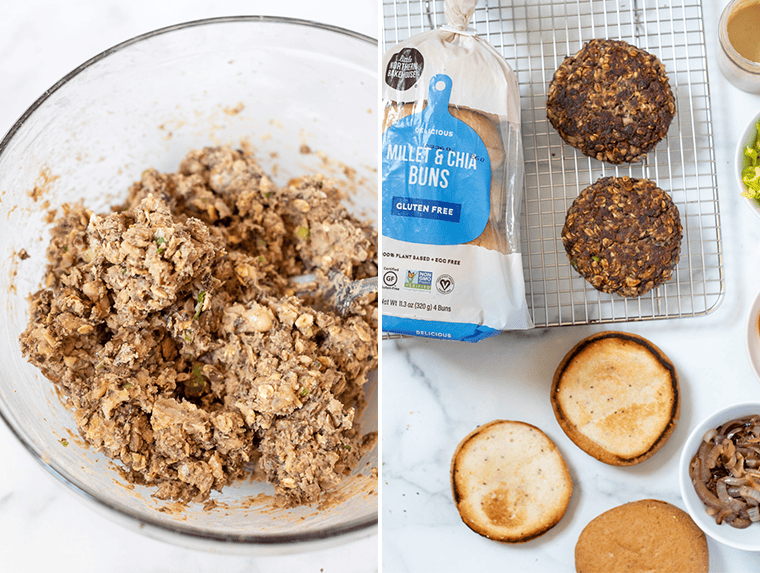 How to Make White Bean Mushroom Burgers
Unlike most of my other veggie burgers, I think you'll be happy to see that these don't need a food processor!! You just need a cutting board and a bowl to make them.
STEP ONE
We'll start by chopping our mushrooms. Make sure you stem them and remove any extra dirt from the outside using a paper towel. Then you just gotta chop them! watch this video to see how finely I chop them up.
STEP TWO
Stir in your scallions and garlic. Then add your white beans. You'll use a fork to mash the white beans in the bowl as much as possible. It will turn kind of into a paste and the "dough" will start to form.
STEP THREE
Add the rest of your ingredients and mix it all together! The dough should hold together if you form it into a patty, but it will still be sticky/wet. That's okay! Put them on a parchment paper-lined baking sheet or plate and pop them in the fridge. You'll chill them for at last 60 minutes which will help them hold their shape while cooking.
STEP FOUR
Cooking! We have two methods of cooking the burgers – searing or baking – and we'll detail each in the recipe box.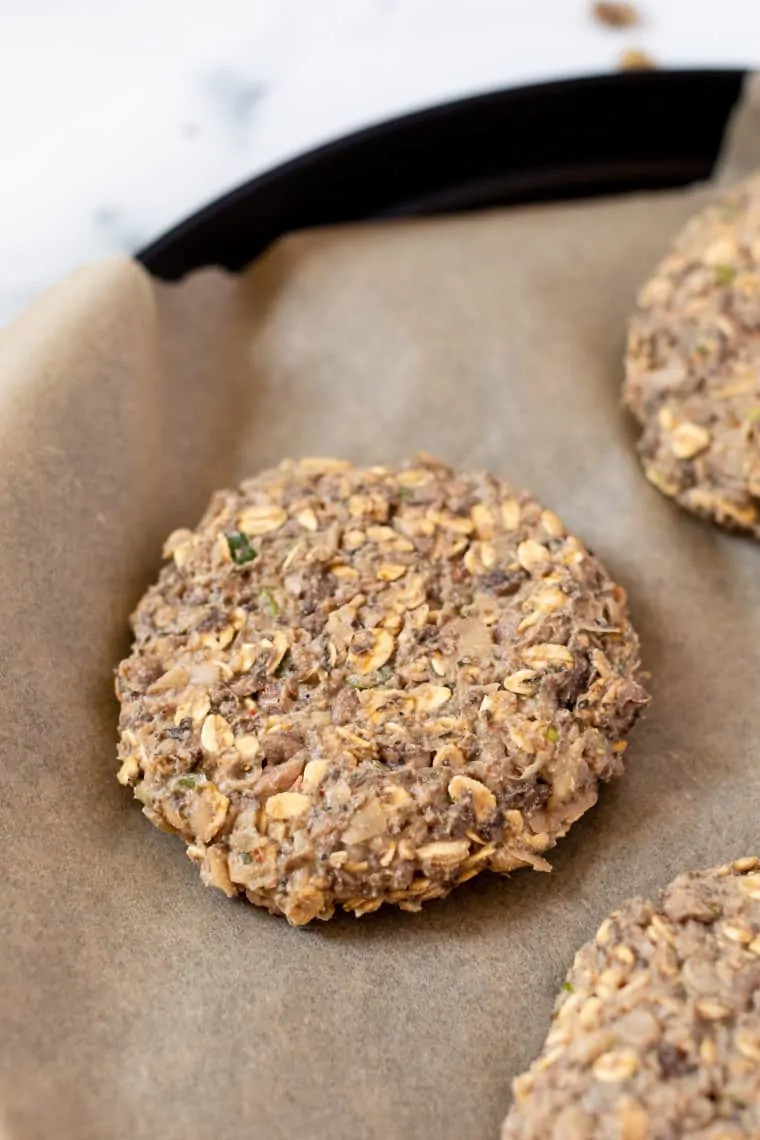 Best Way to Cook Vegan Burgers
There are a few different methods for cooking veggie burgers:
Baking
Searing/Sauteeing
Grilling
For me, there are two that stand out on that list: baking and searing.
Throughout all my years of making veggie burgers, I've found that the absolute best way to cook them (so that they stick together) is to bake them. Baking your veggie burgers will give you that nice crunchy outside and soft inside. It will dry them out a bit so they're not mushy, and it will ensure they're cooked all the way through.
Searing can also be great, but in order for it to really work well, you need to chill your veggie burgers first. Chilling allows the dough to hold it's shape better and helps you avoid a crumbly mess.
Grilling is just trick all around. Unless you grease your grill SUPER well and have a fairly hard/non-sticky burger, they'll likely fall apart. The only way I've had luck is to bake them and then finish them on the grill.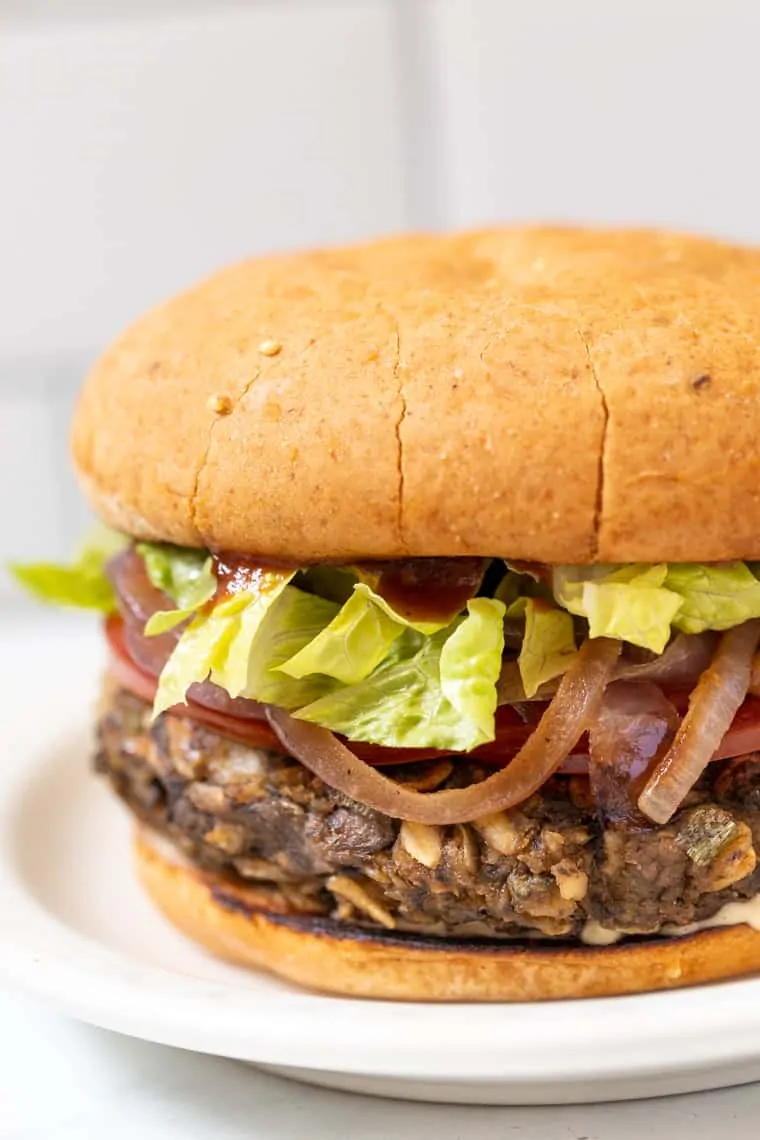 How to Serve This Mushroom Veggie Burger
Now for the fun part…assembly!!
First things first, you need a good bun. The best gluten-free hamburger bun I've found is from Little Northern Bakehouse. They're fluffy, toast up beautifully, aren't too heavy, and are everything you'd be looking for a in a gluten-free bun. They're also egg-free, dairy-free, vegan, AND non-GMO which makes them great if you're accommodating multiple allergies. Plus, if you're also grilling up some veggie dogs alongside these amazing burgers, they've got gluten-free hot dog buns as well!
As far as toppings go, honestly, I don't think you can go wrong with any topping combination here! But here is what I used: a toasted Little Northern Bakehouse bun, with a layer of tahini sauce on the bottom bun, followed by the mushroom burger.
On top of that we did:
And then the top bun had a layer of barbecue sauce. I mean…it was PERFECT!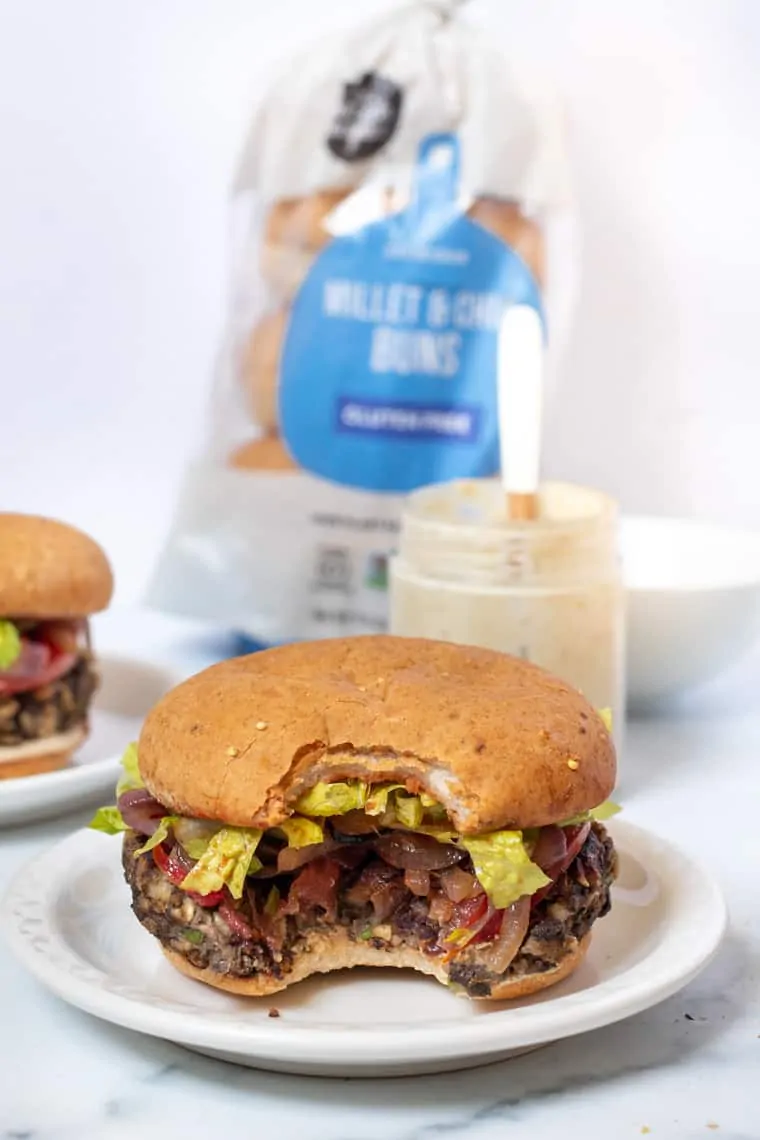 Substitution Ideas for the Mushroom Burger Recipe
Before I let you go, I like to just finish off our posts by giving you some substitution ideas. Just in case you don't have one of these ingredients, are sensitive, or for whatever other reason, here are some ideas for substituting.
White beans: any other beans should work here! You can use chickpeas, black beans, etc.
Miso: feel free to leave this out and just use extra salt.
Nutritional yeast: I would substitute it with parmesan if you can tolerate dairy. If not, swap it with more quinoa flour and add more salt.
Italian seasoning: any other dried herb mix will work!
Harissa: leave it out or swap with sweet paprika
Oats: quinoa flakes or another flaked grain should work
Quinoa flour: another grain-based flour will work – almond or coconut will not
Other than that, you should be GOOD TO GO! If you have any other substitution questions, drop those down below.
I can't wait to hear what you think of this recipe. It's honestly one of my favorite burgers I've made yet – tastes soooo good and has the best texture. You're going to love them!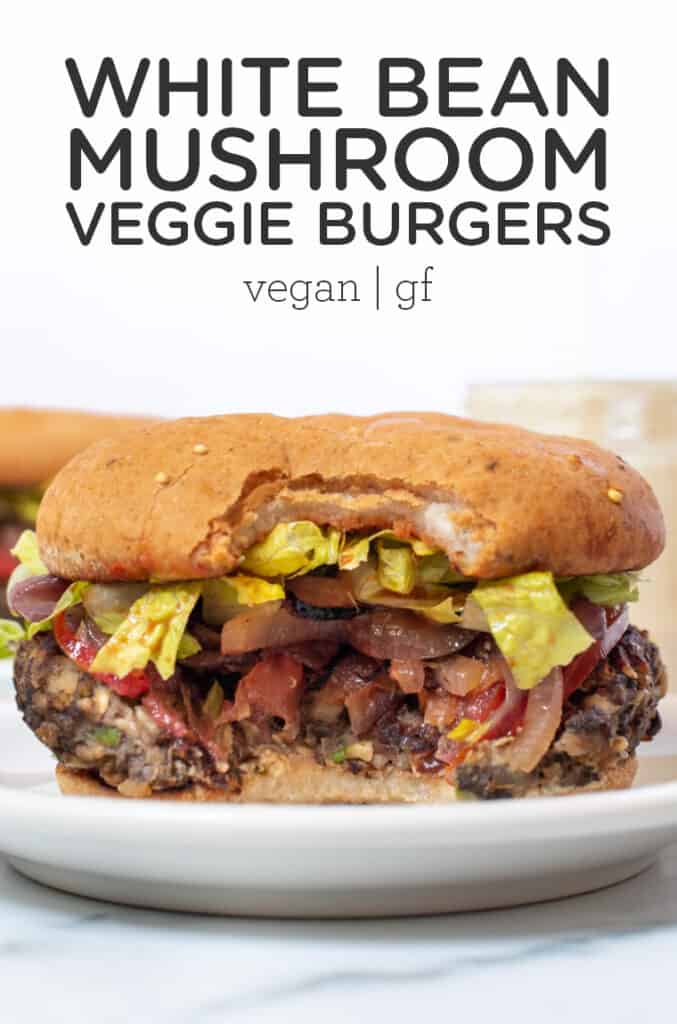 More Healthy Veggie Burger Recipes to Try:
White Bean Mushroom Veggie Burger Recipe
This white bean mushroom veggie burger might just be the best you'll ever try! They're meaty, they're easy to make, they're perfectly seasoned and they're also vegan & gluten-free!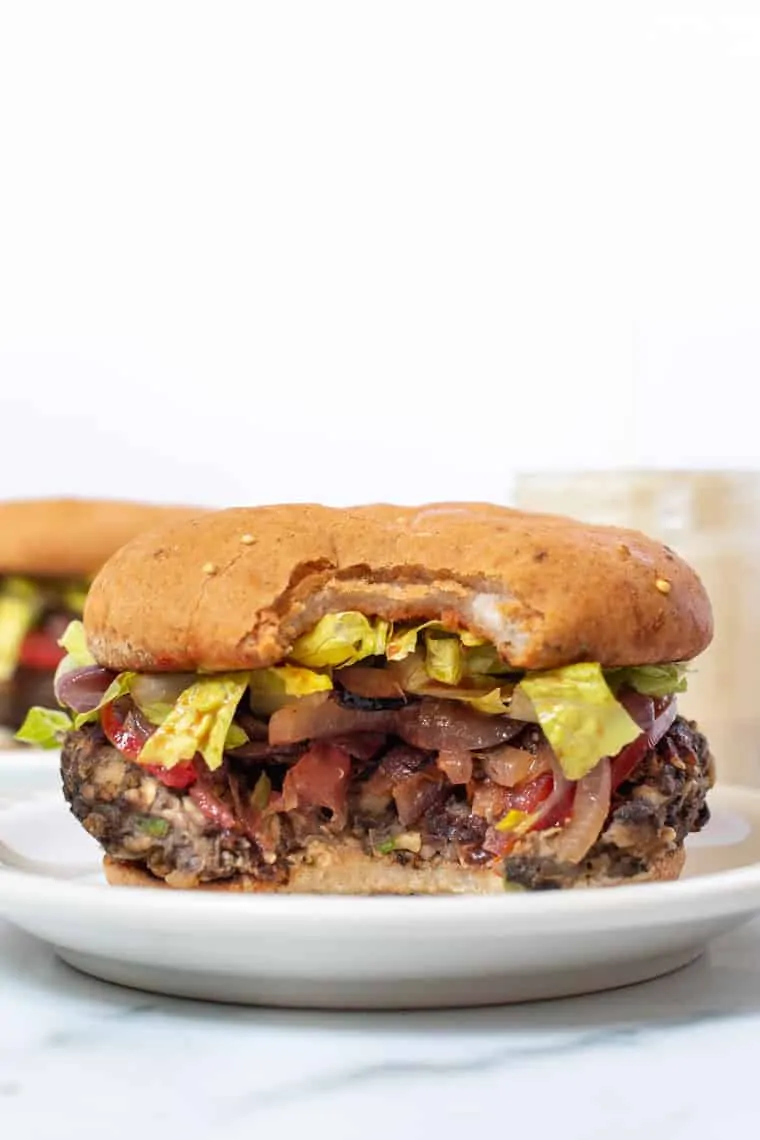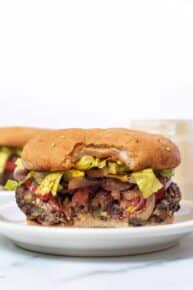 Ingredients
for serving:
4

Little Northern Bakehouse Gluten-Free Burger Buns

4

tablespoons

Hummus

Lettuce/sprouts

1

small

tomato, sliced

1/4

cup

caramelized onions

(or raw)
Instructions
Remove the stems from the mushrooms and rub off any dirt with a paper towel. Finely chop with a knife and add to a mixing bowl.

To the bowl, add the scallions and garlic. Toss to combine. Add the beans to the bowl and mash them with a fork until most are mashed, but some larger chunks remain. Stir together.

Add the rest of the ingredients (minus the flour) and stir again to combine. Add the flour, 1 tablespoon at a time, stirring between each addition until you get a dough that can be shaped and holds together.

Form the dough into patties and place on a parchment-lined plate or baking sheet. Pop in the fridge and chill for at least 30 minutes, preferably longer.

When ready to cook, heat some oil in a non-stick skillet. Cook the burgers over medium-high heat for 3 - 4 minutes per side, until each side is crispy and dark brown.

Serve on top a toasted Little Northern Bakehouse bun with your desired toppings.

Freeze extra patties and reheat in the toaster oven or on a pan.
Notes
* Burgers can also be baked if you'd prefer! Bake on a parchment-lined baking sheet at 375ºF for 30 - 35 minutes, flipping halfway through.
** Nutrition facts include bun + toppings.
Nutrition
Serving:
1
burger
|
Calories:
444
kcal
|
Carbohydrates:
81
g
|
Protein:
17
g
|
Fat:
7
g
|
Saturated Fat:
2
g
|
Sodium:
651
mg
|
Potassium:
855
mg
|
Fiber:
12
g
|
Sugar:
5
g
|
Vitamin A:
167
IU
|
Vitamin C:
5
mg
|
Calcium:
141
mg
|
Iron:
6
mg
Filed Under: