These 25 healthy quinoa salad recipes make for a perfect meal on a spring or summer day. Most of the recipes are gluten-free and vegan, and all of them are healthy, easy to make, and absolutely delicious.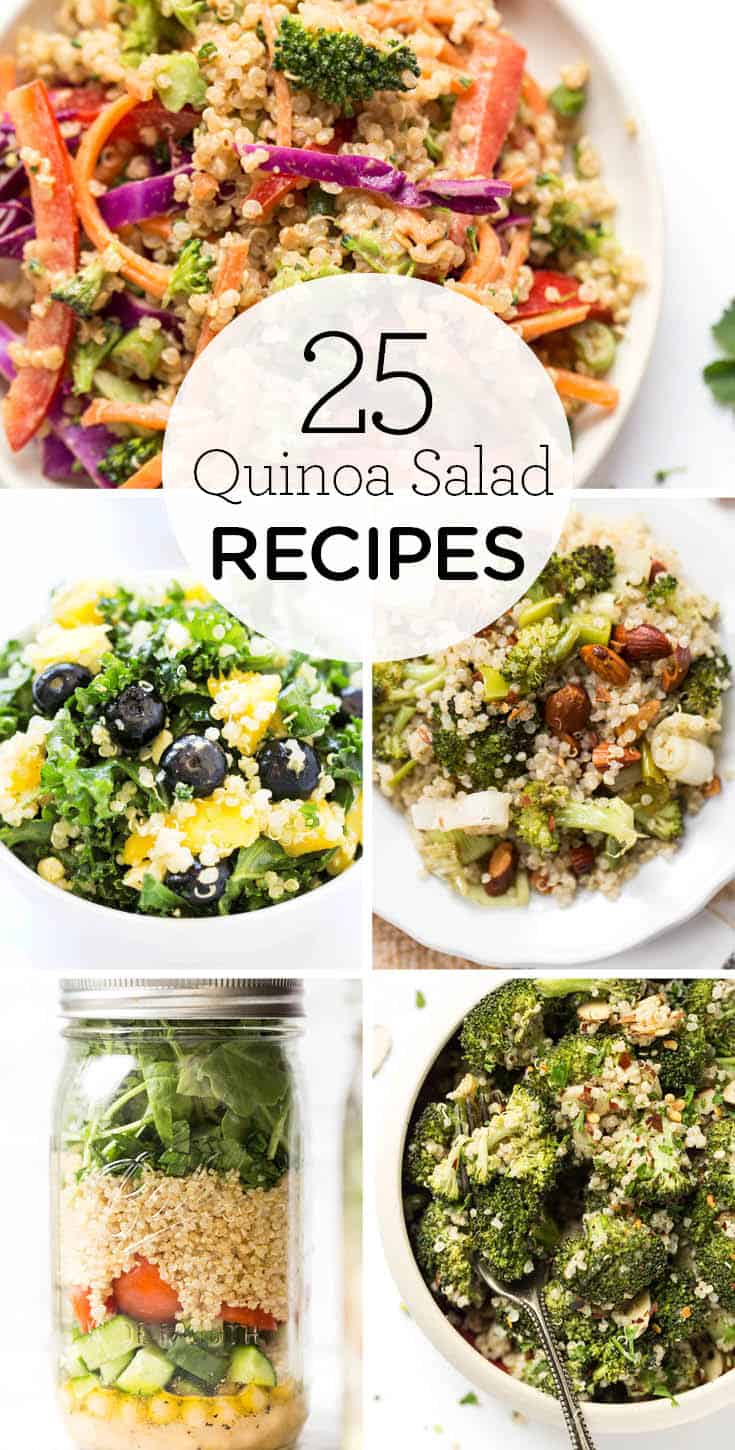 Quinoa salads are one of my go-to meals, especially when the weather gets warm. They're so light, fresh, and healthy tasting, which is exactly what my body craves when it's hot out. Quinoa is a super versatile ingredient, so you can tailor the flavors in a quinoa salad to fit whatever you're craving. As a result, I sometimes find myself eating one every day!
There are a lot of different components in a quinoa salad. There's the quinoa itself, the veggies and proteins you add to it, the dressing, and the garnishes. But if made well, all of those components can work in perfect harmony, and create a simple but magical dish.
In honor of the days getting longer and the sun coming out, it seemed like a good idea to put together 25 of my favorite recipes. Whether quinoa's one of your favorite foods or you're just getting started eating it, you're going to love these easy, healthy, delicious salads.
Benefits of Quinoa Salad
Before we jump into some of my favorite quinoa salad recipes, it's a good idea to talk about why I love them so much!
Quick. Quinoa salads are always quick and easy to make. Quinoa doesn't take too long to cook, and you can put together the rest of the recipe in the time that it takes to cook the quinoa. Most quinoa salad recipes are pretty straightforward and easy, so they're great for making any day of the week.
Healthy. Health is important to me, and quinoa is a big part of how I stay healthy. In fact, it's one of the healthiest foods you can eat. Quinoa is considered a complete protein, which means it has all nine of the essential amino acids in it. It has loads of nutrients, protein, and fiber in it while being very low in calories. Most quinoa salad recipes add tons of fresh vegetables to quinoa, which is about as healthy of a meal as you can think of.
Gluten-free. Some people think that quinoa is a grain, but it's actually a seed. As a result, it's gluten-free! Almost all quinoa salads are gluten-free, too.
Cheap. One thing I love about quinoa is how affordable it is. If you're trying to eat healthy food at a good price point, you should be buying lots of quinoa. It's so much cheaper than most health foods. And the ingredients that go in these salads are affordable, too.
Versatile. Quinoa goes well with almost any flavor. This means you can always make a quinoa salad that matches your appetite and your cravings. It also means you can eat quinoa salad all the time and not get sick of it.
How to Store Leftovers
Quinoa salad will last for a long time in the fridge, so I love to make a large batch to last me through the week. Just keep leftovers in an airtight container and they'll last for 5-7 days, depending on the other ingredients in the salad.
Tips and Tricks
As my website name would suggest, I've cooked a lot of quinoa in my life! Here are some of my favorite tricks for making a good salad.
Ratios. There are two ratios that are important with a quinoa salad. First, you need a good ratio of quinoa to other ingredients. And second, you need the proper ratio of water to dried quinoa when cooking it. Check out my guide for the perfect liquid ratio when cooking quinoa.
Let it marinate. Like so many foods, quinoa only gets better when given time to marinate. If you make a quinoa salad and you have spare time, leave it in the fridge for a few hours before eating it. The flavors will really grow.
Use fresh ingredients. Quinoa goes so well with fresh vegetables. One of my favorite ways to decide what type of quinoa salad to make is to go to the farmer's market. I'll buy whatever vegetables are in season, and use them to make a great dish.
25 Easy Recipes You Need to Try
Let's dive into some of my favorite quinoa salad recipes. Some of these recipes have simple flavors, while some are pretty complex. But all of them taste incredible, are easy to make and are packed with protein and nutrients. I know you'll love them.
More Healthy Quinoa Recipes
Want to cook some quinoa recipes that aren't salads? Don't worry, I've got you covered there too, with all sorts of quinoa recipes for you to check out.