This kale quinoa salad with pomegranate is easy to make, packed with flavor and healthy ingredients! We've got kale, quinoa, walnuts, chickpeas and more!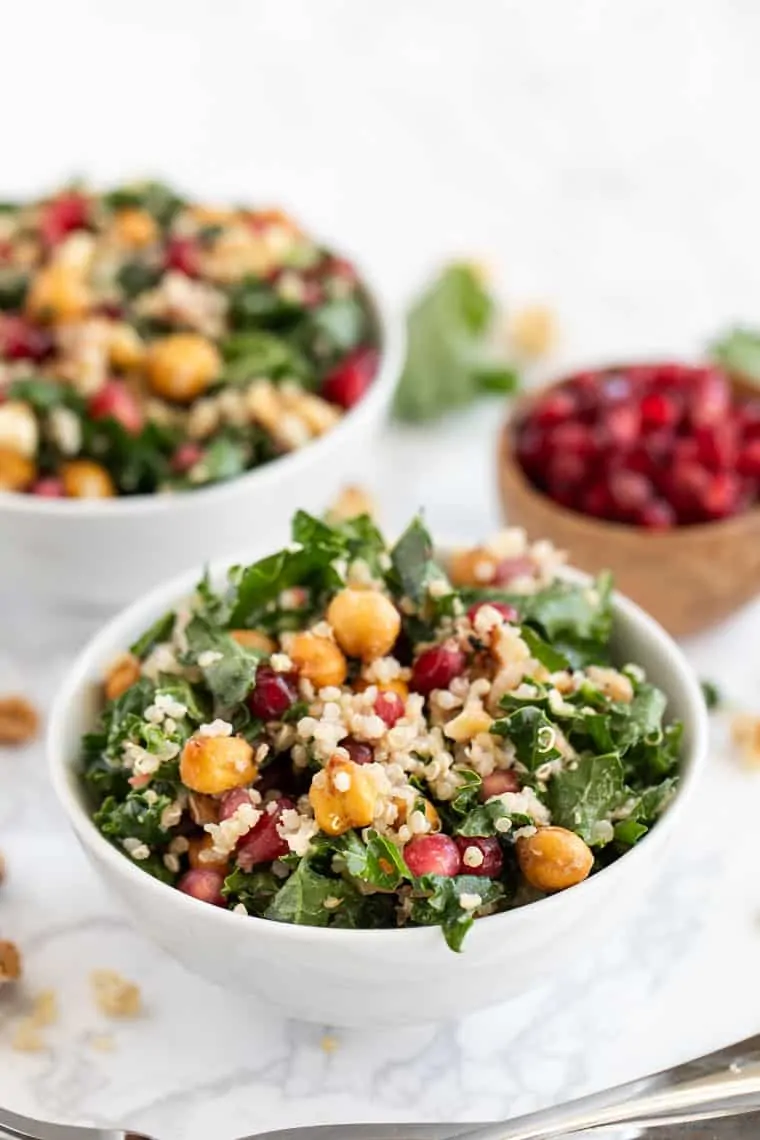 When I was walking through the store the other day and saw a pomegranate, I knew exactly what I was going to make! I wanted to make a light and healthy salad with pomegranate that was high in protein (so it was actually filling), wouldn't take long to make, and would look pretty enough to serve at a party!
So what I actually did was revamp an old recipe on the blog, giving it new flavors and new photos.
We ended up with a kale quinoa salad combo that works super well. It uses fluffy white quinoa, combined with finely chopped kale, sweet pomegranate seeds, walnuts and finished with a creamy tahini dressing. It's tangy, it's sweet, it's easy to make and it tastes damn GOOD!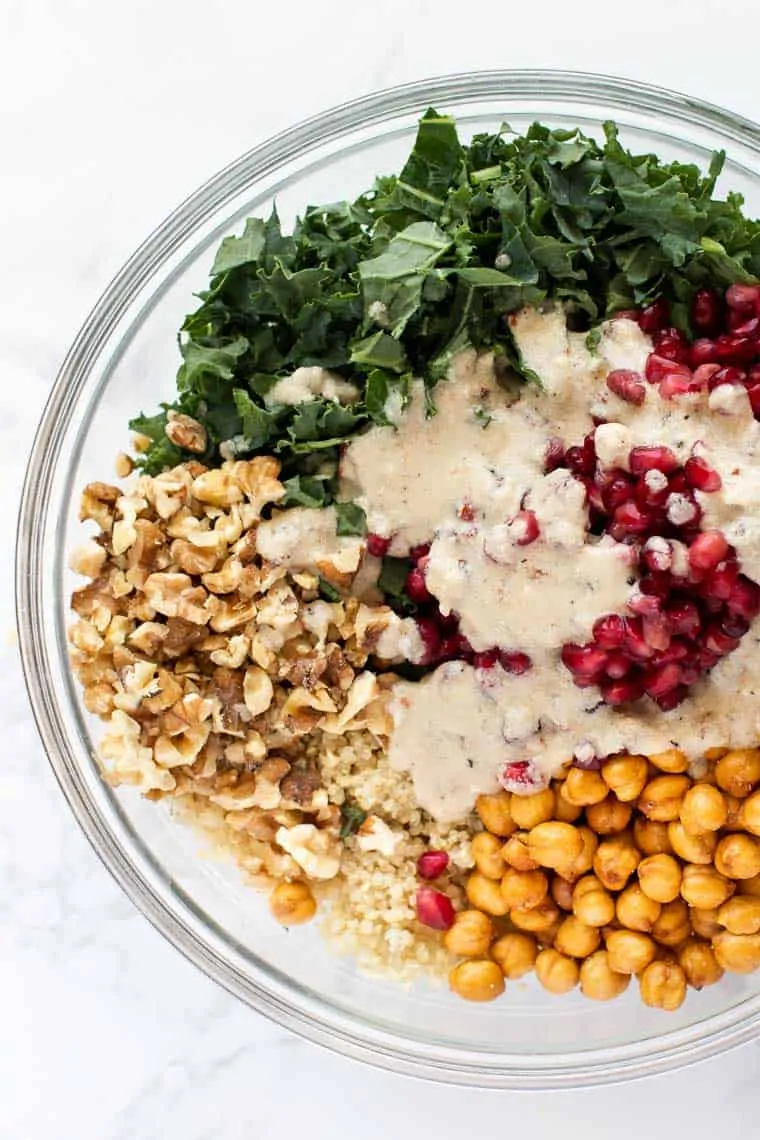 My Go-To Tahini Dressing
When I was initially planning this recipe, it was a toss-up on the dressings. I didn't know if I should go with one that was oil-based or one that was creamy-based.
Surprise, surprise, I went creamy!
I've been a longtime fan of tahini dressings and this one is go-to. I feel like I've probably talked about it before on the blog, but why not recap it again since we're here, right? So here it goes…
The ingredients for my go-to tahini dressing are:
Tahini (I like toasted)
White wine vinegar (although red wine & apple cider also work well)
Lemon juice
Garlic (fresh or dried)
Pepper flakes
And then just a bit of salt and pepper to round things out. Easy peasy! If this doesn't strike your fancy, I actually have a whole post dedicated to tahini dressings. Check out this post for how to make tahini dressing: 4 different ways!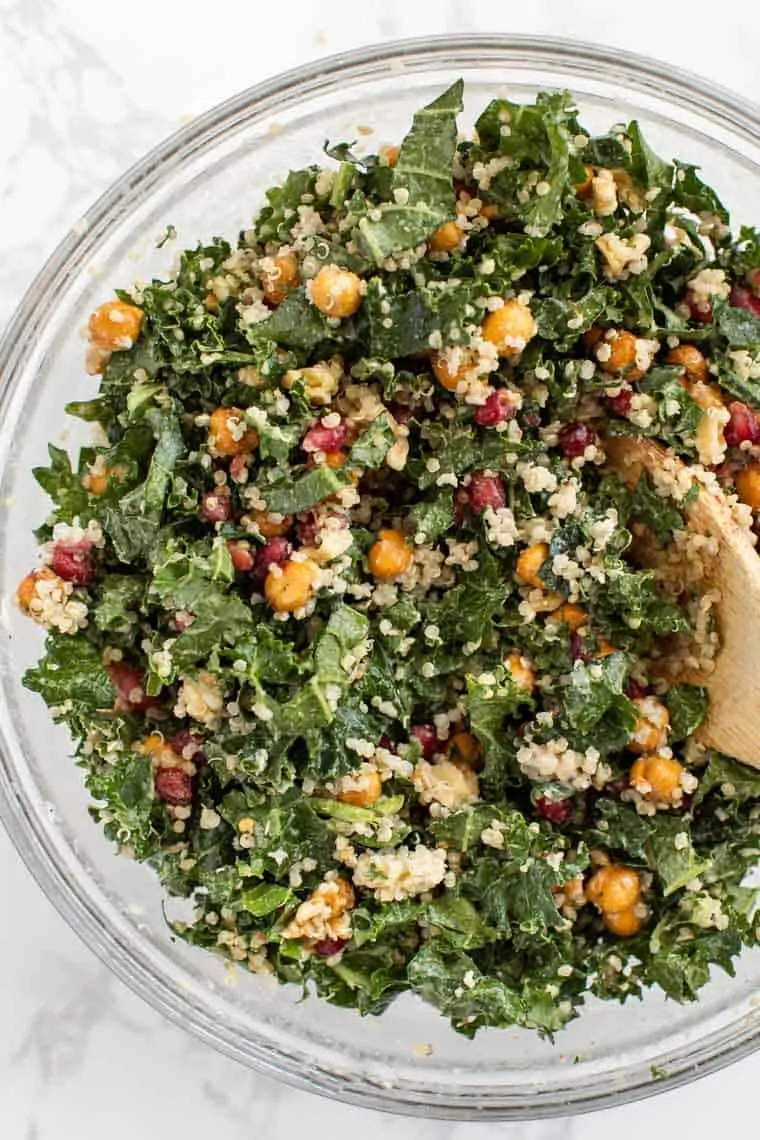 Ingredients for our Kale Quinoa Salad
For our salad, we're only using a few ingredients in our base. I picked these ingredients for a few reasons: taste, texture, and nutrition. We've got lots of protein and fiber in here to make sure this salad actually sticks with you AND it's got the perfect balance of sweet/savory, with just the right amount of crunch.
In addition to our tahini dressing, here's what we're using to make our salad:
Cooked quinoa: I like to use white quinoa for my salads because it's nice and fluffy. If you don't have white quinoa or have another variety, that will totally work as well. Red, rainbow, black or white can all be swapped out interchangeably.
Chopped kale: I like how kale holds up in salads like this, but you could also use another green if you so prefer! I think spinach, arugula, and even romaine would work well here.
Crispy chickpeas: for this salad, I went with store-bought crispy chickpeas, but they're also a cinch to make at home. Try this recipe for crispy chickpeas if you've got the time!
Pomegranate seeds: most of the time you can actually find pre-seeded pomegranates and that's what I did here (#lazybones!), but it's definitely cheaper to just buy a pomegranate. Either way, it's adding color, sweetness, and pop to this kale quinoa salad!
Chopped walnuts: last but not least our little dose of heatlhy fats! I love using walnuts because of their earthy flavor and kind of meaty texture, but you can totally swap these out for another nut or seed.
And with that tangy, slightly spicy dressing, it's just perfect!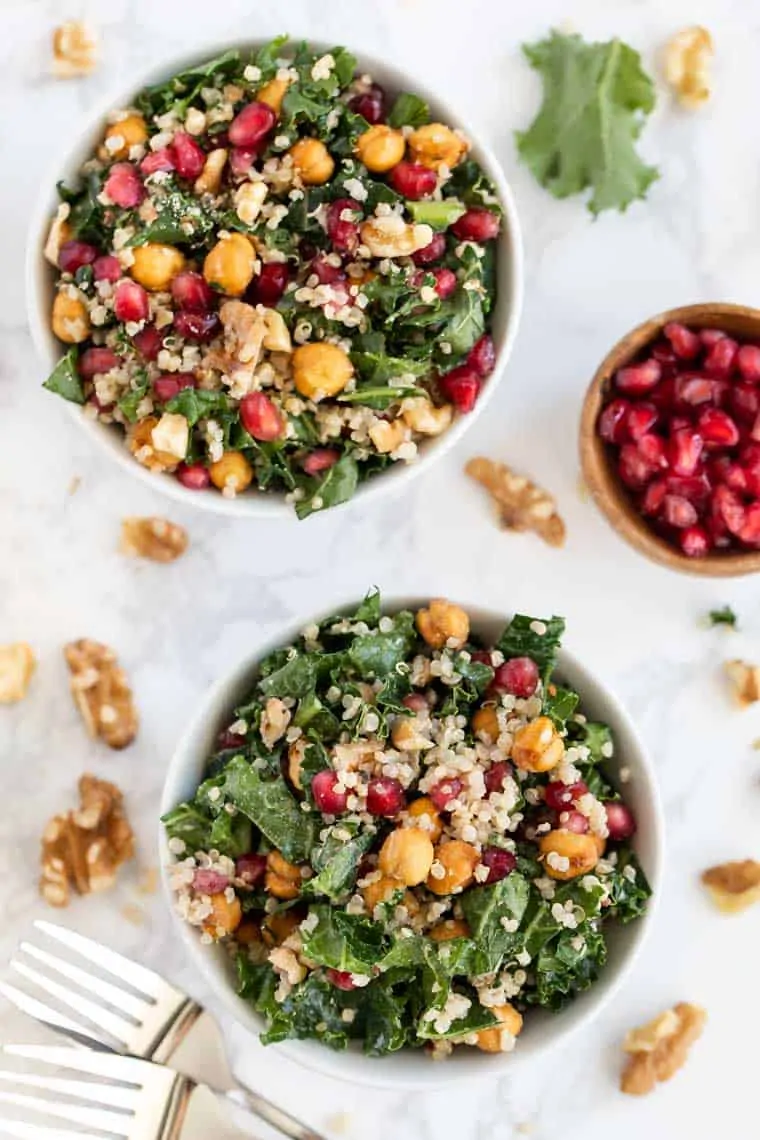 How to Make this Kale Quinoa Salad
Quinoa salads are super simple to make, especially if you have some cooked quinoa on hand. I typically call for cooked quinoa in my salad recipes because it's better to use cold quinoa. If the quinoa is warm and it gets mixed with other ingredients, it tends to get a little mushy and clumpy.
So…if you have some cooked quinoa on hand, awesome! And if you don't just make some and then let it cool before using it.
Now, let's see how to make this salad!
STEP 1
I like to start by making the dressing. You just whisk everything together and let it sit while you make the rest of the salad.
STEP 2
Assemble your salad ingredients! Make sure to finely chop up your kale, chop up your walnuts and measure everything else out. Once you've got that, add them into a mixing bowl.
STEP 3
Next, just pour that dressing right over your salad ingredients and toss it all together!
STEP 4
Time to enjoy! Whether you're eating this as its own meal, serving it as a side or topping it with your favorite protein, it's absolutely scrumptious!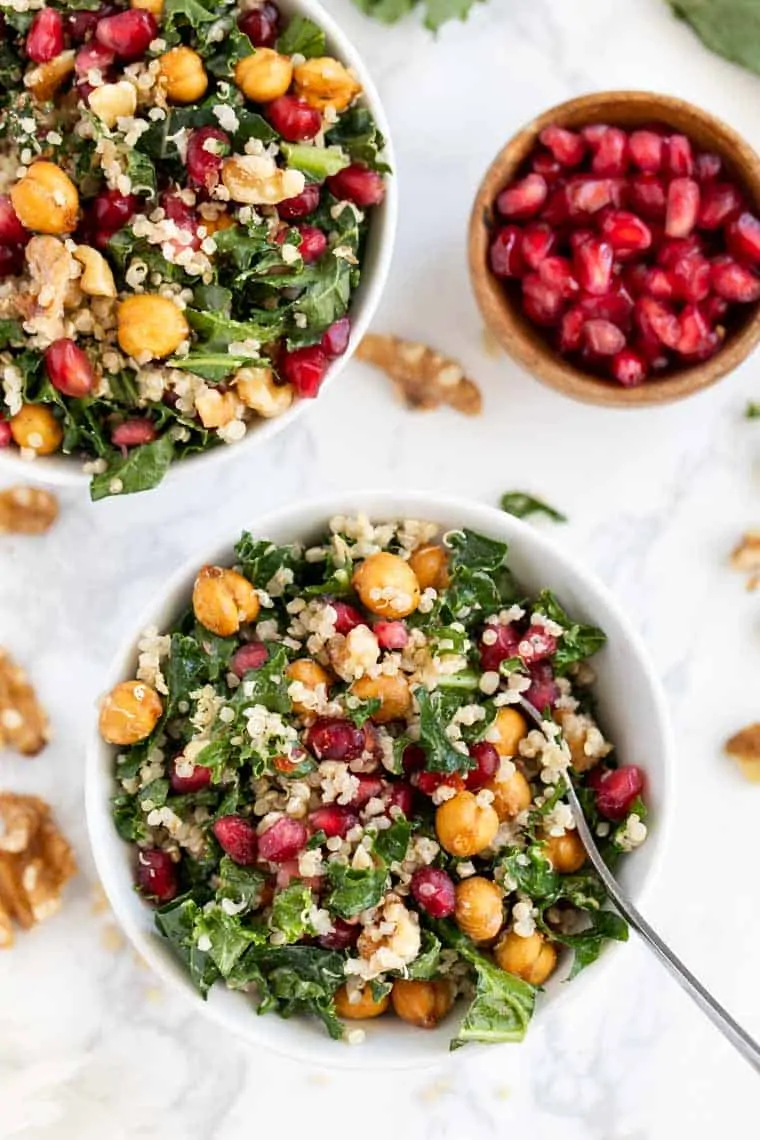 Why You'll Love This Salad with Pomegranate
There's so much to love about this salad! For starters, it's a cinch to make. You just have to make your dressing, chop your kale and walnuts, and toss everything together.
In addition to ease, it's also:
Vegan & gluten-free
Easily nut-free by using pumpkin/sunflower seeds instead of walnuts
Packed with protein (13g/serving!)
Packed with fiber (10g/serving)
Great for meal prep (keeps for up to 5 days)
Perfect as a side dish or protein flexible meal!
I mean really, is there anything more gorgeous than a salad with pomegranate on top!? I know you're going to adore this recipe and I can't wait to see your recreations!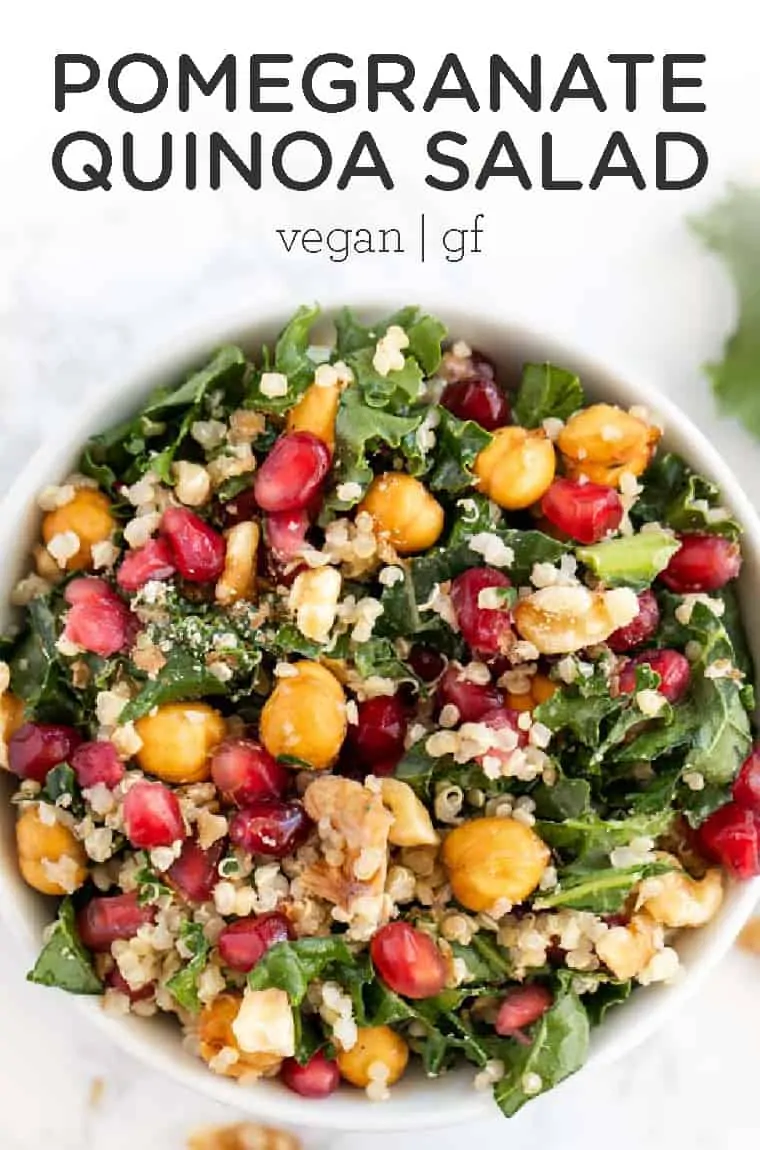 More Quinoa Salad Recipes to try:
Kale Quinoa Salad with Pomegranate
This healthy kale quinoa salad with pomegranate is easy to make, packed with flavor and full of good-for-you ingredients! We've got kale, quinoa, walnuts, chickpeas and more!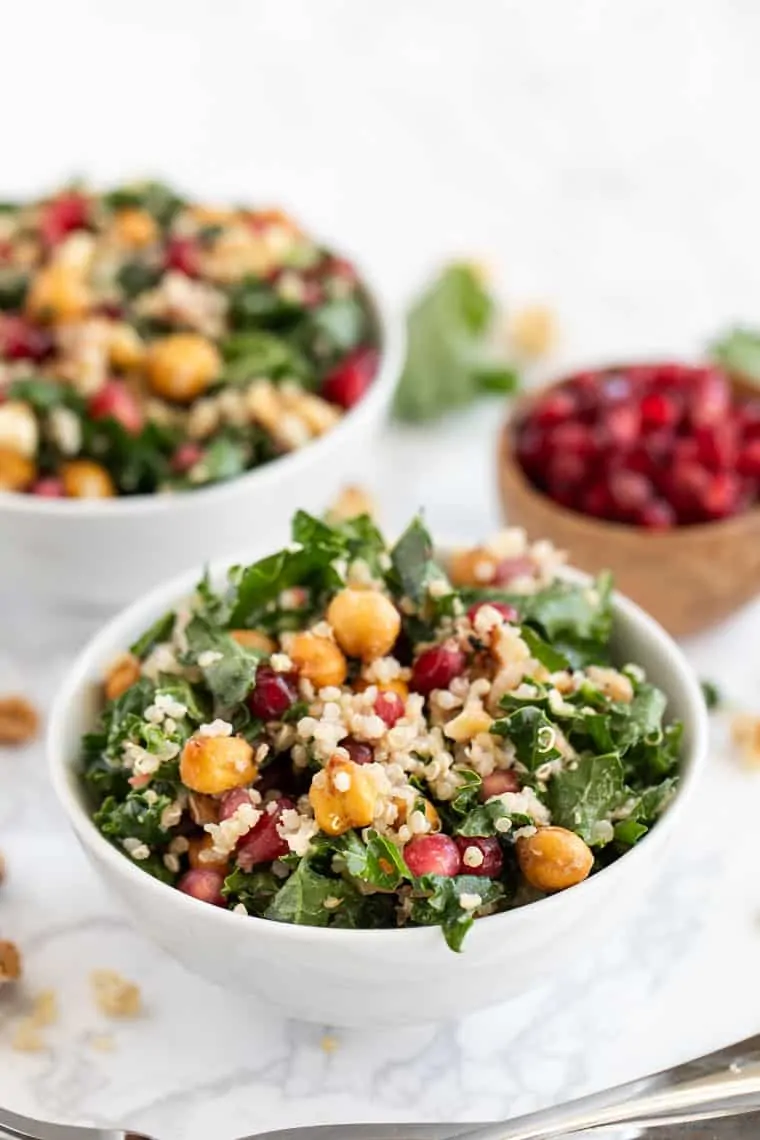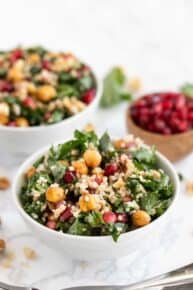 Ingredients
for the dressing:
1

tablespoon

tahini

1

tablespoon

white wine vinegar

Juice of 1/2 a lemon

1

garlic clove

, grated (or 1/2 teaspoon garlic powder)

Pinch

of pepper flakes

Salt & pepper to taste
Instructions
Add all the salad ingredients into a large mixing bowl. Set aside.

In a separate bowl, combine all the dressing ingredients. Pour the dressing over the salad and toss thoroughly to combine.

Allow the salad to sit for 10 - 15 minutes and then serve. Keep in the fridge for up to 4 days.
Nutrition
Serving:
1.5
cups
|
Calories:
373
kcal
|
Carbohydrates:
50
g
|
Protein:
13
g
|
Fat:
16
g
|
Saturated Fat:
2
g
|
Sodium:
26
mg
|
Potassium:
691
mg
|
Fiber:
10
g
|
Sugar:
13
g
|
Vitamin A:
3347
IU
|
Vitamin C:
48
mg
|
Calcium:
113
mg
|
Iron:
4
mg
Filed Under: