Here are 25 of the best healthy quinoa salad recipes that are perfect for Spring from salads with greens, to fruit, and protein. There are allergy-friendly, gluten-free + vegan recipes included in the round-up!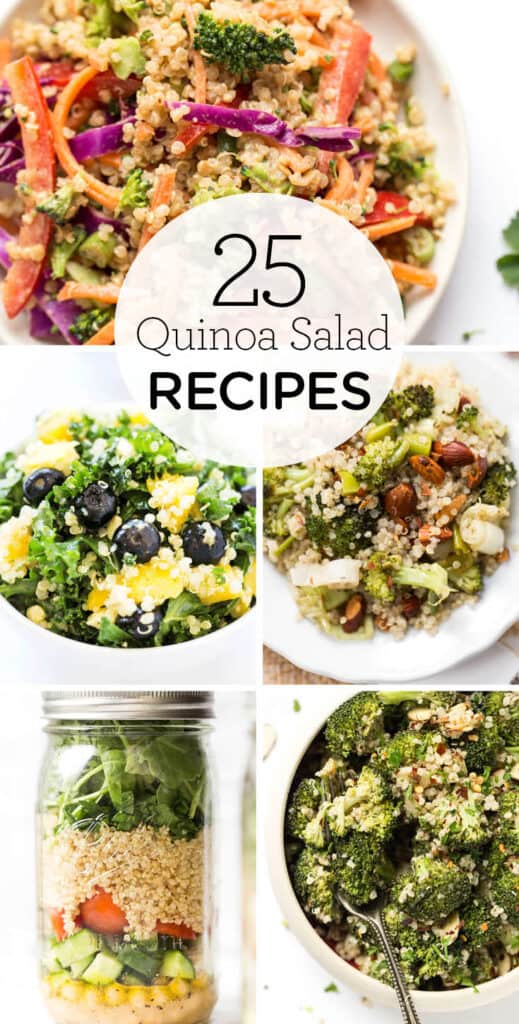 Who else is ready for spring?!
My countdown is officially on for winter to be over. I am ready to trade in my winter jacket and boots for sunshine and fresh flowers. The idea of bundling up in my jacket, boots, and all the other layers is daunting to me at this point. We've had a couple of days of promising temperatures and longer days, so my fingers are crossed for a speedy spring arrival (contrary to what Punxsutawney Phil had to say).
One of my favorite parts about the seasons changing is the produce! Goodbye random root season, hello asparagus, strawberries, avocados, and so much more!
It will be time to move on from soups, stews, and my warm salads, and have instead been making fresh, seasonal dishes that are light, bright, and totally springlike.
Today, I'm hoping to inspire you to get excited about spring and join me in drooling over these 25 absolutely perfect spring quinoa salad recipes.
This wild rice quinoa salad is the perfect recipe to make for spring. It has a bed of baby spinach, lightly steamed asparagus, and a lemon-turmeric dressing!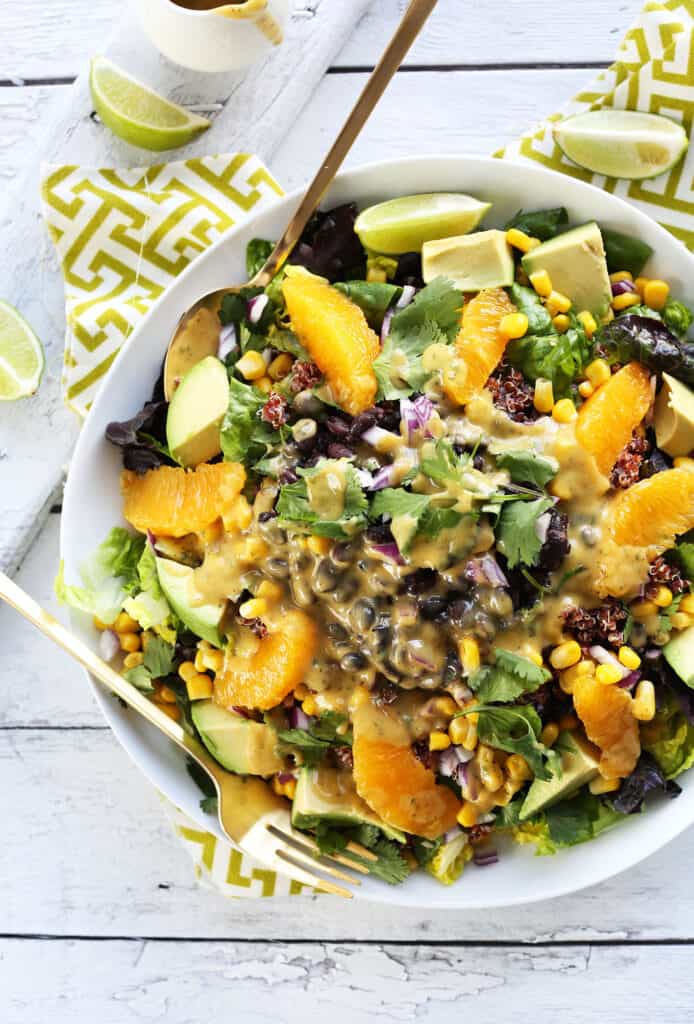 An easy, 30-minute Mexican-inspired salad with quinoa, corn, black beans, avocado, and a creamy orange, lime, and chili dressing! Healthy, delicious, and so satisfying.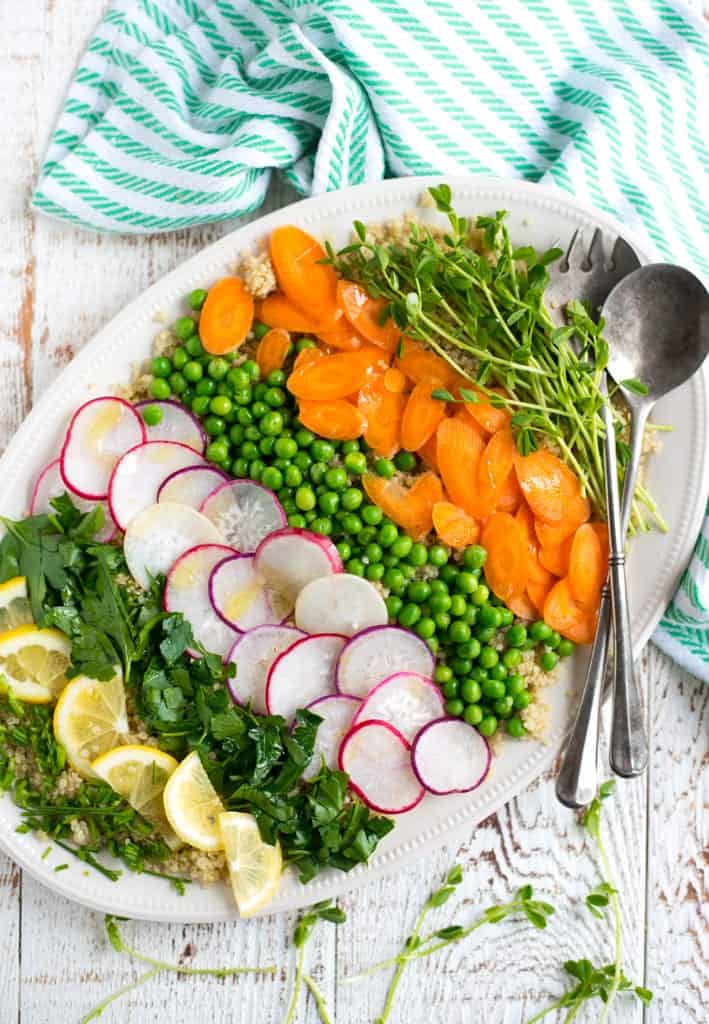 Celebrate the freshness of spring with Vibrant Spring Quinoa Salad! Packed with veggies and tossed with a simple homemade lemon-chive dressing, this easy, tasty salad is perfect for brunch, lunch, or as a side.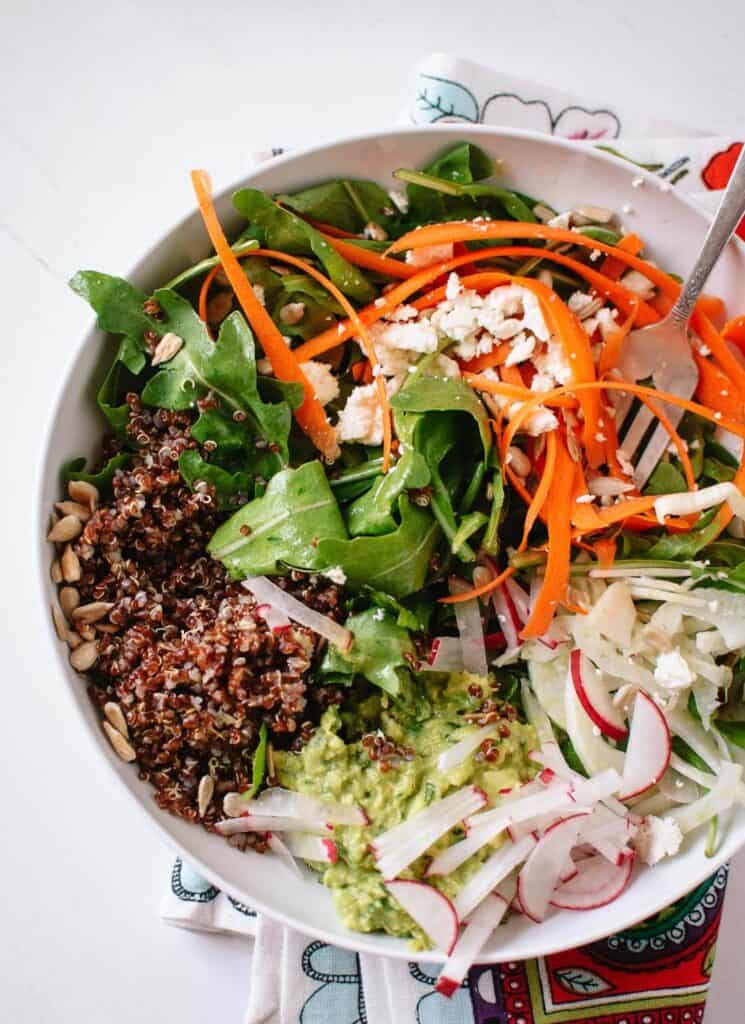 This fresh and filling springtime salad features carrots, radishes, fennel, garlicky quinoa, and herbed avocado, all tossed in a simple lemon vinaigrette.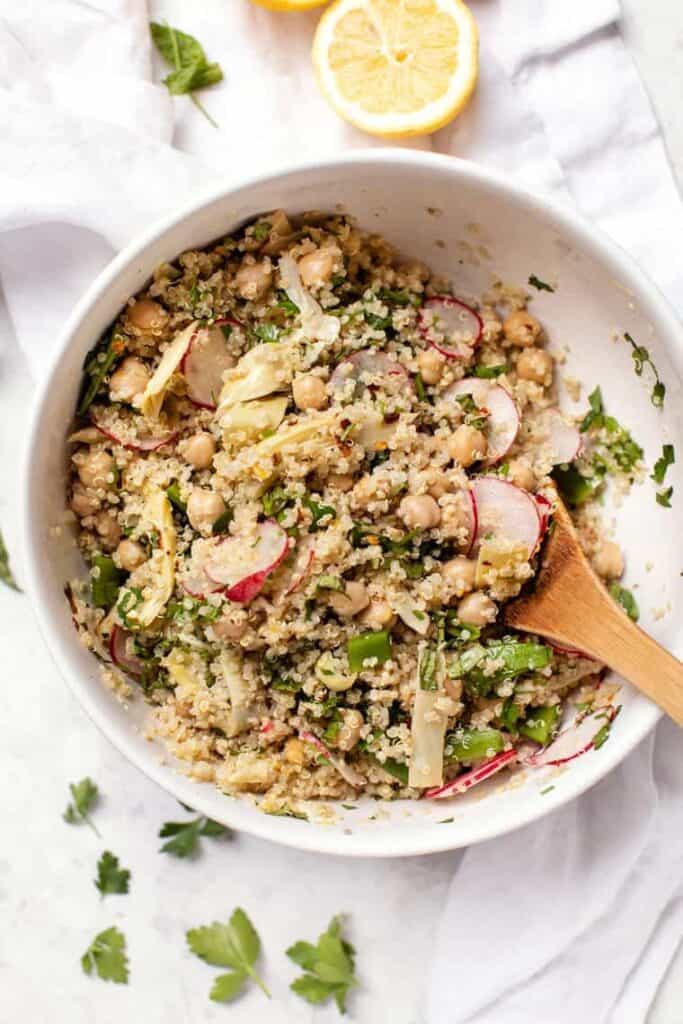 This healthy spring quinoa salad is made with fresh, seasonal veggies and tossed in a tasty lemon vinaigrette. It's also naturally gluten-free and vegan!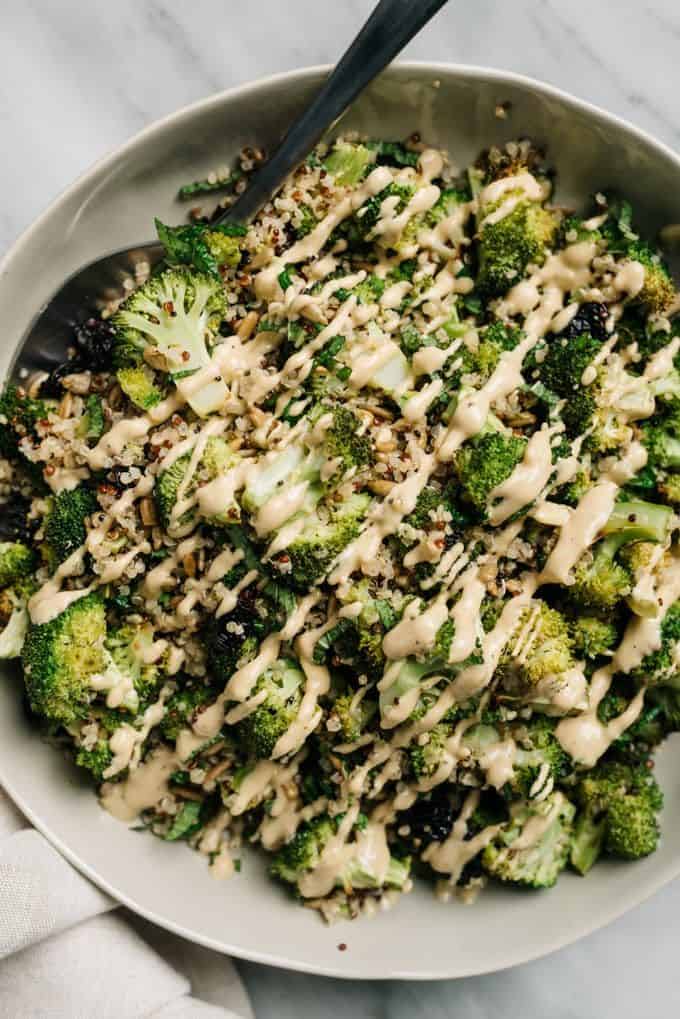 In just thirty minutes you can become the envy of the block or the lunch table with this delightfully delicious roasted broccoli quinoa salad.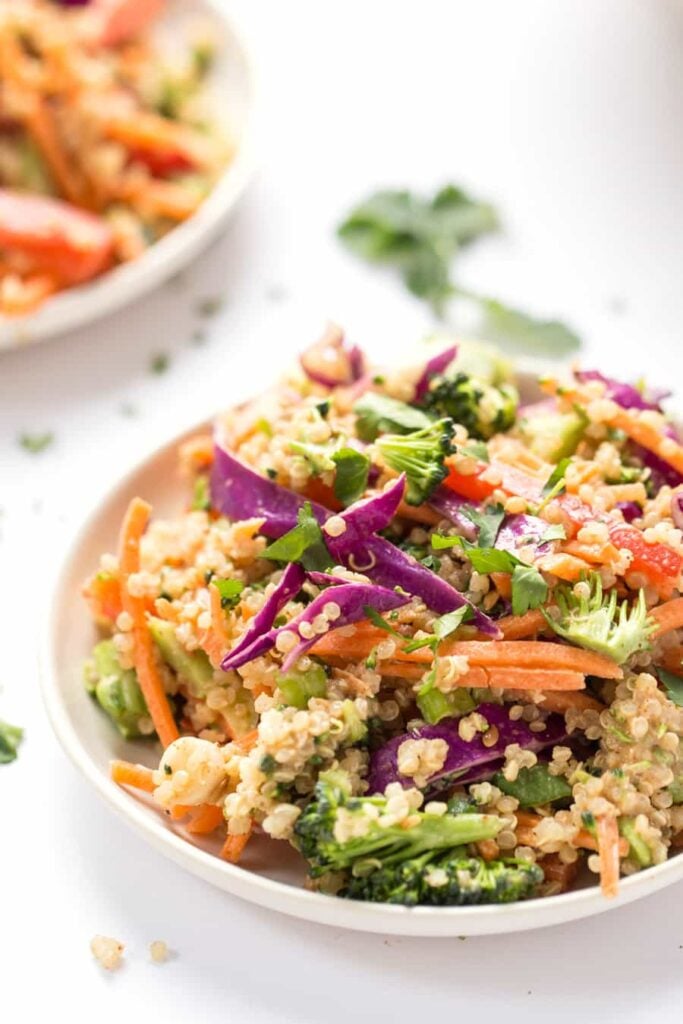 This simple Thai Quinoa Salad is peppered with a rainbow of veggies and tossed in a creamy almond butter sauce! Tastes like pad thai, but in salad form!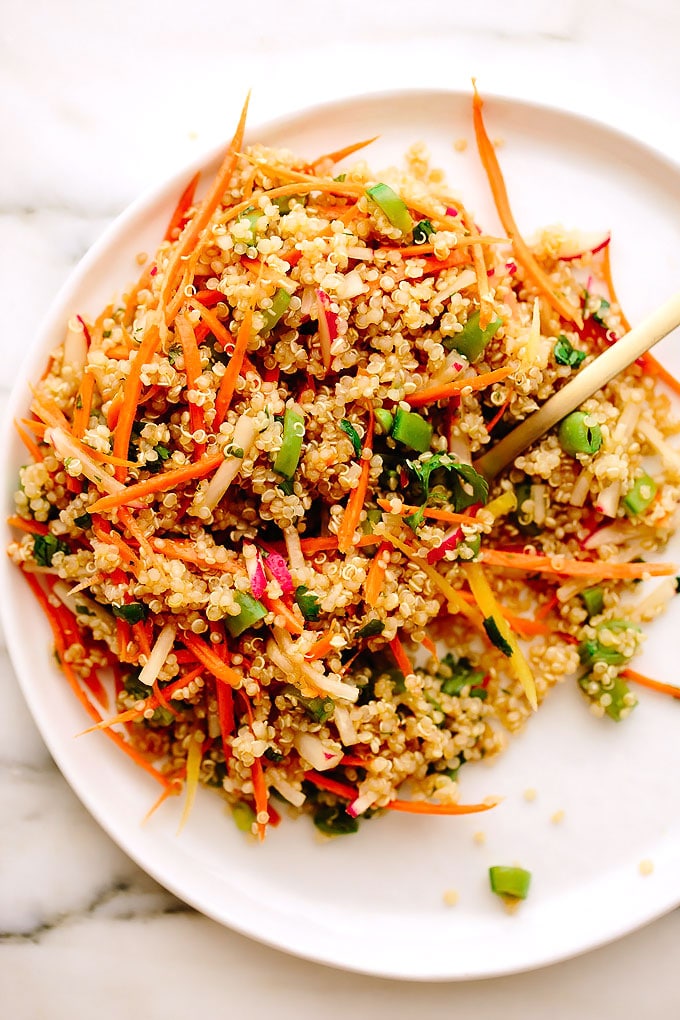 This spring quinoa salad with sesame-maple dressing is as addictive as it is colorful. Fluffy quinoa is tossed with sugar snap peas, carrots, radishes, cilantro, and a sweet 'n' salty sesame-maple dressing. This simple salad comes together in about 30 minutes and is ideal for lunch or a light dinner.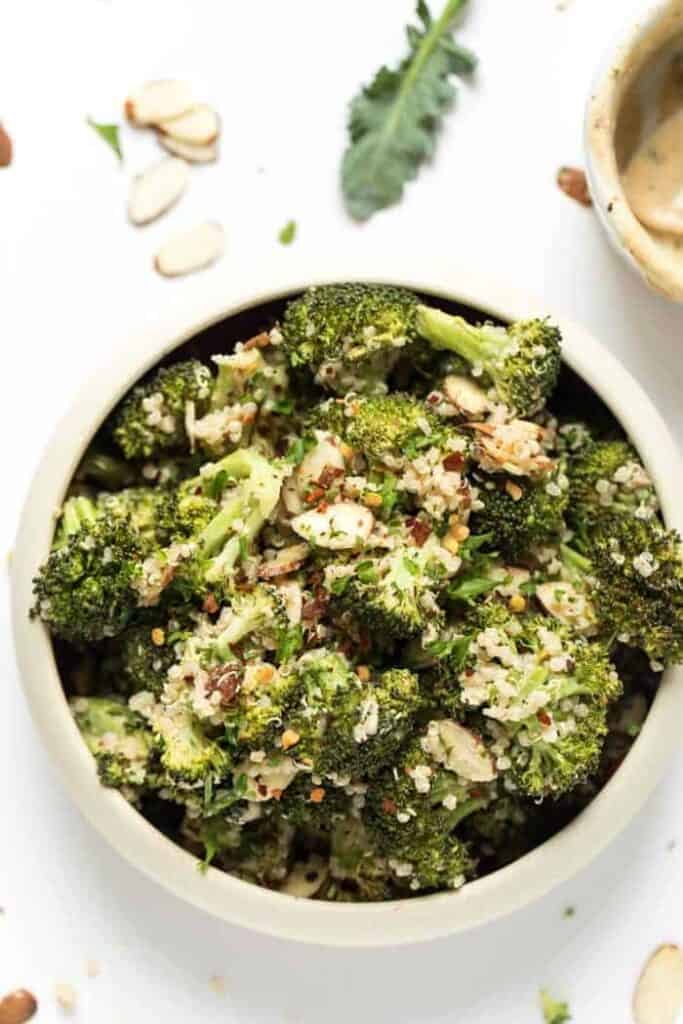 This healthy broccoli quinoa salad is tossed with a creamy cashew dressing and makes for a filling, yet surprisingly light side dish. It's also vegan, gluten-free, and high-fiber too!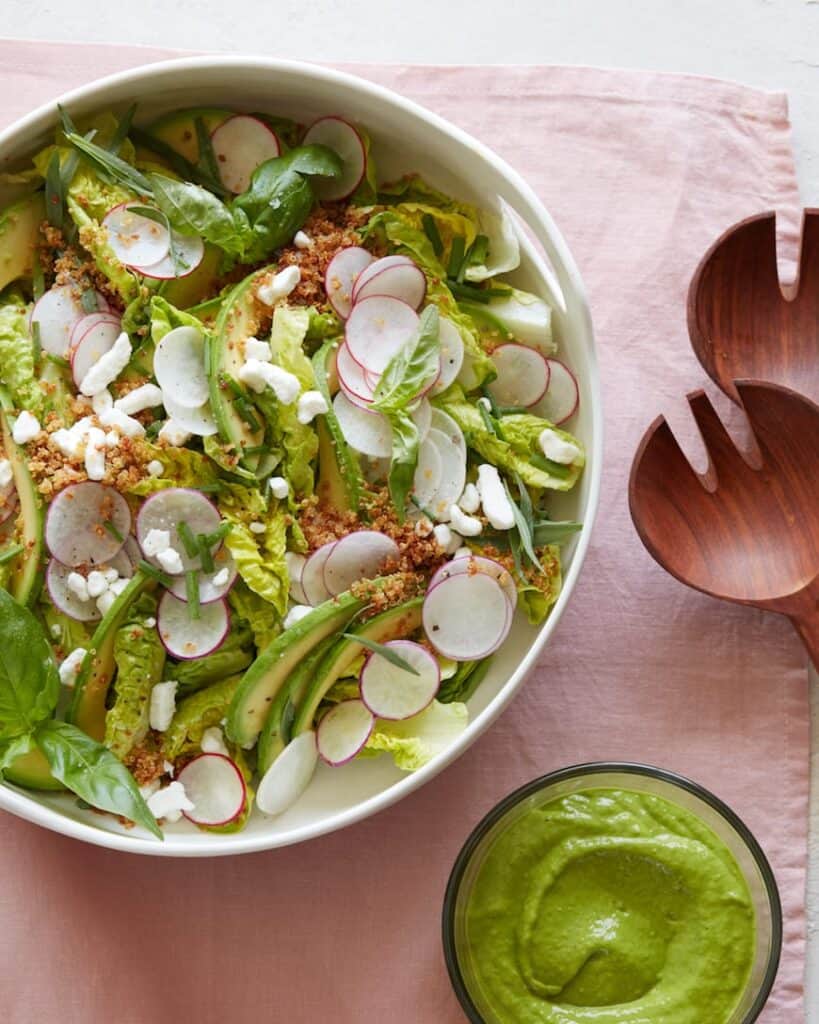 This Crispy Quinoa Spring Salad is the perfect way to welcome a bit of spring into the kitchen!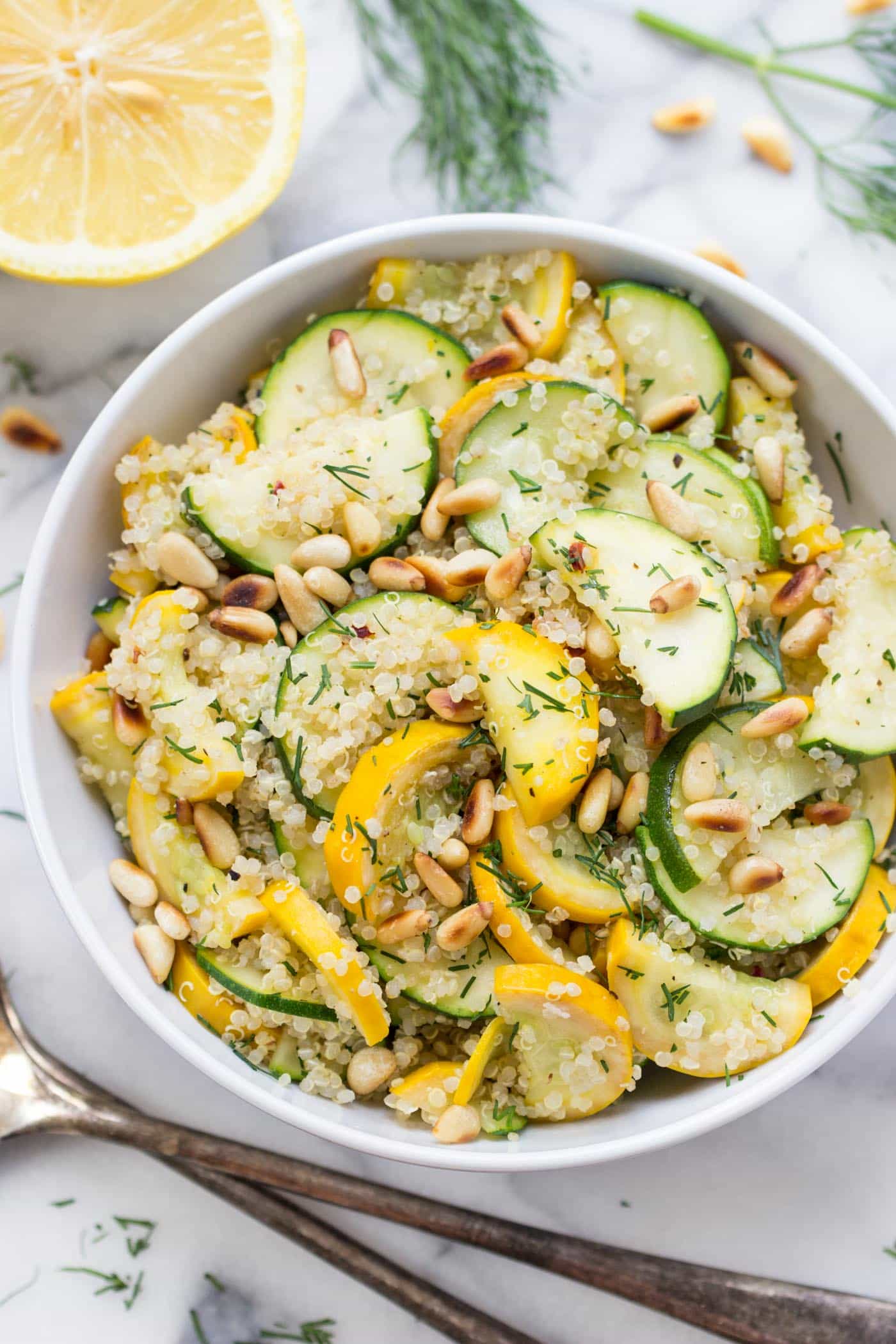 A healthy spring and summer dish, this zucchini quinoa salad is packed full of veggies, is dressed with a quick lemon-dill dressing, and topped with toasted pine nuts!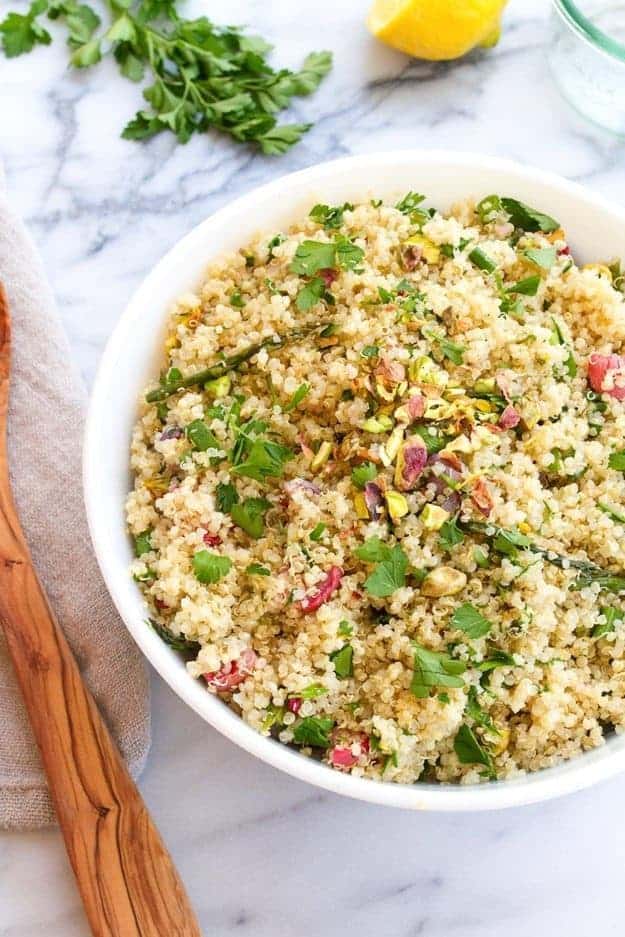 Roasted asparagus and radishes are the stars of this fresh and flavorful springtime quinoa salad. Perfect as a make-ahead lunch option or a potluck side dish. Vegan and gluten-free.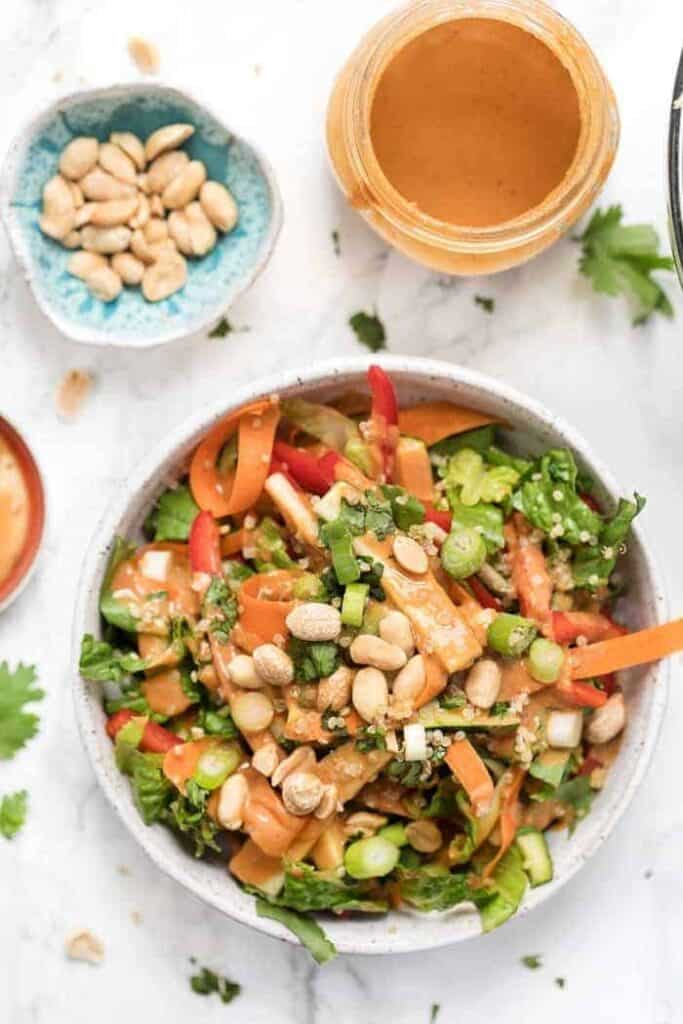 A healthy pad thai salad with a creamy peanut butter dressing, topped with cooked quinoa and roasted cashews for added protein and an extra crunch.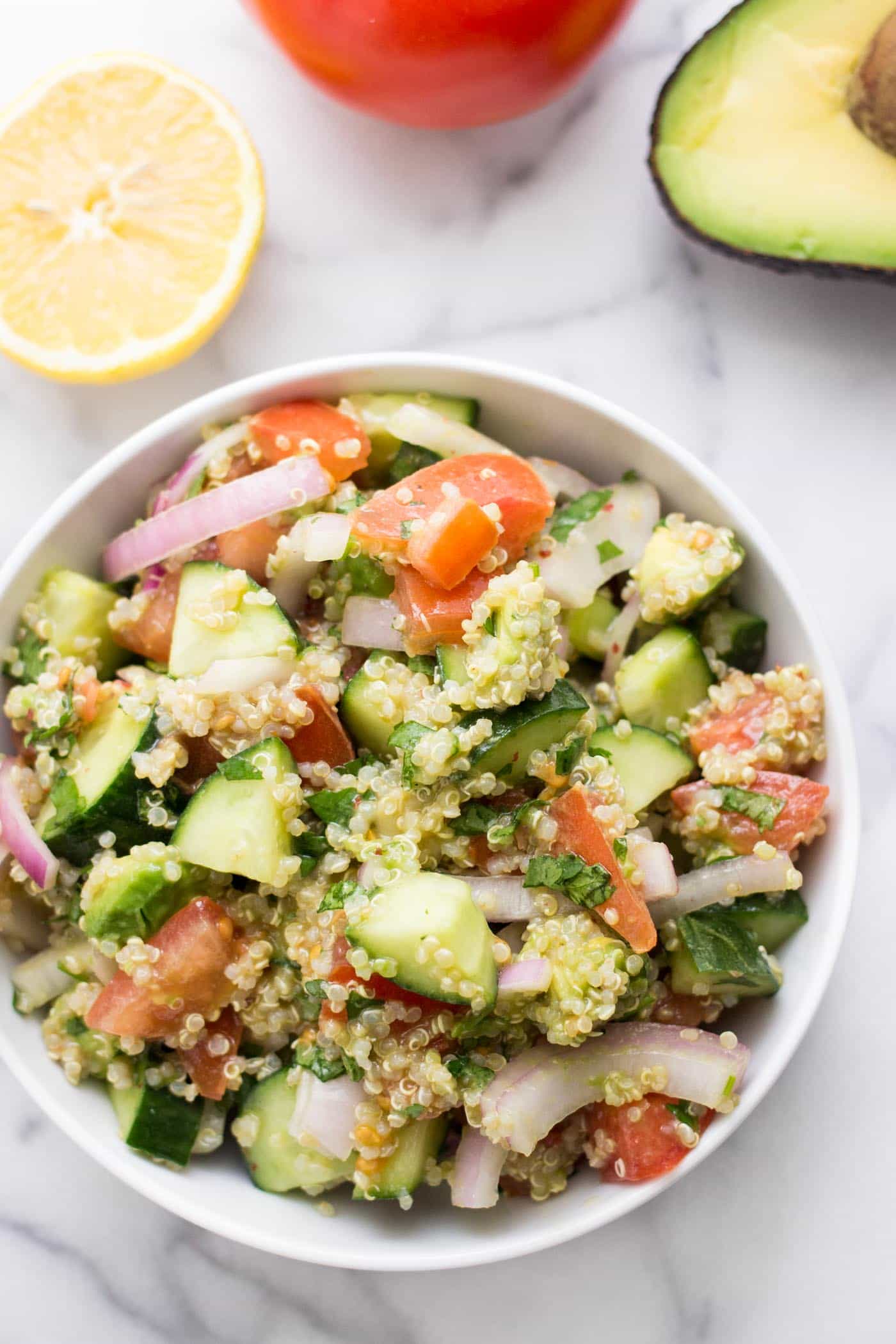 A simple avocado quinoa salad with crunchy cucumbers and juicy tomatoes. It's light, refreshing, and simple to make, and is perfect for a springtime picnic!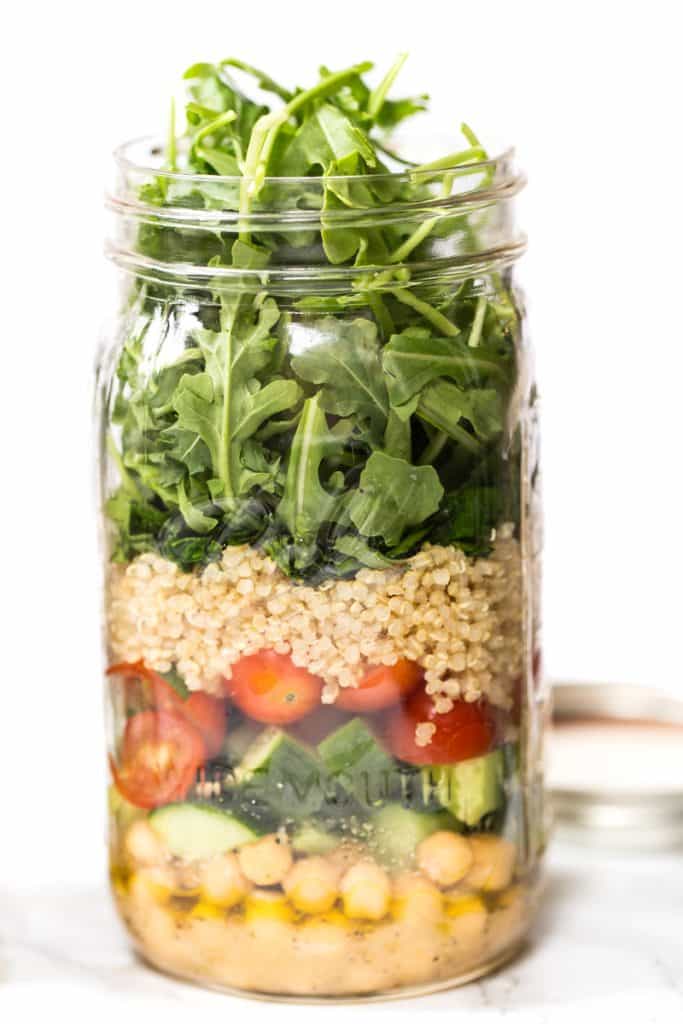 These Chickpea & Quinoa Mason Jar Salads are a quick and easy way to have a healthy lunch at the office! Layered to ensure nothing gets soggy, they're the perfect way to get in your veggies!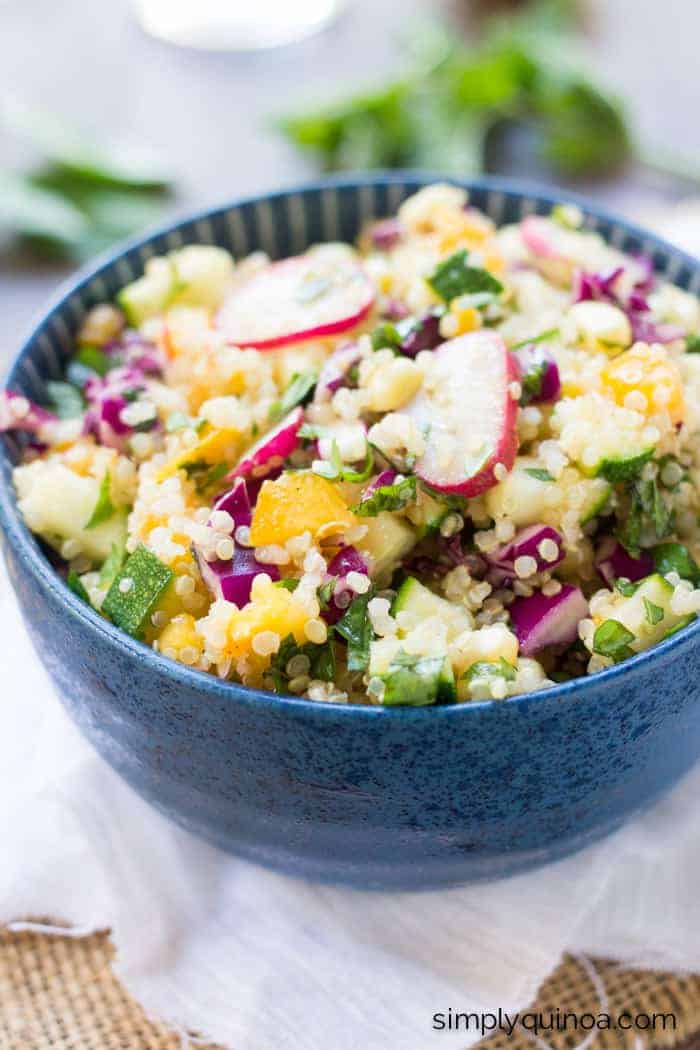 A quick and easy quinoa salad recipe using locally sourced vegetables from the farmer's market. It also can be customized to whatever you have on hand!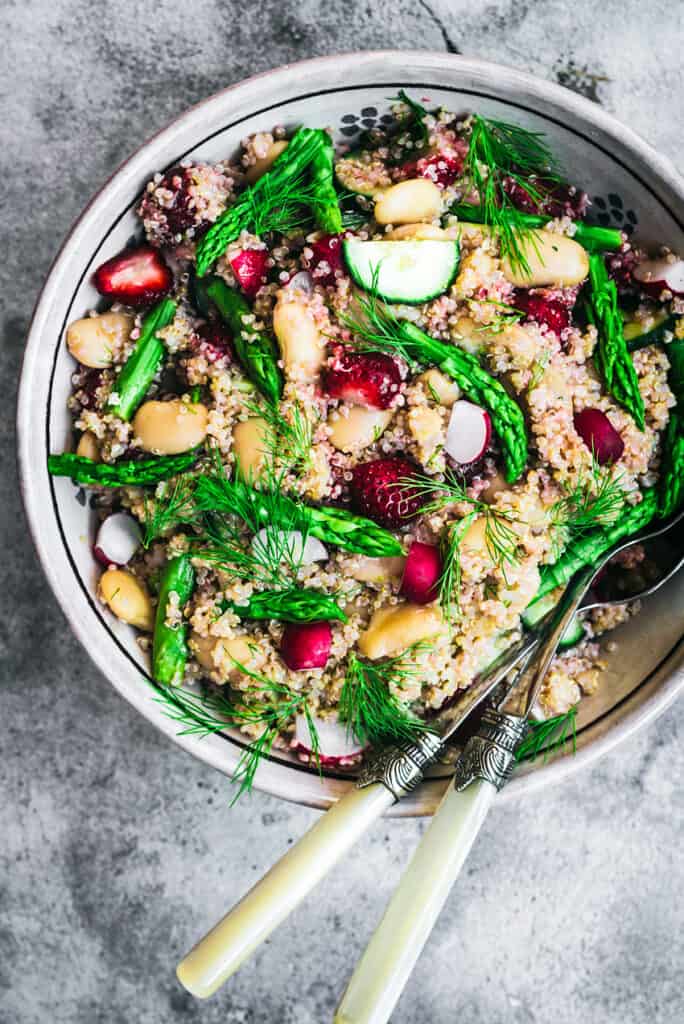 This spring-inspired vegan strawberry and asparagus quinoa salad is filled with the best of the season, featuring radishes, cucumbers, and dill alongside buttery white beans. Protein-packed, gluten-free, and perfect for a light dinner or packed lunch.
Quinoa Salads with Fruits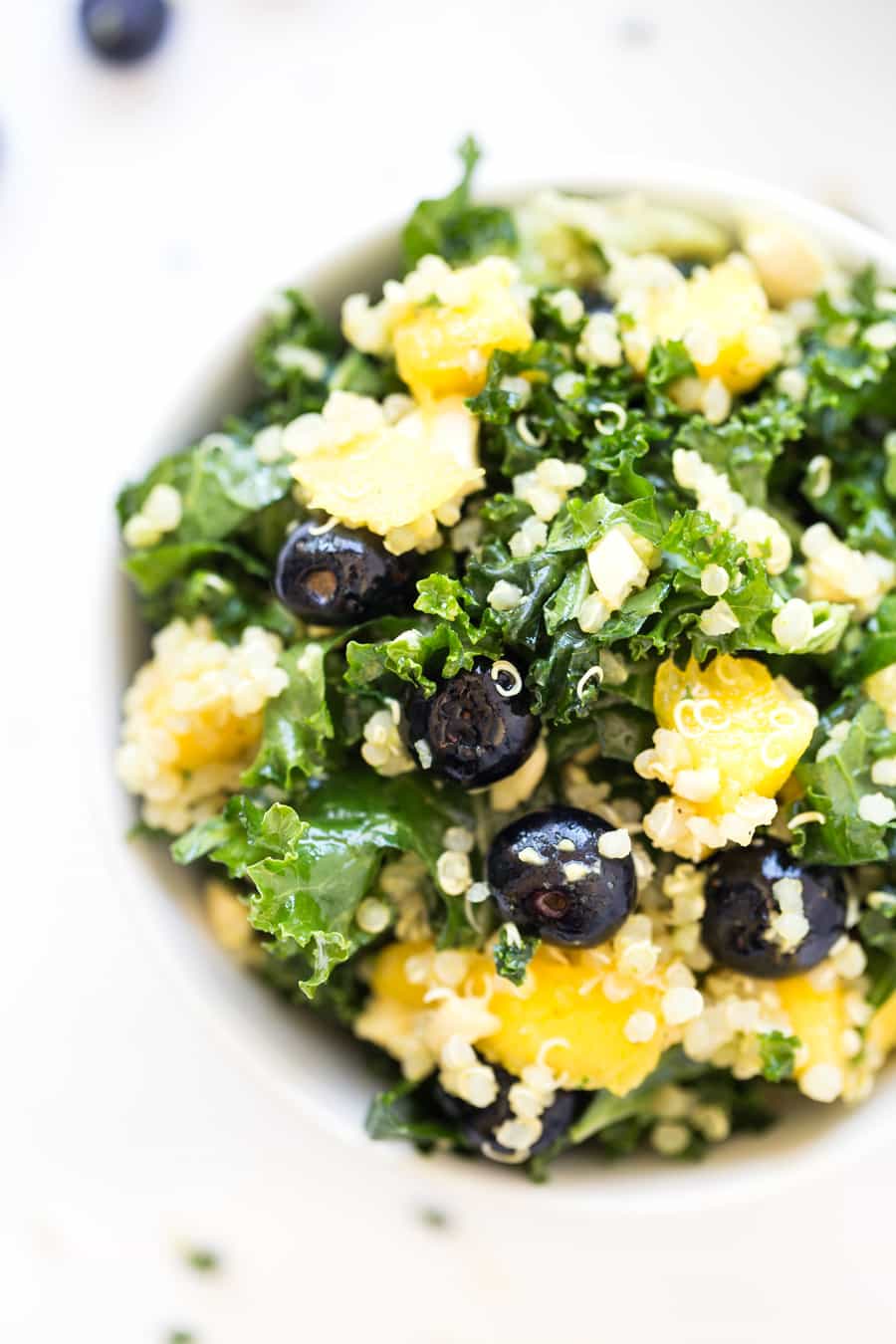 A healthy, nutrient-packed salad, this Tropical Kale & Quinoa Power Salad is a perfect lunch or side dish recipe. It comes together in 10 minutes and stores well for leftovers!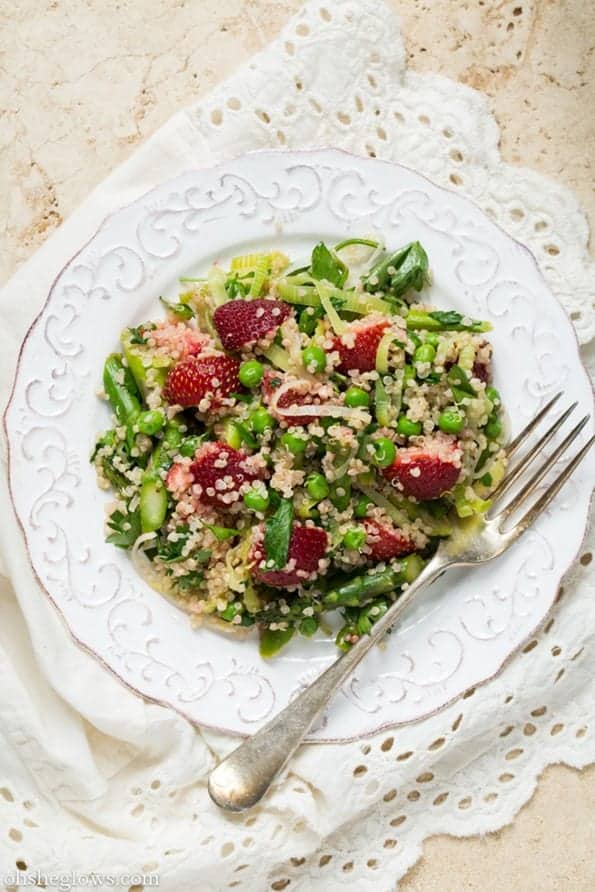 A simple recipe for Quinoa Asparagus Salad ( aka Spring Tabouli). A healthy, flavorful salad that can be made ahead- perfect for special gatherings or midweek lunches! GF & Vegan adaptable!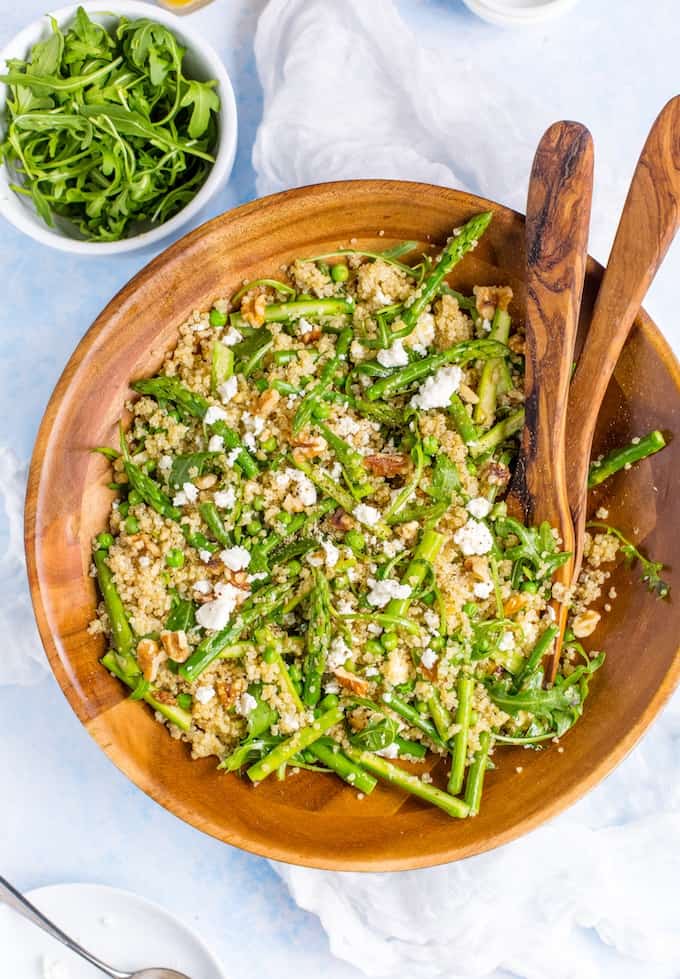 Spring Quinoa Pea & Asparagus Salad
from A Saucy Kitchen
Bright flavors and crunchy textures – only ten ingredients needed to make this simple, speedy salad! Gluten-Free + Vegetarian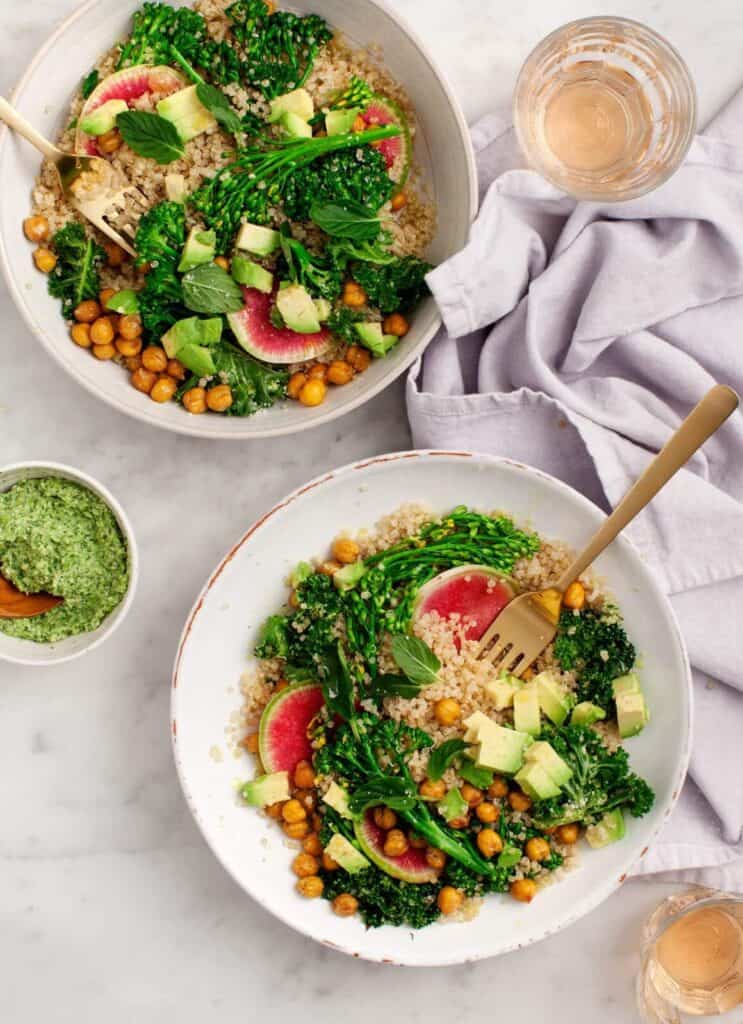 This quinoa salad is a great lunch or healthy dinner. Loaded with kale, roasted chickpeas, crunchy veggies, and bright pea pesto, it's healthy, vegan & gluten-free.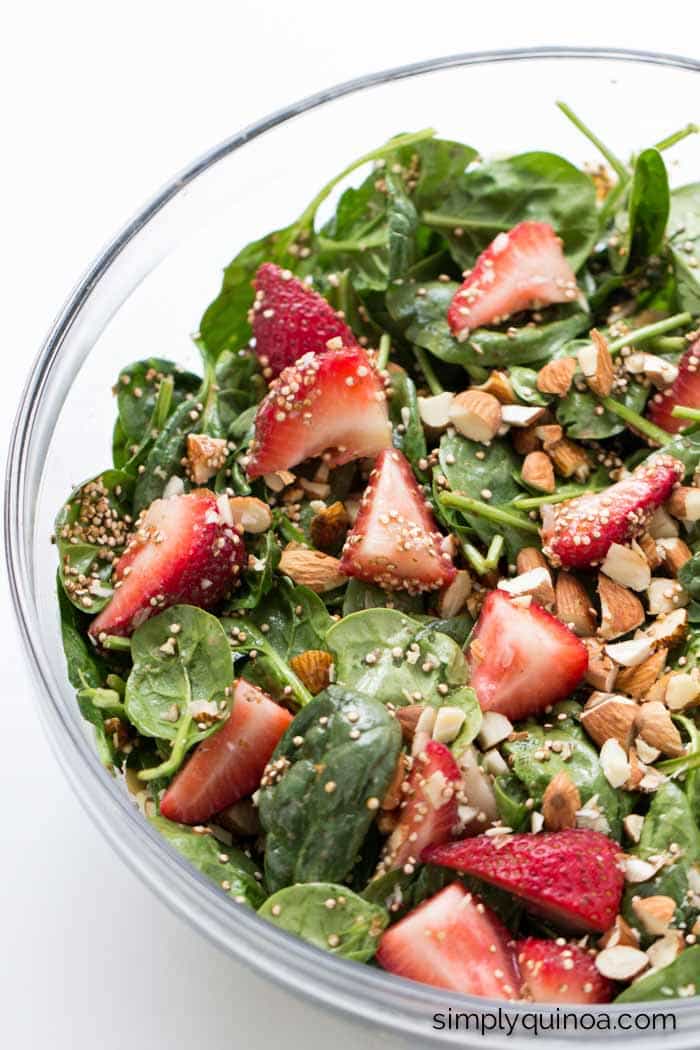 This delicious strawberry spinach salad is made with toasted quinoa and chopped almonds, then topped with a fresh honey-lime + mint dressing.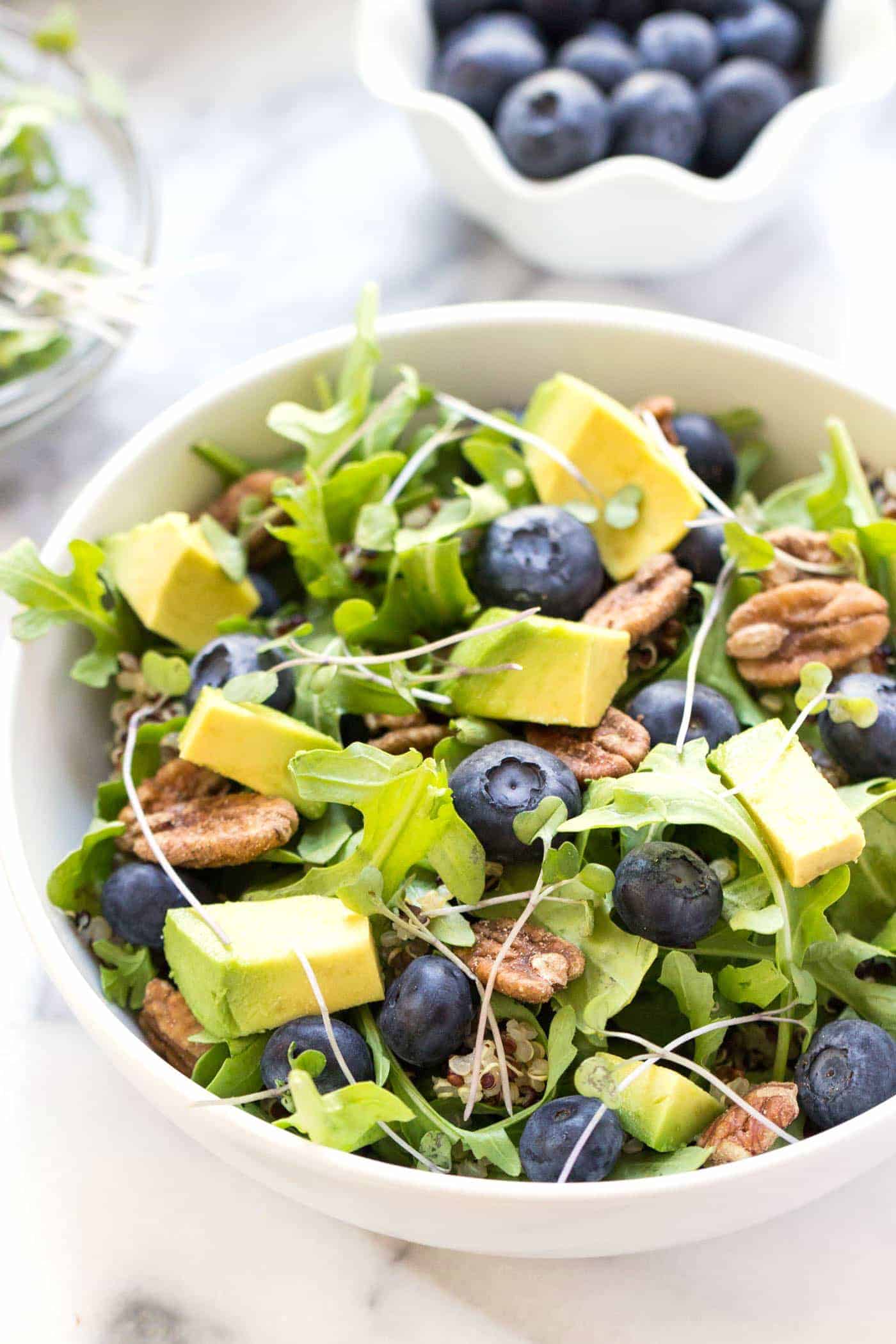 This healthy quinoa power salad is packed with detoxifying ingredients and is perfect for summer. High in protein, fiber, and vitamins, it's also vegan + GF!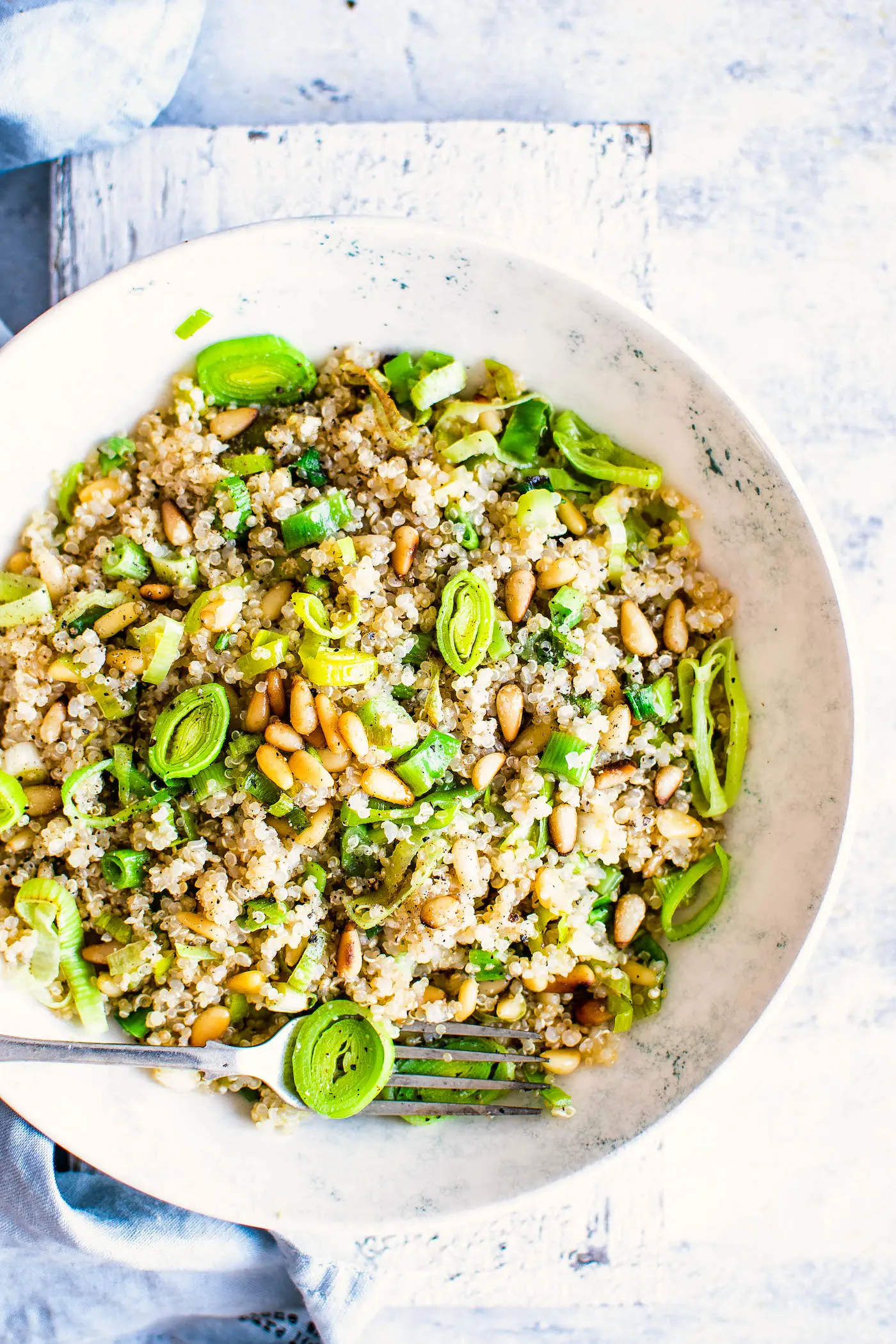 A simple yet healthy quinoa salad recipe that is perfect for meal prep, holiday side dish, or a wholesome vegetarian meal! This salad makes is naturally gluten-free, rich in plant-based protein, and vegan friendly. A Spring Vegetable dish that's ready to eat in 30 minutes.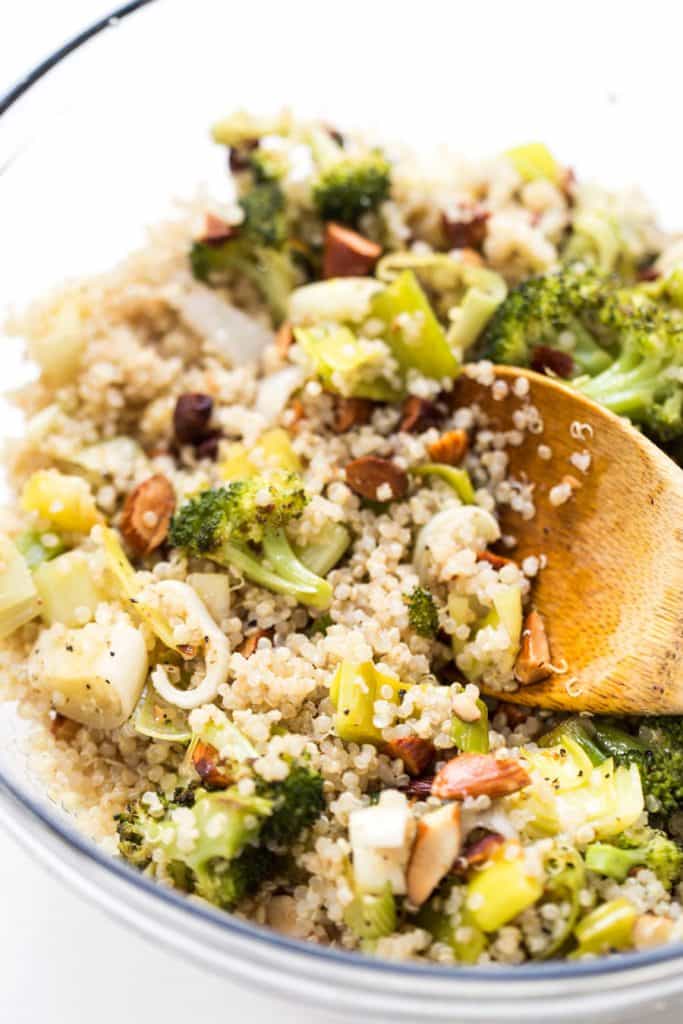 This Roasted Leek & Broccoli Quinoa Salad is light and flavorful with a honey-lemon dressing! Perfect as a spring side, but easily bulked up with a protein!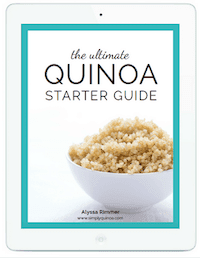 New to cooking quinoa? Grab your FREE Quinoa Starter Guide!
Become part of the Simply Quinoa community and receive weekly emails with exclusive content that I only share in email, as well as my in-depth guide to starting your quinoa journey.
share what you make
Tag #simplyquinoa on Instagram with your creations! We love sharing what you make with the community. We can't wait to see!

follow on instagram