45+ Best Delicious Tofu Recipes
Here's a list of the 45+ recipes using tofu! We've got everything from breakfast, quinoa bowls, lunches & dinners, and even desserts. We're giving you so many delicious ideas to use up your tofu with lots of healthy vegetarian, vegan and gluten-free recipes.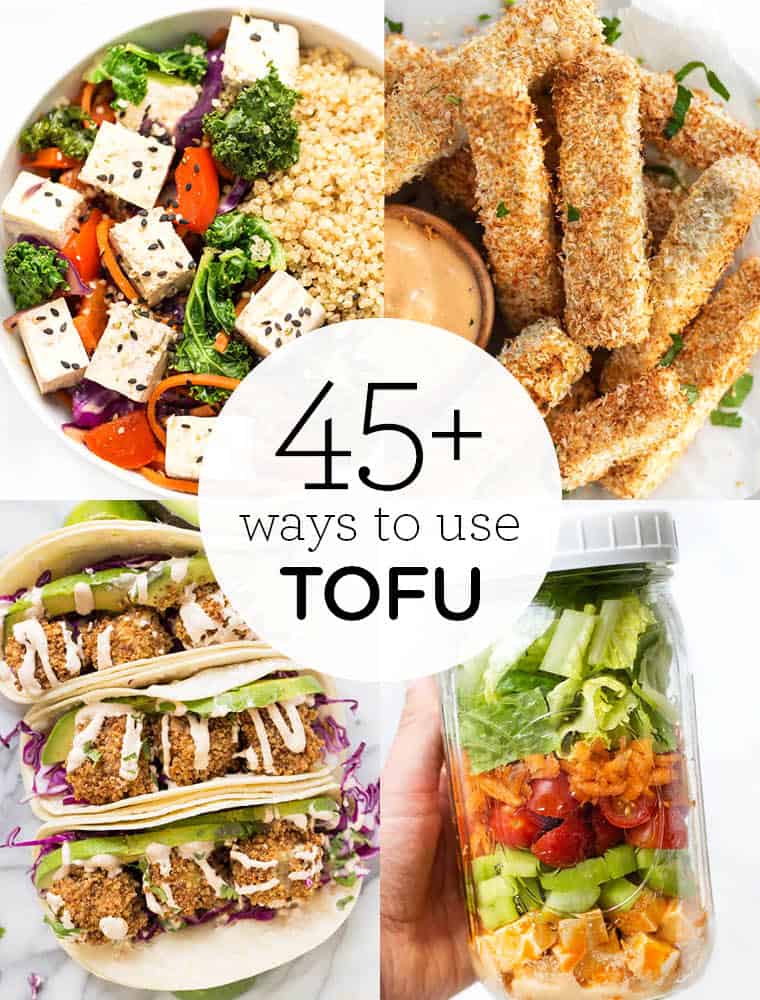 Let's talk TOFU. Tofu is definitely my favorite plant-based protein since it's healthy, loaded with fiber, and low in saturated fat. It's incredibly versatile and easy to spice up – you can enjoy it grilled, baked, crispy, soft, and you can even make desserts with it! It soaks up flavor and seasonings well so it can be used in any type of dish – Asian, Indian, Mexican, you name it. I really don't know if there is a more adaptable ingredient than tofu – plus it's delicious!
Today I've rounded up over 45 delicious and healthy recipes that use tofu. We've got everything you could ever dream of: breakfast tacos, vegan quinoa sushi bowls, mason jar salads, noodle bowls, even cheesecake!
I've chosen recipes that are mostly vegan, vegetarian, and gluten-free, so there's something for everyone to love here. Tofu is one of my favorite plant-based proteins, and I hope you enjoy this list as much as I do. Let me know which recipe you're most excited to try by leaving a comment below!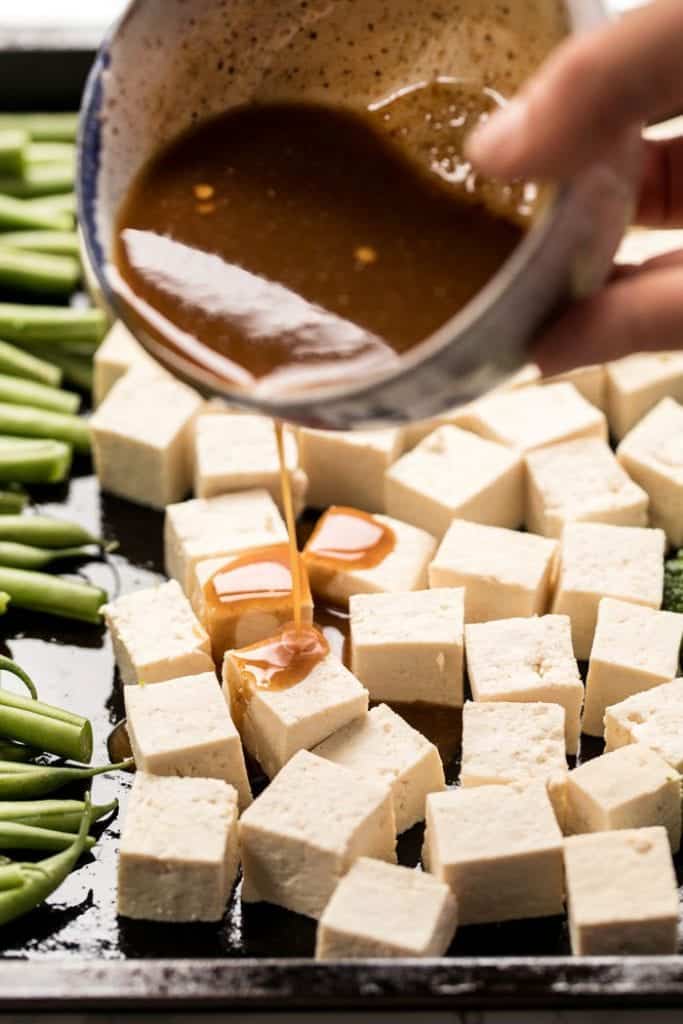 Is Tofu Healthy?
Tofu is super healthy and it's one of my favorite plant-based staples. One thing to keep in mind with tofu: make sure to buy 100% organic tofu. That will mean that your tofu is non-GMO.
Regular/Firm/Extra Firm Tofu – Which to Use?!
There are lots of different types of tofu: silken, firm, extra firm, super firm. All four have different uses, but for the most part, you want to go for extra firm or super firm. This type of tofu will bake up best, it will get crispy, and it will hold its texture best. Silken is often used to blend things, but firm can be used as well, it just needs to be pressed first.
How to Press/Drain Tofu
Pressing tofu is a step you'll want to take if you're looking for crispy tofu. If you don't need crispy, you don't need to bother! For pressing tofu, you can do two things:
Use a tofu press which is a tool you can purchase with the explicit use to drain your tofu
Place something heavy on top of your tofu (which is what I do) like books, a tea kettle, cast iron skillet, etc.
From there, you'll just let it sit for a good 20(ish) minutes, and then you're good to use it!
Tips for Cooking with Tofu
For me, the best way to cook tofu – if you want to preserve its texture – is to bake it. Once you've pressed it, you can then slice it into cubes, pat it dry, drizzle on some oil and some spices, then bake it up!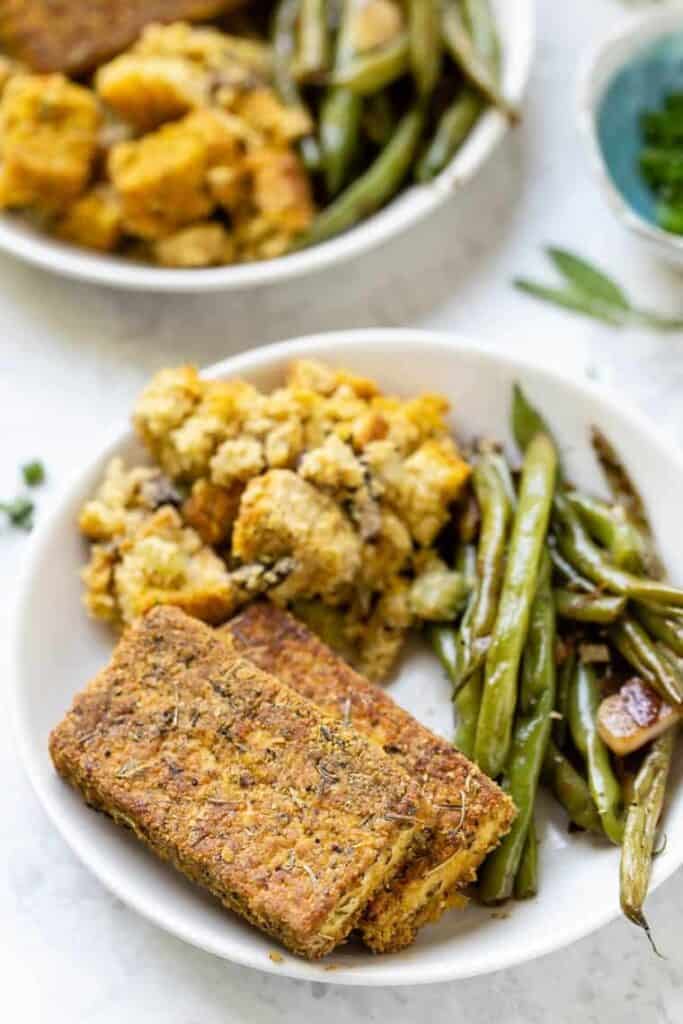 Staple Tofu Recipes
---
Let's start this list off with staple tofu recipes! These tofu recipes pair well with almost everything. Add them on top of salads for added protein, make the tofu the focal point of your meal with some sides like veggies or potatoes, or use them in a quinoa bowl. The possibilities are endless to use up these staple tofu recipes!
The BEST Simple Tofu Recipes: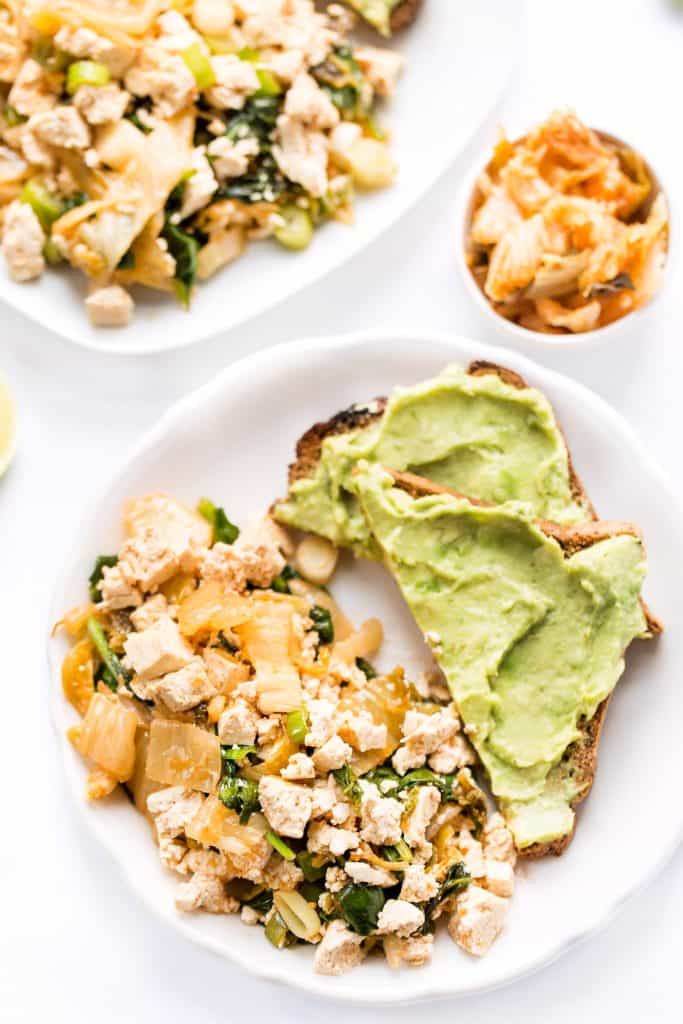 Breakfast Recipes with Tofu
---
Since tofu is so versatile, you can even enjoy it right at breakfast time! If you haven't tried tofu breakfast tacos before, you need to stat. I love incorporating tofu into my breakfast recipes because not only is it super healthy, but it's also pretty filling so I stay tied over until lunchtime. Here are my favorite healthy breakfast recipes using tofu.
Healthy Tofu Breakfast Recipes: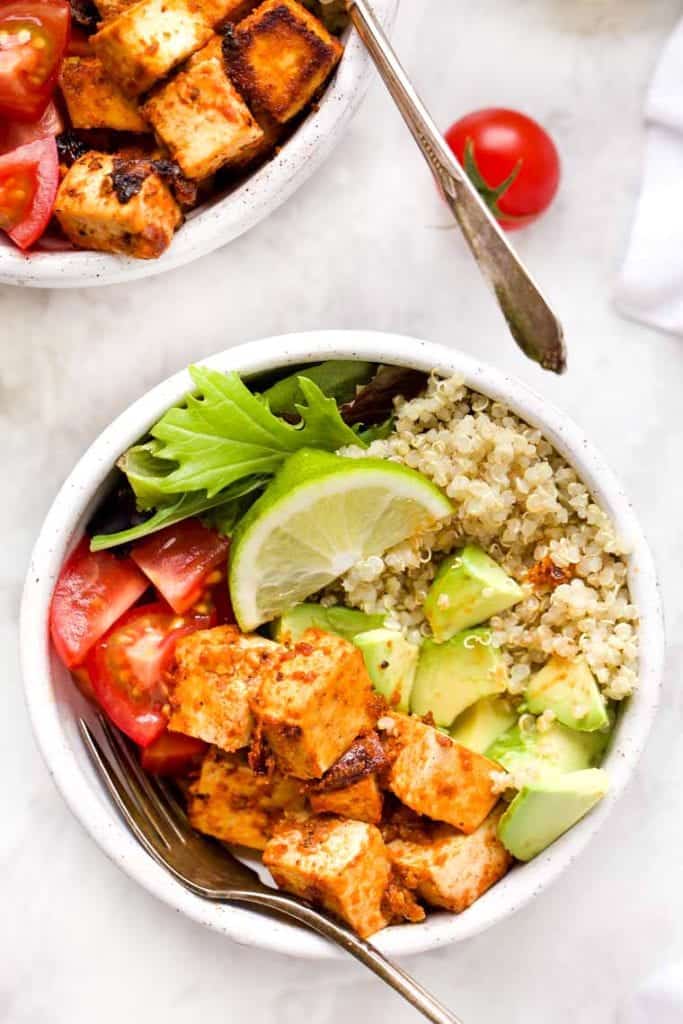 Delicious Tofu Quinoa Bowls
---
This might be my favorite section because I could eat a quinoa bowl everyday and never get tired of it. Quinoa bowls make the best healthy lunch and dinner recipes, plus they're super easy to meal prep so you have a grab and go meal ready for you any day of the week. With endless toppings, sauces/dressings, and ways to season your tofu, there's a tofu quinoa bowl recipe here for everyone to love!
Healthy Quinoa Bowls: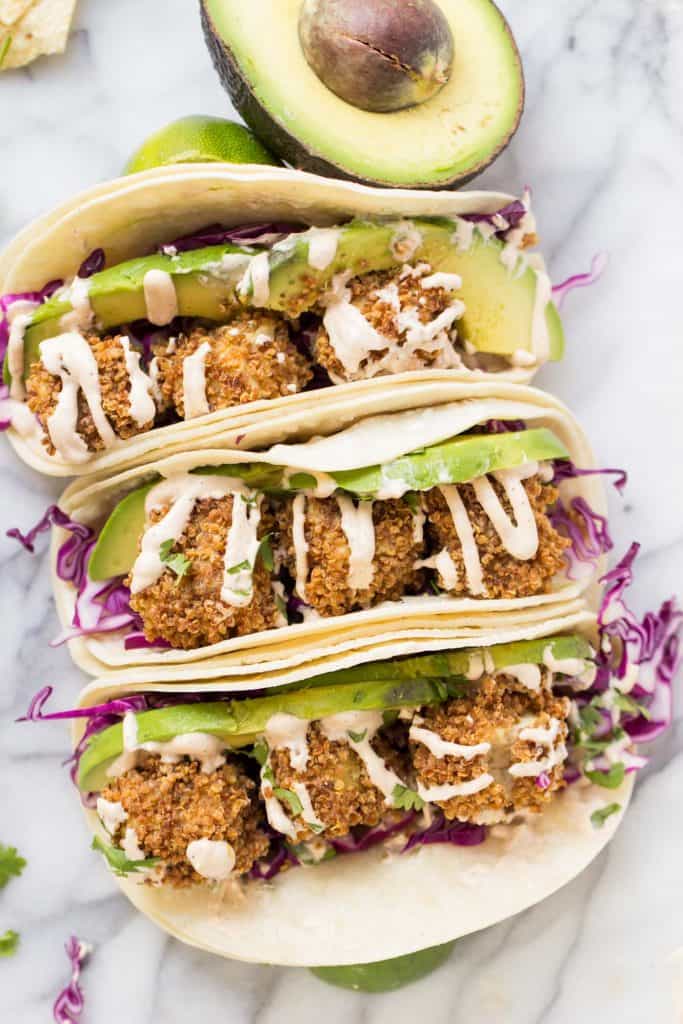 More Lunch & Dinner Recipes Using Tofu
---
I have to be honest – it was tricky to narrow this section down to only the best of the best! There are SO many delicious recipes using tofu for lunch and dinner, but these recipes are my absolute favorite. Tofu kebabs, lasagnas, nachos, curries – this section has it all. Get ready to start writing your grocery list, because I just know you're going to want to make some of these tofu recipes for your lunches and dinners soon!
Super Healthy Tofu Lunch & Dinner Recipes:
Desserts Made with Tofu
---
Tofu… in dessert?! YES! I know it might sound a little funky, but since tofu on its own is relatively tasteless, it actually is the perfect way to achieve a thick, creamy texture in desserts. Here are the best ways to use tofu in your dessert recipes!
Crazy Good Tofu Dessert Recipes:
Your Favorite Tofu Recipes?
So…what about you!? These are just some of my favorite recipes with tofu, but I'd love to hear from you. If you have any go-to ways to use tofu that we've missed here, let us know in the comments.
⇣ PIN FOR LATER ⇣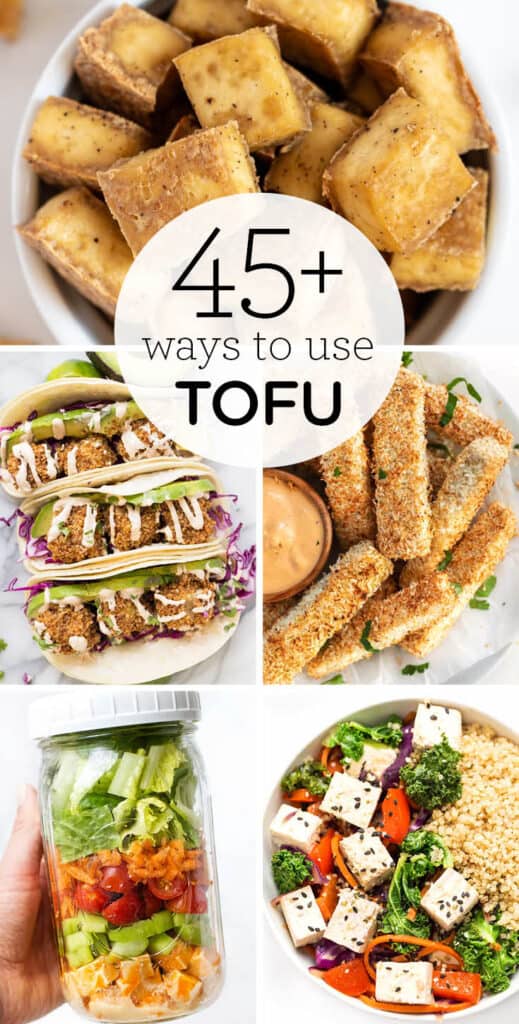 share what you make
Tag #simplyquinoa on Instagram with your creations! We love sharing what you make with the community. We can't wait to see!

follow on instagram