This amazing coconut almond butter is a healthier twist on nutella. It only uses 5 ingredients, is easy to make and has a rich dark chocolate flavor that pairs well with everything!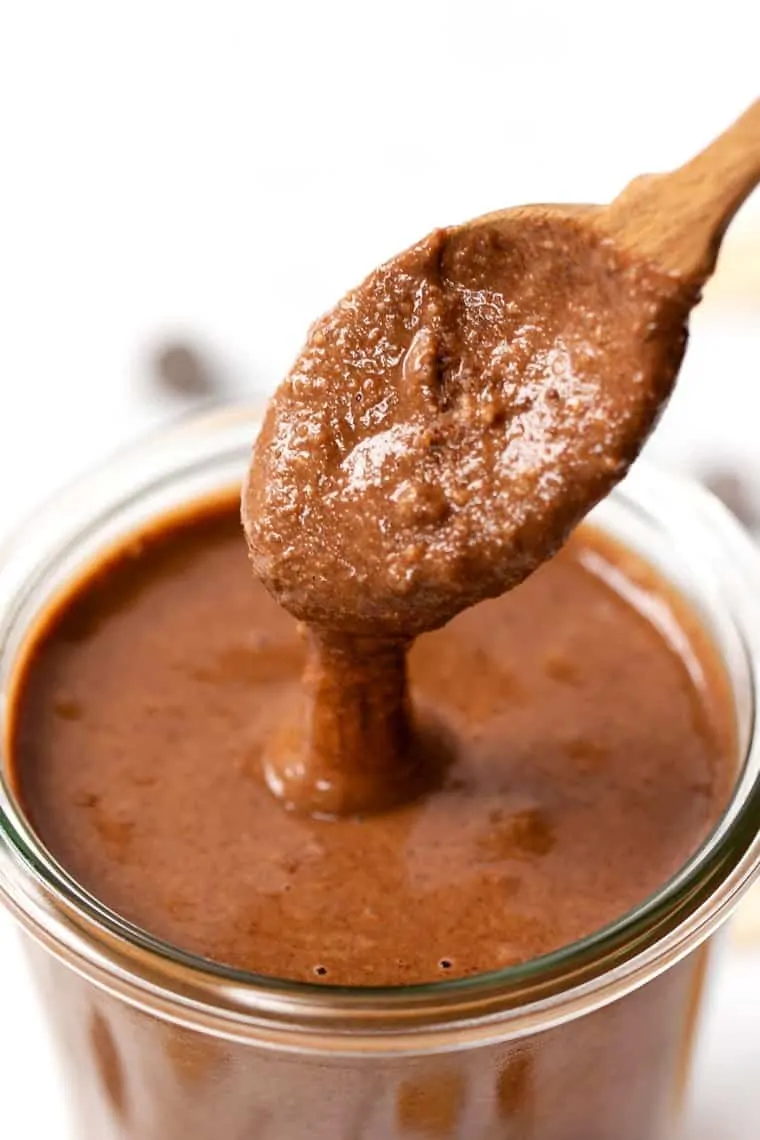 Drippy chocolate coconut almond butter. Can you think of anything better? I'm honestly in heaven just looking at the photo!
But in all seriousness, you need to get this nut butter into your life. It's the perfect snack, it's amazing as a drizzle for (n)ice cream, on top of toast, on your smoothie bowls, you name it. It's just delicious!
And the best part? It's healthy, only 5 ingredients and it's easy to make at home.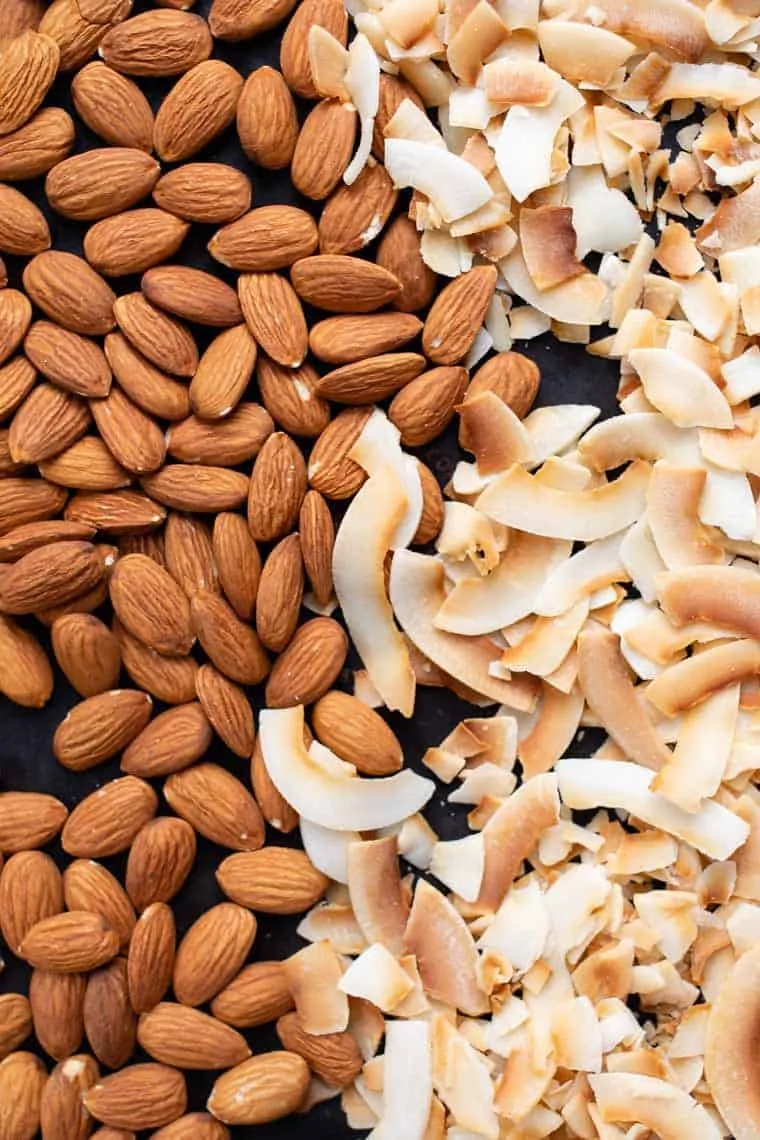 Tips for Making Nut Butter
Making homemade nut butter can be a little intimidating. But it's actually so simple. One of the more simple things you might make. It's also likely going to save you some money, which is just an added bonus.
If you're new to the nut butter game, here are some tips:
Be patient: it takes a while for it to do its thing
Toast your nuts: warming the nuts up in a toaster oven or pan can help the oils release more quickly and help speed up the creation process
Don't use water or liquid sweeteners: sometimes it will seem like your nut butter isn't going to get smooth, but I promise it will. You'll be tempted to add water or even a liquid sweetener, but don't. That will cause the nut butter to seize and it won't ever get smooth.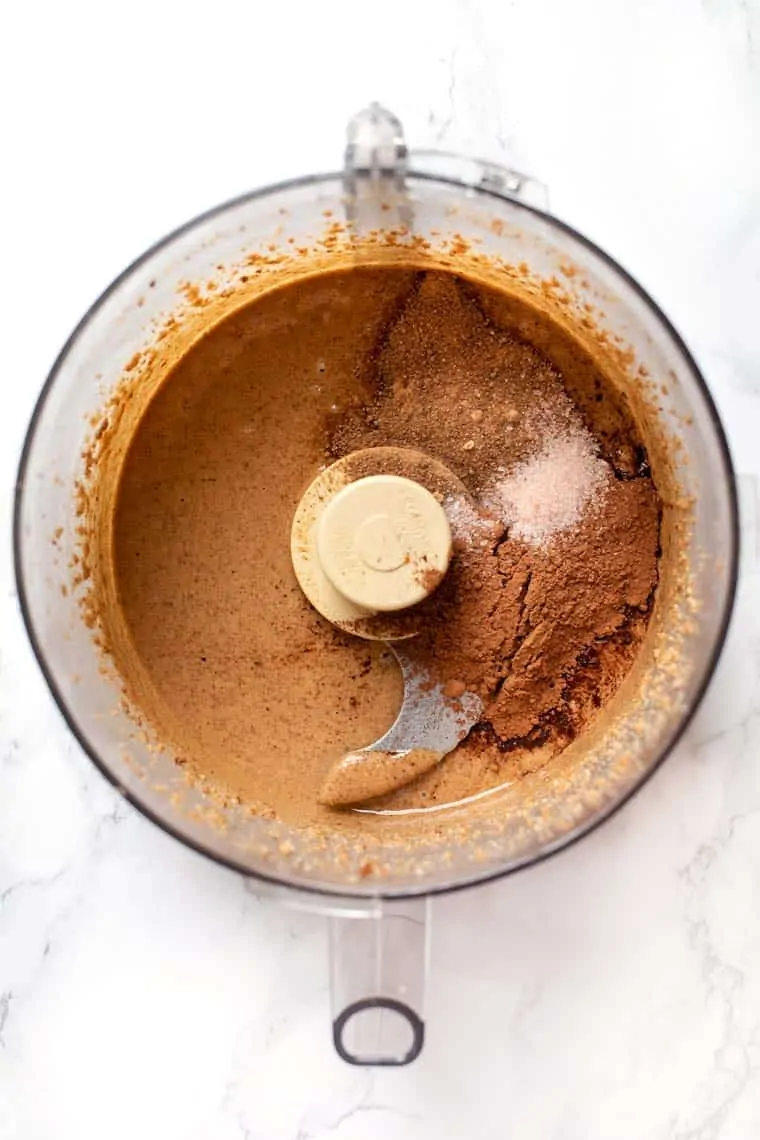 How to Make Nut Butter in a Food Processor
By far the best way to make nut butter at home is with a food processor. You can do it in a blender, but it's difficult and you often need certain tools.
The reason why it works so well in the food processor is that the bowl is wide rather than deep (like a blender jar). This enables the blade to get everything moving easier and not causing it to get stuck in the bottom.
To make nut butter in a food processor, you just add the nuts directly into the jar and turn it on. From there you'll likely need to scrape the sides down a bit, but otherwise, just leave it be and soon enough you'll have nut butter. As I said, it can take a while, so be patient. Depending on the combo that I'm using (like in this Coconut Almond Butter!), it can take anywhere from 10 – 20 minutes!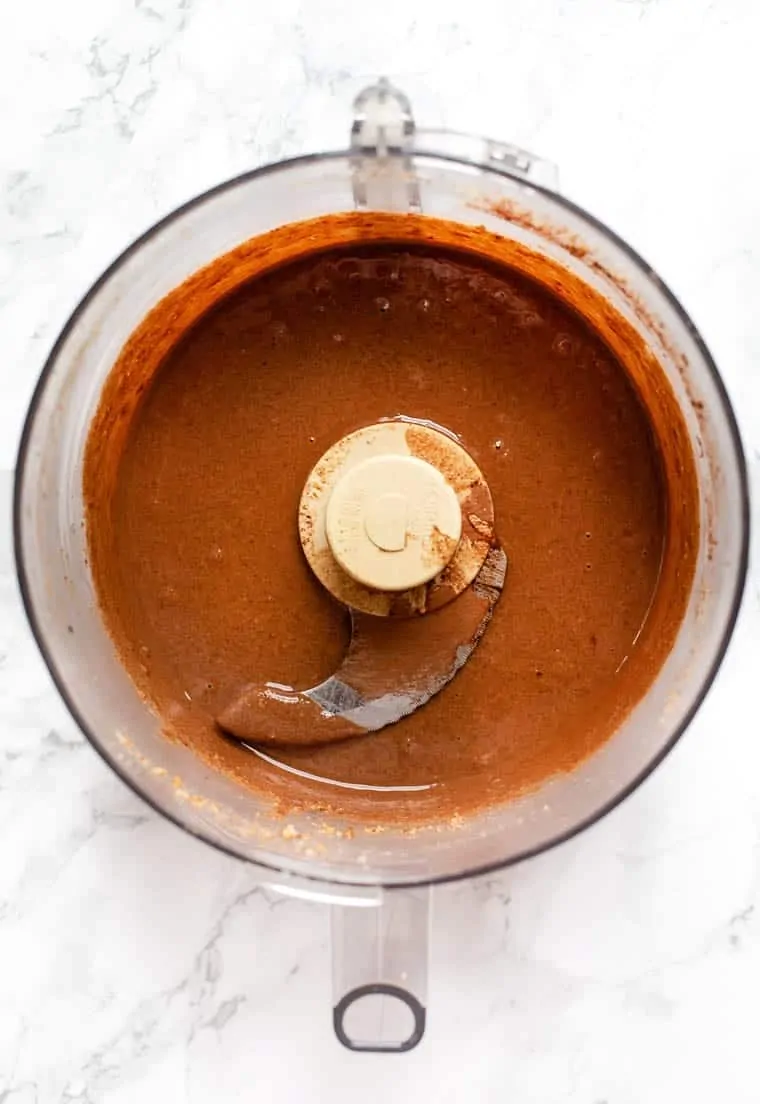 How Long Does Homemade Nut Butter Last?
Similar to store-bought nut butter, your homemade nut butter will last at least 2 weeks. Honestly, I keep mine for longer!
Since I'm typically using roasted nuts (or roasting them on my own), everything in the nut butter is cooked, so I have less of a fear of it spoiling or going rancid. In all the years I've been making and eating nut butter, I've never had one go bad.
If you do want to prolong the shelf life of your nut butter, you can store it in the fridge. However, if you're making this coconut almond butter, the coconut will harden if refrigerated so you'll just have to warm it up quickly to use it.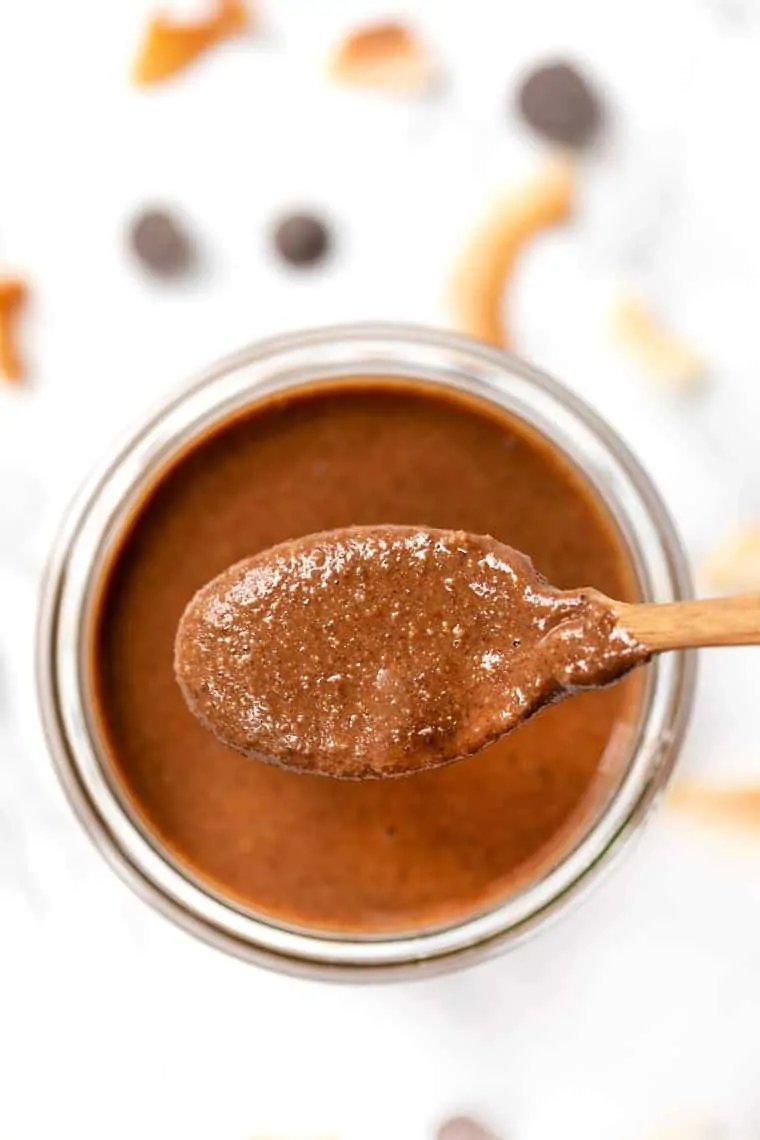 Perfecting Coconut Almond Butter
Okay so let's talk about this Coconut Almond Butter. I was craving something a little different when I decided to make this combo. I wanted to try my hand at chocolate almond butter but saw these toasted coconut chips in my pantry and new that was it.
I love the flavor of toasted coconut and when it's combined with the chocolate and almond, it reminds me of those Samoas Girl Scout Cookies (aka Caramel deLites ). It's toasty, it's chocolatey, it's sweet. It's pretty much pure heaven!
This recipe couldn't be easier to make too. Just three simple steps, 5 ingredients and it goes well with everything. You're going to love it!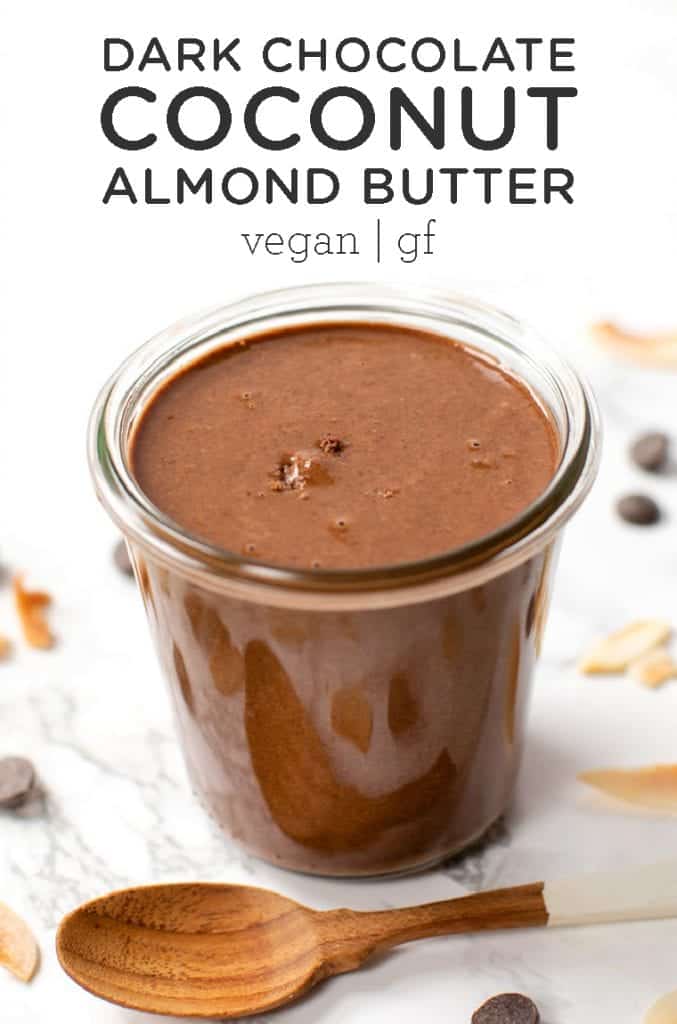 Other Healthy Nut Butter Recipes to Try
Chocolate Coconut Almond Butter
This amazing coconut almond butter is a healthier twist on nutella. It only uses 5 ingredients, is easy to make and has a rich dark chocolate flavor that pairs well with everything!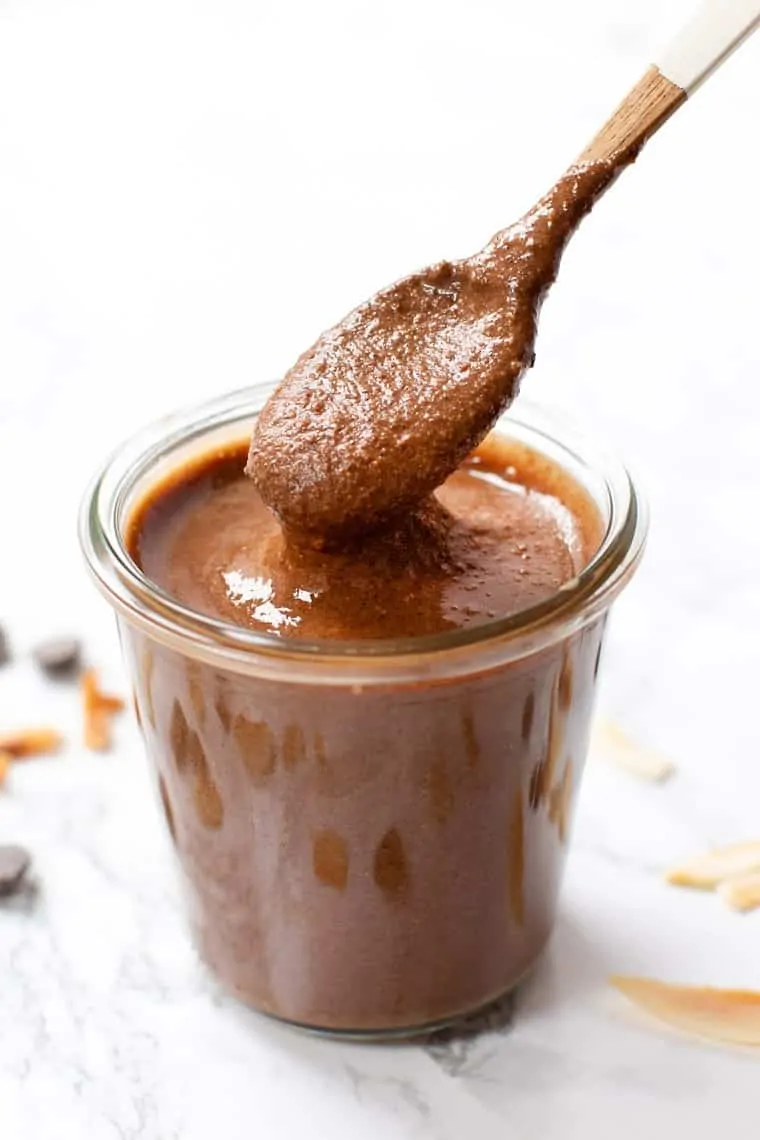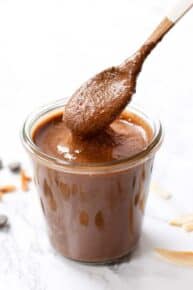 Instructions
Place almonds and coconut chips on a baking sheet (I used the sheet that comes with my toaster oven). Toast the nuts for 5 minutes, then transfer them to a food processor and process on high until smooth and creamy. You might have to scrape the sides down as you go to help the nuts continue to blend. Tip: be patient as this can take 10 - 15 minutes.

Once smooth, add the cacao powder, sugar, and pinch of salt. Blend again until incorporated.

Transfer to a glass container and store in a cool dark place.
Nutrition
Serving:
2
tablespoons
|
Calories:
179
kcal
|
Carbohydrates:
8
g
|
Protein:
5
g
|
Fat:
16
g
|
Saturated Fat:
7
g
|
Sodium:
7
mg
|
Potassium:
193
mg
|
Fiber:
4
g
|
Sugar:
3
g
|
Vitamin C:
0.2
mg
|
Calcium:
51
mg
|
Iron:
1.1
mg
Filed Under: