Vanilla Bean Homemade Cashew Butter
How to make homemade Cashew Butter with vanilla bean! This recipe has SO many uses – in smoothies, dessert, as a snack, on toast, in cookies and more!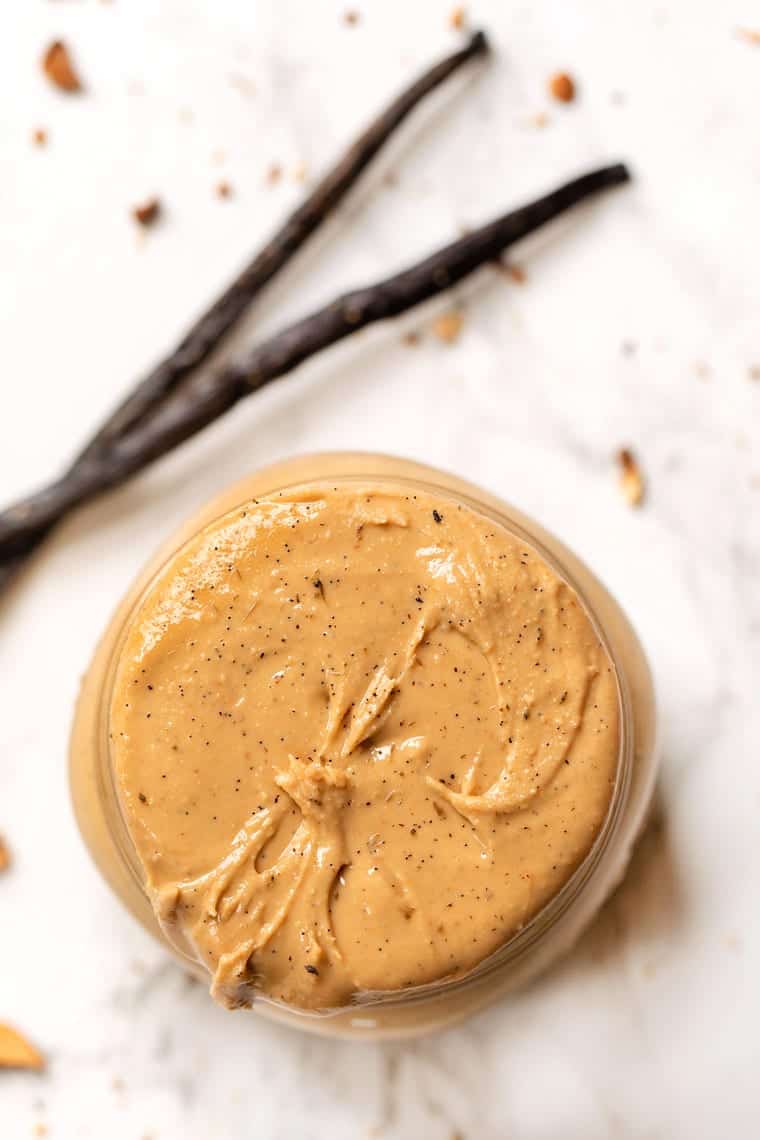 Okay, WOW. I'm in heaven. Like actually. I dream of this stuff. It's like liquid gold for my taste buds.
What am I talking about? This vanilla bean homemade cashew butter, obvi! It's creamy, it's flavorful, it's got a slight sweetness (without any sugar), and it's absolutely amazing on pretty much all things.
If you aren't on the cashew butter train yet, you're missing out. BIG TIME. I mean I'm a peanut butter girl through and through, but every time I taste cashew butter I think to myself, "damn this is so good". And it is! Honestly, it tastes like frosting to me it's that good.
And it's also super simple to make. Just 2 ingredients, one machine and about 15 minutes. And get this: it'll even save you some money in the process!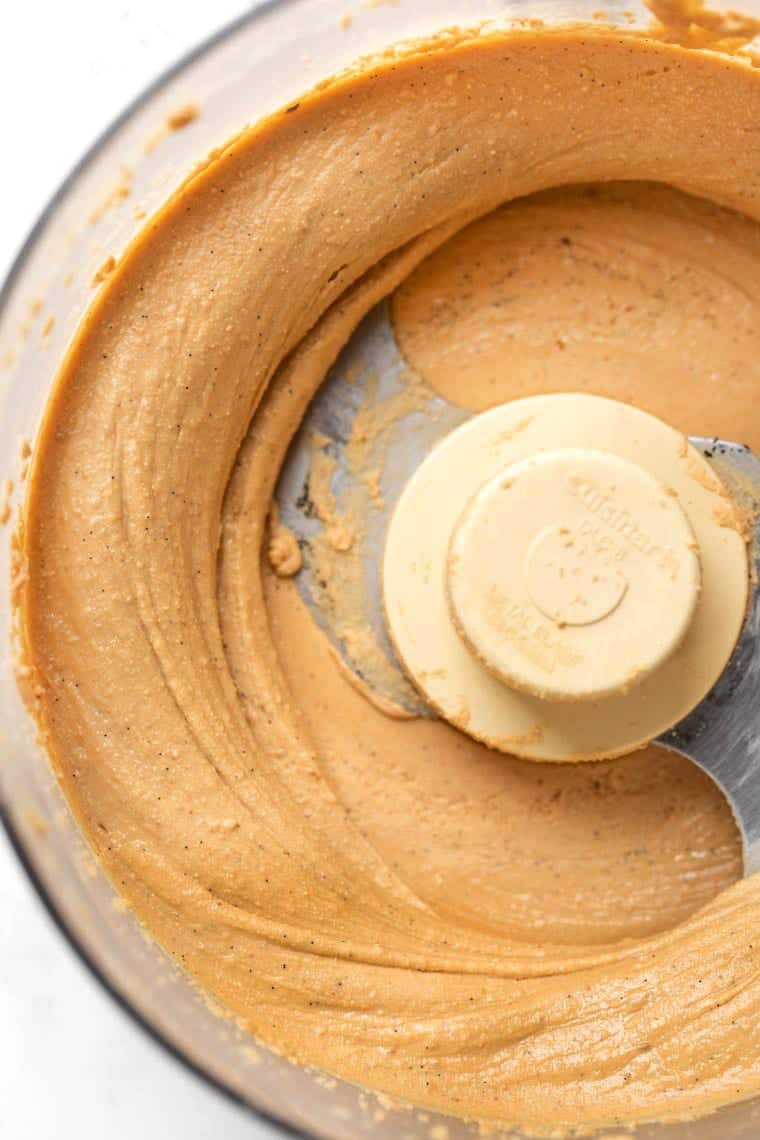 How to Make Homemade Cashew Butter
Making nut butter at home is super easy. If you're just now dipping your toes into the nut butter game, we have a whole guide that shows you exactly how to do it. In our Ultimate Guide to Homemade Nut Butter, we go over all the common questions, chat about which nuts (and seeds) are best, and how to do it at home.
However… since you're on a blog post that talks all about how to make homemade cashew butter, let's dive into it!
The first step for making cashew butter is to toast your cashews. I like to buy raw cashews and then toast them rather than buying roasted nuts because:
a) I control the oil that's added
b) having the nuts slightly warm helps them blend more quickly
From there, you'll just pop them into your food processor and blend away until your cashew butter is smooth and creamy. We're adding some vanilla bean to this one for a little kick, but you can totally skip that step if you want to keep things plain.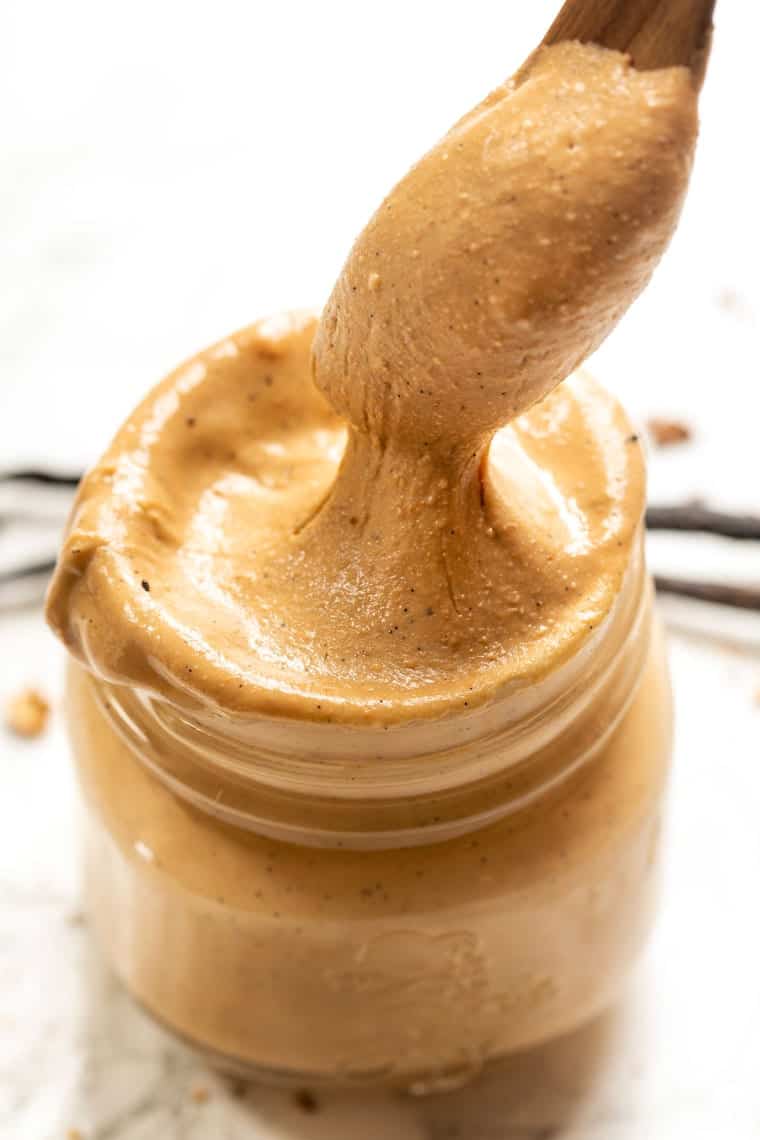 Is Cashew Butter Healthier Than Peanut Butter?
So…which is healthier: cashew butter or peanut butter? Honestly, it depends on what you're looking at. Protein wise, peanut butter is better.
But other things are pretty equal. Fat, carbs, potassium, etc., are all fairly even between the two. The only edge that cashew butter really has is in some of the minerals.
That's what I love about nut butter though – they're interchangeable. I always have at least 3 – 4 types in the rotation because I don't want to have the same thing every single day. By switching things up, I keep my body guessing and my taste buds don't get bored.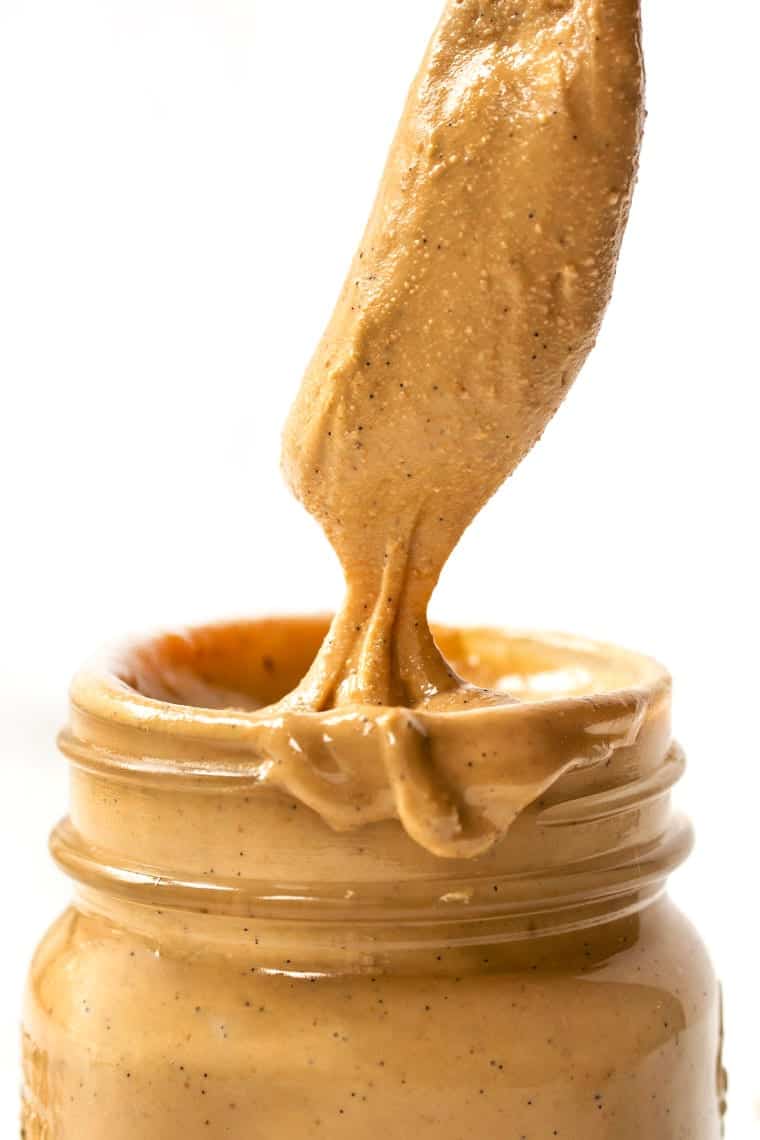 What You Can Put Cashew Butter On
Since cashew butter is a little more obscure, you might be curious what you can put cashew butter on. My answer? Pretty much anything!
Since cashew butter has a pretty mild flavor, it's great with nearly every flavor. I use it on everything from smoothie bowls, to toast, stuffed into dates, smeared on a dried fig, and even in my baking.
Here are some recipes that use cashew butter:
To me, cashew butter tastes like caramel. So it's fabulous with all things sweet! And I can't wait to hear which way you serve up this homemade cashew butter. Let us know in the comments!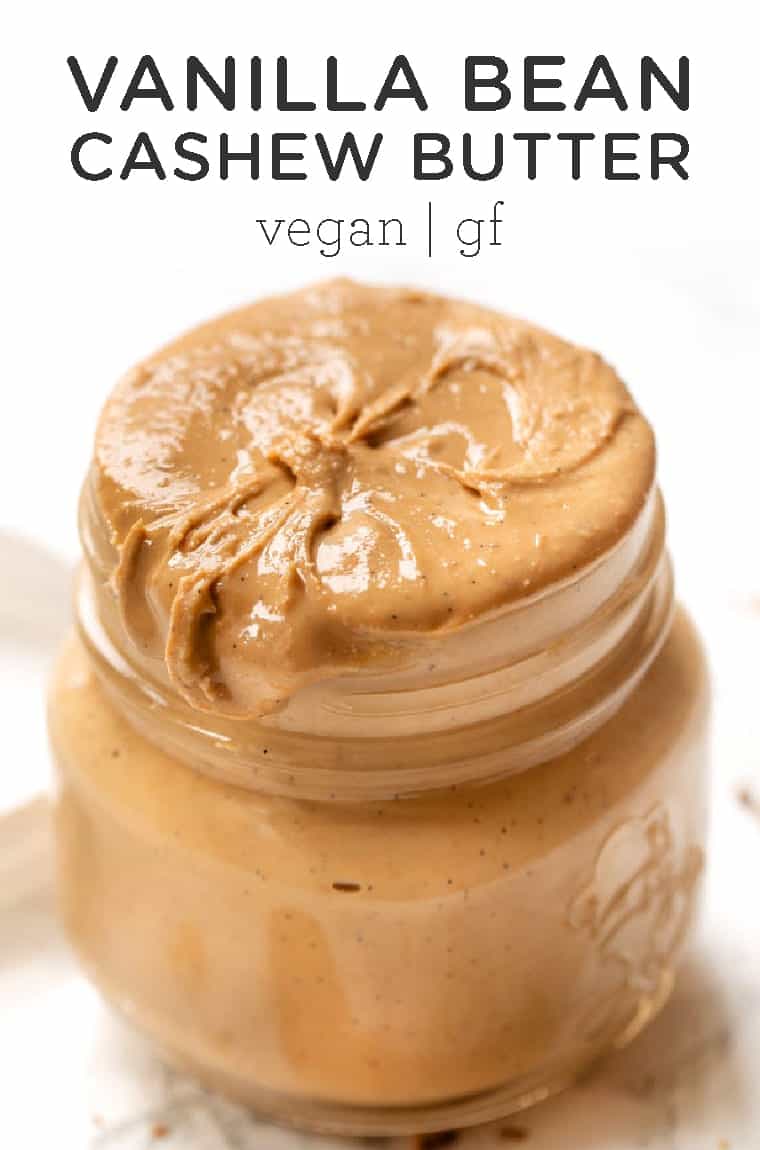 More Homemade Nut Butter Recipes:
Vanilla Bean Homemade Cashew Butter
Making homemade cashew butter is so easy! This one is flavored with vanilla beans which gives it a lovely flavor for your favorite sweet recipes.
Servings 12 servings
Calories 179kcal
Instructions
Add the cashews onto a baking sheet. Toast for 3 - 5 minutes until the cashews are golden brown.

Transfer the cashews to a food processor and process on high until smooth and creamy. Depending on your food processor, this could take anywhere from 10 - 20 minutes.

Once smooth, slice the vanilla bean in half lengthwise. Scrape out the seeds and add them to the food processor. Process again until incorporated.

Transfer your homemade cashew butter into a sealed container. Store in a cool dry place for 2 - 3 weeks.
Nutrition
Serving: 2tablespoons | Calories: 179kcal | Carbohydrates: 10g | Protein: 6g | Fat: 14g | Saturated Fat: 3g | Sodium: 4mg | Potassium: 213mg | Fiber: 1g | Sugar: 2g | Vitamin C: 0.2mg | Calcium: 12mg | Iron: 2.2mg
share what you make
Tag #simplyquinoa on Instagram with your creations! We love sharing what you make with the community. We can't wait to see!

follow on instagram